June 03, 2021 by Taylor Stafford
4 Ways To Optimize Your Auto Shop Website for Lead Generation
We've come a long way from skimming ads in the newspaper and picking up flyers handed out on the street to learn more about a company. So many opportunities have come with the rise of technology, especially for auto repair shop marketing. One of the best ways to market your successful auto repair business is to build a quality website. But before you begin, there are a few factors to take into consideration to ensure you'll get the most out of your website optimization efforts and generate leads.
Why bother spending the time creating a website when business seems to be okay without it? Well, about 70% to 80% of consumers research a business online before visiting the company or buying a product. That means without a website, you could be missing out on a hefty amount of customers. So if your goal is to grow your business and see more happy customers coming through your auto repair shop, building a website is a great place to start!
#1: Make sure your website is fast and mobile-friendly
A mobile-friendly website is essential for website conversion, especially for an auto repair shop. Any time a car breaks down on the side of the road or gets a flat tire, the quickest way to find a repair shop is to search on a mobile phone and call the number on the website. In fact, 70% of mobile phone searches lead to online action like filling out a form or clicking a number.
With an increase of online searches on mobile phones each year, it's important to ensure your website is up to standards as 61% of people say they won't return to a website that is not mobile-friendly. When building your mobile-friendly website, things to consider are the time it takes to load, the placement of videos and images and if they're showing up correctly, and of course testing how well it shows up on a mobile device. Lucky for you, there's a ton of online tools to help make your website accessible on mobile devices and show up beautifully for your potential customers.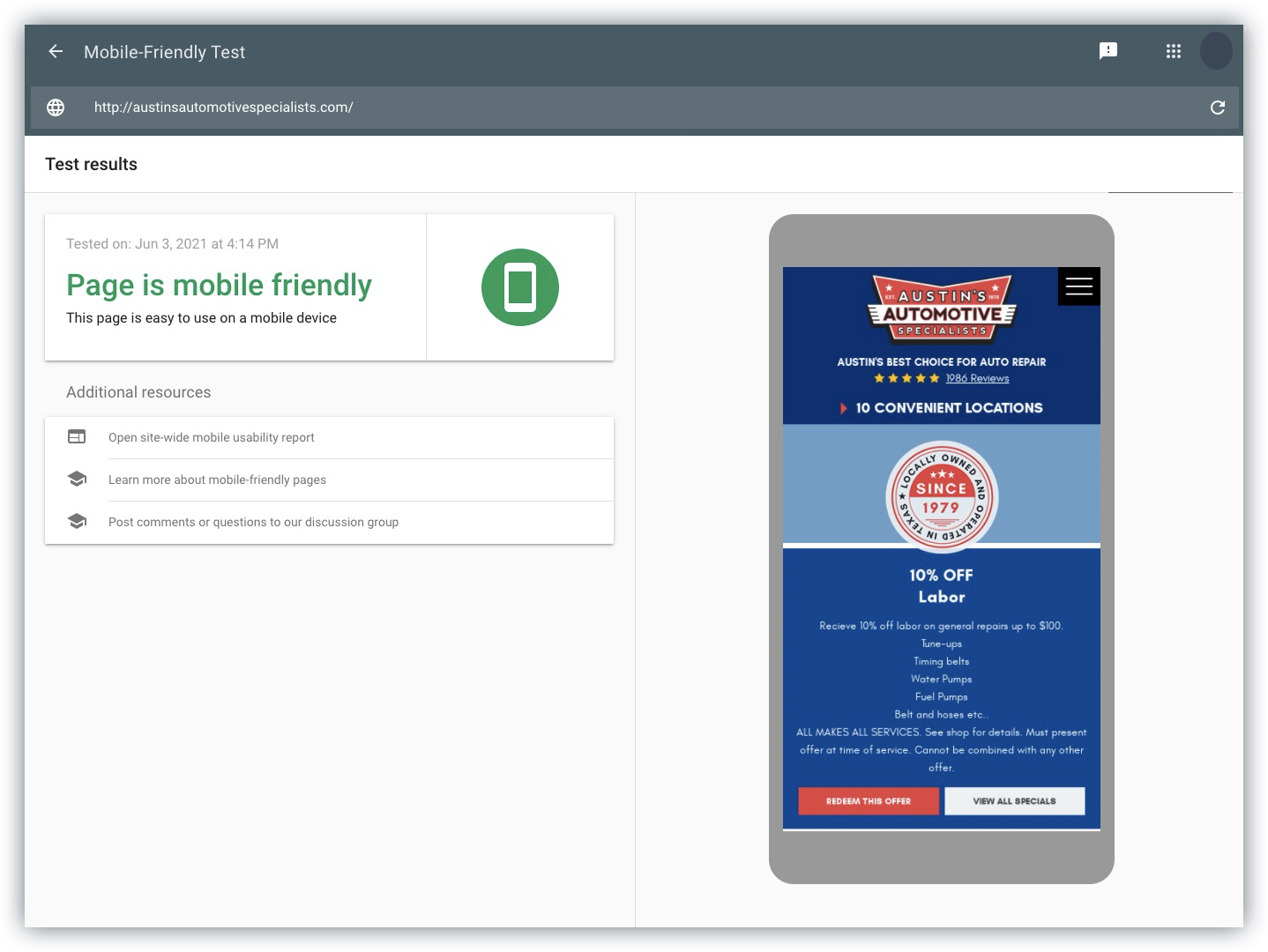 Here are some resources you can use:
#2: Optimize Your Call-To-Actions (CTAs)
A call to action, otherwise known as a CTA, is a prompt that tells potential customers what to do to either buy a product, subscribe, or contact your business. For example, a CTA might say something like, "sign up for our newsletter" or, "call now." CTAs are one of the most important features when it comes to website conversion. Without a clear CTA, readers will have trouble knowing what the next steps are to contact you and will more than likely bounce from your webpage.
To ensure potential clients see your CTA and actually click on it, you need to consider what CTAs are most effective for your business, where to place them, and how to display them. Keep these top CTAs and tips in mind on your website creation journey:
Phone Number
Place your CTAs in the header navigation, the footer navigation, and the Contact Us page
Make sure your phone number is

Click to Call

Create attention-grabbing CTA buttons
Ability to Schedule an Appointment
Place appointment links prominently on multiple pages of your website
Use appointment-building tools like installing a

plugin

or linking to an

external site

Fill out the form yourself to test and ensure your appointment form is working properly
Send email reminders for appointment times once a customer has booked an appointment
Learn More / Get A Quote Form
Place your

form

at the bottom of every page on your website.
Have CTAs anchor to that form
Make the form simple to complete
Keep field inputs visible to the reader
Use checkboxes and dropdowns where necessary for convenience
Live Chat and Chatbot Options
Use both tools for maximum efficiency
Change greeting of

chat

to fit the context of the page
Determine when you want the chatbot to pop up and where
Find a

live chat tool

to install on your website
#3: Optimize Your Design Layout
Website design is not something to neglect as it accounts for about 75% of the evaluation of a company's credibility. Websites have become the new first impression of businesses, which is why it's important to ensure the design reflects your company values, professionalism, and quality services. The product packaging is just as important as the product itself. After all, without high-quality packaging, the product inside can easily become damaged.

Presentation means a lot to consumers because it typically shows insight into how much effort a business is willing to put into customer satisfaction. With 94% of consumers not trusting outdated or poorly designed websites, your website must exceed the standards of a beautifully designed website as it will result in many more site conversions. As a premier auto repair shop, a polished website can help maintain trustworthiness, which is essential in this industry.
Resources and tips for quality website design:
Use free design templates like

Weblium

Create

clear navigation

that is easy for readers to understand
Use images that complement your content
Ensure the navigation bar is aligned with your company priorities
Make sure hypertext is obvious and stands out to your audience
Stay consistent with brand

colors

throughout the website
Keep an

organized layout

free of clutter
#4: Write And Organize Compelling Content
Quality content is key to any well-designed website that wishes to convert. Much like the layout of your website, the content needs to be organized, clean, and easy to navigate for your audience to find the answer they're looking for. Content plays a big role in your company's credibility and will determine how much trust potential clients have in your services. That's why your website should be free of any grammar issues, typos, HTML errors, or unnecessary keyword-stuffing. Few things can give off a bad, untrustworthy vibe quicker than a website riddled with errors, especially when it couldn't be easier to click the exit button and have dozens of new options to choose from.
So let's make sure that's not you! The best website content has variety because it's able to reach a wider range of audiences. For example, some people prefer videos over images while others prefer technical and informative content over testimonials and so on. Instead of just choosing one way to gravitate toward your audience, it's best to include images, videos, informative content, infographics, etc. This way, no matter what the reader prefers in a website, they'll likely find it with you. The trick is to keep everything organized and neatly placed to not have a cluttered look. But don't worry, creating a balanced website is definitely achievable with these tips in mind:
Create service-specific landing pages
Including landing pages relevant to your audiences' needs like towing services or engine repair is a great way to increase website conversion. When a specific service is typed in a search engine like tire repair, traffic is driven directly to that page. From there, it's your job to show searchers why you're the company they should choose for their auto repair needs. So how does one keep users' attention when the average amount of time spent looking at website content is about 5.59 seconds? With the right goals and strategic advertising, it might not be as impossible as it seems.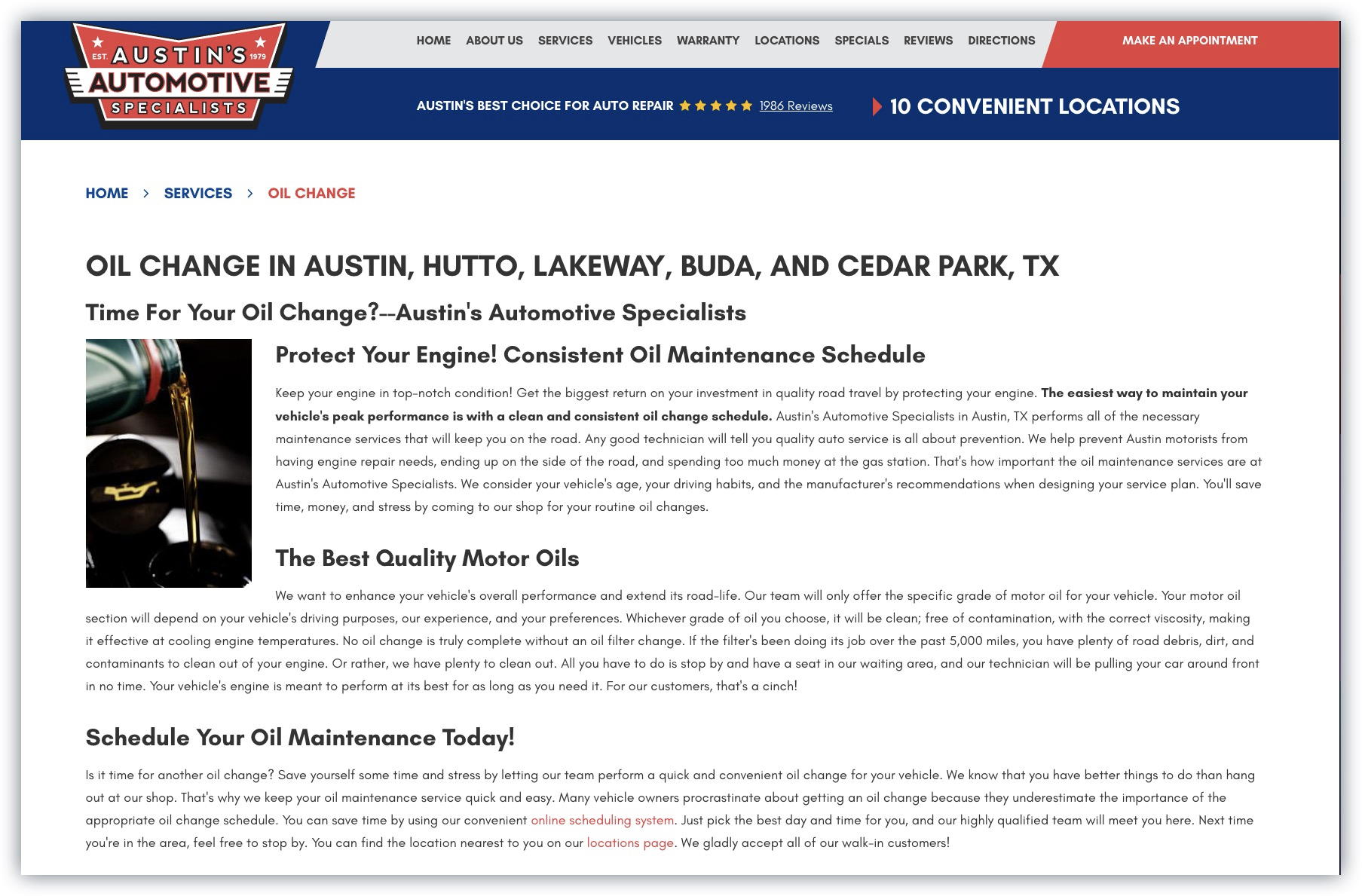 Here are some service-specific landing page must-haves for your auto repair website:
Have a clear and concise headline - This is the first thing your audience will see on this landing page, so it needs to tell them exactly how reading on will benefit their needs quickly.
Include relevant visuals that show your expertise - This could be either an image of your mechanics changing a tire or a video demonstrating your tire process on what potential customers can expect when using your tire services. Using real visuals of your employees and values instills trust and quickly shows customers what they're looking for.
Promote offers about the specific service - If the goal is to get your audience to use your services, offers never hurt. So be sure to keep your landing pages up to date with current offers like, "half off first tire service." It's a great way to grab readers' attention and get them to contact you.
Don't neglect the power of bullet points - Bullet points not only help users find your page, but once they're there it quickly shows them all the different services you offer that are relevant to the landing page they're on. It also helps break up the page and make it easier for readers to skim through the content to find what they're looking for.
Use CTAs at the bottom of the page that stand out - Don't be afraid to use contrasting colors to really make them pop from the rest of the page. Use action language like, "call now for a free estimate" to ensure they know the benefit of their action.
Highlight reviews and testimonials
Just like visuals, design, and content are crucial to your company's credibility, testimonials play a huge part in whether or not potential customers feel comfortable using new auto repair services for the first time. Displaying your winning reviews across your page is a fantastic way to prove just how committed your business is to customer satisfaction. Without any reviews or testimonials, it's difficult for a reader to know if they should put their trust in you, even with a polished website. In fact, 56% of consumers read at least four reviews before purchasing. Needless to say, people definitely pay attention to testimonials and use them as a deciding factor in what company they choose.
Where to place testimonials on a website:
Homepage
Separate testimonials landing page
Near CTAs
In the header image
Create An Authentic About Us Page
Having an About Us page is more important than you might think. In fact, studies show that 73% of people are interested in learning about the company itself, not just the product. Your About Us page is the place you get to be yourself, empathize with the customer, and share your story. The best sales pitches don't sound like sales pitches. They sound like humans making real connections and providing others with a product or service that will benefit their lives. People are much more willing to use services from people they feel they know, trust, and can build a relationship with. Having a killer About Us page is a great place to start that journey with your potential clients.
Do Empathize With Your Clients.

When someone is experiencing an issue with their car, it can be a huge inconvenience and stressor in their life. It's important to empathize with their bad day and relate to what they might be going through to show them you understand. A company that truly understands and cares about its clients' problems is a company that is going to do whatever it takes to solve their issues as quickly and painlessly as possible. Including a simple sentence about a possible vehicle issue, they're experiencing gets you one step closer to earning their trust.

Don't Just List Services or a Mission Statement.

Remember, the About Us page is more about showing your customers how you can benefit them rather than plainly listing services you provide or generic values that every other auto repair shop has. Stand out by being more specific about how seriously you take customer satisfaction. Talk about specific warranties or guarantees to prove your dedication and commitment. The more specific you can be about what you have to offer them and what sets you apart from other companies near them, the better.

Do Tell Your Story.

Humanize your company by telling them a little bit about what makes you click and how you got started! Starting a business is no simple task and it's inspiring to hear how a company was built and the steps it's taken to get to success. People gravitate toward passion and ingenuity and would much rather work with a passionate mechanic than a mechanic who's just thinking about what he'll eat for lunch-- though I'm sure we've all been there.

Don't Just Tell Them,

Show Them! Visuals are important here, too. It's worth it to spend a little extra on some professional photos of your team and even a video. Don't be afraid to have fun with it and show your personality. You could even invite your pets or kids to the photoshoot to really give your audience an idea of who you are as a company. Whatever you decide on will help show potential clients the people they'll be working with if they decide to choose your services.
With all these website-building tips in mind, we hope you feel more at ease with the website creation and optimizing process to help your auto shop generate more leads. Just like repairing an engine, you have to take it piece by piece. Every step gets you a little closer to a well-oiled machine ready to roar down the streets. Keeping these website optimization goals in mind will lead you to much higher site conversion and more happy customers coming through your door. We wish you luck!