April 27, 2023 by Molly Weybright
5 AI Tools for Small Businesses to Use
Artificial intelligence (AI) has transformed the way businesses operate, allowing them to automate tasks, optimize processes, and gain valuable insights into their operations. One of the most well-known AI tools right now is ChatGPT, which is a simple prompt-and-response style of AI.

While this can be an extremely powerful tool, many AI novices out there might see more success with tools that are specifically designed for certain tasks out of the gate. In other words, you want an AI tool where a lot of the initial work has already been done.

Of course, finding the right AI uses for your business can be challenging, especially for those with limited budgets. In this article, we will explore 5 of the best AI tools for small businesses as well as some honorable mentions to give you an idea of what is out there to help your small business grow and thrive.
Grammarly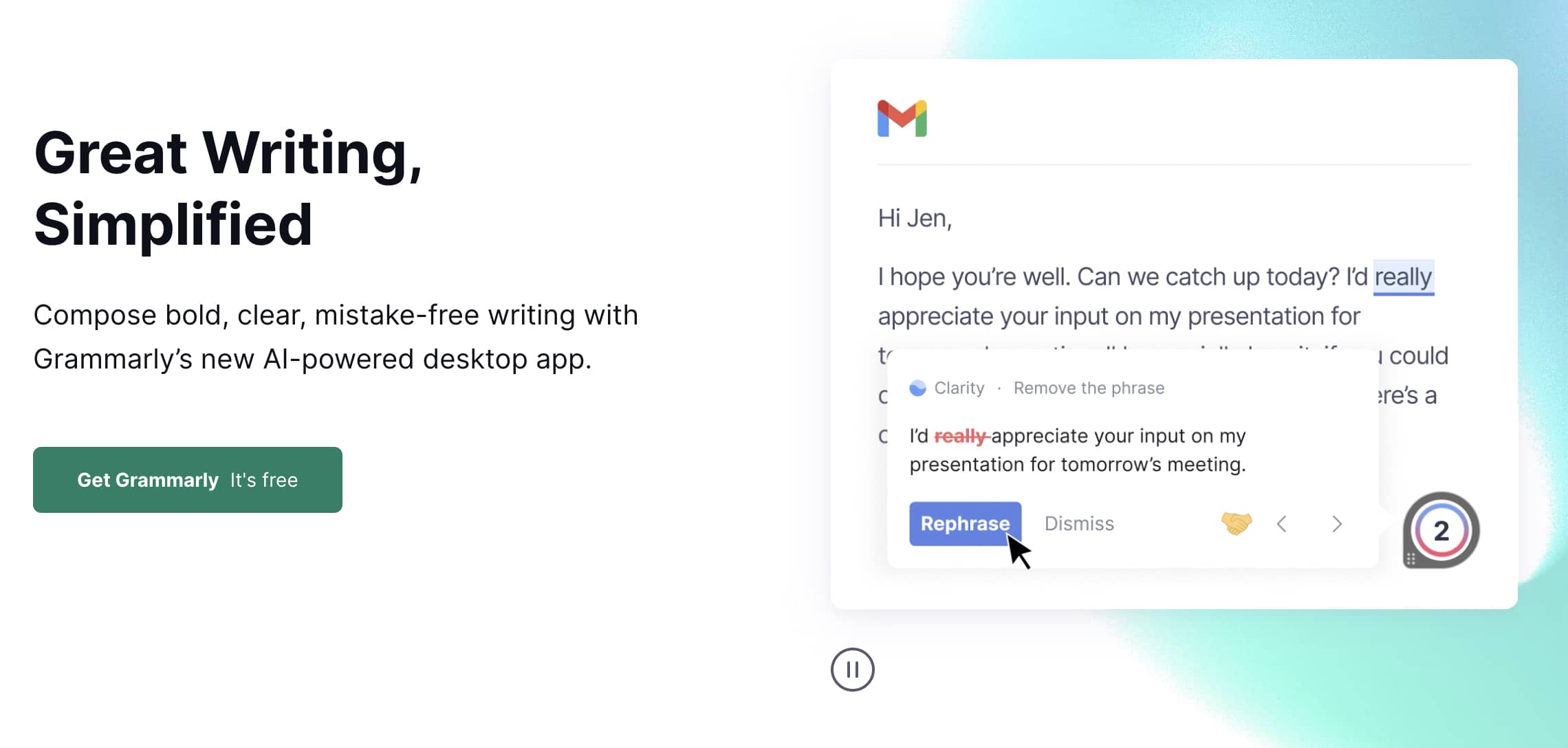 Source: Grammarly
Price: Basic tier is free; Premium is $12/month for individuals and $15/month per member for businesses.
Grammarly is an AI-powered writing tool that helps users improve their writing skills by detecting grammatical errors and offering suggestions for clarity, concision, tone, and readability. It uses natural language processing and machine learning algorithms to analyze text and provide suggestions for improvement.

In short, it's like spell-check on steroids.

For small businesses, Grammarly can be a valuable tool in many ways:
It can improve the quality of written communication, including emails, social media posts, marketing materials, and customer service responses. By using Grammarly, small business owners can ensure that their writing is error-free, professional, and easy to understand. This can help to build trust with customers and enhance the business's reputation.
Grammarly can save time and effort by automatically checking for errors and offering suggestions for improvement. This can be especially helpful for small business owners who have many responsibilities and limited time.
It can help to enhance brand consistency by ensuring that written content is consistent in terms of tone, style, and formatting. This can help to build a stronger brand identity and make the business more recognizable and memorable to customers.
Overall, Grammarly is one of the best AI tools for small businesses as it can help to improve the quality of written communication, save time, increase productivity, and enhance brand consistency.
Optimove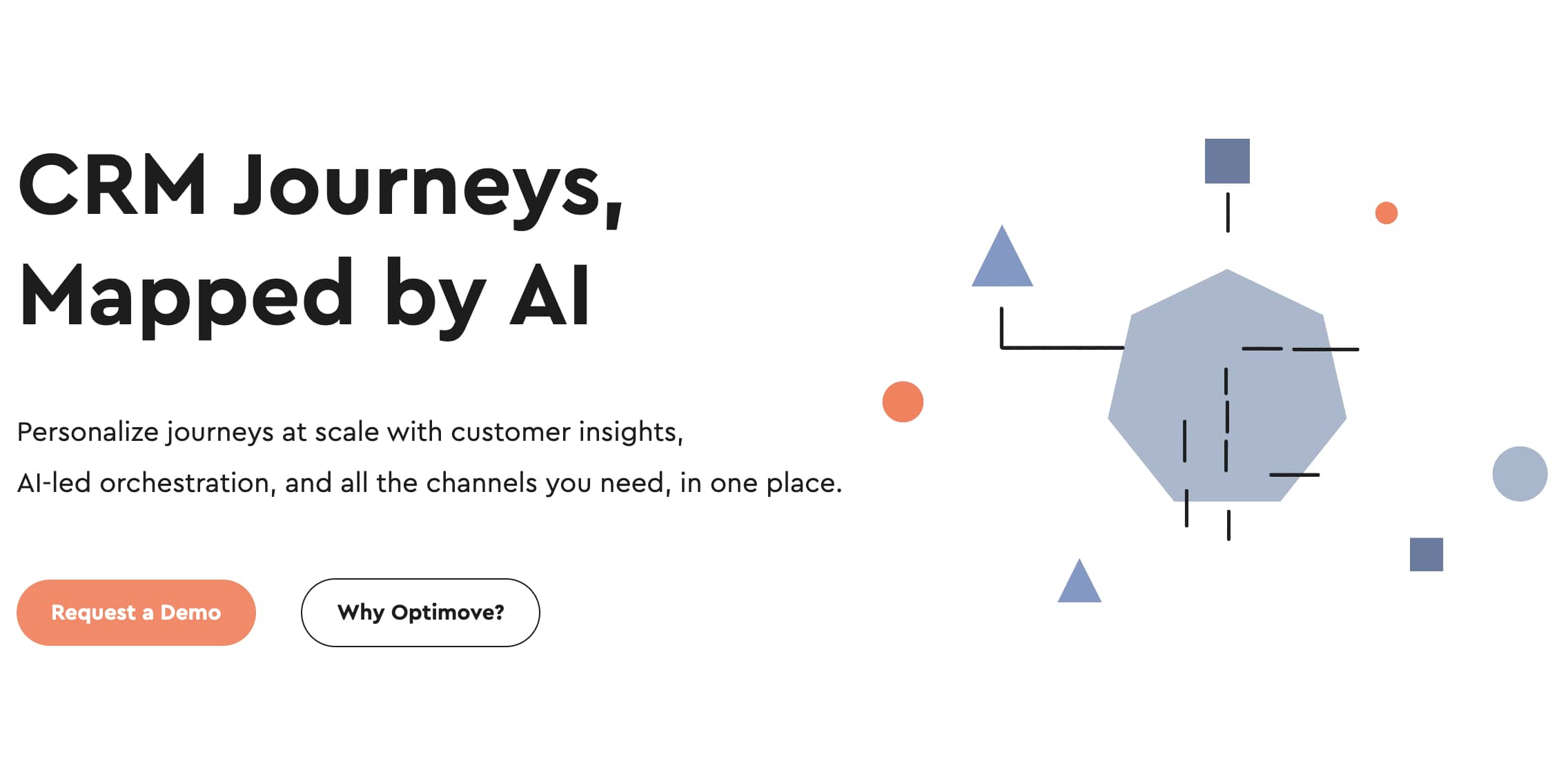 Source: Optimove
Price: Custom quotes provided on a case-by-case basis.
As you might already know, maintaining a positive customer experience throughout their journey is extremely important for small businesses, especially those looking to gain more customers through word of mouth.
If you're feeling overwhelmed with customer relationship management (CRM), you're in luck! There are some great AI tools out there to help small businesses seamlessly maintain and track customer interactions. One of the best is Optimove.
Optimove is an AI-powered CRM platform that helps small businesses improve their marketing strategies by personalizing their customer interactions.
This tool uses machine learning algorithms to analyze customer behavior and preferences and then provides businesses with insights and recommendations on how to engage with their customers more effectively.
By automating and optimizing customer communication, Optimove is one of the best AI tools for small businesses looking to enhance their customer engagement and retention.
Jasper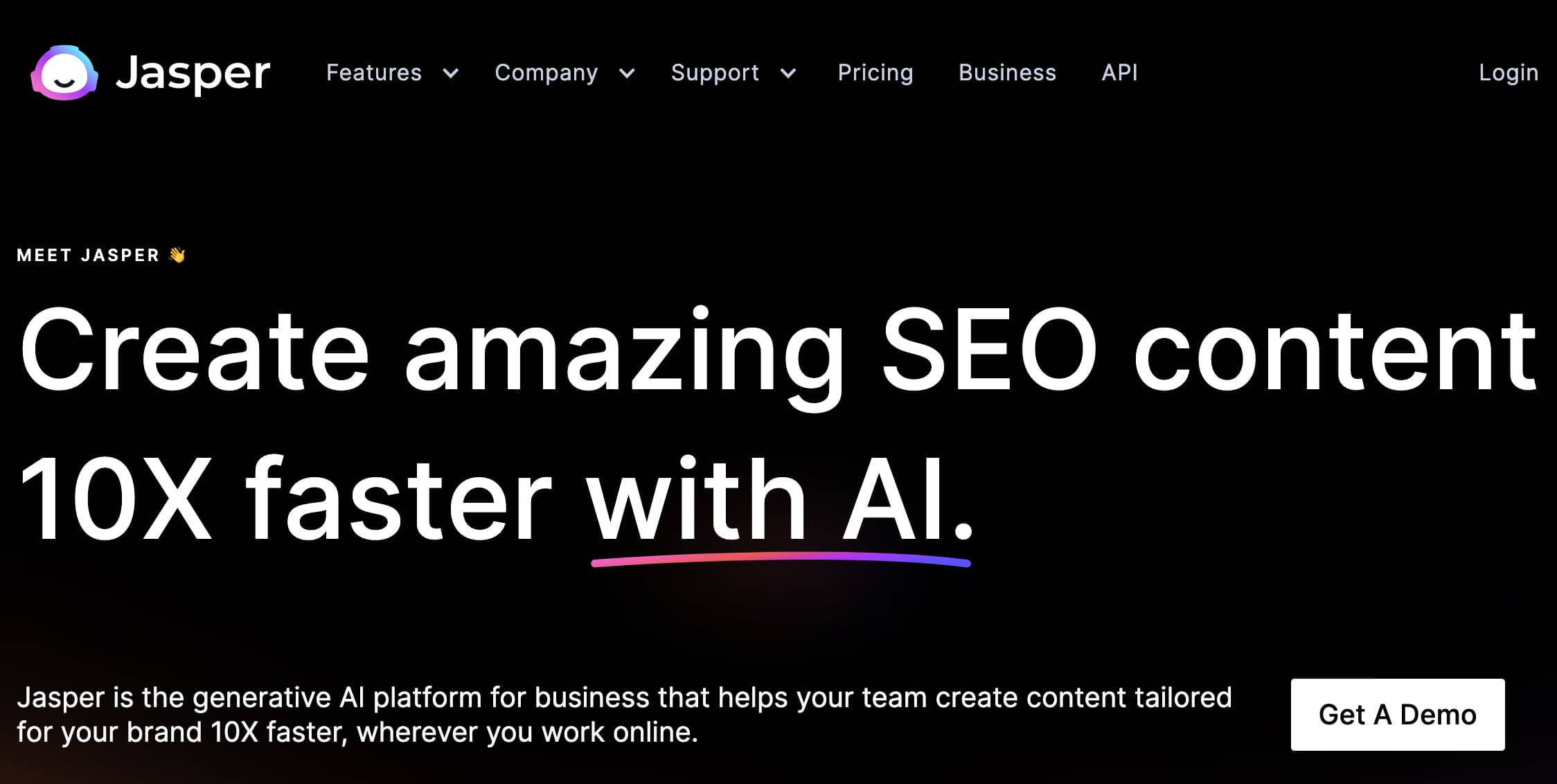 Source: Jasper.ai
Price: $24/month (up to 20,000 words); $82/month (100,000 words); Custom plan and price for businesses.
If you are a small business owner that already feels like time is your most precious and hard-to-come-by resource, you might have written off content marketing as a possible strategy for your company.
But, with long-form content creation being an increasingly important facet of running a successful business, you need to find tools that can help you create solid content quickly and effectively.
This is where Jasper comes in.
Jasper.ai is an AI-powered content creation tool that can help small businesses produce high-quality content in less time. Using natural language processing and machine learning to generate written content, Jasper will help you create blog posts, articles, and product descriptions, based on a given topic or keyword.
With Jasper, small businesses can streamline their content creation process and focus on other important aspects of their business strategy. This AI tool is one of the best AI tools for small businesses looking to improve their content marketing strategy without using large chunks of valuable time.
Flick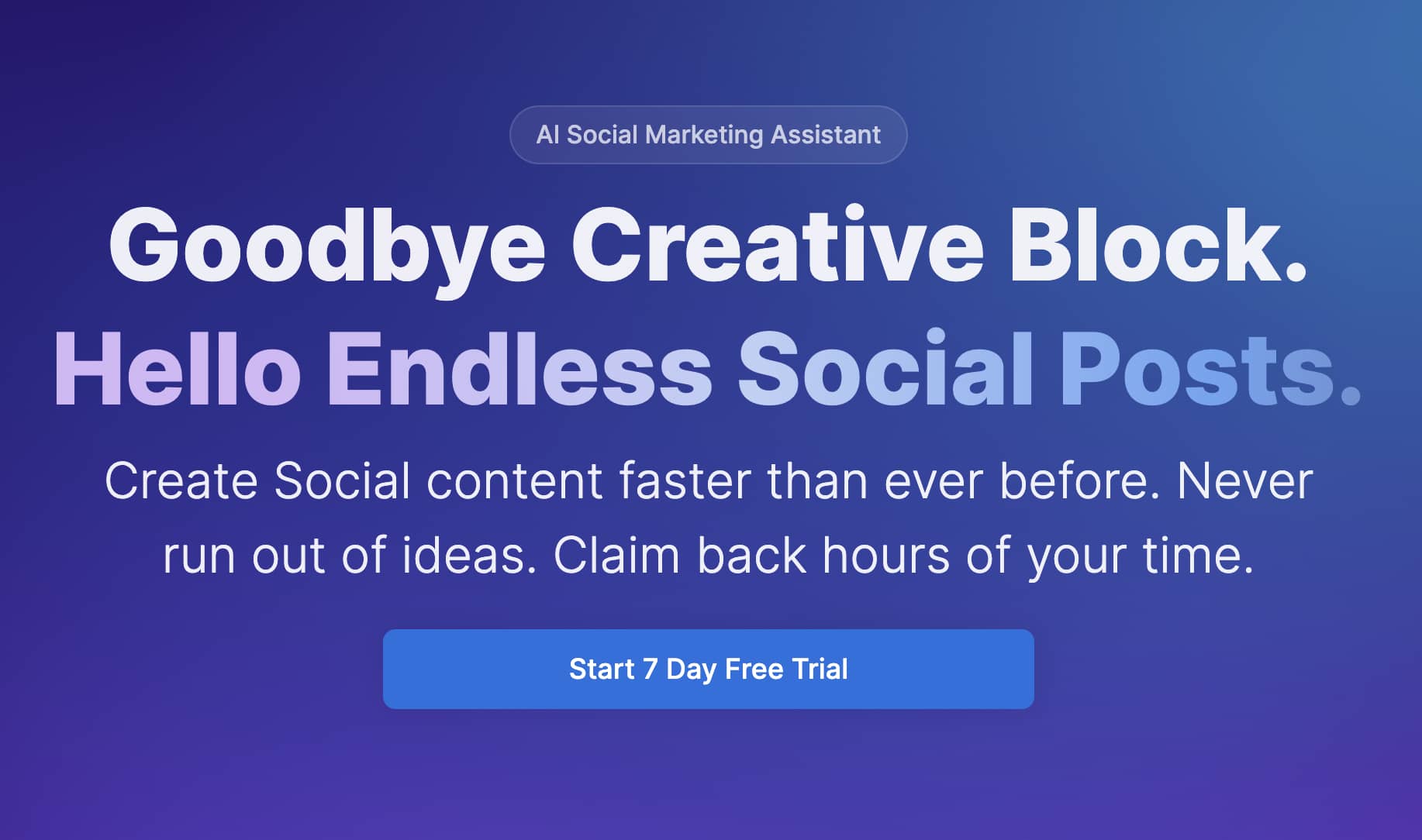 Source: Flick
Price: $12/month for solo; $20/month for growth; $30/month for pro; $62/month for agency.
We all know how important social media is when running a successful small business in today's day and age. Once you get your business up and running, creating social media profiles and developing a strategy might be your next step.
If you are a small business looking for AI social media tools that take the guesswork out of planning and management, then Flick is a great place to start.
Small businesses that struggle with social media management can benefit from Flick, an AI-powered social media management platform that can help optimize content and increase engagement.
Flick uses machine learning algorithms to analyze social media data, helping businesses identify key strategies, including:
The best times to post
The most engaging content types
Optimal hashtags to use
The platform also provides content creation tools and analytics to help businesses optimize their social media efforts. With Flick, businesses can schedule and publish social media posts, monitor their social media performance, and analyze their audience engagement, helping save time and resources while improving their social media presence.
Chatfuel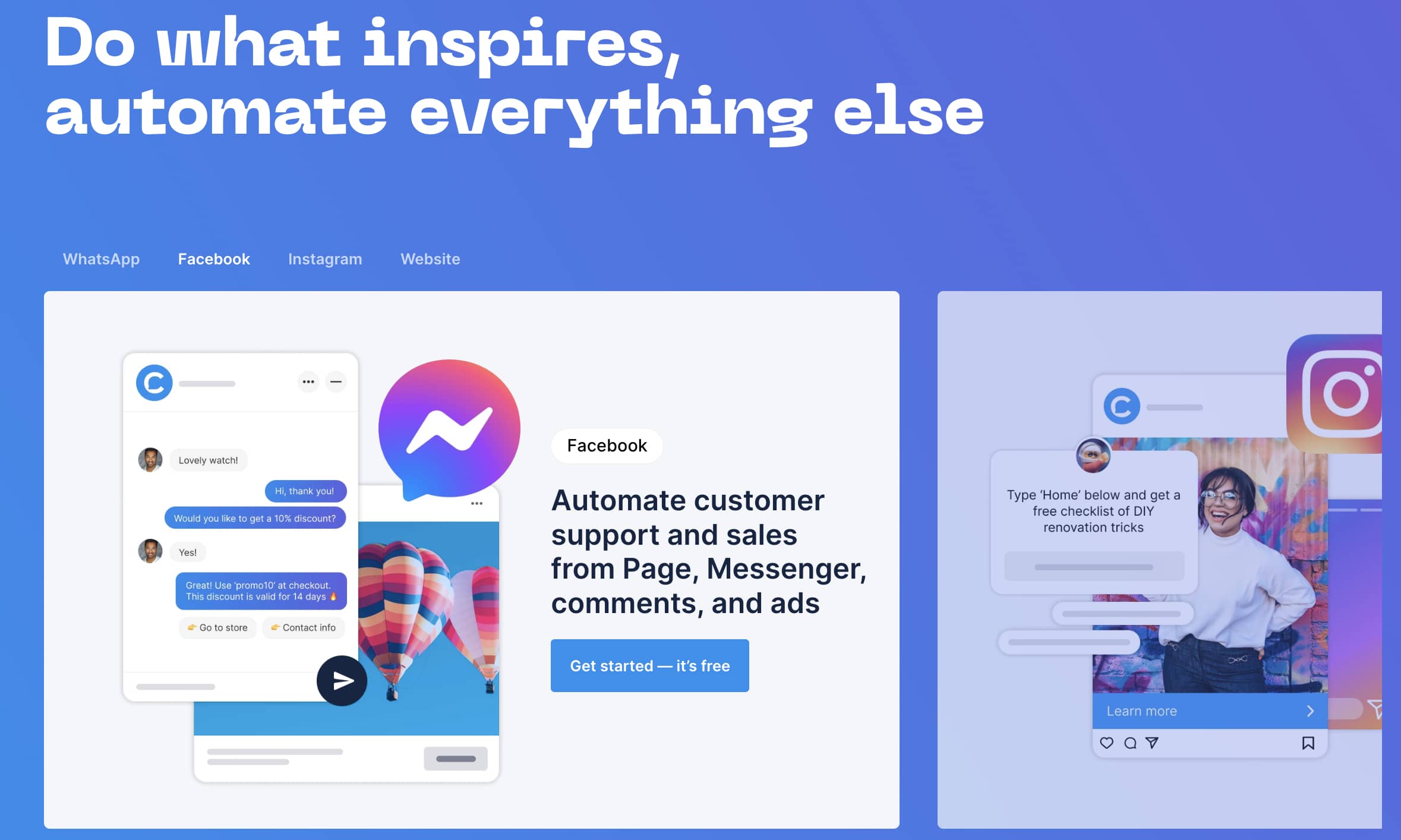 Source: Chatfuel
Price: $15/month (500 conversations); $25/month (1,000 conversations); $60/month (3,000 conversations); $120/month (10,000 conversations).
While many AI tools for small businesses are seemingly very new and exciting, chatbots have been around for much longer. But, as AI gets better, these chatbots also become more successful at determining what it is people are trying to achieve.
Plus, they are able to sound much more natural and human, which can be beneficial for a number of reasons, especially because when it comes to customer support, ensuring customers feel as though they are being taken care of by a real person goes a long way.
Chatfuel is an AI-powered chatbot builder that helps small businesses automate their customer service and support. This tool allows businesses to create chatbots that can respond to customer inquiries and provide support 24/7.
Chatfuel uses natural language processing and machine learning to understand customer queries and provide relevant responses. With Chatfuel, small businesses can improve their customer service efficiency, save time, and provide a better customer experience.
Plus, you can easily integrate Chatfuel into your existing 3rd-party tools and messaging apps such as Shopify, Facebook Messenger, Instagram, and more, making it one of the best AI tools for small businesses looking to enhance their customer support strategy.
Honorable Mentions
With so many high-quality AI tools out there for small businesses, we wanted to make sure to mention all of the tools that you might find helpful in growing and managing your business. Here are a handful of other tools that almost made it into our top 5 AI tools for small businesses.
Flowrite
Flowrite is an AI tool for small businesses that helps automate repetitive tasks and create customized workflows. It allows you to optimize your workflow and be more productive while also reducing the chance of human error. It's one of the best AI tools for small businesses that want to streamline their operations and increase efficiency.
Zenefits
Zenefits is an all-in-one HR software that uses AI to help small businesses manage their employee benefits, payroll, and compliance. It simplifies complex HR processes and saves small businesses time and money. With Zenefits, you can focus on growing your business rather than dealing with HR issues.
Brand24
Brand24 is an AI tool for small businesses that allows you to monitor your brand and reputation online. It provides real-time insights and analysis of brand mentions, customer feedback, and competitor activities. It's a great AI tool for small businesses and would be a good fit if you are looking to improve your online presence and customer satisfaction.
MarketMuse
MarketMuse is an AI tool to help small businesses optimize content marketing strategies. It uses AI to provide content suggestions, optimize content for SEO, and improve overall content quality. If you want to improve your content marketing efforts and attract more customers, this is a great tool for your small business.
Textio
Textio is an AI tool that helps small businesses improve their writing by providing real-time feedback and suggestions. It uses AI to analyze the language and tone of the text and suggests ways to make your writing more engaging and effective. As you know, effective communication with customers and stakeholders is crucial and this AI tool can help improve that.
Github Copilot
Github Copilot is an AI tool for small businesses that helps developers write better code. It uses AI to provide suggestions and auto-complete code while developers are working. It can be especially helpful as it will keep the developer's coding style in mind when suggesting new code. If your developers are looking for ways to write better code faster, this AI tool might be exactly what you need.
Smartly.io
Smartly.io is an AI tool that helps small businesses manage and optimize their social media advertising campaigns. It uses AI to automate ad creation, targeting, and optimization. It's one of the best AI tools for small businesses that want to improve their social media presence and reach more potential customers.
in conclusion
When it comes to running a small business these days, if you're not taking advantage of AI tools, you're going to fall behind. But, with so many options out there, determining which tools are the best fit for your company is no small task.
The tools mentioned above are what we believe to be some of the best AI resources available for small businesses. Check them out and you'll see exactly what we mean! Your small business will see increases in productivity, customers, and more. In short, you'll never look back.
related content