August 18, 2020 by Molly Weybright
6 Tips for Marketing Your Pest Control Business
In a world where print advertising and word of mouth are no longer the only ways to reach new customers, figuring out how to market your pest control business online can seem daunting. The good news is that the internet provides a surplus of marketing tools that can help you promote your business. The caveat is that sorting through those options can be difficult for even the most experienced marketer, let alone someone who is also trying to run a successful pest control business at the same time. These 6 tips will help set you on the right track to growing your pest control marketing strategy and in turn growing your customer base.
Use Eye Catching Infographics
The unfortunate reality of the digital age is that most people are not reading all of your digital content. In fact, people are much more likely to skim, only reading about 20% of the text on a page. That means if you want to emphasize certain elements of your pest control business, such as your environmentally safe technology or pet friendly processes, you need something more eye catching than text on a page. That's where infographics come in.

Infographics are visual representations of information or knowledge that are clear and easy to understand. They can present complicated pest control processes and data to your customers in an easily digestible format. This in turn increases their comfort in what you will be doing when you enter their home or business. Although infographics can take time and money to create, they are valuable tools to help your site stand out from your competitors and get across important information that will hopefully make people much more likely to call for pest control services.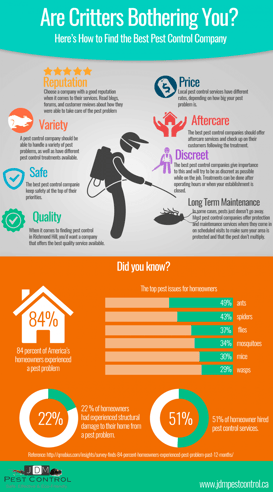 Infographic Credit: www.jdmpestcontrol.ca
Put Your Testimonials to Use
Whether you're brand new to the pest control industry or you've been managing your business for decades, you already know that good reviews are helpful. Like digital word of mouth, testimonials provide first hand experiences that are relatable and highly convincing. Seeing that a stranger had a positive experience with your pest control services helps build trust and credibility for new customers, which is extremely important. You will be entering their home, after all, which is where trust matters the most.

So how do you get people to leave a review? One great way to do this is implementing a referral or rewards program. When a customer leaves a good review and/or refers a new customer to your business, they receive a discount to use the next time they need your pest control services. This not only incentivizes customers to leave positive reviews, but it also gives them a reason to hire you again in the future. Then, you can highlight these testimonials through social media, video content, and by displaying them directly on your website so wherever potential customers look they'll find first-hand accounts of how great your services are!
Establish an Online Presence
You may be looking at this tip and thinking you already have a website, which means you've got it covered. But, in the age of the internet where everyone has a website and social media rules the world, there is so much more to establishing an online presence than having a single site. You want to take up as much page real estate as possible when someone searches for your brand. This not only makes you easier to find and hire for pest control services, but it also helps to build credibility so that a new customer trusts your expertise and legitimacy from the outset.

At a time when everyone has a small computer in their pockets, none of these tips matter if your site is not optimized for mobile. That means that when a customer pulls out their phone and finds your website, it will be displayed cleanly and clearly. In fact, if you haven't taken the time to do this, your site won't even show up when someone searches pest control in your area. That's why this is step one in establishing an online presence.

Step two: social media. Social media is a powerful resource when it comes to online marketing. Whether it's on Facebook, Instagram, or Youtube, your site becomes a one-stop shop for everything a potential customer is looking for. Plus, if they are searching for you on that site it likely means they are familiar with it, which automatically helps establish a feeling of comfort and convenience for the customer.
Educate and Interact with Video Content
As an expert company, you are the authority on all things pest control. There's a strong chance that when someone needs pest control services, they don't know exactly what they're looking for or what to expect. In fact, they may not have a solid grasp on what the process looks like until it's happening. A great way to inform future customers as well as market your business online is by creating high-quality video content that educates and interacts with the customer, giving them a greater understanding of what to expect.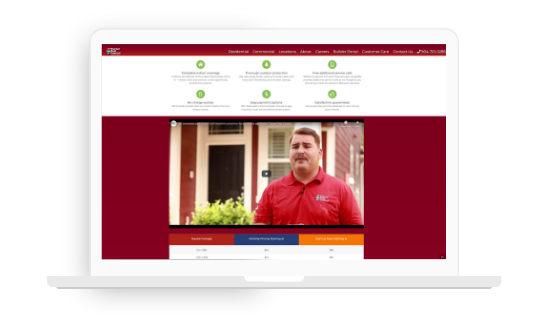 By producing high quality video content you are not only educating your customers on what you do, but you are also providing another example of the level of expertise they can expect from your pest control business. Similar to infographics, videos are another way to provide easily digestible information about your services while circumventing the lack of reading customers want to do. Video content allows you to put a friendly face to your product, building trust between you and the customer and ultimately making your pest control services that much more appealing.
Local PPC Advertising
Implementing all of the marketing tactics in this post will undoubtedly move you in the right direction of your marketing journey. But, if these tips seem a bit too hard to do yourself, consider partnering with a pay per call (PPC) marketing company. PPC companies do the heavy lifting to advertise your business on search engines like Google and Bing and connect you in real time to new customers. You'll pay a set amount for every potential customer you are connected to.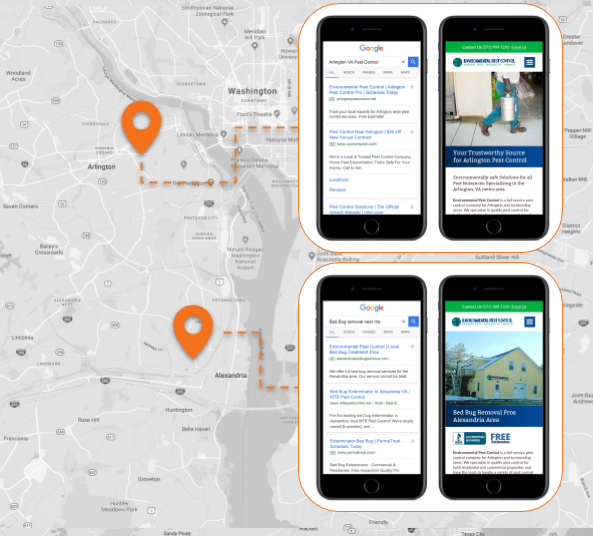 Because you only pay them for leads that may turn into a job, your PPC partner is highly motivated to perform well. Companies like Service Direct advertise your pest control company directly in front of people searching for your services and contact you in real-time. While some PPC companies will expect you to commit to an annual contract, you'll want to look for a partner that lets their product speak for themselves rather than locking you in. At Service Direct we know that not every partnership is a good fit and we wouldn't expect you to feel trapped in a contract if you decide you want to go in another direction.

The team at Service Direct has years of experience working with pest control companies to provide real leads that are designed to convert. So with us, you'll never pay for a spam call or a wrong number. Just real customers looking for your expert pest control services!
Focus on Customer Remarketing
First off, what exactly is customer remarketing? Customer remarketing is the process of marketing specifically to customers that have used your services in the past or customers that interacted with your business but decided against hiring you. One of the biggest marketing mistakes pest control companies make is only focusing on getting new customers rather than turning some of their efforts toward repeat business.

With this concept in mind, there are a few simple tactics you can implement to have a successful remarketing campaign. Running seasonal specials and offering routine maintenance discounts can be a great way to incentivize previous customers to return for more services and offering one-time deals and sign up bonuses for new clients can change the mind of customers who otherwise decided against your services. As an added bonus, all of these remarketing tactics are likely to help attract first-time customers as well! When a potential customer sees how much you value current customers, it builds trust and confidence in your ability to do right by them as well.
Use Marketing Tactics That Build Trust
If you've read all of these tips, chances are you've noticed some similarities in what they aim to do for you and your pest control business. They all work to instill trust and confidence in the customer on behalf of your business. No amount of marketing will help increase your customer base if potential customers don't trust you to enter their home and treat their space with the utmost respect. By focusing on obtaining testimonials, creating high quality video content, and remarketing to previous customers, you are marketing your business while also building trust between you and your current and future customers. Pair that trust with a solid marketing plan and your pest control business is sure to flourish.