September 06, 2017 by Ty Alyea
Ad Extensions: Turning Your Service Listings Into Eye-Catching Ad Copy
At Service Direct, we strive to get our marketing partners' ads in front of new customers when they are most likely to decide who they are going to call to meet their needs. To make sure our advertising partners stand out from the rest, we tailor each ad campaign with custom ad extensions that highlight unique business features, inform customers about services, and allow customers to call straight from the ads themselves.
Often appearing alongside and below our standard search ads, ad extensions provide an eye catching and informative way for us to connect you with service seekers. They also allow for potential users to take the path that best suits them as they prepare to schedule a service call. This flexibility allows us to connect our clients with a broad range of needs and search habits.
Call Extensions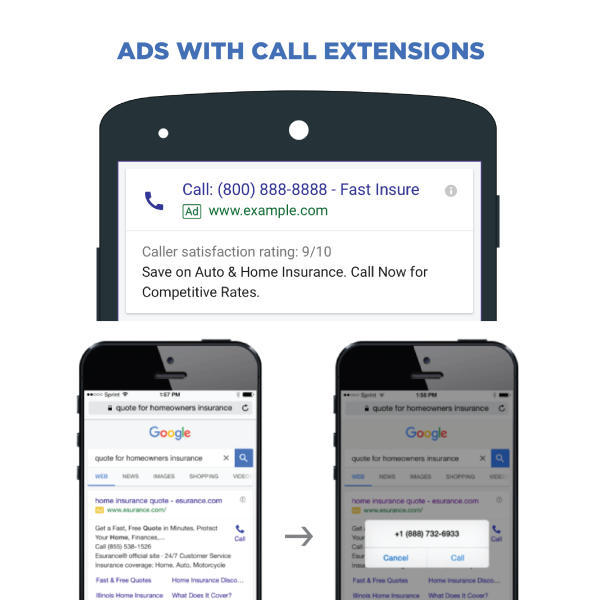 Call Extensions allow your most eager service seekers to get in touch with you fast. Appearing as a telephone number or phone icon next to the rest of your ad, call extensions allow users to give you a ring with the tap of a finger or click of a button. In addition to giving clients an opportunity to contact you quickly, Google reports that these extensions can enhance the chances that potential clients will click on your ads. We can also make sure these extensions don't show when your business is closed so that your phone number number will only appear when you are taking calls.
Sitelink Extensions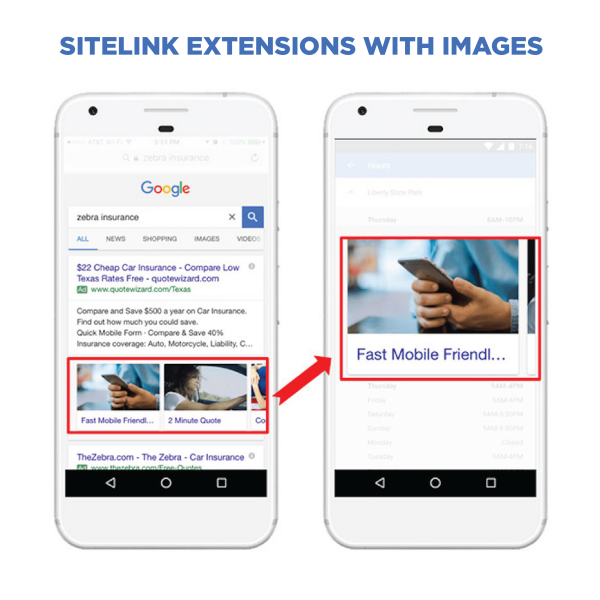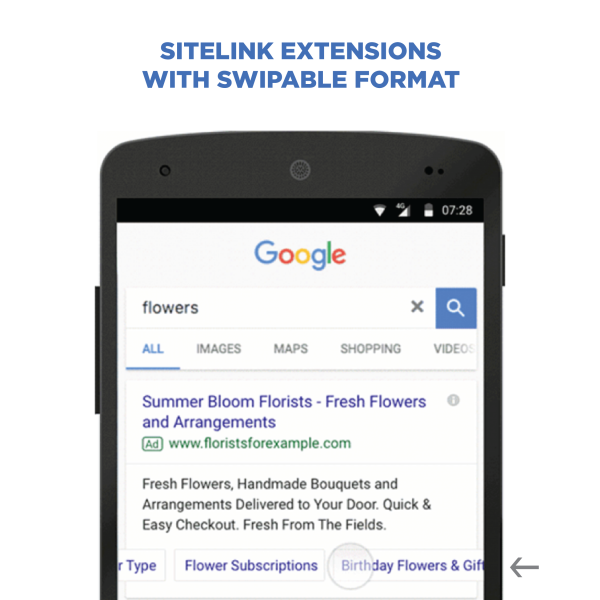 While Call Extensions put potential clients on the line at the moment they're ready to discuss scheduling an appointment, Sitelink Extensions take information-hungry clients to specialized content pages that educate your client about your services. By clicking on these links, searchers can be taken straight to pages that show your service offerings, testimonials from past clients, service maps, special deals, and more. These details provide an especially useful funnel for thoughtful customers.
In some circumstances, these sitelink extensions will be accompanied by Sitelink Descriptions, which draw even more attention to your services by offering a preview of the content on your site pages. In addition to informing your potential client before they click, these links & descriptions command more screen real estate, and thus make it easier to notice & click on your ad.
Callout Extensions and Structured Snippets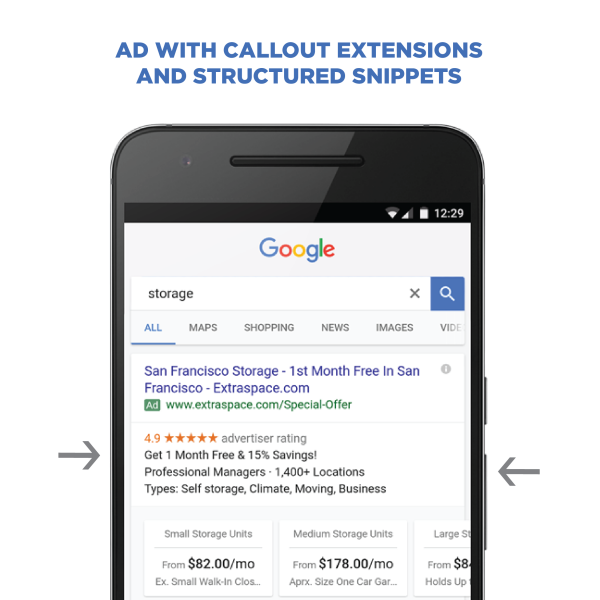 Callout Extensions & Structured Snippets provide us an opportunity to highlight aspects of your business that set you apart from the competition. Callout Extensions highlight professional affiliations, special discounts, and more. Structured Snippets, meanwhile, allow us to list services offered, brands of items sold or serviced, and types of product offerings.
Ad extensions are a constant focal point for research and improvement. Since our ads appear on a variety of screen sizes and alongside a field of competitors, whether or not specific ad extensions show up in Bing or Google may depend upon user engagement data, ad rankings, screen configurations, and Google or Bing's internal metrics. As we get more data about how specific extensions generate quality traffic, we test new extensions & improve upon our current ones.
Service Direct leverages more than a decade's worth of marketing data to design ads and ad extensions that engage a wide audience of likely customers. As experts in best practices for search engine marketing, we will continue to refine our mission to help service-seekers connect with service providers fast and help our client's expand their businesses.
Are you interested in talking about how special features of your business separate you from the rest of the pack? Give us a ring and we can talk about how to make our custom ad platform work for you.