September 03, 2020 by Molly Weybright
Do's and Don'ts of Pest Control Pay Per Lead Services
Whether you have been operating your pest control business for decades or have only been in business for a few months, one of your biggest concerns is likely increasing your customer base. How do you find the time to bring in new customers while also keeping up with jobs and running a pest control business? Partnering with a pay per lead marketing company might be exactly what you need to take the first step in increasing your customer volume.
What is Pay Per Lead?
Pay per lead (PPL) companies are experienced marketers dedicated to connecting you with new customers in real time. Typically they will use online advertising and keyword bidding to advertise your business to customers who are actively searching for pest control services in your area. PPL companies will connect you to those customers by phone or email, thus bringing you leads that are designed to convert. However, it is important to note that not all PPL companies are made equal and finding the best partner for your pest control company can be difficult.
Do: Evaluate More Than One Service
This may seem like common sense. Of course you would look at all of your options before making a decision, right? Well, if you are just entering into the fray of lead generation, sifting between PPL companies to find the right fit might seem daunting.
We recommend comparing at least three different lead generation companies before deciding on a company to sign up with. Use this checklist to make sure you are asking the right questions and can choose the right partner based on your needs.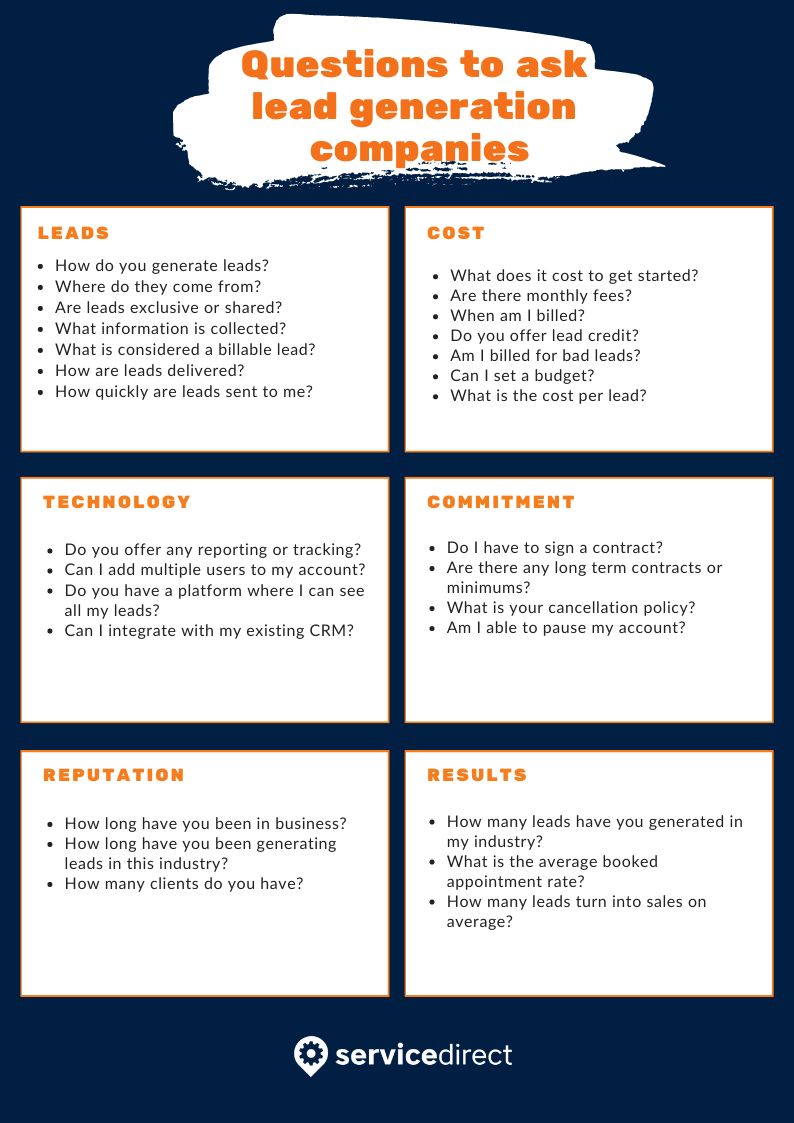 It's your pest control company, after all, and if you find that you're investing significantly more into a pay per lead partnership than you are getting out of it, it may be time to look elsewhere for pest control lead generation services.
Don't: Sign Any Long Term Contracts At First
Some pay per lead companies will ask you to make extended commitments or sign long term contracts at the inception of your partnership. While it may seem intuitive that a company would want you to commit to their services long term, it's not always in your best interest to make that commitment.
Why? Put simply, there is no way to know whether a partnership will be successful until you try it out. Every lead generation company will not be a good fit with every pest control business, so that initial trial period is key. But, if you sign a contract with a PPL company and find a few months in that their services aren't what you are looking for, you'll likely be hit with exorbitant fees and frustrating pushback when trying to back out of the partnership.
Do: Understand What You're Paying For
This tip might seem like common sense. Of course you're going to want to do your research before committing to a company and trusting them
with your business. But, if you're new to the idea of lead generation you may not know exactly what to look for or what attributes might pair best with your pest control business. Understanding the difference between shared and exclusive leads, pay per lead and pay per click, and researching what unique qualities a company possesses will help you make the right choice for your pest control business.
If you are new to lead generation, you will likely see the most success with exclusive, pay per lead services. Exclusive leads ensure that you will not have to undercut costs to win a lead over competitors, whereas shared leads often end up with a company having to provide the best deal to win the job. Pay per click is another type of lead generation service that can seem enticing at first. You pay a very small amount every time someone clicks on your site or ads. The downside is that customer intent is never taken into account, so those affordable clicks can sometimes add up with no jobs to show for it.
Pay per lead companies only charge you for leads that have the potential to turn into new customers for your pest control business, taking into account the intent of the customer, which means you don't pay for spam calls, wrong numbers, or returning customers. Understanding what you will be paying for is incredibly important when choosing the company that works best for your pest control business.
Don't: Set It and Forget It
While it is true that lead generation companies will take a lot of the guesswork out of your marketing journey, it's not quite as simple as signing up and forgetting about the partnership until the leads start to flow in. A large part of pay per lead marketing is the pest control company's willingness and ability to constantly measure the success of the PPL efforts.
We also recommend fully investing yourself into the process when you sign up with a lead generation company, giving the partnership at least a few months before determining whether or not it will be successful in the long term. If you are unable to invest the recommended amount of time and money into lead generation, you will probably not see the expected results. On the other hand, don't be afraid to stop working with a lead generation company if their services are not working for your business after a few months.
Pay For Performance
The best way to guarantee a successful partnership between your pest control business and a pay per lead marketing company is making sure you partner with a company that is prioritizing your success. As a business owner you know that one thing is guaranteed in the business world: money is the top driver for high performance. When it comes down to it, the number one thing guaranteeing a company prioritizes your success is evaluating how much of their success and money making depends on your own.
Keeping the above tips in mind when searching for a pay per lead company will help ensure your business' success with lead generation. Or, you could always give us a shout!