June 01, 2020 by Ty Alyea
For Service Businesses: New Research Indicates After-Hours Advertising May Be Killing Your ROI
We recently decided to undergo an in-depth analysis of our Google Ads data to understand how search behavior changes based on the time of day. In doing so, we discovered some surprising trends that impacted our ability to drive new customers through Google Ads in a cost-effective way for our clients. We work with about 1,000 home service contractors across North America, so finding ways to optimize our spend at scale can have a significant impact on our bottom line.

We analyzed 16MM searches and approximately 350,000 site visitors across 56 home service categories from the past two quarters, representing roughly $1.8MM in spend. In short, our data reveals that people searching after-hours for home improvement services are considerably less likely to convert, which as a result, can drive up the cost of marketing to levels that are not sustainable.
How did we define a conversion?
We define a conversion as a site visitor that arrived from a paid search ad on Google that called the phone number or submitted a form on the landing page.
How did we define after-hours?
For this analysis, we considered during business hours from 6:00 AM - 6:00 PM Central Standard Time and after-hours from 6:00 PM - 6:00 AM Central Standard Time.
Key Findings
27% of total impressions occurred after-hours.

On average, the conversion rate during business hours was 11.8%, compared to 3.5% after-hours.

The average cost per click during business hours was $5.35 compared to $4.50 for clicks after-hours, a 16% decrease.

On average, the cost per conversion during business hours was $48, compared to $129.80 after-hours, a surprising 171% increase.

While clicks purchased after-hours were slightly less expensive, the lower conversion rate after-hours resulted in higher overall spend.
There Is A Stark Difference In Search Behavior During Business Hours Versus After-Hours
The majority of our clients offer essential services after hours. That means they are open for business at all hours and are able and willing to accept new customers no matter when people need help.

Our data shows that people are actively searching for those services at all hours of the day and night. In fact, 27% of total impressions for the date range of our study occurred after-hours.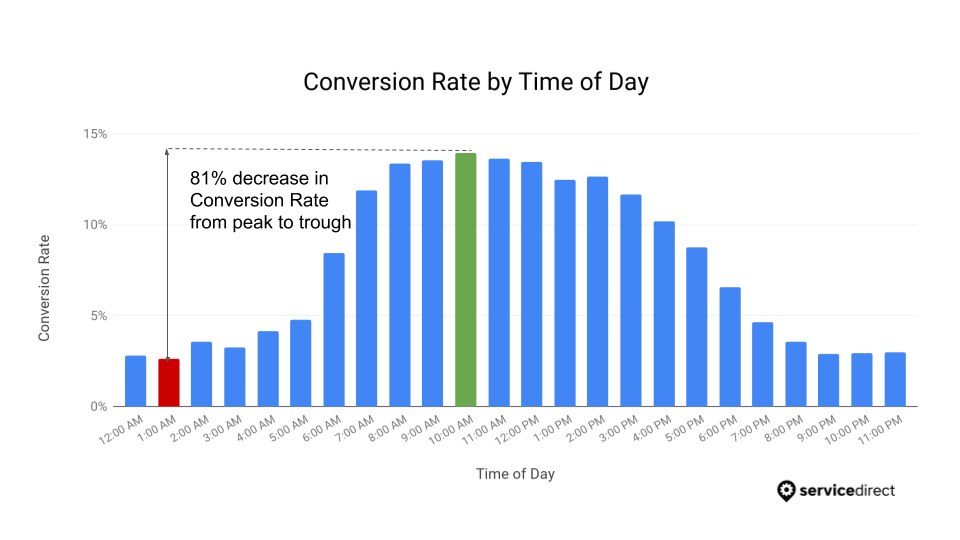 However, the likelihood of a searcher acting on their need by calling or filling out a form, dropped dramatically after-hours.

It is also important to note here that our conversion data takes into account after-hours searches that end up converting the next day, and accurately attributes that conversion to the original time of the after-hours search.

At peak hour (between 10 AM-11 AM), site visitors converted 13.9% of the time. Conversely, at the off-peak hour (between 1 AM-2 AM), site visitors converted 2.64% of the time. This drop represents an 81% decrease in conversion rate from peak to trough, making the value of a site visitor to vary drastically depending on when that visitor arrives on a website for these type of services.

So, our next question was, "does Google's smart bidding system account for this discrepancy?" Unfortunately, the answer is no.
Google Ads Does Not Fully Account For The Difference Between Cost Per Click And Conversion Rate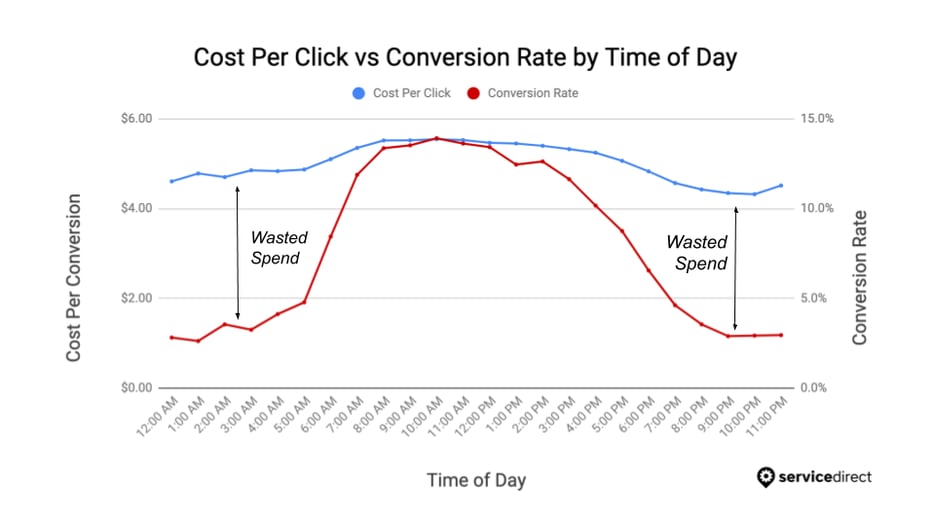 In a perfect world, the wild fluctuations in site visitor behavior would be optimized based on the cost to acquire a particular visitor. In other words, if you were aware that the value of a visitor drops dramatically at certain times of the day, you would offer a bid amount that reflected that drop in value.

What our data makes clear is that there is a wide gap between the actual value of these 'after-hours' visitors and the cost to acquire them. The average cost-per-click during the peak hour (10 AM-11 AM) was $5.54, compared that average the cost-per-click at the off-peak hour (1 AM-2 AM), was $4.70, representing a marginal decrease of 14%. While the cost to acquire these clicks after-hours is slightly less, the drastic drop in conversion rate makes the value of these clicks even lower, resulting in wasted spend during this time.

So, what does that mean for home service businesses attempting to gain new customers after-hours?
The Cost Implications Of This Behavior Can Have A Profound Impact On Marketing ROI
The best metric to understand the impact of these fluctuations during business hours and after-hours is by looking at the average cost-per-conversion by the time of day. In other words, how much does it cost to generate a conversion (a phone call or form submission) by the hour? This metric accounts for any changes in the cost-per-click while factoring in conversion rate.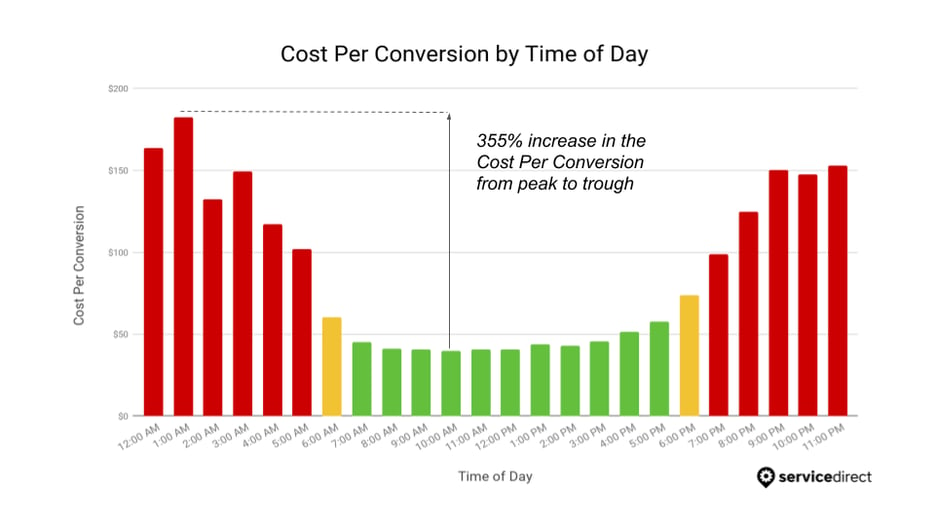 According to our analysis, during peak hour (10 AM-11 AM), the cost-per-conversion was ~$40, while the cost-per-conversion at the off-peak hour (1 AM-2 AM) was ~$182. That is a 355% increase in cost-per-conversion after-hours from peak to trough!

There is a distinct window of time where the market dynamics are favorable, and then there is a rapid change in those dynamics after-hours making it much more challenging to generate conversions cost-effectively.

So, what can you do to maximize your Google Ads ROI and get more customers at higher margins?
Recommendations
Adjust The Primary Call To Action After Hours To Encourage Form Fills Over Phone Calls
What our data makes clear is that people are going to be much less likely to pick up the phone after hours (despite whatever messaging you give them that makes clear you are open and able to handle their call).

To accommodate for that change in behavior, focus your primary website CTA on getting the visitor to provide their information via a form or quote request so that they are first in the queue the next morning to receive a call to discuss their needs.
Adjust Your Google Bidding Strategy Based On Your Time Of Day Data
Depending on your level of sophistication, there are different actions you can take to spend smarter.
Option 1: Stop Bidding After-Hours Completely
For some companies, it may make sense to pause your Ads completely during certain hours. This will help you at least stop spending your hard-earned money at times when it's clear that money will not go very far in terms of acquiring new customers. Instead, save that money for when the market dynamics are more in your favor.

Option 2: Apply Bid Modifiers By Hour
It is wise for any digital marketing professional to implement day-parting - a term used to describe the strategy of scheduling ads for certain times of day to more effectively target audiences. In the same way that TV and Radio advertisers pick the best time of day to deliver ads, Google allows you to implement time-of-day bid adjustments at the campaign and adgroup level.
You can reduce bids overall for the hours that aren't producing results. Or, if you want to get even more sophisticated, you can have ads that target after-hours searchers only.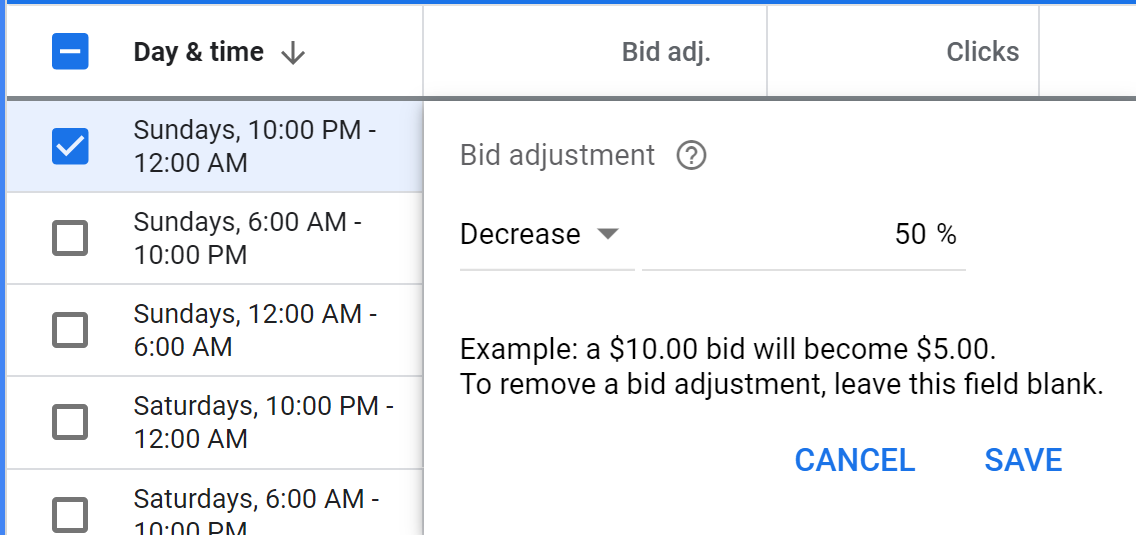 Google gives you the ability to increase or decrease your bids based on custom time of day. Utilize this feature to account for the swings in the efficiency of your ad spend that you discover in your Google account.
Conclusion
As our data indicates, there is a massive gap between the actual value of after-hours site visitors and the cost to acquire those visitors in Google Ads. Many marketers are bidding on these after-hours visitors without a complete picture of the value for their business. As any home improvement company knows, competing in Google Ads is becoming more and more of a challenge. Our data clearly shows that one way you can gain an advantage is by understanding the inherent value of your site visitors by the time of day and customizing your bid strategies based on what you're seeing.
Methodology
Service Direct analyzed 6 months worth of clicks, from 9/1/19-3/31/20, totaling 350,214 clicks and $1,792,085 in spend. This data explores 856 accounts across 56 home improvement industries. Our primary conversion tracking method involved utilizing Google's tracking numbers on our landing pages and on the ads themselves.