November 15, 2023 by Service Direct
Introducing Marketplace Form Leads for Home Services
At Service Direct, we pride ourselves on providing high-quality leads that help our clients expand and run their businesses efficiently. For over 15 years, we've helped home services businesses connect with potential customers, allowing our clients to focus less on marketing their businesses and more on providing great services to homeowners.

We're constantly working on ways to improve our platform and provide an even better lead generation experience. As part of our ongoing efforts to supply the best homeowner leads to our customers, we're proud to announce the release of Marketplace Form Leads.

To ensure this new product meets our standards, we first launched Marketplace Form Leads in Beta. Over the course of nine months, over 100 beta clients purchased more than 6,200 Marketplace Form Leads. The dispute rate for Marketplace Form Leads is less than 10%, and the average CPL chosen by clients is just 30% of the CPL for Phone Calls in the same service category. Over 75% of clients who opted into receiving Form Leads during our Beta release continue to purchase Form Leads.
What are Form Leads?
Form leads are among the most common types of digital leads generated online. They are potential customers who have submitted information regarding their project service needs in order to speak with a qualified home service professional that may be able to complete their project.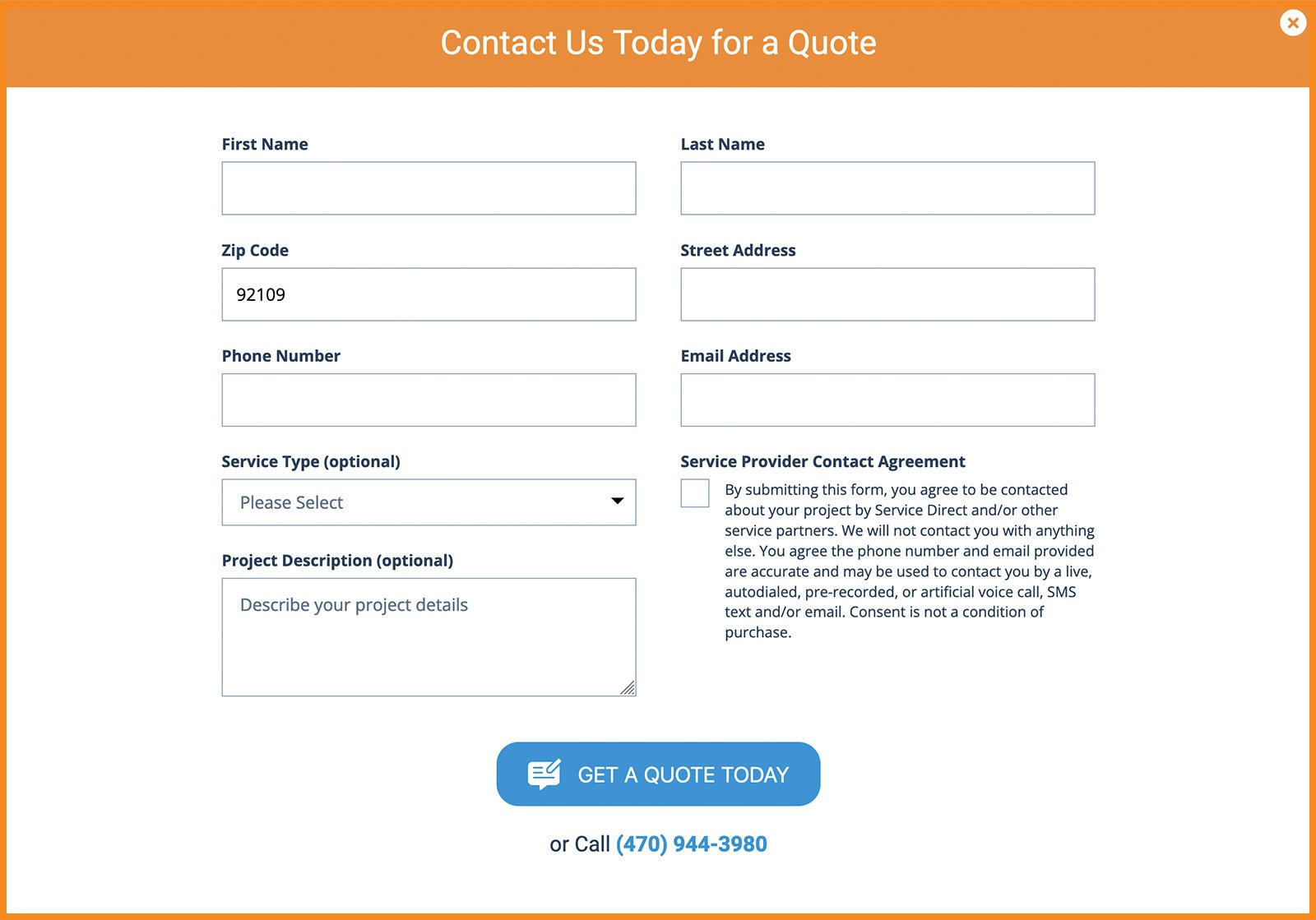 Example of the Form Lead a potential customer fills out on our Service Direct marketing site.

Once the homeowner submits their information, that data is passed in real-time via email as well as text message to the client who can best serve their needs. The home improvement contractor can then reach out to the homeowner in order to connect with them, learn more about their project, and try to win their business.
Why Form Leads?
Service Direct has been a pioneer in the Pay Per Call space for home services businesses in the US, delivering high-quality leads directly to our clients' phones. However, we understand the value of diversification when it comes to lead generation tactics, and realized that by expanding our offerings to include Form Leads, we could provide even more value to our clients.

With over 15 years of experience attracting and converting homeowners into phone calls, as well as our large network of top-tier affiliate publishers, we are well-positioned to provide an additional pipeline of potential customers to our home services clients.
How Do Marketplace Form Leads Work?
Form leads are generated when potential customers fill out an online form on a website or landing page. This is how they express interest in or need for a specific type of home service.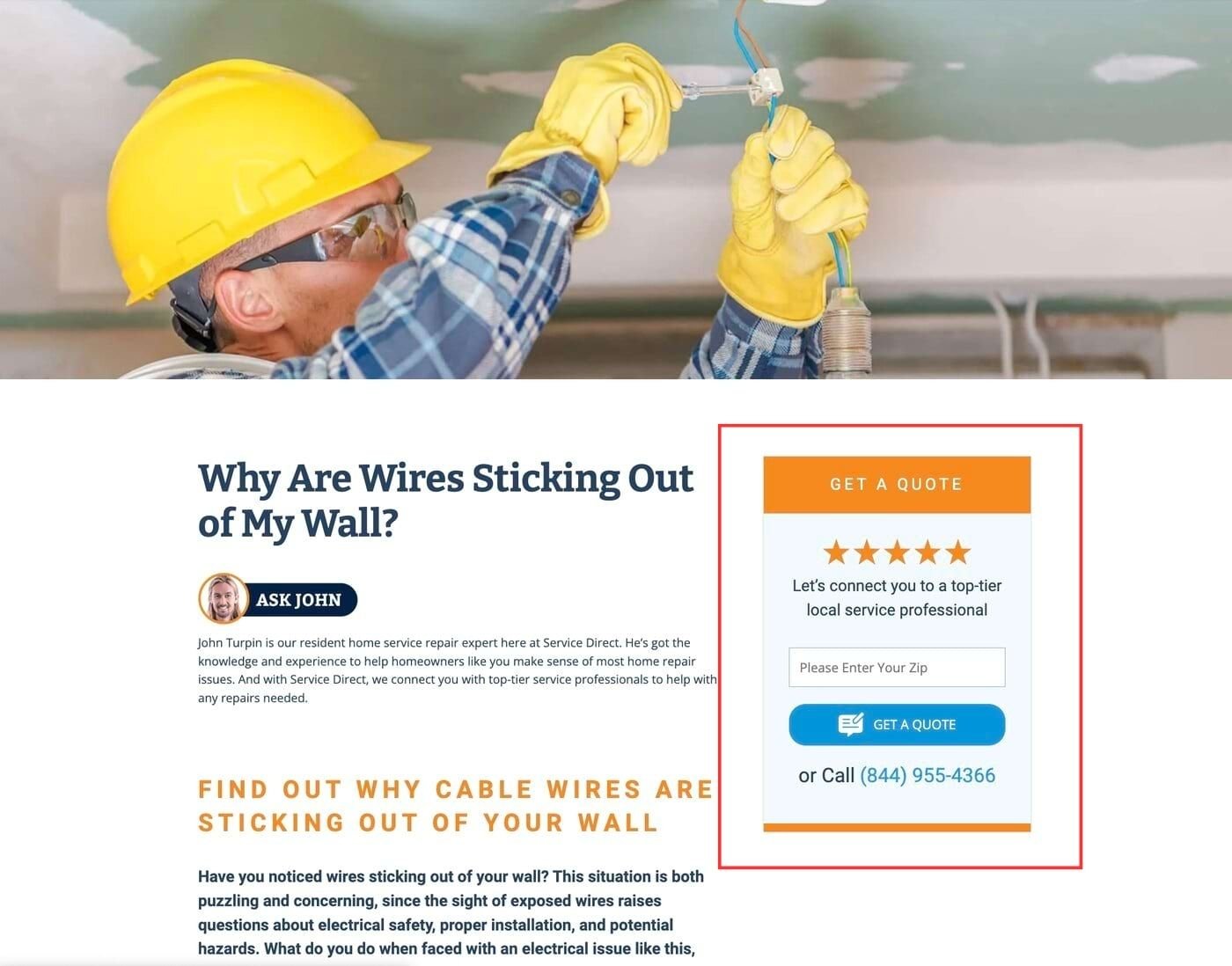 A potential customer encounters our Get A Quote call to action module and gets connected to our clients.

With Marketplace Form Leads, homeowners enter their name, phone number, email address, and a description of the issue they've encountered or the services they need.
Unlike some lead generation companies that will sell form leads to up to 5 contractors, Marketplace Form Leads are sold exclusively to one contractor within our platform that best meets the service needs of the homeowner. This means our clients have a greater likelihood of converting these exclusive leads into business, ensuring they play a prominent role in their growth strategy.
What are the Benefits of Form Leads?
If you're already satisfied with your incoming phone leads from Service Direct, you may be wondering why you'd want to add form leads to your lead generation strategy. Here are three great reasons:
Higher Lead Volume – Marketplace Form Leads are an excellent additional source of targeted exclusive leads to supplement your inbound phone leads. This two-pronged approach ensures a consistent supply of leads to several levels of your sales funnel.
Greater Flexibility – We strive to give our clients as much control over their lead-generation process as possible, and Form Leads are no exception. We enable you to set your cost per lead (CPL) based on your service categories and subcategories. You can also selectively bid on only the project types you want and set higher/lower CPLs for more/less desirable project types.
Less Risk – Diversifying your lead sources is always a smart idea. Plus, with no cost to get started, the ability to choose your price per lead, and the option to cancel at any time, there is very little risk to your marketing budget.
On average, Marketplace Form Leads cost roughly 30% of the cost of a Phone Lead in the same service category. If you're confident in your ability to follow up with potential customers and convert them into booked service appointments, form leads can produce a substantial ROI.
What Service Categories are available?
Service Direct's Marketplace Form Leads are still in the initial rollout phase, and currently only available to a select group of home services categories, including:
Plumbing
HVAC
Electrician
Appliance Repair
Roofing
As we continue to test form leads viability across industries, we will expand this new product into additional service categories.
How do Clients Opt-in to Form Leads?
Form Leads are currently available to existing Marketplace clients who have active campaigns in any of the categories for which we offer Form Leads.
To celebrate the launch of Marketplace Form Leads, Service Direct is offering $100 in Form Lead Credits for all new clients that opt-in to receive Form Leads. This is a limited-time offer, so opt-in by 12/31/2023!

Opt-in by navigating to your mySD Campaigns Manager and viewing all of your campaigns. The "Form Leads" section of each campaign's Quick View row provides information about whether Form Leads are enabled or not for that campaign.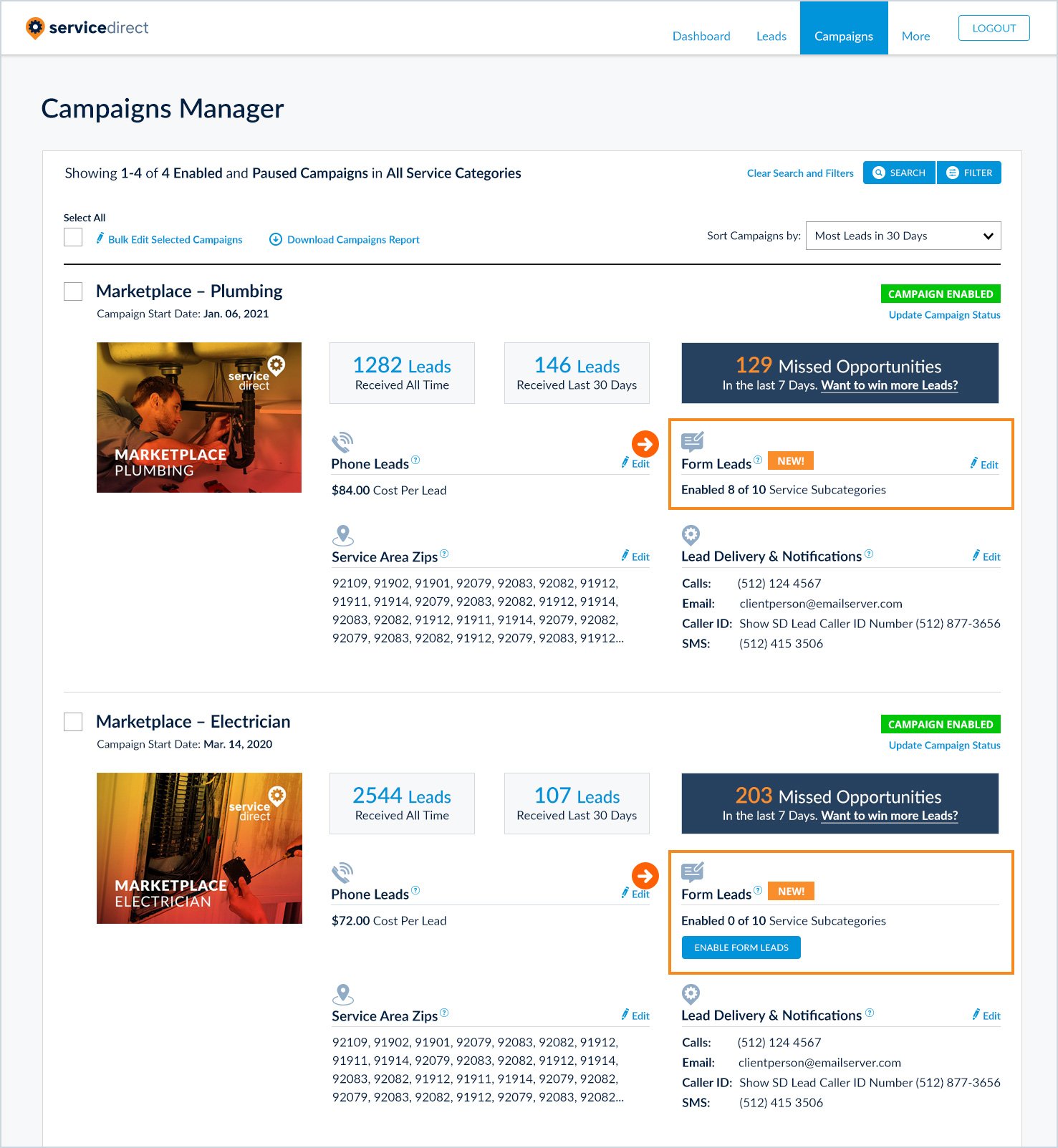 Find the Enable Form Leads button in the Campaign Quick View Row.
If we offer Form Leads in your service category(ies), and you haven't already opted-in, simply click the "Enable Form Leads" button within the Quick View row(s) for the campaign you want to enable Form Leads on.

You'll then see the Form Lead Settings popup where you can specify which Service Subcategories of Form Leads you wish to receive, along with the Cost Per Lead (CPL) you are willing to pay for each. We recommend setting your initial Form Lead CPL at about 25-33% of your Phone Call CPL.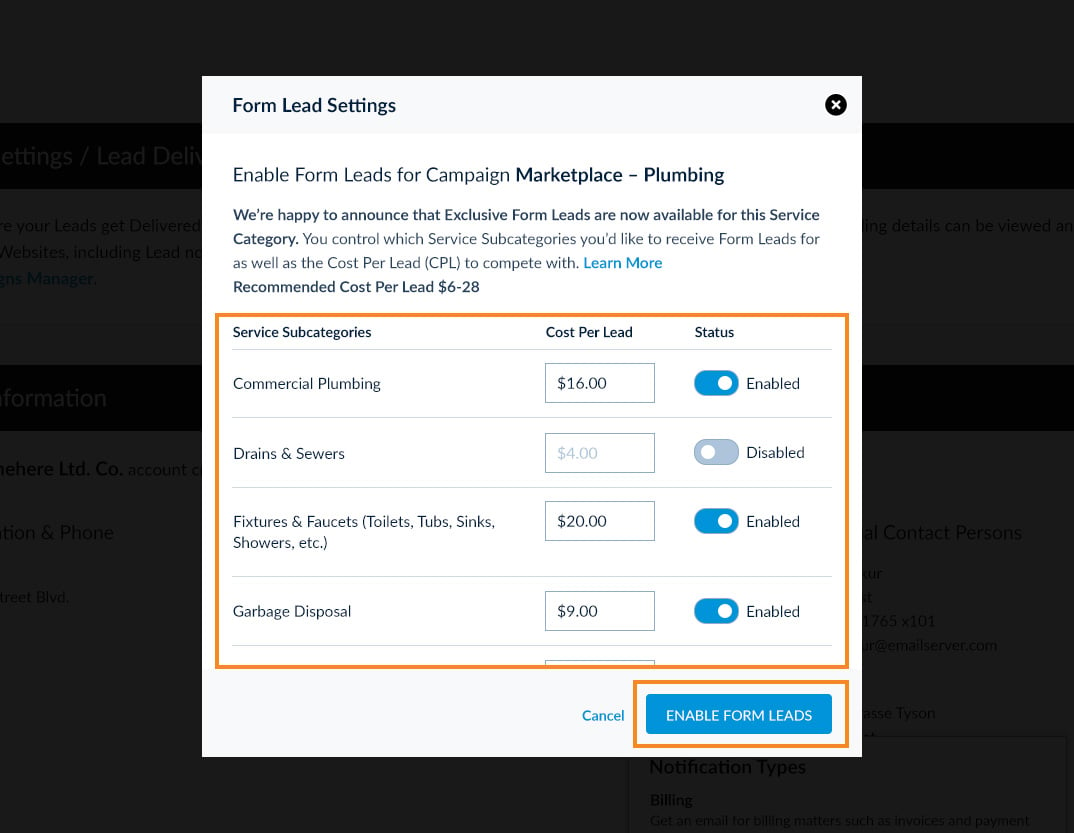 This pop-up window is where you can enable Form Leads for specific Service Subcategories and set your CPL for each.
As with our Phone Leads, you're free to adjust your CPL at any time for any reason. For more information on how to opt-in and how to adjust your settings, visit our Help Center.