April 09, 2020 by Rachel Ramsey
Introducing the new mySD!
We are excited to announce the launch of the new mySD!
It is our firm belief that a great partnership with our clients boils down to communication, transparency and performance. The new mySD has more powerful features to help you manage, optimize and monitor performance, in real-time.
The new mySD achieves several core principles:
Make the process from call to customer as easy and intuitive as possible.

Deliver even more real-time performance insight to help understand return on investment.
At the same time, our proprietary advertising system learns from those insights and continually optimizes your Campaigns based on what is working. The more information you track on your Leads the more accurate your performance metrics become, resulting in smarter and more effective Campaigns. Check out some of the new features you can look forward to using.
fresh new interface
See More. Do More. Know More.
Not only the design, but the overall user experience of mySD is focused on delivering the most relevant information to you as quickly as possible. You will have access to the same information as before, but with new self-service features making it easier for you to manage your Leads and Campaigns. We also really wanted to have performance insights to be a priority throughout the interface, so that you have total transparency into what is working.

New Dashboard
The brand new dashboard shows you the most important things you need to know about your Leads, Campaigns and Account, all in a snapshot.
Better Navigation
We also improved our navigation to help you find what you need quickly and easily. The redesigned interface offers a modern look and feel that is more intuitive and easy on the eyes.
Better Mobile Experience
We wanted to ensure a consistent experience offering all the same capabilities and access to features across any device - desktop, smartphone or tablet.
New Lead Manager
Get More And Better Leads
The new and improved Lead Manager (formerly Lead Log) is where all Leads from your Campaigns are tracked and recorded. Lead Manager was designed to offer a better way to find and manage your Leads with new lead tracking capabilities, enhanced filtering options, and performance insights to help you better understand your return on investment.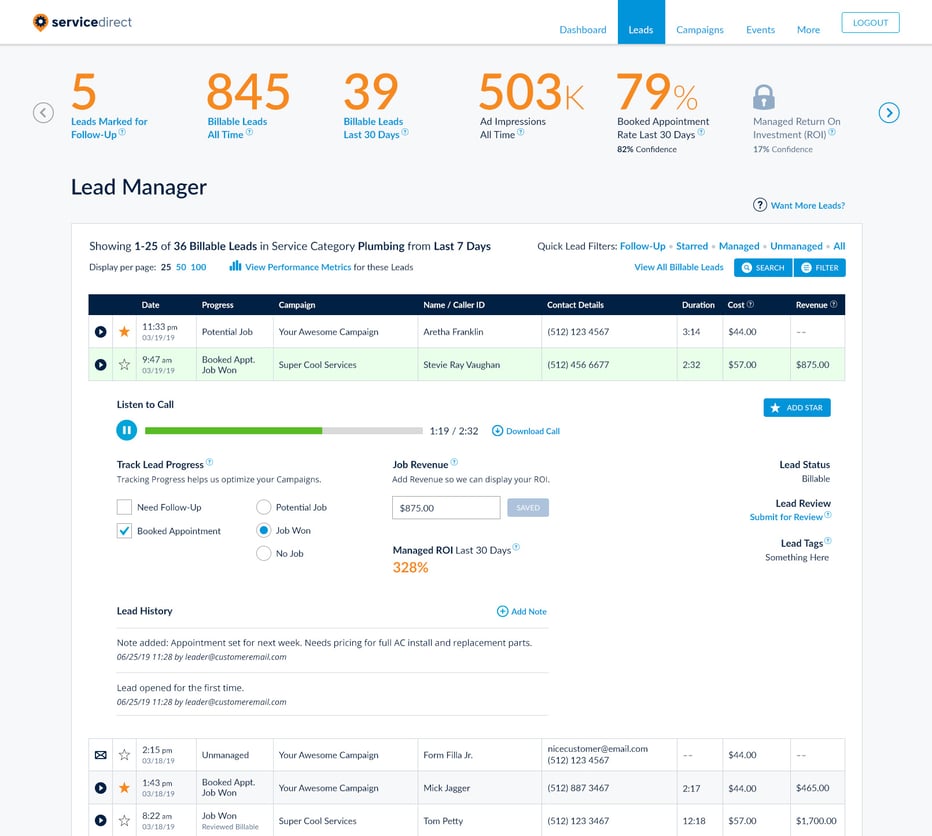 Enhanced Filters & Search
Find your most important Leads quickly with Enhanced Filters & Search. You'll be able to filter by Billable Status, Service Category, Campaign, Date, Progress, and more. You can also Search by Keyword or use Quick Filters to automatically narrow your Leads down to the most commonly needed lists.
Manage Leads To Better Optimize Campaigns
Manage your Leads from call to customer by tracking Lead Progress, while our system optimizes your Campaigns based on this information you provide. In other words, the more you manage the smarter your Campaigns will become. Lead Progress will help you understand which Leads need action from you or your team in just a few clicks. Job Progress and Job Revenue will help you better understand your return on investment.
Lead Performance Insights
Get real-time insights with Lead Performance Metrics. These metrics summarize your Lead performance, identify Leads that need action, as well as quickly calculating critical KPIs to help you understand what is working.
New Campaign Manager
A Better Way To Manage Campaigns
We took your feedback and did a complete overhaul of the way your Campaigns are displayed and managed. Campaign Manager was designed to offer an easier and more centralized way to manage your Campaign, with new self-service features dedicated to adjusting your Campaign settings without any wait times.

Campaign Quick View
We centralized all Campaign settings in one place, and now you can see a Quick View of each of your Campaigns in Campaign Manager. In each Campaign Quick View you can see the name of the Campaign, view the Campaign Microsite, view Lead Delivery settings, view the set Cost Per Lead, and see Lead Performance Metrics for each Campaign.
Bulk Edit
By popular demand, you can now filter and select multiple Campaigns to update or adjust settings, all at once. No more having to manage your Campaigns on at a time, and in different places.
Campaign Insights
You can also better understand how all of your Campaigns are performing with Campaign specific Lead Performance Metrics. Learn quickly which Campaigns are performing best by getting you quality Leads, providing the insight you need to better understand your Campaign performance. You can also download historical performance reports.
new and improved help center