August 07, 2019 by Matt Buchanan
Lead Generation Pricing Models For Contractors
If you're a contractor you, quite literally, have a lot on your hands. You're probably juggling multiple projects simultaneously, each requiring different skills, expertise, tools, problem-solving, and labor. Never mind if you are an owner-operator with multiple technicians and crews, managing hiring, training, office duties, etc. Aside from repeat customers and word-of-mouth referrals (which reflect just how credible your business' reputation is), how you acquire new customers is something you'd probably like to take off your hands and pass on to someone—or a company—whose focus is just that.
Enter: lead generation services. There are many different lead generation companies to choose from that focus on the contractor/home improvement space, each with slightly different offerings and prices. So before you pull the trigger on one or even a couple, it's important that you understand a few fundamentals about the basic offerings, what they deliver, and how you'll be charged.
The Lead Generation Funnel And Its Impact On Pricing
One thing about the space that can be a bit confusing is that the word 'lead' can be used interchangeably to mean a lot of different things. What one company calls a 'lead' may vary wildly from what another company calls a 'lead'. One way that might help you understand the various ways the term 'lead' can be used, and therefore help you make sense of the lead offerings and pricing of various providers, is to think of it in terms of a funnel.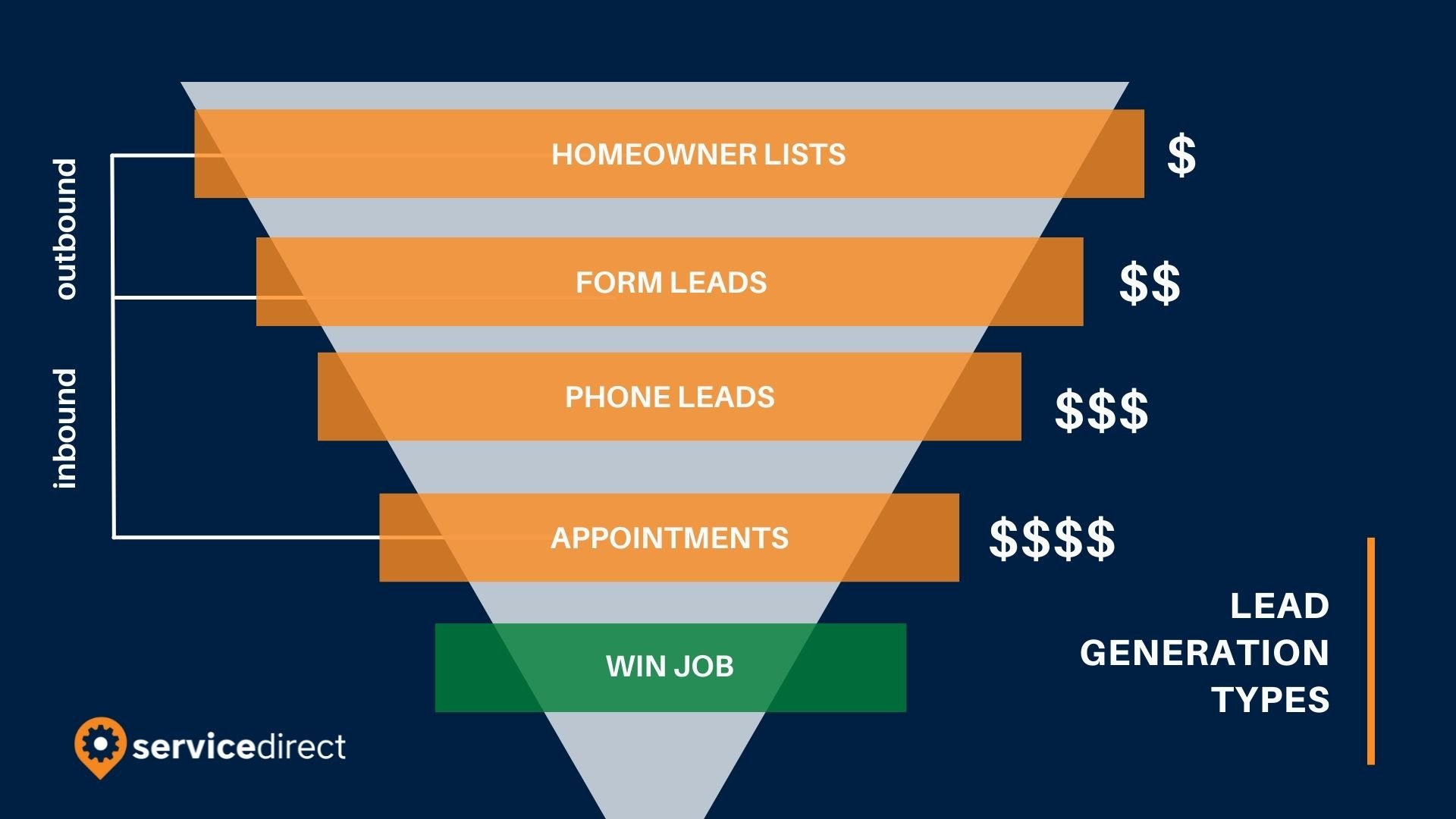 Within the funnel are the various stages a 'lead' might be in, such that as they get closer to the bottom of the funnel, the closer they are to actually purchase your services. In turn, the closer they are to actually purchase your services (in other words, the more likely they are to convert from a lead into a customer) has a massive impact on the value of that lead, and therefore the price you will pay for it.
So let's look at it through the lens of the funnel diagram above, and take a look at the various types of leads you might purchase, along with the pricing models that can be applied to those lead offerings.
Purchased Lead List or Lead Database
The first lead segment in the funnel represents your total addressable market (TAM), meaning all homeowners in your area. There are various lead services that help you search, filter, customize and ultimately build lead lists that can be used to do proactive outreach or outbound marketing.
For example, as a handyman you may utilize a service to find all new homeowners within certain zip codes or neighborhoods, recognizing the new homeowners have usually had an inspection done that calls out various flaws in a home that need to be repaired. Or, if you are a plumber and you are focused on high-value trenchless sewer line replacements, you may want to send a coupon mailer to a certain neighborhood with older homes that probably have lead pipes, so you can build lists based on the geo-location of the home and the date the home was built.
Regardless of how you go about building these lists, there is still a low likelihood that whatever marketing you are going to do converts those recipients into a new customers. Not only that, but you also have to invest additional sales and/or marketing dollars to actually do something with the list (design/mail our mailers, coupons, door hangers or even sending door-to-door salespeople, etc.). So the pricing for this type of lead generation service reflects those realities.
How do they charge?
Pay Per Contact
Fixed-Rate based on list size
Fixed Monthly subscription
For these types of services, you typically pay per contact that you download. In other words, if you did a search using whatever criteria you set, and it spits out 1,000 property addresses and contact names, you would pay a price for those 1000 contacts. It's important to note that these types of lead databases usually have incremental pricing, such that the more contacts you download, the cheaper the cost is per contact downloaded.
As an example:
Up to 500 Contacts - $49
Up to 1000 Contacts - $74
Up to 5000 Contacts - $119
Inbound Form Leads
This is the type of model you probably think of when you think of lead generation. It's the type of lead where a person fills out their information with a form on the internet describing their project and providing their contact information.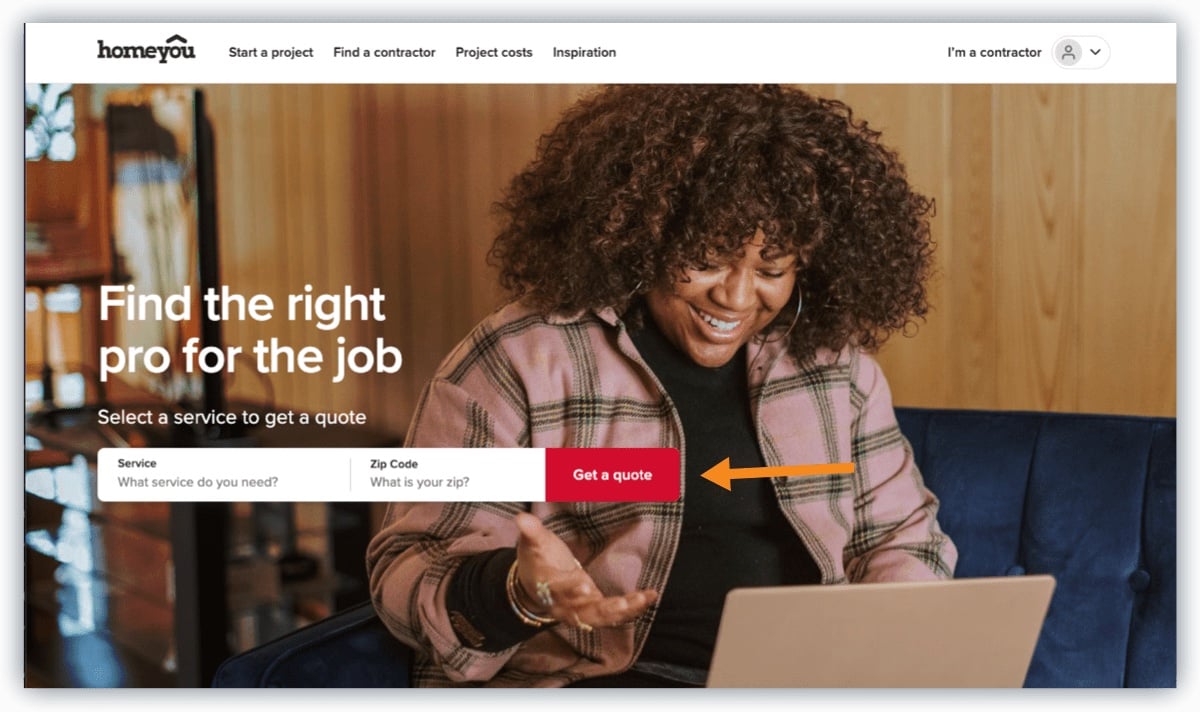 Source: HomeYou
This type of lead is more likely to turn into a customer as they have clearly been doing some research on their own regarding their project and have taken the step to give you their contact information to discuss their project.
You can think of these types of leads as being a hybrid inbound/outbound product. Meaning, you are getting someone's contact information based on their interest and the lead is coming to you directly, but you are also having to proactively call, email, message, or text them in order to try and earn their business. In the best-case scenario, you will perform that outreach and win their business. In other cases, you may spend considerable time and effort trying to make contact and never actually speak with the homeowner.
Either way, it's important to understand a couple of nuances within the form lead generation industry and the impact that can have on how much those leads cost.
Shared versus Exclusive Form Leads
Some form lead generation companies sell shared leads, meaning you as well as a handful of your competitors may purchase the lead. Others offer an exclusive lead, where you are the only home service contractor purchasing their information (although it's worth noting there is nothing preventing that person from continuing to do their due diligence and picking up the phone or otherwise contacting another service provider in your area).
As you might imagine, with shared form leads, the likelihood of winning the project goes down. It's also the case that the average ticket price from shared form leads is less than other exclusive lead types. Why? Because usually you are forced into a competitive bidding situation, and while it may not be the only factor the homeowner considers, it plays a big part.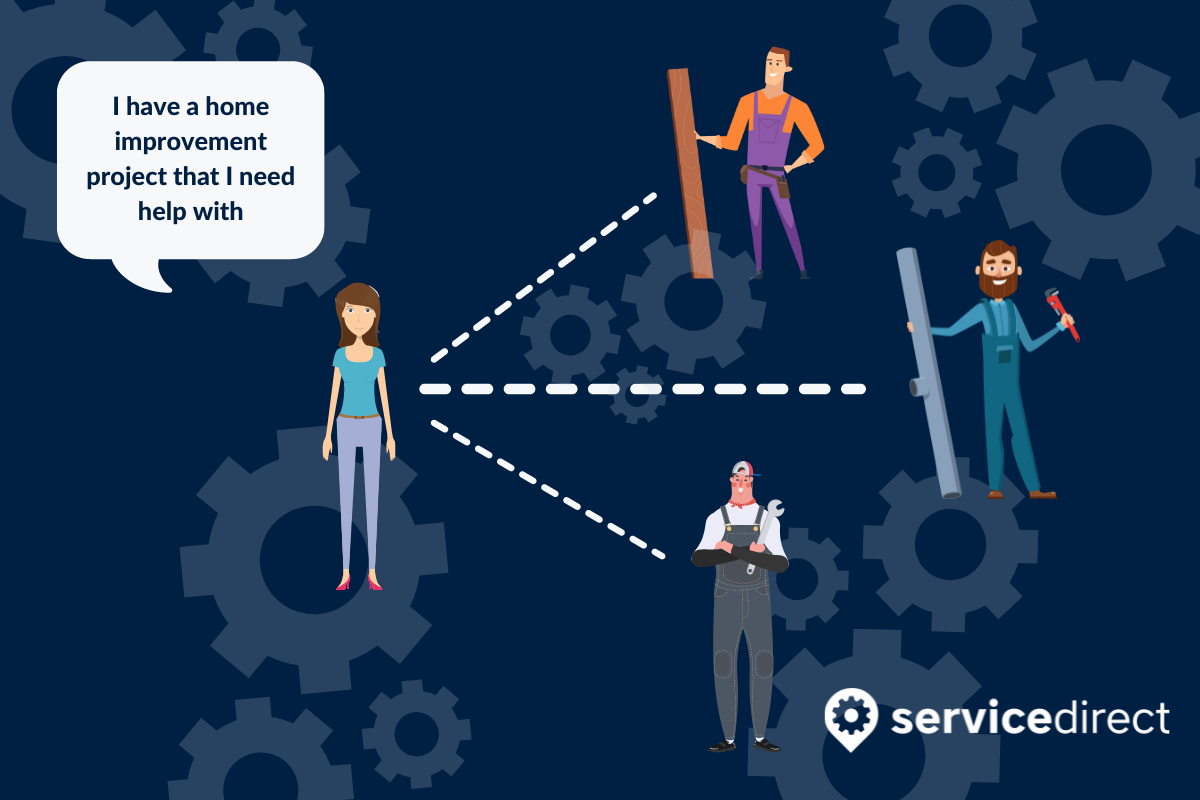 Immediate versus Aged Form Leads
Another thing to consider is an unfortunate scenario that can play out if you don't do your due diligence when hiring a lead generation company. If you picture the ideal scenario, a homeowner fills out their information, and nearly instantaneously that information is in your hands and you have made contact with the homeowner to help with their project. That is an 'immediate' lead, and it represents your best chance to turn a form lead into a customer.
With that said, there are some unscrupulous players in the lead generation space always looking to make a buck, and one way they do that is by reselling form leads at a later date. In other words, since they already have the customer's information, they can sell that information later (for pennies on the dollar) to either other lead sellers or directly to other service providers.
The result is that customers' information could be sold and re-sold to dozens of parties for months. If you ended up buying a lead that originated 6 months ago, someone that had been called by a dozen service providers for you, how likely do you think that lead would turn into a job for your business?
Inbound Phone Call Leads
As we make our way further down the funnel, we arrive at inbound phone calls, commonly referred to as Pay-Per-Call Lead Generation. This is exactly what it sounds like your phone rings, just like it would for any other call, and you pick up the phone and speak to the lead directly.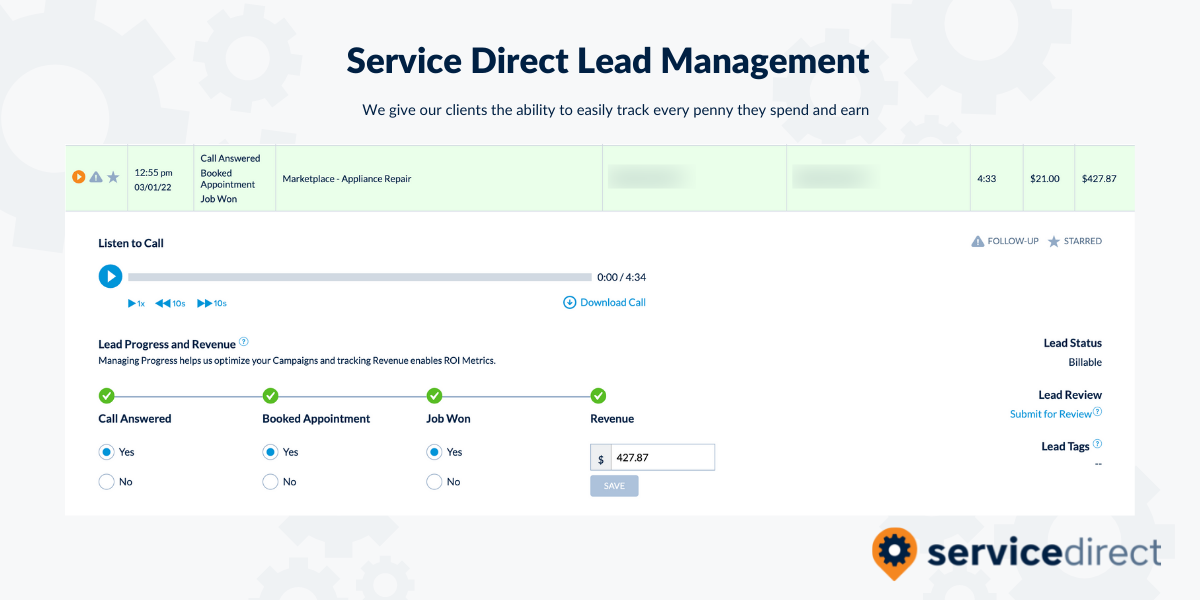 Phone calls are typically more likely to convert into customers than form leads, and they also typically have a higher average value (meaning, the amount you charge the customer is typically higher). Why?
When you answer the phone from an inbound caller, you'll be speaking with the lead every time. Whereas with form leads, you may end up trying multiple times to get in touch with the lead and never connect with them. As it pertains to higher ticket prices, we detailed above why form lead customers are typically more price-sensitive, driving down the value for whoever wins the job in most instances.
How do they charge?
There are dozens of players in this space, and each has its own pricing packages, but generally speaking, they could comprise of the following:
Account Creation Fee: Some home improvement lead generation companies may charge a nominal one-time, upfront fee to join their platform. Those costs can be as low $30-$50 all the way up to $300-$500 depending on the provider. Others don't have any costs to get started.
Monthly Fee: Some providers may charge a small monthly fee in order for you to continue using their services. These costs typically range from as little as $5-10/month up to $150/month depending on the lead volumes purchased and the level of support provided.
Lead Costs: Regardless of which lead generation service(s) you choose, or what type of leads you end up buying, the bulk of your costs should be tied to the actual leads you purchase. In terms of the actual pricing of the leads, those can vary wildly based on where you are located, what services you provide, and what type of leads you want.
But generally speaking, if shared form leads are the least expensive, you can expect 2X or more for exclusive leads and as much as 3-5X for phone leads. It's worth noting when it comes to actual lead pricing, some companies have set prices for leads while others allow you to pick a price (within a range).
Pay Per Appointment
Up to this point, any leads generated are considered opportunities to connect with the potential. The goal in those connections is to establish trust and try to progress the lead into an appointment.
There are some lead generation companies that do just that, although they usually only operate in a few home improvement verticals (think big jobs like remodels, solar installation, etc.). You typically have to use their scheduling solution, but ultimately they book open slots on your calendar, at which point you are responsible for showing up to the appointment and trying to win the homeowners' business.
How do they charge?
Pricing models for pay per appointment lead generators can oftentimes be broken down similar to the other lead generation companies mentioned above, where there could be a variety of additional fees on top of the costs of the leads themselves.
But like with those other lead programs above, the bulk of the cost is wrapped up in the appointments themselves. Not surprisingly, you can expect to pay considerably more for booked appointments than you would for form leads or even phone calls.
Conclusion
As a contractor, it's important that you do your research and understand exactly what you are getting from every lead source you are considering. It's equally important for you to understand what your company will need to do to make any lead generation program successful. Only then, can you accurately gauge the likelihood of success with a particular provider.
Related content