December 04, 2020 by Service Direct
New Lead & Campaign Management Features That Will Save You Time
At Service Direct, our goal is to build world-class technology to help local service businesses thrive in an ever-changing, fast-paced environment. To do that, we are constantly asking our clients what they need to grow their businesses more efficiently and wherever possible, building tools to help them achieve their goals.
Most recently, our clients identified a few ways we can help them:
Ability to review and listen to call recordings faster and more intuitive
Ability to schedule Campaigns to Pause/Enable for a future dates
So, we are happy to announce two new features that we recently released to help address those needs.
Listen To Phone Leads With Increased Playback Speed and Jump Functionality
We understand that sometimes it can take time to review phone leads (especially when the call recording is 10+ minutes), so we added a new Playback Speed feature to help you listen to your phone leads quickly and at your own pace.
Press the play button to listen to the entire Lead Recording. Use the buttons next to the main play button to change the speed of the playback (1x, 1.5x, or 2x) as well as jump forward or backward 10 seconds.

Schedule Your Campaigns to Pause/Enable For Future Dates
In an effort to continuously put you in more control of when your Campaigns are running based on your business needs, we implemented a new feature where you can schedule your Campaign Status to Pause/Enable for a future date.
For example, if you know that you aren't going to be able to service new customers during a holiday, you can set the Pause date to be just before the holiday begins and set the Enable date to be just after. This allows you to stay more in control of when your Campaigns on generating leads, based on your business needs and seasonality adjustments.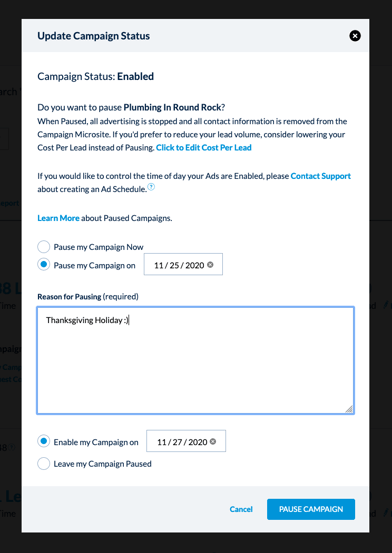 You can use this new feature when adjusting the Campaign Status for a Single Campaign, and when you Bulk Edit Campaigns. You will see a summary that displays the current status of the selected campaign(s) followed by options to update status. You can perform the following Update Status operations:
Enable Campaigns Now
Enable Campaigns on a future date
Pause Campaigns Now
Pause Campaigns on a future date

(NEW)
We're excited to hear your feedback on these new features, so when you get the opportunity, try them out and let us know what you think. And remember: if you have any questions or concerns, please visit our the Help Center or submit a ticket view the Service Direct HelpBot in your mySD Account.