April 28, 2022 by Service Direct
Survey | What Matters to Homeowners When Choosing a Contractor
We recently surveyed 559 homeowners in the United States to better understand their methods and preferences when it comes to finding and hiring a home service company.
Summary of Findings
The most important factor for homeowners when researching contractors is that the contractor be licensed and insured. (25% of respondents)
84% of respondents believe that being a member of a professional organization like BBB or Chamber of Commerce is important.
59% of respondents are more likely to hire a contractor if their website has videos.
32% of respondents are more likely to hire a contractor that donates time/money to nonprofits or charities.
23% of respondents had hired a contractor based on an offline advertisement.
64% of respondents believe that answering the initial phone call is important when booking, and 35% believe it is the most important thing when booking.
53% of respondents feel it is important to have a small appointment arrival window, while 50% feel it's important to receive an arrival time notification from a contractor.
35% of respondents said answering their initial call was the most important factor when booking a home contractor.
48% of respondents would not expect any compensation for a late arrival IF the tech contacted them prior to missing the appointment.
23% of respondents would cease doing business with a contractor if they arrived outside their specified arrival window without notice.
41% of respondents considered a technician's ability to communicate clearly and respectfully with them as the most important factor during an appointment.
78% of respondents believe it is somewhat or very important that the company reach out after the appointment to determine satisfaction level.
73% of respondents are likely or very likely to leave a positive online review if the company makes the process easy for them.
What's most important to homeowners?
That's a lot of data, so let's dive into what it means for home improvement contractors that are trying to grow their business.
A Referral From a Friend Remains The Most Trusted Method
There's no shortage of ways people find contractors these days, but none have surpassed good old fashioned word of mouth. For homeowners, that remains the most typical method employed to find and hire a home service company.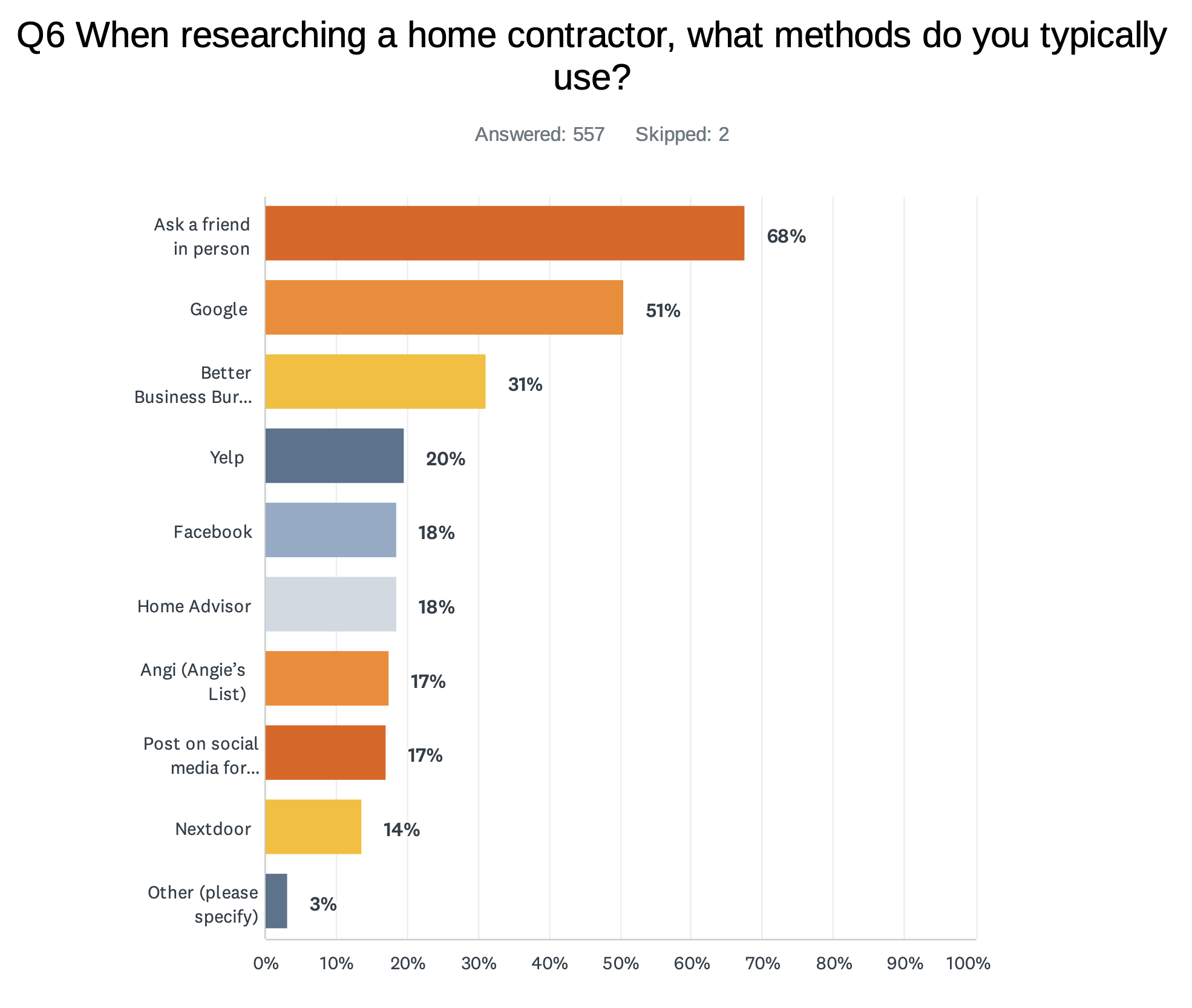 If your company is not doing everything possible to make it easy for past customers to refer new customers, you're missing out on new customers that are much more cost-effective to generate than through other demand generation channels.
Also of note…while offline referrals and Google are clear winners, the BBB ranks 3rd ahead of popular brands such as Facebook, Yelp, Angi's and Nextdoor in terms of finding contractors to hire.
Membership in Local Organizations Matter
Homeowners continue to place high value in membership to local professional associations like the BBB, chamber of commerce, or similar organizations.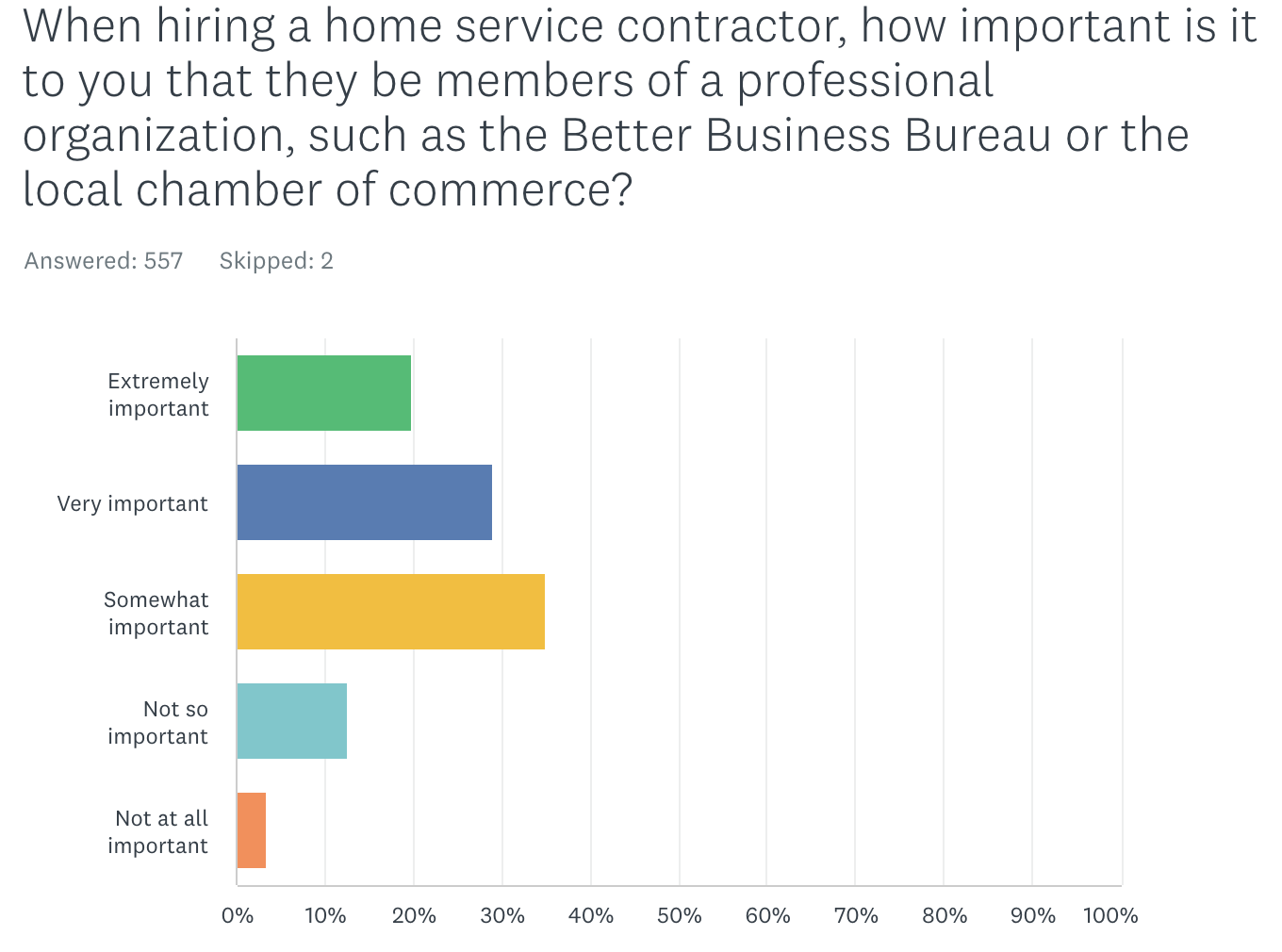 84% of homeowners believe such memberships are important when deciding who to hire.
Video is Becoming More Important to Homeowners
Homeowners are seeking deeper connections with businesses these days, and that includes the home service businesses they trust to come into their homes. After all, there are still some cowboy tradespeople out there who lose the trust of homeowners and end up in a small claims lawsuit. There are few channels more effective at building connections than video, so it's no surprise this medium has become more important to homeowners.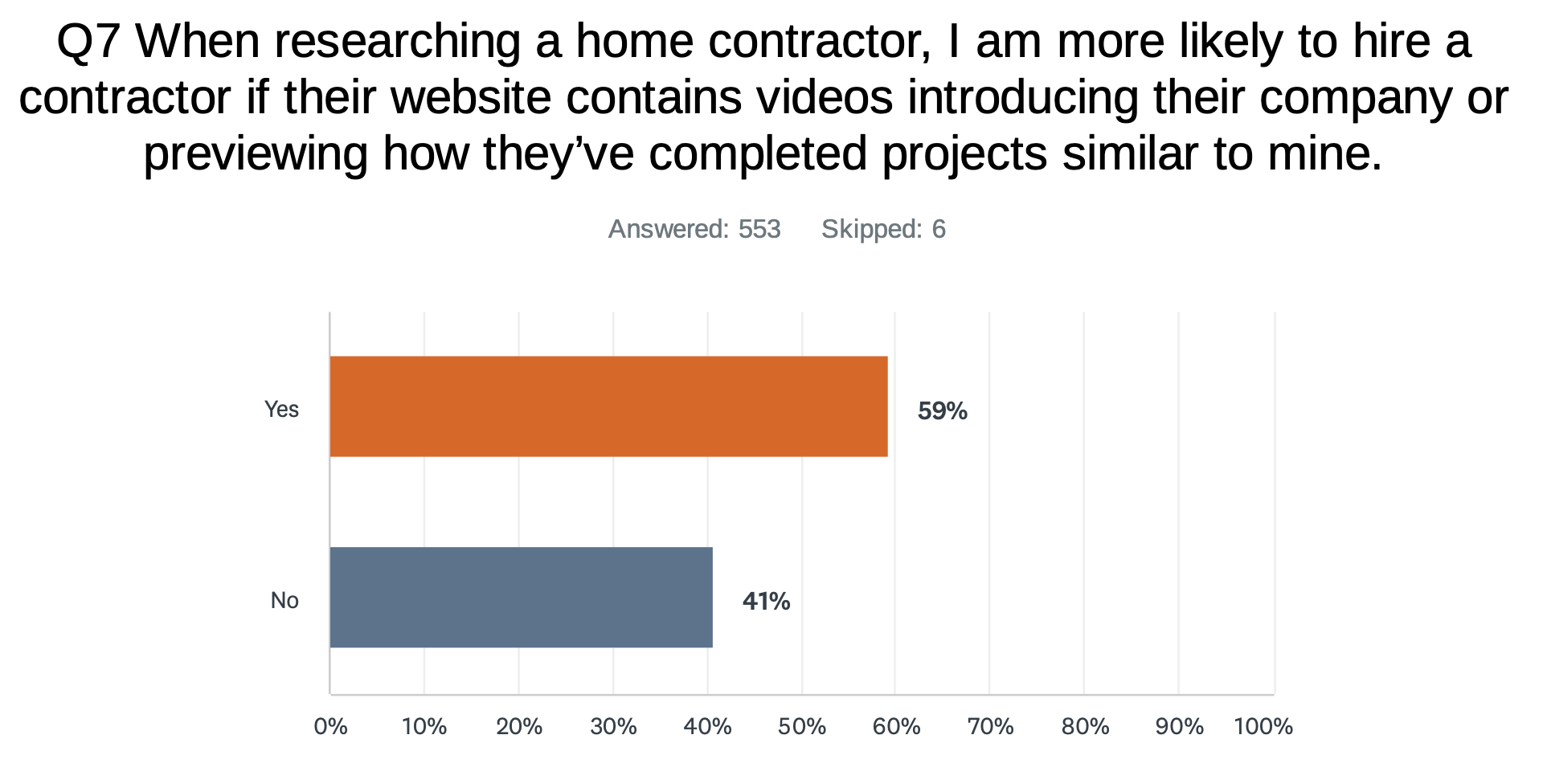 Nearly 60% of homeowners said they would be more likely to hire a contractor if they were able to watch videos from the company first.
Nearly 1/3rd of Homeowners Value Non-Profit Contributions
There is no shortage of data out there indicating consumers are more likely to buy from brands that support charitable causes. That doesn't just apply to the Coca Cola's and McDonald's of the world. That same principle applies to local service businesses.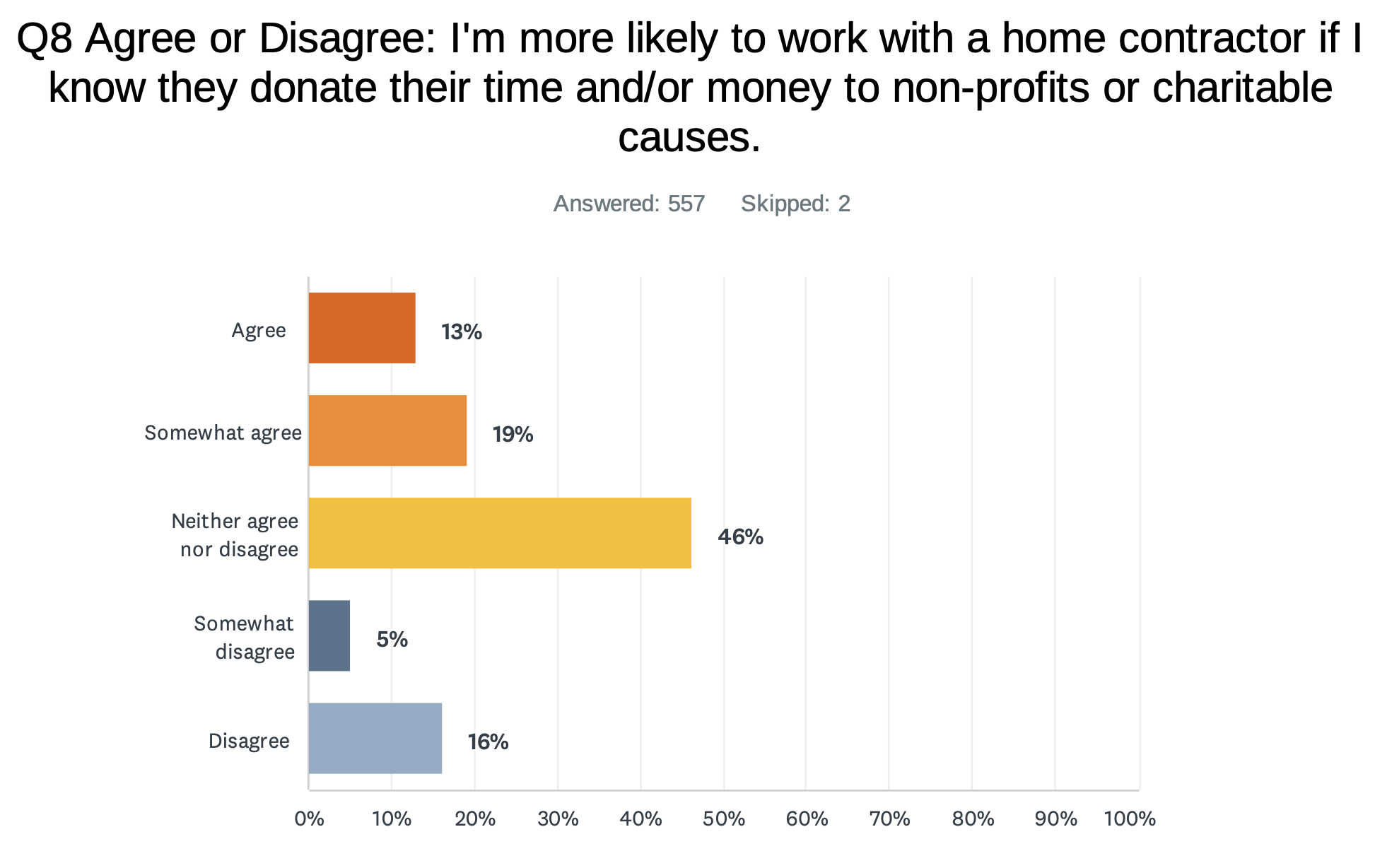 A Lot of Jobs Are Still Won From Offline Marketing
1 out of 4 homeowners report having hired a home improvement contractor from an offline advertisement in the past year. With total spend on home renovations expected to surpass $370B in the first quarter of 2022 alone, that's a lot of business still being generated through offline advertising methods.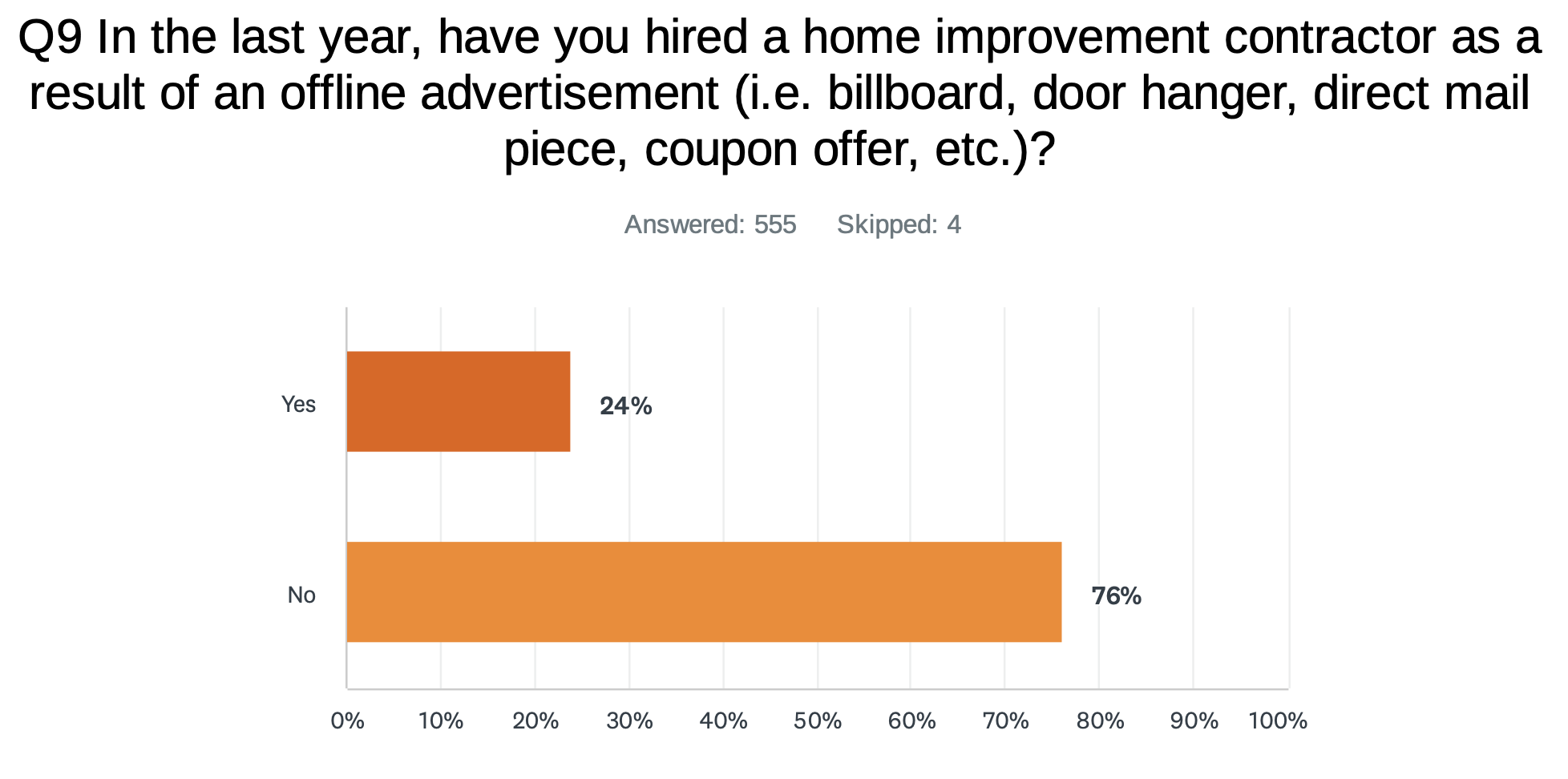 Your Window to Win Their Business is Small
We live in a fast-paced world. People have a lot of information at their fingertips and their ability to communicate and make decisions is faster than ever. For home improvement contractors, that means you've got to strike while the iron is hot. 85% of homeowners contact 3 or less contractors to inquire about service and 60% make a hiring decision within 72 hours.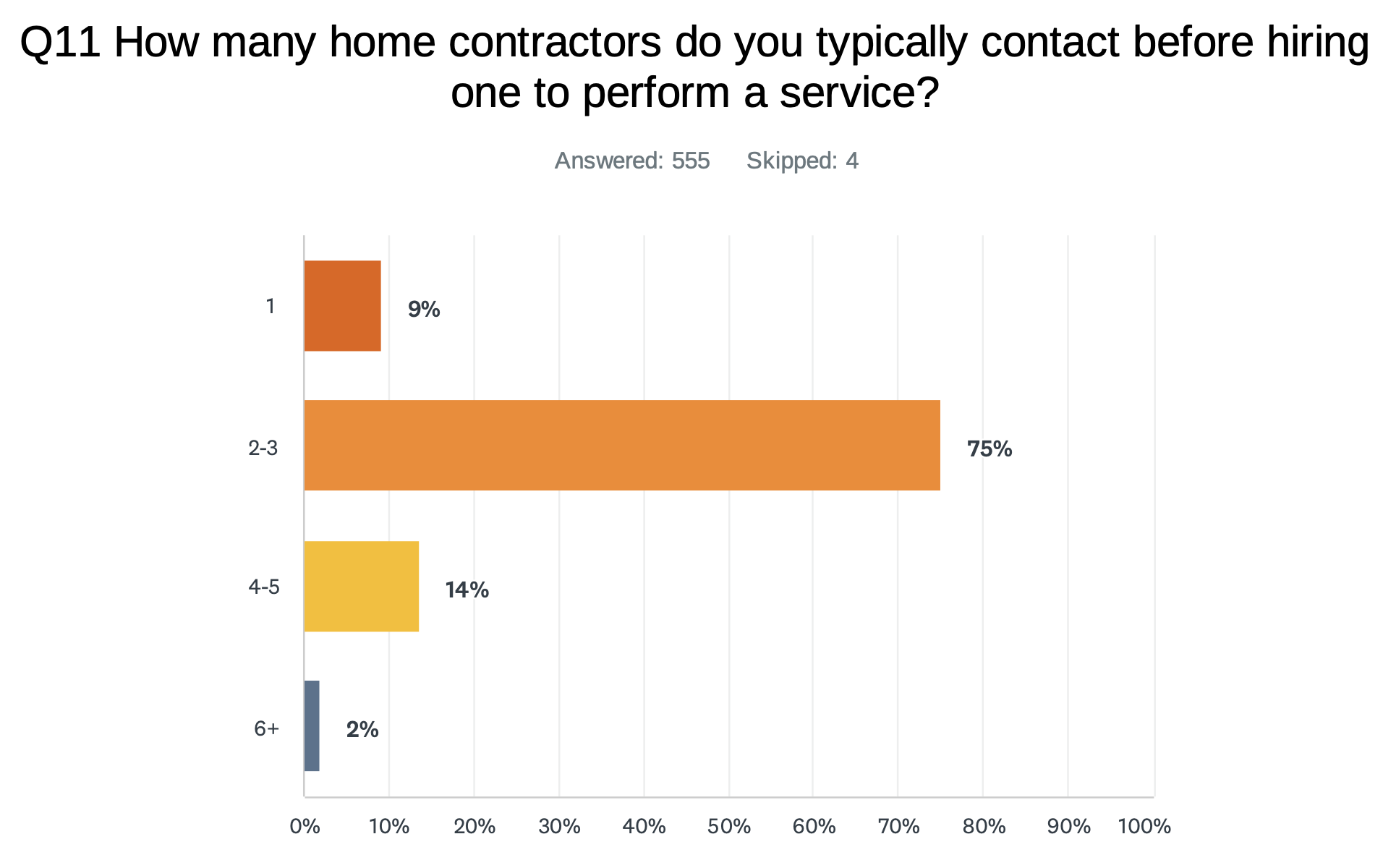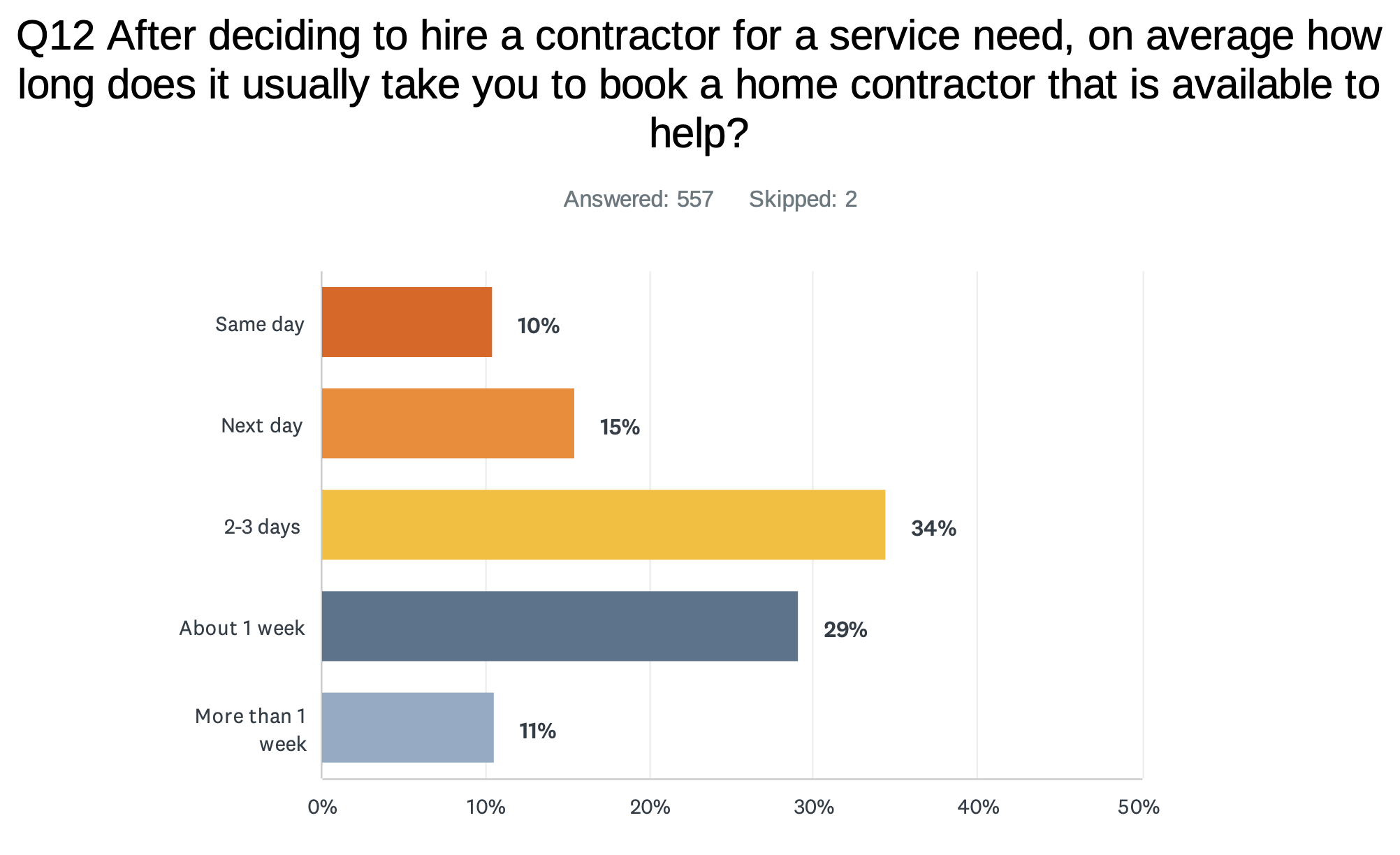 The Best Ability is Availability
When homeowners were asked what was most important in terms of booking a home contractor, 35% said answering their initial call was most important. In fact, almost 40% of homeowners said they rarely or never worked with a contractor that didn't answer their first call.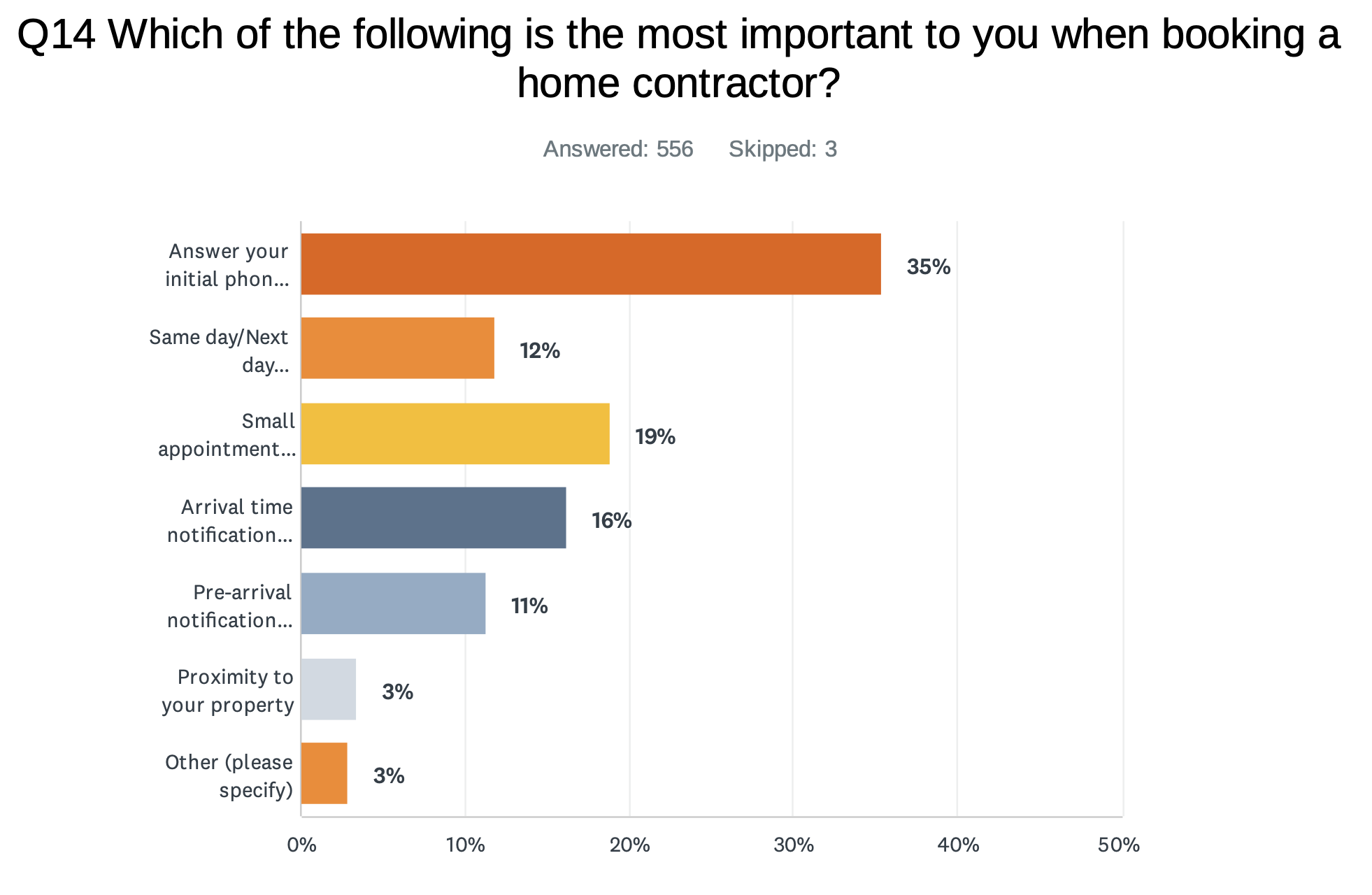 We recently completed our 2022 Call Performance Report, where we determined that 26% of all calls go unanswered by our contractors. The reality for most of those calls is they are lost opportunities. In fact, in less than 1 out of 6 unanswered calls will a homeowner leave a message requesting a call back. If you are not investing in making sure your phone is answered every single time it rings, you are losing money.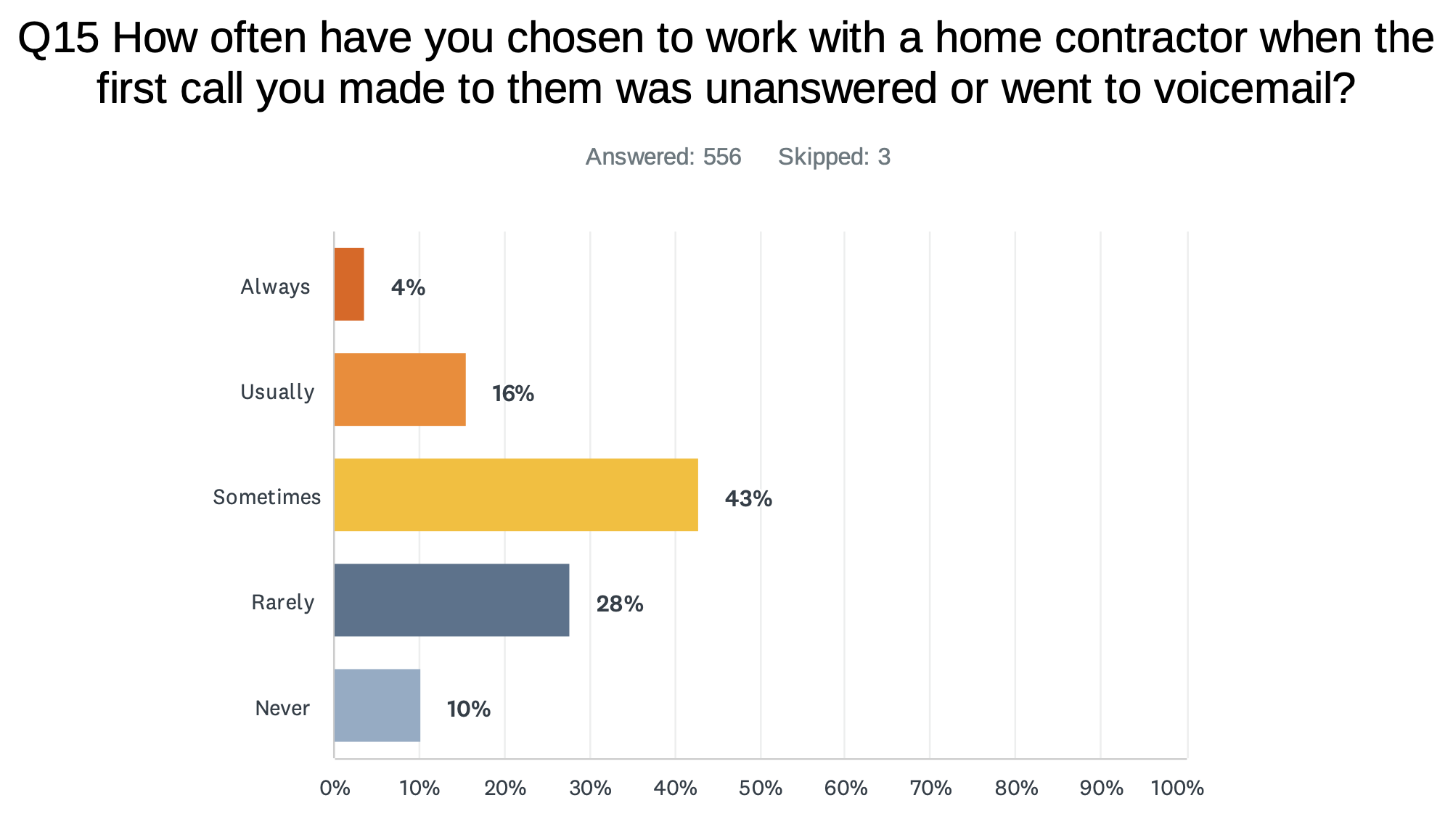 Respect The Customer
Certainly that has always been true in the home service space, but with competition fiercer than it has ever been, treating the customer like they are your own parents should remain your focus.
In the Skilled Trades, Soft Skills Matter
Skilled tradesmen and women are in short supply. Finding ones with the soft skills required to effectively communicate and empathize with homeowners is even more difficult. That being said, it's by far the most important factor for homeowners when it comes to dealing with contractors during appointments.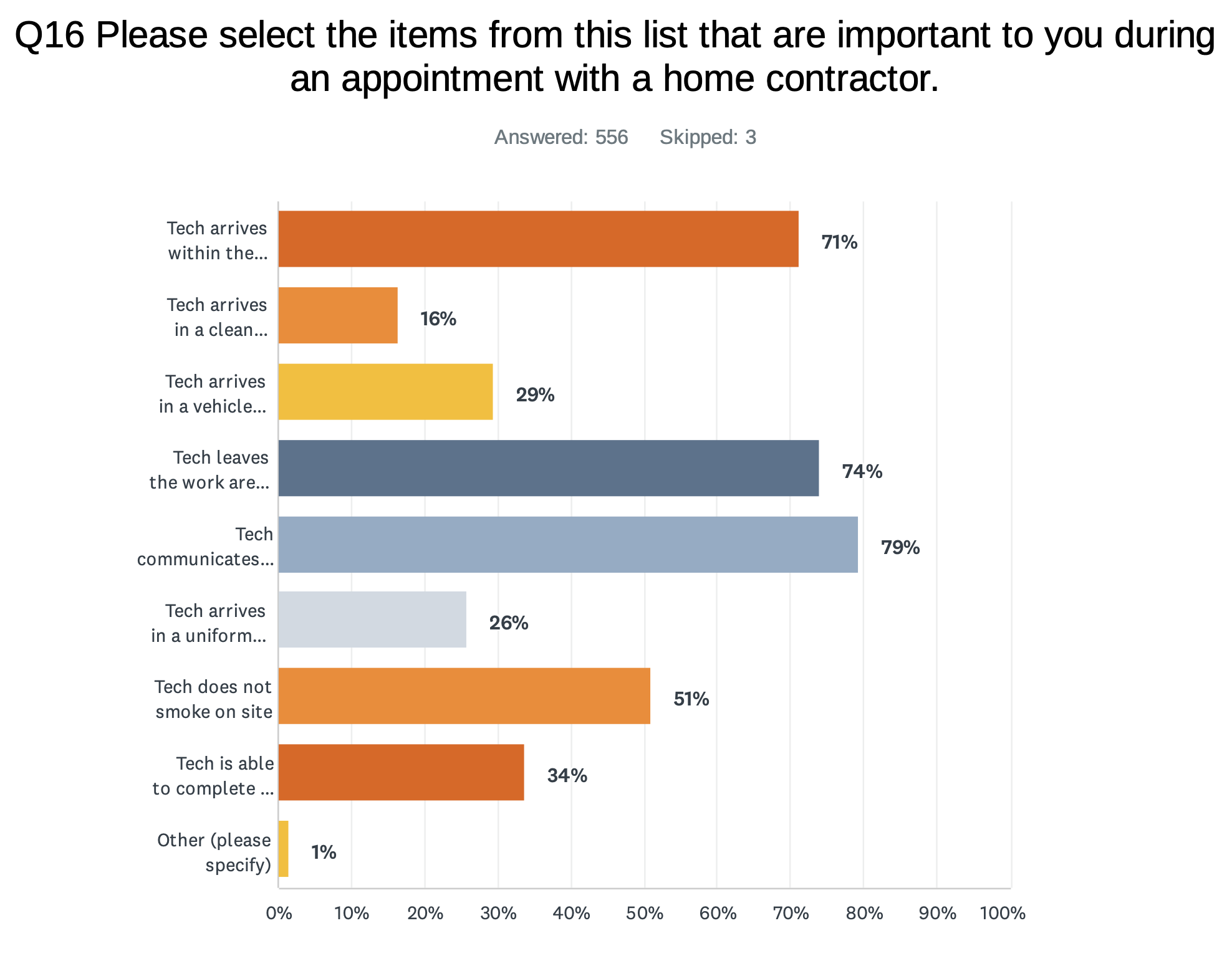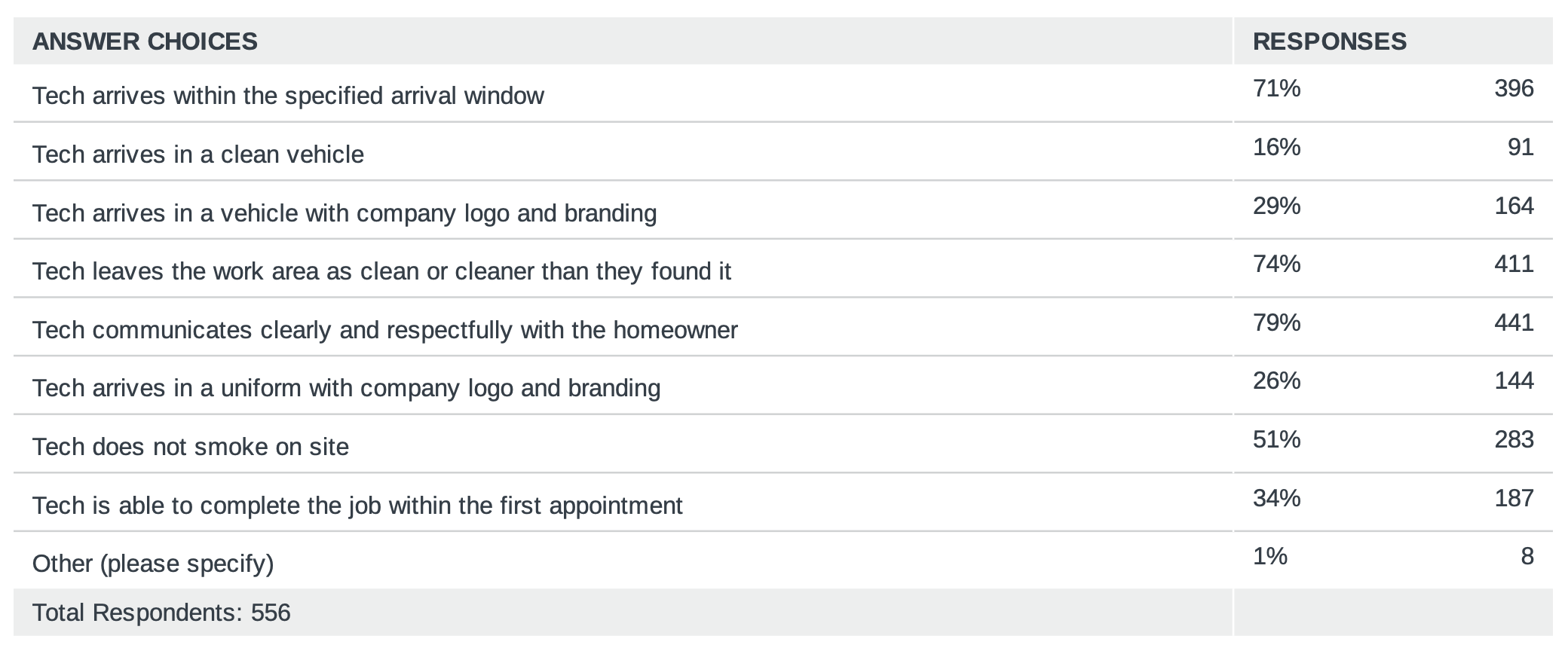 Don't Act Like You Were Raised in a Barn
You wouldn't go over to a friend's house and leave it a mess. But all too often home service businesses get homes messy during their work and leave without cleaning it up. That's a big sticking point with homeowners that's likely to have a big impact on whether or not they are satisfied with the work and refer you to their friends and family.
Respect Their Time & Communicate
Homeowners are busier than ever. A greater percentage of households have 2 working parents than ever before, and time is at a premium. As such, customers place a high importance in working with home improvement contractors that value their time by offering smaller appointment windows and communicating prior to their arrival times.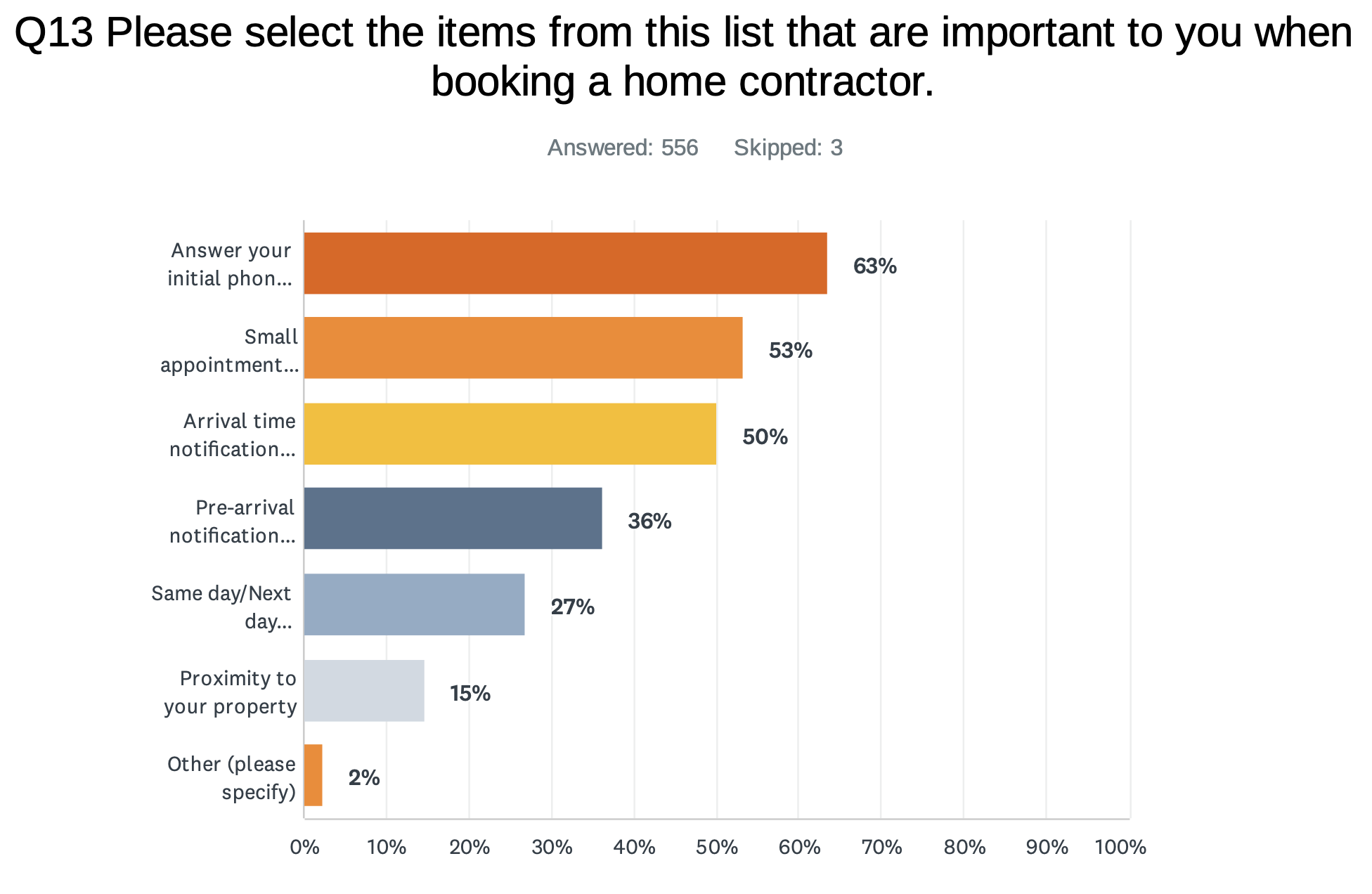 When it comes to unavoidable instances where your technician is going to be late, not notifying the customer could end up costing you. Whether it's discounted services or potentially losing the customer forever, it's a cost that can typically be avoided with proper communication.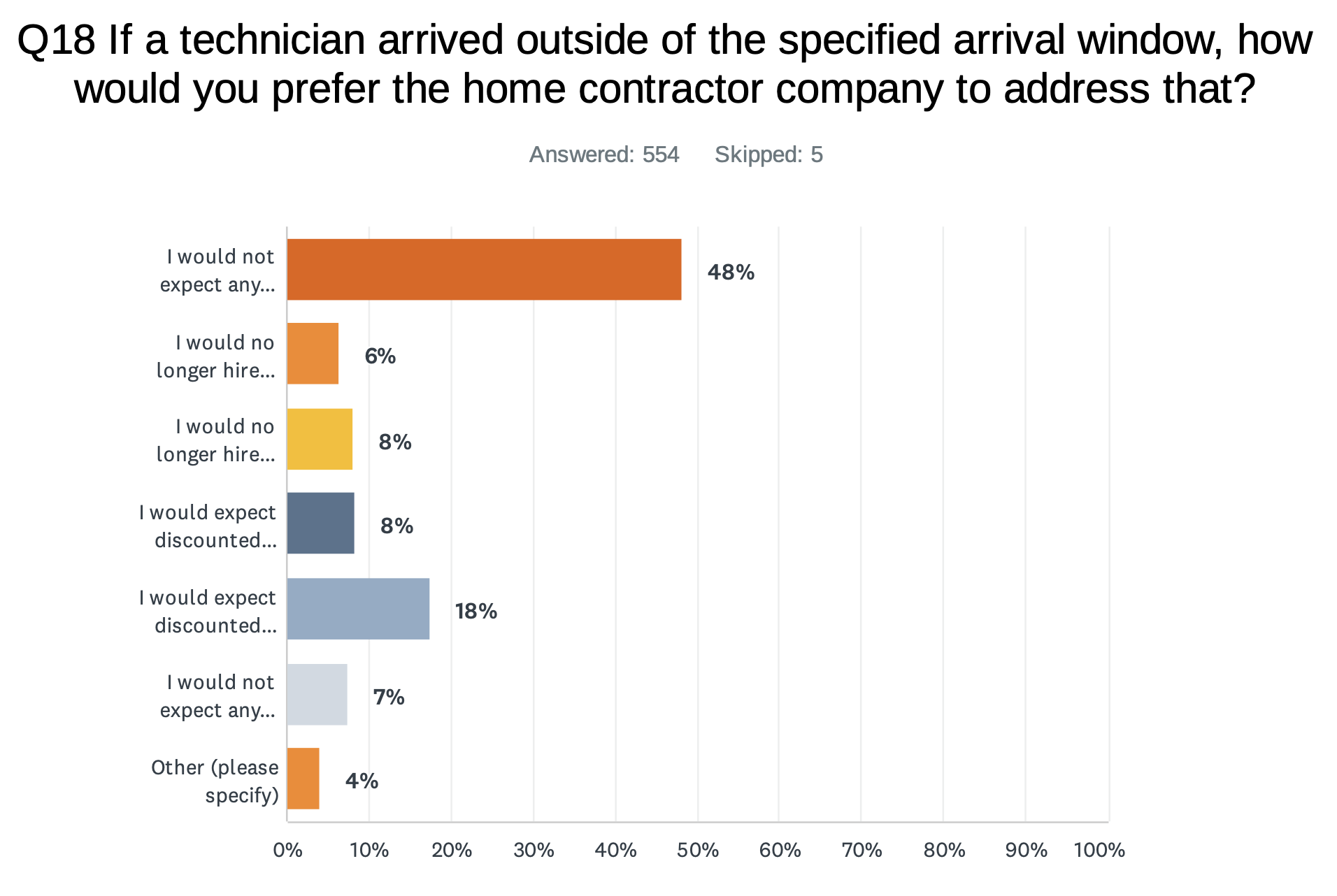 After-Appointment Communication is Important
Homeowners want to know you care about their satisfaction level. Almost 80% felt it was very important or somewhat important that the company they hired reach out to them after the work was performed to inquire about their satisfaction.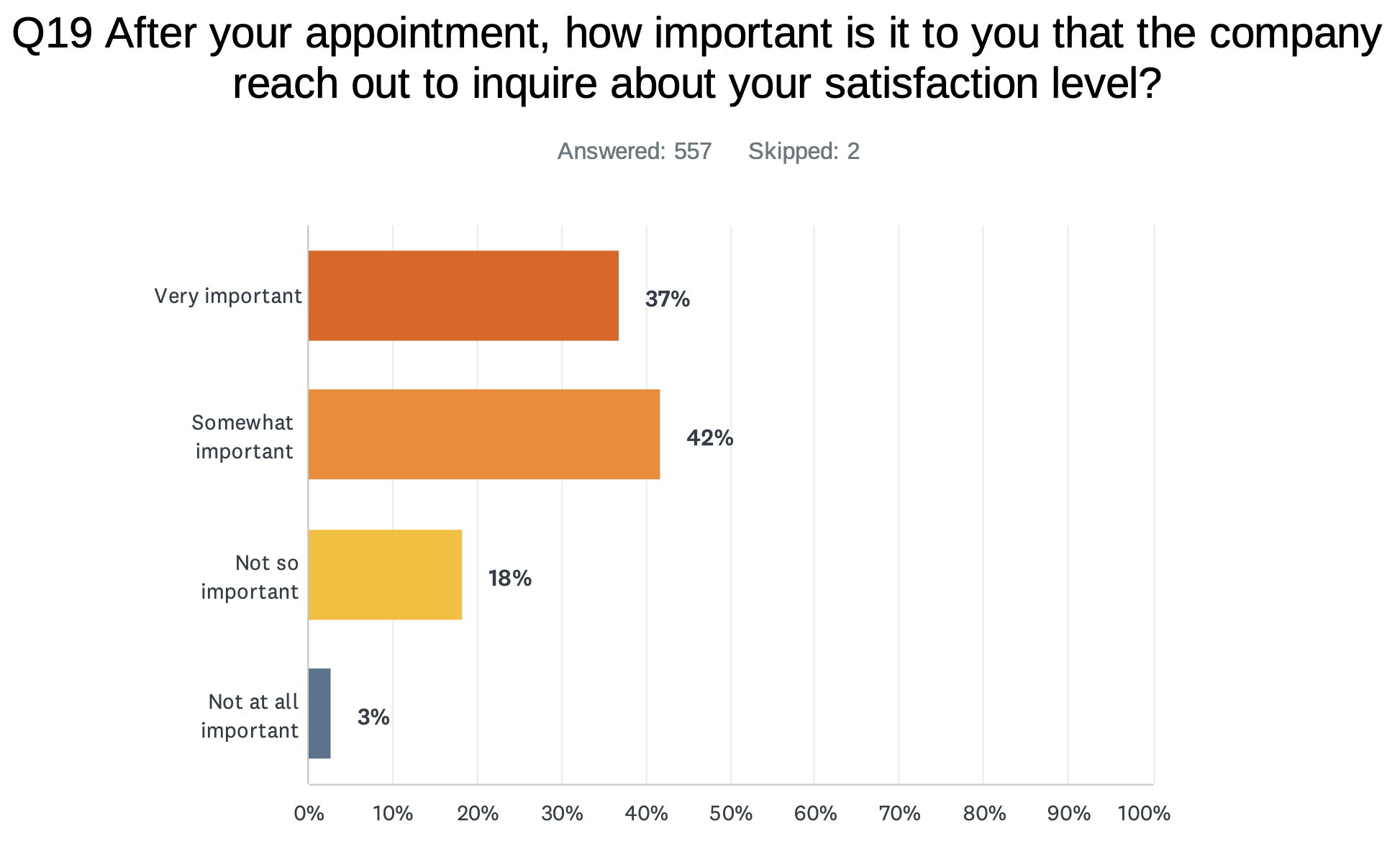 Not Making it Easy for Homeowners To Provide a Review is a Mistake
Nearly 3 out 4 homeowners said they were very likely or likely to leave a review after good service if the company made it easy for them to do so.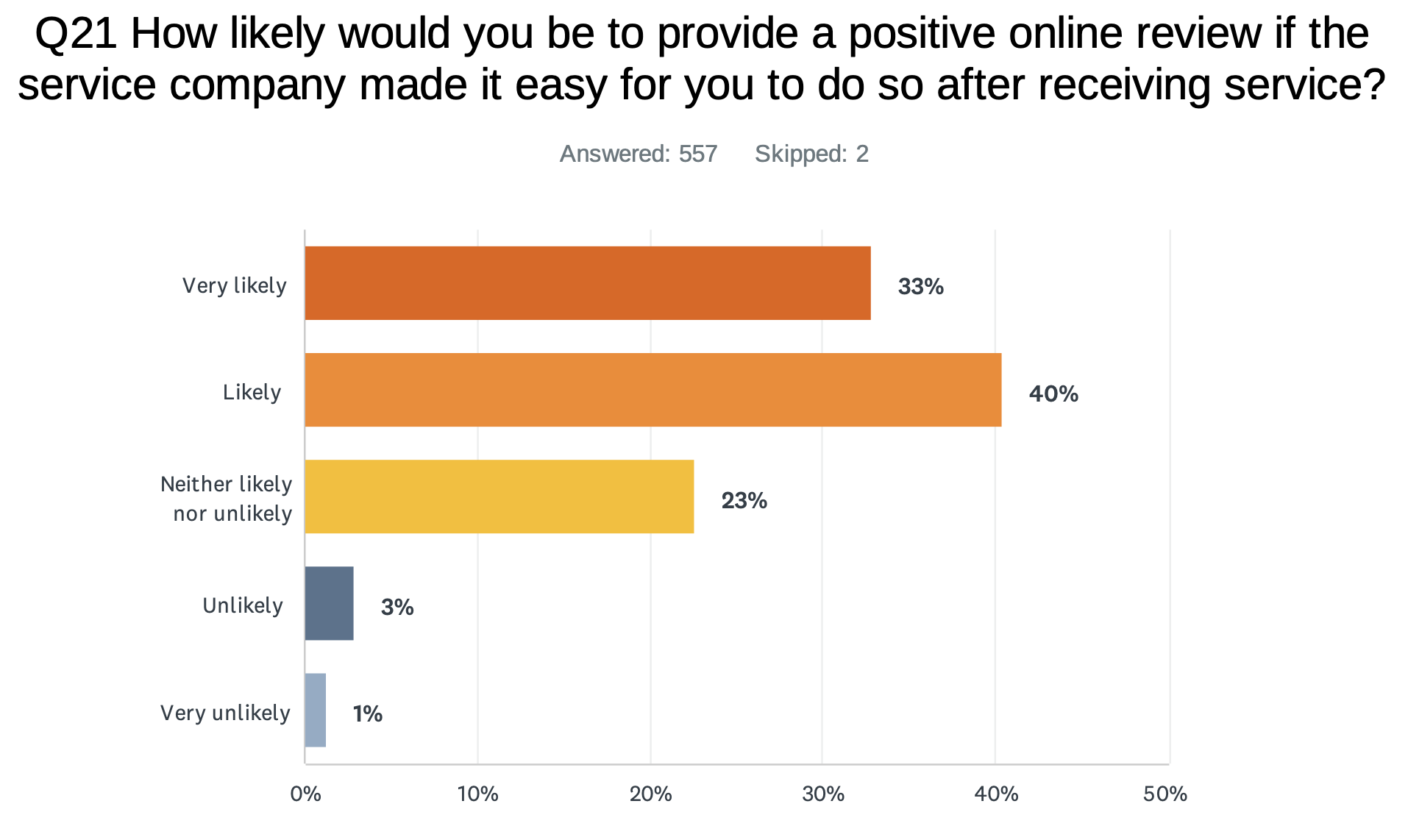 Reviews have a huge impact on your ability to be found on Google and the likelihood people end up calling you to inquire about your services. If you don't have the tools or resources in place to be collecting those, you're losing out on more business.
Survey Respondent Demographics
Survey respondents were homeowners, aged 30 and over, from all areas of the United States. 47% were between 30-44 years old with 53% being 45 years or older. 59% of respondents were women, while 50% of respondents reported household income over $75,000 annually. Responses were collected using Survey Monkey and distributed via the Survey Monkey Targeted Audience.