November 19, 2022 by Service Direct
15 Best SEO Tools for Your Small Business
SEO tools can make or break a business's success online.
The right tool coupled with the right strategy can give you a clear roadmap to success.
However, not all tools are built the same. Some rely on third parties, AI, complex formulas, and expert SEO knowledge, whereas others are simple and use trustworthy data. Either way, you want your business to be equipped with the right tools to make your investment in SEO worthwhile.
In this article, we'll review the 15 best SEO tools that will help you 10x your organic traffic.
Why do small businesses need SEO tools?
SEO tools are critical to any business that plans on generating revenue through organic traffic.
Small businesses in particular rely on them to do the heavy lifting since they have fewer resources.
In fact, in a recent survey we performed, 24% of small businesses that do search marketing said that finding the time and resources to execute their SEO strategy is the biggest challenge.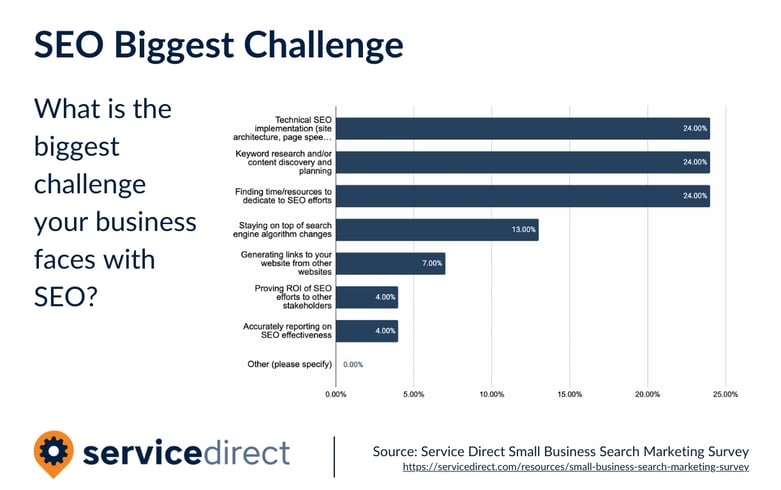 Instead of hiring marketing professionals, small businesses can simply lean on the data and insights provided by these tools. But this isn't the only benefit, they can also:
Give you new ideas
Save you from hiring a full team
Show you what your competitors are doing
Give you accurate data about which keywords to target
Save you time and money
Insure your are devoting your time on the right initiatives
Guide your content strategy so you publish content that will

generate leads
Whether you invest in SEO content writing services or keep it in-house, you'll need to rely on tools to give you an accurate snapshot of your business's performance.
Should your business focus on off-page or on-page SEO?
We get it. You've got limited resources, and you need results fast.
So you might be wondering whether on-page or off-page is best. In short, they're both important.
You can't rely on link building if you don't have any content the same way you won't convert traffic if your site is super slow.
While on-page is the primary focus for 2 out of 3 small businesses, 1 out of 3 focus on either off-page or both on-page/off-page efforts.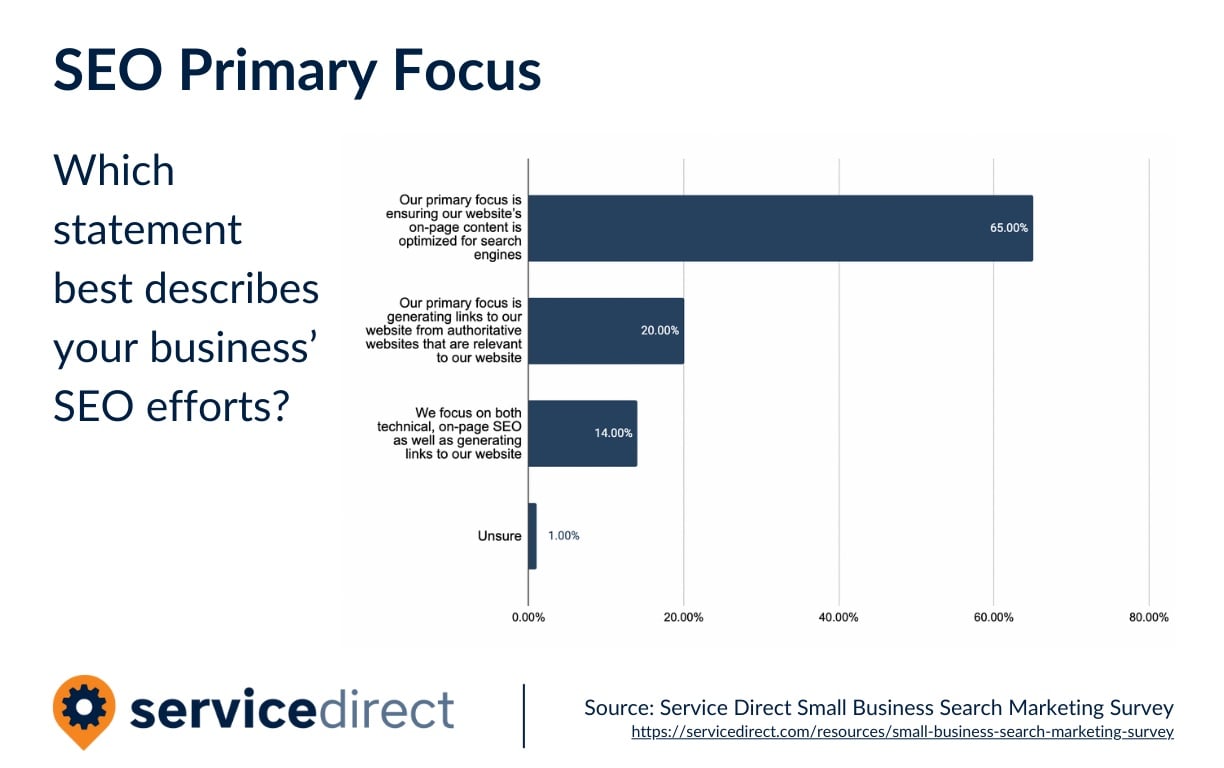 Keep in mind there are over 200 different ranking factors, however, not all of them carry the same weight. Here are the most important SEO considerations that will move the needle for your business.
On-page: A mobile-friendly site
On-page: A fast site that is easy to navigate
On-page: Quality content that meets user intent
On-page: Relevant call to action to convert users into your funnel
Off-page: Backlinks to your root domain and individual pieces of content to help you rank
Make sure you prioritize these first, everything else should be an afterthought. You might even see businesses that fail Google's Web Core Vitals test, yet still, rank in position 1 because their content meets user intent so well. Don't let this discourage you from having a clean and fast site.
But the reality is, if you want to truly move the needle for your small business through organic search, you're more than likely going to need to devote resources to both on-page and off-page SEO.
Utilizing various tools can help you manage those efforts more efficiently and effectively...
15 best SEO tools to help your business grow organic traffic
So without further ado, let's break down the best SEO tools your small business can use to get more site visitors through search engines.
Ahrefs

Ahrefs is arguably the most popular and effective SEO tool on the market. With almost perfect reviews on Capterra, G2, Trust Radius, and Crozdesk, it's a safe bet for small businesses. The core product suite includes a site explorer, a keyword explorer, a site audit tool (great for on-site SEO), a rank tracker, and a content explorer. In our research, 24% of businesses say they struggle with keyword research.
Ahrefs has one of the most accurate keyword explorer tools to help solve this problem. You can simply plug in your competitor sites and find relevant keywords you want to rank for. It's also easy to discover new or matching keyphrases that you may not have even considered.
Pros
Very accurate
Covers a huge range of data
New features added every month
Includes Cost Per Click (CPC) data on all keywords
Cons
Steeper learning curve
Easy to run out of reports in the lite plan
Pricing starts at $99/m for the "lite" tier, which is perfect for most small businesses. The more expensive tiers offer advanced products and additional credits but are not necessary for small businesses.
Moz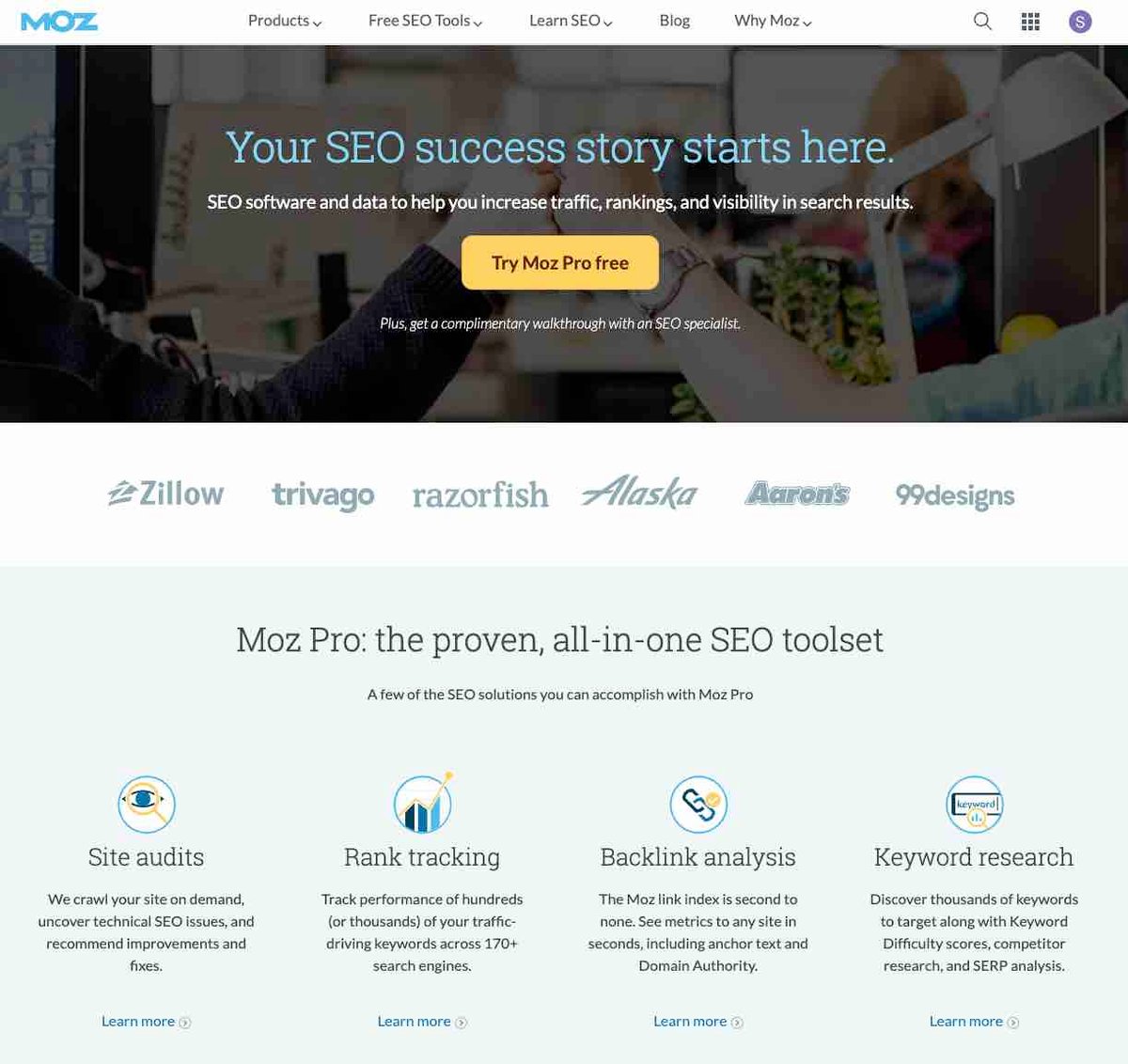 Moz is another popular SEO software tool. It directly competes with Ahrefs and SemRush. There are two key points of differentiation between Moz and the alternatives. The first is "Moz Local" which is a suite of products built for small businesses that have physical locations. The second is the domain scorer, Moz uses Domain Authority (DA) instead of Domain Rating (DR).
According to Moz, 97% of people learn about local businesses online. If you're a small business that relies on Google reviews and local rankings I highly suggest Moz.
Pros
Lots of free tools that are actually helpful such as the MozBar
Product suite tailored for local businesses
Cons
Its Domain Authority (DA) rating isn't as accurate of a predictor of a site's authority
Pricing is split between the product suite you're interested in. Unfortunately, Moz Local and Moz Pro (standard SEO tool) isn't connected. Moz Pro starts at $99/m for all the basic SEO tools including a keyword researcher. Moz Local starts at $14/m and is only available in US, CAN, and UK.
Semrush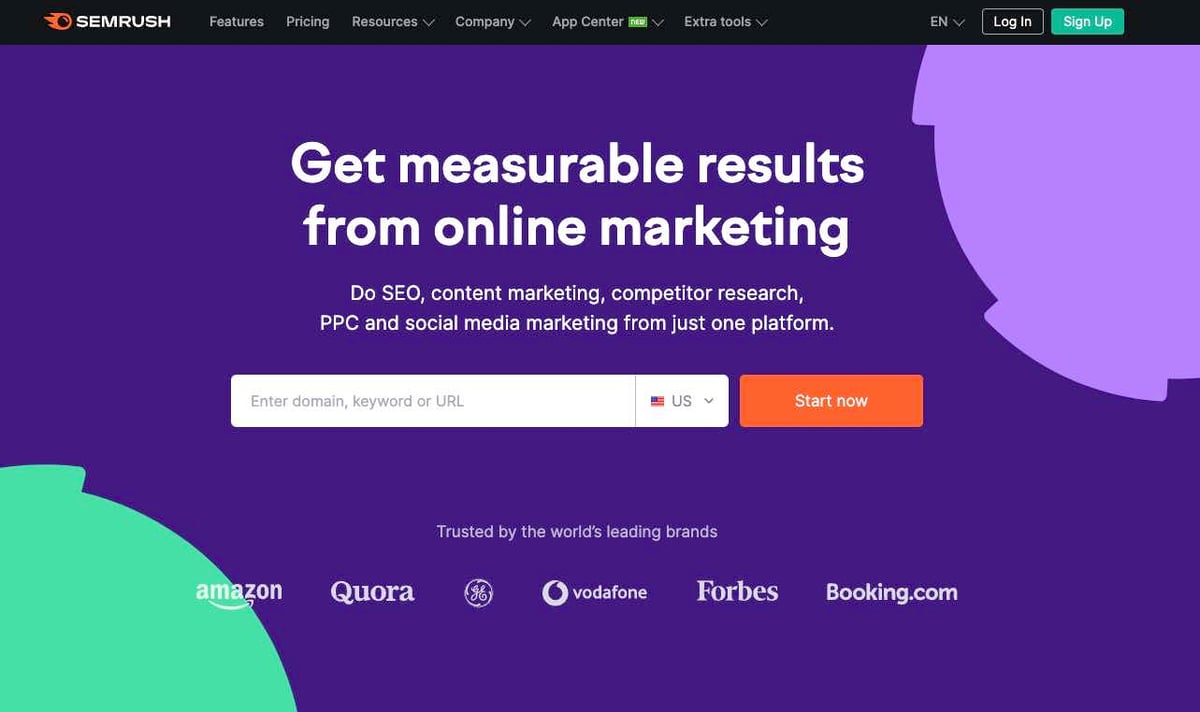 Semrush is Ahrefs biggest competitor. They're a one-stop shop for all your digital marketing requirements, Their product suite hosts tools for SEO, content marketing, competitor research, PPC, and social media marketing. Semrush has the most comprehensive list of tools on this list.
Pros
You could comfortably manage all your marketing needs in this tool
Entry level plan includes a lot of features and keywords
Cons
The cost adds up very quickly when you stack additional products
Access to the AI writing tools are an additional $200/m
Pricing starts at $119.95/m for everything except the content marketing platform and listing management (local seo). The additional tools are only available in the Guru plan which is $229.95/m. The good thing about Semrush is that you can add on specific tools for a set price each month. For example, in the Pro plan, you can add the local SEO tools for an additional $20/m.
Wordstream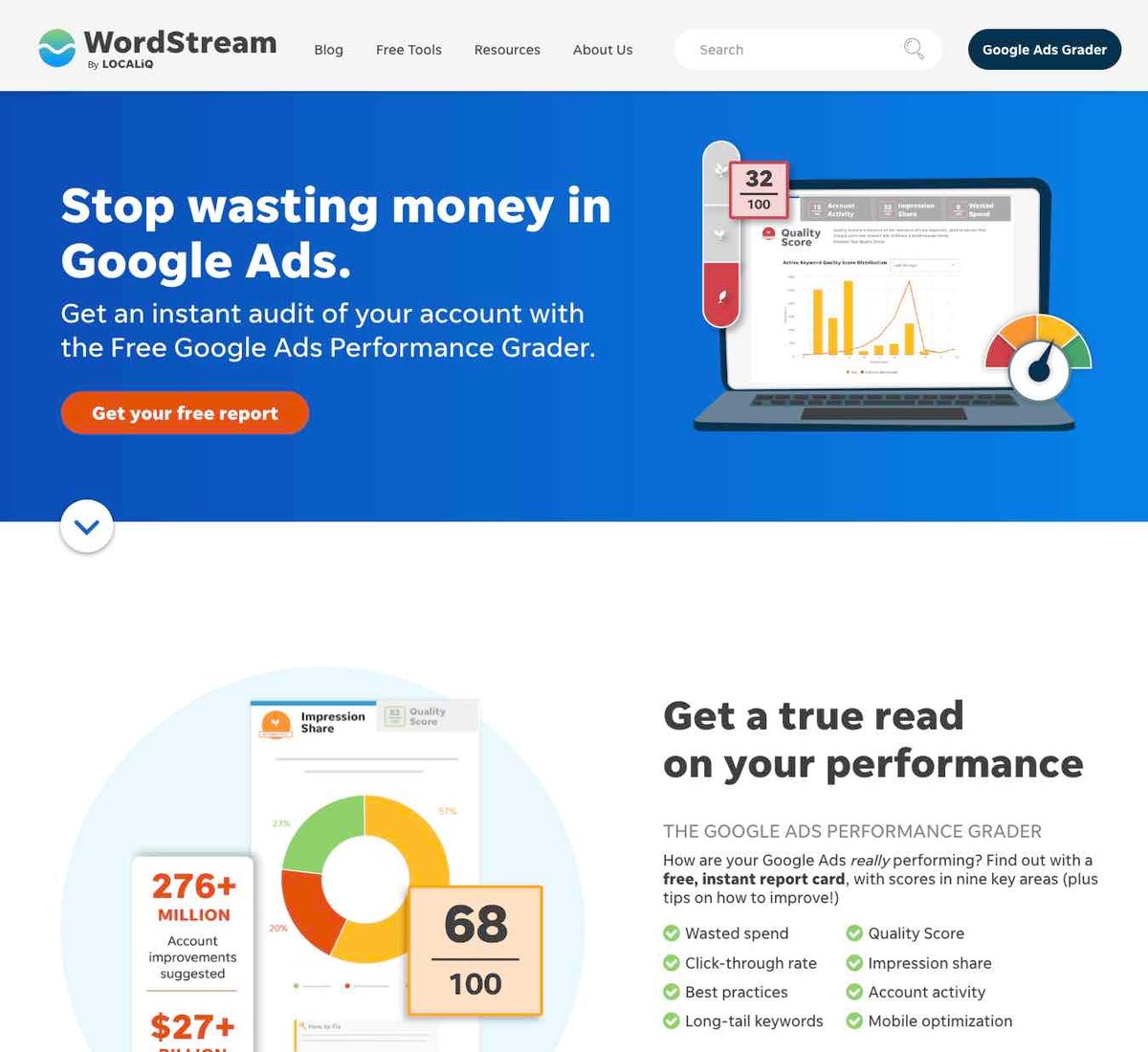 WordStream is a digital marketing platform owned by LocaliQ. They offer four free tools you can leverage to improve your marketing efforts. These include a Google ads grader, a Facebook ads grader, a Keyword tool, and a website grader.
Small businesses who want a quick and easy performance update can use WordStream. Considering it's free, all businesses should at least try it once.
Pros
Cons
You need to create a free account to access the reports
Takes a couple of minutes to provide results
RankIQ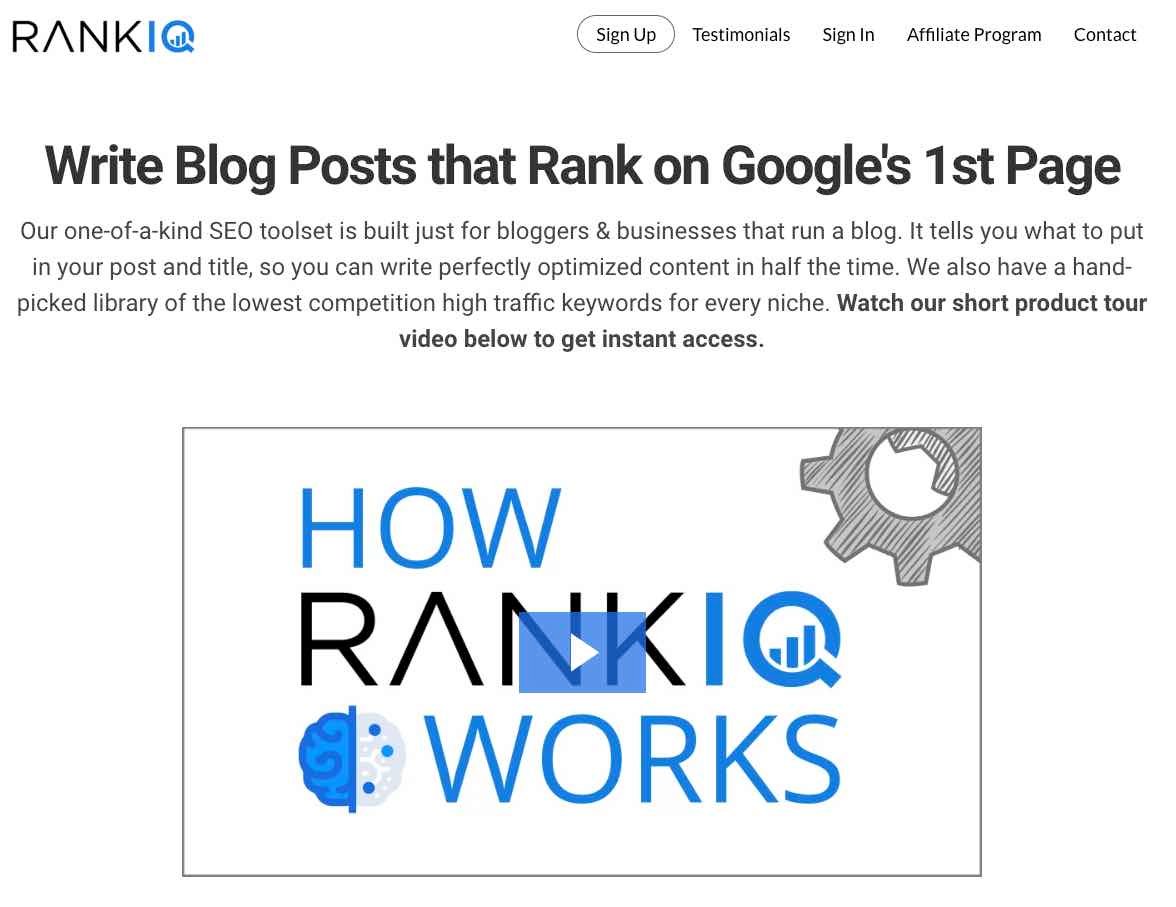 RankIQ is built specifically for small businesses trying to grow a blog. For non-technical folks, this tool will save you time, prevent mistakes, and help you write content that has a chance of ranking. You don't need to be an expert to write content with RankIQ.
What makes this tool so unique is that it has handpicked keywords in each niche that are classified as "easy" to rank. You simply save the keywords to your library and run a report to show you exactly what to write, the length, and the title tags.
Pros
Very helpful when choosing which keywords to build content around
Improves your content very quickly
You can get the most impact with the least amount of effort using RankIQ
Cons
The UI/UX is old and boring
Easy to run out of credits
The pricing is competitive at $59/m for 16 reports, which means you could produce 16 optimized blog posts every month. If your niche or keyword list is missing, the RankIQ team will manually generate them for you.
Uber Suggest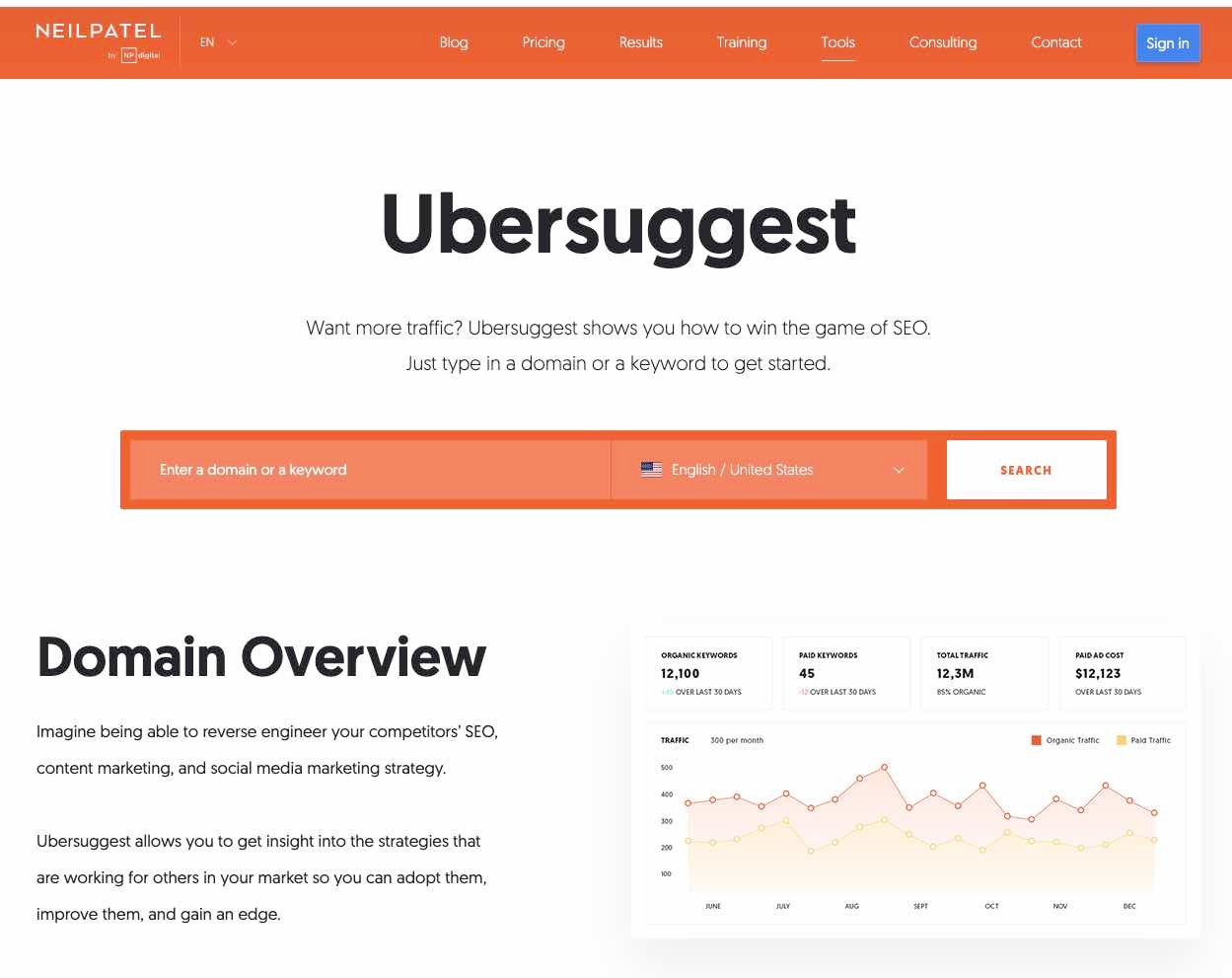 Uber Suggest is Neil Patel's flagship SEO product. The main feature is keyword research. You can simply plug in a domain and you'll find all the keywords it ranks for along with a list of suggested (or related) keywords.
The reason UberSuggest is so popular with small businesses is the starting point. You only need to paste a domain or keyword to get started. This makes it very easy to use without deep SEO knowledge. You can also paste in your own or a competitor's domain and get an accurate snapshot of the performance.
Pros
Free tier available
Very cheap
Great entry point
Cons
Data isn't as accurate as the alternatives
Uber Suggest has a free tier which only gives you a feel for the interface. You won't be able to produce a content plan with it. Pricing for businesses starts at $29/m unless you purchase lifetime access for $290.
Surfer SEO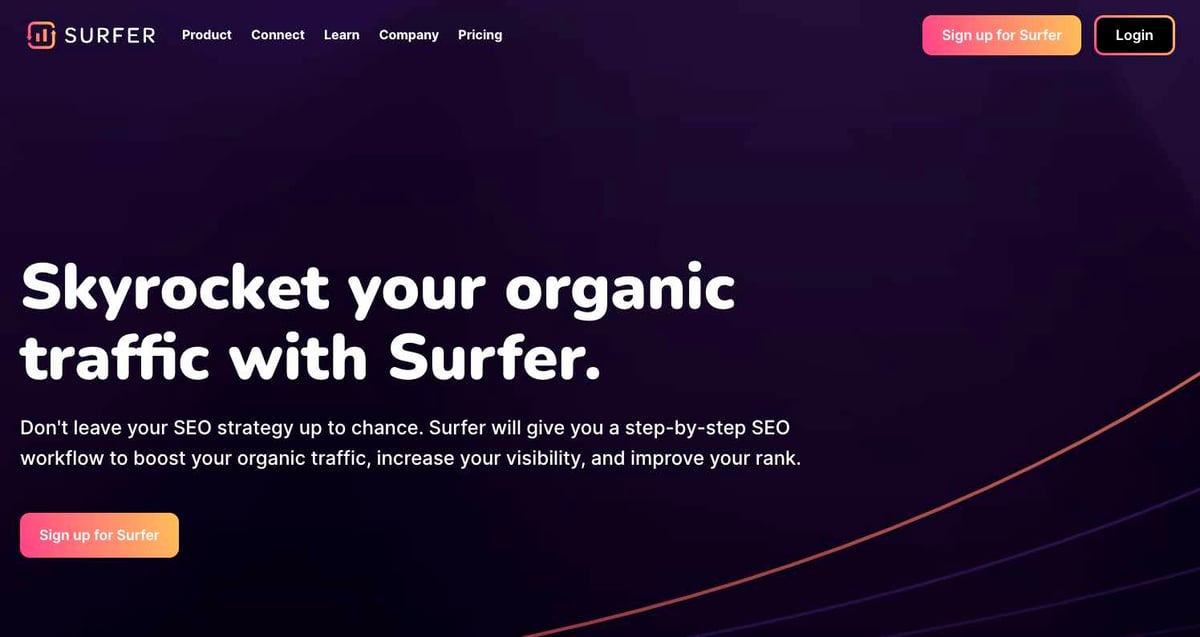 Unlike the other SEO tools on this list, Surfer SEO works its magic after the content is written. Once you've written a blog post you run it through Surfer SEO so it can identify where you need to improve the content, and include different semantics, and internal links. The best part about the tool is that it connects to Google Search Console and takes into account your whole content strategy before it makes suggestions.
It's great for taking the guesswork out of optimizing content. Especially for small businesses that don't have resources for writers and editors.
Pros
Proven results with customers
Free AI outline generator
Loads of integrations
Cons
Lot of SEOs are already using this to enhance their content. It's not enough to differentiate
There's a free option for anyone starting a new blog. However, the basic plan for small businesses is $49/m which gives you access to write and optimize 10 articles in the content editor and 20-page audits.
Copy AI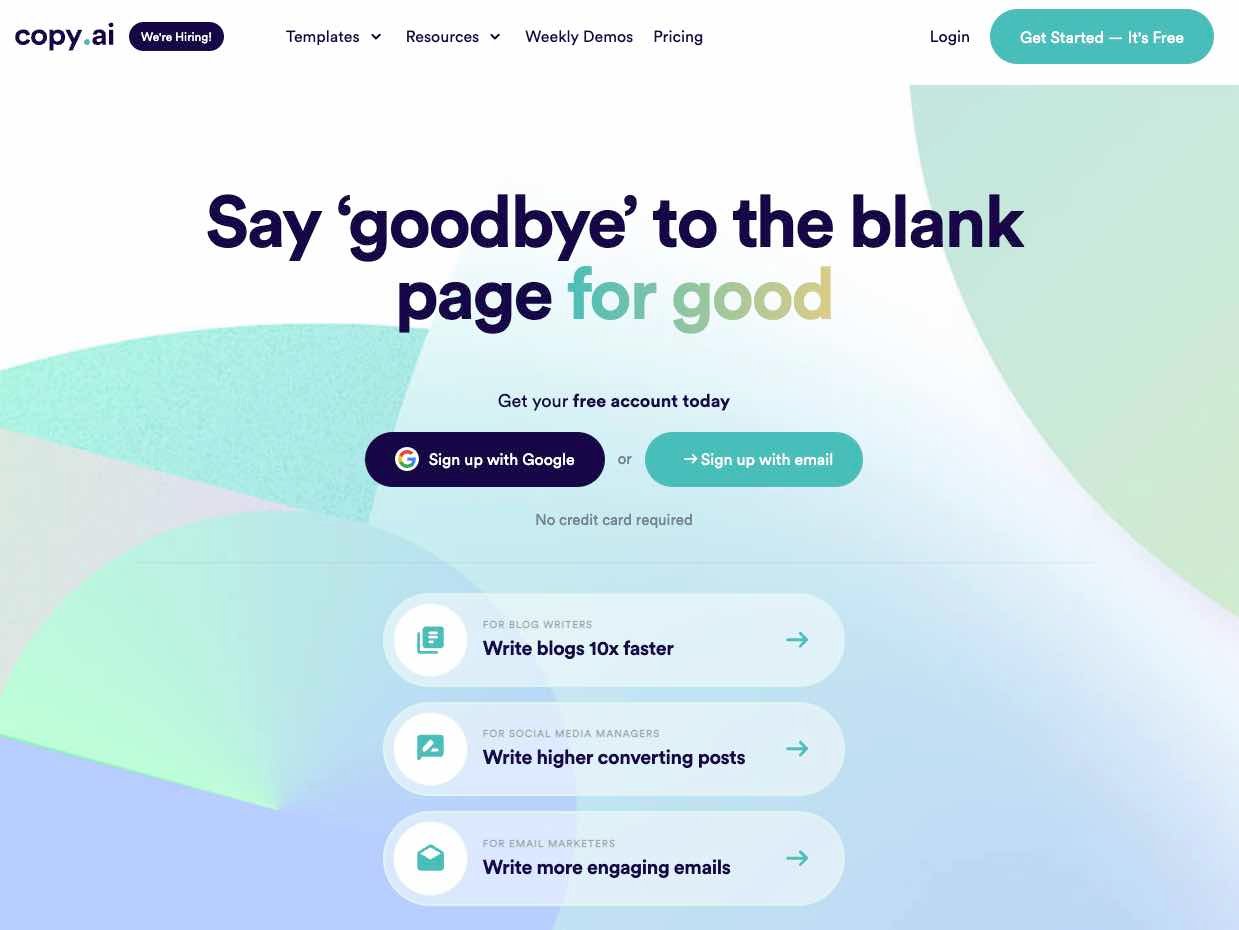 As the name suggests, Copy AI is an AI-based writing assistant. It helps content writers, copywriters and bloggers produce higher-quality work in record time. This includes small businesses with fewer resources. You can leverage the blog outline and blog post wizard to generate articles extremely quickly.
Keep in mind that with most AI writing tools, the output isn't going to be 100% polished and will require your input to improve it. In saying this, Copy AI has over three million users, making it one of the most popular AI copywriting tools on the market.
Pros
Saves you time
Produces new ideas that will help improve your content
Specific features for blog writing
Cons
Need to check for plagiarism (you can't rely on the output alone)
Copy AI has a free plan available so businesses can trial the platform before they commit. You'll get 2,000 words per month to explore all the core features. Premium plans start from $49/m for 40k words and increase based on your word requirements.
Clearscope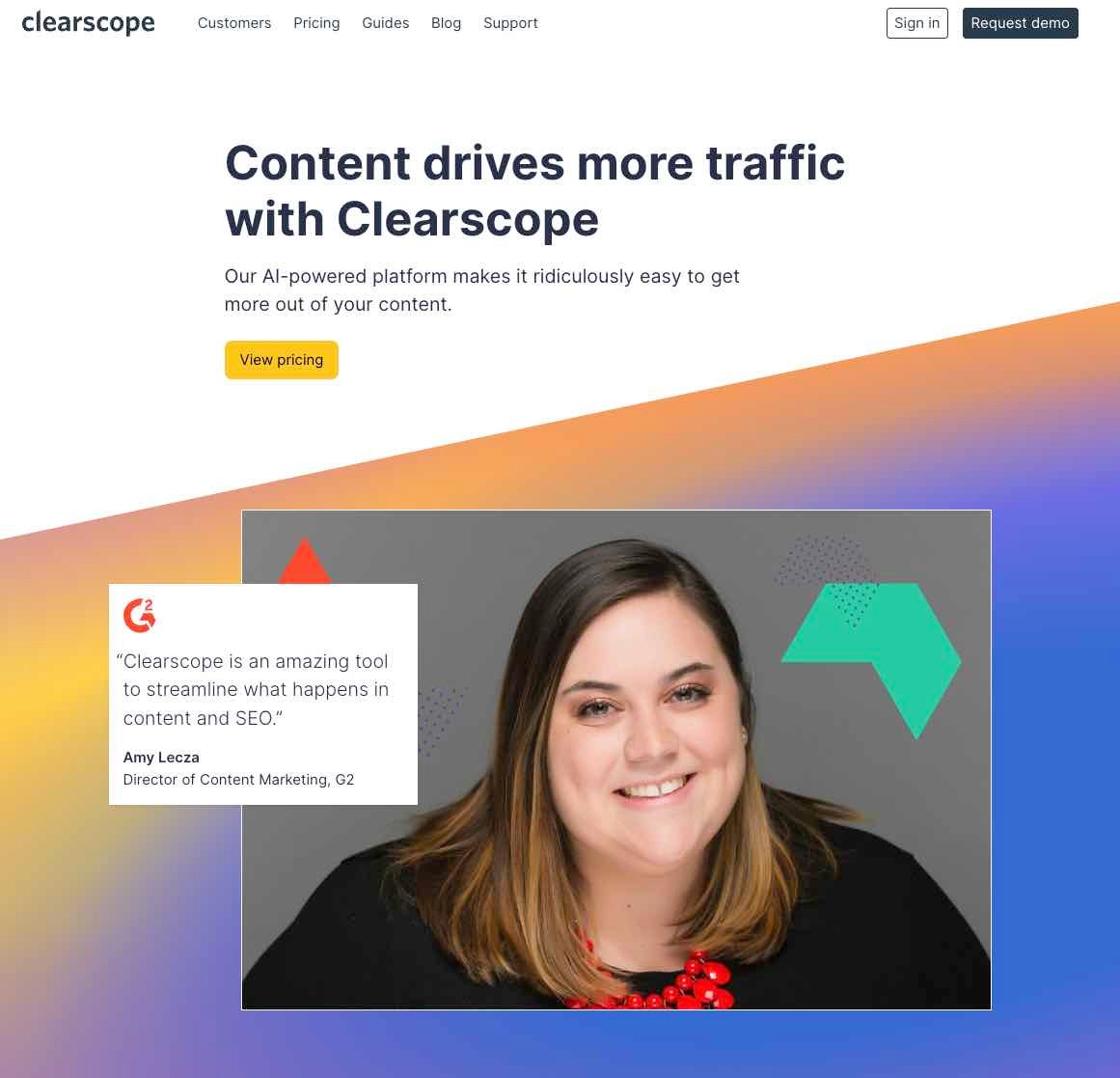 Clearscope is one of the most effective SEO optimization tools on the market. The team routinely shares their customer wins on social media and the results are impressive.
Similar to Surfer SEO, you run an article through the content checker to see how you can improve it. Clearscope leverages Google's natural language processing to ensure your blog post truly meets the user intent.
Pros
Proven results
The suggestions are very accurate
Team offers great support if you get stuck
Cons
Expensive compared to other tools
You can get started with Clearscope for $170/m which comes with 20 content report cards. To get over 100 content report cards you'll need to upgrade to a business plan which is $1,200/m.
Answer The Public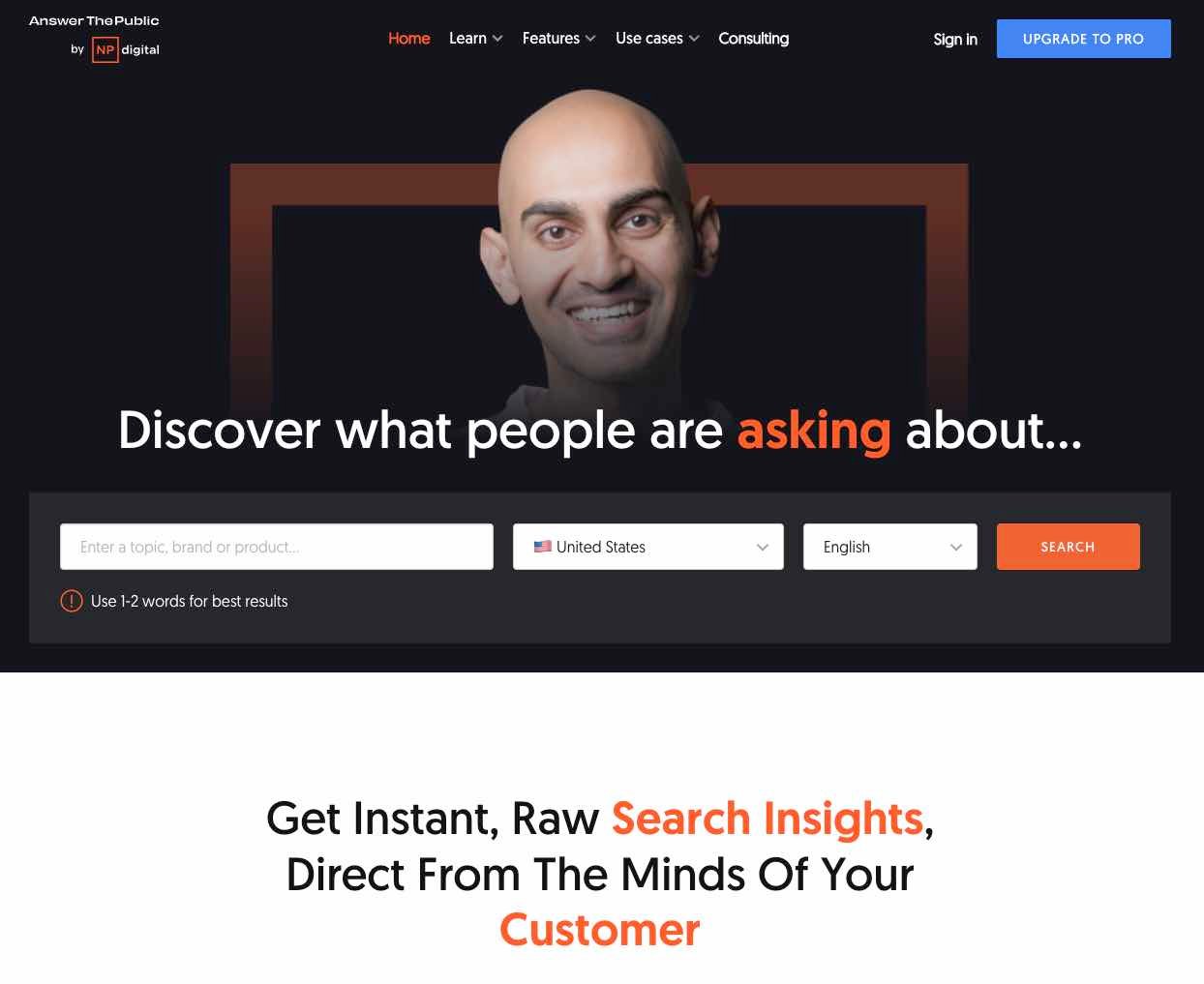 Answer The Public is a keyword research tool that visualizes questions and suggested autocomplete searches into a diagram called a search cloud. This tool was recently acquired by Neil Patel who also owns Uber Suggest (further up on this list). The goal is to help you identify new questions you could answer in your content plan.
Small businesses can leverage this to help produce new content, or improve their existing content. In some cases, you could even use Answer The Public to build an FAQ section at the bottom of your articles.
Pros
Cons
Suggestions still require keyword research
More of a gimmick
The free version isn't guaranteed to be available since it runs on a traffic limit system
Answer The Public provides free searches, although it caps very quickly making the experience annoying. Premium plans start from $99/m for unlimited searches and three users.
SpyFu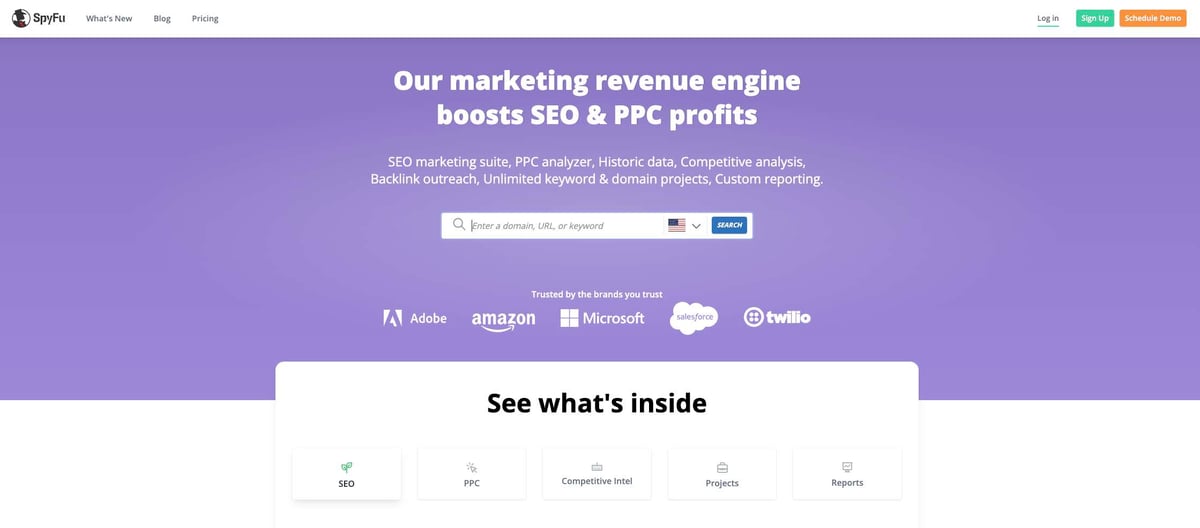 SpyFu is a competitor research tool that helps small businesses reverse engineer their competitor's strategies. They have over 200,000 monthly active users and almost perfect reviews on G2.
Business owners often try to guess what their competitors are doing and then imitate. It's much easier to use trusted data to figure this out. The tool features an SEO marketing suite, PPC analyzer, historic data, competitive analysis, backlink outreach tool, unlimited keyword and domain projects along with custom reporting.
Pros
Very comprehensive compared to other tools
Product suite goes beyond SEO
Great value for money
Cons
Huge product suite makes it overwhelming to use
Plans start from $39/m with access to all features but a limited number of search results, exports, and leads. There's even a 30-day money-back guarantee if the tool doesn't live up to your expectations.
Mangools

Mangools is another all-encompassing SEO research tool. It's similar to Ahrefs, however, it's cheaper and easier to navigate. Mangools is not as popular, however, they're a team of 30 from Slovakia and have been around since 2014. They also boast some great reviews on G2 and Capterra.
Mangools is ideal for businesses that don't have time to learn or upskill their staff on how to use complex features. They have one of the cleanest and easy-to-navigate interfaces. Basic tasks such as keyword research are extremely easy to do.
Pros
Very easy to use
Cheaper than most competitors
The UX is optimized for visuals
Cons
Keyword explorer needs to be reloaded often
Leans more on the basic side
It's priced at $29/m for the basic package, which is much cheaper than the alternatives.
Subreddit Stats

Subreddit Stats is a research tool for Reddit. Similar to how Ahrefs and Mangools analyze Google data, Subreddit Stats analyzes Reddit data. The reason this is so critical is that it uncovers trends and opportunities that are hidden in your niche. You might not be able to discover them using SEO tools. This tool allows you to plug in a subreddit and analyze its growth rate, top keywords, top posts, and top-linked domains.
Pros
Free to use
Gives quick data points about a niche
Easy to find trends not yet present in keyword research tools
Cons
Depth of the data isn't great
Subreddit Stats is 100% free to use which makes it even more compelling.
Anvaka Sayit Github Tool

This is another free Reddit tool you probably haven't heard of. The GitHub tool produces a spider map of related subreddits. The tool allows you to identify which key interests users have by connecting related subreddits. For instance, if you were to search r/investing, you would see a spider map telling you that these users are also active in r/financialindepedance, r/stocks, and r/personalfinance.
Pros
The spider map is very comprehensive and accurate
It's free to use
The UX makes it easy to interpret data
Cons
You need to dig further to get any meaningful insight
If you're looking for new content ideas the tool will help you find complimentary topics to discuss. Again, this tool is completely free!
Right Message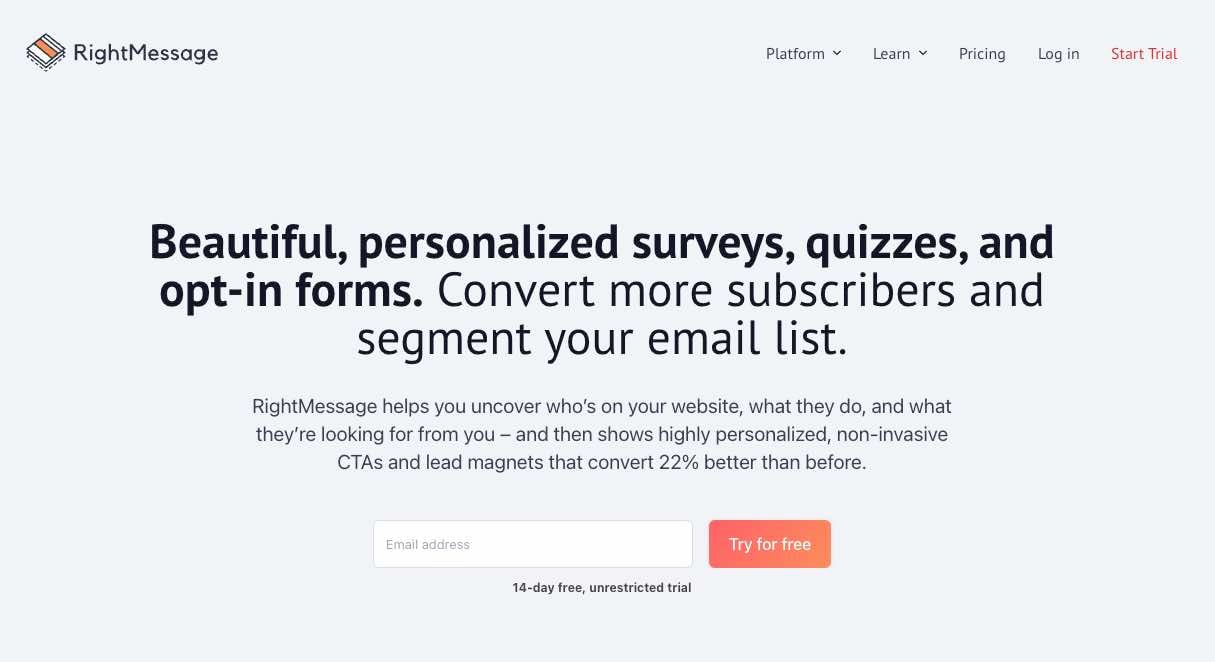 Unlike the rest of the tools on this list, Right Message offers personalized surveys, quizzes, and opt-in forms. This is particularly important when trying to convert customers from blog posts. The intent of every piece of content you write will be different, it's critical to understand what the user is trying to achieve before you try to convert them.
There are two awesome features of Right Message. The first is the survey popup that funnels users into your email list so you can tailor sequences based on their responses. The second is the ability to tailor anything on your site based on the user attributes.
Pros
Helps you tailor appropriate CTAs for each page
Can personalize anything on your site based on user attributes defined in the platform
Cons
Not a traditional SEO tool
The entry-level plan starts at $79/m for 10k site visitors, although it doesn't include page level customization. To personalize anything on the site (headlines, images, landing pages, etc) it will cost $179/m.
Final thoughts
Hopefully by now you have some direction on which tools you want to use in your small business.
Of course, there are many to choose from and it can be overwhelming. So it's important to know what you're trying to achieve before you sign up for any software. These tools often compete with each other. It's likely you'll be able to try them for free or request your money back if they don't live up to your expectations.