August 25, 2022 by Molly Weybright
Mastering Local SEO for Electrician Contractors
Updated on August 17, 2023
As an electrician contractor, you know that generating leads is essential to your business. And as the internet has become more and more central to our lives, a strong digital presence is one of the best ways to drive high-quality leads your way.

If you already have an electrician website, you may be thinking that it's enough to entice potential customers away from other electricians in your area. Unfortunately, it's not as simple as that anymore.
In today's competitive digital marketing landscape, proven marketing strategies like search engine optimization (SEO) are critical to success.

In fact, 83% of small businesses that use SEO report that it is an effective part of their overall marketing strategy. In other words, you can't be missing out on this!
In this blog post, we'll cover the key elements of SEO for electricians, including understanding where your small business can appear organically on Google, how to boost your company's place on the SERPs (search engine results pages), and how to encourage conversion once potential customers find your site.
The Basics of Electrician SEO
If you are like 20% of small businesses, SEO is not part of your marketing strategy at all. With some key pointers, however, you'll be able to quickly get your local SEO bearings and see leads start to come in.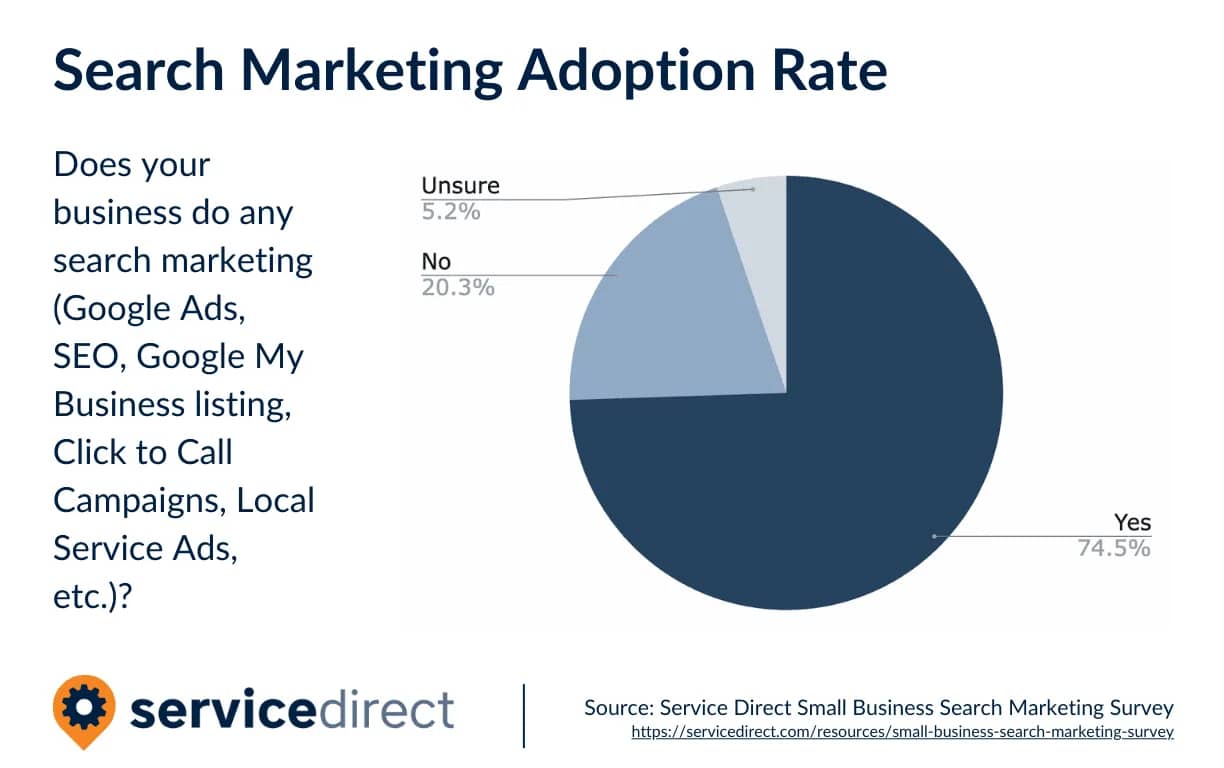 But first, let's look at what exactly search engine optimization is.

SEO is a process by which businesses can improve their visibility and organic (which is another term for unpaid) search results on search engines like Google.

SEO can be complex, but the basics are relatively simple: by optimizing your website, keywords, and content for search engines, you'll be able to attract more visitors to your electrician site.

The goal of SEO is to improve the visibility of your website to people searching for electrician services in your area in order to increase traffic and ultimately generate more leads.

For many small businesses like yours, SEO can be an extremely effective way to reach new customers. However, it's important to remember that the process takes time and effort, and there are no guarantees of success.

And while the tips in this blog will certainly put you in a good spot with your SEO initiatives, you'll need to look into even more in-depth material to become a true SEO master.

Nonetheless, if you are willing to invest time in SEO (and we sure hope you are, since you're reading this blog), the potential rewards can be significant.

Your electrician company can use SEO to target homeowners in your area searching for electrical services online.

By optimizing your website with techniques covered in this post, you can ensure that your site appears prominently in search results, making it more likely that you will receive those crucial clicks and inquiries from potential customers!
SEO Challenges Faced by small businesses
In our research, we found that small businesses faced 3 main challenges when it comes to effectively using SEO to grow their business:
Keyword research and/or content discovery and planning
Finding time/resources to dedicate to SEO efforts
Staying on top of search engine algorithm changes
We'll touch on each of these briefly and provide you with a couple of ideas to get around those difficulties so you can succeed with SEO!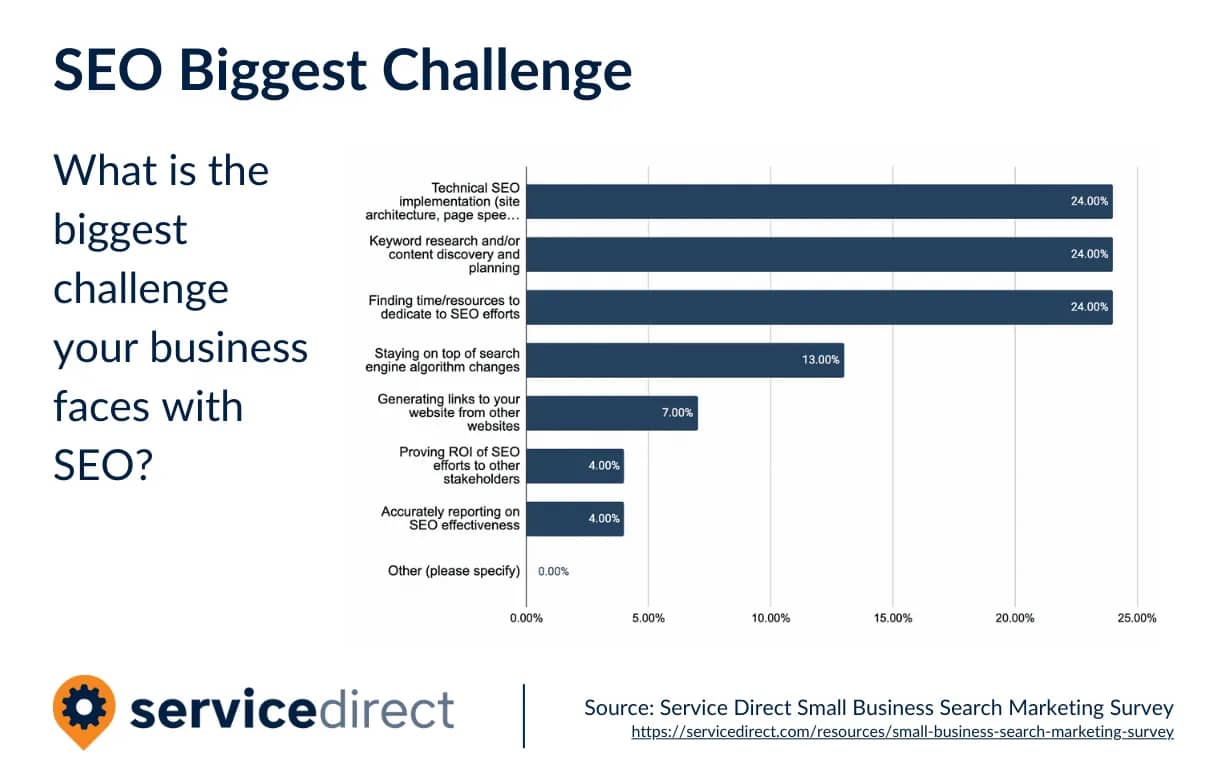 Keyword Research and Content Discovery/Planning
24% of businesses listed keyword research and content planning as the biggest challenge they face with SEO. Of course, this element of search engine optimization is also one of the most important.

In order to effectively grow your business through SEO, you need to know how to find new keywords and implement them into your content regularly.

Fortunately, there are tons of SEO tools out there that you can use depending on your tech-savviness and budget. Free tools like Google Keyword Planner will help you get started and tools like SEMRush will help you dive deeper into keyword research.

And when it comes to content planning, you want to write what you know in a way that people will understand. Focus on quality content that informs—you're an expert in your field for a reason.
Finding Time and Resources to Dedicate to SEO
As a small business, your time and resources are most likely pretty limited. Depending on where you're at in your electrician career, you may only have a few hours a week to devote to marketing—if that. So, if you want to succeed with SEO, you need to find a way to use what little time and money you have effectively.

If you have had difficulty with this balance, you are not alone—24% of businesses listed this as their biggest challenge with SEO.

This is another great place where SEO tools can help you make the most of your limited time by helping you develop and implement your strategy. You might also consider partnering with a third-party marketing firm to take the guesswork out of SEO.
Staying on Top of Google's Algorithm
One of the reasons why Google reigns supreme in the search engine world is that it is always ahead of the curve with developing new products and services that work better than ever. If you want to succeed with SEO, you also need to stay ahead of that curve.

Staying on top of the algorithm isn't easy, as 24% of businesses would agree, but it is not impossible either.

Subscribing to marketing newsletters and setting aside time quarterly to read up on Google's changes are 2 great ways to ensure you aren't falling behind on recent algorithm changes. This will help you stay successful with SEO.
The 2 Places You Can Appear Organically
Companies can appear organically in Google in 2 places: the Google Maps results and the regular search engine results pages (SERPs). Both of these placements are important for companies that want to be visible to potential customers and both positions are boosted through SEO efforts.

The Google Maps results are displayed when users search for a specific location or type of business. Appearing here can be helpful for companies that want to attract local customers, which is incredibly crucial for small businesses.

For example, an electrician that appears in the Maps results is more likely to get calls from locals looking for electrician services, especially when those services are needed quickly.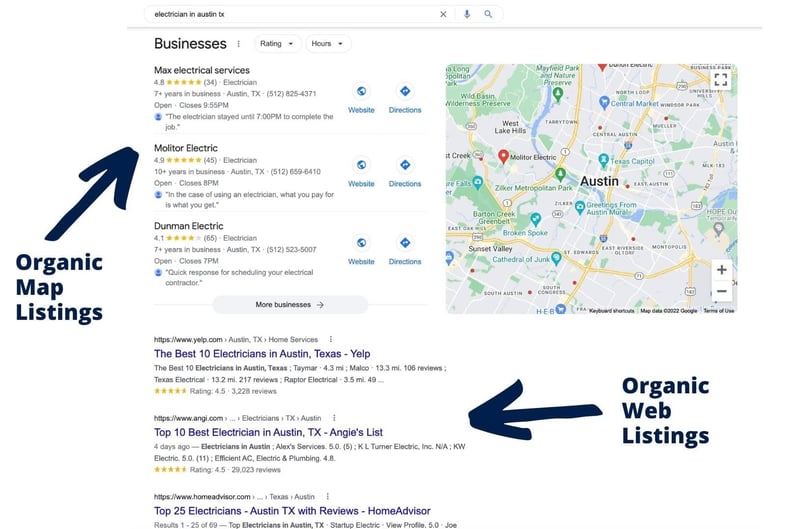 The SERPs are the regular search results that appear when people search Google, usually located below the Maps results. Companies that appear here have an opportunity to reach a wider audience, as searchers may not be specifically looking for businesses in their local area.

For example, if someone is on a work trip but is looking for an electrician to hire when they return home, the SERPs are going to be more helpful. In addition, appearing on the SERPs can help build brand awareness and trust, as users are more likely to click on familiar brands that they see listed in the search results.

By appearing in both places, companies can maximize their visibility and reach potential customers who are searching for their product or service.
Google Maps and Google Business Profile
Google Business Profile is a free tool that lets businesses manage their online presence across Google, including Maps.

It's important that you take the time to claim and update your Google Business Profile, especially because 66% of consumers use Google to find local businesses. Plus, claiming and verifying your listing is simple and only takes a few minutes.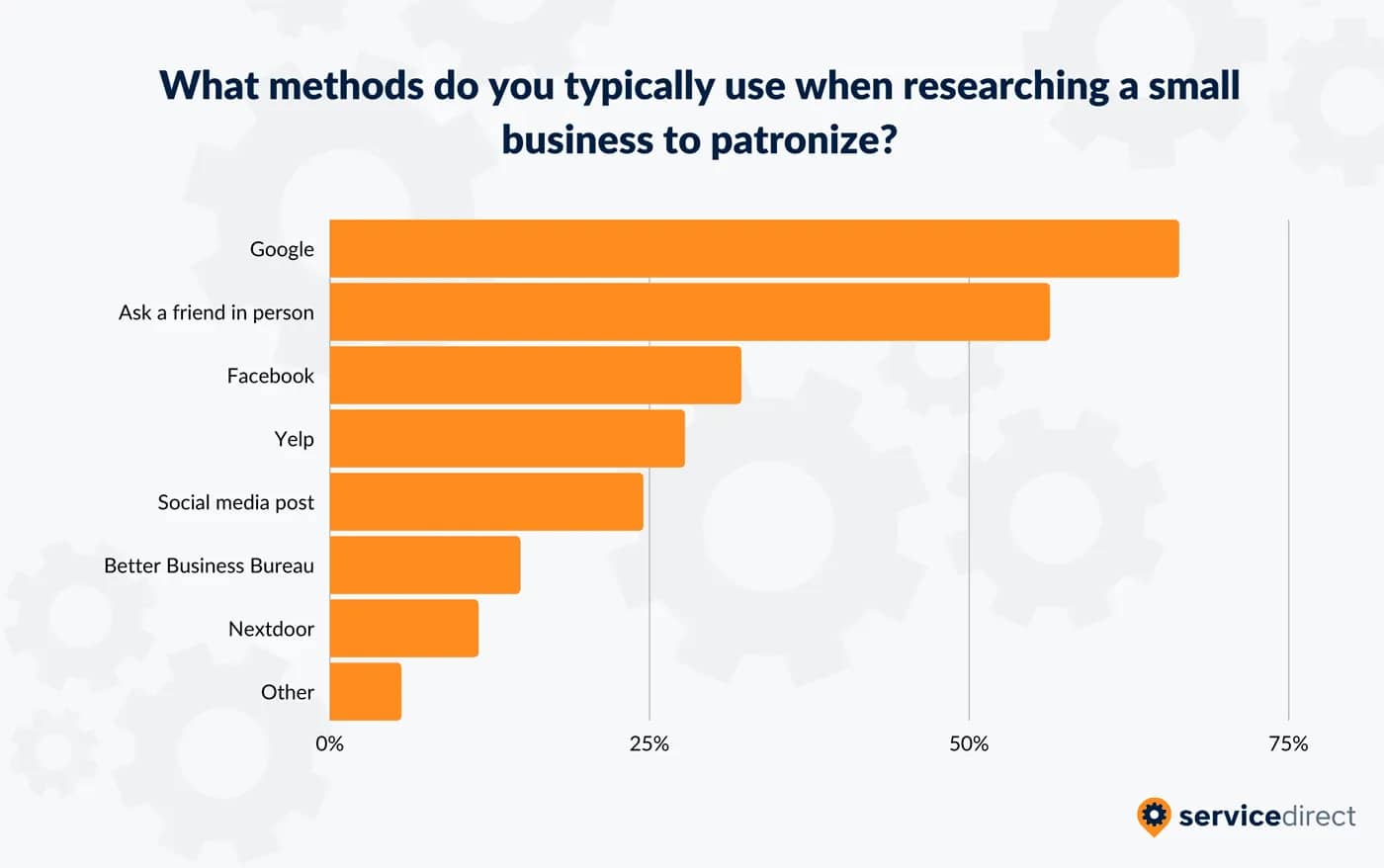 Your GBP will include your business hours, contact information, and reviews from past customers. It also provides you with a platform to post photos and videos, update your service offerings, and answer any questions customers may have.

All of this continually works toward building credibility in your company in the eyes of searchers.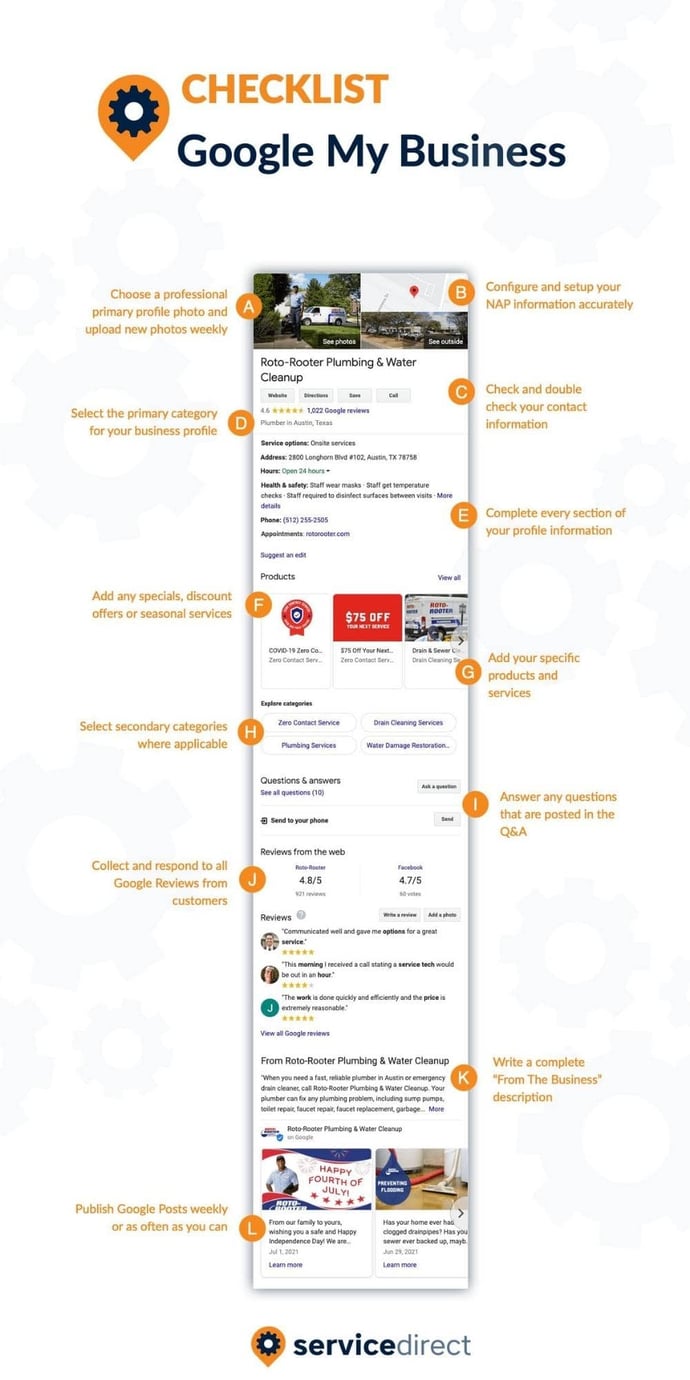 Confirm Your Electrician Company's NAP Information
If you're a business owner, it's important to make sure your electrician company's name, address, and phone number (NAP) are accurate and up-to-date in your Google Business Profile.

Why is this so important? Well, for one thing, potential customers may use this information to get in touch with you or visit your office. Inaccurate NAP information could lead them astray and result in lost business for you.

Additionally, when search engines look at your website and Business Profile, they use this information to help determine your company's location and category. This helps them determine which search results to show for geo-targeted searches.

If your NAP information is inaccurate, it could negatively impact your chances of appearing in these valuable search results, plus it decreases your reliability in the eyes of Google and potential customers.

So if you haven't already, take a few minutes to confirm that your electrician company's NAP information is accurate and up-to-date on your GBP. It could make all the difference for your business.
Encourage Testimonials and referrals from Customers
As a small business owner, you know that every positive review counts. And with Google's Local Guides program, businesses that collect testimonials and respond to them in a timely manner will see their Business Profiles rise to the top of search results.

That's why it's so important to encourage your satisfied customers to refer their friends, leave a review, and take the time to respond thoughtfully to all reviews, even the negative ones.

Fortunately, 71% of consumers are likely to leave a review if the company makes it easy for them to do so. In other words, by including a link to your Google review page, you're more than likely going to see testimonials coming in.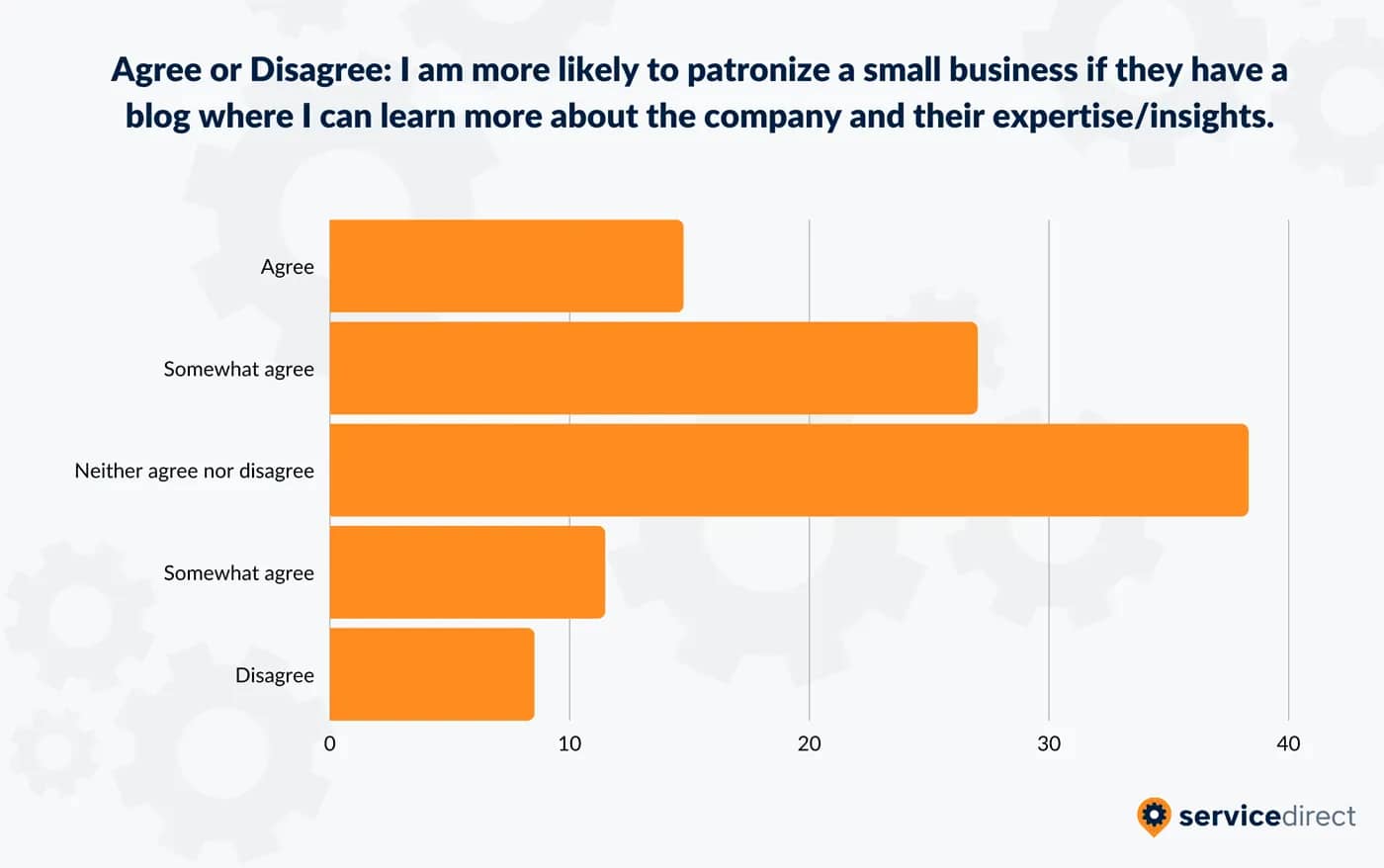 In addition to helping your business get found online, testimonials can also serve as valuable social proof.

When potential customers see that others have had a positive experience with your business, they're more likely to take the leap and give you a try.

So don't be shy about asking your happy customers for a review—it could make all the difference in landing new business.
Don't "Set it and Forget it"
Regularly updating your GBP information is critical for SEO success.

Your Business Profile is one of the first things potential customers see when they search for your electrician company online, so it's important to make sure the information is accurate and up-to-date.

Outdated or incorrect listing information can lead to lost customers and revenue, as well as a dent in your reputation.

Furthermore, Google Business Profiles that are regularly updated with fresh content are more likely to rank higher in SERPs, which can lead to increased organic traffic and visibility for your business.
Stay ahead of the competition by regularly updating:
Hours of Operation (TIP: Make sure you're updating holiday hours)
Services Offered
Specials and Discounts
Photos and Videos
Review Responses
SERP Organic Ranking
At this point, it's clear that visibility is key to attracting new customers and growing your business. One important way to increase your visibility is through your organic search engine results page ranking.

Your SERP ranking is determined by a number of factors, including the quality and relevancy of your website content, how often your site is updated, and the number of inbound links to your site.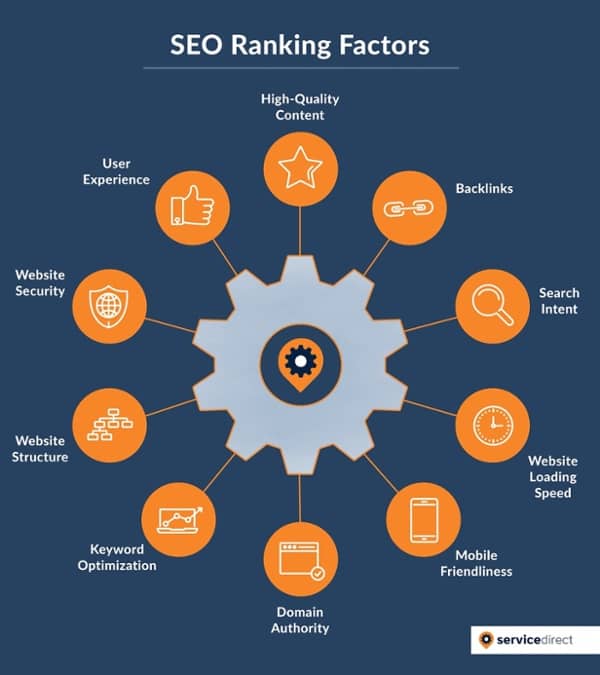 While there are a number of ways to improve your SERP ranking, one of the most effective is to boost your SEO strategy by focusing on your content and the technical elements of your site.
By optimizing your website for organic search, you can attract more visitors from Google. Plus, optimizing your site for SEO can be an efficient way to grow your business on a limited budget.

If you're looking for ways to increase your electrician business's visibility and attract new customers, boosting your organic SERP ranking should be at the top of your list.

Investing time and resources in organic search optimization can pay off in higher traffic levels and greater customer growth in the long run.
Website Performance and Electrician SEO
The technical elements of your website are a major factor in your electrician company's organic ranking.

Pages that load quickly and efficiently are ranked higher than pages that are slow and bogged down because Google wants to provide its users with the best possible experience.
When users click on a link, they expect to be taken to a page that loads smoothly and is secure. Plus, with 66% of consumers searching for local businesses on their mobile devices, you need to make sure your site is optimized for mobile.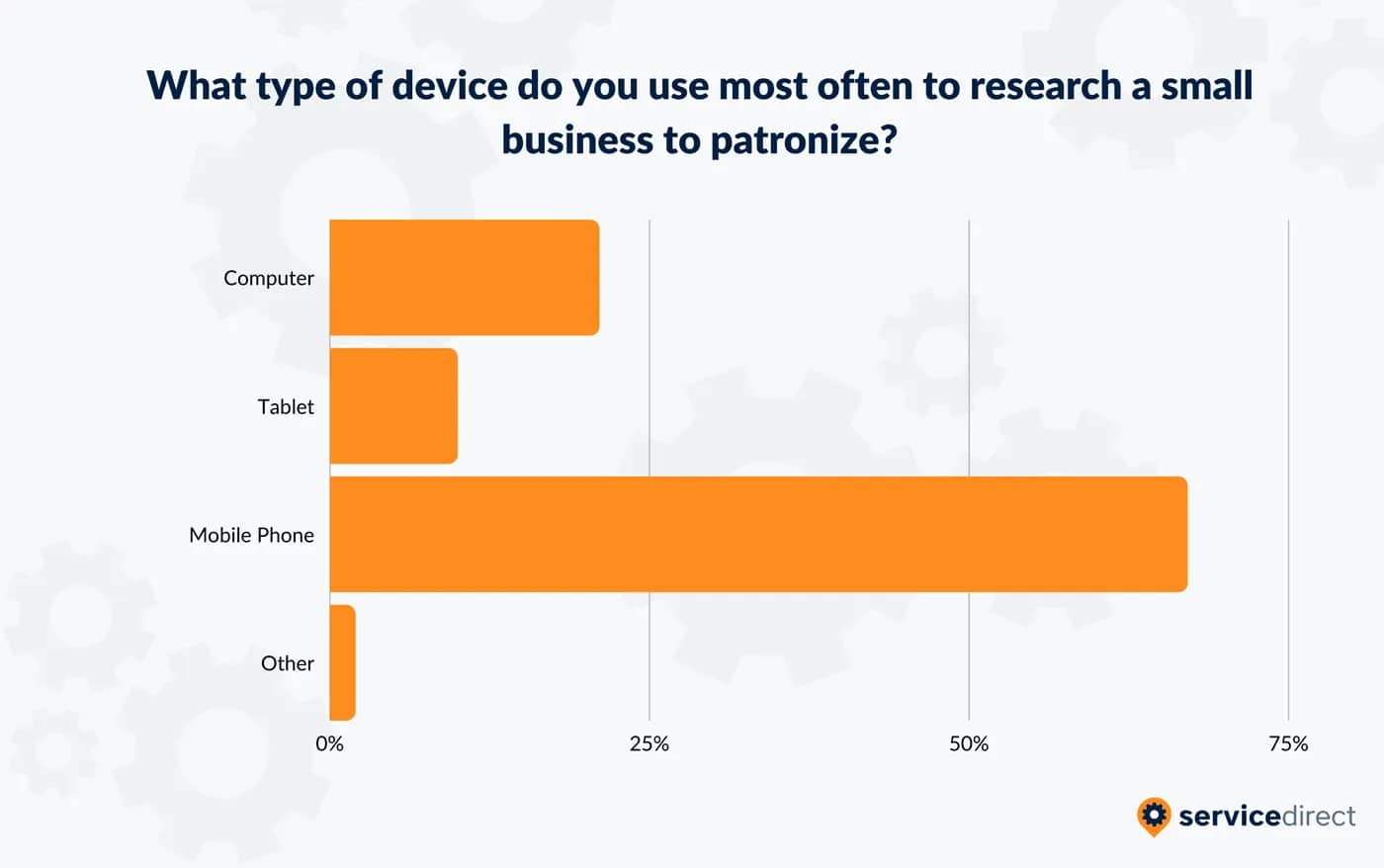 If any or all of these elements are off, potential customers will likely click back to the search results and try another link. This creates a poor user experience, which Google wants to avoid, lowering your organic ranking.

In addition, fast-loading pages are more likely to be shared between customers and linked to, which helps to improve the visibility of a website, leading to even more traffic.
Metadata & Descriptions
In the world of local SEO, metadata refers to the information contained in a website's code that helps search engines understand the content of the site. This includes things like page titles, meta descriptions, and keywords.

While metadata is not visible to website visitors, it is an important part of SEO for electricians because it helps search engines determine which websites to rank for certain keywords.

Google has stated that meta descriptions do not affect your ranking, but they are useful in other ways.

Meta descriptions can greatly improve your click-through rate in the SERPs, which is just as important as how high you rank. This is because these short descriptions give a clearer picture of what searchers will find on your site, ultimately encouraging them to click through.

Improved Site Content and Electrician SEO
If you're serious about improving your SEO ranking, then you need to focus on 3 key areas: keyword-rich content, regular blogging, and backlinks. Let's take a closer look at each one.
Keywords
First, when it comes to content, you must ensure that you're using the right keywords throughout your website and blog posts. This will help search engines understand what your site is about and index it accordingly.

You can research which keywords are most relevant to your niche and then use them throughout your site. Just be sure not to overdo it, as this can result in keyword stuffing, which can actually harm your ranking.

A great way to avoid keyword stuffing is to highlight your high-value, most-requested services on individual site pages. You can use a higher volume of desired keywords with site pages without straying into the keyword-stuffing tactic.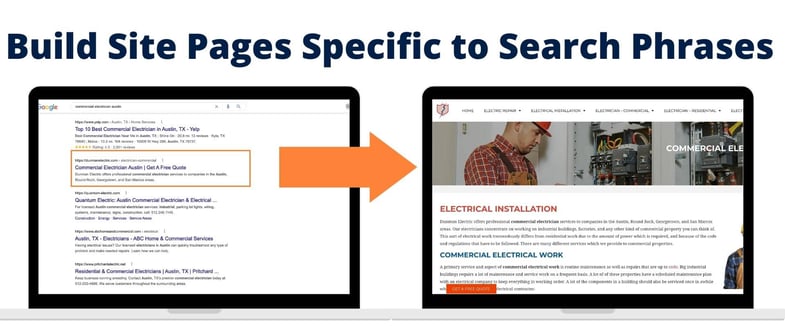 Example: Dunmanelectric.com
Blogging
Next, you'll need to focus on creating regular blog content. Not only does this give you more opportunities to use relevant keywords, but it also shows search engines that your site is active and regularly updated.

Additionally, 40% of consumers said being able to read more about a company and its insights in their blog would make them more likely to patronize that business.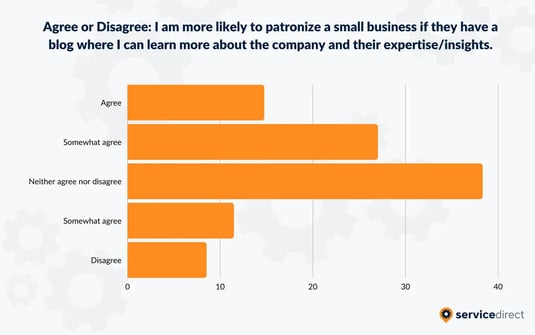 How often you post blog content is up to you and your electrician company's ability to produce high-value content, but we recommend aiming to post new blog content at least once every 2 weeks.

It's important that these blogs are informative, useful, and well-written, both in the eyes of Google and potential customers. Put simply, it's easy to see when a company is throwing arbitrary content out the door just for the sake of content.

You don't want that to be your company.
Backlinks
Finally, one of the most important things you can do for your electrician SEO ranking is to build up a strong backlink profile. This means getting other reputable websites to link back to yours.

The more high-quality backlinks you have, the better chance you have of moving up in the SERPs. Backlinks are digital votes of confidence from other businesses, so they are especially useful when provided by another authoritative company.

When Google sees backlinks to your site, it shows the search engine that you are a source of knowledge in your field and are much more likely to solve searchers' electrician needs.

There are a number of ways to get backlinks, such as guest posting on other blogs or directories, so be sure to explore all your options.

We found that only 14% of businesses report implementing on- and off-page SEO tactics.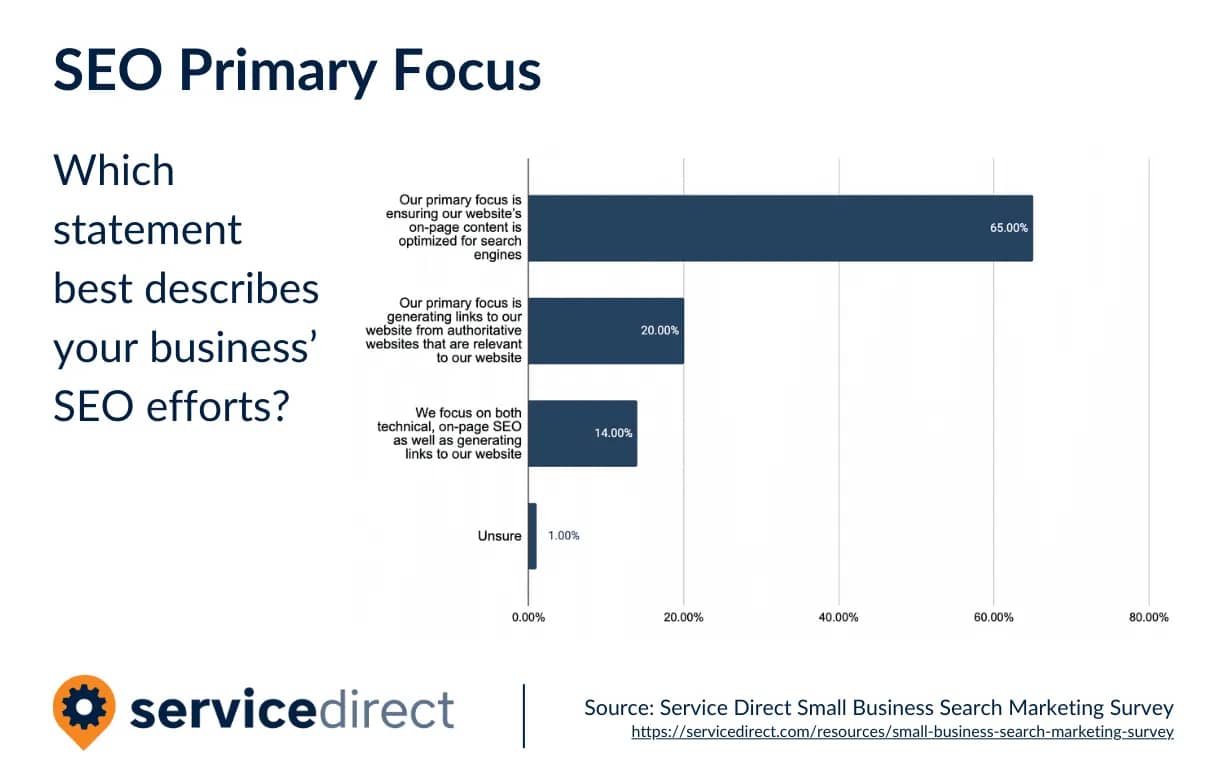 If you can work on content improvement and backlink acquisition, then you'll not only see improvement in your overall electrician SEO strategy, but you'll be getting ahead of the competition as well.
Stand Out From The Competition with Schema Markup
When it comes to search engine results, standing out from the competition is essential, and one way to do that is by using schema markup.

Schema markup is a type of code that helps search engines understand the content on your website. By adding this code to your electrician website, you can make sure that your company's search results are more informative and relevant.

As a result, users will be more likely to click on your company's listing, which will lead to more traffic and business for your electrician company.

Examples of Schema Markup to Add:
Ratings/Reviews
Photos
NAP Information
Q&A Drop Down
Site Page Links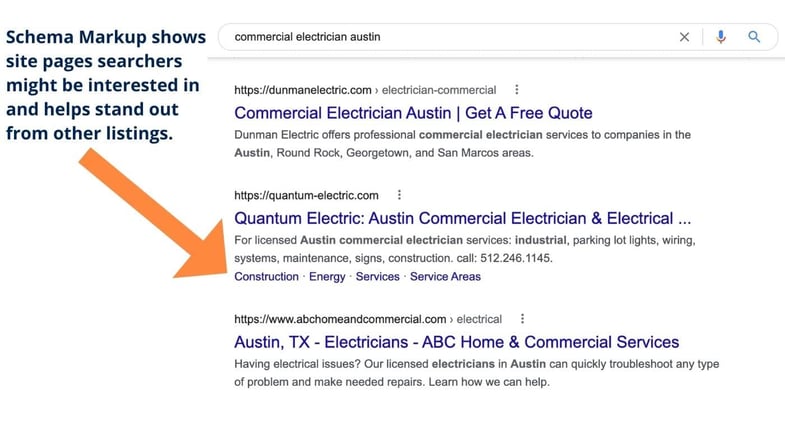 So if you're looking for a way to improve your company's search engine results, consider using schema markups. It's a simple and effective way to make your company's listing more visible and engaging.
In Conclusion
If you're looking for a way to improve your company's visibility without breaking the bank, electrician search engine optimization is the answer.

By following our tips, you'll start to see your website rank higher in organic search results, bringing more leads and customers your way.

Need more help putting these tips into action? Download our free guide to electrician marketing for more tips on how to get started today.
Related Content