February 23, 2023 by Molly Weybright
How to do Keyword Research For Your Small Business SEO Strategy
It's no secret that the world has gone digital. These days, most people use the internet to get most of their information, including details about local businesses. Appearing near the top of search results has become a critical part of customer acquisition for nearly all businesses, and the strategy behind making that happen is called search engine optimization (SEO).
The goal of SEO is to get your website to rank on the results page when potential customers search for certain keywords or phrases related to your business. That's why any SEO strategy needs to start with keyword research.
What is Keyword Research?
Before we dive in, let's talk briefly about the overall concept of keywords, keyword research, and why it's a cornerstone of your small business SEO strategy.

Put simply, keywords are the ideas, topics, and words that encompass your business's overall services and are the base of your content.

Keyword research, then, is the process of looking with a wide lens at your business and your existing content to determine what keywords you are already featuring and using tools to determine other keywords that you might want to include in your SEO strategy.

Of course, if your small business already uses search engine optimization to gain visibility and acquire more customers, you probably already knew what keywords are. But, if your company is like 24% of small businesses we surveyed, you might feel that keyword research is the biggest challenge you face when it comes to SEO.

If this sounds like you, you're clearly not alone. We've put together the tips discussed in this blog to help businesses like yours understand not only why in-depth keyword research is crucial, but also how to do it easily, affordably, and effectively.
Why is Keyword Research Important?
In order to ensure your SEO efforts are worthwhile, you need to do thorough keyword research. Why?

Considering that less than 1% of searchers click on a result on the second page of Google, it's clear that getting on that first page is essential. But, like most things in business, it's not that simple.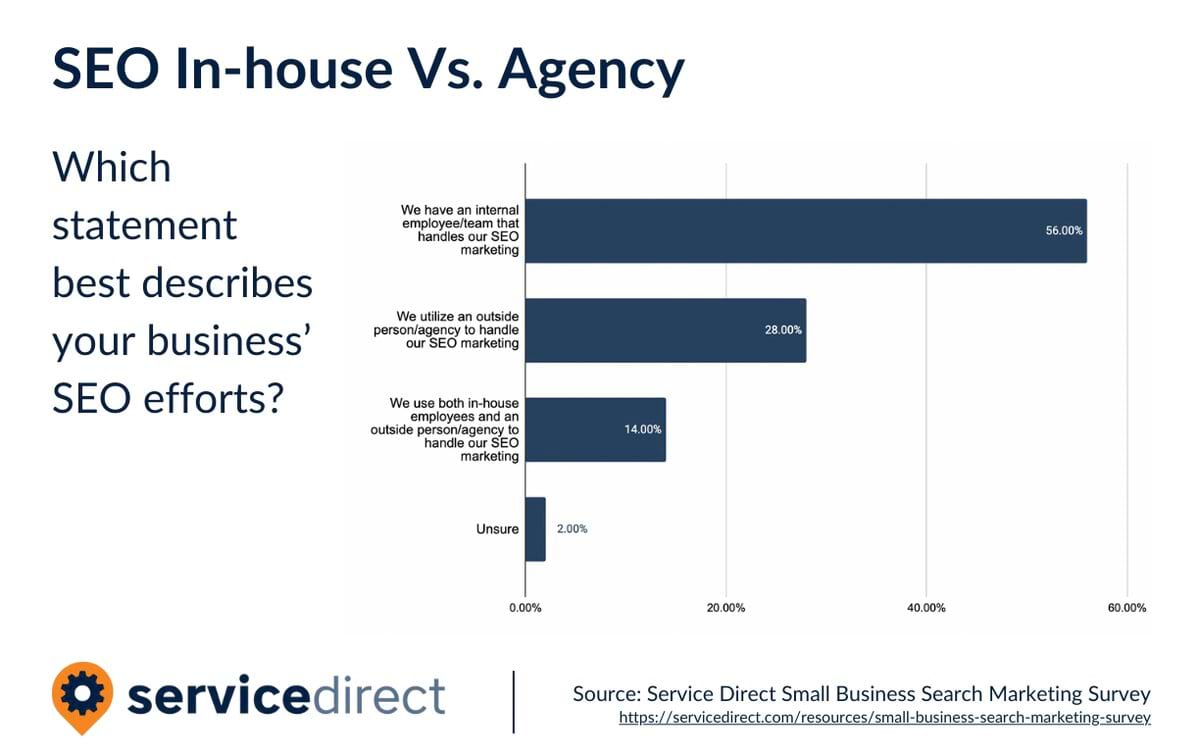 If you're an appliance repair company, for example, it's not helpful for your business to be on the first page of searches for "donut making." You need to get on that first page for terms that apply directly to your company—enter keyword research and implementation.

Keyword research informs the content that your business is going to create online. As we no longer live in a world where content for content's sake is enough – you need to make sure you are thinking from the perspective of potential customers in order to make the most use of your corner of the digital world.

As you begin diving into how to do keyword research, keep in mind that it is a top-down effort.

In other words, you need to start broad with a focus keyword and narrow down as you go. This allows you to use your limited time effectively by only creating content that takes you closer to your SEO goals.
Important Terms to Know
Before we go any further, let's briefly discuss some of the keyword-related terms we'll be using in this blog. If you come across any terms you're unfamiliar with, make sure to check back in this section for definitions.
Focus Keyword: This is the primary term or phrase that you want your company to rank for.
Long Tail Keywords: Three to five-word keyphrases that are highly specific and are used to target niche demographics.
Search Intent: The main goal a searcher has when typing something into a search engine.
Monthly Search Volume (MSV): A measure of how many times a query is entered into search engines each month.
Trigger Phrases: Phrases that provoke a particular response, such as purchasing a product or liking a post.
SERP: Shorthand for 'search engine results page' and what Google provides as a result of a query.
Topical Authority: A measure of authority you gain through publishing quality content. Google uses this to determine how likely a site is to answer a search query.
On-page SEO: The practice of optimizing your website for search through keywords, titles, metadata, and more.
Off-page SEO: SEO from outside sources like link building, social media engagement, blog comments, and more.

Step 1: Start with the Big Picture
The first step to doing keyword research is establishing a focus keyword, which will be the centerpiece of your research. Once you have this determined, you can start expanding into related keywords.

This focus keyword will most likely be competitive, and you will already want to have a separate landing page established. If you are an appliance repair company, for example, your focus keyword might be along the lines of "emergency appliance repairs" or "oven repairs."
How to Determine Your Focus Keyword:
Brainstorm with your team: Involve as many people as possible in your brainstorming process. Including employees, friends, and even existing customers can be beneficial. You never know when someone will help you toward that lightbulb moment.
Put yourself in the position of the customer: Picture your ideal customer. What circumstances make them the ideal customer? What is it they need or are looking for from your business that puts them in the desirable position?
Search Google as if you are the customer: Once you have a clear idea of your desired customer, you can search Google as if you are that customer. This will allow you to see what types of results are appearing from key searches as well as which searches are giving you the results closest to your company.
TIP: Google will provide you with related searches at the bottom of the SERP. This can be a helpful place to find keywords.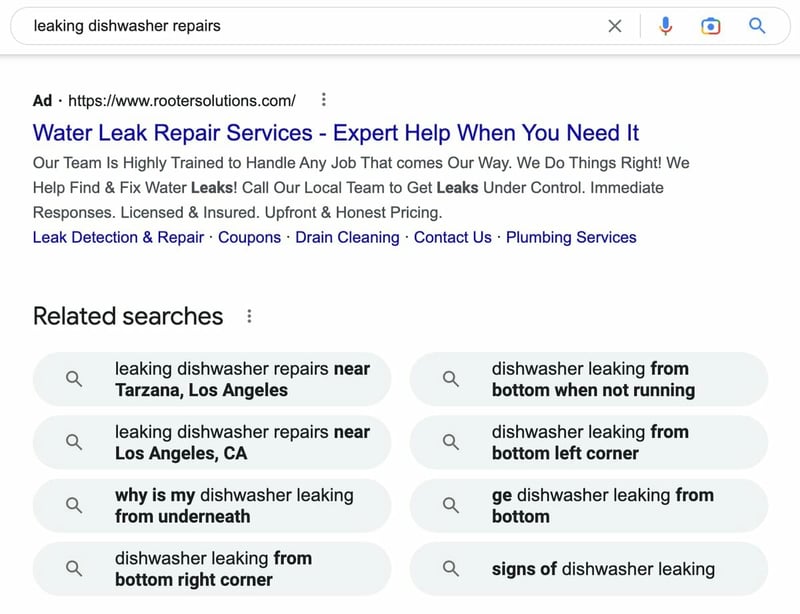 Once you've identified the focus keyword "bucket," you can begin to dive deeper into researching phrases that fit into your bucket and will be included in your content as part of your SEO strategy.
Step 2: Fill in Focus Buckets with Strong Keywords
At this point, you're going to see the most success using tools to research long-tail keywords and figure out what you want to target with your content. Fortunately, tools like SEMRush and Google Keyword Planner provide an all-in-one perspective on keywords, including monthly search volume, keyword difficulty, and intent.

Keep in mind that the best keywords for your SEO strategy will take into account volume, relevance, and competition. You'll want to look at search intent and choose keywords that allow you to produce content that stands out from the competition and what is currently ranking on SERPs.
Using SEMRush to Find Keywords
To start, put your focus keyword into SEMRush. Let's say you are an HVAC company looking to bring in emergency AC customers. SEMRush's Keyword Overview will provide you with tons of valuable information.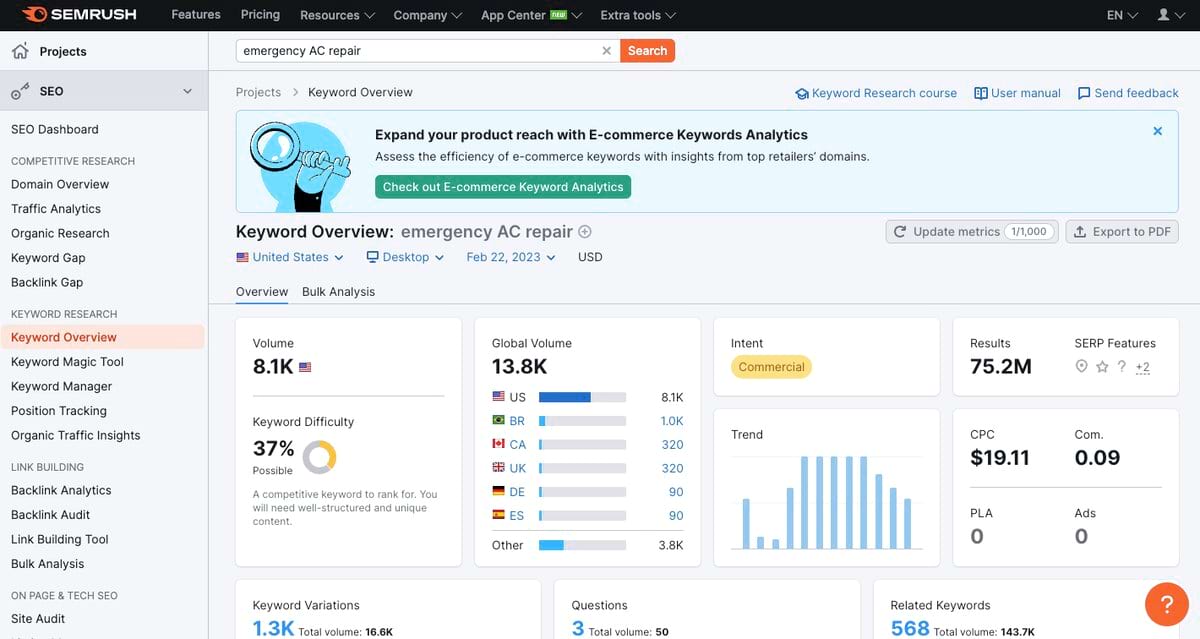 Image Source
You're quickly provided with insights into how difficult the keyword is, the trends associated with it, and the search volume.

Next, you'll want to go to the Keyword Magic Tool (located in the Keyword Research section on the left).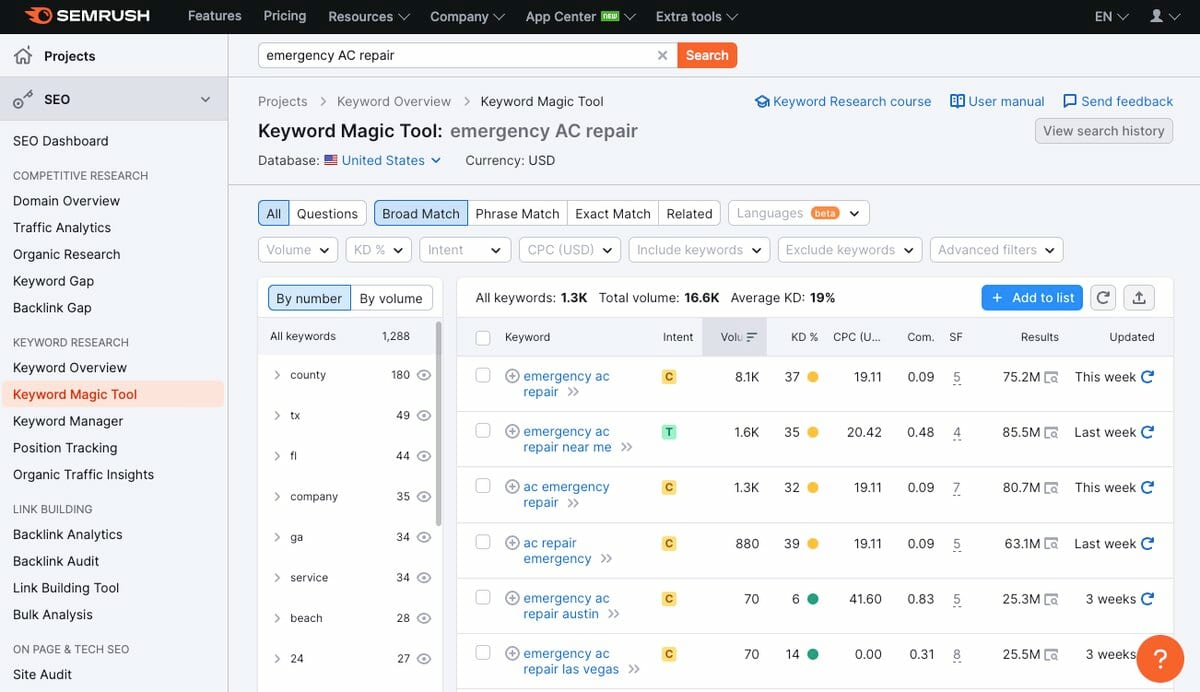 Image Source
Here, you can easily see all of the related keywords SEMRush has found to "emergency AC repair." This is going to be the most important spot for small businesses looking to improve their SEO.

Each keyword is accompanied by a difficulty score and the monthly search volume. In order to see success with SEO as a small business, you'll want to pick keywords that aren't highly competitive but still have a solid MSV. Put these keywords into your focus bucket and use them to create high-quality content!
Using Google Keyword Planner to Find Keywords
Another great tool small businesses can use to find long-tail keywords to fill their focus bucket is Google Keyword Planner. This free tool from Google allows you to enter your focus keyword and see a list of related long-tail keywords.

In order to do this, you'll need to log into your Google Ads account and navigate to the "tools and settings" section in the top menu bar. From there you'll click "Keyword Planner" in the left hand column.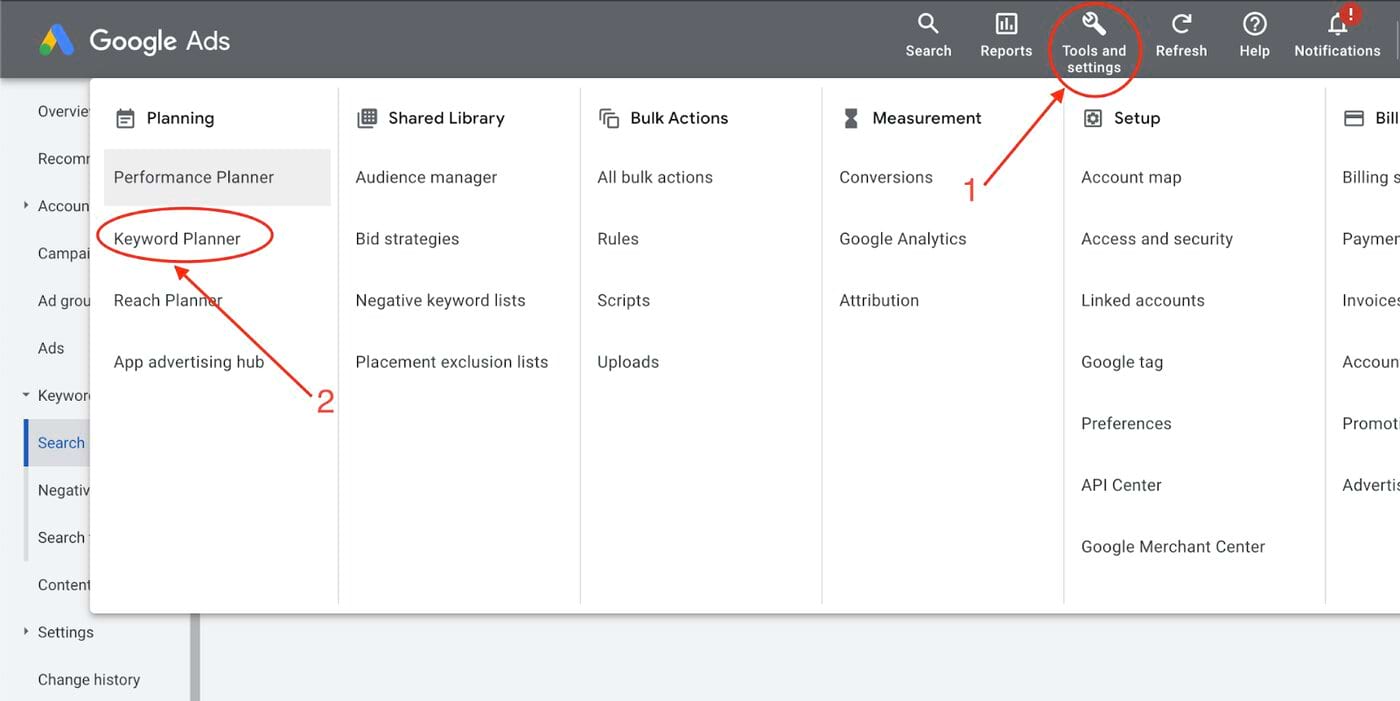 Image Source
Next, you can put your focus keyword and any other related keywords you've already collected into the "Discover Keywords" section.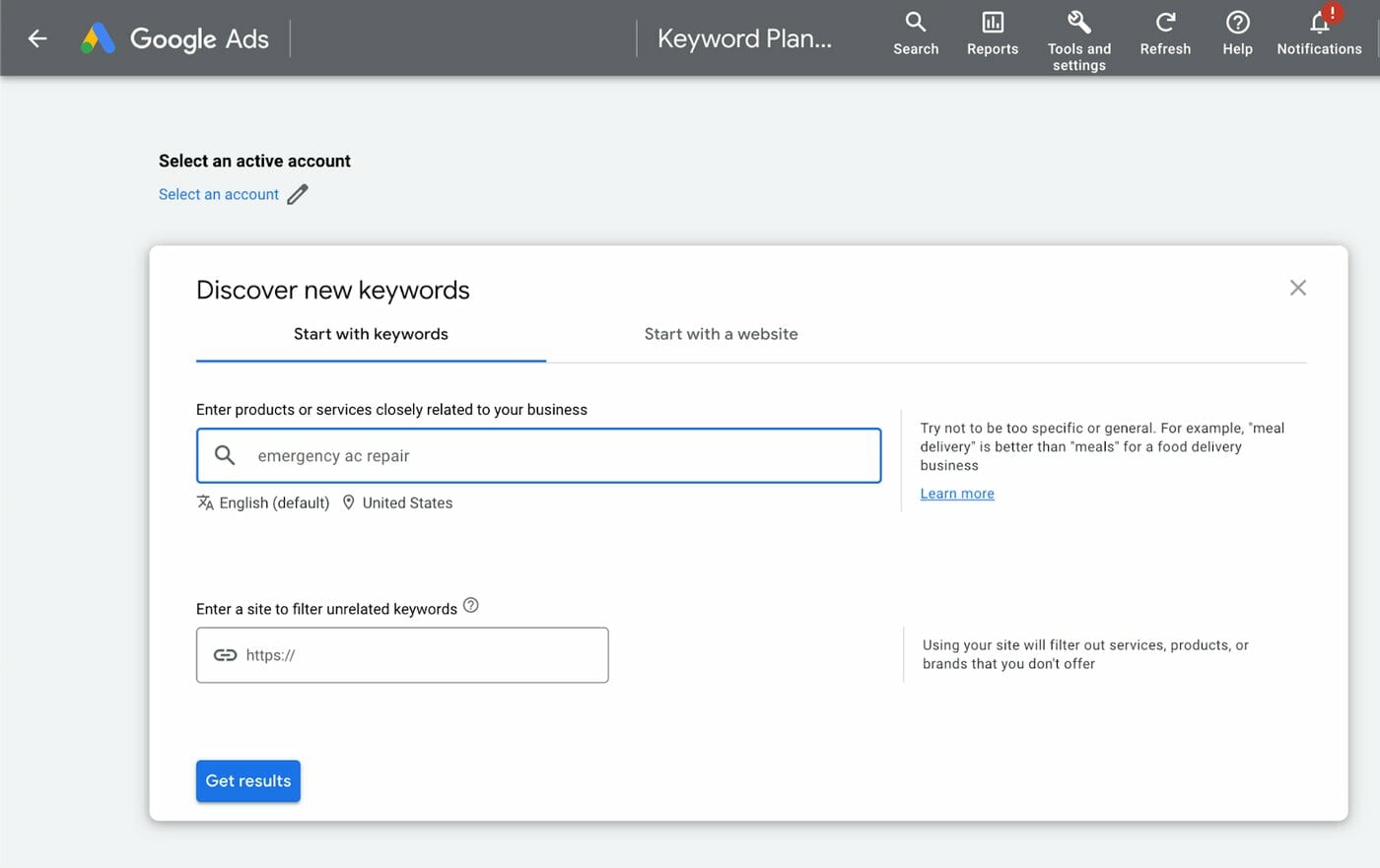 Image Source
The results will provide you with a trends graph as well as additional keyword ideas and the competition level of those keywords. Google Keyword planner doesn't provide you with quite as much information as SEMRush, but it is an invaluable tool for businesses with smaller budgets because it's free.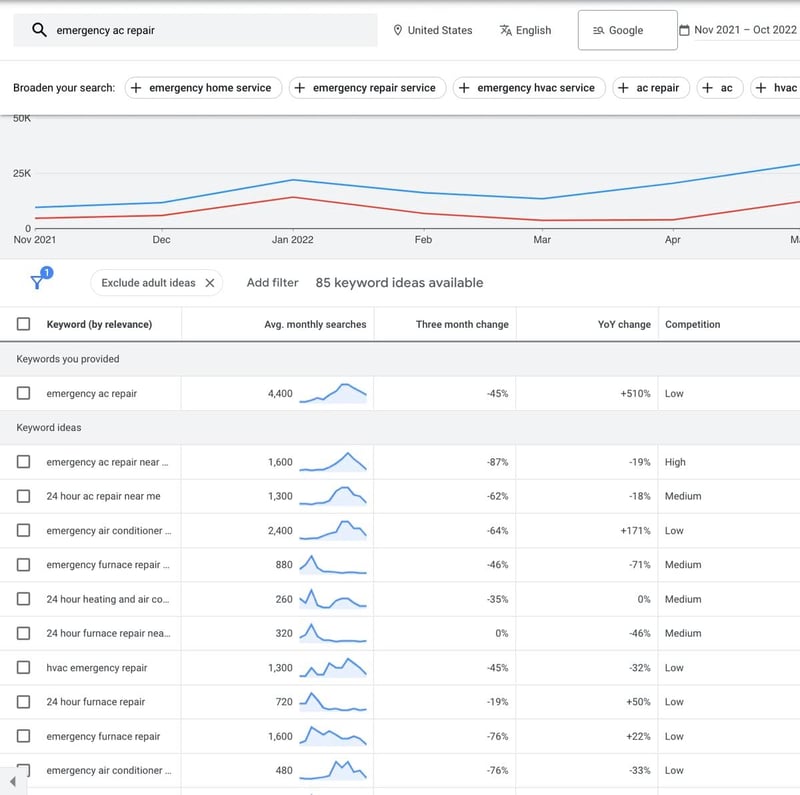 Of course, you're not going to want to add every single keyword result in these lists. It's important that you use your limited resources to include keywords that are directly relevant to your audience, which brings us to search intent.
Understanding Search Intent and SEO
While looking at these lists, you're going to want to think critically about what your potential customers are searching for when it comes to your company and why. In other words, when you're ready to start filling in your focus bucket, you need to look closely at search intent.

There are four main types of search intent that you need to know when it comes to SEO:
Informational: The searcher is seeking information.
Examples: "Dishwasher pods vs liquid," "Restaurant hours," "Tips for cooking chicken"
Navigational: The searcher is looking for a specific company or website.
Examples: "Service Direct Homepage," "Wells Fargo login," "USPS passport office"
Commercial: The searcher is considering purchasing but needs more information/convincing.
Examples: "Best plumbers near me," "Top mystery books," "poster frames"
Transactional: The searcher is ready to purchase and is actively looking for a place to do so.
Examples: "HVAC quotes," "buy shoes online," "reusable water bottle coupon"
When you are using SEMRush's Keyword Magic Tool to research terms, there will be a column titled "Intent" with an icon next to each keyword. These icons correspond to Search Intent, which means you can filter and sort by search intent at any time.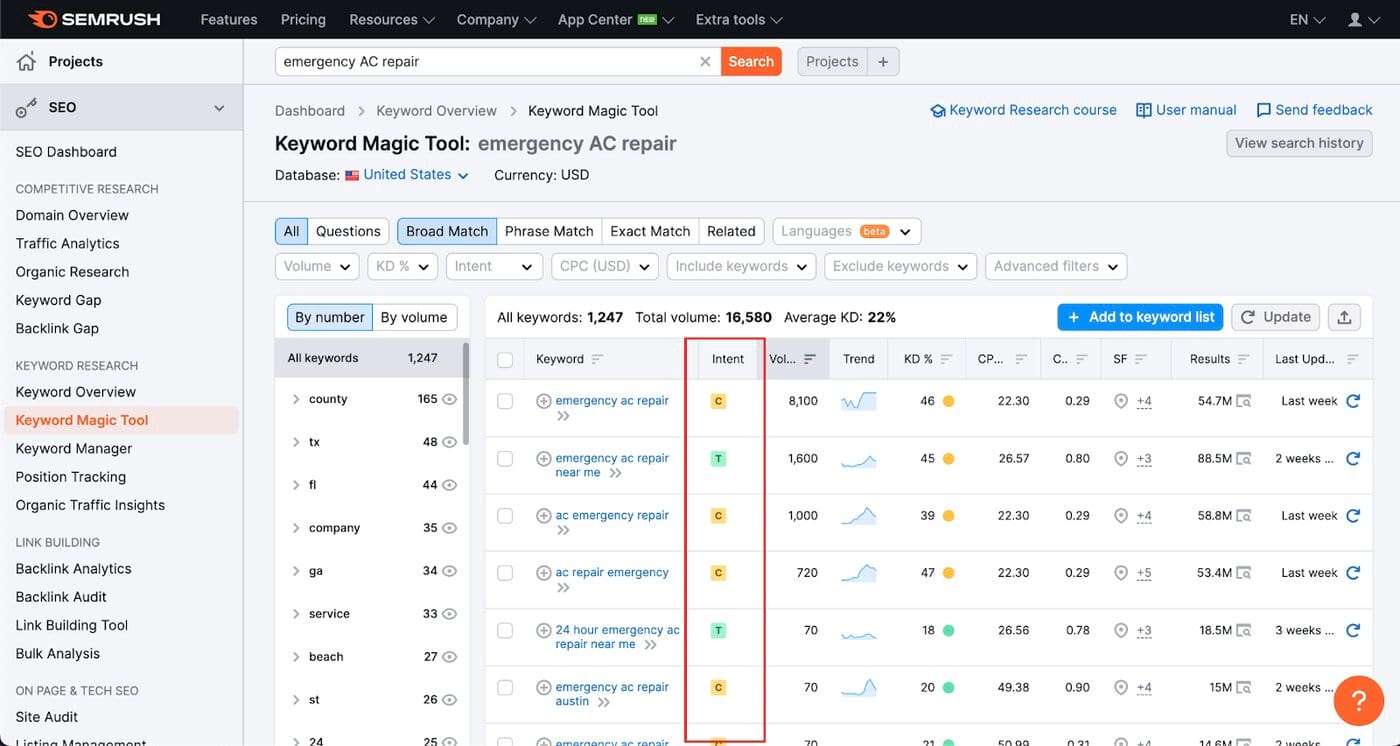 Image Source
Your small business is most likely going to want to target searchers in the "transactional" stage of search intent, with there being a benefit to looking at commercial intent as well. Keeping that in mind, you can start to look into long-tail keywords that might fill your focus bucket.
Target Long-Tail Keywords For More Success
We use long-tail keywords because they help you narrow down your SEO to a specific group of people: people actively looking for your services with the intent to purchase. These keywords are also going to be less competitive, as shown in the search demand curve: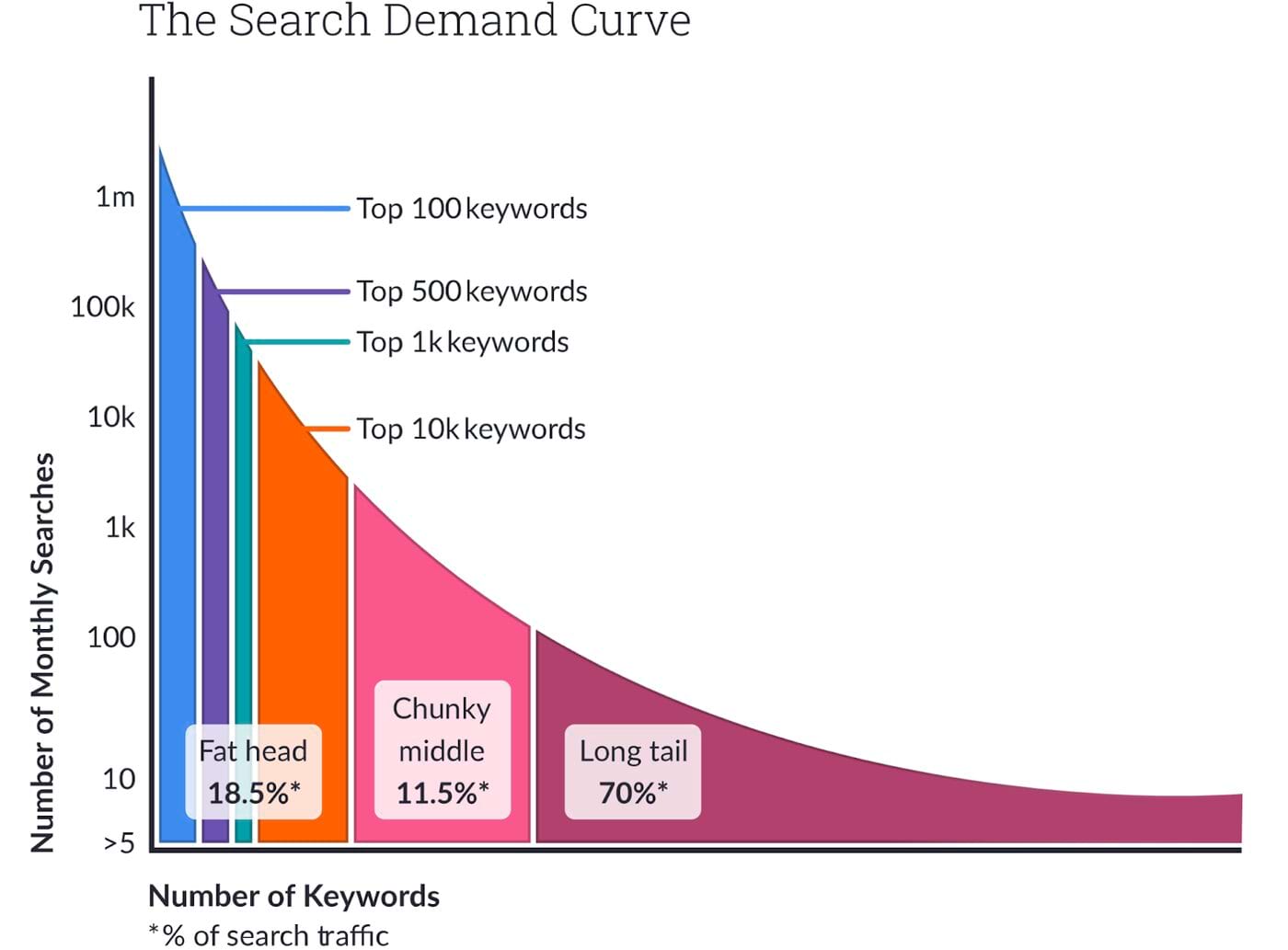 Image Source
Long tail keywords with lower search volume often convert better, because searchers are more specific and intentional in their searches.

For example, someone searching for "bookshelves" is most likely casually browsing. On the other hand, someone searching for "buy white wooden bookshelves online" practically has their wallet out!
Use Trigger Phrases For Keywords That Pack a Punch
When you are researching long-tail keywords and using them in your content, keep key trigger phrases in mind to encourage conversion. These action words help evoke responses in searchers that push them toward a desired result.
Common Trigger Phrases Include:
Free
New
Proven
Easy
Instant
Never
More
You
Unlock
Subscribe
Get
Guarantee
Act Now
Instant
P.S.
So if you're an HVAC company, you may use trigger phrases like "get air conditioning repair quote" or "free estimates heating install" to encourage searchers to contact you. If you are a shoe retail site and you're trying to get people to join your mailing list, you may use "unlock special offers today" or "subscribe and save on shoes."
Other Tools to Help With Keyword Research
SEMRush and Google Keyword Planner are two of the best tools around, hands down. But, there are other tools out there that can give you different insights into keywords while doing research.
Other Keyword Tools to Consider:
Moz Keyword Explorer
SpyFu
AnswerThePublic
Google Trends
Take Research a Step Further and Look Into Your Competitors
If you've just begun researching keywords, it's important to be realistic about your focus keywords. If you're seeing the top results taken by businesses that are highly recognizable, with name brands that carry high levels of authority, you might want to reconsider your focus phrase.

But, if the businesses that are currently ranking are other small businesses, you can get information and direction by looking at those sites critically. There are tools that allow you to see what keywords your competitors don't rank for as well as the ones they for which they do.

This information can help you create a successful strategy to beat out the competition as well as show you additional keywords you might want to target.
Start Small
It's important to remember in this stage that, as a small business, you might not have the resources to target everything at once. That's ok.

We recommend starting with your most important focus keywords that you already have landing pages for and their long tail keywords. Once you have that SEO strategy underway you can begin rolling out another set of keywords.
Step 3: Create Optimized Content and Pages
Now that you have your keywords researched and prioritized, you can begin to create high-quality content that is optimized for SEO.

Creating good content is highly important for many reasons, not the least of which is because you just spent all that time researching keywords and you don't want them to live in content that is poor quality.

Another reason is that good content increases your topical authority in the eyes of Google. As search engines get smarter at identifying which sites are providing the best content for searchers, you need to do everything you can to be in that top tier.

So, by regularly producing informative, expert content, you can make sure Google sees your site as a leader in your industry, which will help your organic ranking.
Using Inbound Methodology
The Inbound Marketing Methodology is a concept coined by Hubspot that focuses on creating valuable content that centers on what people already want to discover, rather than telling them what they should want to know.

In other words, you are going to see much more success when you know what your customers want to see from your company rather than assuming you, as the business owner, should be able to publish whatever you want.

With this methodology we want to focus on two points—relevance and authority:
Relevance: By looking at search intent, you can ensure your content is relevant to potential customers, because the only way your content will rank is if it meets searchers' needs.
Authority: Because there are so many resources out there, you need to do everything you can to ensure your company is seen as authoritative in your sphere. Additionally, if a keyword's results consist of brands or companies that have heavily established authority (think Lowes or Home Depot) you have a lower chance of ranking unless your content is exceptional.
By keeping these two factors in mind, you'll be able to create heavy-hitting content around your keywords that will help propel your company to the top of the SERPs. And if you need help coming up with content ideas, check out these ideas.
Create Landing Pages That Are Conversion Machines
Now that you've done all this work to find the best keywords that will get your small business noticed by potential customers, you need to seal the deal by sending them to dedicated, specific landing pages.

You'll want to create a landing page for each focus keyword so that you can provide information that is as closely related as possible to the query topic that landed a searcher on your site in the first place.

You don't, however, need more than one landing page for focus keywords and their synonyms. Google is thankfully smart enough to recognize the similarities between "Oven Installs" and "New Oven Installation."

By pairing expert keyword research with service-specific landing pages designed to convert, you're going to see a large volume of new customers coming in thanks to your small business SEO strategy.
Step 4: Schedule Regular Keyword Check-ins and Content Nurtures
The reality of the digital age is that trends are going to come and go quicker than you think. People are always looking for new topics and are searching in creative ways, which means you have to work to stay relevant and on top of the industry.

Fortunately, all of the tools mentioned in this blog can help you regularly analyze your keywords.

This will help you ensure that they are still working toward achieving the goals you want to hit with your SEO efforts.

Plus, Google's algorithm is always changing, which can be frustrating to say the least. But ultimately, Google is here for the searchers not the businesses, so you have to work to stay on top of changes like the recent "helpful content update."

With Google using over 200 factors in their algorithm, it's important to stay up to date as much as you can. We recommend checking on these algorithm changes and updates as often as you can so that you don't fall too far behind and have to work doubly hard to catch up.

The more often you take a look at the success of your keyword strategy and stay on top of the algorithm changes, the better off your small business will be!
Refresh Stale Content With Content Nurtures
Inevitably, the content you created when you first started your SEO strategy is no longer going to hit the mark. But that doesn't mean that you have to scrap it entirely, remove it from your site, or let it sit on your blog like an outdated content graveyard.

A content nurture is a fancy way of talking about updating your content and website to reflect new trends and data in order to stay relevant to customers. Plus, Google likes it when you refresh your content as well.

There's no one-size-fits-all methodology for how often to perform these updates. You might update your landing pages weekly alongside keyword audits to include more relevant phrases, or you might revamp your blog posts every six months or so.

Ultimately, it's up to you to figure out the best way to update your content, and the most important part is that you are doing it in the first place!
Conclusion
In the end, when it comes to successfully researching keywords for your small business SEO strategy you'll want to focus on three things:
Thinking critically about what potential customers are searching
Investing in and learning how to use the right tools
Creating optimized content and landing pages designed to convert


Building off these three focus points and following the steps in this blog will have your website shooting to the top of the SERPs and bringing in more customers than you know what to do with.