May 11, 2021 by Taylor Stafford
How To Identify And Write Service-Specific Landing Pages That Convert
As a business owner, successfully marketing your business online comes with the territory. But proper advertising doesn't just stop at creating Google Ads and an impeccable homepage for your company website. Although that's a great start, it's important not to neglect the impact of having multiple landing pages when it comes to site conversion. In fact, websites with 40 or more landing pages have been shown to generate 12 times more leads than those without.
Before taking the plunge into landing page creation, it's essential to create a process of deciding what landing pages are necessary for your business and what will benefit you and your clients the most. The best way to avoid making a mess out of your website while adding new landing pages is to dig into data, start the keyword research, and learn as much as you can about your business's audience to help get the most out of your landing page creation efforts. After hearing our tips and tricks, you'll be well on your way to generating more leads!
Researching keywords and getting a better feel for what people are searching for can greatly impact your site conversions. For example, our team decided to look into our pest control terms and apply that data to updating and creating new landing pages that matched people's language when searching for pest control services. We used Google Keyword Planner to find popular keywords people commonly searched. For our termites landing page specifically, we saw a 25% increase in conversions after making keyword changes.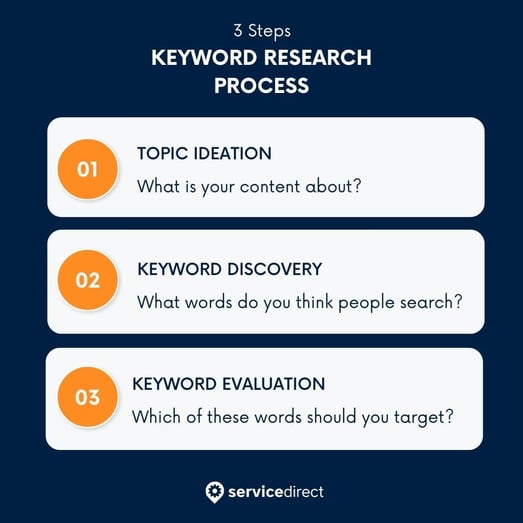 Conduct Keyword Research
Keyword research is a search engine optimization strategy used to decipher popular language and terms entered into search engines. Not only does it allow business owners to verify their audience's particular phrases about certain services, but it allows them to write targeted content based on keywords to reach the right people and get the most out of their marketing efforts. With 3.5 billion searches happening every day through Google and 46% of searches for products starting on Google, there's a lot to be gained by narrowing down your top keywords.
When it comes to building landing pages, keyword research is the first step to figuring out exactly what your clients are looking for to create a landing page with relevant content that will boost your conversion rates!
Step 1: Make a List of Topics
The first step to deciding what landing pages you need to create is making a list of 5 to 10 topic buckets that are relevant and important to your business. Look through the lens of your audience to help narrow down what they might search for when it comes to the services you offer. For example, if you're a pest control company, a good topic bucket might be "residential pest control." Another great practice is to keep the monthly search volume next to all your topic buckets to see how important each topic is to your audience and which topics should receive more attention than others.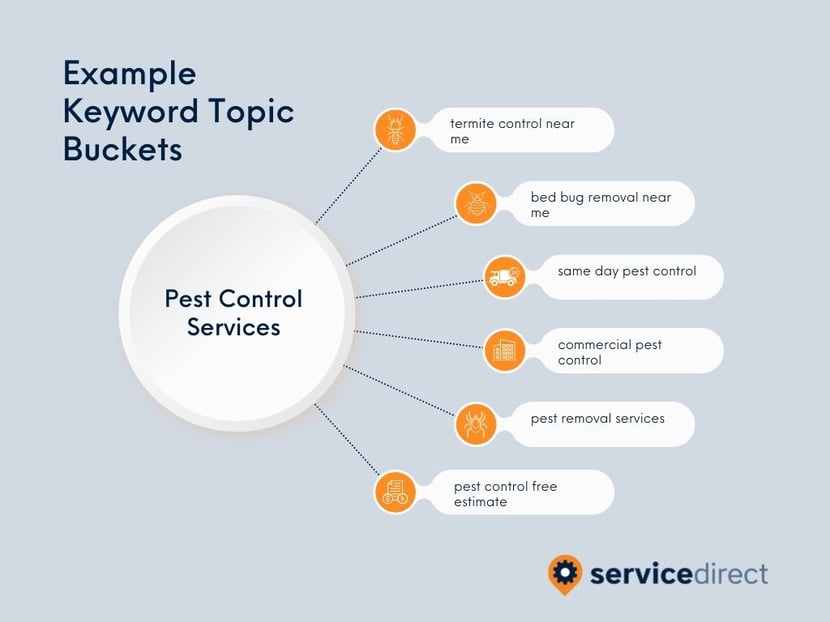 Make a list of relevant topics (topic buckets)
Commercial pest control
Residential pest control
Exterminator inspection
Free estimates for pest control
Emergency pest control services
Then create 3-5 "phrases" within those topics

"Exterminator near me"
"Bed bug treatment"
"Termite control"
"How to get rid of [pest]"
"Pest control in [location]"
"Pest control in [zip code]"
Step 2: Find Keywords
After creating your topic lists, you'll want to find the top keywords that your target audience is searching to figure out which keywords you should be ranking for. So, if we take our earlier example of "residential pest control" as one of our topic buckets, then a list of popular keywords might look like this:
Bed bug exterminator
Rodent control
Flea treatment
Ant control
Once you find lists of specific keywords relevant to your topic buckets, you'll want to categorize them with phrases. This will help keep everything organized while you're brainstorming the top keywords that your target audience searches for. There are tons of online tools to help determine which keywords you should be ranking for during this process.
Here are a couple of things to keep in mind along the way:
Look at your competitors
Research related terms
Use keyword research tools
Step 3: Analyze keywords
Once you have a good idea of what your audience is searching for and have all your goals for your website organized, it's time to analyze keywords to determine which ones encompass your clients' searches. Understanding the intent behind the search will allow you to pinpoint the specific services they're looking for and be more accurate with the keywords you use in your landing page content.
When a user types something in the search engine, they're oftentimes looking for a solution to their problem. It's your job as a business to determine what that problem is and have the solution visible so when they search for "bed bug exterminator near me," for example, your website shows up. Here are a few things to look into when analyzing your keywords:
Search volume
Authority score
Keyword density
Ability to rank
How competitive, and how expensive it is.

Step 4: Prioritize Keywords & Landing Pages
Based on the information you find through analyzing your keywords, it's time to prioritize the keywords that came out on top. There are many factors to consider when determining which keywords are going to be the most beneficial for your new landing page. For example, knowing the relevance, volume, competition, and click-through rate is essential when prioritizing keywords. Ask yourself questions like, "Can I provide a solution around this keyword?" or, "Can I offer something of value relevant to this keyword?" If the answer is yes, and these keywords have the potential to rank highly, then it might be worth creating a landing page around.
Write Compelling Content Around Those Keywords
Once you have your keywords, you should have a good idea of what your content can be centered around for your landing page. Word counts for landing pages can vary, but some studies have shown a higher word count can lead to higher conversions mainly because there is more opportunity to use keywords. But keep in mind for landing pages, readers want to find the solution to their problem as quickly as possible. If they are looking for a termite exterminator, they are not going to read through three paragraphs to find what they need. That's why spacing out and breaking up your content is a good rule of thumb that we'll dig into.
People know poor quality content when they see it, much like a messy house from a clean, well-organized one, it's obvious the second you walk in the door. Taking steps to ensure your content is relevant, easy to read, organized, and compelling is one of the most important parts of creating your landing page.
Add Keywords In Title Tag, H1, & Meta Description
As you start creating your landing pages, it's important not to neglect your title tag, H1, and meta description as these play a huge part in search engine optimization and could be the very reason your audience finds and clicks on your page. Your title tag is the title that shows up in the search results, while your H1 tag is the header that shows up in the web browser and quickly lets readers know what your content is all about. The meta description is just as important in website optimization because it allows your readers to get an idea of what your content is in the search results. It appears right under the title tag and should be a brief description of your topic and the services you offer, which makes it a perfect place to include keywords.
Avoid Duplicate Content
Duplicate content is either identical content or similar content that exists in more than one web address. This is not a penalty but does make it more difficult for Google to bring up the best search results that match the keywords. Google cannot decipher which content to include or exclude from their index. So, when creating landing pages it's important to make sure they don't sound too similar and that you're being as specific as possible about the unique services you offer. Don't just replace service offerings and copy over the bulk content—it will not help your efforts to be as visible as possible when people search for your services.
Even if you're not creating duplicate content intentionally, it can still happen. Whether it happened through url variations, scraped content, or www vs. non-www site pages, it's good to be aware of this possibility and be prepared to fix it. For example, you can set up redirects to the original content, use tools in google search console, and use meta robot tags to help you avoid as much duplicate content as possible.
Avoid Keyword Stuffing
After finding your precious keywords, all you have to do is just stuff them in your landing page and your conversion rates will skyrocket, right? Wrong. Like most things in life, balance is key. The main reason for avoiding keyword stuffing is because search engines have learned to recognize this and will penalize websites rather than boost their ranking. Once you have a solid idea on your landing page topics and keywords, it's important to put just as much effort into creating quality content so as to see any results for conversion. Think of your keywords as a complement to your polished content that's there to strengthen it; don't diminish it with an abundance of search terms.
Rather than sticking to a strict keyword density of 2% to 5%, just do what feels natural. It can be limiting to stick to a certain metric when in fact all your landing page content will be different and the number of keywords being used will adjust to flow properly with the page content. Some pages will have more words than others, thus needing more keywords. Avoid mentioning a keyword where it feels forced or unnecessary.
Use Cake Layering Methods and Bullet Points
Using a cake layering method for your landing page layout will help your audience find what they're looking for more efficiently. Since the average reader is only willing to read about 20% of the actual text on the page, it's important to grab users' attention and ensure each word on the page has a purpose and guides them to find the answer they're searching for.
The most effective way to clearly and visibly provide the information they need is to break up your content with headings, subheadings, small bodies of text, and bullet points. Using large titles, small bodies of text, and bullet points with the keywords your audience is seeking makes it easy for them to scan through your content and find answers. Let's be honest, no one likes to read a giant block of text with no clear indication of what it's about. Chances are, no one will.
Focusing on a strategic layout is key to ensuring their eyes are being guided to the right places that will lead them to the solutions they're looking for. A good practice is to always highlight the challenges your audience may be experiencing, then the products and services you offer to resolve those challenges and how they can get in touch with you. The quicker they're able to scan through the information and still find what they need, the better!
Place Your CTAs Strategically
A landing page without a call to action might as well be a house without a roof — pretty useless if your goal is to grow your business. A landing page with CTAs that are not easily visible to users isn't much better than not having CTAs at all. The real question is, how do you know how to craft the perfect CTA and where to place it to ensure your audience sees it and clicks on it?
According to HubSpot, targeted CTAs lead to 42% more site visitors turning into actual leads than untargeted CTAs. It's important to be as specific as possible to your audience's needs in the CTA and ensure it's relevant to the rest of your content. Placing it both above the fold and below the fold is effective in giving your readers multiple opportunities to click your CTA.
Above the fold appears at the top right or left of the page making it incredibly convenient for them to click anytime. If they decide to scroll through your beautifully cake-layered content and have been convinced to use your services, providing another CTA near the bottom that is more specific to the content they just read not only provides a natural opportunity to use high-ranking keywords, but shows them again how and why they should get in touch with you.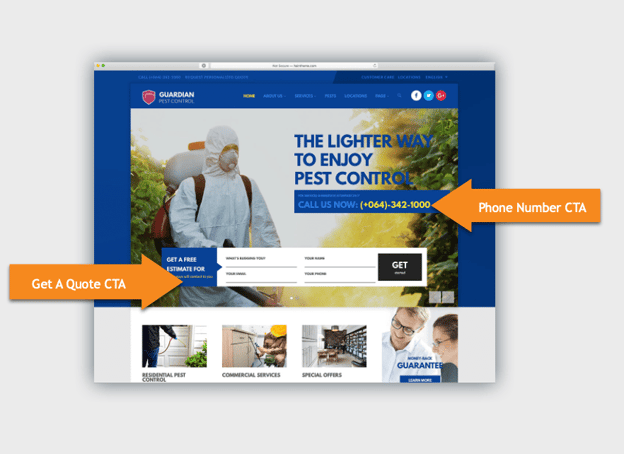 Last but not least, don't be afraid to put all your hard work to the test and keep track of progress and room for improvements as you go. Language is always changing, marketing tactics evolve, and websites become outdated without the right attention. With these tips and tricks on how to find, analyze, and prioritize keywords and create compelling content, you're well on your way to a polished landing page with high conversion rates. Don't be shy to show them off and keep shooting for the stars as you go!
Related Content