March 23, 2020 by Taylor Stafford
5 Tips For High Converting Websites For Local Service Businesses
Running a home service business is not just about being good at the service you offer. It's about clearly informing your potential customers about the services you offer and convince them to choose you instead of the other home service companies in their area. Let's say you're the best electrician in town. It doesn't mean a thing if your website isn't effectively informing people of who you are, where you are, how to get a hold of you, and what sets you apart from the competitors in your area.
It's best to focus your effort on understanding if/how your website is converting clicks into calls instead of spending your precious marketing budget on getting more traffic to your website. In turn, you will get more bang for your marketing buck because you will be getting more leads without having to spend a cent more.
Since our business started in 2006, we've created and managed 10,000+ landing pages and microsites for our local home service clients across North America. Over the years, we have done a ton of testing and conversion rate optimization design and thought we'd share what we have learned. So, we took all of our tips and best practices and boiled it down to the 5 most important tips that home service businesses can do to help improve their website conversion rate.
Put Your Phone Number at the Top of Every Page.
One of the most important things to have on your website is a very visible phone number above the fold that can be seen immediately without scrolling.
Preferably bold, in a color that can be seen by most people including people who may be color impaired.
The bottom line, people need to be able to contact you quickly and easily. The average amount of time people spend on a page to find the information they need is 15 seconds. That means your phone number needs to be one of the first things they see upon visiting your page. Even if everything else on your website is top-notch, it doesn't matter if potential customers can't figure out how to contact you within a matter of seconds.
What should you do about it?
Put your phone number prominently at the top of your page.
Make sure it's readable for color-impaired viewers.
Make sure visitors can easily click to call.
Consider adding other ways for visitors to quickly get in touch, such as live chat.
Make sure it's visible within 7 seconds.
Consider adding or testing a "Call Now" button instead of the written-out phone number.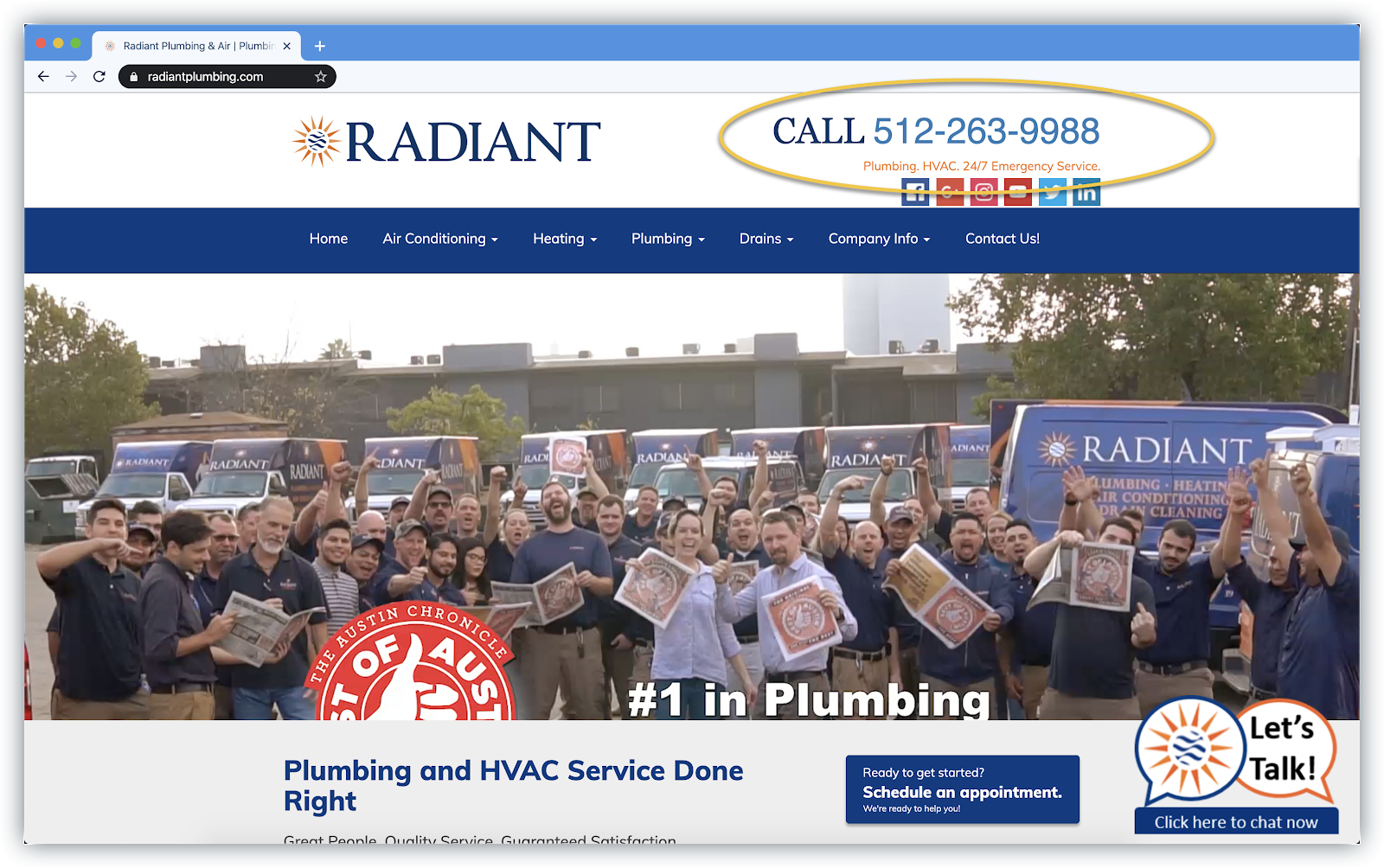 Make your Site Mobile-Friendly.
When people need a service fast or in an emergency, they will immediately turn to their mobile device and start searching for help. In fact, 57% of all U.S. online traffic now comes from smartphones and tablets. and 53% of mobile website visits are abandoned if a mobile site takes longer than three seconds to load.
What you can do about it?
Test your site's mobile-friendliness using Google's Mobile-Friendly Test
Consider the width of your website content as computers are horizontal and mobile phones are tall and narrow.
Your content needs to be easily viewed when scrolling up and down without cutting off any of the corners of videos, images, or drop-down menus.
Image size is important to consider as mobile devices' bandwidth is much smaller compared to a desktop which causes the images to take longer to load as well as the rest of your site. A great tool to use is ImageCompressor

when sizing down good quality images for your sites.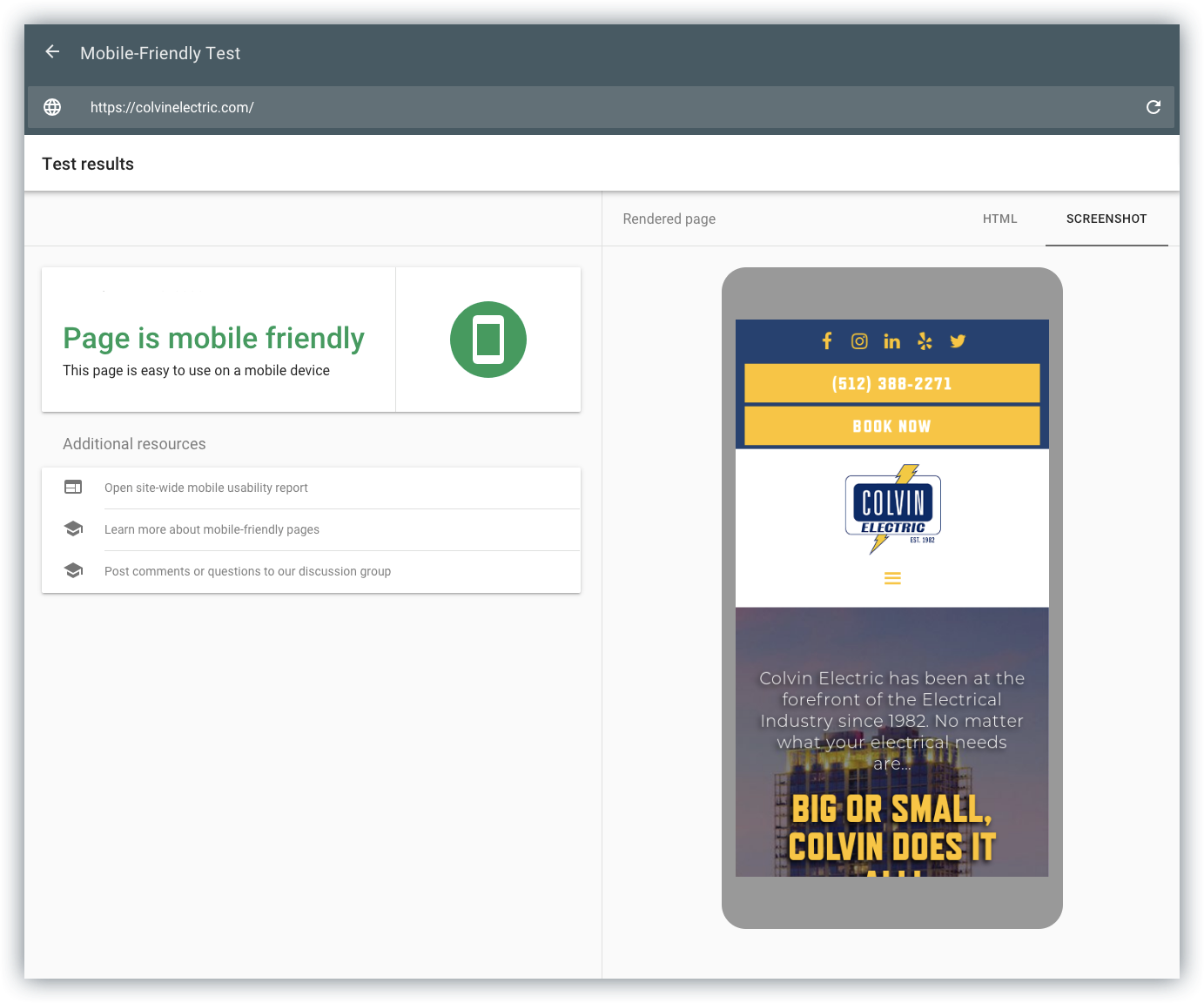 Invest in Quality Images.
We all know the idea of "don't judge a book by its cover" as charming as it is, does not apply in the real world. Not with books, not with interviews, not with products like iPhones and clothing, and especially not with websites. If you open a website that has a banner image that looks like it was taken in the '70s with one of those throw-away cameras and the color scheme is a mess, chances are you're not going to waste your time finding out about their services. Why would you? If they haven't taken the time to properly polish the way they showcase their own business, then are they going to take the time to properly polish your service needs? A neglected website certainly does not scream, "trustworthy."
So what all is important when it comes to creating a great first impression? The short answer is everything. But let's dive in a little deeper.
Images are processed much quicker than reading content, so the image you choose is vital because it will be a deciding factor on if your potential client decides to stay and read the content at all. Research shows that viewing images that your audience can relate to converts at a much higher rate than a simple stock photo of someone posing a thumbs up. It's worth it to have good quality photos taken of you and your team even it's taken with a smartphone. In fact, when Harrington Movers switched out their stock photos with real photos of their team and their truck, their conversion rate increased by 45.45%. Why? Because people want to be able to familiarize themselves with the service before committing to it. It's important to show your customers the things they will come into contact with when using your services.
Other great ideas to have for photos would be action shots for a similar reason. Your customers want to know what it might take to fix a burst pipe or an HVAC system. The more visuals you have of this, the more likely they are to envision themselves in that situation. Before and After photos are a plus because it shows the disaster photo that your customer might be in, and then the sparkling end result after you've provided your services. This visual is another thing for them to find trust and comfort in.
What you can do about it?
Be intentional about the colors you choose and choose ones that reflect the way you want your audience to feel, which results in using your services. As red emphasizes caution, it's a good idea to showcase red on a 24-hour emergency services icon.
Before and after photos are great because if your client has a plumbing leak, and one of the first images they see on your page is of a plumbing leak that looks like theirs, next to the finished result, it gives them proof that you can fix their exact problem.
Add photos of you and your team smiling to humanize your brand.
Add photos of your completed jobs or with happy customers at the job site.
Do you remember when you were a kid being forced by your crazy Aunt Jane or your high-strung parents to smile? Well, turns out they were on to something. According to Alwin Hoogerdijk of Collectorz.com, smiling increased sales by 10% in a simple, five-week split test. So don't be shy to add a little smile in your company photos.
Write with Clarity, Purpose, and Value.
What is great writing? Well, for a website it means it's clear, it's covering all the important information without being too wordy, and it's different enough to capture your audiences' attention. Of course, if you offer the particular services that a consumer is looking for then you're more likely to convert. But, what if you do offer those services but don't display them well enough? Or, you're lacking important information that a potential customer would be interested in knowing before making the call?
For example, every site needs to list service offerings, service area, unique selling props, and an about section.
Service offerings: these are the things you provide to each customer. You should include as many services as possible to apply to a wider audience and end your services with something that lets them know you offer even more.
Your service area lets your potential clients know where you are and visually displays all the areas you provide service in. This way, your customer doesn't have to do any extra research on where you are able to service. They'll know immediately that you're in their area.
What makes you unique? Is it your brand, your promotions, your punctuality, cleanliness, or values? Maybe it's all of the above! Whatever it is, don't hold back on being unique; this is what sets you apart from the rest of the businesses that offer services just like you. Customers will gravitate towards the company with the financing options, free estimates, or winning promotions much quicker than the company offering the same services without any information about what makes them valuable.
What do you tell your kids when they ask if they can spend the night at a friend's house? I think we've all heard the, "we have to meet them first," before and I think they had a point. People want to feel like they know a little bit about someone before hiring them to provide service especially if it requires them to step inside their home. The About Section is a great place to showcase how you got started with your business, talk about your fluffy pets, and your values as a company so they know a little more about what they're bringing into their home.
Here's an example of a plumbing site that is hitting all the balls out of the park with its unique style: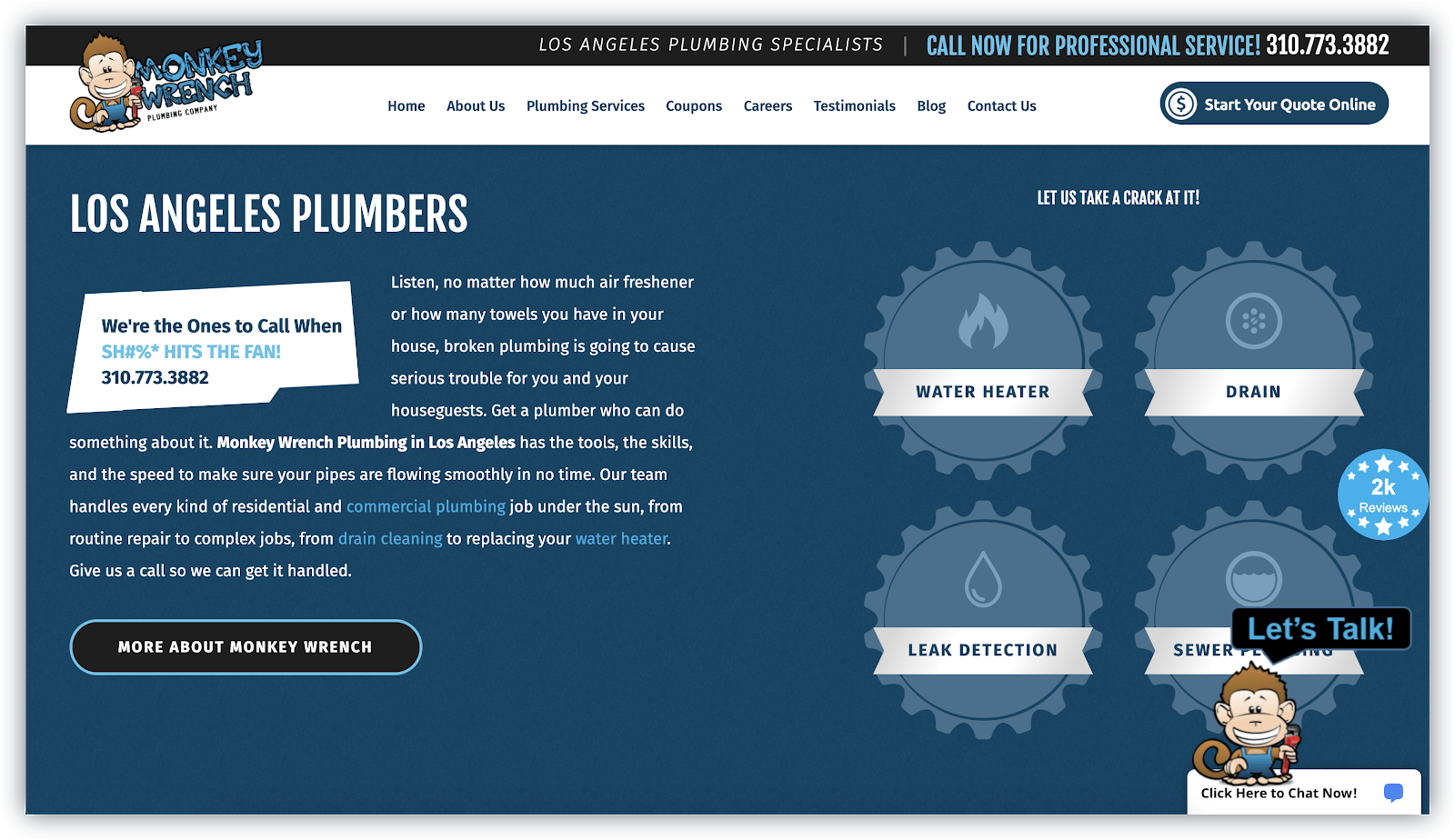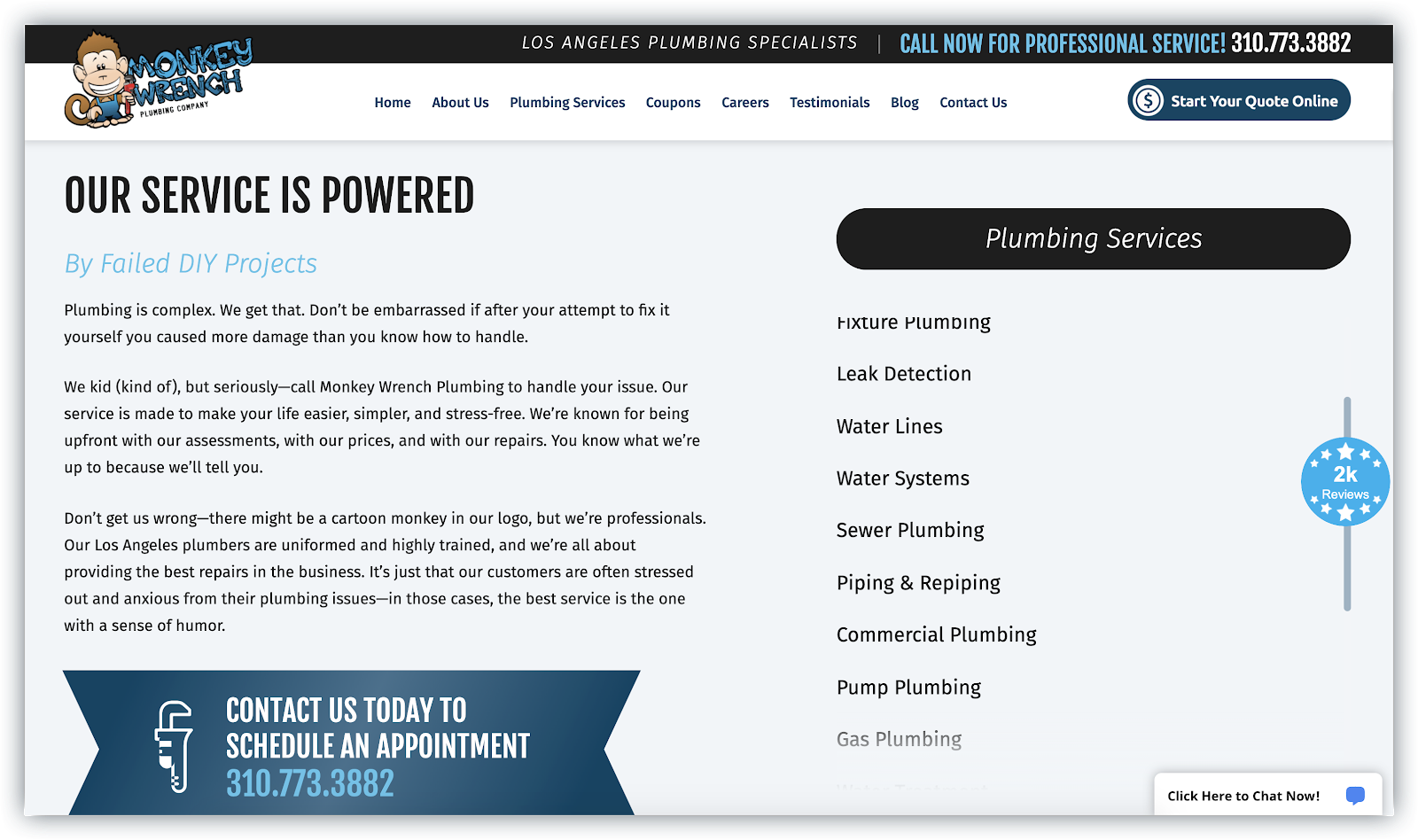 Showcase Winning Testimonials.
Your testimonials are proof of quality, professional, and honest work. It's so easy to research nowadays that everyone can call themselves "researchers" by tapping their fingers. It's important to showcase the best testimonials you have on your site that are easy to find, and also to link where they can find more.

If they're already seeing winning reviews before they've begun their outside research, then it allows your audience to feel more comfortable with contacting you much quicker than if you didn't showcase testimonials at all. In some cases, a potential customer might not even have time to do outside research if it's a service emergency. That's even more of a reason to show your best testimonials on your site.
For best visibility, you could title a tab on the top of the page, "Testimonials," or you could have it show up as your customers scroll down your page to view your services.
And Last But Not Least, Don't Forget Us When You're Famous.
From displaying your phone number effectively to investing in quality images of your company, these are just a few suggestions to increase your site conversion and gain more loyal customers along the way. As said earlier, being fantastic at your job is valuable, but not enough to put you on the map for others to see. Using today's tools and technology to showcase your dedication and hard work may be just the little push you need.
Related Content