September 01, 2021 by Molly Weybright
Most Effective Lead Generation Tactics For Local Service Businesses
As with everything else in the marketing field, the world of marketing for local service businesses is continually evolving. This makes it tough on marketers when they need to decide the best ways to invest their time and money. Some classic tactics have grown out of date, while others remain evergreen. So, whether you're focused on contractor marketing or are any other local service business, it's important to understand what your peers are focused on and what's proving effective.
We recently surveyed 250 local service businesses (LSBs) to help answer that question. We wanted to identify their top marketing goals, challenges, and most effective lead generation tactics. As we delve a bit deeper into what we learned, we will also provide some tips that we believe will help local service businesses have more lead generation success today and in the future.
Key Findings
48% of local service businesses said increasing lead volume is a top priority, followed by improving lead quality at 42%.

Quality of leads remains the top lead generation challenge at 29%.

Social media marketing was stated as the most effective tactic by 42% of businesses, while PPC Advertising was considered the least effective at just 5%.
Lead Volume Remains a Top Priority for Local Service Businesses
At the surface, it stands to reason that the more leads a business receives, the higher chance they will have of booking more jobs and bringing in more revenue. For that reason, it makes sense that local service businesses are prioritizing increasing the volume of leads they receive. However, we have found that companies will see a higher return on investment with fewer, high-quality leads than with a surplus of bad leads.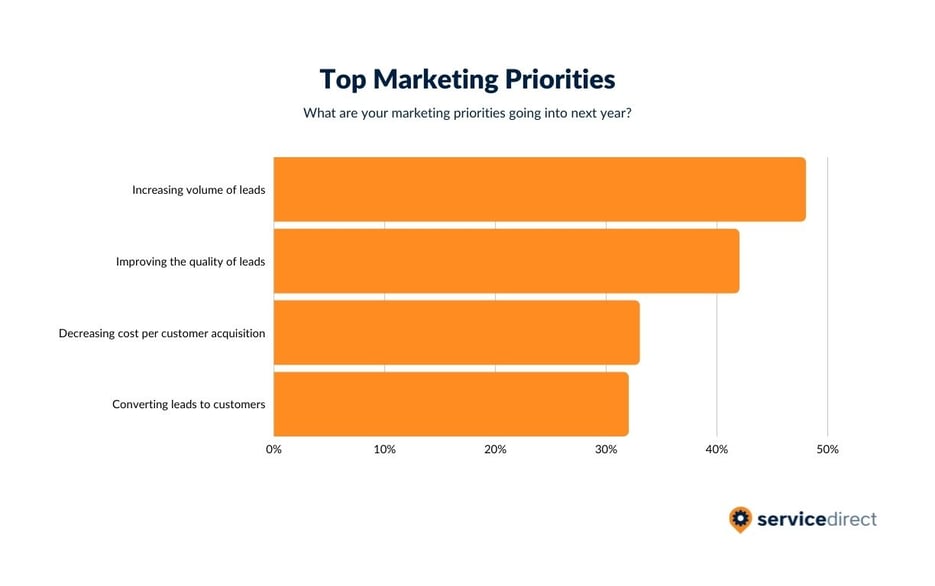 Quality of Leads is the Biggest Challenge for Local Service Businesses
Businesses want to get more leads because they want more customers, which is all well and good until the majority of those new leads are spam calls, price shoppers, or just people who aren't actively seeking the company's services. Of all local service businesses surveyed, 29% said that this continues to be the biggest challenge. Pairing that with the fact that 42% of LSBs said improving the quality of leads is a priority in 2021, the phrase "quality over quantity" in lead generation is more pertinent than ever. While most companies want to bring in as many leads as possible, research shows that there is more success when lead quality is a top priority.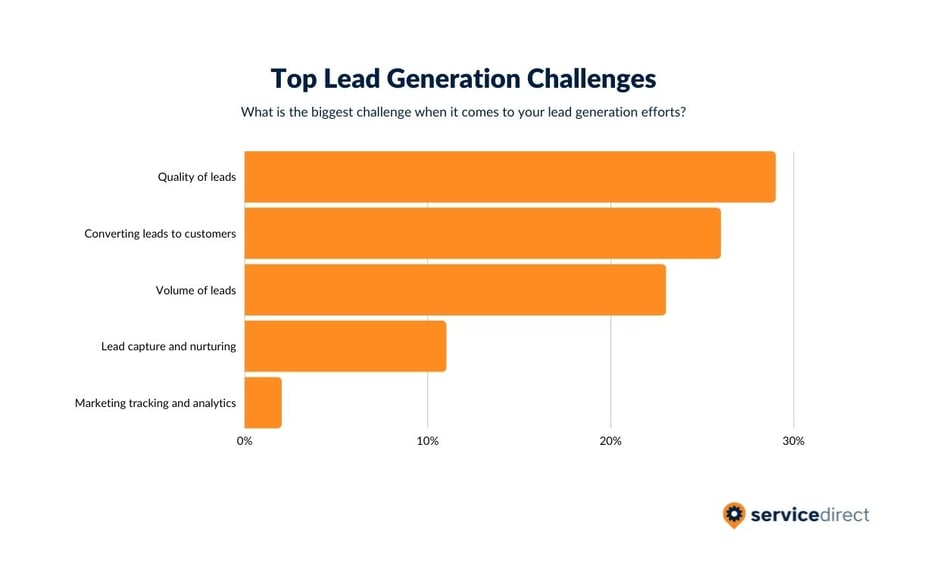 Social Media Marketing Is Considered Most Effective Lead Generation Tactic, While PPC Advertising Is Least Effective
For the second time, local service businesses have ranked PPC advertising as the least effective marketing strategy. In fact, only 5% of companies surveyed said that they considered PPC advertising effective at all. Now, it is important to remember that PPC tactics aren't a perfect fit for every business out there, but we are still surprised by how many companies don't seem to find them useful. Of course, there is always the possibility that LSBs are unsure how exactly to make the most of PPC, which wouldn't be surprising as it is one of the more complicated forms of lead generation. Our team has been learning for years how to make the most of PPC and there are still new methods being developed daily, but we are happy to share our tips and tricks so that local service businesses may find more success with PPC marketing.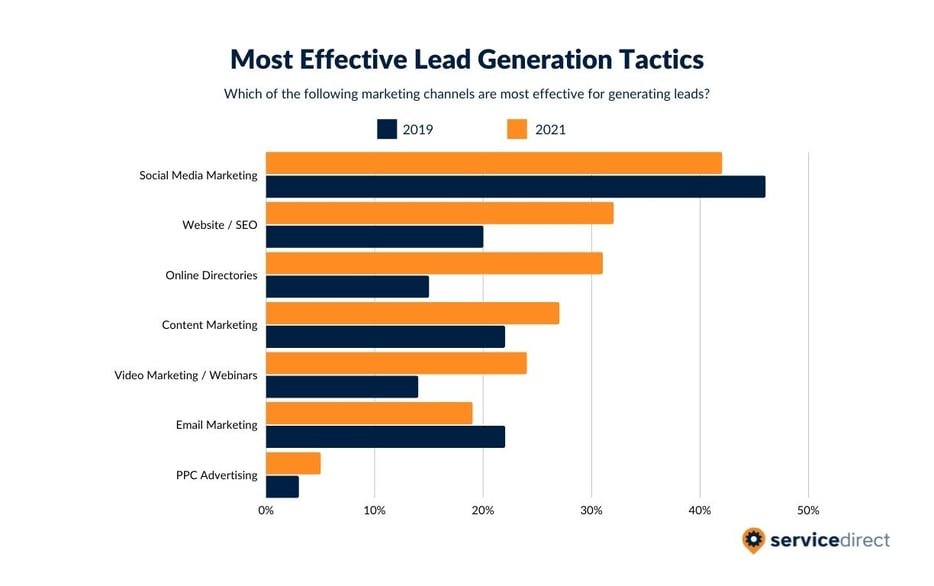 Local Lead Generation Tips
Tactics to Increase Lead Quality
To begin focusing on lead quality is a big step and can feel frustrating for many local service businesses as it requires them to be ready to put lead volume on the backburner. While it may seem stressful to scale back the volume of leads, there are things a local service business can do to quickly start bringing in high-quality leads.
Optimize Your Landing Pages: A business' landing page is oftentimes the first thing a potential customer will see when they find the company. Because of that, it's incredibly important to ensure your landing pages are optimized and designed to convert. With keyword-rich content, carefully placed CTAs, and image collateral, you'll start to bring in more quality leads.

Score Your Leads to Understand Successes and Shortcomings: Lead scoring is an important part of lead generation, especially when it comes to looking into the quality of leads. By developing and utilizing an effective lead scoring system you will be better equipped to understand the value of your leads and where that value is lacking. Plus, with an effective lead scoring system, you'll be more likely to catch quality leads that may have otherwise slipped through the cracks.

Use Remarketing to Increase Conversions: Remarketing can be a great way to get higher-quality leads as it allows companies to connect with people who have already considered their services. When you take time to use remarketing tactics such as social media ads, aligning your CTA based on customer need, and segmenting your remarketing campaigns by service offerings you'll begin to see an increase in lead quality.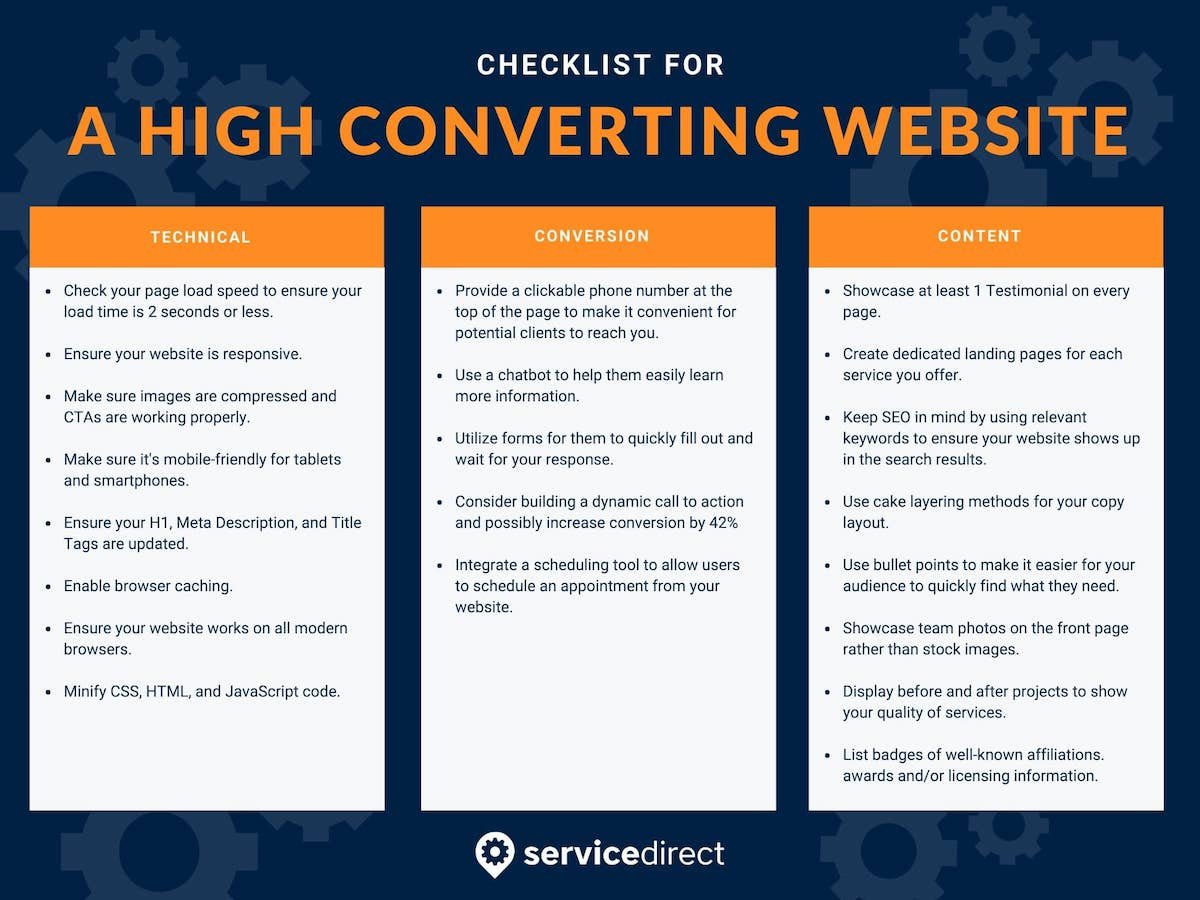 Tips to Make Your PPC Advertising More Effective
Depending on who you ask, there are multiple challenges when it comes to PPC advertising. As search engines like Google get smarter, companies have to spend more money to create ads that are likely to convert. As Google gets smarter so do the people using the search engine. This has led to a natural distrust in paid advertisements across many internet users, even if those paid ads are exactly what they are looking for. Ultimately, the greatest challenge for LSBs when it comes to PPC advertising is that businesses need to invest a significant amount of time figuring out what works best to achieve their goals.
So why bother with PPC when there are all of those challenges? While there are a number of challenges with PPC advertising, there is also potential for an extremely high ROI for businesses that invest the time and money to make the tactics work.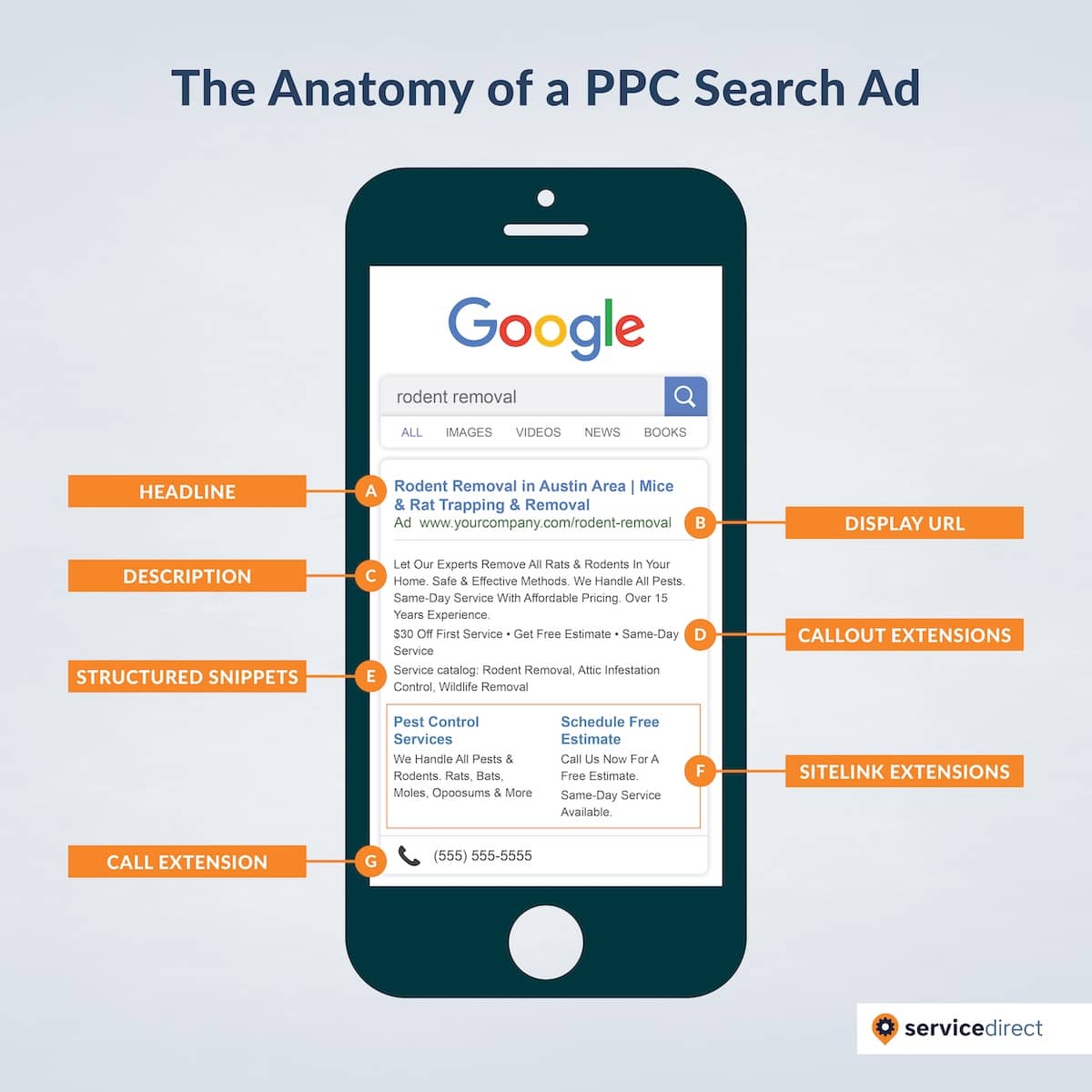 There are a number of PPC best practices that local service businesses should keep in mind when trying to drive high-quality leads to their company. From using every tool at your disposal to doing market research in order to determine what it is your customers are looking for, these best practices will help you start to see the high ROI that you've heard PPC produces.
When it comes to PPC marketing, keywords are your best friends. To start, you'll want to put yourself in your customer's shoes and think about what they are searching for in order to determine which keywords are worth paying for. But be warned—some often-searched keywords are competitive and paying for those is an easy way to blow your marketing budget. Instead, look for high-value keywords that have a lower competition score in order to make the best of PPC.
Tip: Don't forget to set keyword negatives. For example, if you are an auto shop you may want to use keywords for oil changes. But you don't want to pay for all the people who are searching for olive oil or what oil to use in their daily dinner. Setting keyword negatives will save you a ton of time and money in the long run.
Improve Service Area Targeting
Securing leads from people making local searches is critical when it comes to seeing greater success with PPC marketing. It's not surprising in a world where 88% of smartphone and tablet users are conducting local, "near me" searches. When you take the time to ensure your business is at or near the top of search results for local searches, we think you'll really start to see the PPC success you want. In order to do this, you'll need to focus on a few key things. Ensuring your Google My Business account is active and accurate will help Google trust that your company is who you say they are, which makes a huge difference in a world where internet trust is hard to come by. Optimizing your website for local searches with multiple landing pages, easy to find NAP information, and carefully constructed metadata are just a few of the ways to better target local service areas with PPC marketing.
Try Using Responsive Search Ads
Responsive search ads are Google's newest way to better connect on an individual basis with potential customers in your service area. With this tool, you are able to input multiple ad headlines and descriptions that Google will then choose from based on which combination best matches the searcher's intent. It's easy to see how beneficial this can be when it comes to PPC marketing. Responsive search ads go a long way in solving the issue of potential customers not realizing that your company does exactly what it is they are looking for.
Tip: Make sure to take advantage of Google's advanced reporting system that allows you to easily track the performance of your ads. This way you can continue to adjust and adapt the ads to fit better based on your most successful ads.
Test New Click-Worthy Ad Copy
Once you've put in the time and research to develop PPC strategies that will get your company noticed by potential customers in your area all that's left to do is seal the deal. The first step to this is ensuring that your PPC ads actually get clicked on by writing click-worthy ad copy. Writing actionable CTA's that encourage searchers to interact with your ads, putting emphasis on value propositions that set you apart from competitors such as "free estimates" or "24/7 emergency services", and making sure your headlines concisely state your company is the solution to the searcher's problem will all help your PPC marketing strategy. I don't think you need "successful" here, grammatically it doesn't make sense so if you do want to keep it maybe "be successful" or something like that.
Conclusion
As a lead generation company, there is nothing more exciting and important to us than communicating with industry leaders and learning what the priorities are for local service businesses. By identifying these priorities as well as the challenges that LSBs are facing in the 2021 lead generation space we are able to help fill in some of the gaps to hopefully help businesses see more success.
The fact that 42% of companies surveyed stated that increasing the quality of their leads is a priority while also listing it as the biggest challenge shows us that businesses want to bring in higher quality leads but might not be equipped with the right tools to do so. Additionally, with only 5% of businesses listing PPC advertising as an effective tactic, there's no arguing that overall there is more work to be done in educating small businesses on finding success with PPC marketing. It's our hope that by taking these tips into consideration, LSBs will begin to see higher quality leads come in as well as find greater success with PPC lead generation.
Related Content