January 31, 2022 by Matt Buchanan
How Qualified are Service Direct Leads?
We understand that as a local service business, there is no shortage of lead generation companies you can partner with. And just like your industry, the level of service and quality can vary greatly from one provider to another. As such, we want to help you better understand how we go about generating leads, as well as what efforts and tools we deploy to ensure our clients are only paying for leads that have the potential to turn into actual paying customers.
Where do Service Direct Leads Come From?
When discussing how qualified leads are, it's important to understand where leads come from and how they end up in your lap. This can have a huge impact on the quality of the leads, which in turn affects the likelihood of you turning leads into actual appointments, jobs, and hopefully lifelong happy customers.
In-House Leads vs 3rd-Party Leads
One way to look at where our leads come from is to break them down into 2 groups:
In-house Leads.

When we mention 'in-house' traffic, we are talking about web properties that we own and operate. In other words, Service Direct is entirely responsible for the advertising methods that are deployed, as well as the messaging found by homeowners in search of your services.

3rd-Party Leads.

We also work with hundreds of highly-vetted 3rd party traffic sources, also known as "publishing partners." These are other companies that own and operate various assets that generate qualified traffic and are able to drive those leads to our clients.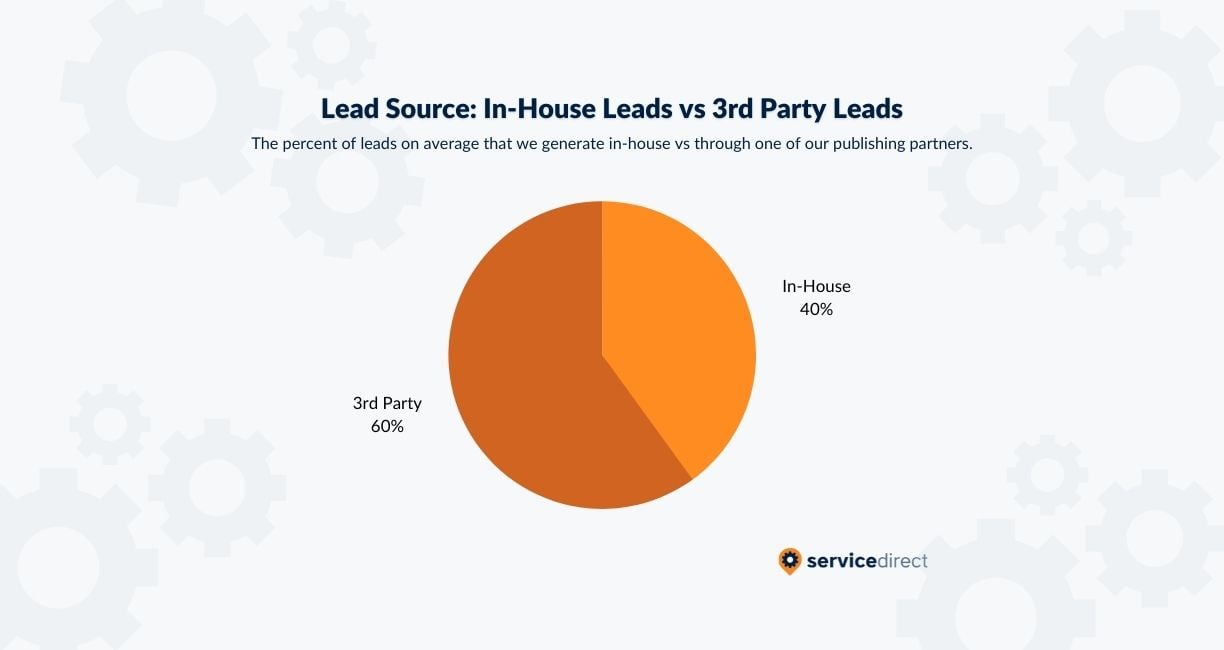 Lead Traffic Sources
Not all traffic sources are created equally. Where a lead originated from can have a huge impact on the likelihood of that lead turning into a client. Why? Because certain types of traffic have a higher level of intent.
If a person searches on Google for "plumber near me" they are clearly looking for someone to hire, so if you end up speaking with them, hopefully, you can convince them you are the right choice for their business. On the other hand, if someone was on a DIY blog trying to figure out how to fix a leaking pipe, and ended up submitting their info on a form, it might be the case that they are less interested in actually hiring someone and mostly just trying to figure out how to solve their problem (which could include hiring someone to do the job).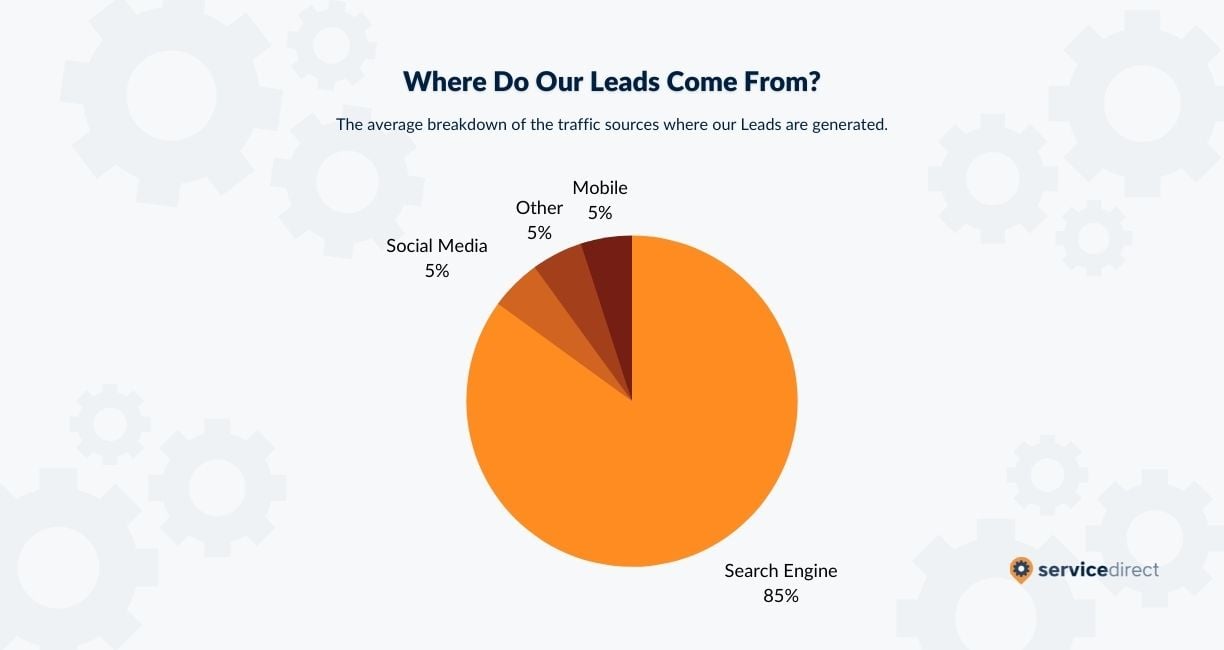 Search Engine Traffic
Roughly 85% of all leads generated through Service Direct come from search engines, with the overwhelming majority of those coming from Google (versus Yahoo/Bing and others).
Regardless of if the lead is generated by Service Direct or one of our publishing partners, the traffic source of those leads are predominately generated from search engines from one of the following methods:
Organic Search

Google Ads

Google My Business Listings

Mobile Call-Only Ads
Social Media
Social media channels represent about 5% of our leads, although as more people spend their time on social media and their ad targeting efforts become more sophisticated, we anticipate this number will rise.
We also find some success in driving qualified leads through various social media channels. Facebook is the primary social media platform we drive leads through, but we also get some leads through platforms like Twitter, NextDoor, Youtube, etc.
In some cases, like with Twitter, you can serve ads based on the content of the user (think of someone tweeting 'Ugh, my basement flooded!' and getting an ad about flood damage cleanup services), but in most cases, generic ads are served to specific audience segments (think of homeowners over a certain age with a certain amount of income in a certain area).
In some cases, those ads will reach people that actually need your services, allowing you to connect with them should they click on the ad and either call or submit their information.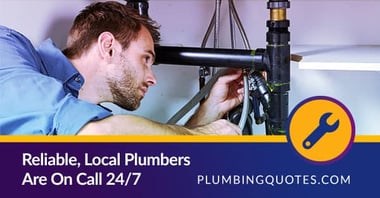 Mobile Apps
Traffic from mobile apps represent about 5% of our leads.
We also have some partnerships with companies that operate mobile applications. Whether they are geared towards connecting homeowners with local service providers or helping homeowners solve their home improvement challenges in some way, our goal is to help connect them with our clients should they be interested in your services.
Other Traffic Sources
These other traffic sources typically make up about 5% of our leads.
Lastly, we have other partnerships that don't neatly fit into one of the above but do have high-intent traffic that can turn into qualified leads. Places like local directory websites where people can search for specific types of services in a certain area, or even software platforms that help homeowners with the home buying process that use us to help homeowners that need work performed on their home after buying it.
How are Leads Qualified?
Leads are qualified in varying ways depending on the types of leads you are buying. When it comes to phone call leads, typically one of two things happen prior to being connected to our clients:
IVR Prompts
About 85% of our phone leads are run through this type of qualification measure.
In most cases, when people pick up the phone to attempt to get in touch with a service provider that can help them with their service needs, they will go through some sort of automated prompt asking them for more details about their project so that they can be connected to the right provider in their area.
In the event the number they called is associated with a specific service category (think of a site devoted to connecting homeowners with plumbers), the caller's service need is already known, at which point the IVR prompt may just ask them to enter in their zip code, at which point they will be connected to one of our clients that offers that service in that zip code. In other cases, the IVR prompt may ask them to choose their service type and then the zip code where the work will be performed (think of a more general home improvement site where the callers exact service need may not be known).
In either case, these voice prompts help to reduce the likelihood that the lead is unqualified, ensuring when we make our clients' phone ring, it's most likely someone in need of their services in their area.
Call-Center Qualified
About 15% of our leads are qualified by a Call Center first.
We also have some leads that go through another level of qualification: call centers. In these instances, calls are routed to a call center, where a CSR is able to further qualify the lead, better determine their needs, etc., and then route them directly to our clients. Typically the call center CSR says something to the effect of 'ok thank you for that information, please hold while I connect you with a provider in your area' at which point the call is routed to our client in the area.
What Should I Expect in Terms of Lead Qualification?
Our goal is to ensure that at least 70% of our Leads are Opportunities from new potential customers.
While we do everything possible to ensure you are only receiving leads that are viable opportunities, the reality is that no lead generation platform is perfect, and that includes ours.
At Service Direct, we are constantly analyzing leads within our network with the goal of ensuring we are always optimizing our platform to drive more and better calls to our clients. Whether that's our Quality Assurance team comprised of people that listen to calls and score them across over a dozen criteria, or our machine learning systems designed to spot spam calls, wrong numbers, etc. we are always trying to bring more resources to bear to ensure our leads are highly-qualified.
While some level of what we call 'noise' will happen, like wrong numbers or solicitors, our goal is that 7 out of 10 leads you receive will be actual people in your area in need of your services.
What Happens if an Unqualified Lead Comes Through?
We've built the tools and mySD Lead Management Platform to ensure that you are turning those Calls into Customers and so that you only pay for opportunities where you can generate revenue.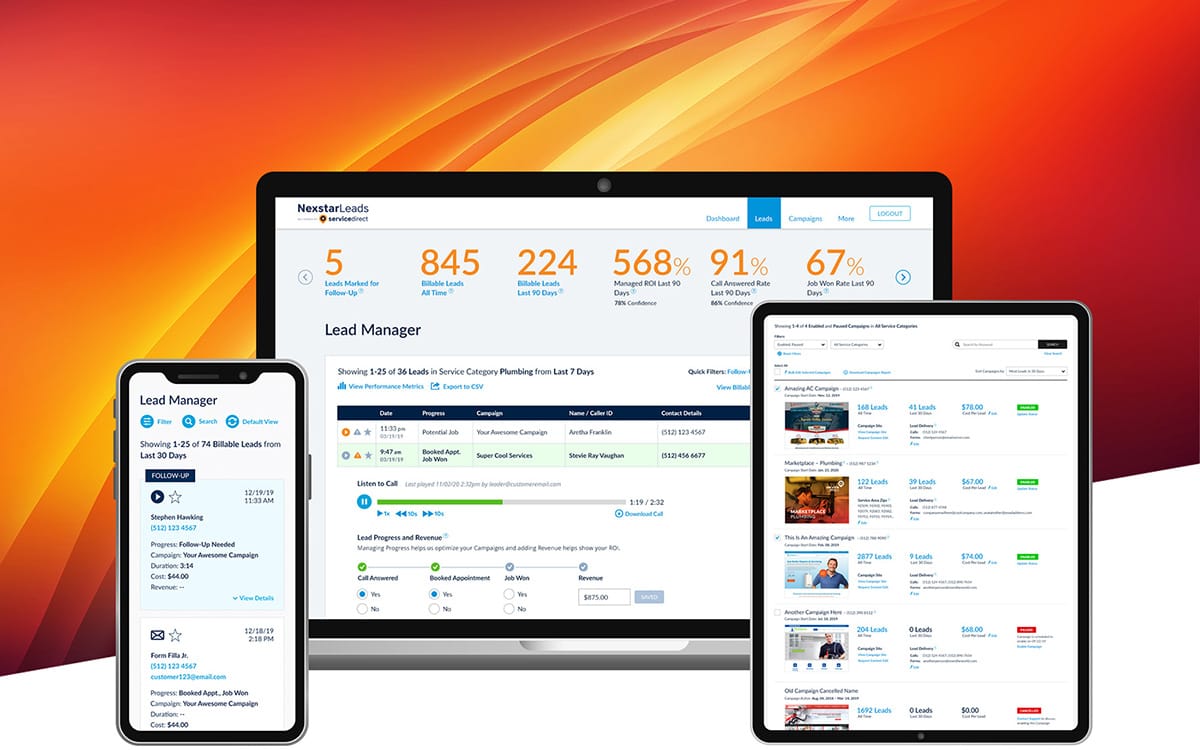 Lead Review
One feature we allow our clients to utilize is Lead Review Submission, whereby our clients can log in to their mySD Lead Manager and alert us to leads they feel are not billable so that our team can review the lead and confirm that is the case.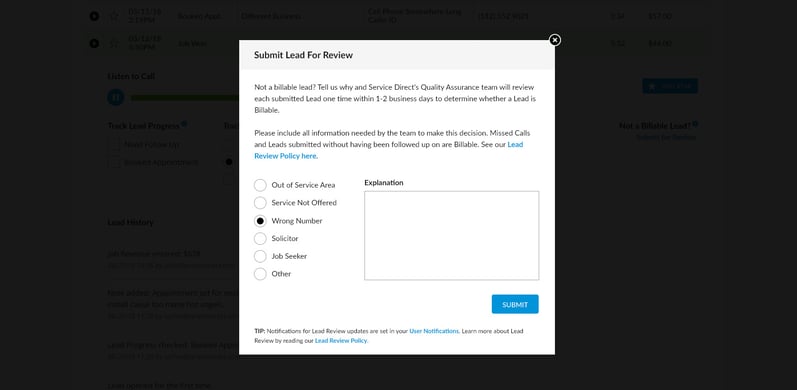 It's worth noting here that unfortunately, some clients end up abusing our lead dispute system by constantly trying to dispute leads that clearly are billable within our system. Because this causes us to devote resources that could otherwise be spent proactively focusing on ways to help our clients get more leads, our Marketplace algorithm factors in client lead dispute rates when determining which client to send calls to. In other words, clients that try to take advantage of our system end up getting fewer leads because of it.
Quality Check
We also deploy machine learning technology to try and proactively discover leads that we think may not be viable opportunities. Our Quality Check feature analyzes various factors within our leads and alerts our Quality Assurance team of leads it feels may not be billable. In this way, our team can proactively review and determine the lead's validity without our clients needing to log in and dispute the lead.

If you are considering utilizing Service Direct to help power your company's growth, hopefully, this article helps you better understand how we focus on driving qualified leads to our clients. Our mission is to build the essential lead generation platform to help local service businesses grow through best-in-class human-enabled, smart technologies.
We recognize that lead quality is a huge concern for most SMBs trying to grow. As such, we remain fully committed to doing everything possible to drive better, more qualified leads to our clients. We hope you'll consider using us to help power your growth and look forward to the opportunity to drive great leads that can fuel that growth.
Ready to get started with Service Direct? Click below to sign up for free.
Related Content