January 28, 2022 by Matt Buchanan
How Much Do Service Direct Leads Cost?
How much do your leads cost? It's a question we get all of the time. When we started our business 15 years ago, we asked ourselves the same question. Very quickly we realized that it doesn't make sense for us to set a price per lead for our clients, but instead allow them to choose a price point that makes sense for their business.
Sounds crazy, right? We'll explain in more detail in this article why we let our clients set their own cost per lead. Or, if you prefer, check out this short video explaining the logic behind this practice and how you can go about changing your CPL based on the results you're seeing.
Our Lead Pricing Is Based On Value
That realization came to us very early on based on an experience we had with 2 early clients. Both were electrical contractors looking to grow their business, so we began generating inbound phone leads for both companies. Everything we did for each company was the exact same: same landing pages, same content, same advertising campaigns, same everything. We then started making their phones ring with people that needed an electrician. So what happened?
Long story short, one of the clients saw tremendous success and remains a client 15 years later, while the other said they didn't generate any revenue and canceled after one month.
How could that be? How could one company see so much success while another fail completely from the exact same marketing service?
We quickly realized that at the end of the day, the value that is extracted from a lead generation service is largely due to the recipient of the leads. In other words, we were able to make both electricians' phones ring, but only one of them was good at capturing those calls and turning them into business.
Once we made this realization, the answer to our question regarding what we should charge our clients was clear: it doesn't make sense to set a standard price for our leads because the value of those leads can be much different for our clients. Instead, we needed to create a system that would allow our clients to decide what they would pay for our leads, so that's what we did.
Our Clients Choose Their Cost Per Lead
That's a radical statement for many potential clients, so it makes sense for us to use a simple example to illustrate why we let you choose (and change) your cost per lead. To do that, let's look at two potential clients in our Marketplace…
In this scenario, you can plainly see that Company B saw a lot more value from 10 of our leads than Company A did.


The Value of Paying More For Leads

At this point you are probably asking yourself 'But why would one company choose to pay more for leads?' To help answer that question, let's take a look at some things we know to be true...
Our Marketplace is a Competitive Auction. First, it's important to understand that our Marketplace is competitive. In other words, at any given point in time, there are usually multiple companies bidding to win the same lead. While there are many factors that go into determining who wins that lead, one of the biggest is the cost per lead.

Higher Bids Result in More Leads. Just like in a real auction, if you keep raising your paddle you're more likely to win the prize. It's no different with our leads. That means that the more you are willing to bid on our leads (read: the higher your cost per lead is), the more times you will win leads. So, it stands to reason that if you are Company A above, and you are seeing a lot of value from our leads, you'll probably want more. The best way to do that is to increase your cost per lead so that you can win more leads in our Marketplace.

Your Business Needs May Change. Oftentimes we see clients increase their cost per lead for the simple reason that they need more leads more quickly. That could be because they recently hired new employees and need to keep them busy, or perhaps they are expanding to a new location and they want to start gaining some market share. Whatever the reason, we recognize that your business needs can change in an instant, and our flexible pricing allows you to change your cost per lead to reflect those needs. It's worth noting, that the same can be true if for whatever reason you need fewer leads. You can either decrease your cost per lead or pause your campaigns

entirely to reduce or stop leads.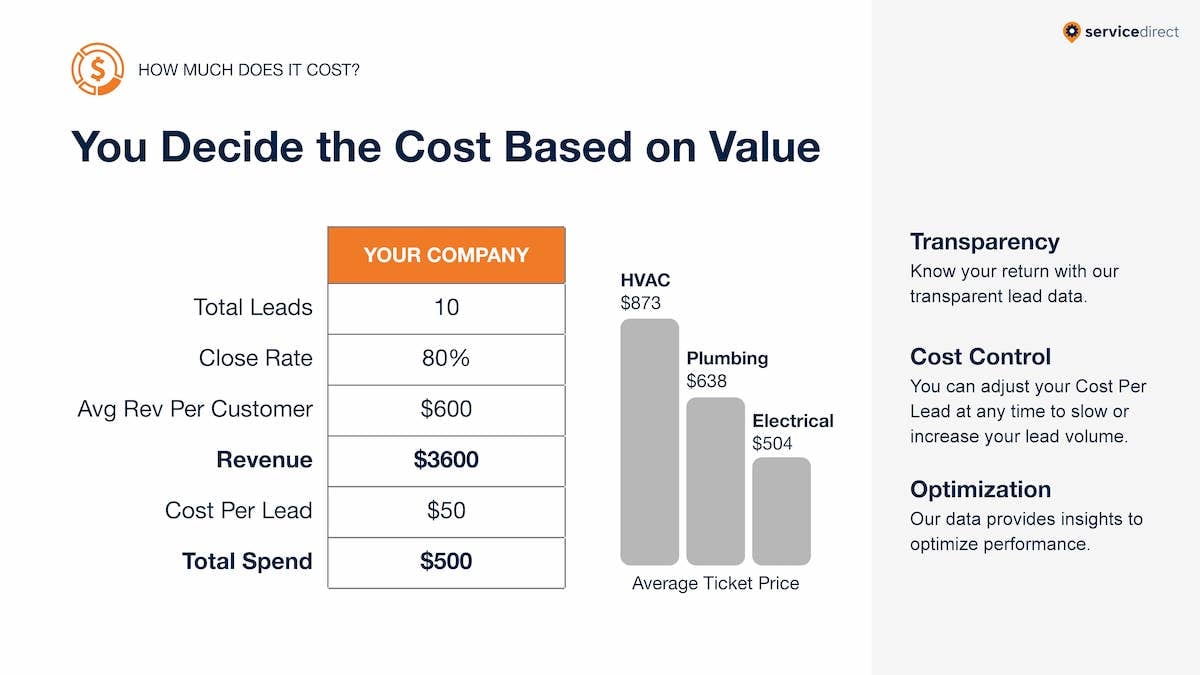 So, How Much Should You Pay?
If you decide to sign up for our Marketplace, the first step in the process will be to have an Onboarding Call where our Specialist will give you insight into what a competitive starting cost per lead should look like in our Marketplace.
From there, it's a matter of winning some leads to better understand better the value of those leads. To give you some sense of where clients usually end up in terms of their cost per lead for some of our more popular categories, here are some nationwide averages we see in terms of winning bids in our Marketplace: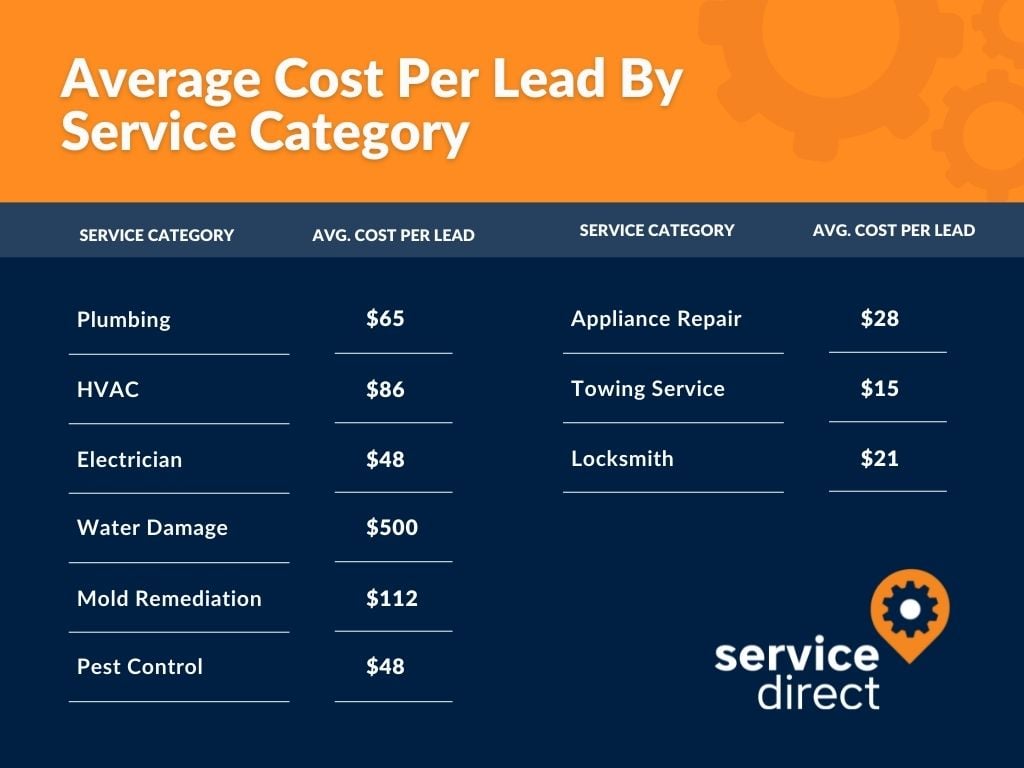 If you don't see your category listed above, you can visit our Pay Per Lead Costs page to get a better sense of the ranges we see from our clients. Whoa! Those Lead Prices Seem Expensive. If you have done some sort of lead generation in the past, those prices might be more than what you were paying for some other type of lead. It's important to remember a couple of things at this point:
Not all leads are created equal, and the likelihood of a lead becoming a customer has a huge impact on the value of the lead. How valuable is it to have someone that needs your service call you directly to speak with you?
Those averages are what our clients have chosen to pay AFTER analyzing the value of our leads for their business. So instead of asking yourself 'why are those leads expensive?' we'd prefer you wonder 'why do their customers see that much value in their leads?'
All Leads are Exclusive
You only pay for new potential customers
All Leads are inbound real-time phone calls or forms meaning they are ready to buy. But that means you need to be ready to answer the phone and sell.
Flexible Pricing Gives You More Control
When we set out building Service Direct 15 years ago, we asked business owners like you what they liked and what they didn't like from existing and past marketing services. We also asked them what they ultimately wanted in a marketing solution.
Those early learnings, along with countless other discoveries, have helped shape our platform into the powerful solution it is today. And one of our guiding principles is to build lead generation technology that gives our clients the control and flexibility to grow their business on their terms.
Related Content