December 01, 2021 by Service Direct
Introducing Quality Check
At Service Direct, our mission is to help local service businesses achieve their growth goals by offering high-quality Lead generation programs powered by our human-enabled, smart technologies.
Unlike other pay-per-call marketing services where it can feel like you just pay for what you get, we at Service Direct have always subscribed to the idea that you should only ever pay for Leads from new potential customers that you could actually do business with. This is why we provide Lead Management tools and insights with complete transparency so that you can ensure you are only paying for quality Leads from real potential customers.
At the same time, we are also working on tools to help reduce the time it takes to manage your Leads. That's why we are excited to introduce Quality Check, our latest feature release!
What is Quality Check?
In short, Quality Check is designed to save you time and money by proactively detecting potential low-quality Leads and automatically submitting them for review. A member of our Quality Assurance Team will then review that Lead to determine if it meets the quality criteria of a Billable Lead. In this way, Quality Check is human-enabled, smart technology at its finest.

From a more technical perspective, Quality Check is a machine-learning system that will analyze your calls by using natural language processing to detect key phrases triggered by any low-quality indicators. For example, if Quality Check detects that the key phrase "wrong number" was clearly stated during the call, Quality Check will flag it and Submit that Lead for Review by our team.

For us here at Service Direct, we think our ability to offer a pay-per "quality" call service is what truly sets us apart from the rest. The backbone of our company has always been built on transparency and quality in everything we do, and this release is just another stepping stone in our mission to do just that.
What do you need to do?
Nothing! That's the point. Our goal is to have Quality Check do more of the work for you.
A Lead that has been flagged by Quality Check, and automatically Submitted for Review, will look and act the same as any other Lead that you may have Submitted for Review. If Quality Check auto-submits a Lead for Review, you will see a note in the expanded view of a Lead in your mySD Leads Manager that says, "Quality Check Performed: This lead was automatically reviewed by our system."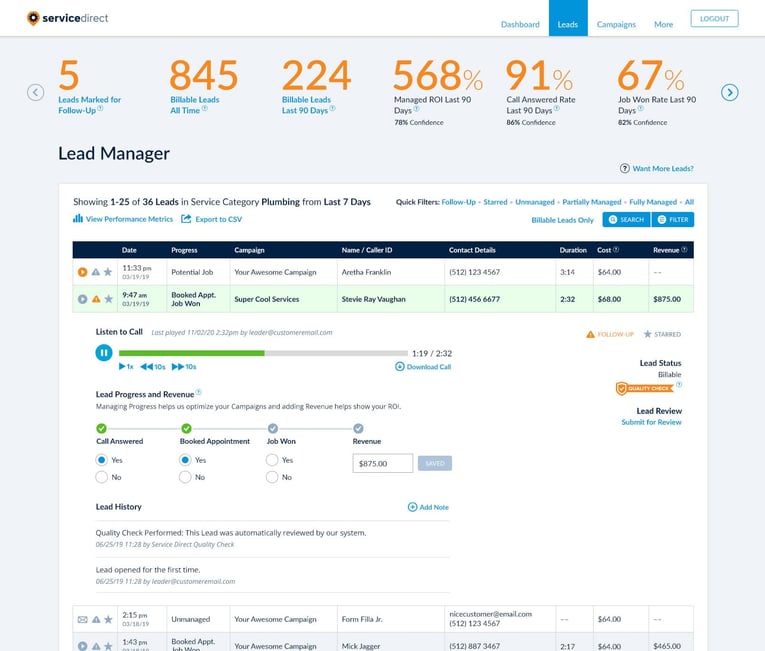 The Challenge With Call Quality
As with any pay-per-call marketing service, blocking SPAM and auto-filtering out low-quality Leads is a constant daily battle. As SPAM technologies evolve, the challenge becomes more sophisticated, requiring resources, persistence, and investment to maintain a certain threshold of quality. This is where we really shine.
We combat low-quality Leads by:
Enhancing our SPAM Blocker daily and continuing to automatically filter out spam calls.
Having the best Quality Assurance Team in the business that reviews hundreds of individual Leads daily to ensure we are meeting our quality standards.
Providing the ability for our Clients to easily submit Leads for Review by our Quality Assurance Team.
Building a best-in-class Lead Management platform that enables you to manage your Leads with complete transparency.
Launching Quality Check!
The Future of Quality Check
At the moment, Quality Check is primarily focused on helping us detect potential low-quality Leads and doing our best to resolve them proactively so that you don't have to.
However, the more we build out the Quality Check functionality, the smarter it will get. And our next step is to have Quality Check start proactively identifying high-quality Leads based on revenue potential and make sure you don't miss out on any high-value opportunities, and help manage those high-value Leads more easily in Leads Manager to uncover better ROI tracking.
Check out all of the latest product and features releases by visiting our Product Release Notes.
Related Content