January 05, 2023 by Molly Weybright
How Your Small Business Can Get Reviews for Your Google Business Profile
If you own or manage a small business, you most likely already know how important it is to obtain positive Google reviews. With 93% of users reporting that online reviews influence their purchasing decisions, there can be no doubt.
When a customer is looking for a business on Google, they are going to see a slew of options, and the number of reviews and average star rating will greatly affect which business they'll go with.
Clearly, Google reviews are integral to having a successful online business. But, if you are struggling to get more reviews for your company's profile, you're not alone: 23% of businesses reported that generating reviews from past customers is a major challenge in their marketing strategy.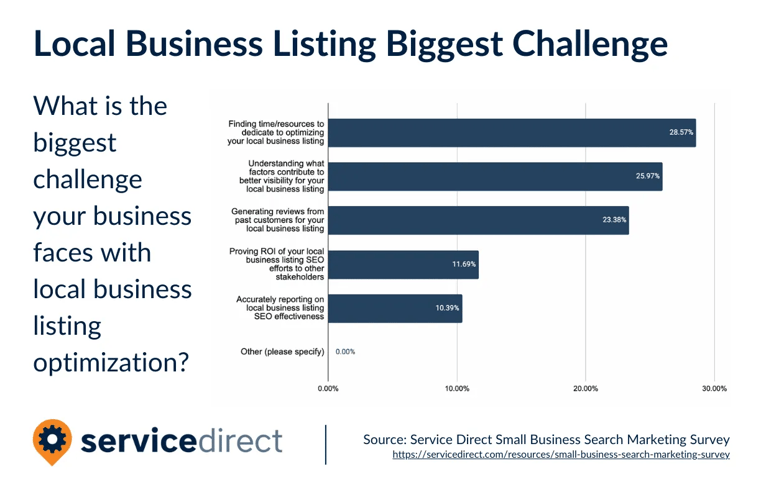 So if you're like many other small businesses out there and you know you need more reviews but don't know where to start, this blog is for you!
But First, How Does a Customer Write a Review?
If you're going to ask customers to leave reviews, it's important that you first understand the process of leaving a review yourself. And with only 5-10% of consumers writing reviews, there's a decent chance you've never left a review before.
Luckily, Google makes the process pretty easy. Once you've found the company's Google Business Profile, either through Google Search or Maps, just scroll to the Reviews section and find the "Write a review" button.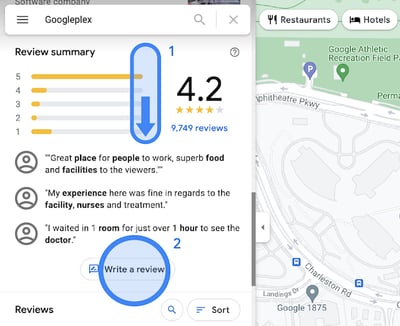 Image Source
This will open up a pop up in your browser window where you can rate the business out of 5 stars, write a brief text review, and even include images from your visit.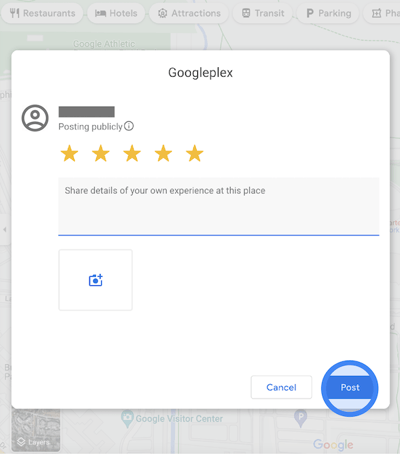 Image Source
Reviews appear publicly with the reviewer's profile name and picture on Google services like Maps and Search, and on third-party websites and apps that use Google services. It's also important to note that Google has instituted content policies for reviews in an effort to make sure they are relevant, helpful, and trustworthy.
Now that you understand what the testimonial process looks like, you can confidently ask customers to leave those invaluable reviews and answer any questions they may have about the process!
A Quick Note on Google's Review Policy
Before you dive headfirst into getting more reviews, it's important to understand Google's policies regarding what you can and can't do when trying to generate testimonials.
For the most part, Google's guidelines are fairly straightforward. They clearly list what type of content is not allowed on their support page as well as how to report any content that violates their rules.
Keep these rules in mind when moving forward:
Do not offer payment or other incentives in return for reviews. According to the FTC, businesses should not offer free products in exchange for reviews on their profile. This is because these incentives can introduce bias that changes the credibility of the review.
Do not ask your employees to leave reviews. You should not ask your staff to leave reviews, because their review is going to be biased. If an employee does leave a review, they must disclose their identity as an employee in the review.
Do not ask friends or family to review your business. This may seem strange or frustrating, but the FTC recommends that you do not ask family or friends to leave testimonials, at least without strongly emphasizing that they disclose their relationship to you in said review.
Do not only ask for reviews from very happy customers. The process of only asking happy customers to leave public reviews and directing unhappy customers to internal feedback systems is known as review gating and is frowned upon.
The tips outlined later in this article all fall well within Google's acceptable practices for generating reviews. But, it's important to always keep these policies in mind when determining new methods for gaining testimonials.
When you don't follow Google's guidelines, you can have your Google Business Profile suspended and even banned from Google's services. As you can imagine, this would be a death sentence for many small businesses out there.
Clearly, it's not worth the risk to try and skate around these policies.
What is a Google Business Profile?
Put simply, your Google Business Profile (GBP) is the digital storefront of your small business. In other words, your GBP is the pared-down version of your website that customers will use to see everything from your hours, images, and reviews when your listing appears in Google Maps.
Your business profile is a place where you can reinforce your reliability by communicating with customers in real-time as well as responding to reviews, promoting sales and new services, and posting regular updates.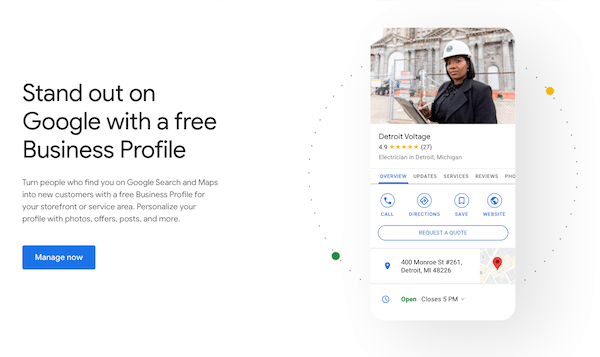 Image Source
Hopefully, you've already claimed your Google Business Profile. If not, you're missing out on a large chunk of business, so you need to do that immediately.
Once you've claimed your GBP, you'll want to keep it regularly updated with these elements:
New Services
Updated Hours of Operation
Correct Name, Address, Phone Number (NAP) Information
Google Posts About Exciting Updates
Recent Photos
Reviews
Keeping your Google Business Profile regularly updated not only keeps customers informed on your most up-to-date information but also reaffirms to Google that you are a reputable company, which helps boost your organic search ranking.

Now that we've discussed the process of leaving a review, Google's review policy, and how to update your Google Business Profile, we can dive into the info that you're really here for: how to get more reviews for your small business.
Tip 1: Make it as Easy as Possible to Leave Reviews
In a survey of over 600 US consumers, we found that 71% of satisfied customers are likely to leave a review after a positive experience if the company asks and makes it easy for them to leave the review.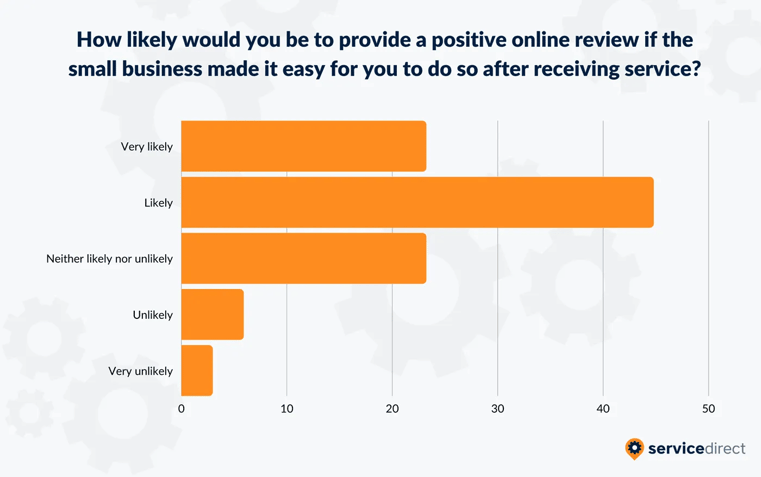 That's great! But how do you make it easy for customers to review your business?
There are a few steps that you can take to ensure the pipeline from satisfied customer to published review runs smoothly.
Create a link directly to your Google review page. This allows you to generate a link that will send anyone who clicks it directly to your review page on your Google Business Profile.

Shorten that link so that it isn't a long string of indiscernible characters. Using tools like TinyURL and Bitly, you'll want to shorten the review link so that it looks cleaner when you use it. These links will appear as a random string of characters (e.g https://bit.ly/3jvyXz0), but if you're willing to put a bit more money into the process, you can also generate a branded short link to show a clear association with your business.

Put the link everywhere (that makes sense). Once you have your shortened review link, you should be including it in every correspondence you have with active or past customers. This can be via your email signature, in mailers, and social media interactions.

Provide helpful information to further encourage reviews. One thing that many customers may not know is that you don't have to write any text in order to leave a starred review. In other words, customers can review your business with one click. Although written reviews are more beneficial, your average star rating is important too!
By doing everything you can to make it as easy as possible for happy customers to leave reviews, you're greatly increasing the likelihood that they will take the time to review your business.
Tip 2: Train Employees to Ask for Reviews After Service
Unfortunately, you can't just cross your fingers and hope that the occasional satisfied customer stumbles their way into your Google reviews. Instead, to get reviews you have to ask for them.
We know this doesn't sound very helpful, but bear with us.
This tip is the number one most important piece of advice when it comes to generating more testimonials for your small business. And as long as you have set practices to ask your customers for reviews, you'll be that much more likely to obtain key testimonials.
A great place to start is by ensuring that all your employees are trained to ask customers for reviews in person. It's okay to feel slightly uncomfortable at the thought of asking in person, but we guarantee that it's worth it!
An example of what this conversation might look like:
Customer: "Thank you so much for the great service!"


Employee: "You're very welcome. Was there anything that we could have done better?"


Customer: "No, everything was exactly right. I'm definitely going to use you again in the future."


Employee: "That's great to hear! Would you consider writing about your experience in a review for us on Google? It only takes a minute and would be extremely helpful and reinforce that we're the go-to team for these services in the area."


Customer: "Sure thing! I'd be happy to."


Employee: "Great! Do you know how?"


Customer: "I'm not sure."


Employee: "Here, let me show you…"


Of course, every conversation will be different. But this is one example of how easy it is to ask your customers in person to leave reviews.
Tip 3: Use Email Campaigns to Ask for Reviews
According to a survey we ran of 274 small business marketers, only 27% of businesses reported sending emails requesting testimonials and reviews. We already know that asking customers for reviews is the best way to generate testimonials, and with fewer than a third of businesses using email to do so, this is an opportunity for you to get ahead.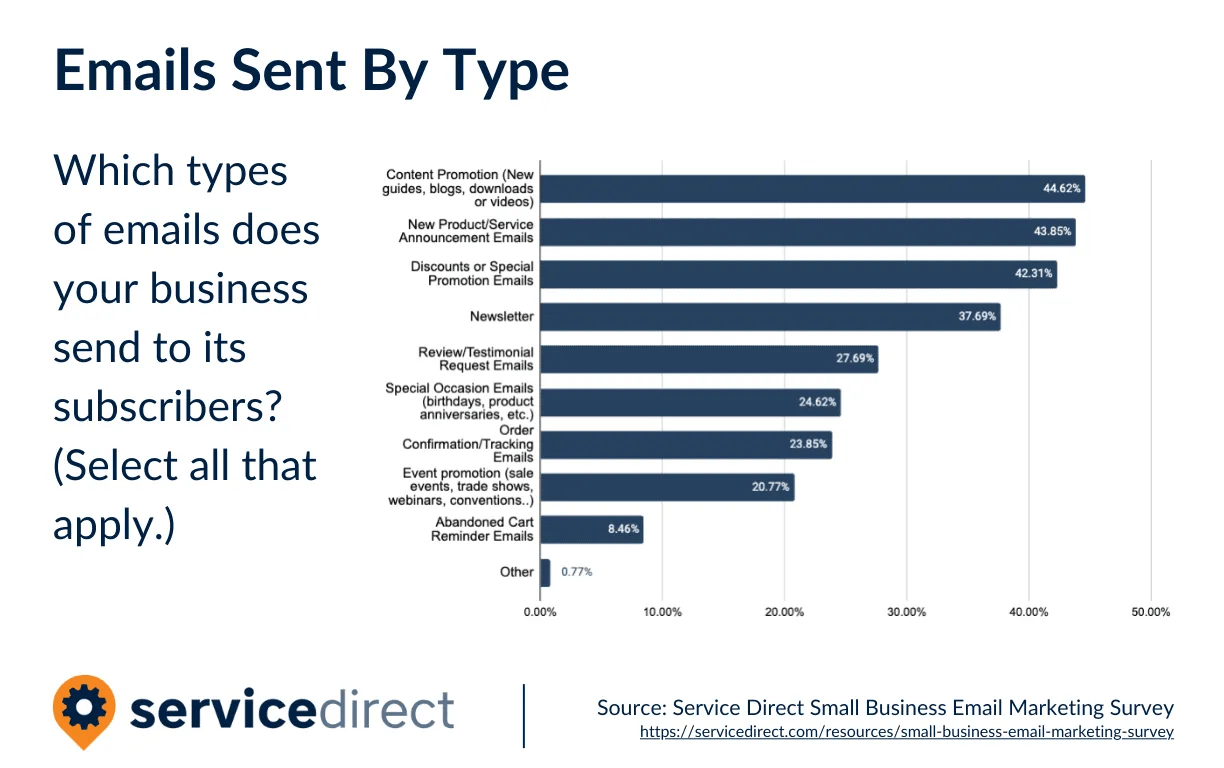 There are 4 billion daily email users. Let that sink in for a second: 4 billion. It's safe to say that email is solidly one of the top forms of communication, which means you need to be using it to connect with customers.
Of course, if you don't already have testimonial request email campaigns set up, you might feel at a loss for where to start. Fortunately, there are some great resources out there to help you create high-quality email templates.
Tip 4: QR Codes are Running the World; Use Them to Get Reviews
Chances are you've scanned more than one QR code in the past, especially since the COVID-19 pandemic skyrocketed their use. In fact, in 2021, almost 76 million smartphone users in the US used a QR code.
Additionally, 75% of Americans are eager to use more QR codes in the future, so these tech tools aren't going anywhere. That means you need to be using them to get more reviews for your small business.
Remember the Google review link you just obtained? You can easily generate a QR code that customers can scan with their phone and be sent directly to your Google review page.
All you have to do is insert the URL into a QR code generator and voila—now you have a downloadable black and white square that you can use both online and offline wherever you want!
TIP: You can generate a QR code directly from a page in Google Chrome by right clicking on the page and selecting "Generate QR Code for this page."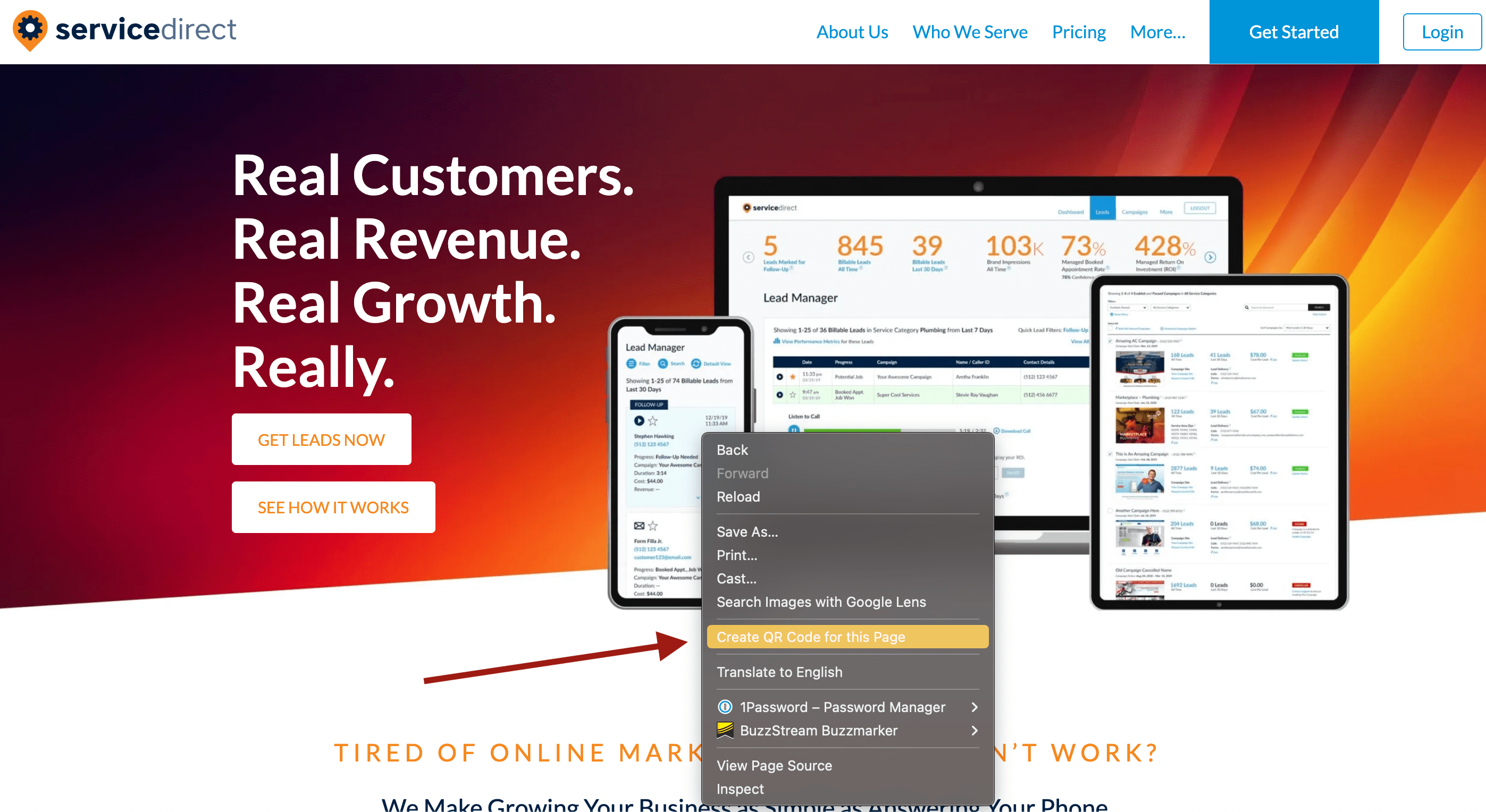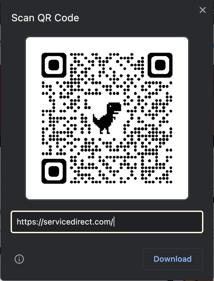 Places you can attach your review QR code:
Business cards




Email signatures




Newsletters




Footers in content




Social media posts




Website footers




Beneath your logo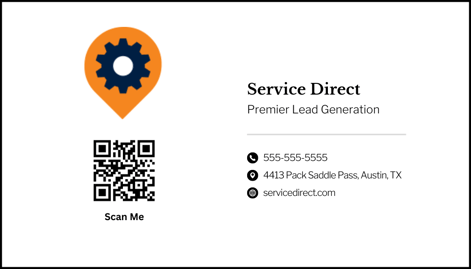 Of course, these examples are just the tip of the iceberg. When it comes to using your QR code, creativity is your friend and the sky's the limit. It's all of the other metaphors about standing out from the crowd.
In short: you never know what will work best with your customers until you try it!
Tip 5: Respond to Every Single Review
The further we go into the 2020s, the more weight is getting put on engagement when it comes to digital marketing.
Not only does it look good in the eyes of potential customers when you engage regularly with people, but it also tells Google that you are an active company that can be trusted to solve searchers' problems.
Because of this, it's crucial that you take the time to respond to all reviews—positive, neutral, and negative.
How to Respond to Positive Reviews
Positive reviews are, of course, the easiest type of reviews to tackle. These 4 and 5-star reviews are from customers who have enjoyed your services and are usually singing your praises.
To respond to these, all you need to do is thank the customer profusely for taking the time to leave a review and acknowledge anything else they touched on in their review.
Check out this example from one of our reviews: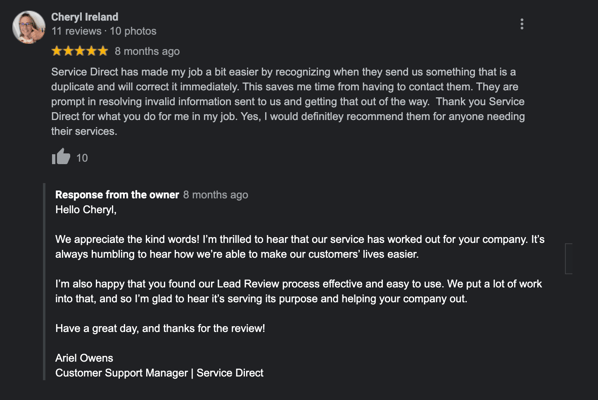 How to Respond to Neutral Reviews
When a customer is leaving a neutral review, which is usually 3 stars but can also be 2 or 4 stars depending on the tone of the review, you'll want to address any concerns mentioned.
Depending on what exactly the customer didn't like, you might want to suggest a solution that could include reaching back out to your business in whatever way is applicable.
Take this situation, for example: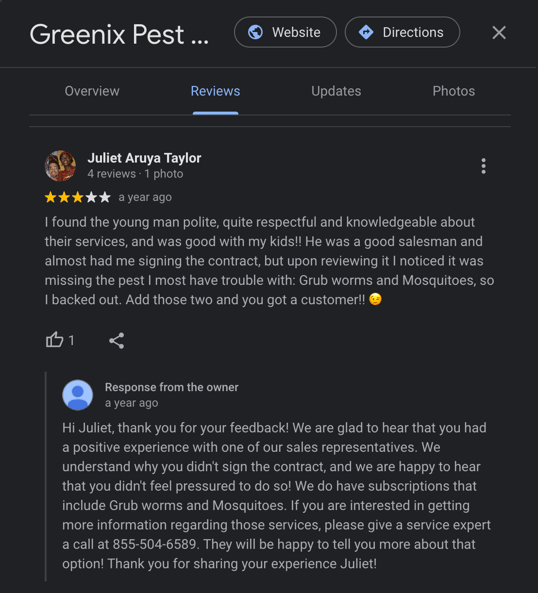 The representative from Greenix addressed the reasons that the reviewer docked a few stars off as well as provided a phone number to contact for future instances. They also plucked a few points from the review that they could spin in a positive light.
How to Respond to Negative Reviews
Negative reviews are naturally the most difficult reviews to respond to, and there's no perfect recipe for knowing what to say. The best piece of advice we can give is to be honest and transparent.
Take this example: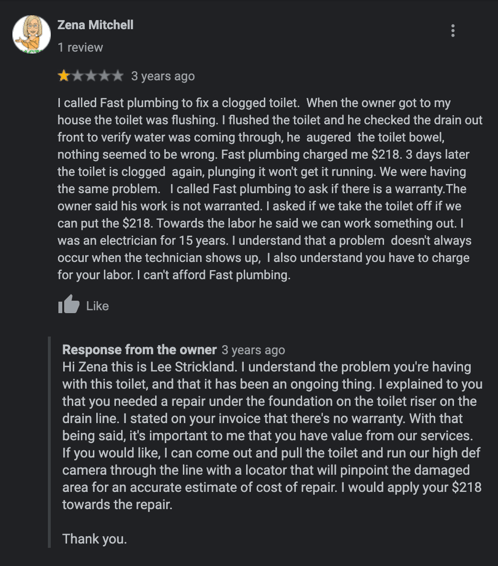 The representative at Fast Plumbing acknowledged that the situation is frustrating. They also reiterated what occurred in their initial interaction with the customer.
Most importantly, they reaffirmed their dedication to their customers and their desire to provide quality services by offering to return to the property and further address the issue. Offering to apply the initial fee to the return service was a nice touch that might go a long way with some people as well.
Another example: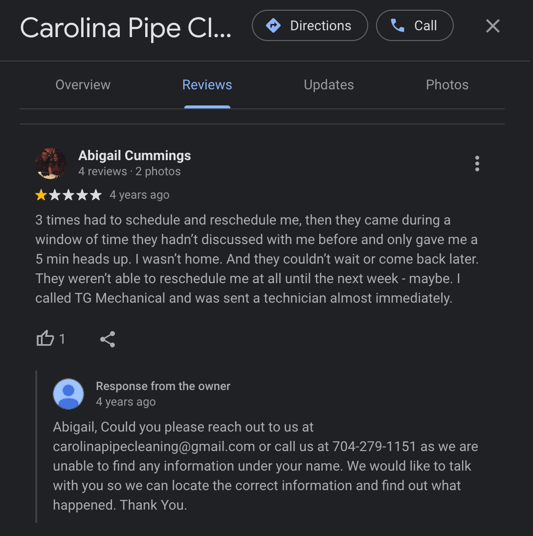 In this review, Carolina Pipe Cleaning put the ball back in the reviewer's court. They couldn't find information to corroborate the claim, and instead of accusing the reviewer of being dishonest, they simply asked them to reach out so they could solve the problem together.
Ultimately, there are a few key things to do right when responding to a negative review and a number of things to do wrong. So keep in mind some simple guidelines for responding to negative reviews and you'll be on the right track.
How to Handle Spammy, Offensive, or Aggressive Reviews
Unfortunately, the reality of the online world is that there are more and more instances of people using fake profiles to publish inaccurate information.
When it comes to reviews, you might already be familiar with fake testimonials and what they look like. If not, keep an eye out for these red flags:
No profile picture

Strange punctuation and wording

You have no record of the person patronizing your business

The reviewer hasn't rated any other companies

The reviewer leaves reviews in bulk

If you think you have spotted a fake review on your profile, you can easily report it to Google for review. At that point, whether or not the review is removed from your page is out of your hands.
You can also report reviews that include profanity, harassment, hate speech, personal information, or are otherwise not providing useful information to potential customers.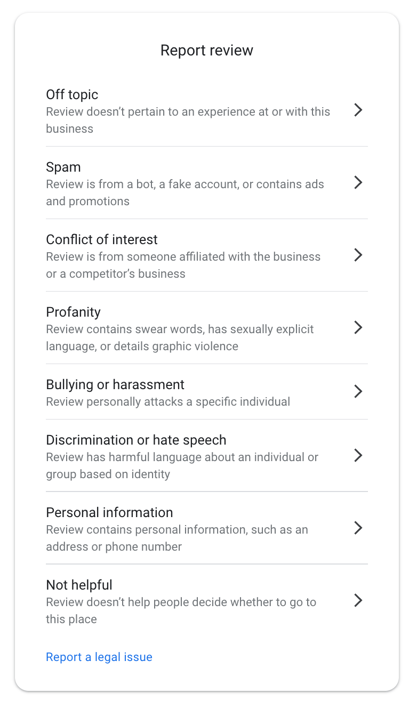 Tip 6: Feature Positive Reviews Everywhere
Positive reviews are some of the most powerful and effective tools for convincing potential customers to try your products or services. So don't be shy, make sure they're easy to find! Plus, when an existing customer sees other reviews for a company they enjoyed working with, it just might be the little push they needed to inspire them to write a review of their own.
Places you can feature positive reviews:
Social Media: Regularly highlighting positive reviews on social media through stories and newsfeed posts is a great way to highlight your excellent services while also subtly suggesting to other customers that they might get featured if they leave a review.

Embedded on Your Website:

Using a tool like Elfsight, you can feature Google reviews directly on your website. This is great not only because it provides yet another place to highlight why customers should choose your business, but also because it can boost your organic ranking and help SEO.
Featured in Your Newsletter: If you're sending out a newsletter but aren't featuring positive reviews, you're missing out on another chance to expose existing customers to those reviews. That exposure could be all they need to leave their own testimonial.
In Your Emails: By featuring your positive reviews at the bottom of your emails, you can encourage current customers to leave testimonials as well. Plus, if you're sending any promotional emails to potential customers, these reviews could help seal the deal.
Tip 7: Use Reputation Management Tools to Your Advantage
With 30% of businesses not using 3rd-party tools in their marketing strategy, you have an opportunity to stand out from a portion of the competition. By implementing tools into your review-acquisition strategy, you'll already be one step ahead.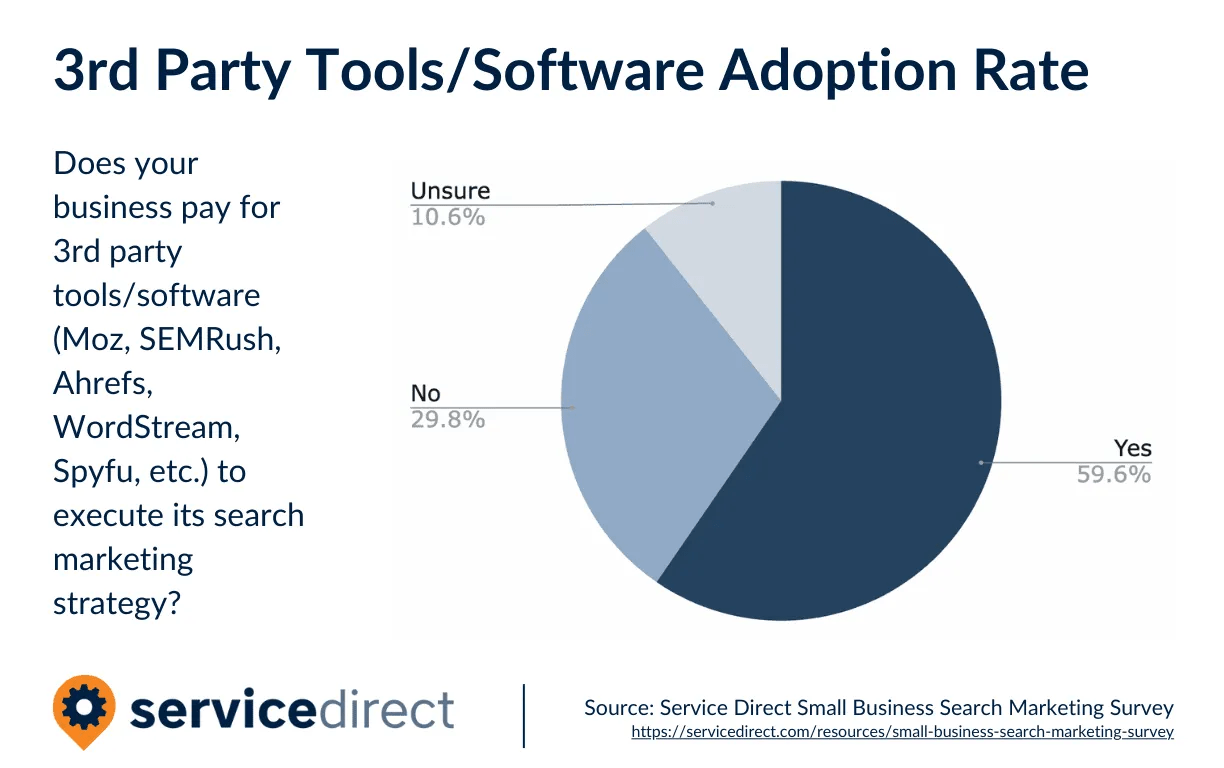 Google Business Profile Marketing Kit
For many small businesses, budget is a critical factor when considering marketing solutions. Fortunately, there are a number of affordable tools out there that you can use to power up your marketing efforts and bring in more reviews.
In fact, Google provides a way to get high-quality marketing materials for free with their Google Business Profile Marketing Kit.
This tool allows you to create digital and print materials like posters, social media posts, stickers, and more! The designs are simple yet eye-catching and can build and expand your brand without breaking the bank.
Other Digital Marketing Tools
There are a number of other marketing tools out there that you can use to promote your small business and bring in more reviews. Using one or two of these tools could catapult your strategy to the next level.
Of course, you'll want to do some research and make sure you are investing in the right tools for your business. With a limited budget, you don't want to overspend on tools that might not be as useful as you originally thought or tools that don't work well with each other.
Mailchimp for email:

Mailchimp is a powerful email marketing tool that allows you to automate, optimize, and grow your small business. Providing templates for every type of email—from newsletters to purchase confirmations—this tool is great for many companies.
Sprout Social for social media: This all-in-one social media tool helps small businesses increase their engagement with customers on sites like Facebook and Instagram without having to dedicate large amounts of resources.
EmbedSocial for embedding: EmbedSocial provides a way to collect not only reviews and embed them on your site, but also lets you include social media posts, videos, and photos from other sources on your site.
BrightLocal for auditing: With BrightLocal, you can audit your SEO strategy and be presented with reports that will help you learn how to grow your small business further. It will also help you obtain, monitor, and showcase crucial testimonials.
LiveChat to communicate with customers: Using LiveChat, you can optimize your customer service strategy through a seamless platform. This will help you grow sales as well as stay connected with your customers.
Fiverr for freelancers: This tool helps take the guesswork out of working with freelancers. They have talented people to help with design, social media, SEO, video, and more.



These are just some of the great tools out there for small businesses looking to grow. Although each one might not directly involve review generation, hopefully by now you know that getting your business in front of new and existing customers is the first step to obtaining the reviews you want.
In Conclusion
Now that you have reached the end of this article, we can answer your most pressing question: What number of reviews is enough for your business?
The answer is twofold and frustrating: There is no set number and the more the better.
If you're rolling your eyes right now, you're not alone. As a small business ourselves, we understand how frustrating it is to hear that you'll probably never reach that top-of-the-mountain feeling when it comes to review generation.
But, ultimately, you are going to be setting yourself up for the most success by continuing to get positive reviews as much as possible. Quality is more important than quantity, but in a perfect world you have both.
Since we've spent all this time talking about the importance of reviews, we think we might go leave some positive reviews for our favorite small businesses—maybe you can too!