February 09, 2023 by Taylor Stafford
How to Get Your Google Business Profile to Show Up on Searches
As a business owner, you know that online presence is key. In order to make the most of your web presence, it's important to claim and optimize your Google Business Profile. Sixty-four percent of online users have used Google Business Profiles to find contact information, so having an effective listing can bring great results! This article will teach you how to effectively show up in search results.
Google My Business Profile allows business owners to manage their information on Google Search and Maps. It's crucial to have a well-optimized profile in order to ensure that your business shows up when people are searching for it online.
What is Google Business Profile?
Google Business Profile is an invaluable tool for businesses seeking to grow and expand their customer base. Google Business allows businesses to create a Google account that provides customers access to contact information, hours of operation, product photos, and reviews from previous customers in a uniform, easy-to-read layout.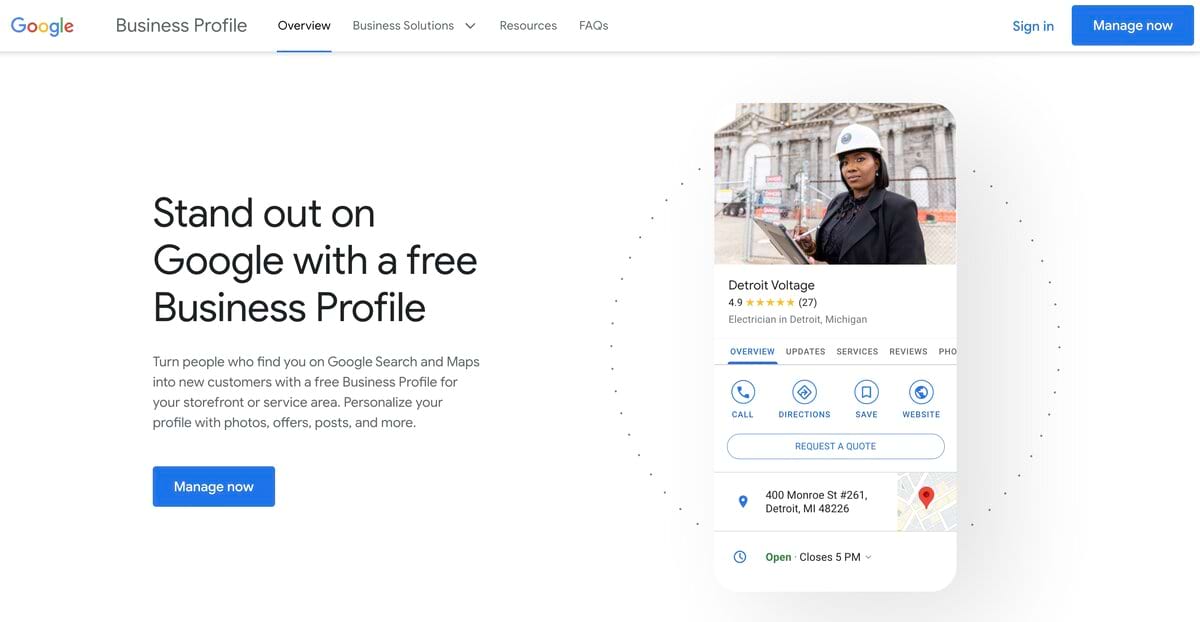 Image Source
This comprehensive profile is displayed when customers perform Google searches related to the business, allowing prospective customers quick and easy access to all relevant information.
This profile helps businesses optimize their presence on Google Maps and Google Search, allowing more potential customers to find them easily. Google Business Profile is a powerful advertising tool for any business that wants to reach more customers in an efficient manner.
Why Should You Utilize Your Google Business Profile?
Google Business Profile is one of the simplest yet most effective tools for modern business professionals who are looking for ways to optimize their online visibility and increase brand awareness.
Utilizing Google's powerful established platforms ensures increased visibility within Google search results, better online presence supported by accurate local business information across Google Maps and Google Search so that you're sure that your company's brand will be presented in the best possible light.
Increase Visibility in Search Results
Google Business Profile is Google's tool for businesses to showcase their services to customers in a quick and easily digestible format. A well rounded Business Profile can also help businesses increase visibility in Google search results, Google has implemented a few tips and tricks.
First, it's important for any business to create and verify their Google Business Profile. This helps Google better understand the business details and enables their listing to show up in searches. Once created, the profile should be consistently updated with relevant content - including text and photos - so Google can pick up on new keywords that customers might be searching for.
Listing products in the Google My Business Products section is also a great way to attract leads when potential customers are searching online.
Additionally, linking website content like landing pages and blog posts directly into a business's Google Business Profile allows customers to more easily get familiar with the company's brand while strengthening its visibility in Google searches.
Add Credibility with Reviews
In a world filled with flashy ads making big claims, many consumers have come to place their trust in customer reviews when researching businesses. In fact, 98% of consumers consider online reviews to be an essential resource when making purchase decisions.
A Google Business Profile provides a recognizable and simple opportunity for customers to rate their experience with local companies and leave a more detailed review. Not only does this feature help businesses build their reputation and credibility, but customer reviews can also improve SEO for the business's profile and drive more traffic and customers.
Here are a few tips on how to get customers to leave reviews on your Google Business Profile.
Boost Local SEO
Creating a Google Business Profile helps boost local SEO by confirming a real-world address and giving customers an opportunity to leave reviews – both integral components of successful local search engine optimization strategies.
With Google Business Profile, you can easily create an even better online representation for your business in no time!
Top 7 Tips to Optimize Your Google Business Profile
Optimizing Google Business Profile can help businesses reach potential customers by appearing in Google searches and Google Maps listings, catch customer reviews, and help customers to find the location of businesses more easily.
Having an up-to-date Google Business Profile can also make it easier for businesses to get information listed correctly on Google Shopping, Google Ads, and other Google services.
As a result, taking the time to optimize your Google Business Profile can mean increased exposure and better visibility for your business both online and offline.
Here are our top seven tips to optimize your Google Business Profile:
Write a Clear Business Description
Google profiles need descriptions that tell potential customers who you are, what you do, and why they should choose you. It's best to avoid complex words or corporate jargon, and to focus on using language that accurately reflects your brand while also speaking directly to your audience in a clear and concise way.
When crafting your Google Business Profile, make sure it contains information about the products or services you offer; how you differentiate yourself from competitors; and perhaps most importantly, why someone should choose your brand over another.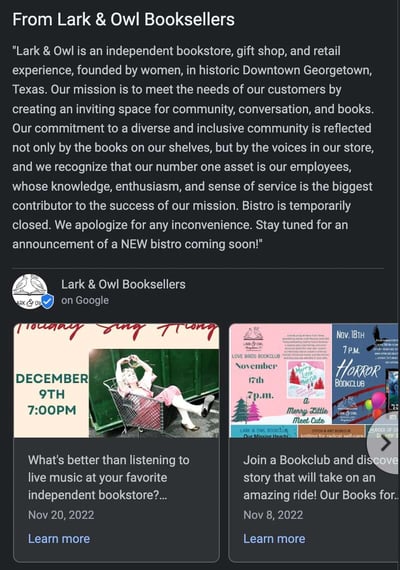 Image Source
Here are some things to include in your business description:
History of the Business
To make the most of this platform, it is crucial to include relevant information about your company's history, including its founding date and any notable milestones.
As Google prioritizes businesses with complete profiles, providing details on your business's history will help you stand out from the competition and attract more potential customers.
Moreover, not only will Google recognize your listing as authentic, but customers will come to understand your brand values more deeply and appreciate knowing what it stands for.
Mission Statement
In order to make the most of Google Business Profiles, it is important for businesses to include a mission statement in their profile's business description.
A carefully crafted mission statement is not only an effective way for businesses to share their values and goals with customers, but it also provides Google with essential keywords that people might use when searching and helps Google algorithms better understand what a business offers.
This combination of high visibility on the search engine plus clearly stated values can help more customers find and engage with a business's Google Business Profile.
Description of Services
By including a complete and concise description of the products and services you offer, Google can direct potential customers searching for related keywords to your business. This in turn will increase the visibility of your Google Business Profile, making it easier for local customers to find you and contact you directly.
A description of the services provided also increases trustworthiness and builds credibility, improving the overall customer experience when engaging with your business.
Therefore, it is clear that creating a full profile with a detailed listing of the services provided is an essential step in ensuring Google visibility of your business!
Regularly Update Content
Updating your Google Business Profile on a regular basis is one of the most effective ways to ensure that your business is visible in online searches. Google searches are often the quickest way for potential customers to access information, and it's easy to use Google Business Profiles to feature that information.
That's why it's essential to make sure that your business's profile contains the most up-to-date information about your services and products, including an updated business description. This ensures that users searching for the type of service you offer will get accurate information about what you provide, giving them confidence in your business.
Furthermore, actively maintaining a Google Business Profile can also help build trust with viewers and potentially lead to higher customer retention rates.
Review NAP consistency
Google Business Profile is a valuable way to boost the visibility of any business, but in order to maximize success, it's important to review NAP consistency. NAP stands for Name, Address, and Phone number, which Google uses to accurately list your business online.
If Google can't easily identify your correct contact information, it could instead list an old address or number, not only causing confusion among customers but also decreasing your Google profile's ranking.
Ensuring that all of your contact information is accurate and up-to-date across Google increases the chances of potential customers finding you on Google Maps or using voice search. Ultimately this boosts visibility for your business and helps ensure potential customers have the best experience accessing helpful information about where you are located.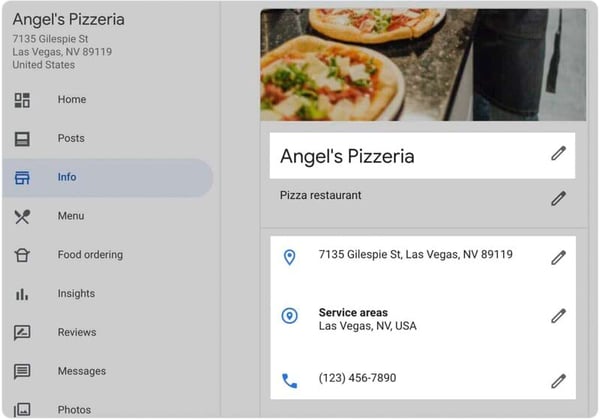 Image Source
Include keywords
When setting up a Google Business Profile, an important aspect to consider is the keywords your customers might use. This helps Google learn more about your business and display your Business Profile to people searching for similar keywords and phrases.
When users enter terms that appear in your listing and Google deems them relevant, your listing will be more visible and easily found. Keywords help business professionals ensure their listing comes up when potential customers are searching for them and can therefore give them an increased advantage within their local market area.
Be as detailed as possible
A detailed Google Business Profile can be the difference between success and failure for many businesses. The more complete your Google Business Profile, the greater your online visibility and the easier it will be for customers to quickly locate contact information, reviews, ratings and other important pieces of data. A thorough Google Business Profile also helps customers feel they have enough knowledge before making a purchase decision or contacting a business representative.
Use Photos
Google profiles with images not only appear at the top of Google's search engine results pages, they also provide helpful information that informs customers and increases trust in your brand. In fact, listings with images are twice as likely to appear reputable.
Photos on Google Business Profiles come in many forms, including company logos, cover photos, product shots, staff photos and more.
Having multiple types of photos prominently displayed on Google serves a variety of important purposes: it accurately represents what you do and who you are as a business; it showcases the quality of your work; and it helps potential customers understand the advantages associated with your service or product.
Here are some images you don't want to skip out on for best results on your Google Business Profile:
Profile photo
Cover photo
Business photos
Product photos
Team photos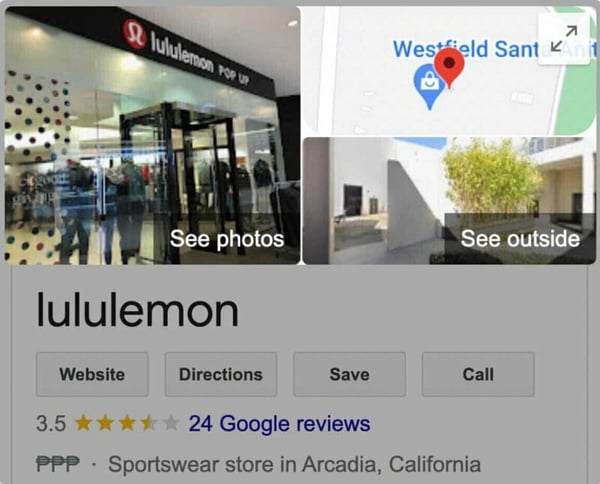 Image Source
Create Google Posts
Google posts are an important tool for any business professional looking to increase their Google Business Profile visibility. Google posts allow business owners/managers to share news, promotions, and events in a way that's easily accessible to Google users.
They appear prominently on Google Search, Google Maps, and Google Business Profile so it's essential for businesses to use this service in order to stay competitive and engage with customers online.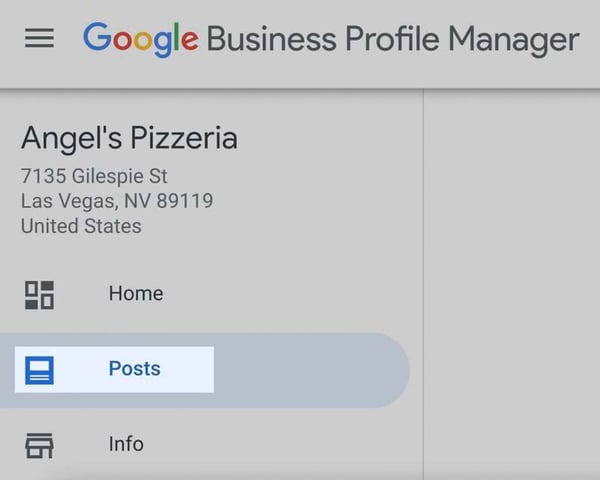 Image Source
Different types of Google posts could be used depending on the business objectives:
Text posts are great for promoting sales, updates, messages, and calls-to-action;
Photo posts are great for featuring products and services;
Video posts create immersive experiences that stand out from the crowd;
Event posts help reach people who might be interested in coming along or participating;
Product posts link directly to product pages which allows customers to instantly buy or discover more information.
By investing time into creating engaging Google posts, you can quickly build customer relationships which can provide long term value.
Respond to Customer Reviews
Google Business Profiles offer existing and potential customers an important way to gather information about your business and leave feedback. If you ignore customer reviews on Google, the algorithm Google uses for ranking websites could make your business less visible online, resulting in fewer views and lower potential for increasing your customer base.
Responding to your customers' reviews tells Google's algorithms that you are actively managing the profile and engaging with customers. In fact, 90% of consumers read reviews before making a purchase.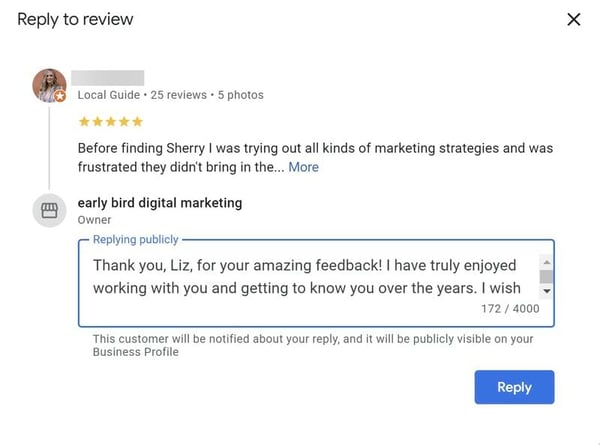 Image Source
Taking the time to respond to positive as well as negative reviews demonstrates availability, helpfulness, and responsibility, which are qualities that people look for when choosing a certain product or service.
Even acknowledging a review lets Google know that you take customer feedback seriously, helping to ensure visibility with Google's search rankings. Use tools like Semrush's Listing Management Tool to help stay on top of incoming reviews!
Use Special Attributes
Google gives business owners the opportunity to draw attention to their products and services by allowing them to select special attributes that show up prominently on the Google display window.
These can include things like hours of operation, prices, reviews, or photos. By taking advantage of special attributes, businesses can gain more visibility on Google searches, resulting in higher customer engagement.
Additionally, it's important for businesses to note that Google tracks how many customers view their Google Business Profile and rewards those who take the time to add special attributes with even greater visibility.
Selecting special attributes on Google Business Profiles is an easy way for business professionals looking to increase their Google presence while potentially making a positive financial impact too.

Examples:
LGBTQ Friendly
Accepting new patients
Schedule online care
Feature Products
By featuring products on Google Business Profile, businesses can stand out among the crowd, draw attention, and create engagement. Featuring products is beneficial for businesses interested in gaining more traffic, building trust, and increasing sales.
Additionally, Google Business Profile allows owners to feature pictures accompanied with descriptions of their products and services provided. Featuring products on Google Business Profile offers many opportunities to differentiate your business from others in your area and industry.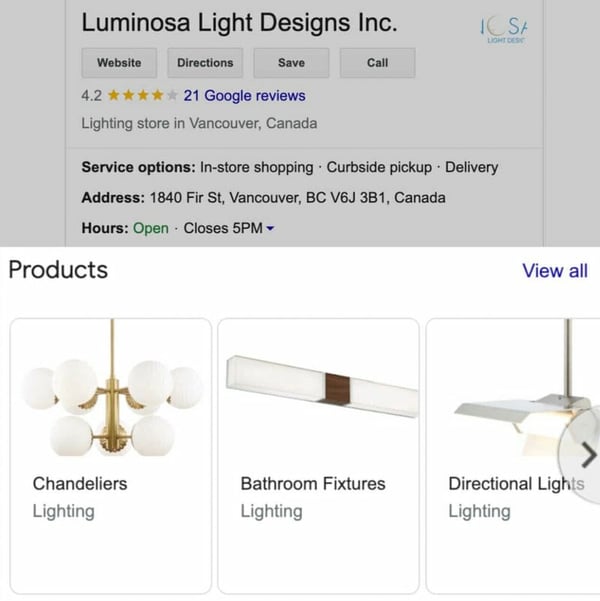 Image Source
This can be critical in gaining the attention of potential customers and solidifying relationships with existing clients. All things considered, featuring products is a simple and cost-effective way to increase visibility, improve customer experience, and ultimately increase profits!
Things to consider when featuring products:
Top Tools to Get the Most Out of Google Business Profile
Google Business Profiles are incredibly useful for small business owners, providing a fast, easy, and widely-used way of sharing key information, such as their address, hours of operation, and contact details, to potential customers searching online.
However, managing a Google Business Profile can be challenging. Luckily there are a wide variety of useful tools designed to help you ensure that your Google Business Profile is consistently appearing in search results.
Here are the top four tools for success:
Use Google's Keyword Planner
Google's Keyword Planner is a tool that can help business owners optimize their Google Business Profile visibility in search results.
This all-in-one platform provides invaluable insight into trending keywords and phrases, predicting current and future advertising cost, and gaining detailed data on the effectiveness of potential online campaigns, enabling businesses to better target their ideal customers.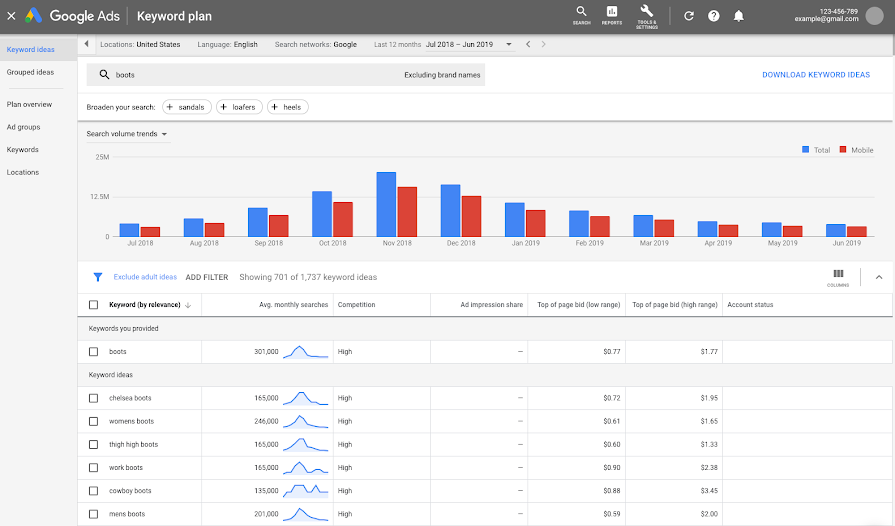 Google's Keyword Planner allows users to discover relevant topics for Google Business profiles such as new content ideas or identifying new website promotions.
With its easy-to-use interface and comprehensive understanding of keyword trends, Google's Keyword Planner can elevate Google Business profile search results both quickly and consistently.
Google Analytics
Google Analytics is a great tool for business owners who want to track their Google Business Profile's performance in search results.

Google Analytics offers a variety of features that can help to monitor visitor activity on business profiles, including keeping track of page views, unique page views, average time spent on the profile, and more.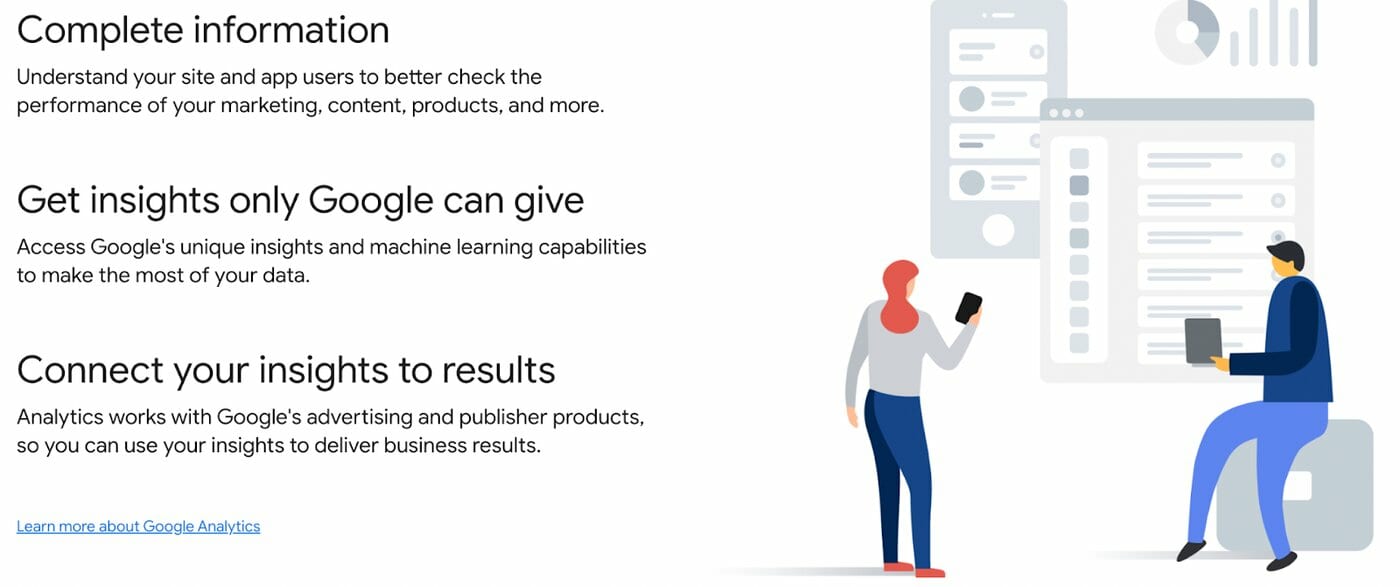 Image Source

Business owners can use this data to determine which initiatives are driving traffic and engagement towards their Google Business Profile. With Google Analytics, businesses can optimize and adjust content placement, keywords, keywords phrases as well as ads to make sure their profile remains visible and relevant in search engine rankings.
Google Trends
Google Trends is a powerful tool that can help business owners make sure their Google Business Profile consistently appears during Google searches.

This helpful tool studies trending keywords and gives owners the chance to determine which terms people in their area are searching for, so they can tailor their Google Business Profile to maximize results.


Image Source

Google Trends also provides visualizations of the data, plus insights on topics and related queries -- all features that give business owners more control over their Google presence.

This invaluable tool provides effective data about where users are searching for information, giving business owners the ability to stay ahead of the competition and put their Google Business Profile at the forefront of Google searches.
Hubspot's Google Ads
Google Ads by Hubspot is an incredibly useful tool for business owners who want to ensure their Google Business Profile consistently shows up in search results.

This tool creates Google Ads campaigns with assistance from Google Ads Smart Campaigns in order to drive more qualified leads towards the Google profile. It also allows for targeting options, bidding strategies, budgeting and reporting.

Additionally, Google Ads by Hubspot helps increase web traffic by tracking analytics and optimizing content accordingly. These features make it easy for business owners to get the most out of their Google Business Profiles through a comprehensive Google Ads campaign.
Conclusion
So there you have it! Everything you need to know about Google Business Profile and how to set it up for your business. This is an essential piece of your online marketing strategy, so be sure not to miss out on the many benefits that come with having a well-optimized GMB profile.

Are you ready to get started? The best way to start optimizing your Google Business Profile is by using the tools we've mentioned in this article. Good luck and thanks for reading!