June 30, 2022 by Molly Weybright
How To Generate Electrician Leads With PPC Search Ads
Updated on February 7, 2023
As an electrician, you know that leads are the lifeblood of your business, and as online search continues to grow in popularity, more and more people are finding electricians through paid search ads.

Plus, we found that 87% of small businesses listed paid search advertising as an effective part of their marketing strategy, so you can't afford to be missing out on the tactic.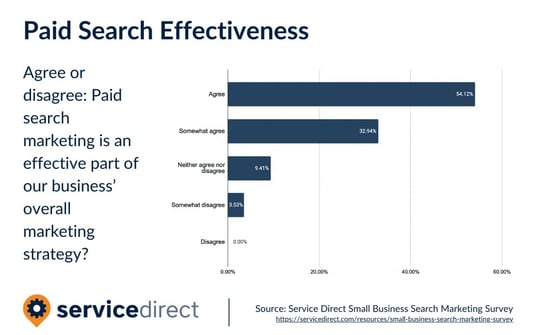 However, just because it's effective, doesn't mean it's without challenges.
A recent Service Direct survey found that planning and strategy was the biggest challenge many businesses face with paid search, followed by finding time and resources to dedicate to PPC, staying on top of the changing landscape, and optimizing keywords.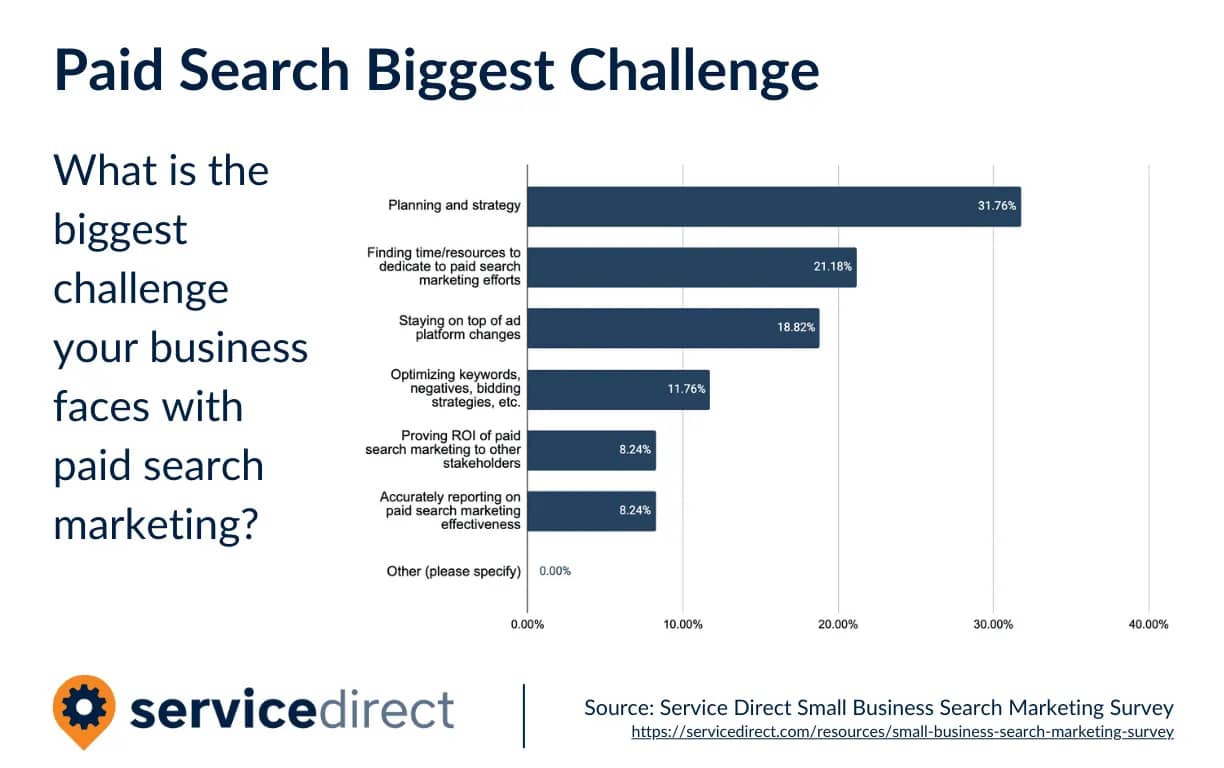 In this blog post, we'll cover everything you need to know about how to successfully generate electrician leads with pay-per-click (PPC) search ads.
We'll start with the basics, like choosing the right keywords and managing a budget, and then move on to more advanced concepts like conversion tracking and Quality Score.

By the end of this blog post, you'll be ready to get started on your own electrician PPC campaign!
Electrician PPC Keywords
Electrician keywords are one of the most important tools in your PPC strategy toolbox.

By carefully choosing the right keywords, you can ensure that your ad is seen by people who are actually interested in what you're selling. This, in turn, leads to higher click-through rates and ultimately more leads.

However, choosing the right keywords is not always easy.

In order to select the most effective keywords, you need to understand how search engines work and how people use them to find what they're looking for. With this knowledge, you can begin to identify the keywords that are most likely to result in conversions.
How to Choose the Right Keywords
When it comes to PPC advertising, choosing the right keywords is essential for success. But with so many options available, how do you know which keywords are right for your business?

Here are a few tips to help you choose the best keywords for your electrician PPC campaigns:
Start with your audience. Who are you trying to reach with your PPC ads? What needs do they have that your electrician services can address? When you know who you're targeting, you can start to narrow down your keyword options.

Consider your budget. How much are you willing to spend per click? Choose long-tail keywords that are relevant to your business but won't break the bank.

Get specific. In order to target the customers you want, you are likely to see the most success with highly-specific keywords. Plus, the more competitive the keywords are, the more expensive they'll be, and the faster you'll burn through your budget.
By following these tips, you can start choosing the right keywords for your electrician PPC campaigns and achieve the results you're looking for.
Feeling Stuck on Keywords? Keyword Planner is Here to Help
Google Keyword Planner is a free online tool that helps you research and analyze electrician keywords for your PPC strategy.

Simply enter a word or phrase into the search bar, and the tool will generate a list of related keywords, as well as their average monthly search volume and competition level.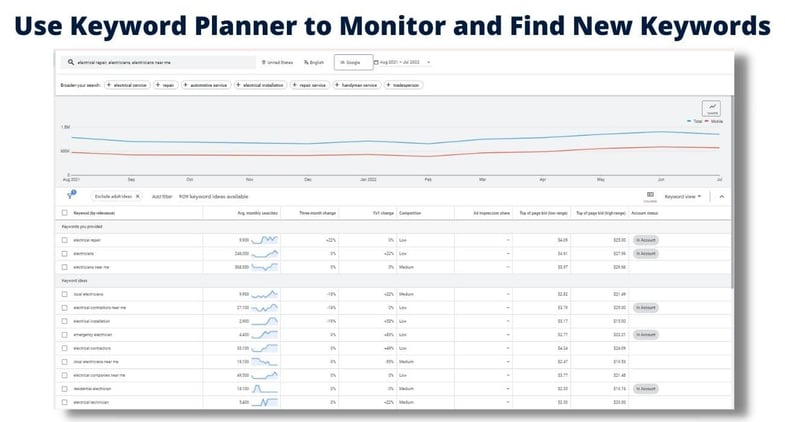 You can use this information to help decide which keywords you want to bid on in your PPC strategy.

The information provided by Keyword Planner is invaluable, as it also provides traffic estimates for electrician keywords and will even suggest bid amounts for different keywords to help you stick to a budget.
Electrician Keywords and PPC Budget
Your keyword budget is the amount of money that you're willing to spend on a particular keyword or group of electrician keywords.

When setting a budget, you'll need to consider a number of factors, including the difficulty of ranking for the keyword and the expected click-through rate (CTR).

If you're working with a limited budget, you'll want to focus on long-tail keywords, which are less competitive and tend to have a lower cost-per-click (CPC).

In addition to setting a budget for each individual keyword, you'll also need to set an overall PPC budget. This will help you determine how much you're willing to spend on your electrician PPC campaigns each month.

Keep in mind that your overall budget will fluctuate as your campaigns evolve and you may need to adjust your budget periodically as you add new keywords or make other changes to your campaigns.

Once you have your budget solidified, it's important to track your results and adjust accordingly. If certain keywords aren't performing as well as you'd hoped, don't be afraid to cut them from your campaign.
Likewise, if you find new keywords that are generating leads and sales, you'' want to increase your bids to take advantage of the opportunity.

By continuously monitoring and adjusting your keyword budget, you can ensure that your electrician PPC campaigns are both effective and affordable.
Overwhelmed With PPC Budgeting? Smart Bidding Can Help
If you are feeling overwhelmed with the prospect of setting, adjusting, and sticking to an ever-changing budget, then you might find value in Google's Smart Bidding tool.

Smart Bidding is an automated bidding strategy that uses machine learning to optimize conversion values in real time.

By analyzing a multitude of factors, including search terms, time of day, and user location, Smart Bidding can adjust your bids to help you get the most out of your electrician PPC budget.

Smart Bidding takes the guesswork out of PPC by using data to automatically adjust your bids.

It's important to remember that because Smart Bidding is a machine learning tool, it's not always perfect from the start.

You'll need to give it some time at the outset to learn what works best for your electrician PPC strategy, but once it does you can save time and focus on other aspects of your business while still getting the most out of your advertising spend!
extend your reach with performance max campaigns
One of Google's newer tools is Performance Max Campaigns. These campaigns use smart bidding to reach potential customers across multiple channels (YouTube, Gmail, Maps, etc.).

These campaigns are great for small businesses that have specific goals and limited resources. With Performance Max Campaigns you'll be able to reach more searchers than ever with a single campaign!

However, it's important to note that, as with Smart Bidding, these campaigns use automation and machine learning to reach potential customers. Because of that, they aren't going to be a good fit for every business.

By taking the time to research the mechanics of Performance Max, you'll be able to decide if this tool is right for you.
The Importance of Negative Keywords
The final piece of the PPC keyword puzzle is negative keywords, which are keywords that you're telling Google you absolutely do not want to pay for.

By including negative keywords in your PPC campaigns, you can make sure that your ads are only seen by people who are actually interested in what you're selling, and that means more clicks and more leads for your electrician business.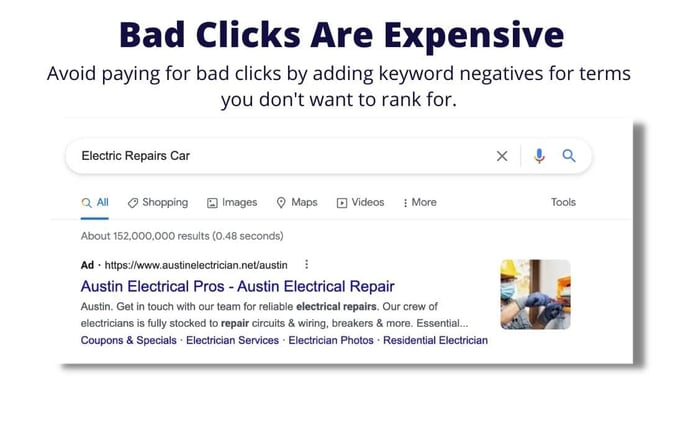 Think about it this way: if someone searches for "electric car repair," they're probably not looking for an electrician but rather an auto repair shop. By including "car repair" as a keyword negative in your PPC strategy you can make sure that your ad isn't shown to people searching for that term.

Negative keywords may seem like a small thing, but they can make a big difference in the success of your PPC campaigns. Don't overlook their importance—include them in your campaigns and watch your click-through rates (and your bottom line) improve.
Electrician PPC Reporting and Tracking
When it comes to PPC advertising, few things are as important as reporting and tracking. After all, how can you know if your campaigns are successful if you don't have any data to back up your claims?

That's where PPC reporting and tracking comes in.

By keeping track of key metrics like impressions, clicks, conversion rates, and spending, you can get a clear picture of how your campaigns are performing. And if you're not happy with the results, you can make changes to improve your ROI.

In short, reporting and tracking are essential for any electrician business that wants to run successful PPC campaigns. Fortunately, 91% of small businesses reported that they can easily track the success of their PPC campaigns, which means you can too!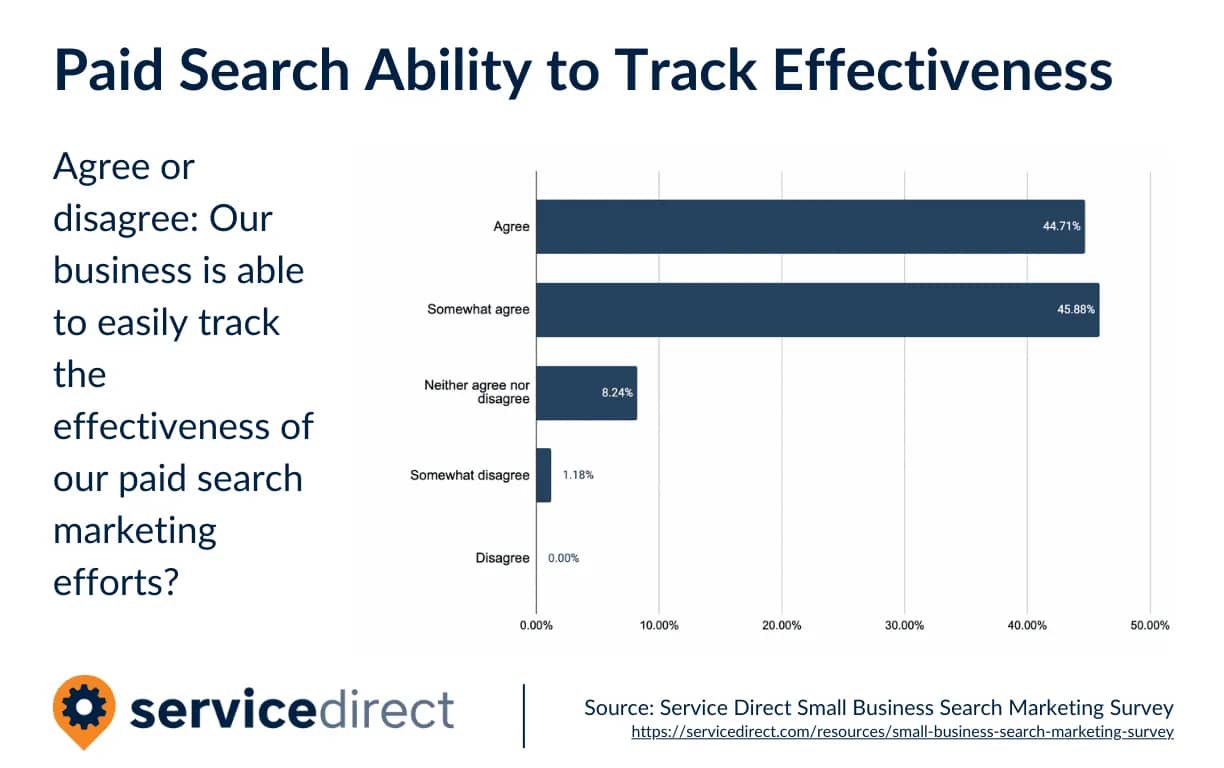 So if you're not doing it already, now is the time to start.
PPC Conversion Tracking
PPC conversion tracking is an essential tool for any business that relies on pay-per-click advertising to generate leads and sales.

By tracking conversions, you can accurately measure the return on investment for your electrician PPC campaigns and see which PPC ads are resulting in conversions.

By understanding which ads are working and which are not, you can save money and focus your efforts on more successful strategies. In addition, conversion data can be used to assess the effectiveness of different keywords and ad copy.

Ultimately, without conversion tracking, businesses would be flying blind, wasting money on clicks that don't result in sales. Fortunately, setting up conversion tracking is relatively simple and once it's in place, you can reap the benefits of improved campaign performance and increased ROI.
What About Quality Score?
Quality Score is a metric used by Google to measure the quality and relevance of your electrician PPC ads and landing pages.

A high Quality Score means that Google finds your ad to be relevant and useful to users, while a low Quality Score indicates that your ad is not as relevant or useful.

Google uses this metric to determine cost per click (CPC) on your PPC ads, as well as where your ad should be placed on the search engine results pages (SERPs).

In general, it is advisable to aim for a high Quality Score in order to get the most out of your PPC campaigns. Plus, the higher your Quality Score, the better your SERPs ranking, which is always a benefit for small businesses.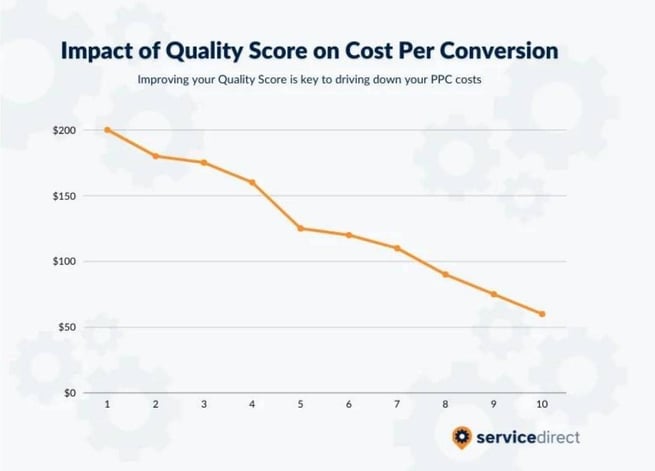 Service Direct results based on PPC campaigns we run for our in-house electrician traffic
There are a number of factors that contribute to Quality Score, including click-through rate (CTR), landing page quality, and historical performance. You can improve your Quality Score by optimizing your ads and landing pages.

However, it's important to remember that while Quality Score can be a great way to track ad success, it should not be the single metric you use to gauge performance.

Instead, we recommend using it supplementally alongside conversion tracking to see high levels of success.
3rd-party ppc tools
In addition to the tools provided by Google, there are a number of high-quality PPC tools from 3rd-party companies that can help you make the most of your strategy.

Plus, with nearly a 3rd of businesses not using external tools in their search marketing, this is an area where you can get ahead of the competition.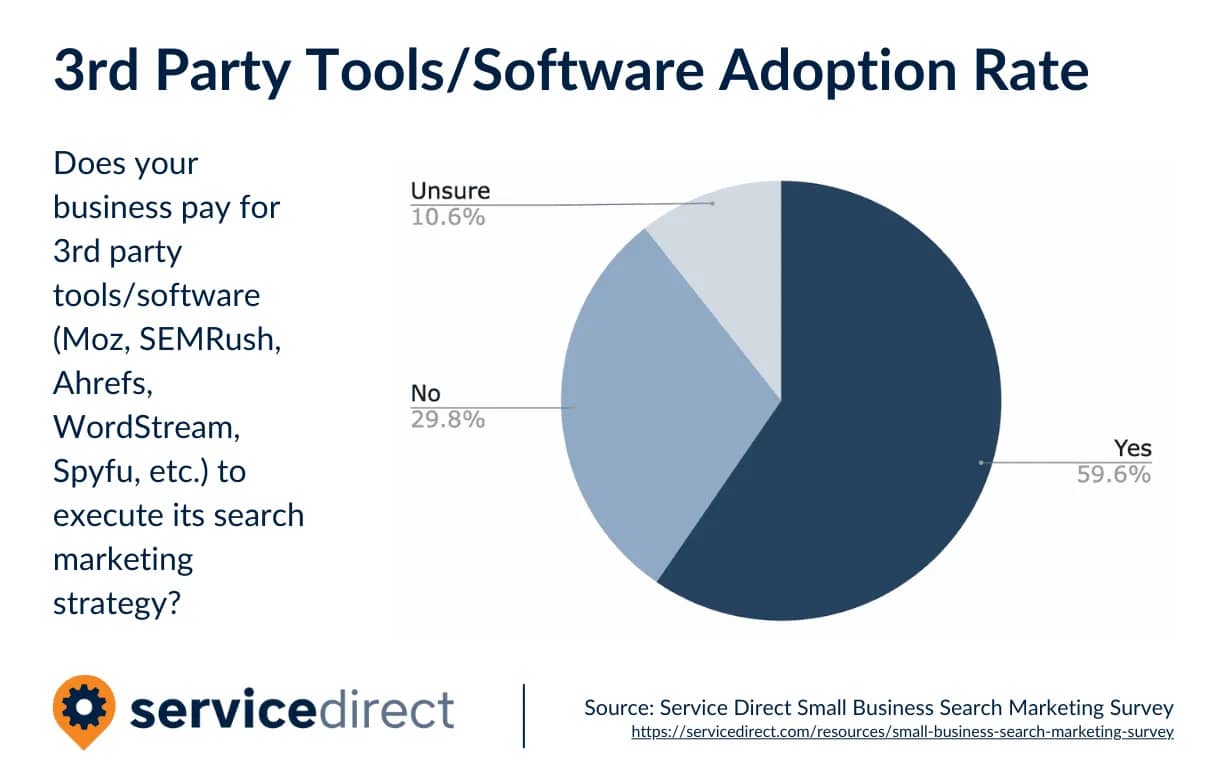 Types of 3rd-Party PPC Tools:
Management: The lifeblood of PPC advertising, these tools are what allow you to host PPC ads
Reporting: Tools that provide status updates and key metrics on your PPC campaigns so that you can adjust for improvement
Research: Keyword research tools that help you figure out which keywords are worth your time and money as well as what the competition is doing with their paid search
Landing Page: Tools that will help host or build landing pages for your PPC ads
Optimization: With the help of these tools, you can improve your ads quickly and easily for better performance
Attribution: These tools will allow you to know when a lead comes from PPC ads even if that person clicked away from the ad and came back through a different method
But, it's important to take your goals and budget into consideration when deciding which tools to use. No matter what your goals are, the right tools are out there for you—you might just have to use a little trial and error finding the best ones for your company.
Your Website Needs to Be Designed to Convert
Now that you've figured out keywords, budgeting, and tracking, your PPC ad campaigns are good to go, right? Well..not quite.

No matter how strong your electrician PPC strategy is, you are not going to see the influx of leads you desire if your website isn't high quality.

In fact, we found that having a bad website is worse than not having a website at all, so it's key that you take the time to create and maintain a quality website.

Your website is the foundation of your entire business, and it needs to be optimized to convert visitors into customers.

A strong website will have clear calls to action, relevant and targeted content, and a user-friendly design. It should also be mobile-friendly and fast-loading, as more and more users are searching on mobile devices.

If your website isn't up to scratch, your PPC campaign is likely to underperform.
Website Content and CTAs
Your website's content is one of the most important elements in determining whether or not a potential customer will actually make a purchase. After all, no matter how great your electrician services are, you won't make any sales if no one ever sees what you offer.

That's why it's important to make sure that your content is not only well-written and engaging but also useful and informative. Providing potential customers with the information they need to make an informed decision is essential if you want to convert people into actual leads.

And of course, once you've got their attention, you need to have a strong call-to-action (CTA) that will encourage them to take the next step.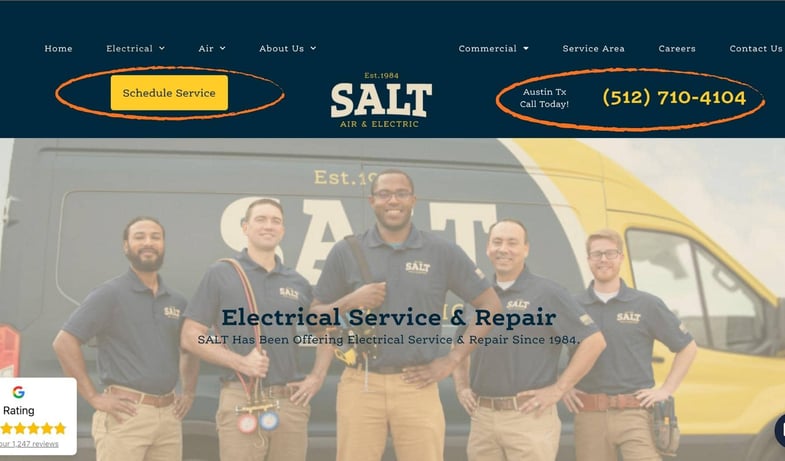 Source: callsalt.com
Whether it's filling out a contact form, calling your office, or directly making a purchase online, your CTA needs to be clear, concise, and easy to find on every page of your website.

By following these simple tips, you can ensure that your website's content is effective in both bringing in new visitors and converting them into paying customers.
Utilize Landing Pages to Improve PPC Conversion
Landing pages are a great way to boost your PPC strategy while also encouraging conversion.

It's recommended that you have keyword-rich landing pages dedicated to your PPC ads to improve conversion rates, and with 86% of small businesses using landing pages with their PPC strategy, you can't afford to drop the ball on this.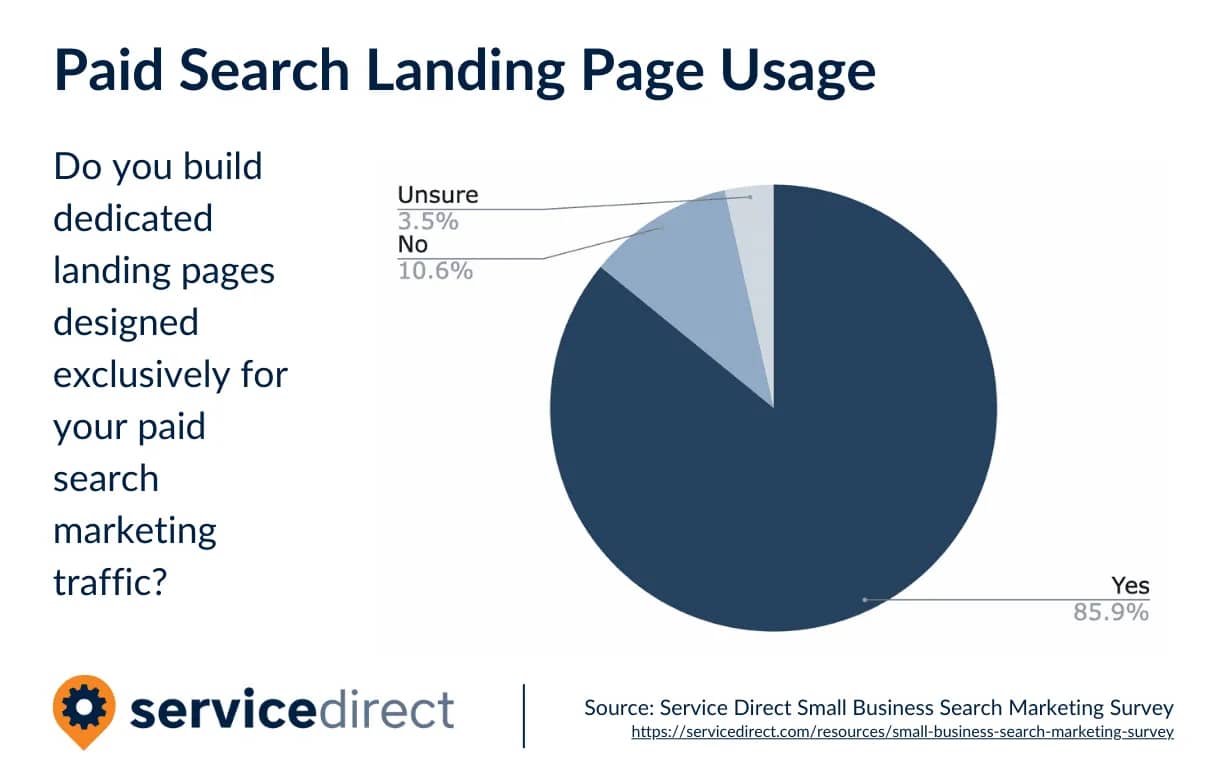 These pages provide a place for potential customers to learn more about the specific service you are highlighting with your ad, which helps to build trust and makes it simple for them to complete the key action, ultimately encouraging conversion.
LANDING PAGE EXAMPLES:
Emergency Electrician
Electrician Inspections
Electric Car Charger Installation
Generator Services
Renewable Energy Installation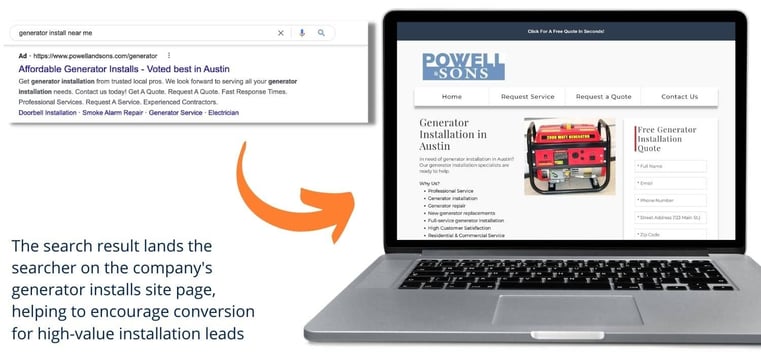 Source: powellandsons.com
Landing pages can also help to keep your PPC costs down by providing potential customers with more information on your product or services upfront. This way you're less likely to need to pay for clicks that don't result in a sale.

So if you're running a PPC campaign, make sure you have well-designed landing pages that can help you capture leads and conversions. It'll be worth it in the long run!
Website Performance
In today's fast-paced world, people are used to getting the information they need quickly and easily. If a website takes too long to load or is difficult to navigate on a mobile device, visitors are likely to click away in frustration.

This means that if your website isn't mobile-friendly, you could be losing out on a lot of business—66% of consumers primarily search for businesses on their mobile phones.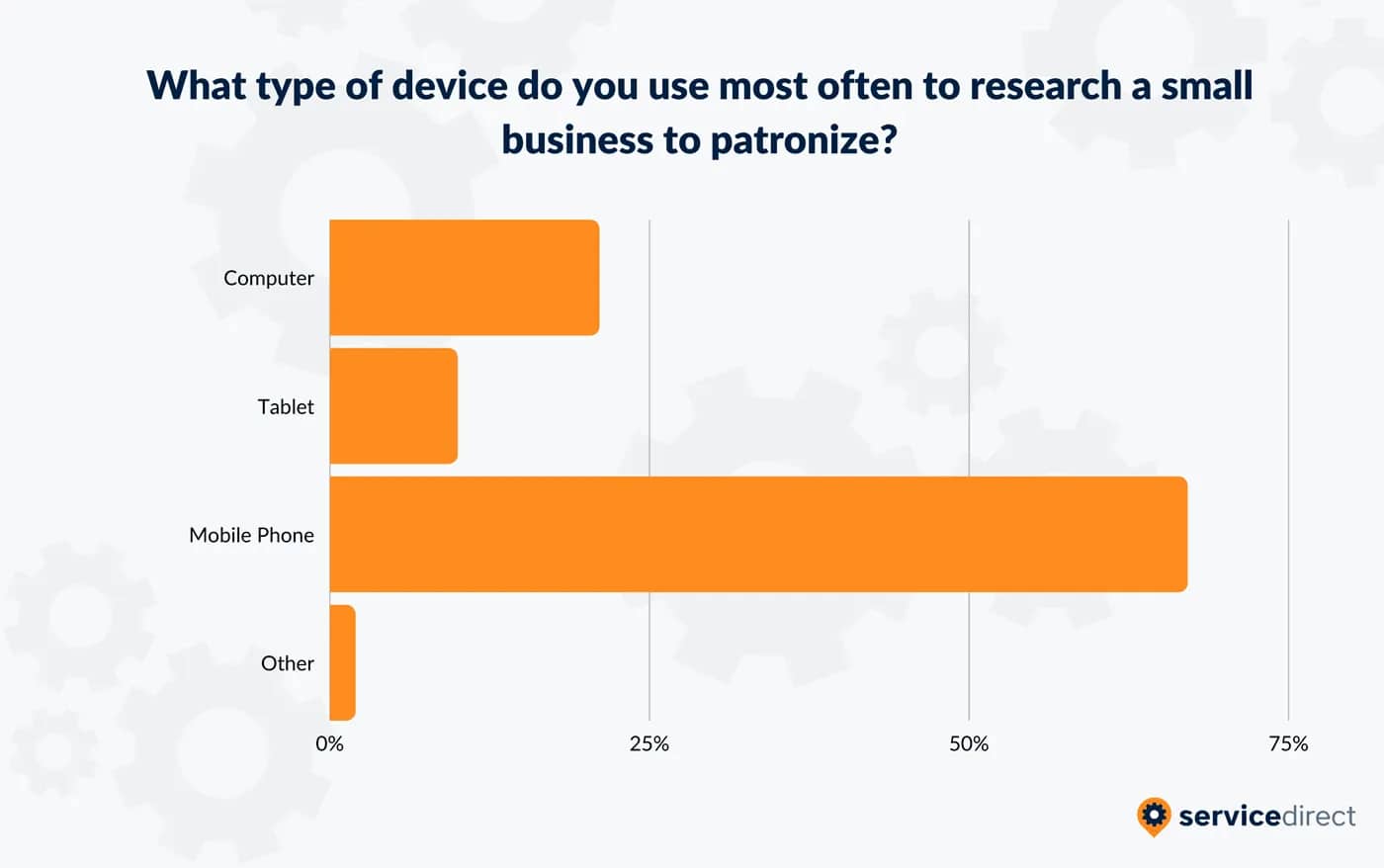 Not only do users expect websites to be easy to use on their smartphones and tablets, but they also expect them to load quickly.

Studies have shown that website conversion rates drop by an average of 4.42% with each additional second of load time, which means that speed is essential for conversion.

Plus, search engines are increasingly taking loading speed into account when ranking websites, so a slow site could end up buried in the search results, which is detrimental to small businesses.

Ultimately, by prioritizing your website's load speed and mobile optimization, you are more likely to convert site visitors into customers.
in conclusion
We hope at this point you can see how PPC can be a great way to get your electrician business in front of potential customers and drive more leads to your company.

By focusing on the basics such as keywords, budgeting, and tracking, you'll be well on your way to a successful electrician PPC strategy!

If you're looking for more information about how to create a winning PPC campaign, or have been wondering about other electrician marketing methods, download our free electrician marketing guide.

It's packed with tips and tricks that will help you get the most out of your budget and your time. Thanks for reading!
Related Content