January 23, 2023 by Service Direct
15 Best PPC Tools for Your Small Business
For a small business owner, pay-per-click (PPC) advertising is an effective method of driving sales and building your brand. The challenge is that creating, managing, tracking, and optimizing PPC campaigns require a lot of time and planning.
PPC advertising has also become more expensive, as more businesses compete for the same keywords.
To beat the competition, ease the processes of managing campaigns, and continue getting higher returns on ad spend (ROAS), several tools have been introduced into the market. In this post, we will cover 15 excellent PPC software options for small businesses.
We'll list the functionalities, key features, and pricing of each one, grouped into different use cases to make it easy for you to pick the one that's best suited for your need at any point in time.
Benefits of Using Third-Party PPC Tools
Our recent Search Marketing Survey revealed that 30% of small businesses that do PPC marketing don't use any third-party tools.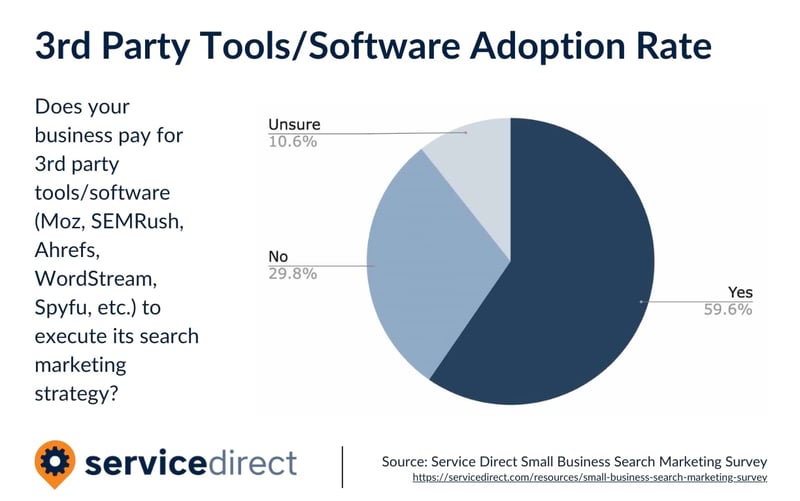 If you fall into this category, you may ask about the benefits of using third-party tools. Here are a few of the most important benefits these tools can offer:
Strategy and planning made easy
Before starting a PPC campaign, the best thing to do is to map out a strategy based on competitor research and keyword research.
However, because this can be a time-consuming and challenging endeavor, small business owners often default to guesswork, which limits their campaigns' effectiveness and their ultimate return on investment (ROI). With the appropriate tools, researching and planning out your PPC campaign will not only be easy but also data-driven, resulting in better ad performance and more inbound leads.
Insights beyond the usual
While ad managers and networks provide reports about campaign performances, they are usually generic and heavily focused on impressions, clicks, and conversions.
If you want to track your customers' journey from the first point of contact to conversion, you need a third-party tool. The advanced, in-depth reporting offered by many third-party tools can allow you to fully optimize your strategy. For example, by identifying the PPC channel bringing you the highest ROI so that you can pump more money into it.
Types of PPC Platforms for Small Businesses
PPC tools fall into several categories based on their primary functionalities. This post covers six, along with a few popular examples of the types of software and an explanation of how they can take your PPC strategy to the next level.
PPC Management Tools
These are the tools that allow you to create, track, and modify pay-per-click campaigns. They facilitate the purchase of digital ad space on their personal properties as well as third-party partner websites. The popular PPC management tools we talk about in this post include Google Ads, Microsoft Ads, and Yelp Ads.
Google Ads
Formerly called Google AdWords, Google Ads used to be the sole PPC software for small businesses. Through the tool, you can drive quality traffic to your website, get leads to call you, and even drive footfall to your brick-and-mortar store. The platform allows you to set up a budget for your campaigns and ensures you never pay more than that.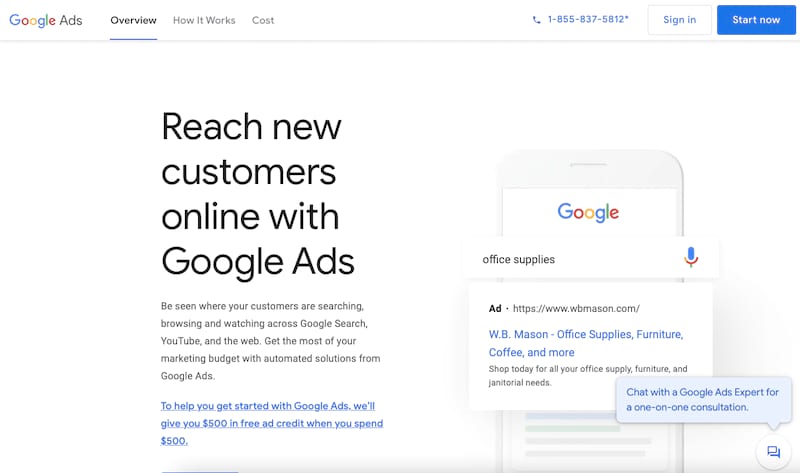 Some of the kinds of pay-per-click ads you can run on the platform include search, display, video, and app. The digital spaces your ads can be seen include Google search engine results page (SERP), Google Maps, Gmail, YouTube, and Google-partnered apps and websites.
Key Features of Google Ads:
Supports numerous ad types, including responsive search ads, static, dynamic, product shopping, and more
Allows ad scheduling
Facilitates campaign experiments
Allows access to multiple bid settings
Supports targeting based on demography, topic, audience, device, and more
Smart technology for ad optimization
Provides reports and insight.
Pricing:
Flexible. You set a budget and only pay for specified ad results like clicks to your website or calls to your business.
Microsoft Ads
If you want to advertise to people on Bing, Yahoo, and MSN, Microsoft Ads is the ad network to use. According to Comscore qSearch and Microsoft internal data, you can reach 724 million monthly unique searchers on the ad network. Audiences on Microsoft Ads are considered to have higher purchasing power than competing networks. Therefore, if you sell your offer at a premium, you should consider using the platform.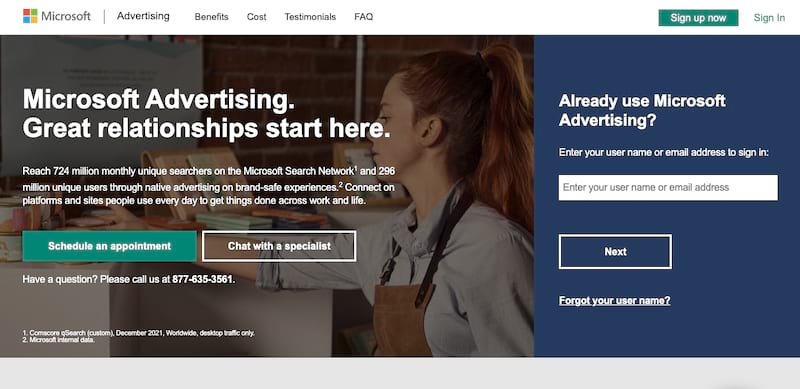 Also, if you run a business in the United States, this ad network is the best way to connect to 49 million searchers in the U.S. that Google can't reach. Like Google Ads, the platform supports running ads based on budget, and you only pay for clicks.
Key Features of Microsoft Ads:
Allows import of campaigns from Google Ads and Facebook Ad
Supports local and global advertisements
Easy campaign performance tracking
Easy budget tracking
Gives insight useful for campaign optimization
Pricing:
Flexible. You only pay for clicks.
Yelp Ads
Although Yelp isn't as popular as Google and Microsoft, the platform's 145 million monthly users are people actively seeking and reading business reviews, meaning they have a higher potential for business conversion. In fact, according to a Nielsen study, 4 out of 5 Yelp users are ready to buy—and that is the reason you should take your PPC campaigns to the platform.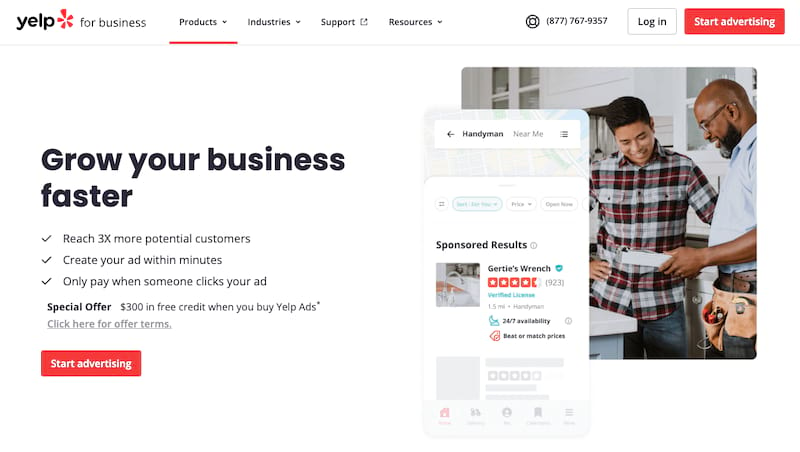 As for planning and creating ads on Yelp, it is easy. All you have to do is to upload a photo and add some text, and the platform's algorithm will optimize the ads for you. This is similar to using AI to generate content.
While setting up ads, you are at liberty to choose your objective. This can be having people call or message you directly, sending traffic to your website, or opening up a map for directions to your store.
On Yelp, you don't pay for impressions, and when you buy ads, you will get $300 in free credit.
Key features:
Easy and customizable ads
Ad creation based on goals
Supports keyword and location targeting
Allows budget management
Pricing:
Pricing on Yelp is based on the budget.
PPC Tools for Reporting
If you're like most people, after setting up and running a campaign, you want to measure its success or failure. This measurement can be done directly on the PPC management tools. However, to dig deep into the data and get more valuable insight, you need another set of PPC software for small businesses called PPC reporting tools.
Google Looker Studio (Formerly Google Data Studio)
The tool allows you to convert raw data from your advert into informative reports displayed on a dashboard. Through Looker Studio, you can pull data directly from the Google advertising platform, and with connector apps, you can pull data from non-Google advertising platforms such as Facebook, Microsoft, and more.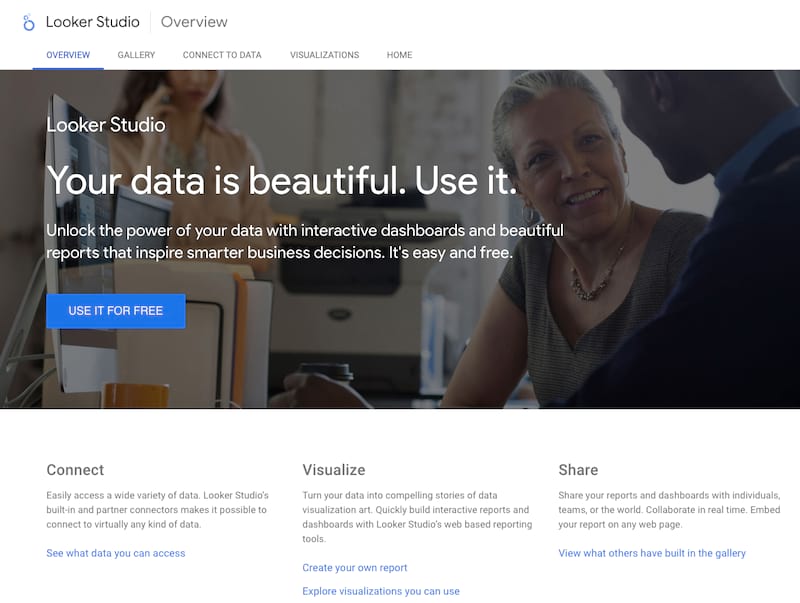 The biggest advantage of using this tool is that it makes it easier to review your online campaign reports from one spot—instead of jumping from one ad network to another. Moreover, Looker Studio reports are the reports you want to share with your non-tech-savvy co-founders and investors, as the reporting interfaces of most ad networks can be too confusing for non-experts.
Key Features:
Supports data visualization true customizable charts and tables
Provides easy connection to varieties of data sources
Supports team collaboration
Speeds up of reporting process
Pricing:
Looker Studio is free for individuals and small teams. However, connector apps that allow you to pull data from non-Google Ads platforms sometimes cost money based on the amount of data you are transferring.
Google Analytics
This tool is used by millions of webmasters over the world to analyze their website performances. From the Google Analytics platform, you can see the number of visitors using your website, the source of your traffic, and other vital information about your website usage.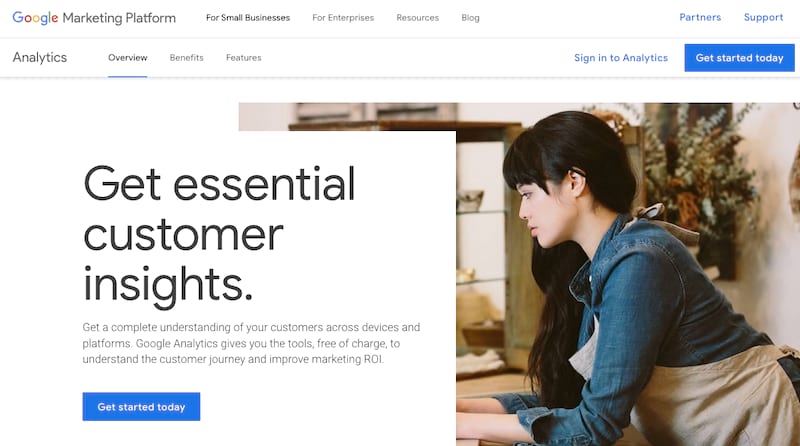 Image Source
PPC reports are also available on Google Analytics. You can easily see them on the acquisition tab.
Key Features:
Provides real-time reporting
Displays acquisition and engagement reports
Provides insights into user behavior and future actions
Pricing:
Google Analytics is free for individuals and small teams.
HubSpot
HubSpot is more than a PPC reporting tool. It is known for its numerous marketing technology offerings and for being a great lead management software platform. In terms of PPC reporting, its customer relationship management (CRM) platform lets you tie your PPC campaigns to actual sales.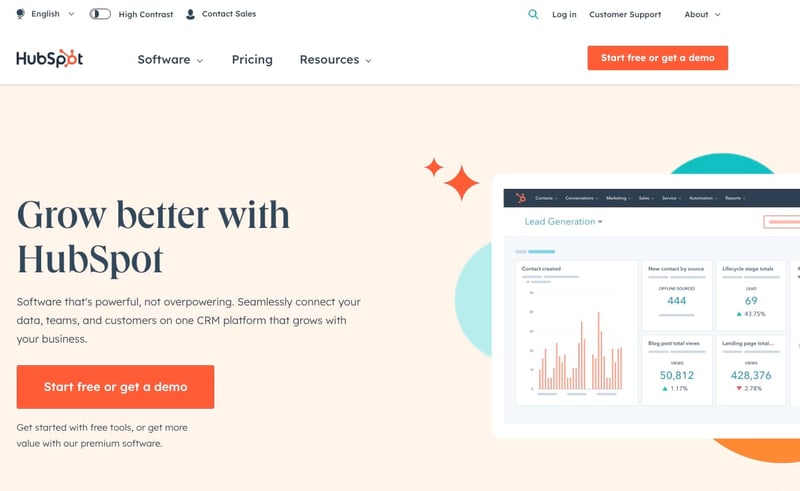 Image Source
Key Features:
Website activity tracking
Email integration and tracking
Insight and data reporting
Sales automation
Lead scoring and forecasting
A/B testing
Pricing:
Starter: $45/month (billed annually)
Professional: $1,600/month (billed annually)
Enterprise: $5,000/month (billed annually)
PPC Research Tools
Competitor and keyword research are the keys to a successful PPC campaign. Through research, you can determine the keywords your competitors are bidding for, as well as the keywords that can drive traffic and increase your sales. PPC research tools will be of help here.
Google KW Planner
Keyword Planner is a keyword research tool developed as part of the Google Ads manager platform. With the tool, you can generate keyword ideas for your campaigns.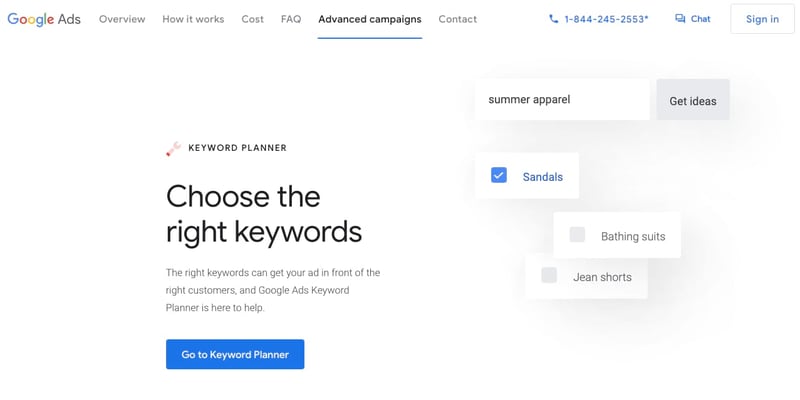 Image Source
You can also find information like how often certain keywords are searched and similar usage trends to help you hone your keyword strategy. Suggested bid estimates for keywords are also given so that you can determine your budget.
Note that Keyword Planner is only available in Google Ads expert mode. If your current Google Ad setup is in smart mode, switch to the expert mode to have access to the tool.
Key Features:
Helps with keyword ideas and discovery
Shows monthly search volumes
Provides data about keyword cost
Facilitates campaign creation based on in-depth keyword research
Pricing:
Google KW Planner is 100% free.
Spyfu
This is the tool you need if you want to see the organic keywords and PPC keywords that are bringing traffic to your competitors' websites. The tool also shows backlinks pointing to their websites, giving you a clear look at where their traffic is coming from.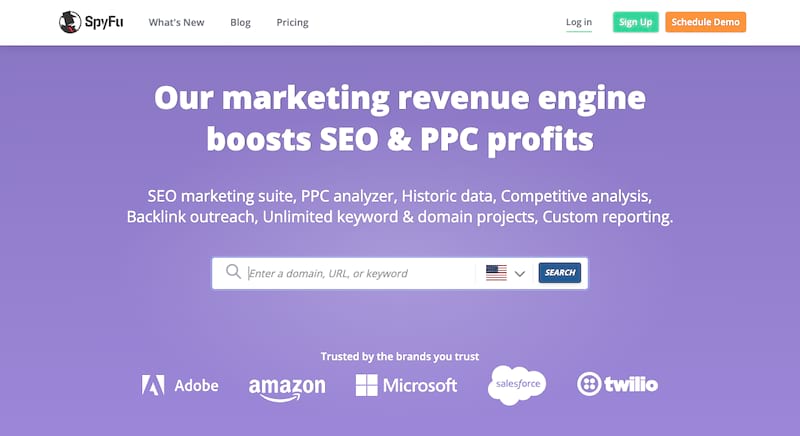 Image Source
Key Features:
Keyword research
Competitors analysis
Search engine result page (SERP) tracking and analysis
Backlink tracker and builder
Domain comparison
Pricing:
Basic: $39/month (billed annually)
Professional: $79/month (billed annually)
PPC Landing Page Software
For most businesses, the PPC goal is to drive traffic to a landing page–a separate page from the business's standard website designed to provide compelling information about their products or services. The relevance between the content on this page to the messaging in the ads plays a significant role in the cost of acquisition.
Ad networks such as Google Ads provide a Quality Score metric of this relevance, and the higher the score, the better and cheaper your ad. In line with this, the next set of PPC software for small businesses to consider are landing page builders.
Leadpages
This tool makes it easy to build websites, landing pages, pop-ups, embedded forms, and more, all without any complex coding knowledge. The platform's drag-and-drop builder facilitates an intuitive design of a landing page, and with its mobile responsive templates, you don't have to worry about your landing page not looking good on mobile and tablet devices.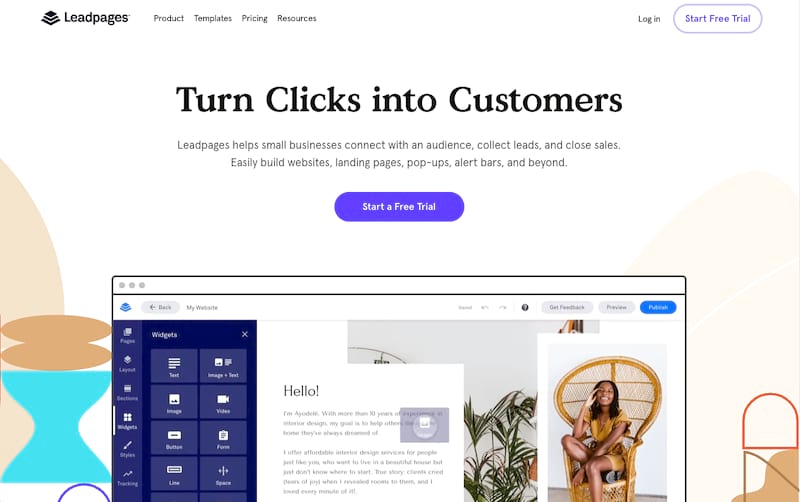 Image Source
Key Features:
Intuitive drag-and-drop user interface
Fast loading speed
Search engine optimized
Image library
A/B split test
Real-time conversion tips
Tracking and third-party analytics
Support integration with marketing applications such as Facebook, MailChimp, Google Analytics, Salesforce, etc
Lead form builder
Lead backup and export as CSV
Pricing:
Standard: $37 (billed annually)
Pro: $74/month (billed annually)
14-day free trial
Unbounce
If you build a lot of landing pages for your pay-per-click campaigns, consider using Unbounce. The platform lets you build landing pages twice as fast as other builders. Beyond building landing pages, the platform also leverages generative AI to help with copywriting.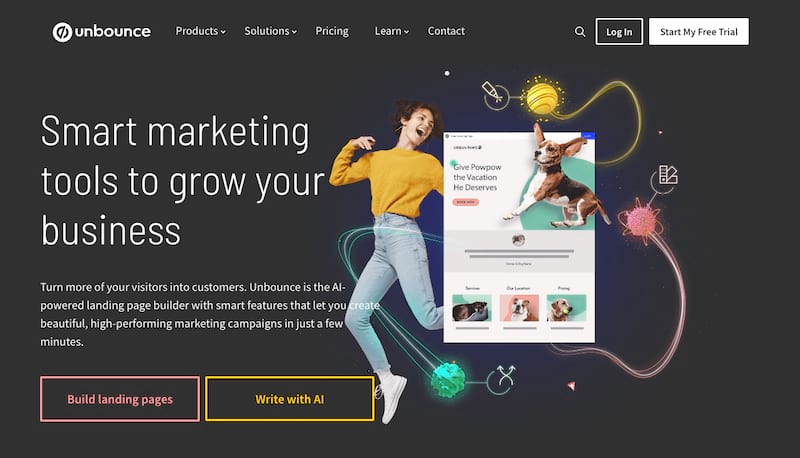 Image Source
Key Features:
Offers template for landing page design
Mobile responsive design
Design assistant
Copy assistant
Direct domain publishing
A/B testing
Visitor attribution
Chrome extension for sentence paraphrasing and rewriting
Pricing:
Launch: $81/month billed annually
Optimize: $122/month billed annually
Accelerate: $203/month billed annually
Concierge: $518/month billed annually.
14-day free trial
PPC Campaign Optimization Software
After you have set up a PPC campaign, it is essential you monitor and track performances, so that you can tweak when needed. For full-time PPC marketers, doing this is not a big deal, as running and optimizing pay-per-click campaigns are their main job. As a small business owner, on the other hand, you don't have the time to constantly track and monitor your PPC campaigns.
The next category of PPC software for small businesses includes tools that can help you optimize and automate your PPC campaigns.
Adalysis
This tool helps you to automate Google Ads and Microsoft Ads. It works by letting you import your ad accounts from the two ad networks, and provides you with insight and improvement ideas on a daily basis. You also get to implement recommendations.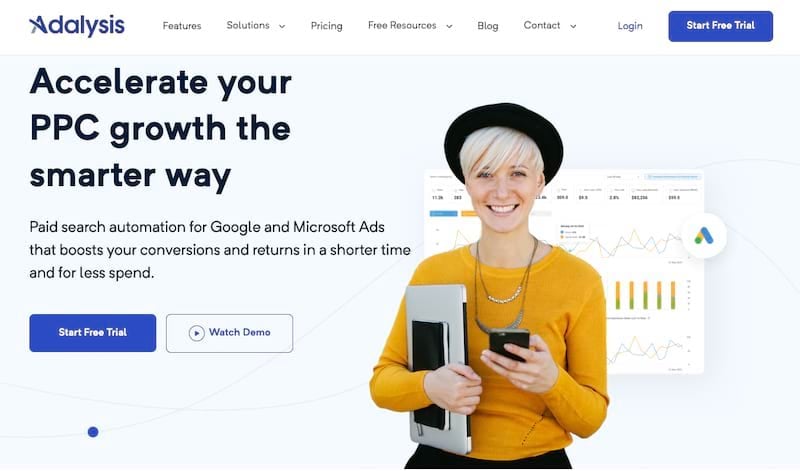 Image Source
With Adalysis, you don't need to constantly monitor the quality of your PPC traffic and adjust bids to stay competitive. The platform does this for you automatically, and can also help with experimenting with ad formats and automatically optimize for the best formats.
Key Features:
Keyword research tool
Landing pages and web forms
Advertising management
Budgeting and bid management
Campaign planning, scheduling, segmentation, and analytics
ROI tracking
Engagement and conversion tracking
Data visualization
URL builder
Performance metrics
Pricing:
This is based on your monthly PPC ad budget, starting at $84/month for a $50k budget and ranging up through $424/month for a $500k budget. You have a 14-day free trial on all pricing plans.
Clickcease
Have you heard about ad fraud? It is the practice of manipulating ad impressions, clicks and conversion data for financial gains, wasting advertisers' money in the process. This is usually done by individuals or bots deliberately clicking on pay-per-click ads, and according to ClickGUARD, businesses across the globe were expected to lose $44 billion to ad fraud in 2022.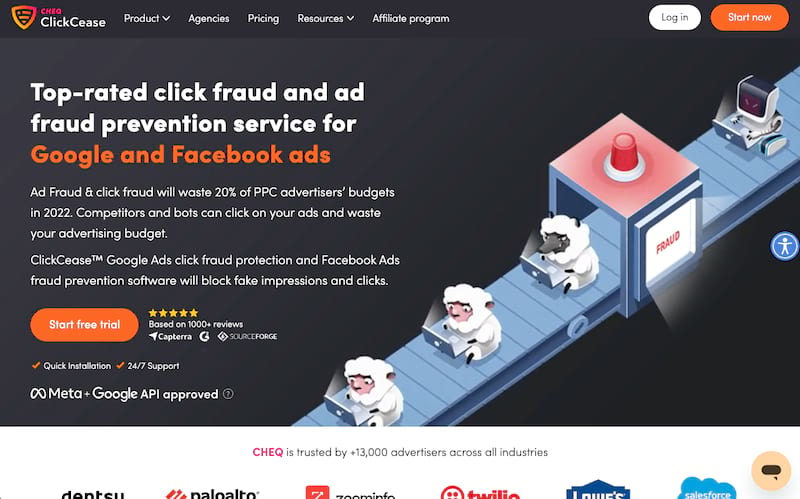 Image Source
This is where Clickcease comes in. The platform helps you to automatically block invalid clicks on your Google Ads, Microsoft Ads, and Facebook ads. It does this by detecting and blocking fraudulent IPs automatically.
Key Features:
24/7 campaign monitoring
Site recorder
Automated, real-time fraudulent IP blocking
In-depth traffic insight
Works with major content management systems (CMS) and ad platforms
GDPR & CCPA compliant
Pricing:
Standard: $55/month (billed annually)
Pro: $71/month (billed annually)
Advanced: $87/month (billed annually)
7-day free trial
Tenscores
This tool helps you to lower your cost per acquisition by integrating with your Google Ads manager and providing feedback that will improve your ads' Quality Score.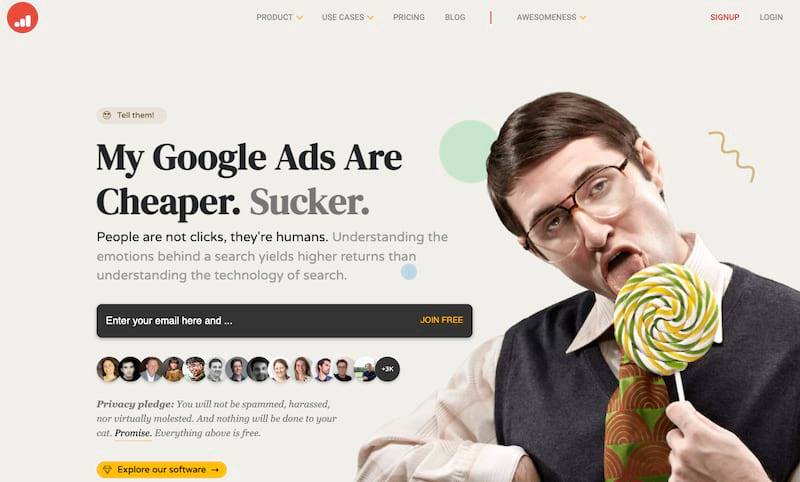 Image Source
Key Features:
Provides insight about Google Ads copy
Improves Quality Score
Pricing:
Starter: $25 per month
Professional: $165 per month
Enterprise; $999 per month
14-day free trial
PPC Attribution Tools
When running online campaigns, it usually happens that some people click on your ads but don't convert immediately. These people later return to your website in the future to complete the conversion process, and it is difficult to link the conversion to your ads click. In this scenario, most of the PPC software for small businesses that we have already discussed can't help. PPC attribution tools are the tools designed for this situation.
Dreamdata
This attribution tool helps you gather, join, and clean your revenue-related data to get actionable insights into the campaigns that lead to conversion and revenue. It allows you to dive deep into every aspect of every channel, campaign, and experiment and rapidly improve your ROI. Dreamdata is best suited for B2B marketing.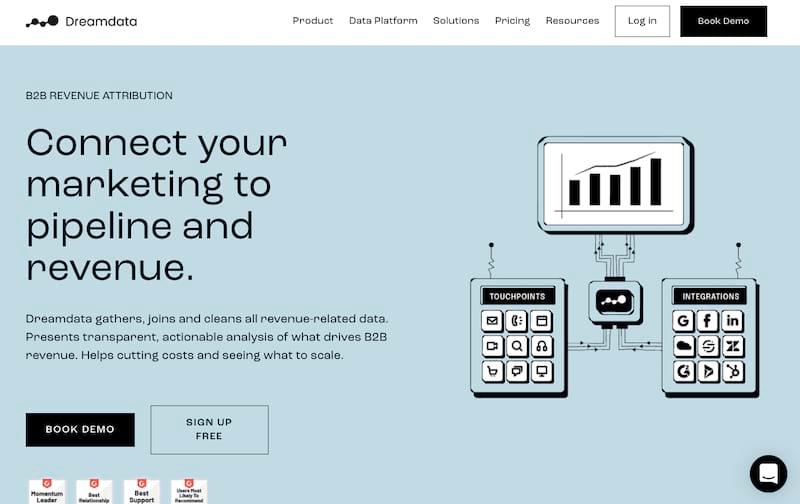 Image Source
Key Features:
Allows you to track every customer journey
Provides insights into marketing and sales funnel
Enables in-depth understanding of PPC campaigns as related to revenue generation
Content marketing attribution to conversion is also supported

Pricing:
Free for personal use
Team: $999/month
Business: Support team needs to be contacted.
Segment
Segment isn't strictly a PPC attribution tool. However, it is added to this list because it makes it easy to send attribution data across all customer stacks. The tool also helps with customer identity resolution, by unifying customer touch points across all platforms and channels. With Segment, it becomes very easy to fully understand your customers' journey, which plays a key role in increasing customer lifetime value.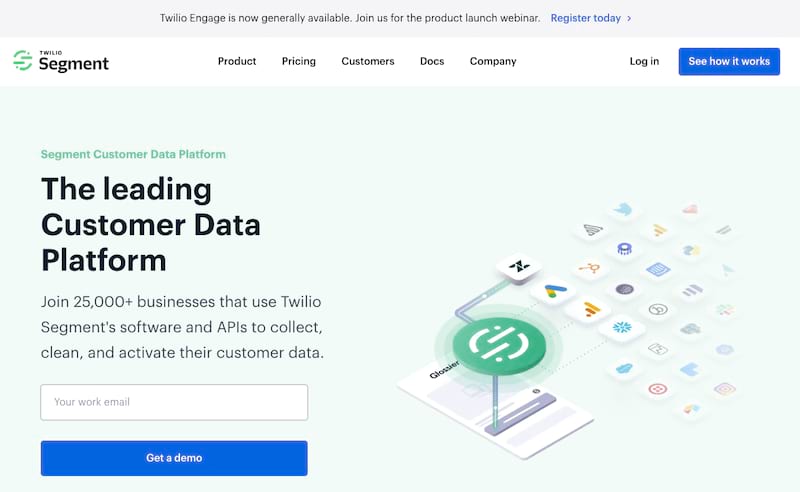 Image Source
Key Features:
Data Modeling
Workflow management
Dashboards and visualizations
Data distribution and unification
Data sourcing
Data enrichment
Marketing metrics
Pricing:
Free: $0/month
Team: Starting at $120/month
Business: Support team needs to be contacted
Conclusion
As you can see, based on their functionalities and features, the above-listed PPC software for small businesses are extremely useful. By adding them to your arsenal of PPC tools, you would be buying yourself more time to focus on running your business and building your brand while giving yourself an edge over your competitors. To get started, we suggest you take advantage of the free trials.