August 02, 2023 by Service Direct
5 Great Pest Control Marketing Agencies
Customers are the lifeblood of your Pest Control business. Without them, you simply would not have a business anymore. In order to maintain a steady flow of new customers, you need to be marketing your business.

Unfortunately, being a pest control expert doesn't make you an expert in digital marketing for pest control. Creating a high-quality Pest Control marketing plan is no small task. It can involve designing a professional website and implementing search engine optimization (SEO) techniques to ensure people can find it. Marketing through social media and running email marketing campaigns are also both integral parts of a complete marketing plan. It's a lot to manage, which is why we put together this comprehensive Pest Control Marketing Guide to help small businesses get started. Even so, this can be an intimidating undertaking for inexperienced marketers.

That's where specialized digital marketing agencies and related businesses come in. They work with service businesses like pest control companies, handling the marketing side of things so that they can focus on their core business. In your case, pest and rodent prevention and removal.

In this article, we'll cover 5 of the best marketing agencies for pest control businesses hoping to bring in new customers through digital channels. By looking at their unique strengths and areas of focus, we hope to give you a clear understanding of what's available to you and which might be the right fit for your pest control business.
Why Should Digital Marketing Matter to Pest Control Businesses?
But first, let's get one thing clear: whether you opt to partner with a marketing company or handle it all in-house, it is absolutely critical that you do some form of digital marketing for your pest control business. The internet now plays a central role in most people's lives. As the primary source of information for many of your potential customers, it is a critical piece to any effective marketing strategy.

The primary goal of marketing strategies like SEO, social media, and pay-per-click is to make your business easier to find for the 66% of consumers who use the internet to research small businesses.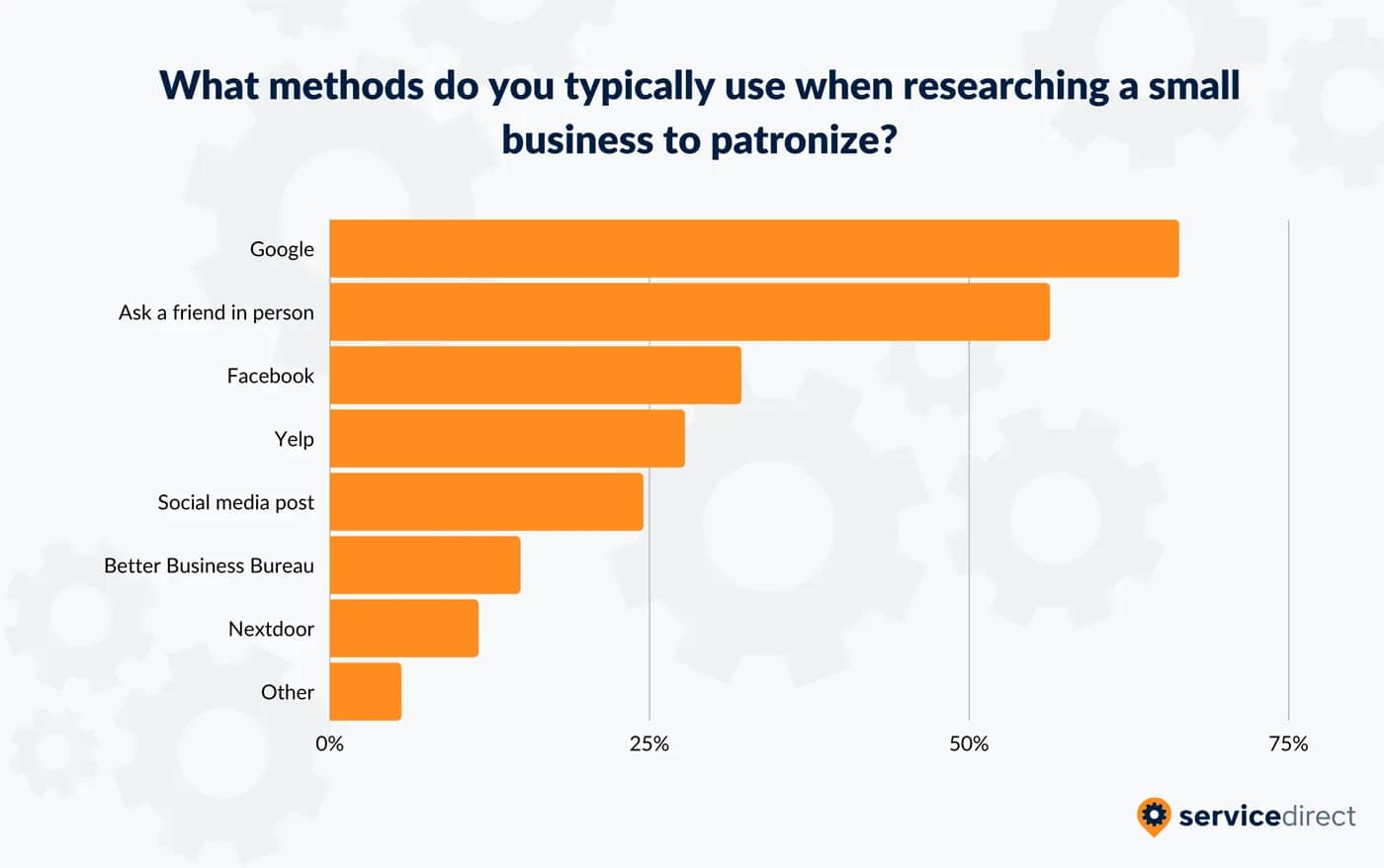 With digital marketing, your Pest Control company can reach a wider range of potential customers, while also targeting audiences who are more likely to need your services, making for a marketing strategy that is as efficient as it is effective.

Now that we've established the opportunities quality digital marketing affords Pest Control businesses, let's get into some of the marketing companies that can help you ensure your Pest Control business takes full advantage of everything digital marketing has to offer.
1. Thrive Agency
Best for: Data-driven strategy focused on creating and leveraging optimized content. Thrive Agency improves engagement and conversion rates on all content, including social media, making them a good fit for Pest Control businesses seeking to boost brand authority.



With content that is visually engaging, informative, and effective at bringing in new customers, Thrive Agency helps Pest Control companies establish themselves as subject matter authorities, leading to better SEO and brand awareness. They use clear metrics and performance indicators to ensure they are delivering satisfactory results.
2. Rhino Digital Media
Best for: Building credibility and brand recognition through targeted backlinks and inclusions on directories. Rhino Digital offers full-service inbound marketing and website design services, with a focus on expanding the online presence of their clients.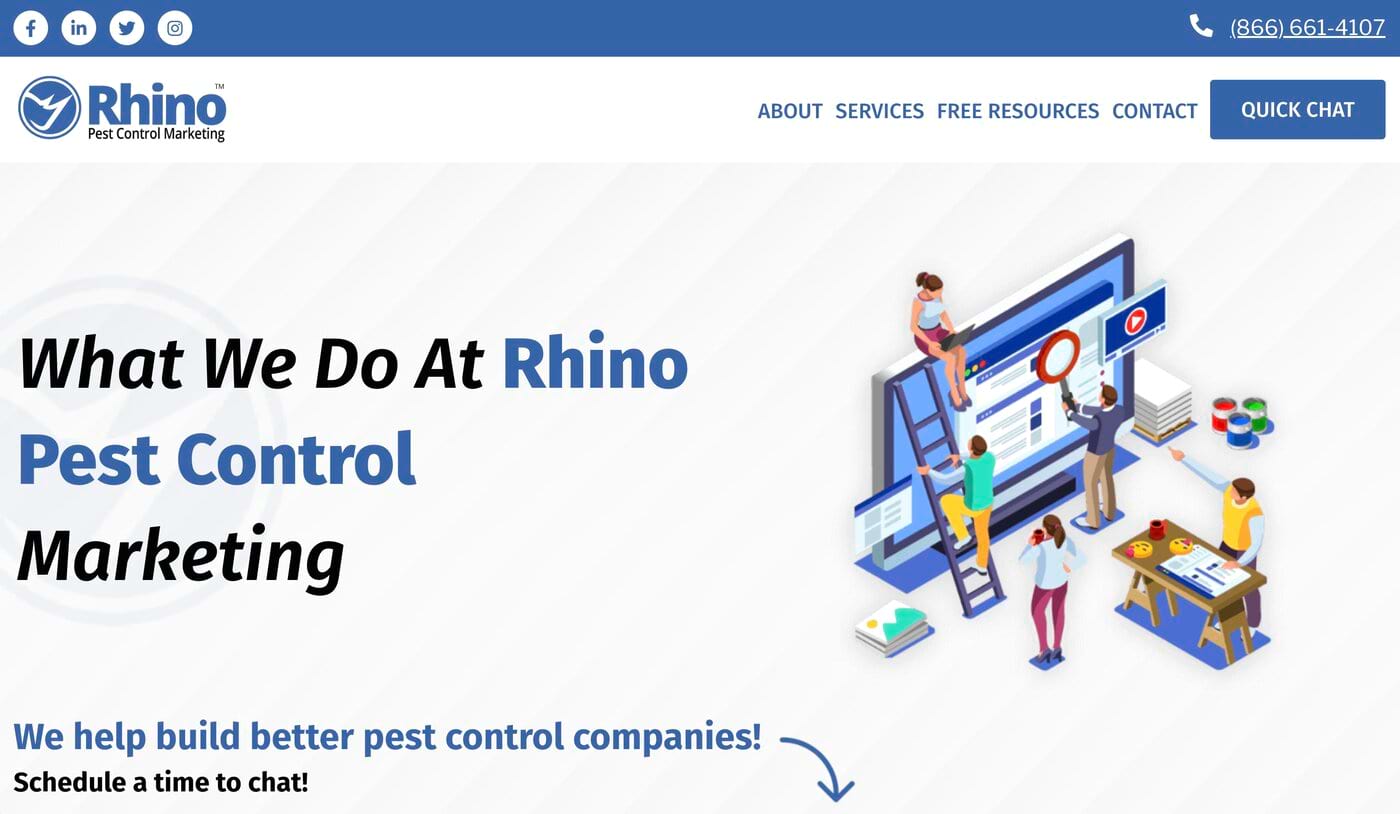 Image Source
Whether you're looking to build up a brand from scratch or develop a pipeline of new customers, Rhino Digital Media, Inc. has the experience and the tools to get it done. Since 1994 they've focused on providing marketing solutions to small and medium-sized businesses. For pest control companies looking to expand through marketing, they are an excellent choice.

By starting with an audit of any existing marketing efforts, including your website, content pieces, SEO, and more, Rhino gets a feel for your business and hones in on your unique brand. From there, they partner with your team to leverage popular marketing channels and tools to build an effective marketing strategy, tailored to your company's needs.
3. Service Direct
Best for: Supporting marketing efforts with a performance-based model of lead generation that sends high-quality exclusive leads directly to your business. Service Direct's pay-per-lead model offers transparency and measurable results.
Time for a little self-promotion – we are talking about how to promote your small business, after all. Call it bias, but we believe that almost every Pest Control business stands to benefit and can see growth through Service Direct's offerings.

Service Direct delivers high-quality leads to our Pest Control customers across the country with consistency and transparency. We operate on a pay-per-lead model, we only offer exclusive leads, and you only pay for calls from real potential customers who are actively looking for Pest Control services.

We also offer campaigns custom-made for your Pest Control company, designed to boost revenue growth and expand your reach. You'll get insightful input from real-time reporting and our expert team of support technicians. At Service Direct, we aim to be a partner in your success.
4. Coalmarch by Workwave
Best for: Expanding audience reach and improving conversion rates. Coalmarch aims to make a lasting impact on your business as a whole rather than delivering quick but ultimately fleeting wins.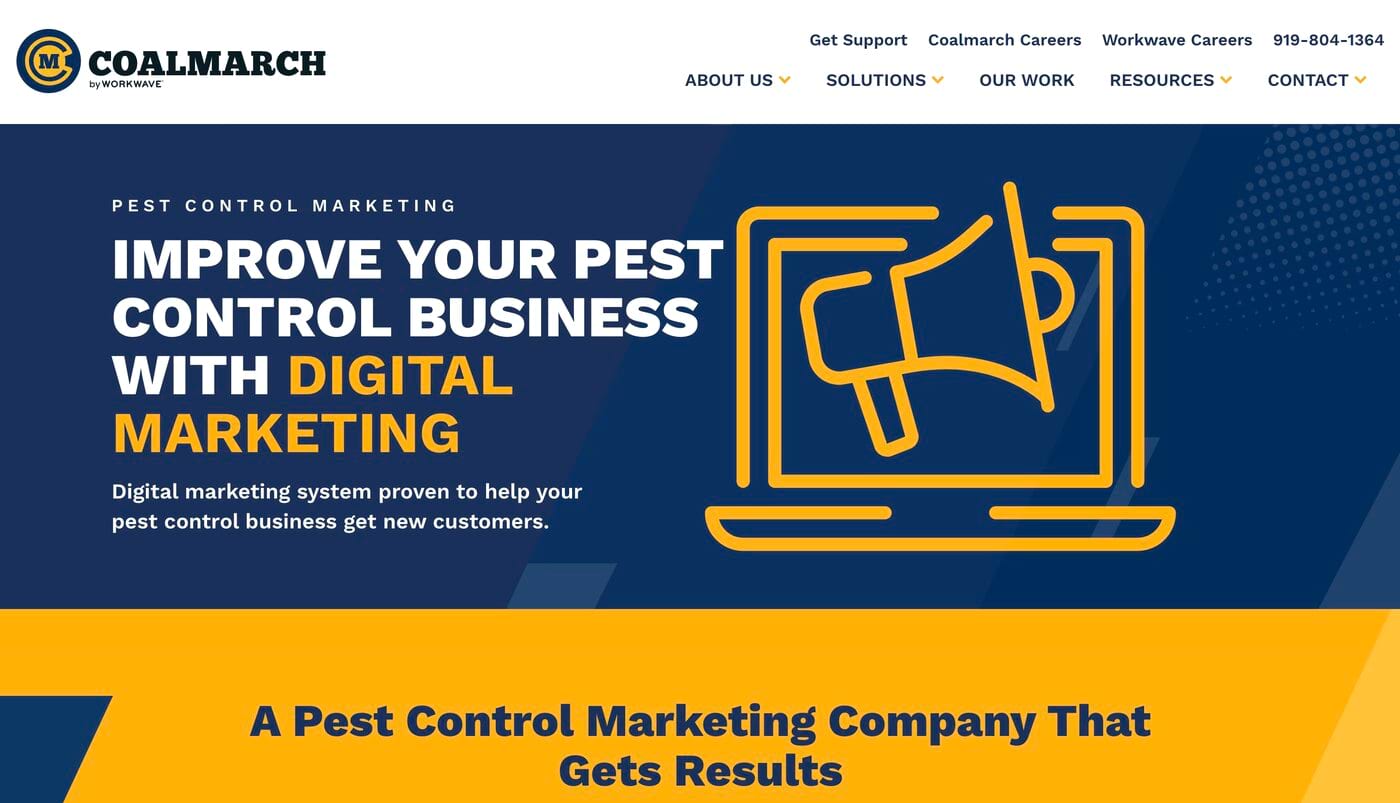 Image Source
With strong roots in the pest control industry, Coalmarch by Workwave is heavily invested in helping their clients achieve long-term success through a time-tested digital marketing strategy.
Coalmarch is built on a series of products that work together to create a powerful and cohesive platform where you can handle all of your digital marketing endeavors.

This system provides useful, actionable insights into the success of your marketing efforts, with a particular focus on ROI.
5. Proecho Solutions
Best for: Getting expert marketing input while maintaining full control. Proecho encourages you to set your own business marketing goals and works with your team to develop and implement a strategy that will help your reach them.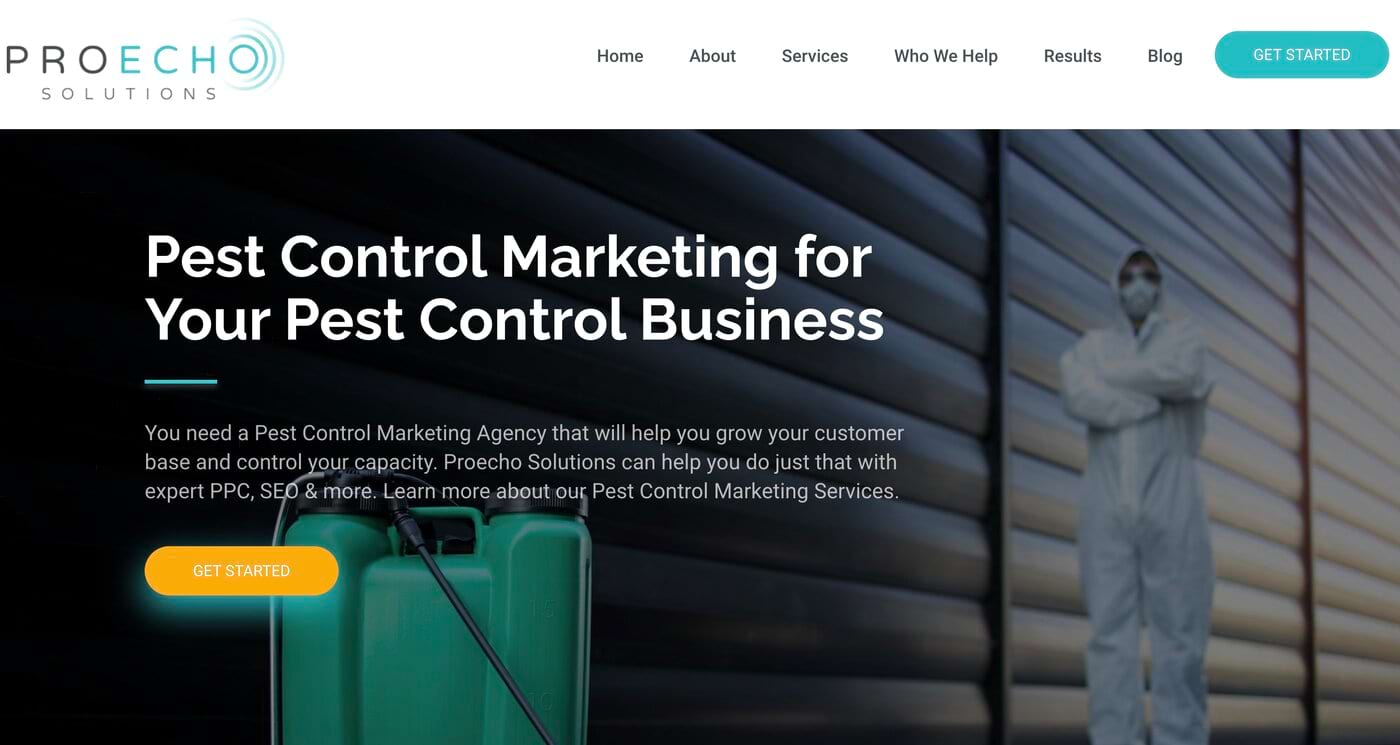 Image Source
Whether you're looking for help creating a strategy, growing your business, or developing your brand, Proecho Solutions has something for you. They deliver a data-informed approach to not only determining the optimal method for your unique business but to enacting that strategy.

Proecho specializes in expanding their clients' reach into new online audiences through content and social media marketing designed to improve your Pest Control company's brand visibility. Their marketing experts ground all their work in proven SEO tactics, and are leveraging AI tools to improve efficiency.
Conclusion
Pest Control digital marketing is now a critical aspect of running a successful Pest Control business. The digital world is complex and ever-changing, and selecting the right marketing agency to help you navigate it to reach your goals is crucial.

These 5 businesses represent some of the best options out there for Pest Control businesses looking to thrive and bring in new customers from the new digital world. Between your Pest Control know-how and their marketing savvy, your business will be on the road to sustained success.

Even if none of these is the right fit for you, we hope this article has helped you get a better understanding of what's out there and what's important to your company's marketing efforts. If you're interested in learning more about the specifics of marketing for Pest Control companies, check out our comprehensive Pest Control Marketing Guide.
RELATED ARTICLES