May 27, 2021 by Molly Weybright
Choosing A Pay Per Lead Company For Your Auto Service Business
Whether your auto services company has been in business for over a decade or is just at the outset, lead generation can be an invaluable resource for widening your customer base. If you are deciding to venture into lead generation for the first time or your auto service business has been previously unsuccessful working with pay per lead, you want to make sure the new lead generation company fits with your goals. By asking specific, pointed questions you should be able to adequately evaluate the companies you're considering and ensure your auto services company enters into a successful lead generation partnership.
Questions To Ask When Evaluating A Lead Generation Service

There are many ways in which lead generation companies can succeed in being a great match for your auto services company. Unfortunately, that means that there are also a number of ways in which they can fall short. We identified the 6 most important categories to evaluate lead generation companies: leads, cost, contract, technology, expertise, and reputation. By asking questions relating to budget, commitment, lead quality, and more, your auto services company will be that much closer to securing a successful lead generation partnership.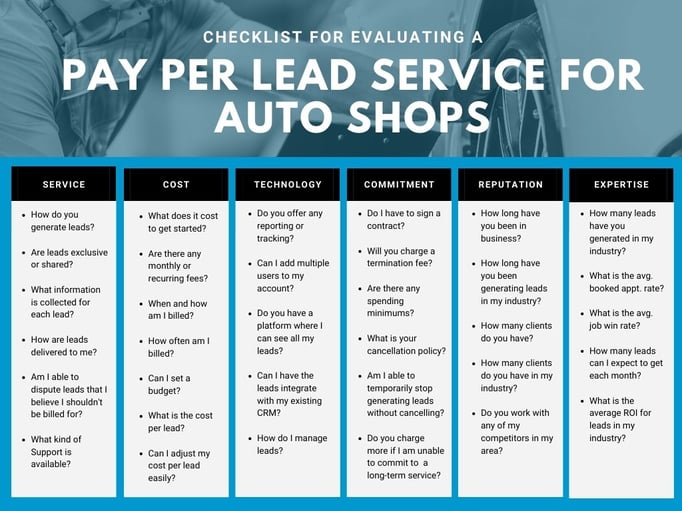 Service-Related Questions
Understand Lead Quality & Support
Depending on your level of experience with lead generation services, you may already have a solid grasp of the types of leads and/or services a company may offer. If not, it's crucial that you take the time to understand the difference between shared and exclusive leads as well as pay per lead versus pay per click. Additionally, you'll want to know where the leads come from, how they are delivered, and what you will be expected to pay per lead for each company you're considering. With a solid grasp on the "what" and "how" of leads, you'll be able to choose the best company to partner your auto services business with.
Questions to Consider:
How do you generate leads?

Are your leads shared or exclusive?

How are leads delivered?
Where do your leads come from?
What does your company consider a billable lead?
Do you have a procedure for disputing leads I believe I shouldn't be billed for?
Do you have a process in place to handle concerns from current clients?
What kind of support is available?
Cost-Related Questions
Understand the Pricing & Billing Structure
As a business owner, you likely know the importance of setting a budget and sticking to it. The same is true for lead generation. Settling on both a start-up budget as well as a monthly leads budget is essential. You'll want to keep in mind that with most lead generation services, the more money you put in, the higher your ROI will be. Asking potential companies what you might be expected to pay to achieve high levels of success with their lead generation strategy is important to understand what you might end up paying. Once you have those numbers set for your auto services company, you'll be able to ask the important questions of each lead generation company to help you find the right fit.
Questions to Consider:
Are there any up-front costs to get started?
Are there any monthly or recurring fees?
Am I billed for every call or only valid leads?
How much does each lead cost?
Can I adjust my cost per lead easily?
What should I expect to pay for the highest level of success?
How often will I be billed?
Contract-Related Questions
Understand Your Obligation & Ability to Cancel
Depending on how long you have been investigating pay-per-lead services, you may or may not be aware that some lead generation companies will ask you to commit for an extended period of time at sign-up. It's important to take note of which companies do and do not require you to sign a contract. At Service Direct, we do not ask our auto repair shop and towing partners to commit for a specific length of time because we believe that you should have complete control over your lead generation experience—even if that means deciding that our company is not a good fit after trying out our services. After all, as a service professional you already know that not every customer or opportunity will be a perfect fit for your company. It's prudent to keep in mind why some lead generation companies might ask you to commit to a long-term partnership and weigh the cost of early termination before signing a contract.
Questions to Consider:
Do I have to sign a contract?
Will you charge a termination fee?
What is the cancellation policy?
Am I able to temporarily stop generating leads without canceling?
Do you charge more if I am unable to commit to long-term service?
Technology-Related Questions
Understand Tracking & Reporting Capabilities
As with every industry, all lead generation companies are not made equal. Asking questions relating to cost, contract, and leads will help you begin to see those differences and determine what company might be a good fit for your auto services business. In that same vein, not all lead generation companies use the same tools or have similar levels of ingenuity when it comes to lead generation technology. Because of this, it's important to ask informed questions about tools and integration when evaluating different lead generation companies, not only because you want to work with a company that offers you the best user experience but also because it may help you determine how much a company is invested in you, the customer. In other words, when a company takes the time to develop new tools and offer technology that boosts your experience, it's usually a sign that they are dedicated to providing you with the highest quality lead generation experience.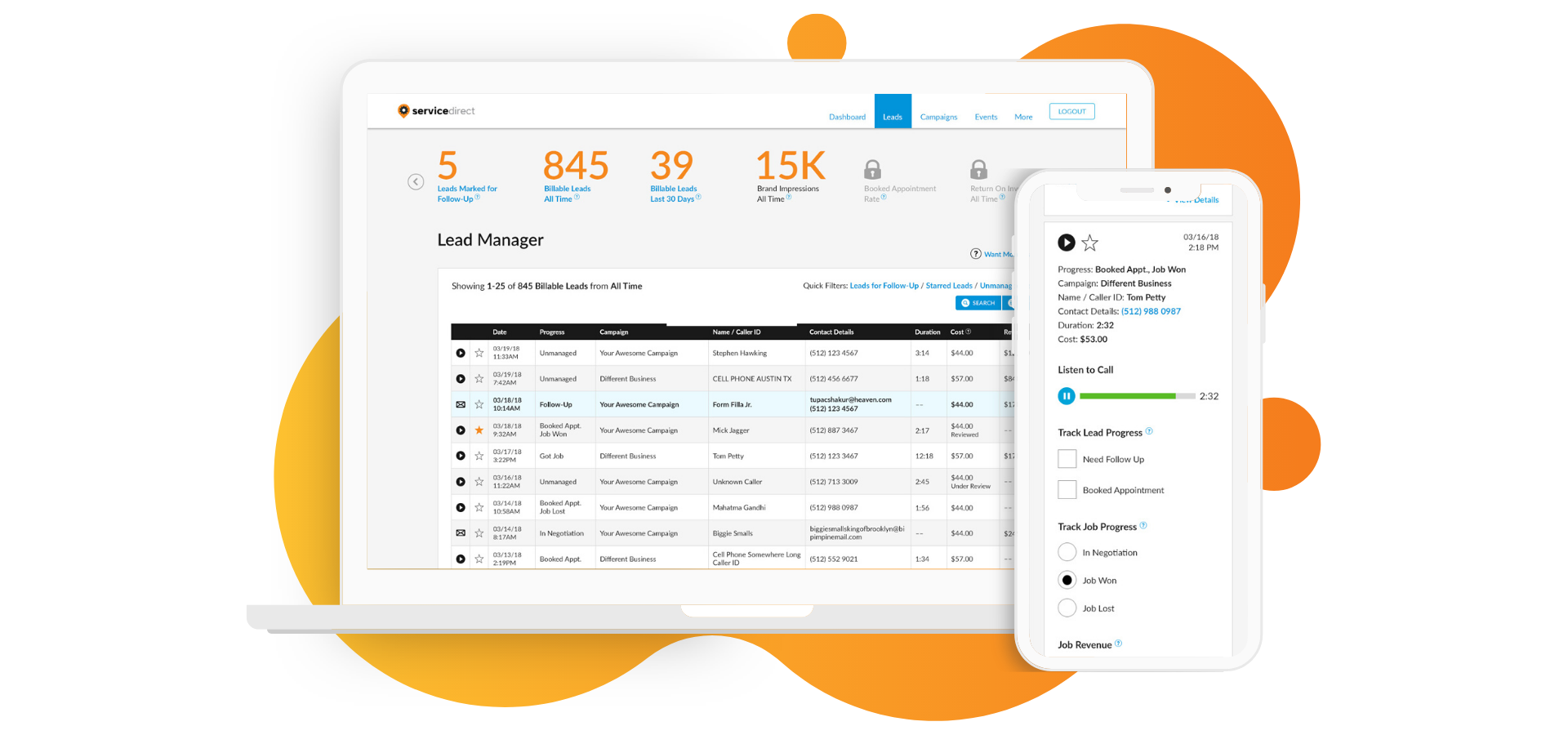 At Service Direct, we recently updated our lead management system to allow our customers much more control over their leads. The new mySD platform affords more visibility and transparency with advanced tracking capabilities, performance insights, and easy-to-understand metrics. Technological advancements like this are key things to check for when evaluating lead generation companies. They show more than anything else that a company is prioritizing your success over their own—an invaluable principle in a lead generation partner.
Questions to Consider:
What kind of reporting do you offer?
What new tools have you added to your platform recently?
Do you have a platform where I can view and manage my leads?
Can I integrate your service with my existing CRM?
What tools does your company offer that set you apart from competitors?
How user-friendly would you say your platform is?
Can I add multiple users to my account?
Experience-Related Questions
Understand Level Of Expertise In Your Industry
It should come as no surprise that not every lead generation company is an expert in every industry for which they offer leads. In fact, fifteen years ago Service Direct started as a lead gen company solely for home service contractors. Over the last decade and a half, we have been dedicated to growth, which has allowed us to become experts in lead generation for many industries, including auto repair shops and towing companies. Because of that, we know how important it is to have a strong grasp of what lead generation strategies work for each individual industry. In other words, lead generation is not a "one size fits all" concept and you will want to ask the right questions to discern whether the companies you are evaluating know that. With these questions in mind, you'll be able to ensure your auto services company partners with a lead generation business that knows how to bring your specific business the success you're looking for.
Questions to Consider:
How many leads have you generated in my industry?
What is the average booked appointment rate?
Will I be expected to compete against other companies in my industry for leads?
How many leads turn into sales on average?
What is the average ROI for leads in my industry?
How many leads can I expect to get each month after I start?
Trust-Related Questions
Understand Reputation & Credibility
The final and potentially most important questions you'll want to ask lead generation companies are about their reputation and history in the pay-per-lead field. First, however, you'll want to do some research. By looking at reviews across multiple platforms (Facebook, Google, Yelp, etc.) you will be able to garner a general understanding of the company's reputation among your peers.
Many of the reviews will be positive and may mention the benefits of working with the company, which will help you discern if your desires align with the company's value propositions. Undoubtedly there will be some negative reviews, and as someone that also works in a service business, you already know not to always take those reviews at face value. This is a great opportunity to bring the comments to the company and ask them about any concerns you may have based on the not-so-positive customer feedback. Then, depending on the lead generation company's answers you should be able to make an informed decision when delving into lead generation.
Questions to Consider:
How long has the company been in business?
How many clients do you have?
How long have you been working with auto service providers?
How would you respond to this recent negative review I found?
How have you changed over the years to foster stronger partnerships with clients?
FIND the right fit FOR YOUR NEEDS
After 15 years in the lead generation space, we know how beneficial a successful pay-per-lead partnership can be for service businesses, including auto repair shops and towing companies. We believe that in order for our clients to see the level of success that we know is achievable, it's imperative that you assess all of the different lead generation options available to you. By asking the right questions of the companies you are considering, you are ensuring that your auto services business is in the best position possible with regards to a lead generation partnership.
One of the most important things is to remember that lead generation does take time—it's not an instantaneous process nor a "set it and forget it" type of service. Once you find a lead generation company to partner with, stay diligent, ask questions, and be honest with the company about what is and isn't working. Transparency and persistence on both sides of the partnership will almost assuredly result in an influx of new customers, a large return on your investment, and a lead generation partnership that will last.