February 10, 2023 by Service Direct
How Much Do Service Direct HVAC Leads Cost?
As an HVAC business leader, you know how important it is to have a consistent stream of leads in order to maintain and grow your business. Unfortunately, the process of generating leads can be a challenging and time-consuming one.

Service Direct has been delivering high-quality leads to local, regional, and even national HVAC companies of all sizes for over 15 years. We aim to help businesses like yours reach their business and growth goals without breaking the bank.

It's important to us that our HVAC customers understand what to expect when signing up with Service Direct. It helps to know the methods we use to source and price our leads. So let's take a look at the types of leads Service Direct offers, the importance of your local average cost per lead, what factors play into that statistic, and how we enable our clients to set and adjust their cost per lead.
What Type of HVAC Leads is Best for Your Business?
The two primary types of HVAC leads Service Direct provides are pay-per-call phone leads and digital form leads. Both can be effective ways of bringing in new customers to your business, and they each offer unique pros and cons.
Pay Per Call HVAC Leads
Pay per call, or "PPCall," phone leads are the primary form of leads on the Service Direct platform. They are generated by targeted ad campaigns that prompt interested customers to call a designated phone number. Service Direct bids on these calls on behalf of our customers, and the call is directly routed to their business's phone.

The PPCall leads we offer are exclusive leads, meaning you never have to compete with other HVAC businesses for calls you've purchased. Incoming calls come from your service area based on the zip codes you provide, and within your price range based on the cost per lead (CPL) you set (more on that in a bit!).

The great thing about PPCall leads is that they connect you with highly-engaged potential customers in the moment that they are actively seeking your services. This means higher conversion rates for your business.
HVAC Form Leads
Service Direct also offers HVAC companies digital form leads. As the name suggests, these are generated through online forms. Prospects interested in HVAC servies provide some basic information about themselves and their service needs via text fields on a website, social media page, or other digital platforms.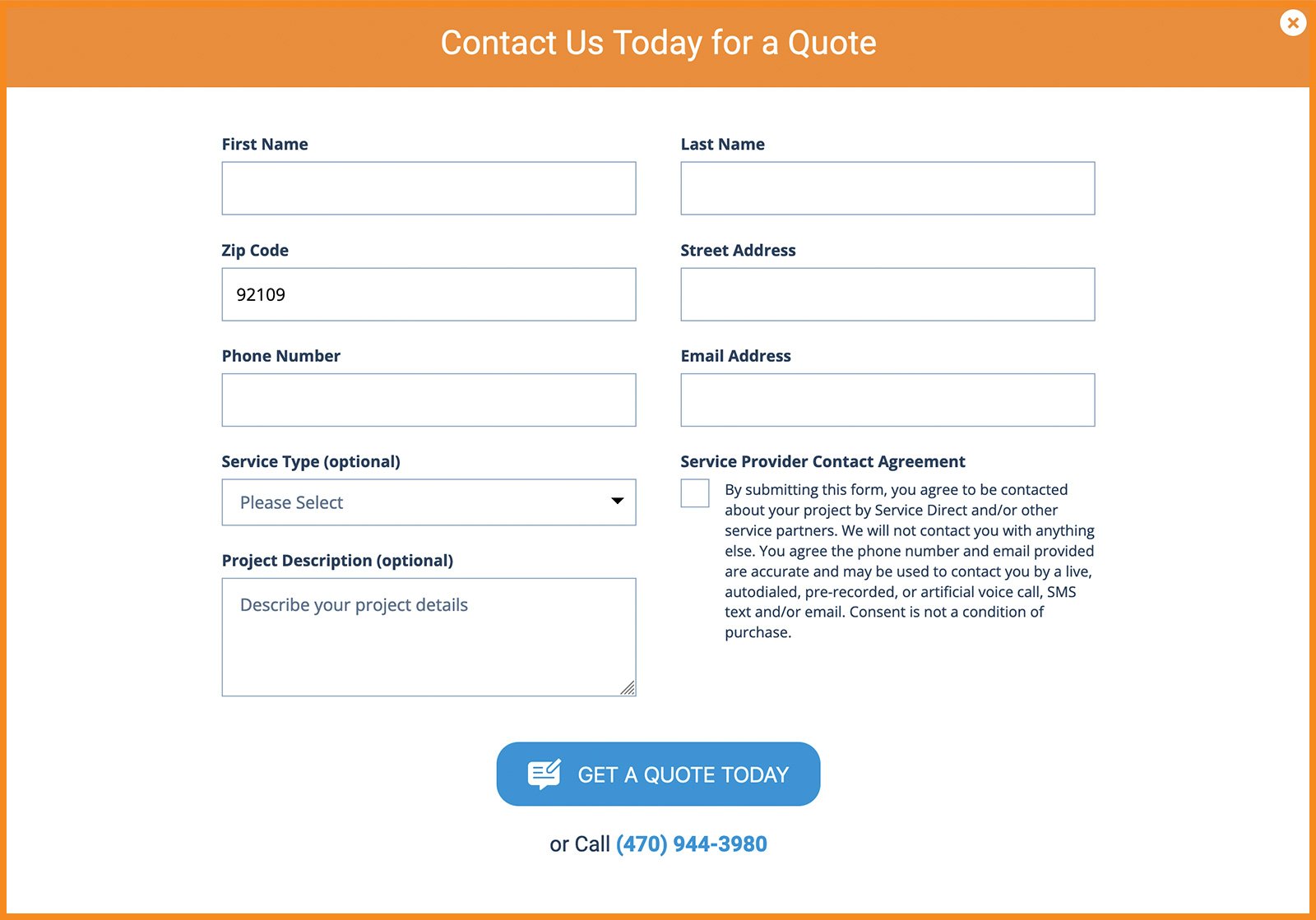 This information is then delivered as a lead to your HVAC company to follow up with later. While lacking the immediacy of phone leads, digital form leads provide a way to fill out your sales pipeline with potential customers who may not be ready to call or who prefer to communicate online.

However, the delay between submission and follow-up may lead to a lower conversion rate than phone leads.
Choosing The Right HVAC Cost Per Lead
The short answer is your cost per HVAC lead is chosen by you. We enable all of our HVAC clients to set their cost per lead (CPL). Why? Because the value of a lead is already determined by you and your ability to turn that lead into a paid job.

Here's an example: 10 leads are delivered to Company A, which is only able to get 3 booked appointments from them. Those leads aren't that valuable. But if they instead are purchased by Company B, who manages to get 7 booked jobs out of them, suddenly they're more than twice as valuable.

By giving you the ability to set your own CPL, we're inviting you to ask yourself, "How much value do I believe I will be able to get out of incoming leads?"




Of course, your competition will be a factor in your CPL as well. They'll be doing their own calculation of how much value they can get out of leads, and setting their CPLs accordingly. That's why, tempting as it may be, it's not a good idea to set your CPL as low as it can go. You'd lose every lead to a competitor who values them higher and sets their CPL.

Setting a competitive CPL is essential to success on our platform, and our experts will help you find the right one for your business. Plus, you also have the ability to change your CPL at any time.

Adjusting your CPL lets you control how many leads you're getting from the Service Direct platform. The higher your CPL, the more you're willing to pay, and the more leads you'll get. Need more leads? Increase your CPL. Overbooked and need to slow things down? Lower your CPL.

In this way, you determine how much you're going to pay for HVAC leads with Service Direct. However, when choosing your CPL, you need to be thinking in terms of the average CPL in your local market.
Why Your Local Average Cost Per Lead is So Important
The average CPL of billable HVAC leads in the United States during the first three months of 2023 was about $112. But that doesn't mean that's what you should expect to pay.

For example, in Texas, the average CPL during the same time period was $150, meaning Texas-based HVAC companies looking to aggressively grow might expect to pay nearly $40 more per lead than the national average. However, on an even smaller scale, in the Austin metropolitan area, that number rises to $234, while in Dallas, the average was $143.

What does this mean? Simply put, location plays a major role in what CPL will be competitive in the HVAC leads market. An HVAC company bidding $150 per lead in Dallas is going to get more leads than one setting the same CPL in Austin.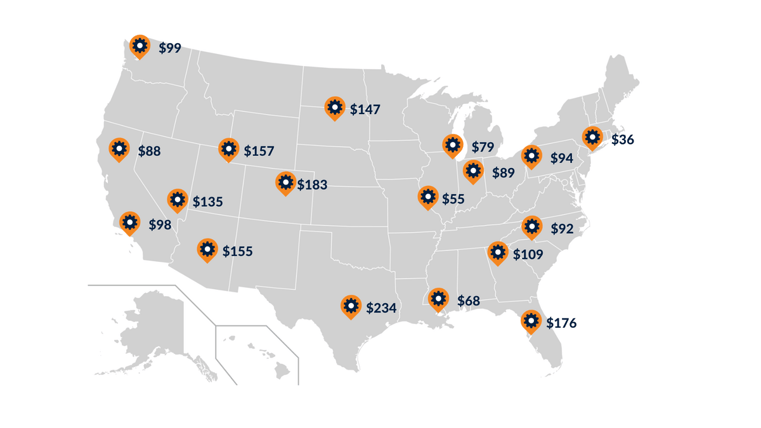 Long story short, what you set your CPL to will depend greatly on where you operate.
Find Your Area's Average CPL
The average cost per lead, along with the average lead volume for your service area, gives you a clear picture of how well Service Direct might work for your HVAC business.

If you're interested in finding out more about the current average CPL is in your business's service area, your best bet is to schedule a call with one of our account executives!