March 10, 2023 by Service Direct
How Much Do Service Direct Mold Removal Leads Cost?
As a small business, you know that generating new leads is the lifeblood of your business. It's the only way you are able to provide the best mold removal services possible to your customers. Of course, generating leads is also one of the most difficult parts of owning a business, especially in today's competitive digital marketplace.

That's where lead generation companies like Service Direct come in. For over 15 years we have been working with mold removal companies across the country. From 1-man operations to companies with hundreds of employees, the businesses we work with all see success with our lead generation tactics.

The goal of our service is to provide mold removal companies like yours with high-quality leads that won't burn through your budget so that you can focus on what you do best—providing expert mold remediation services for those in your area who need it.

While it's easy enough to say that our lead generation services won't burn through your budget, you probably want a bit more proof than just our words. In this article, we'll discuss the types of leads we offer, how much you might expect to pay for those leads, and the high level of control our system offers you in adjusting budgetary elements of your lead generation journey.

By the end of this article, you'll feel confident that Service Direct is the best lead generation company for your mold removal business and you'll know exactly what to expect when you sign up with us!


Are Phone Leads or Form Leads Better for Mold Removal?
Before we dive too deep into what you can expect when buying mold removal leads from Service Direct, it's important to discuss the various types of leads you might encounter.

As with most things in online marketing, not all leads are created equal, and not all lead types will be a good fit for every business. Once you have a grasp on the different types of leads offered and the benefits of each, you can look at your company's capacity and determine which leads you want to buy.
Pay Per Call Leads
At Service Direct, we primarily use pay per call lead generation to drive new customers to our mold removal clients. With these leads, you are connected with someone in your area seeking mold removal services in real time so that you can speak directly with them about their needs.

We do this using targeted ads that are designed to reach out to customers who are primed to book your services. This way, all you have to worry about is closing the deal. One of the best parts about PPCall leads? Customers who pick up the phone to call for mold removal services are already more likely to be ready to book.

With our phone leads, you won't be competing with any other mold removal company in your area for that lead. In other words, we offer exclusive leads to boost your chances of booking the job rather than expecting you to battle it out with other mold remediation companies in the area.

Phone leads tend to be more expensive, largely because they are more difficult to generate, but they also tend to have a much higher ROI because a customer who picks up the phone is more likely to convert.
Form Leads
The other type of leads available to you are called form leads. These are leads where a potential customer submits a form online with information such as their contact info, service needs, and more. These submission boxes can be found on your website, social media, and more.
Form leads can be beneficial in capturing information from clients who may not be desperate enough to pick up the phone but still need your mold removal services, as well as people who simply don't like to reach out via phone call (we're looking at you, Gen Z).

However, form leads tend to have lower conversion rates than PPCall leads because you aren't communicating with a customer in real time, and that customer may have less incentive to book your services.

While both form leads and PPCall leads have their benefits, it's important that you look at your budget and capacity for booking jobs when determining which route you want to take. Some companies like Service Direct may even offer both types of leads!
Choosing the Right Cost per Lead for Your Mold Removal Business
With lead generation, your company's cost per lead (CPL) is how much you are willing to pay for each billable lead that is generated for you. At Service Direct, you are put in complete control over your CPL, which means that you choose what it is at the beginning and you can adjust it at any time.
Why would you need to adjust your CPL? Simply put, the higher your CPL and the more you are willing to pay for each lead, the higher your volume of incoming leads will be. Understanding this concept is crucial for successful lead generation, as you have to be willing to put in more money to see more leads.
Conversely, if you are overbooked, low-staffed, or just need to slow down on jobs, you can lower your CPL to reduce lead volume. This control over your lead generation campaigns is one of the features that sets Service Direct apart from other lead generation companies where you might have to call a representative to make critical changes to your campaigns.
How Your Location Affects Mold Removal CPL
When deciding your cost per lead, it's important to understand that a myriad of factors can affect what CPL will work best for your lead generation goals. These factors include competition and lead volume for your service area.

That's why you need to know the specifics of mold removal lead generation in your location before getting started.

For example, in the first 3 months of 2023, the average cost per lead across the country for mold removal campaigns was $149. But that's not necessarily what you can expect to pay. Depending on your area, the average CPL may be higher or lower than that.

In Texas, for example, the average CPL for mold removal leads in that time period was $185. And looking even closer at a city like Dallas, the average CPL rises even higher to $207. In other words, if you are a mold removal company in Dallas, you might expect to pay almost $60 more per lead than the national average.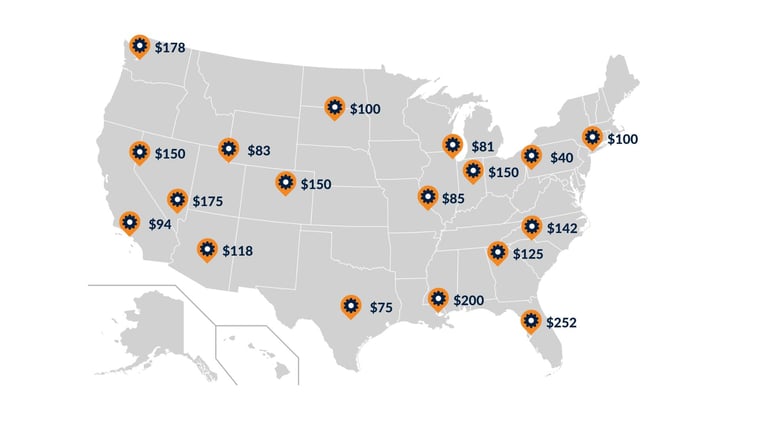 In short, it is critical to understand how your location can affect your CPL.
Discovering the Average CPL in your area
Once you have an understanding of how your location can impact your CPL and you know the average lead volume for mold removal companies in your area, you'll be well on your way to determining if Service Direct is a good fit for you.
If you want to know the average CPL for mold removal businesses like yours, schedule time with an account executive at Service Direct to learn about this final piece of the puzzle. With that information, you'll be able to know with near certainty whether we are a good fit for you!