March 10, 2023 by Service Direct
How Much Do Service Direct Roofing Leads Cost?
Lead generation plays a crucial role in the digital marketing strategy of service-based businesses, including roofing companies like yours. Sustaining and expanding your customer base relies heavily on a consistent influx of leads. However, in today's fiercely competitive online marketplace, the process of generating leads can be frustrating, expensive, and time-consuming.

Service Direct has been a trusted provider of roofing leads for companies across the country for over 15 years, working with businesses both large and small. Our comprehensive solutions are tailored to assist roofing businesses in acquiring high-quality leads while minimizing necessary time, money, and manpower.

In this article, we will take a look at some of the different lead types available, the flexibility we offer clients to adjust many elements of their lead generation campaigns, and the various factors influencing the average cost per lead in your determined service area.

Whether you are a novice in lead generation or seeking to enhance your existing strategies, this article aims to offer valuable insights into the mechanics of Service Direct's lead pricing. By understanding and utilizing our platform effectively, you can optimize your lead gen experience and achieve the results you're looking for.
The Different Types of Leads for Roofing Companies
Roofing businesses should be primarily interested in 2 different types of leads. Understanding the difference between these types is essential in determining whether Service Direct is the best fit for your business's needs.

Additionally, each type of lead has its own benefits and downsides that you will want to consider when determining which aspects of our service will be a good fit for your roofing company.
Phone Leads for Roofers
Service Direct provides our roofing clients with pay per call phone leads, sometimes called "PPCall leads."These are exclusive leads delivered directly to your roofing business via phone calls. You'll receive a call from a real potential customer actively seeking your services.

PPCall leads offer several advantages for roofing businesses:
They provide a direct and immediate connection with potential customers, allowing for real-time interaction and personalized customer service.
Phone calls often have higher conversion rates than lead generation methods, as they tend to reflect a higher level of intent and engagement from the callers.
You won't have to worry about competing with other companies for these leads since Service Direct works with exclusive leads delivered to you only.
Pay per call phone leads can be especially beneficial for industries where phone consultations or inquiries are crucial, just like they are with roofing companies like yours. With these leads, you can maximize your efforts by focusing on high-quality leads that are more likely to result in successful conversions and sales.
Form Leads for Roofers
Form leads refer to the information collected from potential customers who fill out an online form expressing their interest or need for your roofing services. These forms are typically hosted on your website or landing page and require users to provide their contact details and sometimes additional information related to their service requirements.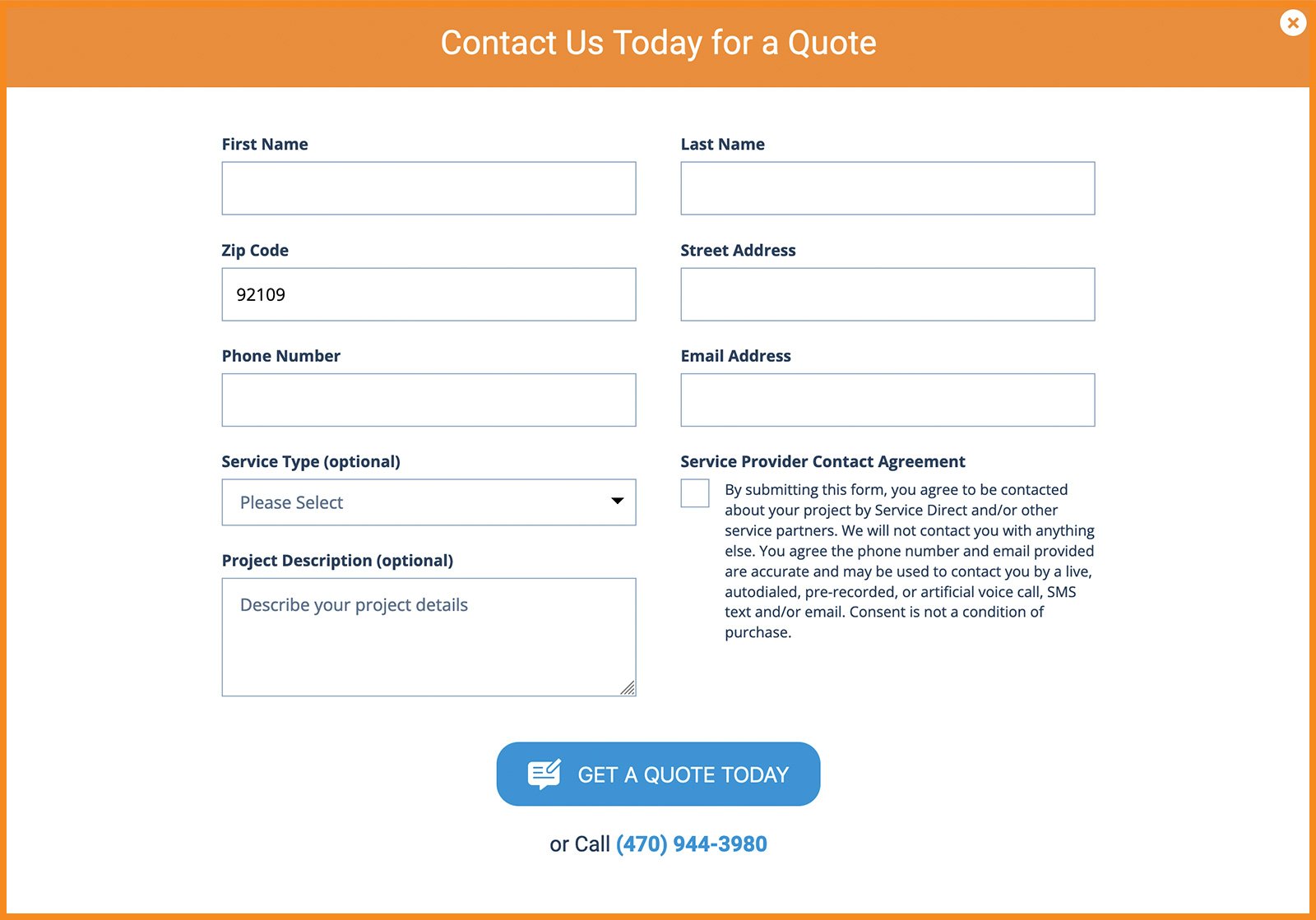 Roofers can use form leads to initiate contact with potential customers, understand their needs better, and provide personalized solutions or quotes. By gathering information through form leads, you can build a database of potential clients and engage with them through various marketing channels like email, phone calls, or follow-up campaigns.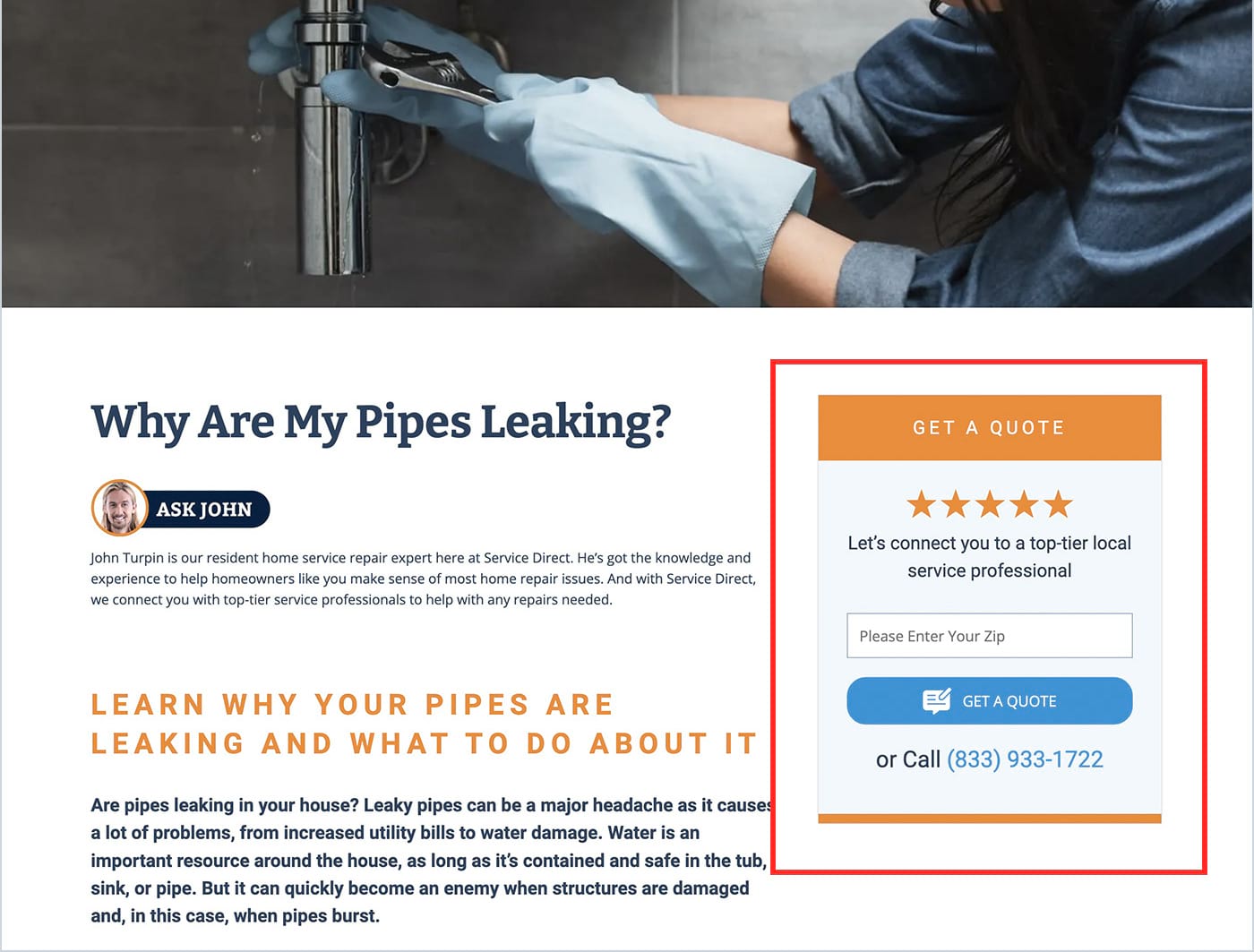 The upside of form leads is that you can potentially connect with a higher volume of potential customers, as many people are likely to fill out a form than call, especially if their need isn't urgent. The flip side is that form leads tend to have lower conversion rates than phone leads for that same reason.
What Determines the Cost Per Lead for Your Roofing Campaigns
The short answer is: You choose your own cost per lead (CPL)! Service Direct's platform is designed to let our roofing companies set their CPL at whatever price point that they consider reasonable and think will be competitive.

Why do we do this? We realized that the value of a roofing lead is almost exclusively determined by the ability of the business to turn it into a sale. If two different companies were given identical leads and Company A managed to book 8 jobs from them, while Company B only booked 4, the leads were worth more to Company A than Company B. Your ability to convert leads directly impacts their value.

By giving you the ability to set your own CPL, we're just letting you answer the question: How much value do I expect to get out of each roofing lead?




But you're not doing this in a vacuum. The other major factor in your CPL is the ability of your competitors to close on leads and how much value they give them. Technically, you could place your CPL as low as possible – but that just means your competition, who place a higher value on leads than the bare minimum, are going to outbid you. The lower the CPL, the fewer leads coming to your roofing business.
With lead generation, ensuring that you choose the right cost per lead (CPL) out of the gate is essential to seeing quick success with your campaigns. Put simply, your CPL is the amount that you are willing to pay for each valid lead sent your way from a lead gen company.

Setting an aggressive CPL is important to bringing in roofing leads. This is because the higher your CPL is, the more we are able to bid on quality leads, and the more new customers you will see coming to your roofing company.

Ultimately, you'll want to work with the experts on choosing a cost per lead. What you choose will determine how successful your lead generation journey is and each company will have a different range of CPLs that lead to success to consider.
Your Location will Impact Roofing Cost Per Lead
In the first 3 months of 2023, the average CPL of valid roofing leads in the US was around $122. But that doesn't mean you necessarily need to bid that much for your lead generation to be successful. Every area will have its own competitive market that will determine the best CPL for your campaigns.

For example, in Texas the average CPL for roofing leads was $153, meaning that with an aggressive strategy, you might expect to pay around $30 more per lead than the national average. Looking even closer, the average CPL in Austin for roofing leads was $190.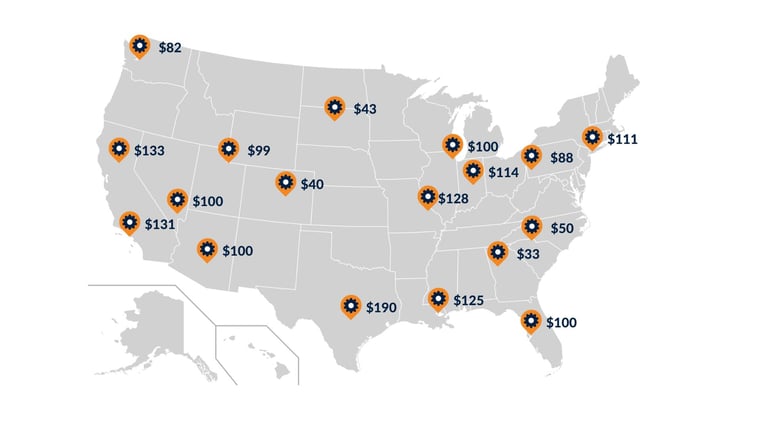 So, as you can clearly see, your city and state will both affect what you need to pay for every lead if you want to be successful. It's important to keep this in mind when setting a budget for lead generation.
So How Do You Find The Average Cost Per Lead in Your Area?
The best way to determine how much you might spend on a lead in your area is to get in touch with one of our account executives. They have all of the information necessary to tell you what you need to spend to be successful with lead generation.

Combine that information with the average lead volume in your area and you will have a great idea of what to expect from Service Direct working with your roofing company.