February 03, 2023 by Molly Weybright
What to Expect When Buying Roofing Leads from Service Direct
Are you looking for a way to find more prospects and grow your roofing business? One of the most reliable methods is buying leads from Service Direct. We have been working with roofing companies large and small to drive quality leads and increase their customer base for over 15 years.

We can talk about how much we can help your roofing business all day, but you're here because you want to know specifics about what to expect from working with Service Direct.
We use 2 types of data-collection methods to give you an idea of what to expect:
Client-Reported Data: At Service Direct, we offer features that allow our roofing customers to easily track and record metrics about their lead generation. They can see call duration, revenue, whether an appointment was booked, and more all in one place.
SD-Gathered Data: We have an expert team of Quality Assurance specialists in-house that listen to recorded calls from potential roofing customers to record data that both ourselves and our clients can use to optimize their lead generation experience.
Using these data collection methods we are able to provide a solid foundation of what you can expect as a roofer using our pay per call services!
Understanding our pay per call platform
Before we dive too deep into the data and what it means your roofing company can expect to see, let's go over the pay per call program that we offer at Service Direct.

With pay per call, we send you live phone calls from real, potential customers who are actively seeking roofing services in the service area you choose. When you sign up, you'll set the cost you are willing to pay per lead and we take on the role of driving those leads to you.

One of the most important facets of our PPCall service is that you only pay for calls from actual people in your area seeking the roofing services you offer. In other words, you'll never have to pay for a spam call, a wrong number, or any other irrelevant calls.
A few other features that we offer at Service Direct:
The leads you receive from us are exclusive leads. In other words, you won't have to compete with other roofers in the area for calls you receive from our service.
You have complete control over your lead generation campaigns. This means you can adjust the ZIP codes you service, your cost per lead, and more at any time.
We have an easy-to-use dashboard that allows you to see key metrics all in one place. This way our roofers are able to make changes as you go to improve your ROI.
Now that you understand more about our lead generation service, we can look a little closer at what you might expect when buying roofing leads from Service Direct.
WHAT TYPES OF ROOFING CALLS SHOULD YOU EXPECT WITH SERVICE DIRECT?
We would be remiss if we did not mention that every roofing company is going to see a variety of results. The data we share here is the average breakdown of what our existing roofing customers see, but depending on your location, business model, and company size, the types of calls you receive may vary.
From our data, we were able to see that 60% of the calls our roofers receive are for roof repairs. The remaining 40% of calls are broken down into roof replacements (18%), roof leaks (18%), and roof tarping (4%).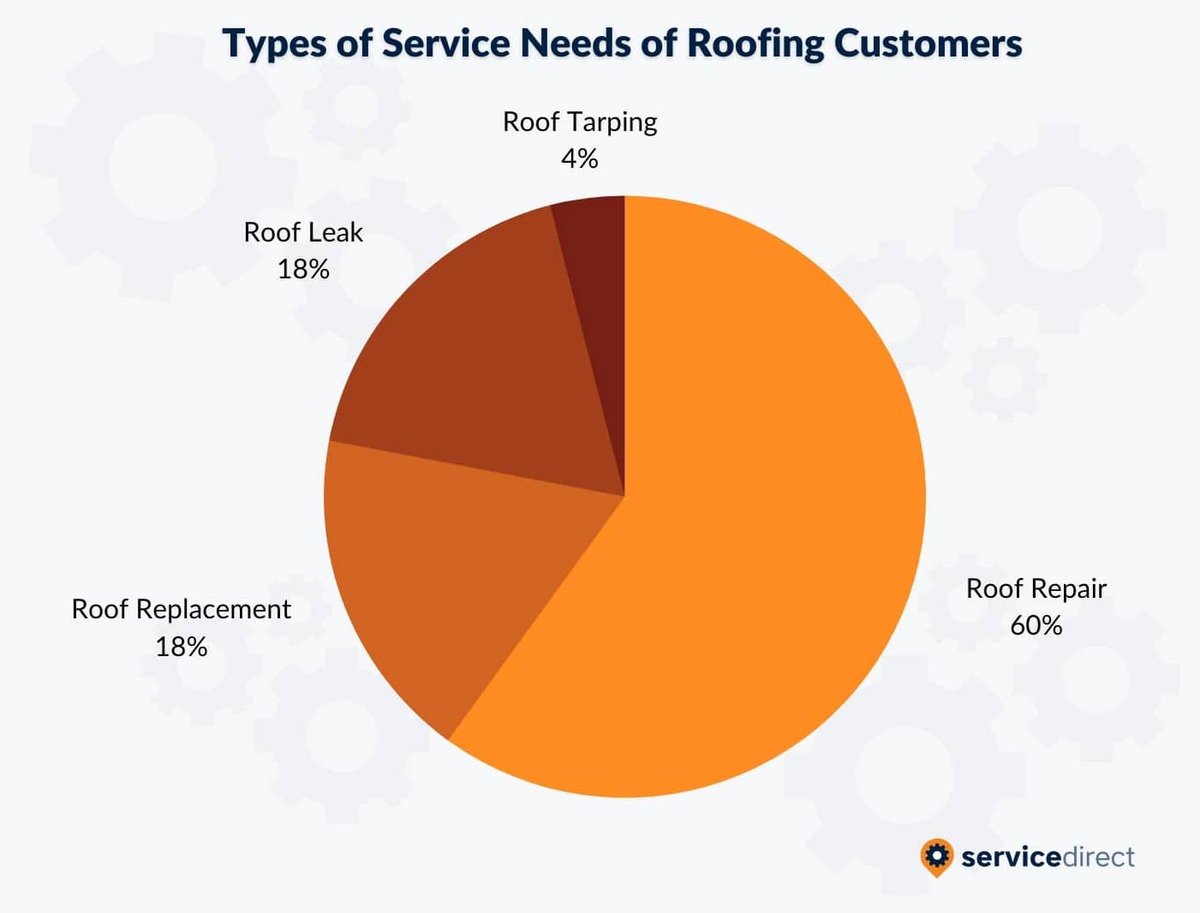 These data points help give you a solid idea of what you can expect when using our pay per call services. So, if your roofing company prioritizes roof repairs with a secondary focus on replacements and leaks, your company could be an especially great fit for Service Direct.
the results roofing companies see with service direct
So far we've given you a rundown on what our pay per call lead generation service looks like for roofing companies like yours and we've discussed the kinds of calls our existing roofing clients typically see.

Now, we'll take a closer look at what you really want to know: the results our roofing clients see with our Marketplace service.


53.55%

Percentage of calls where the caller has a service need.

30.67%

Average first-call booking rate from calls with a service need.

$9,001

Average job value based on client-reported data.
Among the hundreds of roofing companies big and small across the country that we work with, we are able to see some great results. To start, our clients answer 86% of the calls they receive with our service. Answering your phone is the most crucial element to seeing success with our service, so that number is huge.
Additionally, over 50% of the calls we send to our roofing clients are from real, potential customers. While we are always working to get that number even higher, it's a solid foundation for our customers knowing that 1 in 2 calls received are from potential roofing jobs.
And don't forget, on the occasion that your phone rings from a non-billable lead, you won't pay for that call!
Finally, our customers are booking almost a 3rd of the calls they receive from potential customers. With the average ticket price of those roofing jobs being $9,001, there is clearly so much potential for roofers to see high levels of success with Service Direct.
Call Insights Free Trial
We've already mentioned a few times the measures we take to ensure our roofing clients have access to key metrics for their PPCall campaigns.
If there's one guaranteed thing with lead generation, it's that you can't set it and forget it. In other words, to achieve the great results we previously mentioned, you need to regularly optimize your campaigns based on your specific data.
That's why we created our Call Insights service.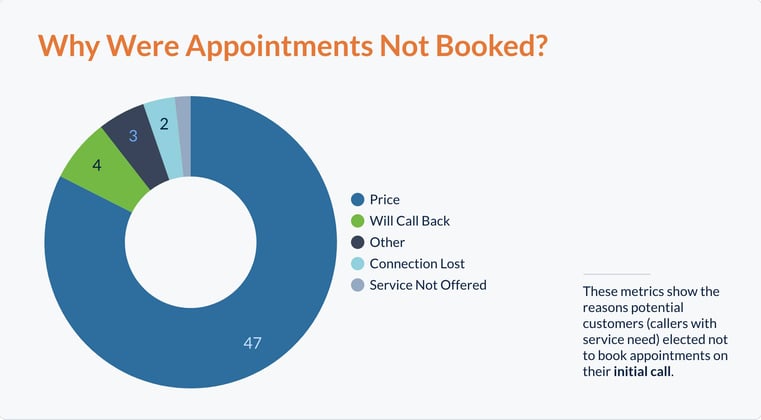 With this unique feature (which you can try for free, by the way), our Quality Assurance team reviews your leads to record important data that you are presented within a monthly report. The point of this feature is to give you regular access to data points that help you see where you are succeeding and where you may need to make campaign improvements.
All of this is provided without you having to do any data collection yourself! So give our Call Insights service a try today with a free trial and determine if it's as essential to your roofing lead generation experience as we think it is.
non-billable calls
As a small business owner, you are most likely well aware of the frustrations that come with fielding phone calls from anyone that is not a real person actively seeking your services. Whether it's a spam call, a solicitor, or a wrong number, there is nothing more annoying than spending your time dealing with invalid calls.
At Service Direct, we are constantly working to reduce the number of bad calls you receive through our pay per call service. But, these types of calls do get through sometimes, which is why we created our Quality Check service.
With this feature, we are able to use machine learning to identify potentially invalid leads and mark them for review without you having to lift a finger. You'll still be able to see these leads in your Lead Manager if you want to look at them yourself, but our system should have already taken care of the evaluation element.

Image Source
Quality Check has been able to identify almost 50% of spam calls and 40% of wrong numbers with about 80% accuracy. And guess what? It's getting better every day.
Our ultimate goal at Service Direct is and always has been providing the best quality leads we can to our customers. Now with Quality Check, we are able to do that.
Plus, you can always request a review of a lead for up to 7 days after it was delivered, so that you have complete assurance that you will only pay for calls from new potential customers.
grow your roofing business by optimizing lead performance
As you can probably tell, we put a high emphasis on the complete control you have over your roofing campaigns as well as the access to premier data that you can use to improve performance. It's your business, after all, and we believe that you shouldn't have to jump through hoops to make key changes.
Some of the features that we include in our lead generation include:
Lead Manager: With this tool, you are given an overview of your leads, which includes information about the calls you've received and recordings of incoming calls. You can easily submit leads for review here as well.
Campaigns Manager: In this dashboard, you can see key details about each of your roofing campaigns and make tons of changes quickly and easily. We provide all of the top-level info on your campaigns in this single-view place.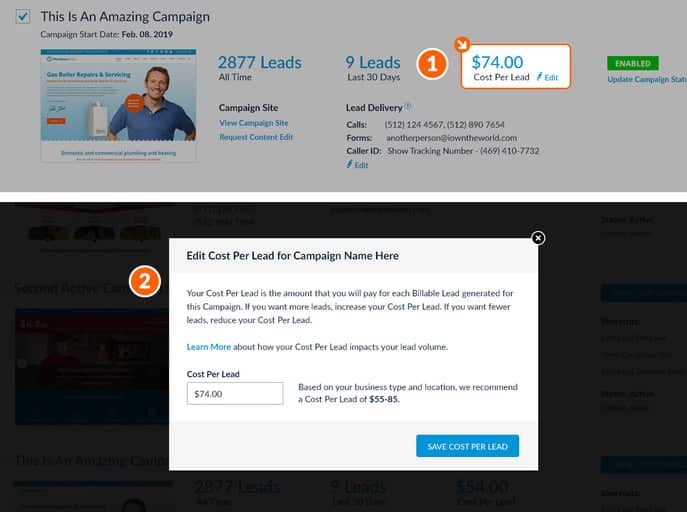 Service Area Adjustment: With this tool, you are able to easily adjust your previously set service area by adding or removing zip codes at any time. We want you to be able to choose at any given point the locations that you want to receive roofing jobs in.
Lead Volume Control: With lead volume control, we give you multiple ways to adjust your lead volume by changing your cost per lead, updating your ad schedule, and pausing your campaigns if necessary. This tool allows you to easily raise or lower the rate at which you receive new leads.
The above features are just the tip of the iceberg when it comes to the tools we provide to ensure your roofing campaigns succeed in the ways that you want them to!
in Conclusion
It's our hope that the above data paints a clear picture of what you can expect when buying roofing leads from Service Direct. There is so much potential for roofing companies to succeed with pay per call lead generation and we think that our services are the best in the game.

Additionally, the benefits we've outlined in this blog are just some of the many features we have developed to bring you high-quality leads and ensure you have absolute control over your experience. So what are you waiting for? Start generating leads with Service Direct today!