June 21, 2021 by Taylor Stafford
How To Implement An Alternating Four-Day Workweek And Why
Updated on March 23, 2023
If there's one thing we've learned over the last few years, it's that working from home has a long list of benefits for both employers and employees. But, working remotely can make work-life balance challenging and lead to a higher risk of burnout.

Understanding the serious mental health effects that come from burnout (like exhaustion, depression and anxiety, loss of energy, and lack of motivation), we wanted to try something new and hopefully help prevent any of these challenges before they started.
What Is A 4-Day week?
In the 1920s, American employers began a shift from the previously standard 6-day workweek to the 5-day workweek that most of us still use today. It's been nearly 100 years since that shift and yet we haven't truly reevaluated the modern workweek.
Organizations like 4 Day Week want to change that.
"The 4-day week is a reduction in the work week from a standard 40 hours to 32 hours for the same pay and benefits." Unsurprisingly, this concept is popular with a large majority of US adults as we all try to find a work-life balance in the post-pandemic world.
The best part is, this premise appears to work in practice just as much as it does in theory. The largest trial of the 4-day week recently concluded in the UK, with over 3,000 employees having their work hours limited to 4 days per week or an average of 32 hours per week while still receiving 100% of their pay.
The results of the trial from employee satisfaction and revenue perspectives were so successful that 90% of the companies that participated are going to continue with a 4-day week plan.
Now, we understand that not every company has the personnel capacity or business model to cut off a day every week. As a small startup, we fall into that boat, which is why we decided to implement an alternating 4-day workweek. It's a similar idea to the 4-day week, but employees get every other Friday off, which is an additional 26 days off per year.
Why We Decided To Try It
At Service Direct, we have always offered a flexible work schedule as a perk, and our team has consistently stated that having that flexibility is very important to their job satisfaction. We tend to subscribe to the idea that as long as you are getting your work done, and hitting your KPIs, it doesn't matter much when or where you do that work.
However, for teams like Sales and Support who typically interact with customers every day, employees are tied to working during regular business hours without much flexibility.
After reading this article, our CEO decided to take it a step further and try offering an alternating 4-day workweek and see if it resonated with our team. Our hypothesis was that implementing this new perk would increase employee job satisfaction, improve retention, and make our team feel more rested, more productive, and more motivated.
"We recognize that now more than ever, having time to focus on your physical and mental well-being is important."

Brian Abernethy, CEO of Service Direct
We had already adapted to working completely remotely and spending more time at home for everyone's safety during the pandemic, so we felt like cutting down employees' hours was the next step.
Plus, although 76% of employees stated that reduced work hours would make them likely to stay at a company for 5 or more years, only 17% of small businesses are implementing that benefit.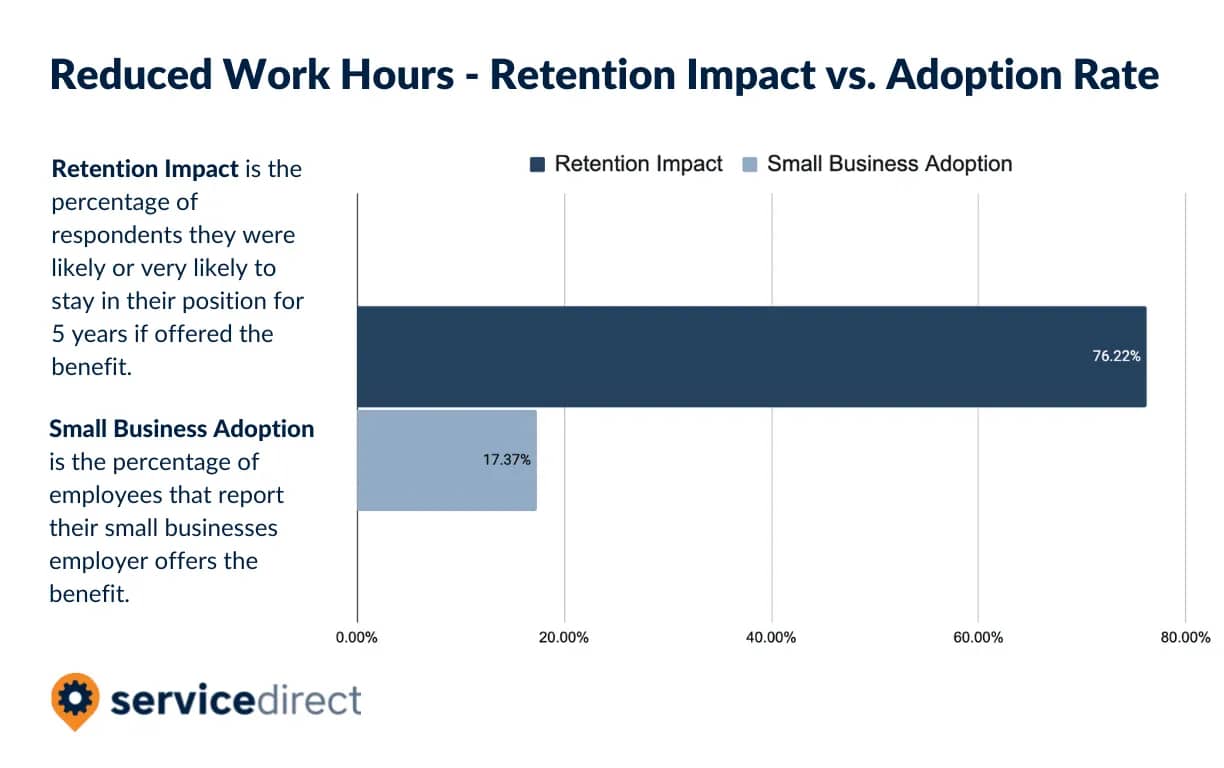 Our Experience So Far
While we only implemented this perk at the beginning of 2021, we've already seen improvements in our employees' overall satisfaction. Not only has our team felt more productive, but they've had more time to balance both work and life.

In our employee feedback survey:
100% of employees said they would like us to continue offering the alternating 4-day week.

93% of employees have said their productivity has improved, while the other 7% said their productivity has been the same.

85% of employees said they feel more rested and happier at work.

100% of employees said that having a flexible work schedule is important to their job satisfaction.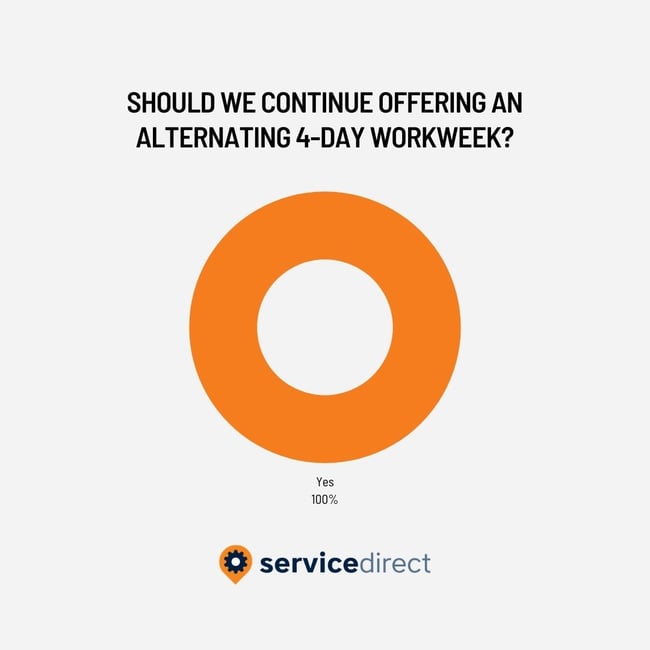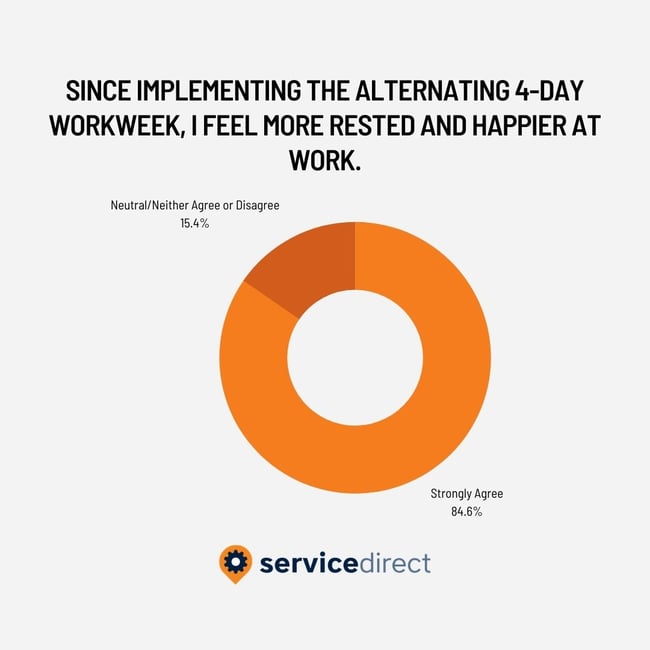 Top Tips For Implementing With Your Team
A shortened workweek may boost employee motivation and productivity, but it can cause resentment or disrupt customers just as easily, and it's important to minimize those risks.
Tip #1: Try The Concept Before Fully Implementing
When we announced that we would be offering this perk, we made it clear to the team that we'd be trying it on a trial basis. We wanted to make sure everyone really benefited from reduced hours, and that our level of productivity at the very least didn't drop.

For our new perk pilot, we decided that we would start this plan Friday, April 2nd, 2021, and our initial evaluation of the plan would continue through Friday, June 2nd (14 weeks). We eventually ended up rolling it through to July 21st to give us a full quarter to evaluate.

Fast forward to March 2023 and we are still running the alternating 4-day week as it continues to be a top benefit for our employees. Productivity has continued to increase and our employees are taking fewer PTO days thanks to their alternating 3-day weekends!
Tip #2: Consider The Impact On Your Customers
In order for this plan to run as productively and smoothly as possible, it's important to consider your clients' needs and strategically schedule your teams to ensure there will always be someone available from every department if that is important to your business model.

That way, your clients will always be able to get the help that they need and your employees will enjoy their time off by successfully alternating Fridays, for example, between team members and departments.
When we launched this trial, our CEO stated, "We'll stagger Fridays off so that we'll still have roughly half of the team working each Friday to make sure our clients and projects are taken care of and progressing. I will be working with team leads over the next week to schedule, in advance, everyone's Fridays off throughout the quarter (again making sure that our clients will be taken care of.)"
We then scheduled everyone's Friday off in advance using Google Calendar to avoid any confusion and to give everyone complete visibility into who would and wouldn't be in the office on any given Friday.
Tip #3: Team Leads Should Lead by Example
Something to keep in mind when starting this plan is to lead by example. This is not only a plan for your team, but for everyone. That means if the CEO sends out an announcement about taking every other Friday off, then he or she should follow the plan as well.

Leading by example is essential not only because CEOs need time to recharge themselves, but also because failing to follow through with the process can send mixed messages to employees and could cause anxiety on whether or not they should take the time off.

A big benefit to this plan is to decrease anxiety and stress, not add to it! Making sure everyone is taking the time off they need and leading by example sets the tone for a successful, worry-free work schedule.
Tip #4: Make Any Special Conditions Very Clear
Another thing we felt was important for this work schedule to be successful was to ensure everyone was aware that there were no special conditions or restrictions to this process. No longer hours are required the week of their Friday off, no restrictions, no strings attached.

The point of this new work schedule was to give everyone the time they need to re-energize in the hopes of creating a more enjoyable and productive work environment for our team. I think it's safe to say after hearing everyone's feedback, we did just that!

If you're still not convinced, there's no harm in trying it out for a couple of weeks and conducting an employee survey to see how everyone feels about it. Regardless, it's shown benefits in businesses around the world in company growth, productivity, and mental health.
So trying something new might be the best thing to do for your overall company success!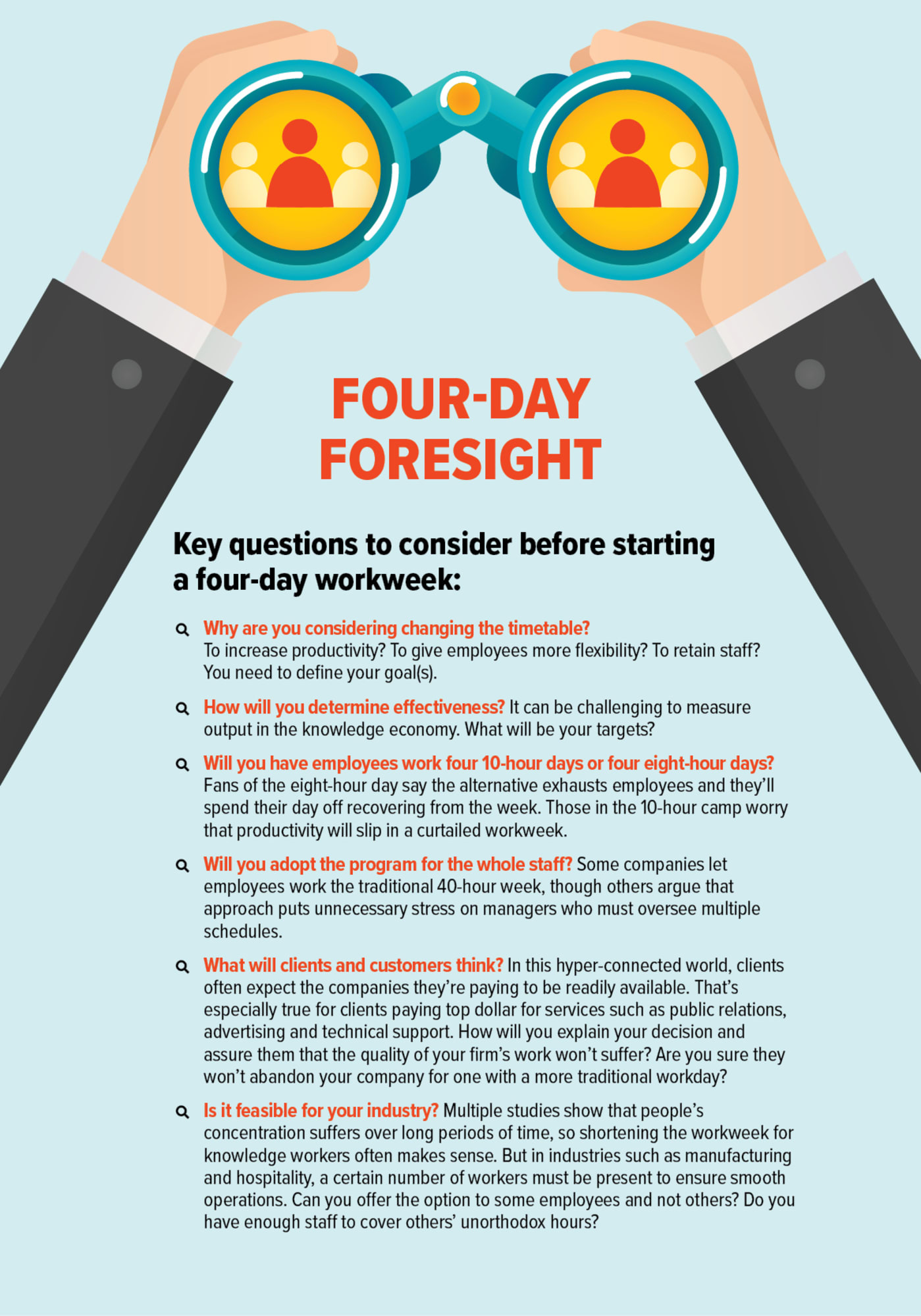 Benefits Of An alternating 4-Day Workweek
Research shows that 78% of employees with a 4-day week are overall happier and less stressed. If the goal of a company is to be as successful as possible, it doesn't hurt to have a team of employees who are feeling refreshed and appreciated while they're on the job!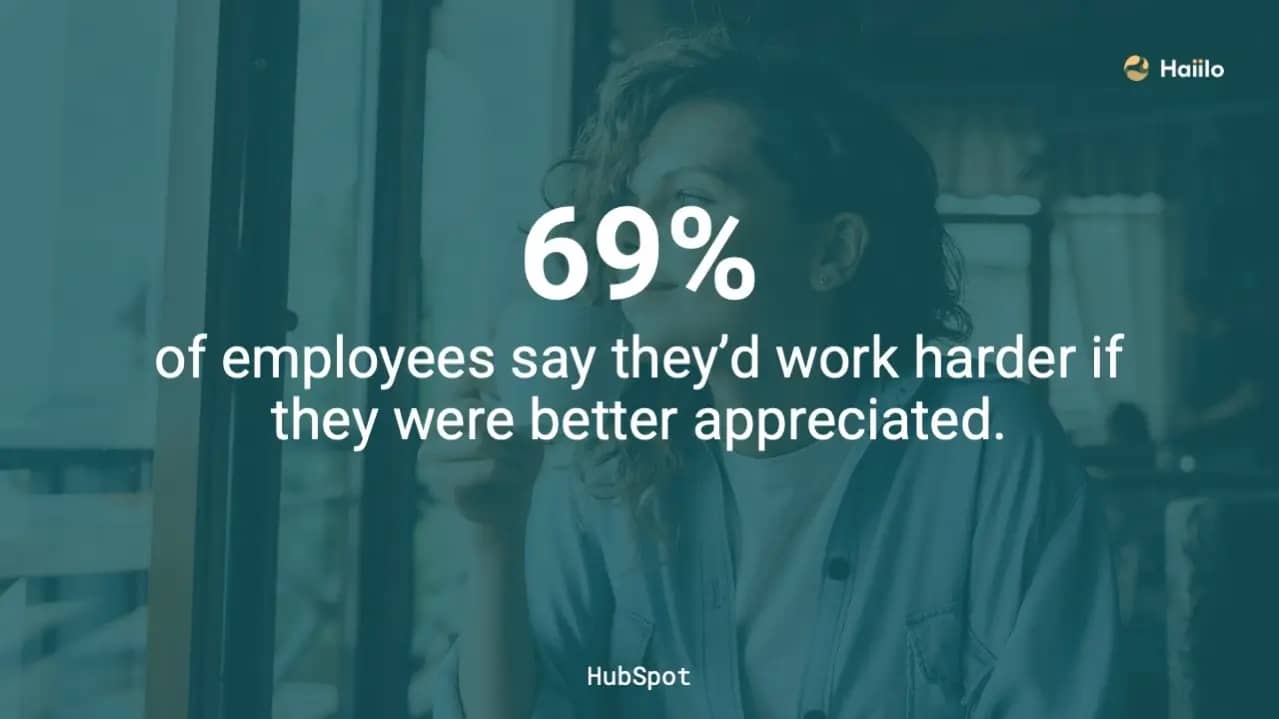 Source: Haiilo.com
#1- More Productive Workdays
Research shows that a four-day workweek increases productivity by between 25% to 50%. If the goal of a company is to be as successful as possible, it doesn't hurt to have a team of employees who are feeling refreshed and productive while they're on the job!
"We surveyed our team recently and 100% of them wanted to continue with the 4-Day Workweek. A longer weekend worked wonders for their mental health, as it reduced the stress caused by an unstable work-life balance. Consequently, this caused productivity to increase and overall lifted the spirits at the entire office. I honestly believe it's high time that the rest of the country follows suit and adopts a shorter workweek. The happier the employees, the more focused they can be at work." Thanks to Sid, 71Three

"We've absolutely seen an increase in productivity: when we're burned out and working crazy hours we're not able to think clearly and make good decisions. By prioritizing working smarter, not harder, we're more effective." Thanks to Amy, Kingdom of Ink
"Employees now are more eager to finish their work early because they have limited time. They focus more and avoid personal matters during working hours because they have more time to spend with their families and friends."

Thanks to Caroline,

CocoSign
#2- Good for Mental Health
"Our four-day workweek has enabled the staff to spend more time with their families, and it has been beneficial to everybody's mental health. People, in my opinion, become burned out after a standard workweek. Having an extra day off allows them to feel better and return to work ready to go further the following week."

Thanks to Charles,

Stand With Mainstreet

"Implementing a 4-day workweek reduced the stress levels in our staff by a lot. We have achieved a reduction in health insurance spending by around 15% during this period. Our employees are currently happier and more relaxed than ever."

Thanks to Alina,

CocoDoc
#3 - Increases Employee Satisfaction
"We implemented the 4-day workweek in the summer of 2019 to give the parents on our team more time with their kids. We only get 18 summers with our kids and they fly by. At the time, our team was small and everyone was a parent. Since then we have hired people that didn't have kids and they have used that time to volunteer in their communities, do something they enjoy, and spend time with friends and family. The team morale changed immediately when we implemented this policy. People were grateful and it definitely boosted morale. I definitely feel that not only has it boosted employee satisfaction but it has made it more appealing to join our team."

Thanks to Bethanie,

Marley Nomani Inc.

"My biggest takeaway from implementing a 4-day workweek, even in such a short time, is that the setup actually makes everyone feel happier, including myself because there is at least one additional day given to pursue personal endeavors. It also gave us all some space to breathe and plan on how to mitigate the effects of the global pandemic we are in. In fact, the freedom this has afforded us also made us more sympathetic toward each other, and dare I say tightened the bond we have."

Thanks to Willie, Product Analyst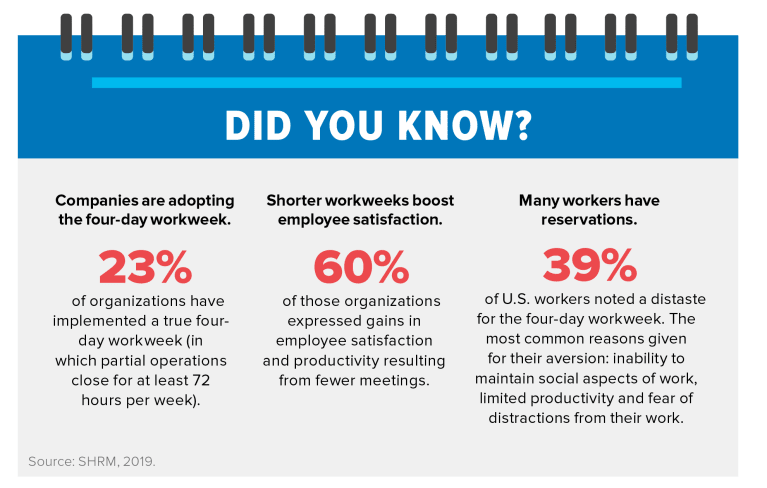 #4 - Helps Hire And Retain Talent

If you're trying to grow your company, then hiring and keeping valuable people on your team is critical. Offering an alternating 4-day workweek is a great way to show applicants you care about your employee's health and wellness, as well as offer real flexibility when it comes to working schedules.
Here are some statistics:
96%

of employees believe empathy is a crucial part of advancing employee retention, giving them more time to themselves is a great start to show them how much you value them as people.

80% of employees said they would be more loyal to their employers if they had flexible work options.
74% of workers said the work-life balance is a top factor when evaluating a job.
If you're still not convinced, there's no harm in trying it out for a couple of weeks and conducting an employee survey to see how everyone feels about it.
Regardless, it's shown benefits in businesses around the world in company growth, productivity, and mental health. So trying something new might be the best thing to do for your overall company success!