October 30, 2020 by Molly Weybright
How We Grew Our Business By 40% During The Pandemic
As 2019 came to a close, we joined the rest of the United States and participated in the ritual of silently hoping for the new year to bring fulfillment, happiness, and prosperity. We were full of hope for what this new decade would bring. Instead, 2020 brought the Coronavirus pandemic with the largest global recession since the Great Depression in its wake.
By the end of August, over 163,000 US businesses had shut down with 60% of those businesses predicted to remain permanently closed. of those businesses predicted to remain permanently closed. But, as the future remains uncertain for many small businesses, Service Direct has found a way to do more than just survive amidst the chaos — we've found a way to thrive.
Product Innovation
At Service Direct, we were not immune to the effects of the nationwide shutdown in March. In fact, as we were making preparations for our busiest season of the year, the home service industry's revenue dropped around 30% compared to earlier in the year as consumer demand plummeted during the initial weeks of the shutdown.
"We had to cut costs and prepare for the worst," said Brian Abernethy, CEO and Co-Founder of Service Direct. Despite the fact that the shutdown began almost eight months ago, the panic of those first few weeks is still pervasive across many small businesses.
As people around the country spent more and more time at home and the weather was heating up, they were no longer able to delay hiring a home service provider for problems and customer demand increased significantly. Despite that uptick, coasting along with the "new normal" was still not enough to meet our aggressive goals for the year. That's where product innovation came into play.
Prior to the COVID-19 pandemic, the product team at Service Direct had begun brainstorming new, efficient services for our clients. We knew there was a hole in the lead generation industry that we could fill with a new product. The seed had been planted and the pandemic was the Miracle-Gro that spurred us into action.
"When the pandemic hit, we knew we had to make some big changes and fast," said Matt Buchanan, CGO and Service Direct Co-Founder.
We recognized that our clients were doing their best to stay active and serve their communities, despite the risks, and we wanted to bring forth a product that would make their lives easier amidst the uncertainty. We really appreciate what our clients do and bringing something to market that would help them win new business in a cost-effective, low-risk manner was the best way we could help. Our goal was to create a service that would help our clients succeed during the pandemic and beyond. Thus, Service Direct Marketplace was born.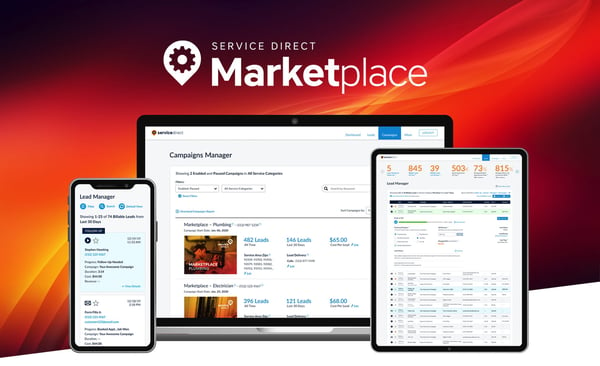 Service Direct Marketplace is an exclusive pay per call platform that connects service providers with potential customers in real time. It's fast, simple, and low-risk and is a great way for our clients to bring in new leads. With Marketplace, we are able to target more service categories, which not only allows us to provide desired services to our customers for the first time but also helps us connect with new customers in industries we had yet to tap.
Of course, before we funneled our efforts into a new product, we had to make sure Marketplace was something our clients were interested in. To do this we asked and listened to what they were looking for in terms of lead generation in the time of COVID-19. By simply asking, we found that our clients were facing similar challenges as we were. They needed to be as frugal as possible while navigating the unknowns of running a business in the middle of a pandemic.
"When times get tough people have a tendency to withdraw and stay in their safe world," Matt said. "But when things are really challenging you need to reject that tendency and focus on trying to talk to your customers and really listen to them."
In other words, understanding where customers are coming from and what they might be going through is essential to ensuring not only your own success, but your clients' success as well.
"The problems have changed so the solutions have to change," Matt said.
Listening to our customers also helped us see what other changes we could make to better serve them during the pandemic, including advertising COVID-safe assurances like contactless estimates and wearing face masks. Our clients asked us for a way to clearly state that they were taking the proper safety precautions so we created a banner to appear at the top of their websites. It's important to keep asking difficult questions and facing challenges head-on in order to do more than just survive as a small business.
"My goal is to take what has been a really challenging experience and try to remind myself everyday that if we're not focused on innovating and helping our clients then we won't find success," Matt said.
Goal Stability
The other key to thriving as a small business during the Coronavirus pandemic involved sticking with the goals that we set at the beginning of the year. When our annual goals were set, we obviously had no idea that 2020 would bring the second largest global recession in history. Although it might seem necessary to adjust or lower our goals for the year, we decided to keep them stable in the hopes that innovation, perseverance, and positivity would aid in our recovery and success.
You might say that Service Direct stumbled into the idea of maintaining our goals. For the first month or two of the pandemic, we focused solely on keeping our heads above water and figuring out what we could do to help our clients survive the shutdown. Of course we were concerned about what the company would look like the longer the shutdown went on, but at the outset we had to take everything a week at a time.
"Once it was clear that Service Direct was finding more solid footing, we were able to think about whether we needed to adjust our goals", Brian said. "We had already begun to see some bounce-back due to the warming temperatures and people's need for essential services in their homes, which allowed us to look farther into the future."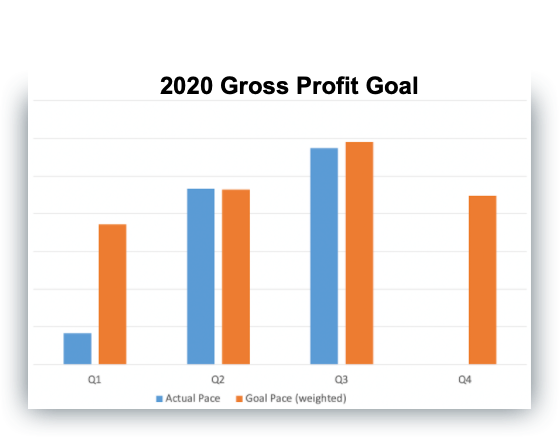 "Because we had some tailwinds with the season, the new product, and the increase in demand, we began to think that we could keep our goals the same," Brian said. "If we could continue to grow our client base and our product then we had a chance to reach our goals."
It wasn't stubbornness, he said, but was instead a belief in our ability to adapt to the new normal. It was confidence in the work we had put into Service Direct over the years to be a front runner in Lead Generation. It was also confidence in the entire team at Service Direct to adapt and persevere in this unprecedented time.
"Our ability to reach our goals didn't happen by accident or because of one person," Brian said. It happened because our entire team bought into the new trajectory of the company, working hard to stay motivated and ensure we were serving our clients as best we could during the pandemic.
Maintaining our goals has helped boost morale throughout the company, leading to increased innovation and confidence. We have even been able to grow the company, bringing on new talent to the team, which further reassures our employees that we're making the right moves. Many of our clients have similar stories and it's exciting seeing small businesses find ways to grow during the chaos.
Although we might not surpass each of our aggressive yearly goals, we have been able to reach some of them. By keeping those lofty goals in our sights, despite the uncertainties, we have been able to fight through many of this year's challenges.
"Who knows what the future holds?" Brian said. "But at least the business is healthy and growing and that reassurance has done wonders for all of us."
Matt echoed that confidence, saying that even in the worst moments at the outset of the pandemic, he still believed that Service Direct would not only be okay, but that the company would be even stronger on the other side.
Staying Strong and Standing Together
The Coronavirus pandemic has likely changed the way small businesses operate forever, but that doesn't have to be a negative. One of the most important lessons we have learned in these last eight months is that supporting one another is key to staying successful.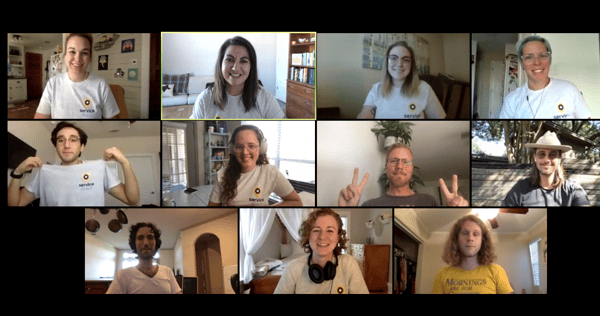 The majority of the clients we work with on a daily basis are essential businesses providing plumbing services, HVAC repairs, restoration services, and more when people need them most. As the COVID-19 shutdown persisted, people needed our clients. They answered the call despite the risks, because that's what home service providers do.
We wanted to help alleviate the stress of being an essential business during a pandemic, and we did that by listening to our clients and doing our best to help them.
"Our clients are out there risking their health and serving the needs of their communities," Brian said. "We want to help them thrive and get through the pandemic too. They have a lot of other worries besides new customer leads, so I hope we were able to help them with that part of keeping their business running."
Ensuring our clients' success helped ensure Service Direct's success. We were able to produce a product that helps bring leads to more industries efficiently and effectively, which allowed us to grow our business. That growth helped boost morale in our employees and lead to more innovation and the confidence that we can get through this together.
Our efforts were rewarded this past August when Service Direct was listed on the Inc. 5000 list of fastest growing private companies for the fifth year in a row, proving that staying strong, standing together, and maintaining positivity helped us not just survive during a pandemic; it helped us thrive.