September 09, 2020 by Taylor Stafford
HVAC Pay Per Call: Pros and Cons of Pay Per Lead Advertising
Updated on March 22, 2023
As an HVAC business owner, you know keeping a home service business afloat takes a lot more than qualified technicians and reputable customer service, although those definitely play a part in making your business successful.
One of the most difficult things is getting your name on the map so people have a chance to experience your quality services.
Pay per call marketing is one of the best HVAC lead generation options because it's cost-effective, convenient for potential customers, and gives business owners the time to focus on what they do best—providing high-quality services to customers.
After 15 years of marketing experience in the industry, we wanted to put together a list of everything you need to know about pay per call and how it can help your business take off.
The Difference Between Pay Per Call and Pay Per Click
When researching different marketing strategies, it's important to consider what will work best for your HVAC business. Some of the top marketing strategies for home service businesses are pay per call and pay per click.

With pay per click ads, you would pay a small amount every time a searcher clicks on your ad, whether or not they move any further down the pipeline than that.

These types of ads tend to have a lower return on investment and higher competition, but they can be ideal for people who are looking to drive traffic to their website or online store.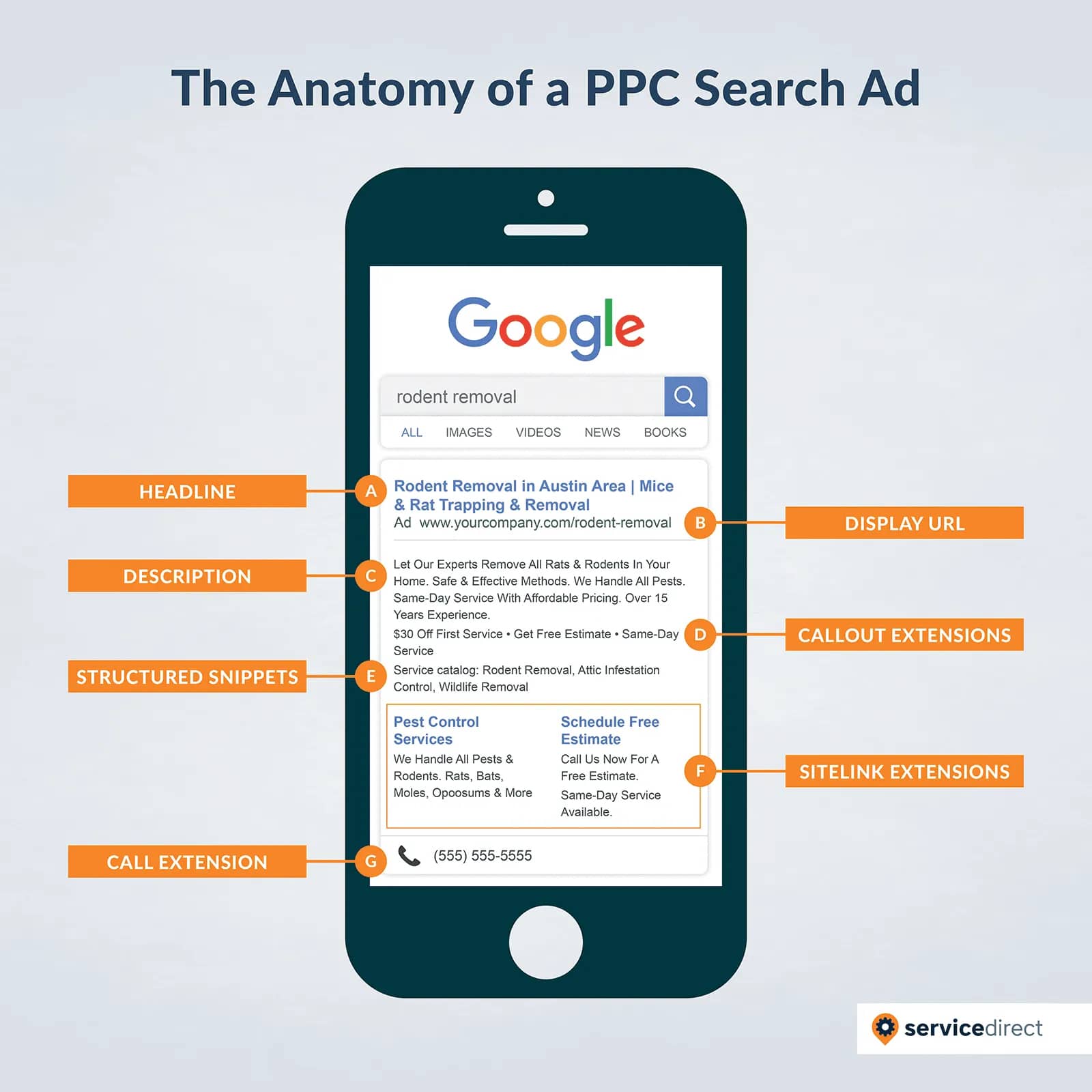 Pay per call ads, on the other hand, tend to have higher a ROI because you only pay when someone picks up the phone to call. As you can imagine, a person who is willing to call you is most likely going to be more primed to hire your services.

It's important that you not only understand these differences but think critically about what will work best for your company before going any further.

Take a look at what one of our clients said when we asked them about pay per click versus pay per call:
"For us, it boiled down to pay-per-click marketing being highly ineffective. When we ran the numbers, our ROI on our PPC marketing was very low, and when we factored in the high cost of labor to manage those campaigns, it just wasn't working for us. So, not only was it costing us a lot of money to convert a lead through our PPC efforts, but it was also very inconsistent in terms of the volume of leads that we generated from day to day and week to week. That's when we decided to look for a service that could help us do this more effectively."
Pros and cons of pay per call advertising
Take a look at these pros and cons to help determine whether you want to use pay per call marketing to grow your HVAC business.
Pro: Pay Per Call is Cost-Effective
Pay per call is known for being very cost-effective since each lead that turns into a customer could double or even triple the amount you spent on the leads. For example, an HVAC cost per lead (CPL) can range from $5 to $130, while the average HVAC repair ranges from $150 to $450.
While these numbers are estimates, and you still have to do the work to close the deal before you can consider how much you'll make on a job, they can give you an idea of how much you might earn from start to finish with pay per call.
Con: Your Salesmanship Can Make or Break You
Each call will cost you regardless of whether or not the lead turns into a customer. This could be expensive, which is why it's important that you and your team have the skills to turn every single call into a booked job.
This is especially important because PPCall is more expensive than pay per click from a single interaction perspective. If a caller is seeking your services and you don't turn that call into a lead, you're going to have wasted a lot more money than you would have on a click that didn't turn into a lead (although the latter will happen much more often.)
Pro: There is Less Competition with Pay Per Call
Because PPCall seems more expensive than other types of digital advertising, especially pay per click, there might not be as many companies in your area vying for the same potential customers.
And even if there are other companies in the area using pay per call, if you are partnering with a lead generation company, part of their job is to help you stand above the competition!
Remember: every industry and location is going to be different, so it's possible that there is a high level of competition out there. But overall you should be looking at less competition.
Con: Not All Pay Per Call Companies Are Created Equal
When researching what type of company to partner with for pay per call services, you'll want to remember that not all companies are created equal. It's important to vet each company and do your best to ensure they have your HVAC business's best interests at heart.
Keep these in mind when searching for a PPCall partner:
Don't sign a long-term contract. Trustworthy, professional companies who are confident in providing results for their customers will let their services speak for themselves. If you sign a long-term contract, you are essentially agreeing to pay the company regardless of the results they provide.
Costs that seem too good to be true probably are. CPLs that are shockingly low might be an indication that their business strategy is quantity over quality. Your money should be going towards real, exclusive leads that have the potential of turning into customers rather than spam, junk calls, or resold leads.
Shared leads might lead to overspending without results. When a company offers shared leads, they are essentially letting its clients fight for leads. This increases the chance that you will receive lower-quality leads or spend more than agreed on high-quality calls.
Pay Per Call Best Practices for Best Results
The best thing you can do is answer your phone.
As you know, simply listening to your phone ring will not be enough to close the deal. Plus, not being present when a potential client calls is not a good impression and could quickly send that person to a different business
In order to ensure your clients have a positive experience with your HVAC business, it's essential to train your technicians on effective customer support strategies.
Informing clients about current promotions, communicating from start to finish about the process, being punctual, and something as simple as wearing shoe covers can go a long way in making a great impression on customers and keep them coming back for years.
Something that goes hand in hand with customer service is receiving excellent customer reviews! Utilizing your website and social media to showcase these reviews is an effective way to show people seeking your services that what you're claiming to provide checks out.
The more active you are with responding to questions, concerns, and reviews online the more present and committed you will look to a potential customer. Plus, you're providing a better experience to your current customers, it's a win-win for everyone!
Bottom Line
No matter what marketing company or strategy you choose, it's important that you know the intentions and expectations of the company align with your business goals.

Speaking to past and current clients as well as receiving data on lead generation rates and proven track records of success is a great way to get to know the company before making a decision.

After putting in the time and effort to ensure you have the best chance of closing the deals of leads through customer support training, you'll be well on your way to building a more successful business with even more satisfied clients.


Related Content