January 23, 2023 by Molly Weybright
How to Boost SEO for Water Damage Companies
Search engine optimization (SEO) for water damage companies is one of the most neglected aspects of marketing. Most business owners think that because they offer a necessary service, customers will find them without any extra effort on their part. Unfortunately, this isn't always the case.
In order to rank higher in the search engine results pages (SERPs) and encourage conversions, you need to put some extra work into your SEO strategy. In fact, 83% of small businesses would agree that SEO is an essential part of online marketing.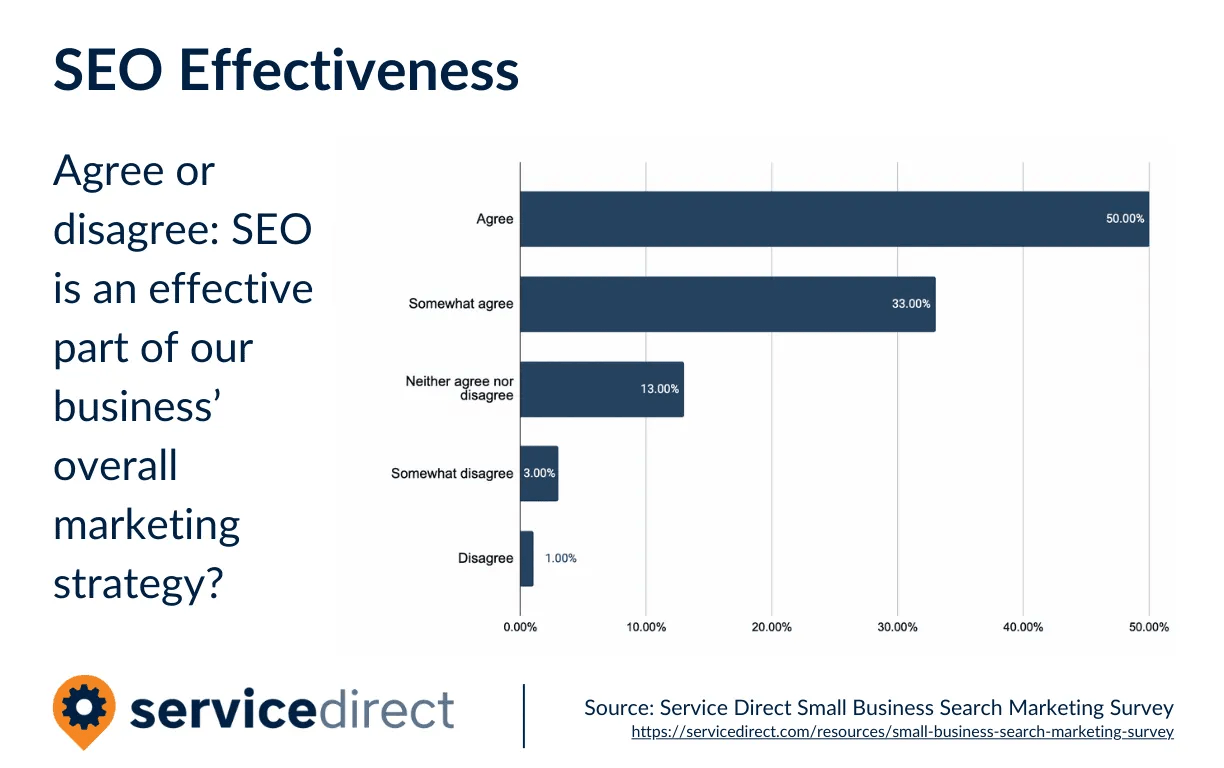 This blog post will teach you how to claim your Google My Business profile, improve your website's SEO ranking, and appear higher in local search results, as well as what crucial elements to add to your website to seal the deal.
Understanding the Basics of SEO
No matter how far along you are in your SEO journey, it's always helpful to refresh yourself on the basics. SEO is the process of optimizing your website and online content to rank higher in search engine results pages.
This is important because when potential customers search for water damage contractors in their area, you want your business to appear as close to the top of the results list as possible. There are a number of factors that go into SEO, including on-page optimization (like using keywords and title tags) and off-page optimization (like building backlinks).
Fortunately, there are plenty of resources available to help you get started. So if you're ready to get serious about growing your water damage contracting business, start by learning the basics of SEO and building from there.
Where Can Your Business Show Up on Google?
If you're a water damage company, there are two main places you want to appear on Google: the Google Maps results and the SERPs (search engine results pages). Both of these placements can be extremely valuable in driving traffic and leads to your business.
Google Maps is often the first place people look when they're searching for a local business, so appearing in the Maps results can give you a major boost in visibility. Plus, appearing in the Maps results also gives you the opportunity to showcase your reviews and ratings, which can help build consumer trust and confidence.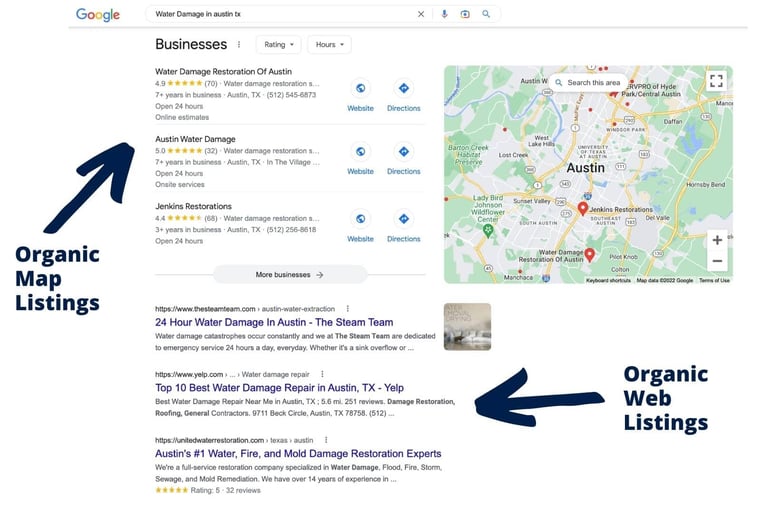 As for the SERPs, appearing high up in the search results is essential for getting clicks and traffic. But it's also important to note that appearing in the SERPs is not just about ranking high - it's also about having a well-optimized listing that includes all of the relevant information that potential customers are looking for. So make sure your listing is complete and accurate and includes key details like your address, phone number, and hours of operation.

By optimizing your listing, you can make it more likely that potential customers will choose to do business with you when they see your company appear in the search results.
Google My Business
When it comes to SEO, your Google My Business listing is crucial. Claiming and updating your listing regularly ensures that your company appears in the Google Maps results when someone searches for companies in your area.

This is especially important for water damage companies, as appearing in the maps results can mean the difference between being found by a potential customer and being lost in the sea of results.



While claiming and updating your listing may seem like a lot of work, it's worth it when you consider the benefits. Not only will you improve your SEO and visibility, but you'll also build trust with potential customers by showing them that you're an active and reliable business.
Plus, when you update your GMB listing you are able to add new services, post relevant FAQs, and respond to reviews—all of which help to boost your company's reliability in the eyes of customers.
Verify Your Name, Address, and Phone Number
You've likely seen it before—you search for a business on Google, only to find that their phone number, hours of operation, or even address is out of date. As annoying as it is for customers, it's even worse for the business owner, who is losing out on valuable leads and customers.

Keeping your NAP information accurate and up to date is important in your SEO strategy for two reasons:
Potential customers need to be able to reach you
Search engines like Google use this information when they're determining how to rank your listings in search results
Clearly, if your NAP information is out of date, you could be losing out on both customers and search engine visibility.
Fortunately, keeping your NAP information accurate and up to date is relatively simple: just log into your GMB listing and update the relevant fields. And if you ever move or change phone numbers, be sure to update your listing accordingly.
Keeping your NAP information current may not seem like a big deal, but it's crucial for ensuring that potential customers can find you—and that your business ends up in front of them in search results.
Highlight Reviews for More Visibility
As a local water damage company, you know that customer reviews are a big deal—both offline and online. In fact, Google uses reviews as one of the signals they take into account when determining your ranking in Google Maps. So if you want to improve your SEO, you need to get more reviews from your customers.
But how do you do that?
First, make it easy for them to leave a review. In a survey we conducted, we found that 71% of consumers said they were likely or very likely to provide a review after being satisfied if the company made it easy for them to do so.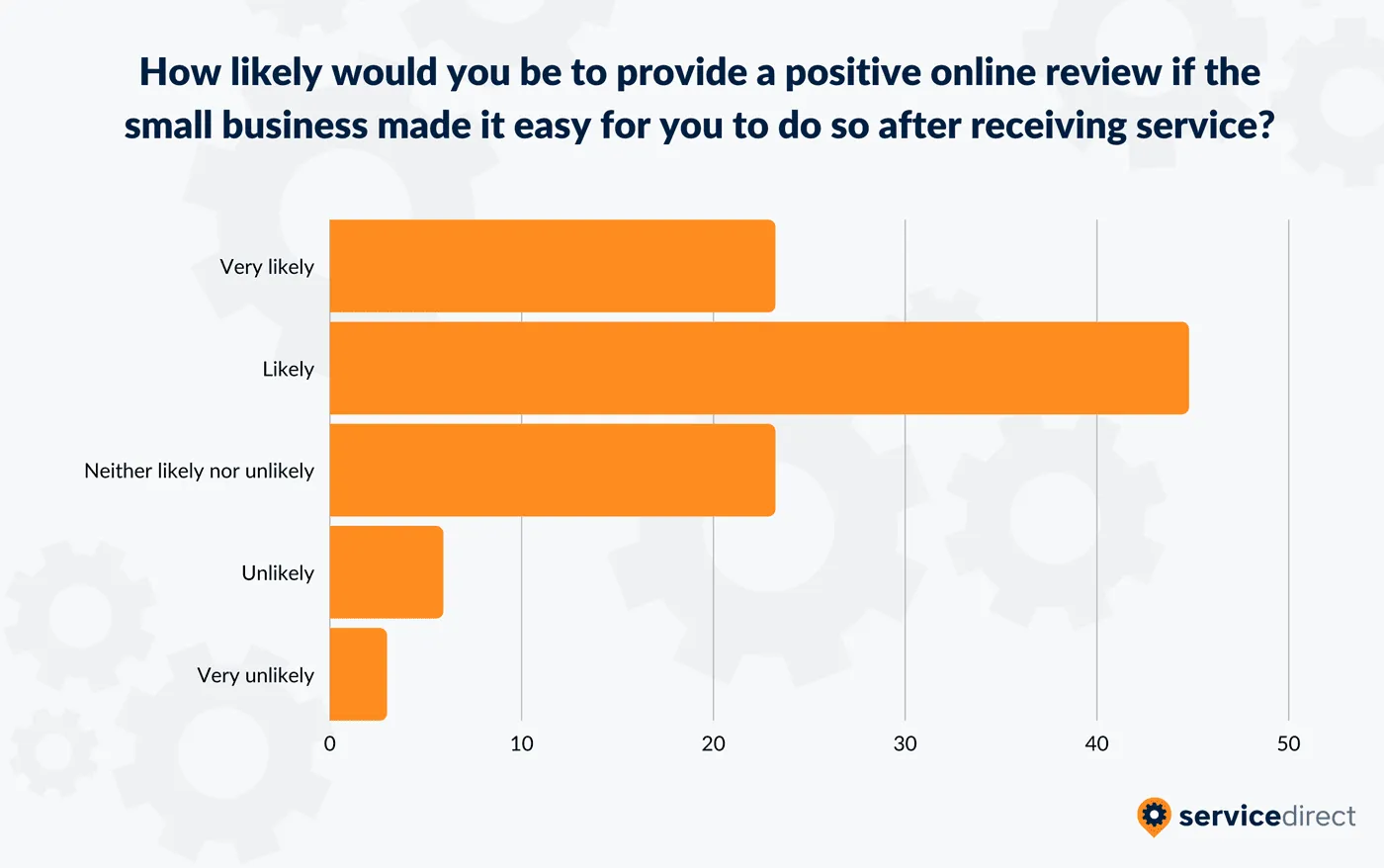 You can do this by putting a link to your Google listing on your website and making sure it's prominently displayed. You can also put up signs in your business or send out emails asking customers to leave a review.
Additionally, make sure you respond to all reviews, both positive and negative. Thank customers who leave positive reviews and address any concerns raised in negative reviews.
By following these steps, you can boost your ranking and visibility on GMB, which will help improve your SEO.
Keep Your GMB Profile Updated Regularly
It's essential to keep your Google My Business listing up-to-date so you can stay ahead of the competition. Regular updates reaffirm to Google that your business is reputable and deserves to be served to searchers before your competitors.
Here are a few ways to keep your GMB listing updated regularly:
Post Regularly: One way to show Google that your business is active and trustworthy is to post regularly on your GMB listing. You can post updates about your products or services, events or specials you're running, or even just general news about your industry. Keep your posts interesting and engaging, and make sure to include relevant keywords so that they show up when people are searching for those terms.
Respond Quickly to Reviews: Make sure to respond quickly to all reviews—thank customers for their positive feedback, and address any concerns raised in negative reviews. This will go a long way toward showing Google (and searchers) that you're a reliable business worth doing business with.
Update Your Business Information: It's important to keep all of your business information accurate and up-to-date on your GMB listing so that potential customers can easily find what they're looking for. This includes things like your hours of operation, contact information, address, website, and service offerings. If any of this information changes, be sure to update it on your GMB listing right away.
Highlight Special Offers: If your water damage company is running any discounts or special offers, make sure to update your GMB listing with them. Don't forget to take them down when they have expired, as well.
By taking these simple steps, you can help ensure that your GMB listing is working hard for you and helping to attract new customers.
Organic Search Results Positioning
When it comes to SEO, one of the main goals is to get your water damage website to rank higher on the SERPs. Considering that over 90% of people don't click past the first page on Google, this is crucial for getting noticed by new customers and can be a major boost for your business.
There are a number of ways to optimize your website and strategy to make this happen, and it's important to understand how each of these methods can help you achieve success:
Create high-quality, keyword-rich content that is relevant to your target audience.
Make sure your site is easy to navigate and that it loads quickly.
Build backlinks from high-quality websites.
By understanding and utilizing each of these methods, you can significantly improve your chances of ranking higher on the SERPs and getting more traffic to your website.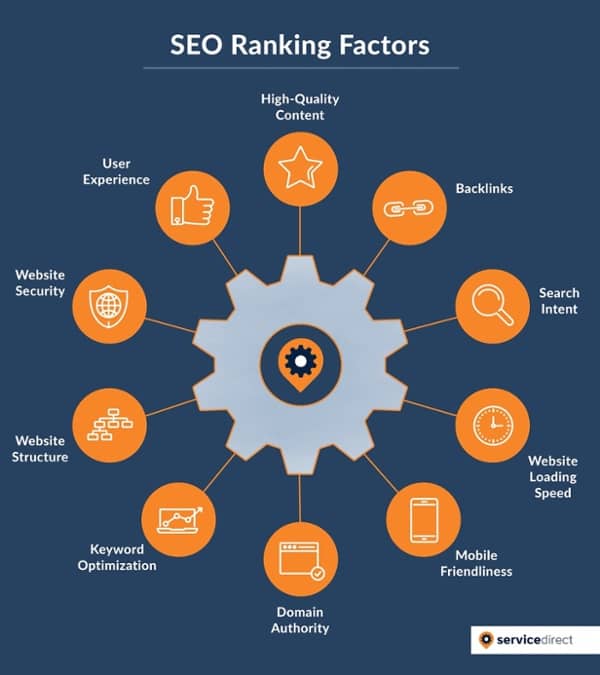 Improve Website Elements to Bolster SEO
As any business owner knows, having a website is essential in today's digital world. But it's not enough to just have any old website—it needs to run smoothly, load quickly, and be mobile-friendly. Why is this important? Because if your website doesn't meet those criteria, your water damage company will appear lower on SERPs
This is because one of the key factors that search engines use to determine rankings is the user experience, and sites that provide a good experience are more likely to appear higher in the results. If your site is slow or difficult to use on mobile devices, users are likely to click away, which will signal to the search engine that your site is not providing a good experience.
Speak Google's Language With Meta Data and Descriptions
If you want your website to rank well organically in SERPs, it's important to pay attention to meta data and descriptions. These are small pieces of information that help search engines like Google understand what your website is about, and they can also influence how your site appears in SERPs.
For example, the title tag is one of the most important pieces of meta data—it tells search engines what your website is about, and it also appears as the main headline for your listing in SERPs.
Likewise, the meta description is another important piece of meta data—it appears underneath the title in SERPs, and it gives potential visitors a brief overview of what they can expect to find on your site.
Although neither of these elements will guarantee a top ranking, they are both important factors in SEO, and they can help to increase click-through rates from SERPs. As such, it's worth taking the time to ensure that your meta data and descriptions are optimized for SEO.
Improve Your Content For Better SEO
Your water damage website's content is what people will be looking at if they are interested in becoming your customer. Because of that, it's important that you're not only working to produce quality content, but you're also using that content in a way that improves your SEO strategy.
Write Keyword-Rich Content
If you're running a water damage company, you know that keywords are crucial to effective SEO. But what exactly are keywords, and how do you use them effectively?
Keywords are simply words or phrases that people use when they're searching for something online. For water damage companies, some of the most important keywords to include in their content are "water damage restoration," "flood damage repair," and "leak detection and repair."
Including these keywords will help ensure that your company's website appears in the search results when potential customers are looking for these services. Keep in mind that keyword stuffing will not only turn off potential customers, but it can also get you penalized by Google.
Of course, simply including these keywords is not enough; you also need to think about how to effectively use them in your content. For example, you may want to consider using them in the title or header of a blog post or web page, as well as in the body of the text. Using site pages that highlight specific high-value services is a surefire way to use keywords and boost SEO.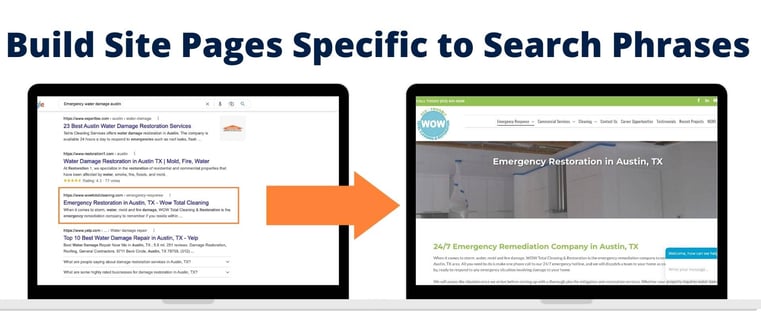 Example: Dunmanelectric.com
Encourage SEO with Blogging and Backlinks
Blogging is a great way to improve your SEO because it helps you produce fresh, relevant content that can rank well in search engines. And with 40% of consumers reporting that being able to read more about a company and their knowledge/insights via their blog would make them more likely to patronize that business, blogging is simply a must.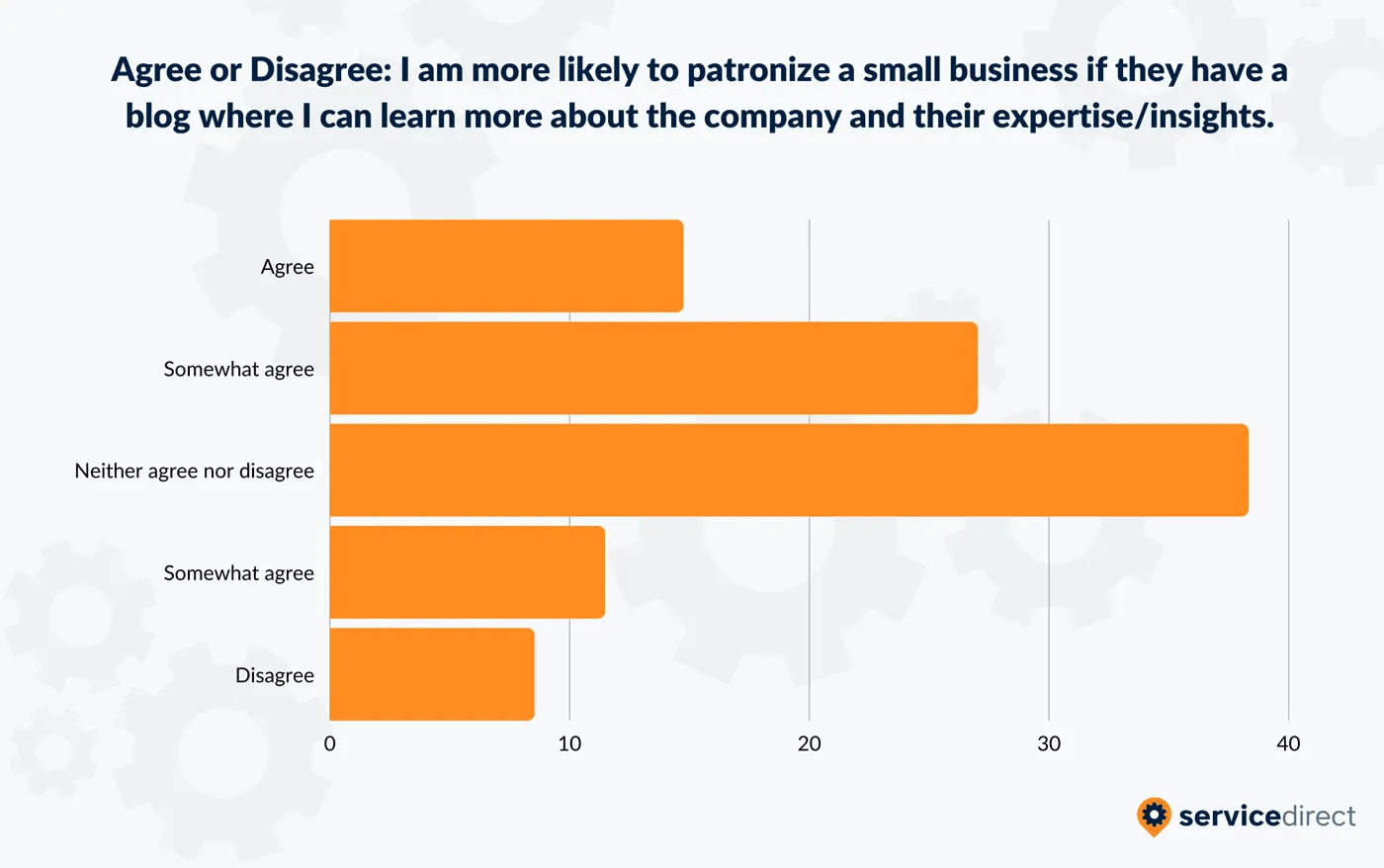 In addition, each blog post gives you another opportunity to include keywords and other valuable ranking factors. At Service Direct, we put a lot of effort into regularly blogging that ultimately grew our organic traffic, as you can see in the image below.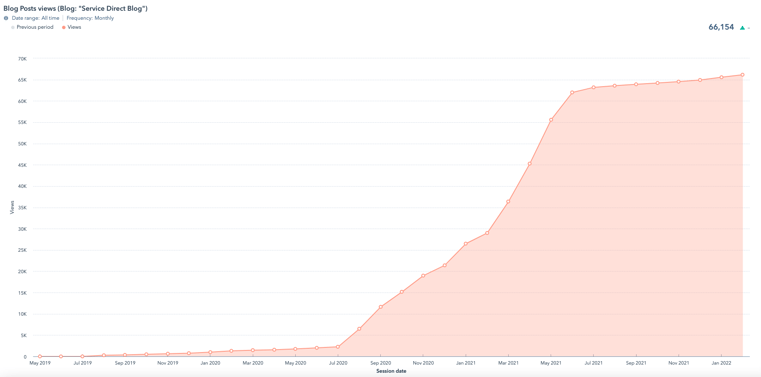 Since blog posts can be shared easily, they can also help you build up backlinks from high-quality websites, which is another effective way to improve your SEO.
Backlinks are links from other websites that point back to your site. Google sees these as a sign of your site's popularity, authority, and reliability, which can help you rank higher in search results. Quality backlinks from relevant and reputable websites are essentially votes of confidence in Google's eyes.
Schema Markups Will Help Your Listing Stand Out
Even though your website is now appearing high on the SERPs thanks to our expert tips, you still need to do everything you can to encourage people to click on your listing. That's where schema markups come in.
Schema markups are a code that you can add to your website to help search engines understand your content. In addition, schema markups can also help to improve your click-through rate by making your listing more eye-catching and relevant.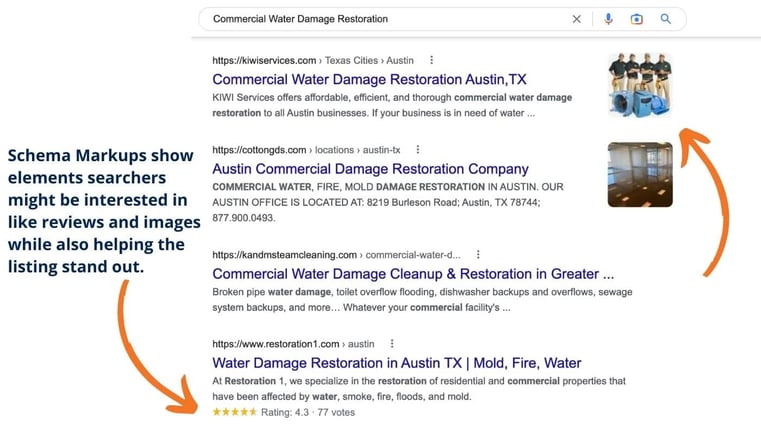 While adding schema markups may seem like a lot of work, the potential benefits are definitely worth the effort. So if you want to give your water damage website that extra boost, be sure to start using schema markups!
Conclusion
When it comes to website ranking on SERPs and Google Maps, there are a number of things you can do to improve your organic ranking. As we discussed, claiming your GMB listing and ensuring that your website is optimized for SEO are both great places to start.
In addition, regularly producing content that acquires backlinks will help you get noticed by the right people. If you're looking for more tips on how to rank higher on SERPs and Google Maps, be sure to download our digital marketing guide for water damage professionals.
Related Content