February 25, 2022 by Matt Buchanan
How To Turn Price Shoppers Into Valuable Customers
Updated June 7, 2023
If you have found yourself thinking or uttering the words below, please read this article. That belief is costing you tens of thousands of dollars in lost revenue.
"Ah they're just price shoppers, they weren't serious about hiring me."
- Probably You at Some Point
As a lead generation company that generates hundreds of thousands of exclusive phone leads for home improvement contractors each month, we at Service Direct have unique insights into the nature of price shopping calls, as well as their results for our clients. We analyzed thousands of price shopper calls to better understand the nature of calls where the caller inquired about the price.
What we learned might surprise you.
Key Findings
About a third (32%) of homeowners ask about the price on the first call.
Giving a price quote on the first call reduced the booked appointment rate from 58% to 39%.
If the call is handled properly, the booked appointment rate of price shoppers versus non-price shoppers was virtually the same (58% versus 62%)
When speaking to price shoppers,

representatives

were 49% more likely to book an appointment if they built rapport and value during the call.
32% of Homeowners Ask About Pricing on the First Call
Many home improvement contractors fervently believe that price shoppers aren't serious about purchasing their services. That belief is creating a blind spot in your business that could be costing you money. The reality is this: 32% of homeowners ask a question about pricing on the initial call.
Given that, the question you have to ask yourself is: Is my business really in a position to automatically reject a third of homeowners seeking my services?
Unless you have an unlimited marketing budget and can throw money around as a result, the answer is a resounding 'No'.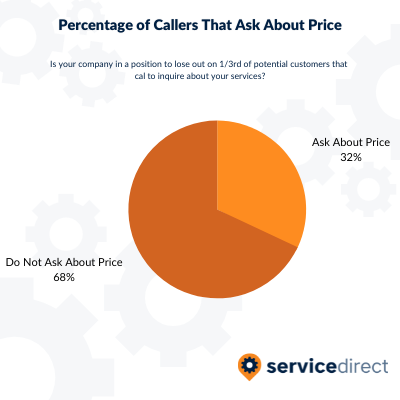 Giving a Price Quote on the First Call Reduces Booked Appointment Rate From 58% to 39%
Whether you realize it or not, when a potential customer calls you to discuss your services, you're engaged in a sales conversation. That means that many of the most common sales tips and best practices must be applied to that conversation to win the potential customer's trust and earn their business.
Chief among them is one sales truism: You don't discuss price until you understand their needs, have built value and rapport, and have addressed their concerns.
The reality is that it's challenging to do those things over the phone, especially on the initial phone call—making a discussion about pricing ill-timed and typically ill-received.
When looking at our call data, we learned that during calls with price shoppers, the booked appointment rate for representatives that quoted a price was 39%, compared to 58% who didn't give a price quote.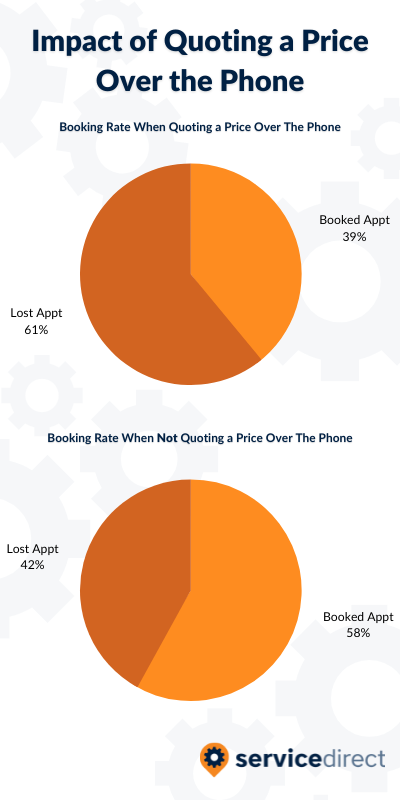 Let's look at an actual example.
Homeowner: Hello, my water heater isn't getting the water hot and I'm curious what you charge to come out and fix it?
Rep: We charge $159 for the first hour and $99 for each subsequent hour. Would you like to go ahead and schedule service?
This exchange is something we see often, and it rarely works out for our clients. Why? Put yourself in the homeowner's shoes.
What reason have you given them to choose your service over another plumbing company? As far as they are concerned, you're simply a price tag. You've commoditized your company and your service, and have given the homeowner no other reason to choose you other than price.
In essence, you've incentivized them to price shop, as opposed to scheduling with you.
The Booked Appointment Rate of Price Shoppers vs Non-Price Shoppers is Virtually the Same
What our data makes clear is that when a call with a price shopper is handled correctly by the representative (i.e., by building rapport, emphasizing value, and addressing concerns), the ability to book an appointment is almost the same as when speaking with a potential customer who doesn't ask about the price.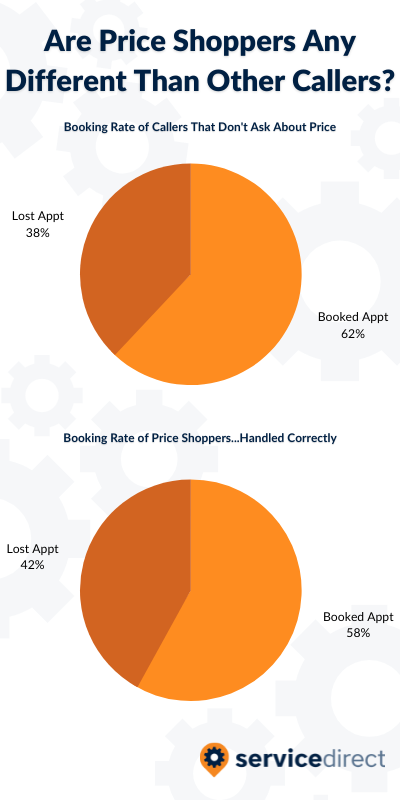 So why do so many contractors believe the opposite? They believe this because their approach to handling these customers has been wrong and ultimately led to poor results.
When Speaking to Price Shoppers, Representatives Were 49% More Likely to Book an Appointment if They Built Value During the Call
When analyzing our clients' calls, we evaluate our clients' representatives across multiple criteria. When it comes to handling call interactions where pricing is mentioned, we have found a direct correlation of 3 factors between whether or not an appointment is booked on that call.
These three factors are:
Build Rapport
Understand Needs
Build Value
Best Practices
Build Rapport
When it comes to local services, people buy from people, not companies. They need to know they can trust the people behind the business because they are ultimately buying a service performed by people.
So what does that mean when it comes to building rapport over the phone? You must take every opportunity to humanize your company in the eyes of the person on the other end of the phone.
When it comes to building rapport, there are 3 main components:
Introduce. Make sure you get the homeowner's name and introduce yourself. Use their name as often as possible in the conversation.
Empathize. If the homeowner is dealing with a hugely inconvenient problem, let them know you empathize with their situation and want to help.
Relate. Do everything you can to relate on a personal level.
Understand Needs
Potential customers need to know that you hear what they are saying and that their situation matters. There is no better way to gain trust than to ask questions and listen intently to the answers.
Let's take the example of the caller that said their water heater wasn't working, for instance. How many questions could that representative have asked to better understand what's happening with their hot water system?
How old is the unit?
What is the make and model?
When was the last time it was flushed?
Is the pilot light on?
Have you had it serviced previously?
By asking questions, you not only learn more about their problem (so you can dispatch the best technician to solve their problem), but you're also subconsciously letting them know you care. That goes a long way in earning their trust!
Build Value
Homeowners aren't really price shoppers—even if they are asking about price. Like virtually everyone, they are value shoppers. What does that mean? It means they want to know that they are getting sufficient value for whatever the monetary cost of the service might be to them.
So how can you build value (while speaking around cost)? Let them know what they will be getting if they choose you:
Technician expertise
Hiring process (background checks, drug screening, etc.)
Service warranties
Industry experience or years in business
Reviews from happy customers
Explanation of service process (what happens next)
Accreditations & Affiliations
Give a comforting reason for why you can't give them pricing over the phone right out of the gate. Ultimately, you can't give accurate pricing without truly understanding the situation. There are dozens of things that could factor into the price of the service, and without seeing or learning more about the issue for yourself, it's simply not possible to give them any pricing that would be of value to them.
Ultimately, your goal when it comes to pricing should be to:
A) explain whatever options are available to them to address their issue, and
B) provide accurate pricing for each option.
This allows them to make a decision that is best for them. So explain that and then quickly transition to asking for a time when you can have someone come out and take a look at the issue.
What is the perfect script for dealing with Price Shoppers?
Hopefully, this article has convinced you that it's worth your time and efforts to better engage folks that have questions about pricing. Without a doubt, if you're willing to rethink those engagements and train your employees on how to handle them, you will win more jobs and generate more revenue.
We've built an easy-to-use template you can download to help train yourself, or your employees, on exactly what to say when talking to what will amount to roughly 1/3rd of people interested in your services.
Download it now and put it to practice, we promise you'll start winning more jobs and earning more revenue!
Related Content