January 24, 2022 by Service Direct
Benefits Of Advertising Online With Google
You know enough to know that you need to spend some money on advertising for your business. But where do you start? With countless platforms and social networks, businesses pay for digital ads in places that range from Facebook to Yelp and numerous other places in between. And while advertising online with Google may seem like an obvious choice, you may be overwhelmed by the many options available to companies like yours.
If the number of advertising options in our digital age has you flummoxed, you're not alone. Despite seeming like a clear choice for businesses, plenty of companies neglect to advertise through Google. We think this is one of the greatest mistakes you can make when it comes to marketing your business. Some companies, on the other hand, do advertise with Google but do not do so strategically. Both of these circumstances could be, at least in part, because of the investment required or the over-saturation of advertisers using the Google Ads tools. Others neglect Google Ads because they lack knowledge about how to effectively use Google Ads.
Standing out among the local competition is vital to your business' success, so it's important to take a look at the highly measurable benefits and profit potential that come with effective and strategic Google Ads campaigns.
What is Google Ads?
Google Ads (formerly known as Google AdWords) is a pay-per-click model that puts your content at the top of search results based on target keywords. Almost every time you see an ad for a company's landing page rank as the first (or second, or third) search result on a Google search, it's not just the result of good SEO; the company likely has a Google Ads campaign underway.

Through Google Ads (formerly known as Google AdWords), you pay to have a Google Ad for your business displayed to customers who search for relevant terms on Google Search and Maps. Google Ads is a key digital marketing tool for any business that is looking to get meaningful ad copy in front of its target audience in order to generate high-quality leads with high purchase intent.

With Google Ads, you pay only for actual, measurable results, such as website clicks or phone calls. This structure is known as a pay-per-click (PPC) campaign. You can set a monthly Google Ads campaign ad-spend budget that Google will automatically follow, and you can choose to make your target audience global or local and/or service-specific.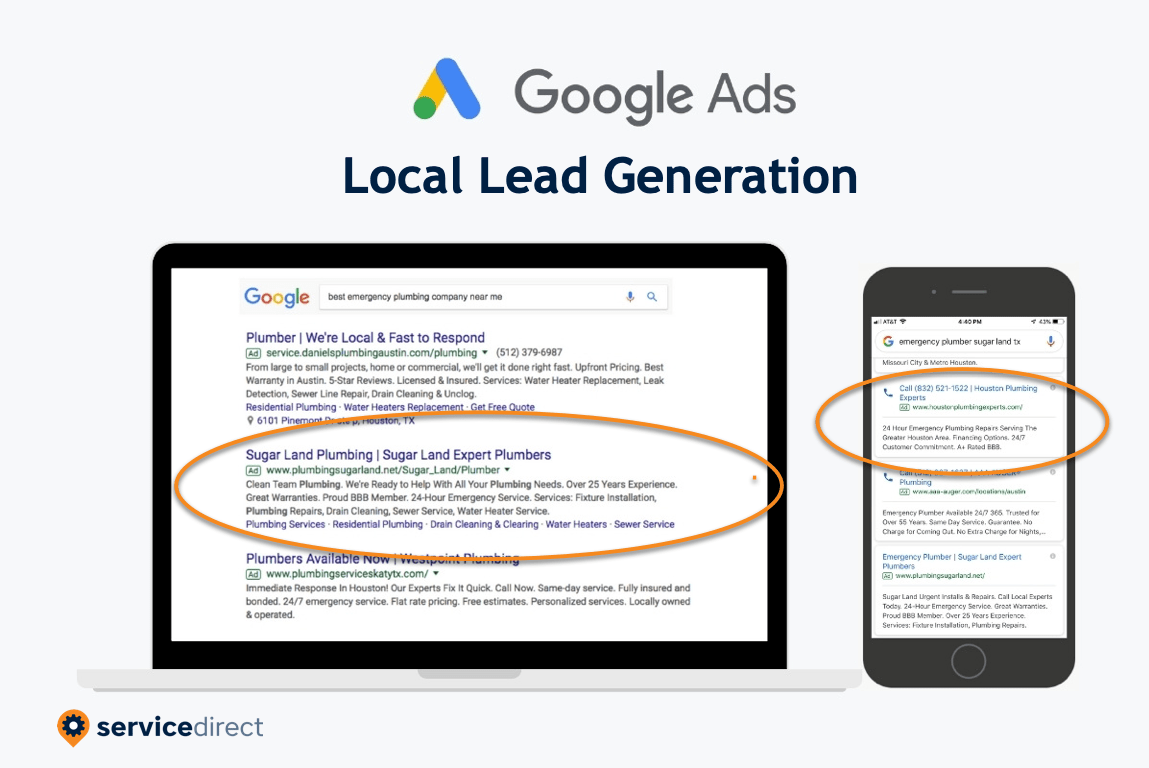 How does Google Ads work?
Now that you know what Google Ads is, you may be wondering how it works. When you embark on a Google ad spend, first you'll tell Google which of these three goals you're aiming to achieve:
Increase calls to your business
Direct more visitors to your business.
Guide people to your website or company landing page.
Then, you'll determine which local audience you want your ad delivered to. Next, you'll use images or three short sentences to tell Google what makes your business stand out, and Google will use this data to help you create your ad copy. Finally, you'll set your budget, which Google will use to predict your Google Ads campaign's success, and Google will launch your ad. Your target audience will (hopefully) see your ad ranking high in the search results, and as more people click on your PPC campaign ads, your business will come closer to fulfilling its preset budget - while also getting leads.
The Three Types of Online Ads
Before you learn the benefits and costs of advertising online, it's important to first identify the three main PPC ad types
Search Ads: When you search on Google, Bing, or another search engine, some of the results returned are sponsored ad messages. They look exactly like the organic results, but they have a small 'AD' icon.
Display Ads: Often, while browsing popular Internet sites, you may see banners, overlays, or small box/rectangle ads on the screen. These are known as display ads because they 'display' on websites across the Internet.
Video Ads: When you watch video content on YouTube and other platforms, you're often asked to watch an ad. This is another type of online advertising that is sometimes categorized under the display type. However, with the growing popularity of video content, it really deserves its own ad type.
There are different Google Ads formats available that bring quality and improvements in all available ad types.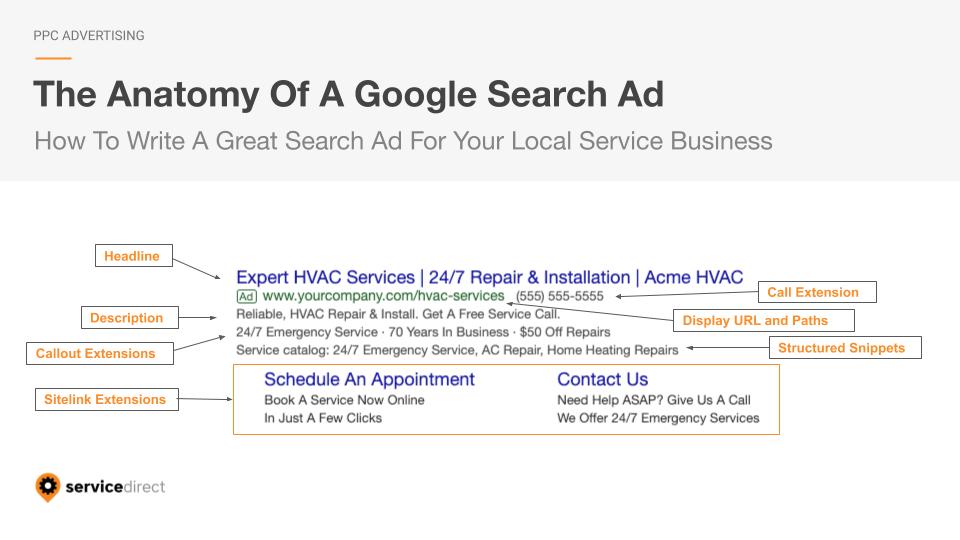 Benefits Of Using Google Ads
Here are some of the reasons we advocate for tactical Google Ads campaigns—and some of the benefits you can expect to see from successful advertising campaigns.
Reach more of your target audience.
Sometimes what seems intuitively true is what is true. In the case of search, it's true that Google is the top search engine. That's why advertising on Google not only makes sense but often is the difference between which local companies acquire new business and which do not. It's where most people go when they're searching for just about anything, including terms that could be directing them directly to your business. When leveraging the right keywords, advertising through Google can bring you a much heftier chunk of relevant traffic (and, therefore, customers) than you might assume. Capturing this valuable market share can be the difference between growing or stagnating your business.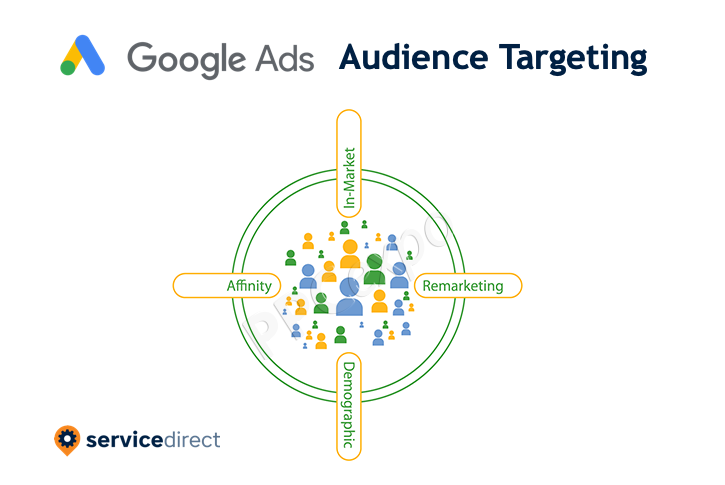 Increase brand awareness.
There's something to be said for visibility. While getting your company's name out there doesn't always convert in ways that are necessarily very measurable, we do know that increasing brand awareness has a real impact on sales. When you advertise through Google, you will be putting your name at the forefront of relevant search terms. Even if a viewer doesn't click on your link, simply seeing your business' name in correlation to a respective search term gives your brand some psychological strength.
Retarget your website visitors.
While just about every professional platform you might advertise with digitally offers performance reports for your ad campaigns, Google does this expertly. With thorough and regularly updated reports, it's clear that Google is the industry leader when it comes to which search networks are most impactful for online advertising.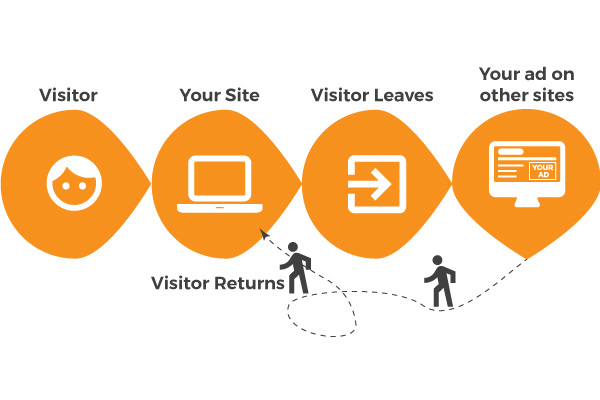 Effective campaigns can yield high returns.
Unlike some other forms of online advertising, the benefits of advertising online with Google include demonstrably higher returns. The caveat here is that you need to know how to properly organize your campaigns. Effective keyword targeting is the difference between outranking your competitors—and when you do, you'll generate more qualified and relevant leads.
Budgets are flexible.
Google's advertising tools are so sophisticated that users receive unparalleled flexibility, which is useful in more ways than one. Users can adjust, pause, stop, and start ads when it's convenient for them. Budgets can be altered and keywords can be continually sharpened until you find the precise place for your business within the advertising network.
Strategic ads can produce quick results.
Although high-quality evergreen content is imperative for a brand's online authority, Google advertising works swiftly. It can work much more quickly than standard search engine optimization marketing strategies—and you'll be able to access campaign data immediately. This helps you refine your approach (and change direction when needed) in real-time, resulting in less time spent waiting on results. While an SEO strategy is absolutely necessary, it should complement your Google advertising strategies, not replace them.
Insights are actionable.
One major advantage of advertising with Google is that the insights you'll receive are ones that are actionable. Conversion tracking and optimization, combined with real-time metrics are game-changing advertising insights on their own. Paired with a solid understanding of your business' overarching strategy and your end goals, you can use these insights to tailor your campaign to achieve valuable results.
Collectively, the benefits of advertising through Google have the potential to deeply impact your business while casting a bigger net that captures even more of your local market share.
Related Content