October 14, 2022 by Service Direct
What to Expect When Buying Appliance Repair Leads from Service Direct
As an Appliance Repair expert, you need to stay on top of the latest major appliance innovations and how best to mitigate common issues in order to stay competitive and provide your customers with great service. It's no different for us at Service Direct.

We've been providing Appliance Repair companies with quality leads for over 15 years, and we're always developing new lead generation techniques to drive the great customers to your business's phone lines.

We rely on data to help us improve our services, and the data speaks for itself. We have 2 methods of collecting data:
Client Reporting: Service Direct's Appliance Repair clients can record and track many key metrics regarding their lead generation performance, including call duration, booked appointment won/lost, revenue, and more. We use this data to help optimize our customer experience and results.
Internal System Reporting: Service Direct's team of Quality Assurance specialists listens to recorded calls in order to gather useful insights like caller intent, greeting type, caller language, and more.
With all of this data we are able to not only constantly improve our services, but also give you a glimpse at just what you can expect when you buy Appliance Repair leads with Service Direct.
How The Service Direct Pay-Per-Call Platform Works
Understanding how pay-per-call works is an important part of setting yourself up for success with Service Direct's leads. To put it simply, we bid on and buy phone calls from people who are actively seeking Appliance Repair services in your area and send them directly to your phone.


Just select the zip codes in which you do business and set the price you're willing to bid for Appliance Repair leads, and we take care of the rest. Service Direct will only charge you for calls that meet our criteria of a "billable lead."
Already familiar with PPCall? Terrific! But there are a few key features that differentiate Service Direct from other lead generation companies:
The phone leads we provide are exclusive, meaning you won't have to compete with other Appliance Repair companies in your area for the same call.
We make it easy to set and adjust both your service area and cost per lead at any time.
The convenient mySD dashboard enables tracking key metrics to optimize your ROI.
Types of appliance repair Calls Marketplace Generates
We could talk all day about how great our system is, but you're here to learn more specifically about the Appliance Repair leads we have to offer.

But first, an important note: This data is based on average results that our customers have reported and our system has captured. Every business is going to have unique results based on factors like service area, business model, and many others.

Now let's get into it!

For starters, the bulk of the repair calls we receive are for refrigerators (28%), washing machines (25%), and dryers (18%). Calls regarding dishwashers, ovens, stoves, and microwaves make up a significant portion of the rest of the calls.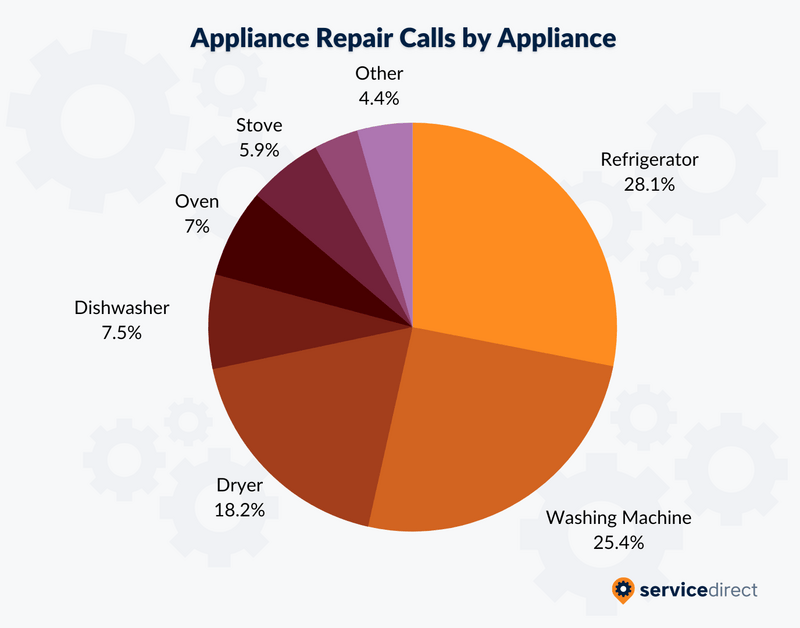 What's this mean for you? If you specialize in repairing any of the above mentioned appliances, Service Direct's leads are a great fit to help you grow your business – provided you know how to make the most of incoming phone leads.
Appliance Repair Leads by Brand
We can even take a look at what brands we get the most calls about. If you're prepared to make repairs on Samsung (19%), GE (15%), LG (14%), Whirlpool (12%), Maytag (11%), and Kenmore (10%) appliances, you'll most likely be able to capitalize on the leads Service Direct can supply.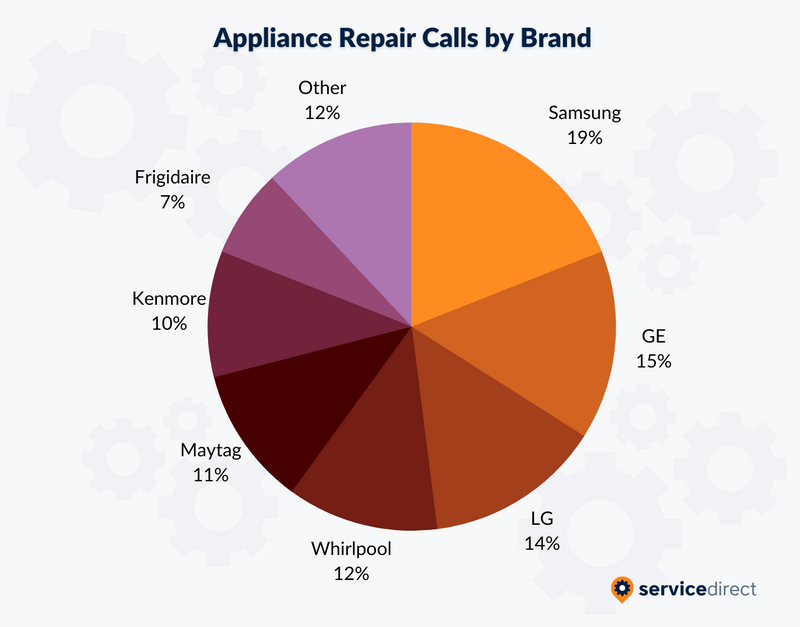 typical results for appliance repair companies
45.01%

Percentage of calls where the caller has a service need.

46.57%

Average first call booking rate from calls with a service need.

$211.34

Average job value based on client reported data.
Service Direct works with hundreds of Appliance Repair businesses across the US. Whether you're an individual contractor or a major Appliance Repair brand, we strive to provide high-quality calls that will help you meet your business goals.

A key metric we seek to improve is the likelihood that when your phone rings, it's actually a potential customer on the other end of the line. As it stands, you probably deal with plenty of calls from solicitors, existing client callbacks, cancellations, job seekers, and wrong numbers, when what you want is calls from new customers.

About 45% of the calls that Service Direct sends to Appliance Repair companies are from potential customers. That means that when your phone rings, it's more likely that the caller is actually someone in need of a repair. And don't forget, billable leads need to meet certain criteria.

Of the answered billable calls we send to our Appliance Repair clients, about 47% turn into a booked job. So not only are you getting more calls from new potential customers, a nearly half of them go from lead to paying customer.

Of course, there are things you can do to improve your chances of booking the job. The most impactful being simply answering the phone.
Call Insights Report – Free Trial
These broad statistics should give you a clear picture of what to expect when you buy Appliance Repair leads from Service Direct. But the data doesn't stop there! We also use data to help our customers optimize their results.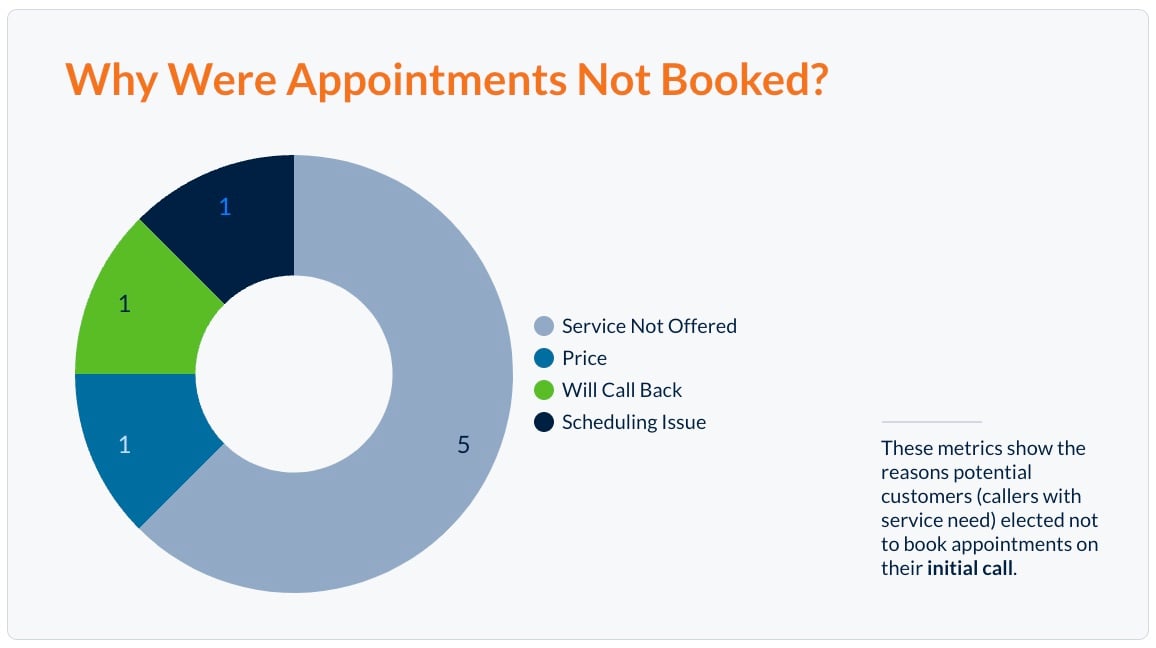 Enter Service Direct's Call Insights report. By reviewing and analyzing your call recordings, our expert Quality Assurance team can capture actionable insights and help you understand where things can be optimized.

All of this insightful data comes in a monthly Call Insights Report. Plus, we offer a free trial so you can decide for yourself if it's right for your Appliance Repair company.
How We handle non-billable calls
As you're probably already aware, spam calls have exploded in recent years. Unfortunately, this has also impacted the pay per call lead generation industry. That's why Service Direct is always working on ways to reduce the number of spam calls, wrong numbers, and other invalid calls that get through to our customers.

To help ensure the highest quality calls and integrity in our billing practices, we implemented our Quality Check feature. With the help of machine learning systems, we automatically identify nearly 50% of spam calls and 40% of wrong number calls with about 80% accuracy. And thanks to the nature of machine learning, the process is constantly improving.

Image Source
Our Quality Assurance team will review all of your calls to determine if they are billable. You can also easily request a lead review up to 7 days after it was delivered. Delivering the best leads possible is central to our mission, and we're constantly working to ensure our clients only pay for new potential customers.
Optimize Lead Generation to Grow Your Appliance Repair Business
Every company is unique, which is why Service Direct's approach enables each of our Appliance Repair partners to manage their own campaigns. After all, it's your business, so you should have ultimate say when it comes to your marketing approach.

Here are just a few of the tools and features that give you a high level of control over your experience and results:
Campaigns Manager: Our easy-to-use Campaigns Manager provides you with all the essential information about your campaigns in one convenient place. Organize your campaigns by a range of factors and make changes as needed to optimize the flow of leads.
Lead Manager: Our Lead Manager provides both a high level overview of your leads as well as a granular look at the details and recordings of each incoming lead. You can also submit leads for review if they meet billable criteria.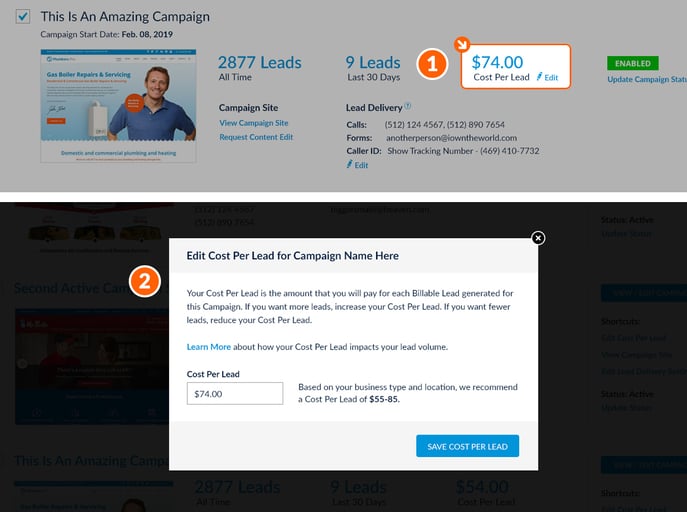 Lead Volume Control: Whether you're experiencing a slowdown and need to fill your calendar or in the middle of your busy season and have no openings for weeks, we make it easy to adjust your campaigns to fit your current needs. Make adjustments to your cost per lead, pause your campaigns, and set up modify ad schedules.
Service Area Adjustment: We give our marketplace clients the ability to add or remove zip codes to their service area at any time. This way you can better target specific parts of your service area and better control where you're getting calls from.
Conclusion
The data presented in this blog should give you a pretty solid idea of what to expect when purchasing Appliance Repair leads from Service Direct.
If you know how to turn answered calls into booked appointments, adjust your approach as you go to optimize your results, and answer every phone call you receive, you're set up to see a lot of success with Service Direct.
But the fact of the matter is that you won't know until you give it a shot!