April 21, 2023 by Molly Weybright
5 Top Thumbtack Competitors and Alternatives
In today's fast-paced world, getting your service business in front of the right customer can be a daunting task. Whether you're a residential plumber, a handyman looking for more leads, or are simply wondering what options are out there to help bring in more customers, there are many companies designed to connect your trustworthy business with people seeking your services.
Thumbtack, a popular online marketplace, has been helping customers connect with service providers for years. However, it's not the only player in the game.
In this blog post, we will explore 5 of the top Thumbtack competitors to help you determine how you want to grow and reach more potential customers in your area!
Angi
Angi, formerly known as Angie's List, is probably the most well-known competitor to Thumbtack. Their platform connects homeowners with local service providers in various categories such as home improvement, maintenance, and repairs.
Angi focuses on building a community of homeowners who can review and rate service providers based on their experiences. This is especially impactful for service providers who go above and beyond to ensure their customers have a top-tier experience.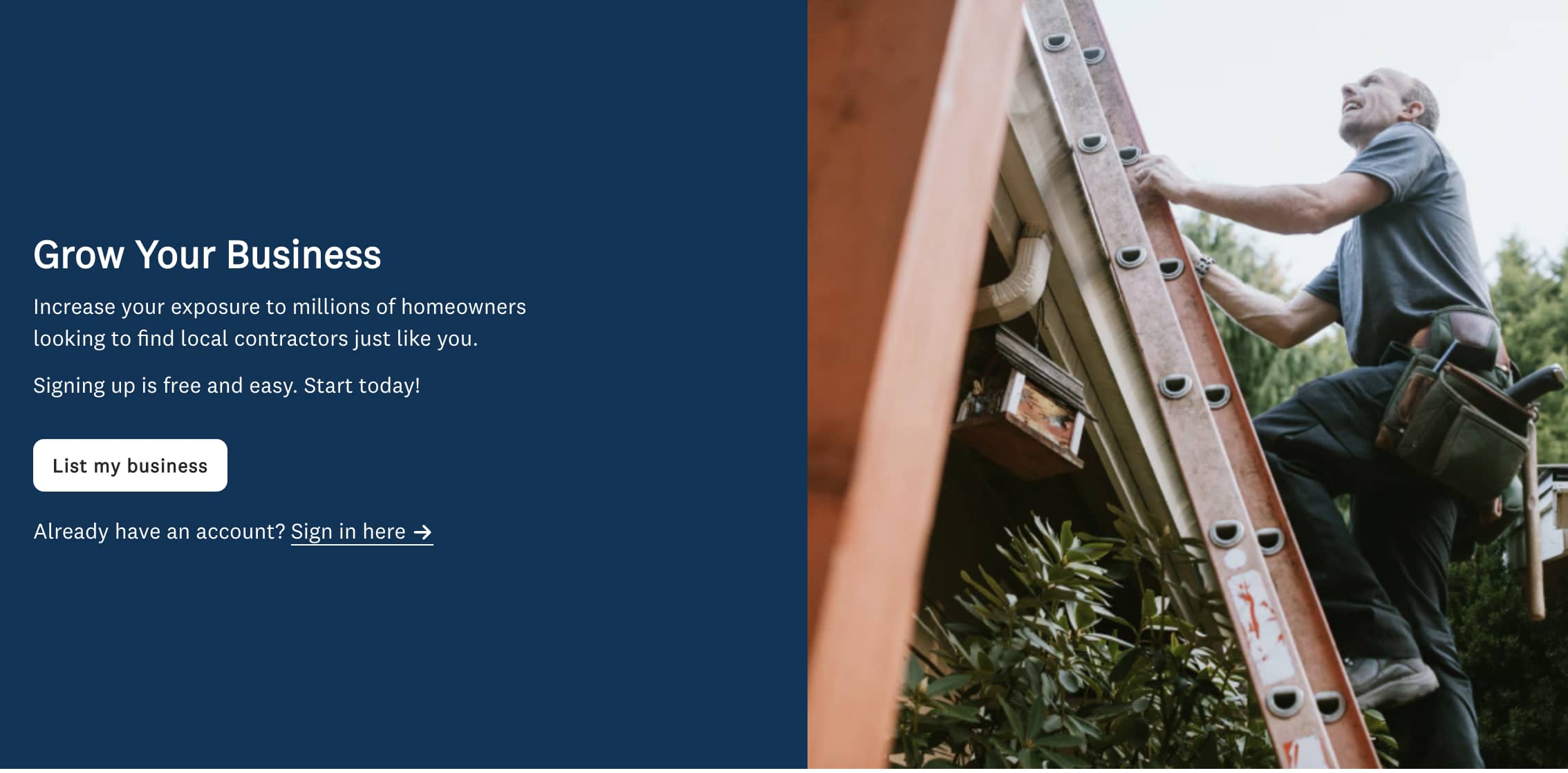 Image Source: Angi.com
Key features that Angi includes:
Service providers are thoroughly vetted before they can join the platform. This includes verifying licenses, insurance, and background checks.
It includes a fair and transparent pricing model, which allows homeowners to see estimated costs for services upfront.
Angi provides a customer service guarantee, ensuring that homeowners are satisfied with the services they receive.
homeadvisor
HomeAdvisor is another major competitor to Thumbtack. It is an online marketplace that connects homeowners with service providers in various home-related categories such as remodeling, landscaping, and plumbing.
HomeAdvisor boasts an extensive network of pre-screened and approved service providers, making it easy for homeowners to find your reliable home service business.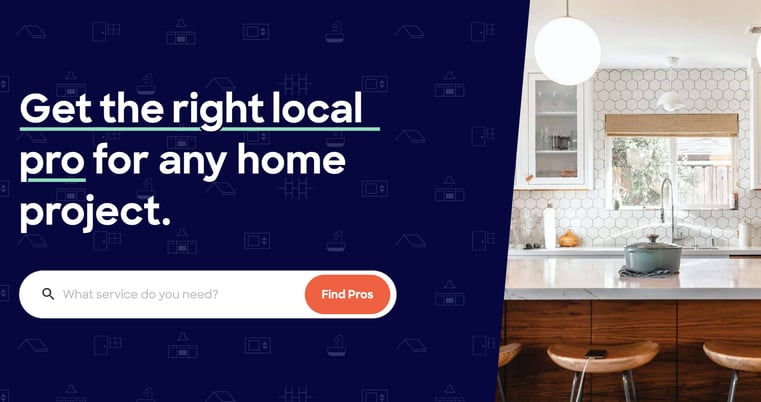 Image Source: HomeAdvisor.com
A few key features of HomeAdvisor:
Its ProFinder tool, which uses advanced technology to match homeowners with service providers like you based on their specific needs and preferences.
Homeowners can also read reviews, view project photos, and get quotes from multiple service providers through the platform, which means you'll want to put in some extra effort to stand out from the competition.
HomeAdvisor also offers a True Cost Guide, which provides homeowners with average costs for different services in their area. This can be beneficial if you focus on affordability with your services.
service direct
Service Direct is a unique player in the service provider marketplace, focusing primarily on lead generation for service providers.
At Service Direct, we use targeted digital marketing strategies to generate high-quality leads for service providers in various industries, such as HVAC, plumbing, electrical, and more. With over 15 years of experience connecting local service providers with the right customers, we are able to affordably and efficiently bring you high-quality leads.
At Service Direct we offer a pay per call model, where you only pay for leads that are calls from potential customers in a pre-designated area. This allows service providers like you to have more control over their marketing budget and only pay for leads that have a higher likelihood of conversion.
Key features of our service:
Companies have complete control over their campaigns. At any point you can adjust your cost per lead, ad schedule, service area, and more.
We provide regular insights to our clients about their campaigns. This is in an attempt to help you optimize your campaigns as often as possible for maximum ROI.
We have many features such as Quality Check that greatly reduce the number of spam calls, wrong numbers, and other invalid calls our customers receive. No matter what, our customers never pay for a lead that is not from a real, potential customer.
We also offer a lead management platform, which helps you track and manage leads efficiently.
yelp
Yelp is a well-known platform that started as a review site for restaurants but has expanded to include service providers of all kinds in most consumer industries.
While it's not specifically designed for service providers like Service Direct, Thumbtack, or HomeAdvisor, Yelp has a robust directory of local businesses, including service providers, which makes it a formidable competitor in the market.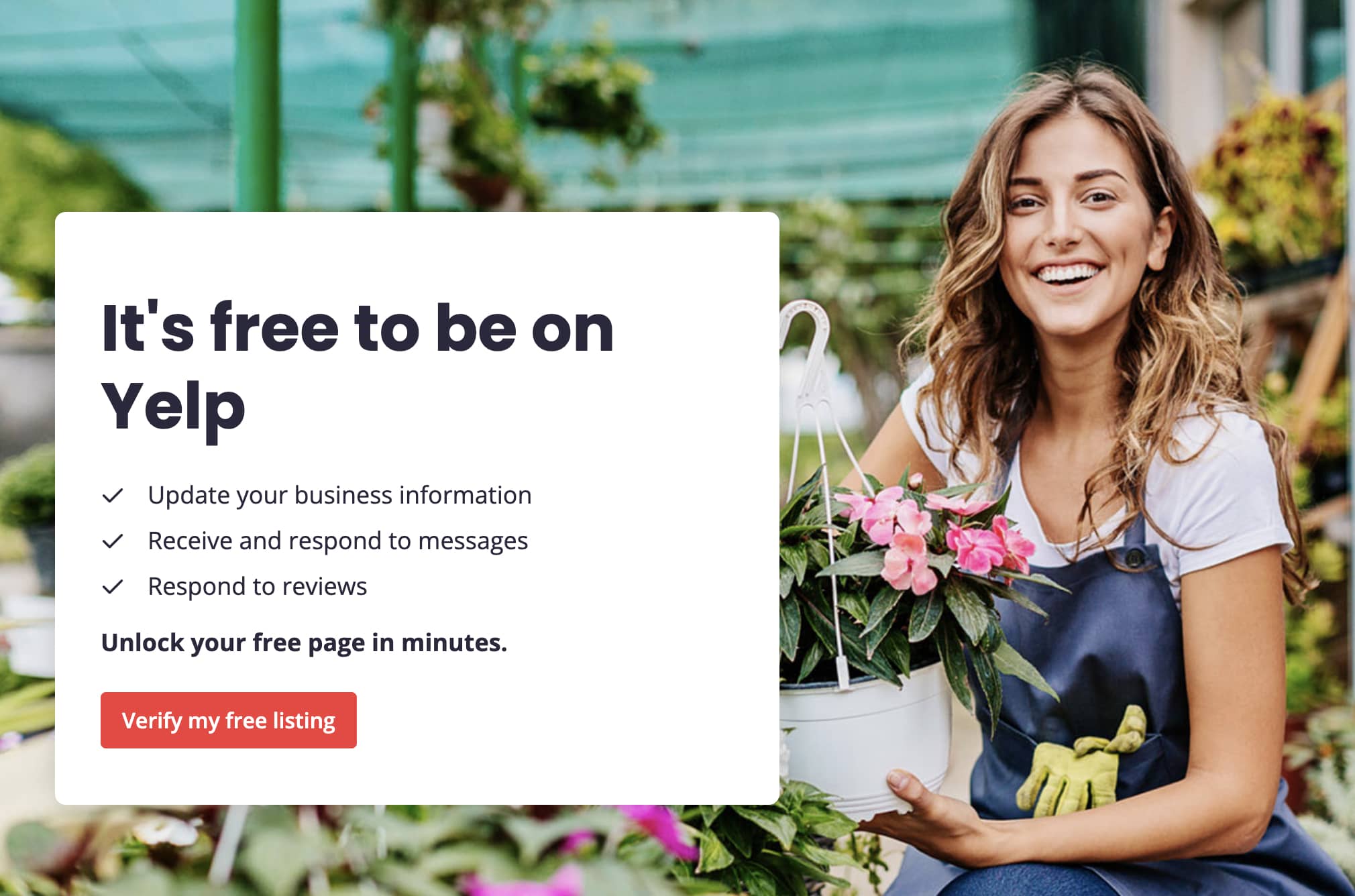 Image Source: business.yelp.com
A few key features of Yelp:
Yelp allows users to search for service providers based on location, category, and reviews.
Users can read reviews, view photos, and contact service providers directly through the platform, eliminating the middleman that sometimes exists in these situations.
It also offers a "Request a Quote" feature, where users can submit their project details and receive quotes from multiple service providers, which means you need to ensure you stand out among the competition.
Yelp remains a popular option for finding service providers based on user reviews and ratings, making it a simple way to connect with potential customers in your area.
TASKRABBIT
TaskRabbit is a unique competitor to Thumbtack that focuses on connecting customers with skilled "Taskers" who can perform a wide range of tasks, from simple household chores to complex projects.


Image Source: TaskRabbit.com
TaskRabbit offers a platform where customers can post tasks they need help with, and Taskers can bid on these tasks or customers can choose a Tasker based on their profile, reviews, and ratings.
For some companies, TaskRabbit's services may or may not be beneficial to you. When you work with TaskRabbit, you operate as a sole proprietor. This means that you will be operating as an individual who runs their own business and is self-employed. If this sounds like you, TaskRabbit is worth considering. If that's not how your business is set up, you may want to look for other ways to connect with new clients.
Some of the unique features of TaskRabbit are:
It offers same-day and next-day bookings, making it convenient for customers who need immediate assistance.
TaskRabbit also provides a seamless payment system, allowing customers to pay Taskers through the platform.
TaskRabbit offers a wide range of services, including home improvement, furniture assembly, errand running, and more, making it a versatile option for various task-related needs.
honorable mentions
While the companies listed above are, in our opinion, the top alternatives to Thumbtack, that doesn't mean they are your only options. There are so many great tools out there that we couldn't focus on just 5. These honorable mentions might also be the perfect fit for your small business's needs.
Bloomchase
Bloomchase is an online marketplace that connects customers with local service providers in a variety of industries such as wellness, beauty, and lifestyle. They offer a unique feature where customers can search for providers based on specific services they need or the provider's availability.
Houzz
Houzz is an online platform that provides inspiration, advice, and products for home design and renovation. With Houzz, customers can browse millions of photos of professionally designed homes and connect with local home professionals to bring their dream home to life. If your business is visually motivated, this could be for you!
Porch
Porch is a platform that connects homeowners with local professionals for home improvement projects. In their easy-to-use directory, customers can access a Home Assistant to help them plan and manage their projects, which includes finding the right professionals in their area to get the job done.
Handy
Handy is an online platform that connects customers with professional cleaners, handymen, and home service professionals. With Handy, customers can book same-day or next-day services, making it easy to get help with home maintenance and repairs in a hurry, which can be ideal for some small service businesses.
in conclusion
It's no secret that finding the right company to partner your home service business with can be an overwhelming task. With so many options out there, it feels like you'll need to spend months researching and vetting different options.
Hopefully, you'll be able to greatly reduce that time by looking into the top competitors to Thumbtack outlined in this article. This is not an exhaustive list, but it is a list that includes the best options out there for most local service businesses to generate leads and grow their company without breaking the bank.
related content