May 25, 2023 by Service Direct
5 Top Trends in the HVAC Industry You Need to Know
The HVAC industry is constantly evolving, so it's essential for business owners to stay updated on the latest trends to remain competitive and provide the best services to their customers. Let's explore some of the current trends that every HVAC professional needs to know about:
The Industry is Growing
First, we're going to hit you with some basic facts. According to the Bureau of Labor Statistics (BLS), there are about 394,100 Heating, Air Conditioning, and Refrigeration mechanics and installers working in the US as of 2021. That number is expected to grow by about 5% between 2021 and 2031, which translates to about 20,000 new jobs in that 10-year period. This growth rate is pretty much right on par with the BLS's expectations for overall job growth during that time period.

Meanwhile, a separate analysis from Grandview Research predicts that the market size for HVAC systems will grow at a compound rate of 6.5% per year from 2023 to 2030. Great, but what does that mean? Put simply, this data suggests that demand may slightly outpace job growth, and HVAC companies overall will see increases in profitability.
Expect More Smart Systems
These days, it seems like all of our devices are constantly talking to one another – thermostats and related HVAC systems included. This wave of "smart" technologies allows users to control and monitor their HVAC systems remotely, optimize energy usage, and receive alerts and diagnostics.

Smart thermostats can also be helpful for HVAC technicians, providing insight into system performance that can help diagnose underlying issues, and even catch some potential problems before they arise. Recent advancements in sensor technology and data analytics enable proactive maintenance, detecting potential issues before they become major problems. HVAC business owners that lean into these new tech trends can leverage them to improve system performance, reduce downtime, and enhance customer satisfaction.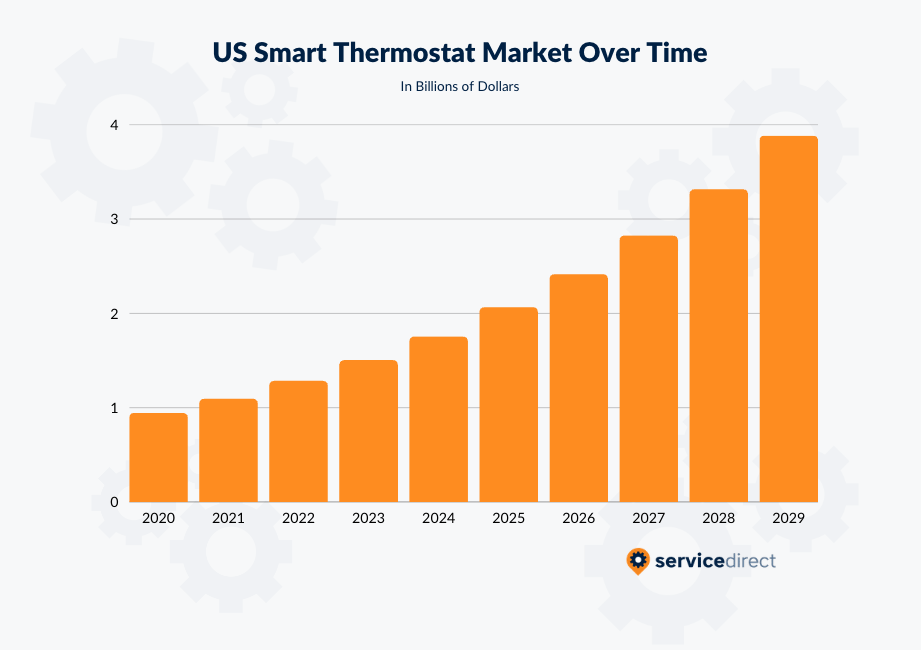 Data Source
Between the savings homeowners can expect to see on their energy bills and the benefits of intelligent preventative maintenance, it's no wonder smart thermostats have been gaining steam in the US. And by all accounts, they're only going to become more popular in the years to come.

The US smart thermostat market size is projected to grow from $1.27 billion in 2022 to $3.86 billion by 2029, at a CAGR of 17.2% during the forecast period. All this to say: if you haven't already, it's time to get comfortable installing and troubleshooting smart thermostats!
New Energy Efficiency Standards In Effect
With recent updates to the US Department of Energy's (DOE) efficiency standards, energy efficiency remains a driving force in the industry. The 2023 updates to minimum Seasonal Energy Efficiency Ratio (SEER) and Heating Seasonal Performance Factor (HSPF) affect the type of heat pumps and air conditioners HVAC businesses can install.

Government regulation isn't the only driving force behind a shift toward more sustainable and environmentally friendly HVAC equipment. High-efficiency HVAC systems, smart thermostats, zoning systems, and energy management solutions are gaining popularity among consumers, too. These solutions not only provide cost savings for customers but also contribute to sustainability efforts by reducing carbon emissions.

Renewable energy integration is another trend that is starting to inch into the HVAC industry. HVAC systems typically require a considerable amount of energy, which has historically been tricky for nontraditional, renewable energy sources to match. But as technology has improved, solar power, geothermal heat pumps, and hybrid systems are beginning to grow in popularity. It's worthwhile for any HVAC professionals to familiarize themselves with these emerging technologies to be ready to install or service them as they become more common among homeowners.

By combining energy efficiency, renewable energy integration, and adherence to green building standards, HVAC businesses can position themselves as leaders in sustainability. This can be a big selling point, as most consumers prefer working with environmentally-friendly companies.
Customer Preferences Are Changing
The way businesses connect with their customers has undergone a major transformation in the past few decades. For starters, in the digital age, where smartphones have become an integral part of our lives, harnessing mobile technology is essential for HVAC businesses to connect with customers effectively. With a staggering 66% of consumers using their mobile devices as their primary research tool for small businesses, it's clear that optimizing mobile strategies can make a significant impact.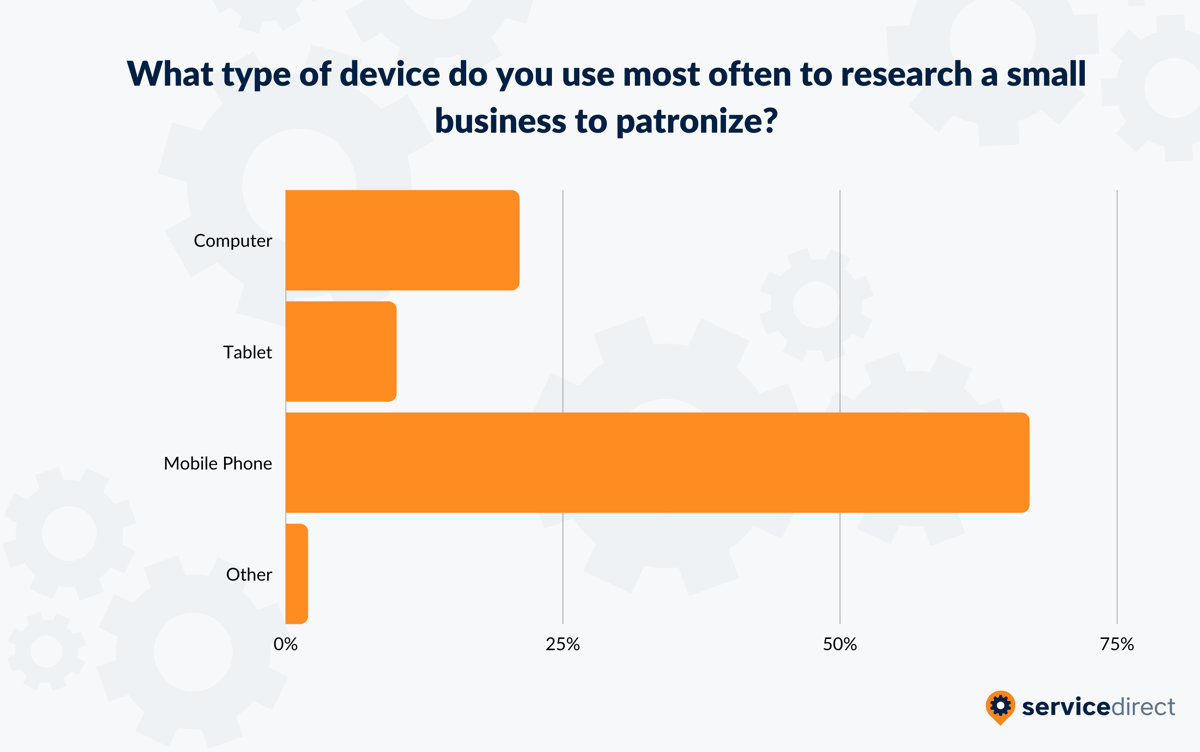 Data Source
Of course, the old-fashioned ways still work. Service Direct's research shows that, apart from researching on Google, word of mouth is the most important information source homeowners rely upon when it comes to researching small businesses. So be sure to provide excellent customer service and encourage your customers to leave reviews on your Google Business Profile.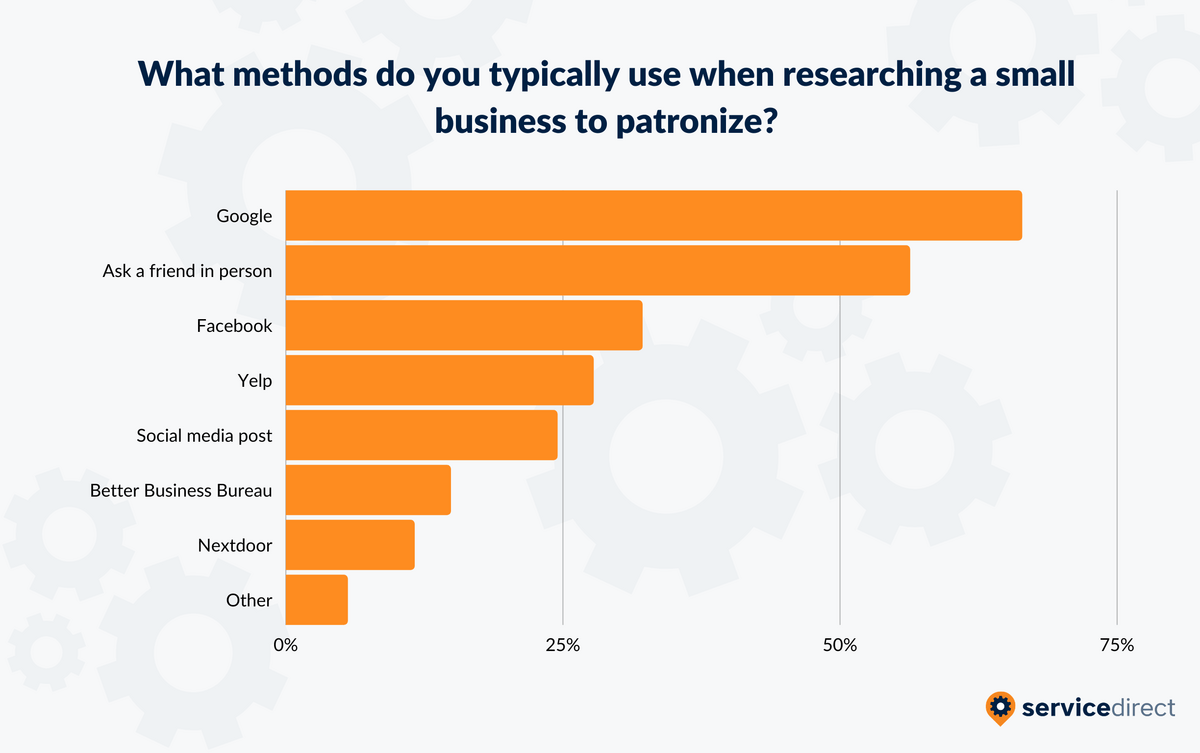 Data Source
Increased Focus on Indoor Air Quality
Policymakers, regulators, and private citizens have all shown more interest in indoor air quality (IAQ) in recent years, partially spurred by the COVID-19 pandemic. A great example of this is the Clean Ai in Buildings Challenge issued by the US federal government, which called for building owners, operators, and related organizations to adopt critical strategies for improving IAQ.

Similarly, but much more controversially, the Consumer Product Safety Commission (CPSC) floated the idea of a federal ban on gas stoves. While such a ban is unlikely to be put in place anytime soon, it does highlight the renewed focus on IAQ, both on an institutional and individual level. That's where HVAC professionals come in.

HVAC business owners play a critical role in helping customers with understanding IAQ trends and supplying them with solutions to meet their IAQ needs. HVAC professionals must be knowledgeable about the latest IAQ products, such as air purifiers, advanced filtration systems, and ventilation strategies. Be prepared to explain to your customers the importance of maintaining good IAQ, its impact on their health, and how their existing system or new product options work to keep the air inside their homes clean.
Conclusion
The HVAC industry is always changing, and by embracing these trends, your HVAC business can continue to thrive in a future driven by energy efficiency, sustainability, and customer preferences. Keeping yourself and your employees informed about the newest technologies, relevant laws and regulations, and public sentiment is critical to providing exceptional customer service and beating the competition.

While technology and regulations may change, one thing remains constant: if you want your HVAC business to grow, you need to attract new customers. Download our comprehensive HVAC Marketing Guide for actionable tips to set up a marketing strategy that will help you stand out in your market.