July 28, 2023 by Service Direct
6 Great HVAC Marketing Agencies for 2023
If there's one thing every HVAC business needs to keep things running smoothly, it's customers. No matter how expert or experienced your staff, how well you keep on top of the ever-changing HVAC industry trends, or even how many years you've been in business, without a reliable flow of new customers, your HVAC business won't last long.

Unfortunately, being an expert in all things HVAC doesn't necessarily mean you're also an expert in HVAC digital marketing. A quality HVAC marketing plan includes everything from website design and search engine optimization (SEO) to advertising on social media and email marketing. We've put together a comprehensive HVAC Marketing Guide to help you build your own marketing strategy if you're so inclined. However, this can still be a daunting task, even for experienced marketers.

Luckily, there are plenty of digital marketing agencies and related businesses out there that can handle the marketing side of things, allowing you to focus on doing what you do best – installing, repairing, and replacing HVAC systems.

In this blog, we'll discuss 6 excellent HVAC marketing agencies that can help your company thrive in the digital marketing landscape. We'll look at the particular strengths and specialties of each to give you a clear picture of what they have to offer, which marketing tasks they're best at, and hopefully, which would make a great partner in reaching your HVAC marketing goals.
Why is Digital Marketing Important for HVAC Companies?
But first, you might be asking yourself, "I'm not an internet company, why should I be worried about digital marketing?" The fact of the matter is, as the internet has become more central to our lives, digital marketing has become the most effective way to reach new customers for nearly any type of business.

Digital marketing for HVAC companies includes SEO, social media marketing, and targeted advertising. The goal is to make your business more visible and discoverable on popular search engines and websites. Why? Because 66% of consumers utilize the internet to research small businesses they're considering hiring.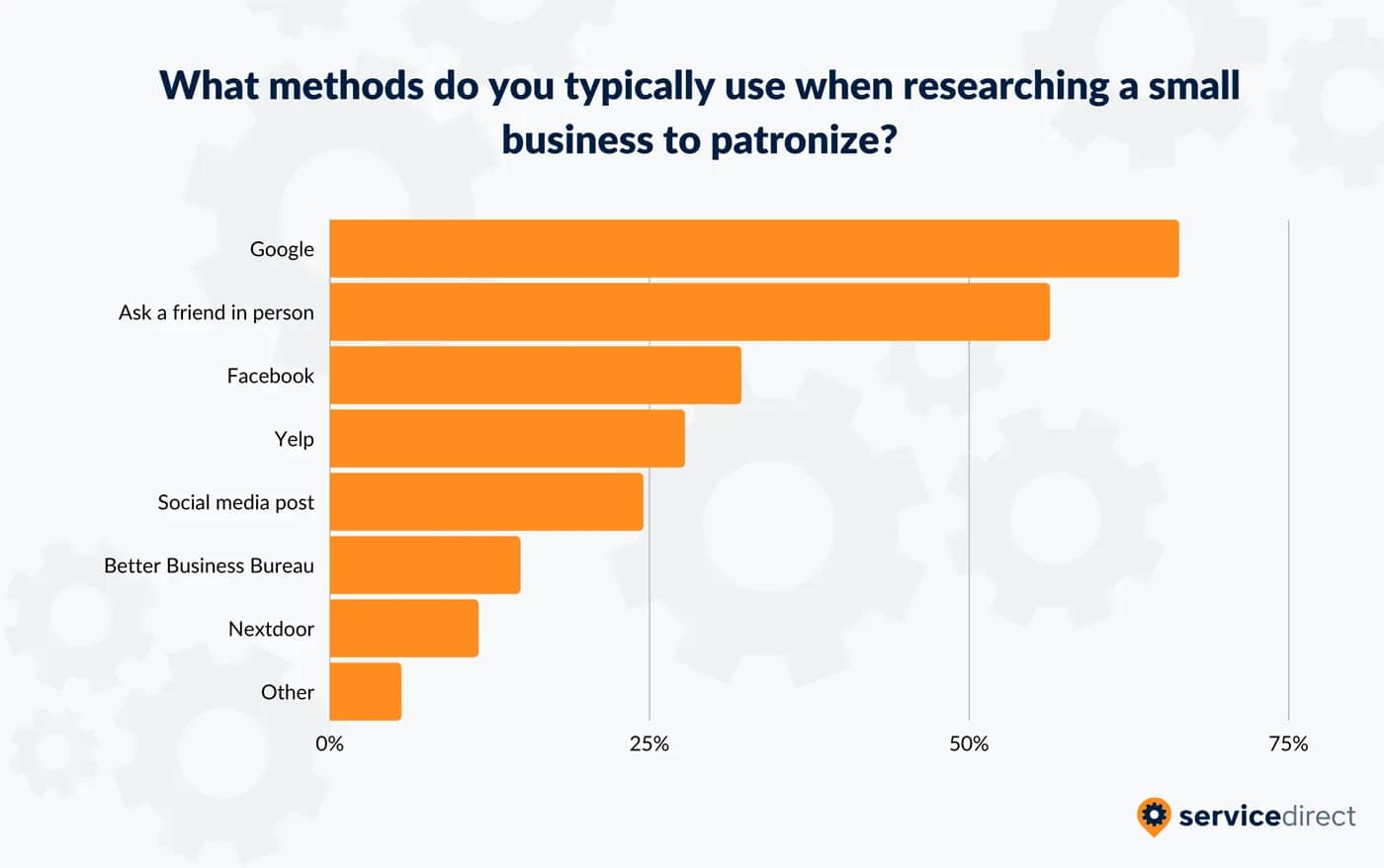 Online marketing online allows your HVAC company to reach and engage with more potential customers. It also lets you target your ads and outreach to specific groups who are more likely to want or need your services, increasing the cost effectiveness of your marketing efforts as a whole. Digital marketing, enables HVAC businesses to establish brand credibility, generate higher quality leads, and stay competitive.

Now that you understand the importance of investing in digital marketing for your HVAC business, let's take a look at some of the HVAC marketing agencies and related companies that can help you make the most of your marketing budget.
1. Rival Digital
Best for: Establishing a strong web presence. Rival Digital's expertise in designing websites, creating unique branding, and launching successful social media campaigns.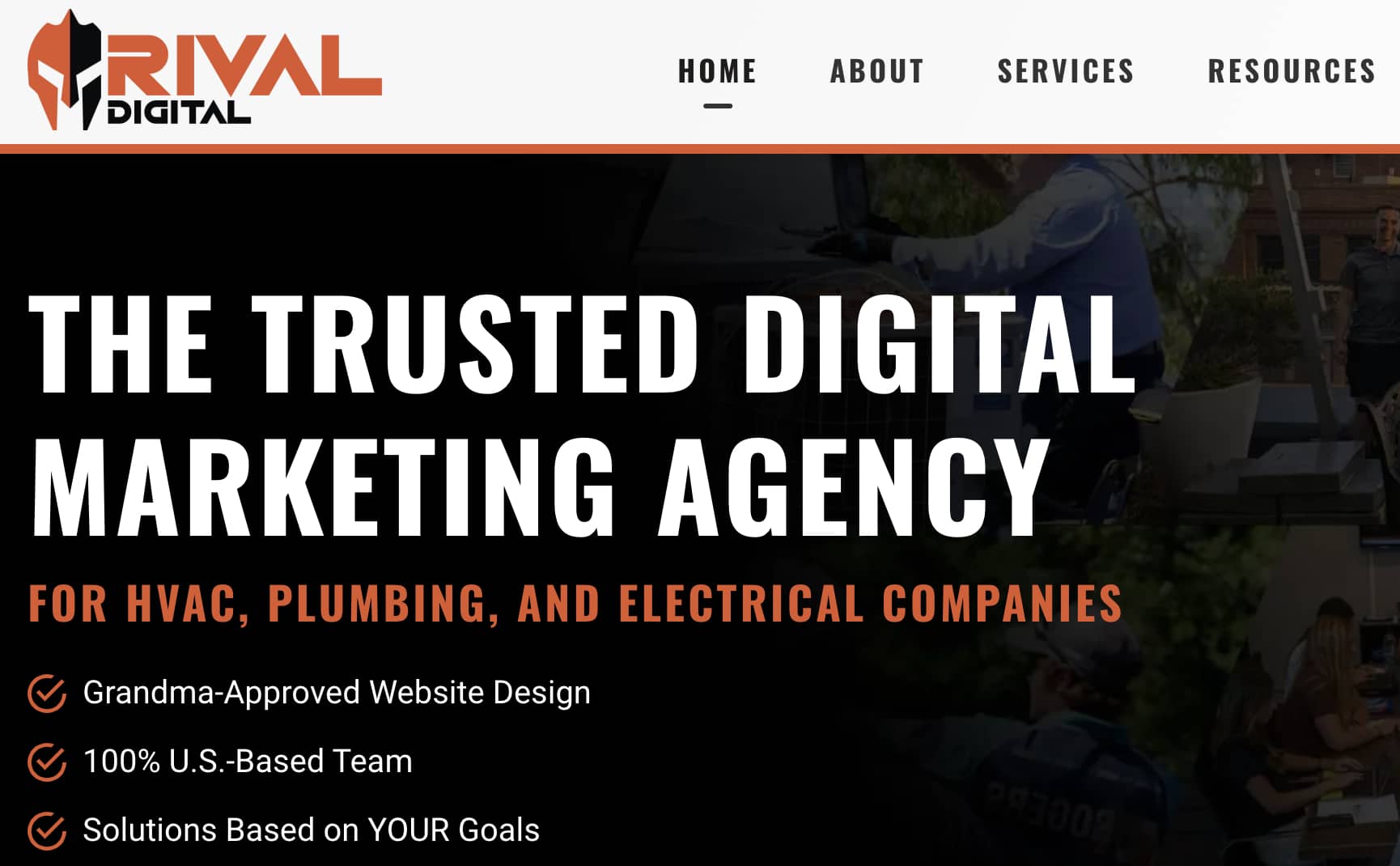 Image Source: Rival Digital
As an established and popular digital marketing agency, Rival Digital specializes in helping service companies achieve success through online brand awareness and outreach. They employ a data-driven, digital-first approach aimed at understanding and capitalizing on each HVAC business's unique marketing goals to create tailored campaigns. They work with HVAC clients to hone in on target audiences and create eye-catching social media campaigns that improve engagement.

Rival Digital's potent combination of creativity and data-backed strategic thinking makes them an excellent partner for any HVAC business looking to reach new customers online.
2. Service Direct
Best for: Bolstering lead-generation efforts with a performance-based model dealing in exclusive leads. Service Direct's pay-per-lead model is best for businesses that value transparency and measurable results.

We may be biased, but we believe that nearly every HVAC company can benefit and grow with Service Direct.

At Service Direct we pride ourselves in consistently delivering high-quality HVAC leads to our customers across the country. Our exclusive pay-per-lead model means that you pay only for calls from real customers who are in need of HVAC services. No more paying for spam calls, wrong numbers, or solicitors. All you need to do is answer the phone!

We offer tailored campaigns designed for your unique HVAC business. Our campaigns deliver significant growth in both your customer base and your revenue. With real-time reporting empowers and an expert support team, we offer valuable insights into call handling and lead quality, making Service Direct a true marketing partner.
3. THRIVE AGENCY
Best for: Content-focused and data-driven marketing strategies. With a focus on optimizing conversion rates and engagement on social media, Thrive Agency is a great fit for HVAC companies looking to establish brand authority online.


Image source: Thrive Agency
Taking a data-driven approach to growth, Thrive Agency emphasizes analyzing key performance indicators and optimizing marketing efforts to deliver clear, measurable results. They create content that is both visually appealing and informative to position HVAC companies as trusted authorities in the industry, boosting their SEO scores and driving increased organic traffic.
4. Blue Corona
Best for: Improving cost efficiency in marketing efforts and developing a well-rounded HVAC digital marketing strategy. Blue Corona offers a multitude of digital marketing services, allowing HVAC companies to develop a unique marketing mix tailored to their business needs.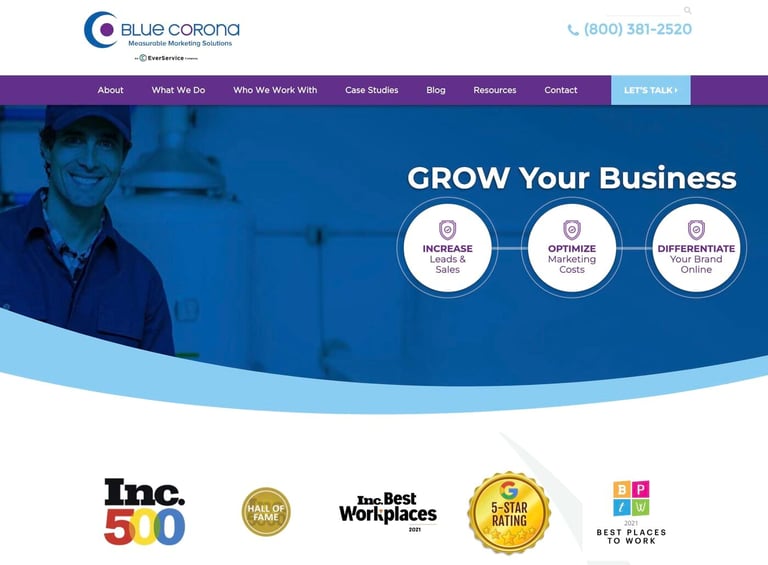 Image source: Blue Corona
Blue Corona's strategy starts with a focus on overcoming common HVAC digital marketing challenges like insufficient lead volume, increased costs from mismanaged initiatives, and poor brand recognition.

With a robust suite of digital marketing services from competitive analysis and search engine optimization to pay-per-click advertising and remarketing campaigns, Blue Corona works with HVAC companies to put together a marketing plan that is well-suited for their unique business goals.
5. Relentless Digital
Best for: Creating top-of-the-line websites. Relentless Digital boasts a team of experienced and skilled web design and development professionals who work directly with clients to achieve high-functioning and visually appealing sites.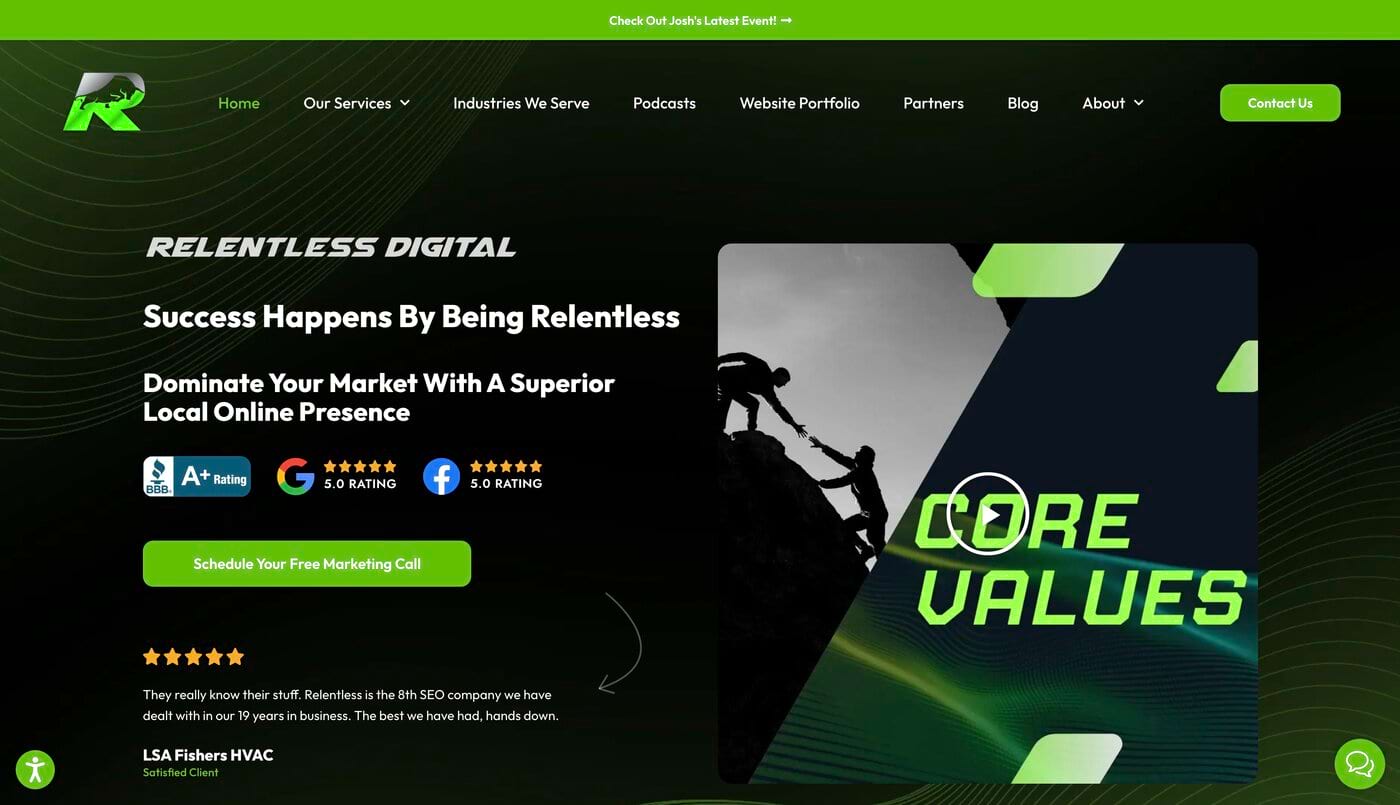 With a wide variety of digital marketing services and offerings, Relentless Digital is dedicated to giving its HVAC clients a competitive edge. While website design is their bread and butter, their expert services also cover content writing, SEO, reputation management, customer retention marketing, and more.

Founded on decades of experience specifically in HVAC marketing, Relentless Digital has been creating digital marketing assets and campaigns specifically for contractors and service businesses for over 10 years.

6. Scorpion
Best for: A multi-channel digital marketing approach that meets customers where they are, through whichever medium they prefer. Scorpion enables easy communication with customers through email, chat, text, online scheduling, and more.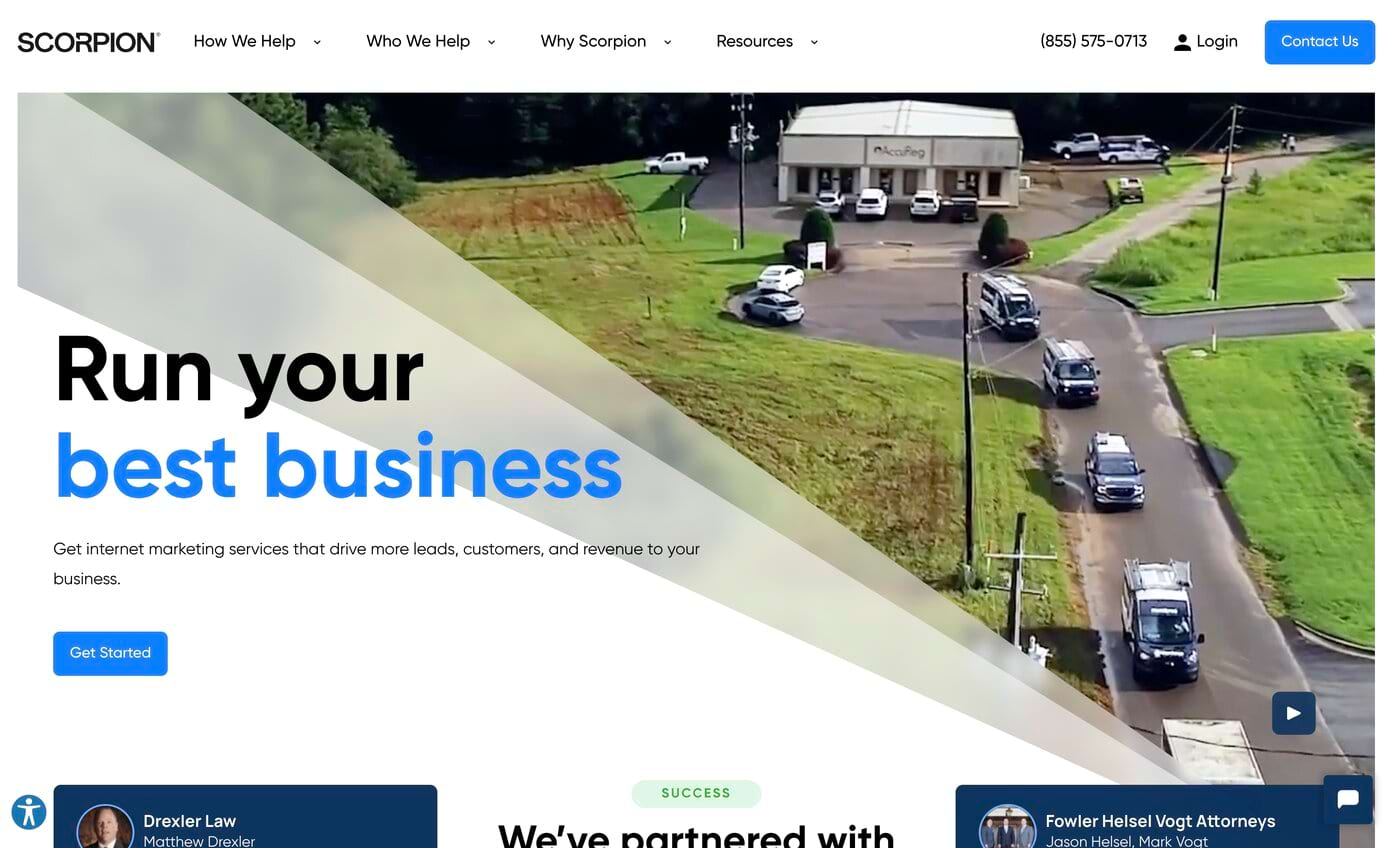 By starting with building an optimized, attractive, and easy-to-navigate website, Scorpion helps your HVAC company branch out into other marketing initiatives that grow organically. The best part is, they can all be easily managed from one place.

Scorpion understands that the main driver behind any marketing effort is getting more customers, and that focus is top-of-mind in all of its offered services. From monitoring your brand's online reputation to streamlining scheduling and payment, Scorpion is a great partner in making marketing that works for your HVAC business.
IN CONCLUSION
HVAC digital marketing is crucial for the success of your HVAC company in the digital age. Partnering with the right marketing agency can make all the difference in growing your business and reaching new heights.
Any of the 6 HVAC digital marketing companies we've covered here can help you take the first step toward unlocking your HVAC business's full potential online. With their digital marketing expertise and your HVAC know-how, your business will be set to thrive like never before.
RELATED ARTICLES