April 18, 2022 by Molly Weybright
How to Build a Successful Digital Marketing Plan for Your HVAC Company
"Ignoring online marketing is like opening a business but not telling anyone." — KB Marketing Agency
Updated on March 20, 2023
It's no secret that HVAC professionals need to be where their customers are. And increasingly, those customers are spending more and more time online. This means that if you're not yet marketing your HVAC business online, you're missing out on a huge opportunity.

Plus, with nearly 75% of small businesses reporting that they use content marketing in their overall business strategy, this is a great area to get ahead of a chunk of the competition.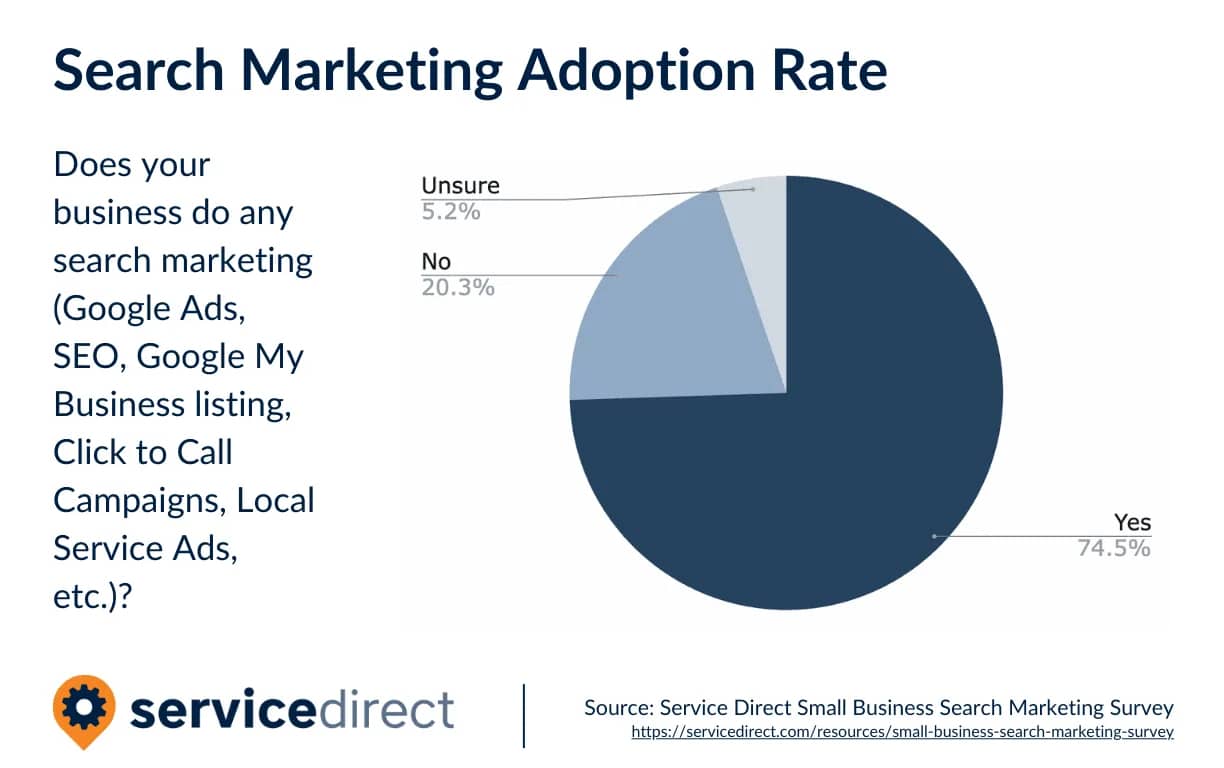 In this blog post, we'll walk you through the steps of developing a documented marketing plan for your HVAC business—something over 60% of businesses have. We'll cover why you need a plan, the components of a good marketing strategy, and how to evaluate results and adjust as needed.

Let's dive into what makes a successful digital marketing plan for HVAC contractors!
Essential Elements of an HVAC Marketing Strategy
If you're an HVAC professional looking to create a marketing plan, you've probably found yourself feeling overwhelmed by the sheer amount of advice out there.

It's easy to get lost in a sea of blog posts and articles, all promising to be the key to success.

However, the truth is that creating an effective HVAC marketing strategy doesn't have to be complicated. In fact, our approach is simple and encompasses 5 key components.
Solidify Your Business' Brand
Before you begin developing your HVAC marketing plan, you must first define your brand as a business and distill your company's purpose.

Why is there a need for your business and, more importantly, why will clients choose you rather than one of the hundreds of HVAC contractors they can choose from?
Settle on the 'WHY'
It's important for every HVAC business to have a clear mission statement that reflects the reasons why your business exists and how you plan to achieve your goals. A strong mission statement helps to build trust with customers and inspires employees to work toward common goals.
"Before we can stand out, we must first get clear on what we stand for."
Creating this mission statement and clearly showing potential customers why your HVAC business exists is a key step in developing your marketing plan.

This will be the foundation of your entire HVAC company's advertising strategy, so it's important to take the time to craft a statement that accurately reflects your values and goals.

Once you have adequately presented why your company does what it does, you can begin to develop strategies for reaching your target audience and promoting your HVAC business.

By taking the time to create a strong mission statement, you'll be well on your way to developing a successful digital marketing plan.
Settle on a strategy and market positioning
In any industry, it is important to carefully consider how your company will be positioned within the market in order to stand out from your competition. The HVAC industry is no different.

There are many factors to consider when determining the best way to position your HVAC company. First, you must consider the needs of your target market and what they are looking for in an HVAC company.

Are they looking for the most affordable option? The most reliable? The best customer service? Once you have a good understanding of your target market's needs, you can then begin to position your company accordingly.
SERVICE

How does your HVAC company stand out from other companies in your area?
In what way will your services help solve potential customers' problems?
What part of your services will help you gain the trust of new and/or potential customers?



PEOPLE

Are you doing what you can to attract the best employees?
Are your employees empowered to work toward the company's mission?
Are there clear roles for every employee at your company?

PRICE

Are you pricing your services so that it falls in the sweet spot of instilling trust in your customers while still respecting your employees' time and values?
What practices will you implement to ensure customers are continuing to provide value to your HVAC company?
Have you looked at what competitors are charging to ensure your prices are aligned with the industry for the quality you offer?

PROCESS

What forms of communication do you have in place to touch base with potential customers?
In what ways are you communicating with existing customers?
On a general scale, how is your HVAC company making customers' lives easier?
How will you support customers financially and emotionally throughout your service process?


In addition to considering your target market, you must also carefully consider your competition. What are they doing that works well? What could they improve upon? How can you differentiate yourself from them?

By taking the time to answer these questions as well as the questions below, you will be able to develop a positioning strategy that will help your HVAC company stand out from the rest.
Define and Track Internal Marketing Goals
As many small business owners know, it's important to have clearly defined internal goals. This will help you to make decisions about marketing initiatives and track your progress over time.
That's why it's important to take a step back and define your internal goals.
What are you trying to achieve with your marketing efforts? Are you looking to increase brand awareness? Drive sales? Improve customer loyalty? Once you've identified your goals, you can develop a marketing plan that will help you achieve them.
By taking the time to define your goals, you can ensure that your HVAC advertising efforts are focused and effective.
Our company has benefitted a great deal from using OKR methodology and we think your HVAC business could benefit from it as well. OKR stands for Objectives and Key Results, and it is a system that helps businesses to set and track progress toward specific goals.
One of the biggest benefits of using OKRs is that they provide a clear framework for goal setting and progress tracking. This can be extremely helpful in keeping everyone on the same page and helping to ensure that all employees are working toward the same objectives.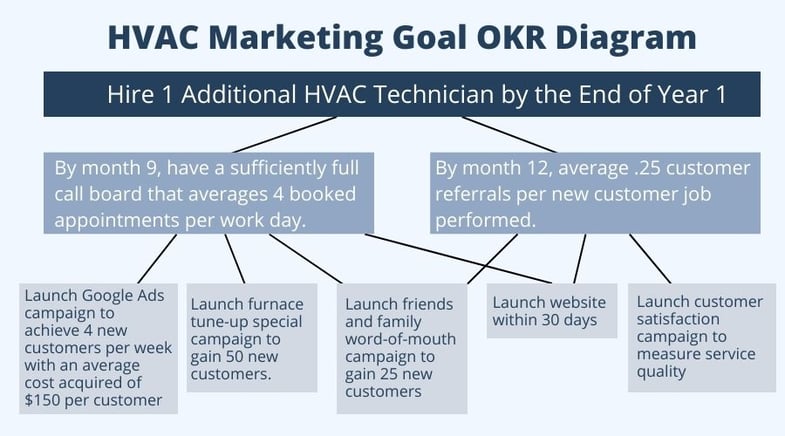 It's important to remember that a successful digital marketing strategy must be built on a foundation of attainable goals and a clear plan for how to achieve them.

Without these 2 essential elements, your efforts are likely to be scattered and ineffective. Fortunately, with intentional goal setting and effective results tracking, you can set your business up for digital marketing success.
Research HVAC Marketing Channels
Now that you know what your HVAC marketing goals are, it's time to start thinking about which channels will help you achieve them. There are many different HVAC marketing options out there, so it's important to take the time to research each one and see which will be the best fit for your business.

For example, if you're looking to reach a wider audience, then investing in paid advertising might be a good option. However, if you're more focused on building brand awareness, then organic methods like social media and content marketing might be a better choice.
Types of Marketing Channels:
Traditional advertising (TV, radio, print)
Digital Advertising (social media, display, video)
Paid Website Marketing (SEO, PPC, Google Business Profile)
Content marketing (Blogging, whitepapers)
Social Media Marketing (TikTok, Instagram, Facebook)
Once you've identified the channels that you want to focus on, you can start developing your marketing strategy and begin working towards your goal.
Remember, the key is to experiment and find what works best for you and your business. There's no one-size-fits-all solution when it comes to HVAC marketing, so don't be afraid to try out new things and see what aligns with your goals.
Establish (and Stick to) a Marketing Budget
The reality of owning a business is that many companies fail due to poor budgeting. This is why it is crucial to set a marketing budget once you have determined which marketing channels fit best into your HVAC marketing strategy.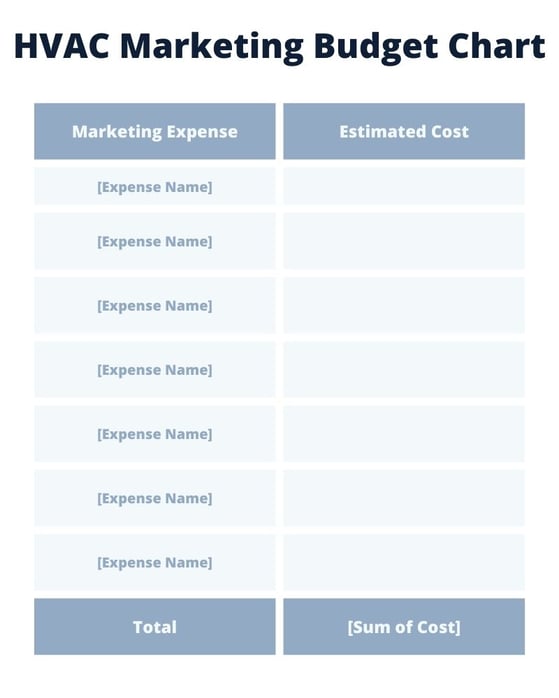 Fortunately, there are many ways to determine how much you can invest in each avenue:
Look at your sales goals and determine how much additional revenue you will need to generate in order to reach those goals.
Look at your current marketing budget and see where you can reallocate funds to more effective channels.
Determine which marketing channels are likely to provide the highest ROI so that you don't allocate too much of your budget to one channel only to find you only received a trickle in return.
Once you have a good understanding of how much you can afford to spend on each channel, you can start to create more detailed plans for your HVAC marketing plan.
Last But Not Least: HVAC Marketing Tools
At this point, you have a marketing plan and a budget to implement it! You've asked and answered the right questions, hired the best people, and feel comfortable with the positioning of your marketing efforts.
But, now that you have all of the components, how do you actually start marketing? That's where digital marketing tools come in.
There are tons of 3rd-party marketing tools to choose from that include everything from mass email schedulers to customer management platforms and keyword research tools.
Despite that, 30% of small businesses do not report using tools to aid in their marketing strategy.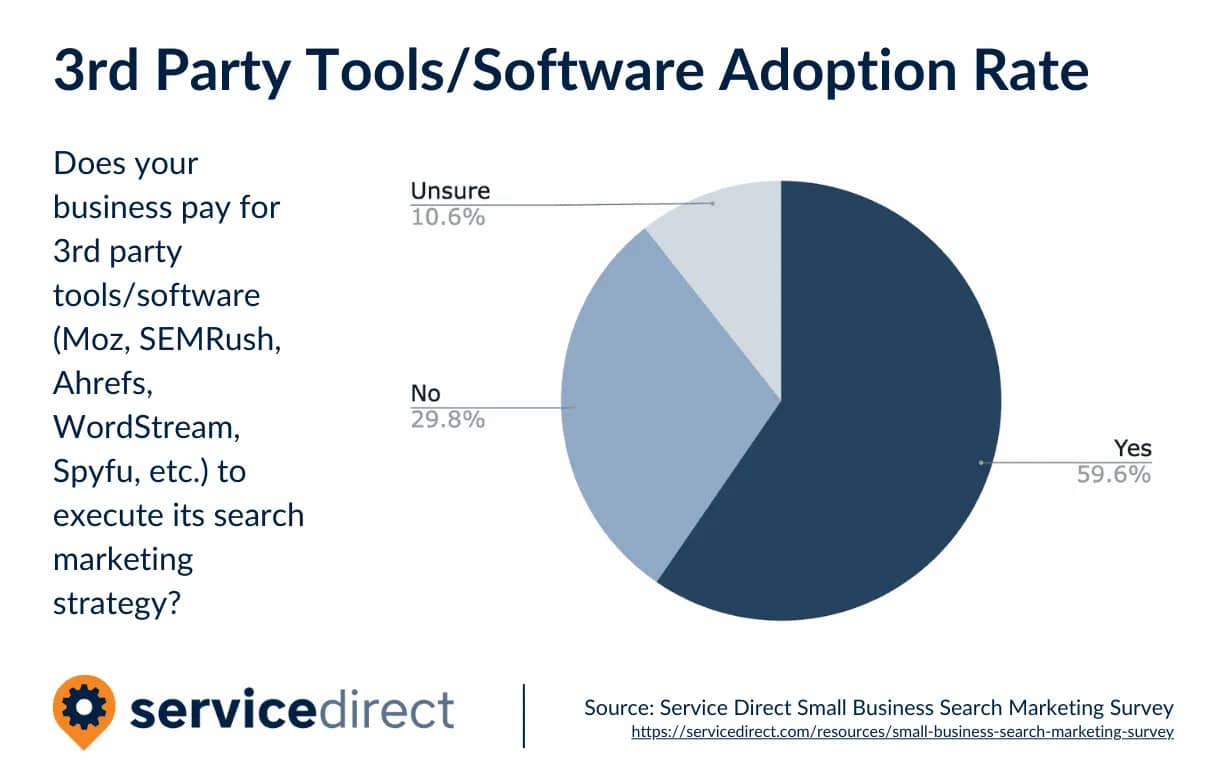 By investing in the right tools for your marketing strategy, you'll be able to connect with more people than ever and stay ahead of a portion of the competition.
In conclusion
Now that you understand the basics of digital marketing for HVAC professionals, it's time to start putting your plan into action.
Remember to consider all aspects of your business when creating your plan and allocate an appropriate budget for each marketing channel. And don't forget to invest in the right tools to make the most of your efforts.

By following these steps, you can ensure that your HVAC business will be successful for years to come.
Related Content