March 24, 2022 by Molly Weybright
How to Bring in More Customers from Google with HVAC PPC Ads
If you're an HVAC company, then you know that bringing in new customers is just as important as maintaining relationships with existing ones. One of the most cost-effective and efficient ways to bring in these new leads is through PPC search advertising on Google. But, we were surprised to see that of 250 home contractors, only 4% regard PPC as an effective lead generation tactic. This sparked many questions for us as a lead generation company, but ultimately it meant that there was clearly some loss in communication between what we knew about PPC advertising and what our HVAC customers knew about it—thus this blog article was born.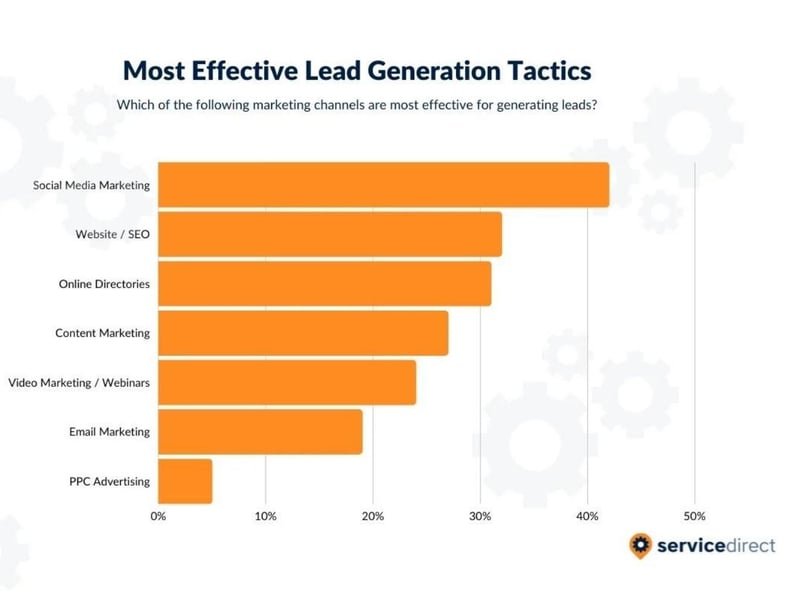 Service Direct surveyed over 250 local service businesses asking a range of questions about their marketing efforts.
In this blog post, we will discuss how you can use PPC ads to bring in more business from Google. We'll cover everything from keyword budgeting to website design. So whether you're just starting out with PPC, you're looking for ways to improve your campaign, or you agree with the 240 contractors that don't find PPC effective, this blog post is for you!
Keywords and their place in PPC
As an HVAC company, you know that no matter what time of year it is, there is often no shortage of work to be done. But with so much competition out there, how can you make sure that your PPC search ads are getting seen by potential customers? The answer lies in choosing the right keywords. Keywords are the terms or phrases that people use when they're searching for products or services online. By carefully selecting the right keywords for your PPC ads, you can make sure that your ad appears in front of people who are actually interested in what you have to offer.
Step 1: Choosing the Right Keywords
All that sounds great, but how do you choose the right keywords? Certainly it's easier said than done, right? In part, settling on keywords can be as simple as thinking about the terms that your potential customers would use when searching for an HVAC company. What kind of services would they be looking for and what search terms would they use to find those services? Try to use long-tail keywords, which are specific phrases that are more likely to be used by people who are ready to buy. For example, instead of just using "air conditioning," try adding a location like "air conditioning repair Los Angeles." By being specific, you can make sure that your ad is served to people who are actually looking for what you have to offer.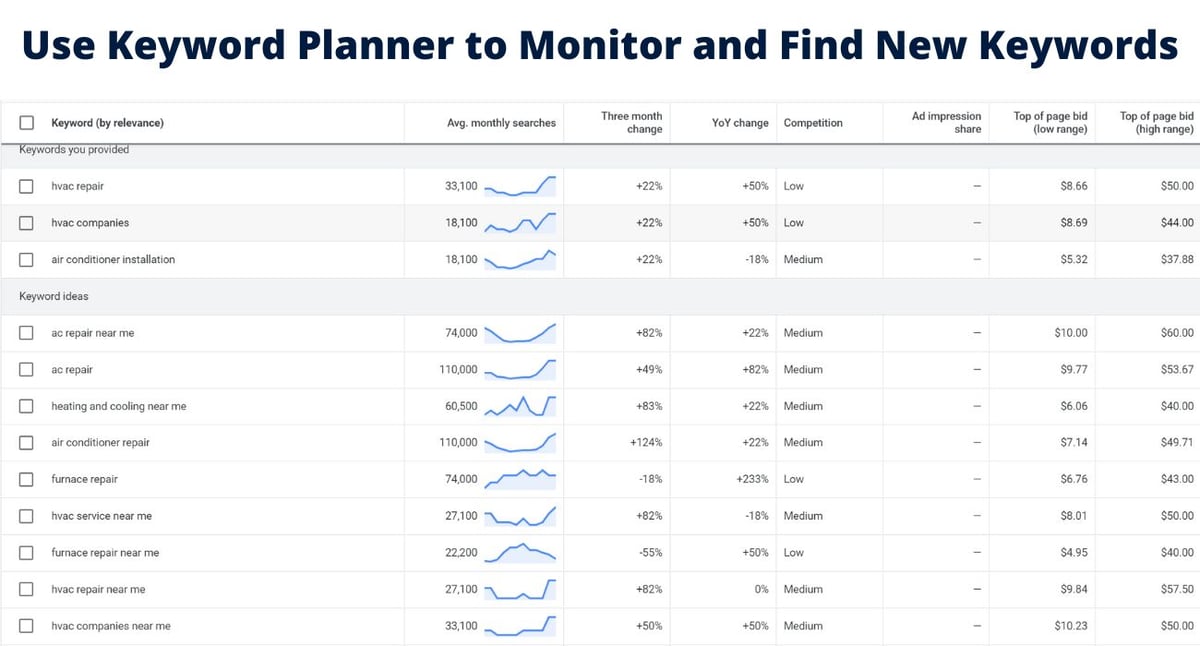 In addition to putting yourself in the place of the searcher, we also recommend checking out Google's keyword planner. This is a free research tool that allows you to find keywords related to your HVAC business. The keyword planner also provides traffic estimates for each keyword, so you can gauge the potential reach of your campaign. In addition, the keyword planner provides suggested bid amounts for each keyword, so you can budget your campaign accordingly (don't worry, we'll get to budget in a minute.) Google Ads Keyword Planner is an incredibly helpful tool to dive deeper into keywords relevant to your HVAC business.
Step 2: Establish a Keyword Budget
Just as everything in the modern age costs money, so does PPC advertising. That's why one of the most essential steps in building a successful HVAC PPC campaign is establishing and sticking to a keyword budget. There are a number of factors to consider when setting a keyword budget, including the competitiveness of the keywords you are targeting and the expected conversion rate. However, perhaps the most important factor is your overall HVAC marketing budget. Once you have determined how much you are willing to spend on your PPC campaign, you can then begin to allocate funds to specific keywords.


By doing this, you'll be able to ensure that you're not overspending on keywords that aren't bringing you results. It's also important to remember that your keyword budget will likely fluctuate over time as your campaign progresses. As such, it's important to regularly review your keywords and adjust your budget accordingly. By carefully planning your keyword budget, you can ensure that your HVAC PPC campaign is successful and profitable.
Smart Bidding
Google Smart Bidding is an automated bidding strategy that uses machine learning to optimize your search ads in real-time. This tool takes into account a variety of signals when making keyword-bidding decisions, including but not limited to device, location, time of day, browser, past conversion history, and many more. In general, Google Smart Bidding should allow your HVAC ads to see increased conversion rates and return on investment. If you're new to Google Smart Bidding, it's important to remember that it's an automated strategy, which means it will take some time for the algorithms to learn about your campaign and optimize your bids accordingly. However, once it's up and running, it can be a valuable tool for achieving your desired results.
Step 3: Don't Forget About Keyword Negatives
Once you have a solid plan in place for your HVAC PPC ads, it's important to use keyword negatives. Keyword negatives help you exclude certain words from your campaigns so that your ads don't show up when people search for those terms. For example, if you're an HVAC company, you might want to add "HVAC training" or "HVAC tech salary" as keyword negatives. That way, your ad won't show up when people are searching for terms not related to your services, and you'll avoid wasting money on clicks that don't convert.


In addition, using keyword negatives can help you improve your quality score, which will lower your costs and improve your ad position. So if you're not using keyword negatives in your PPC campaigns, you're missing out on a valuable tool that can help you save money and improve your results.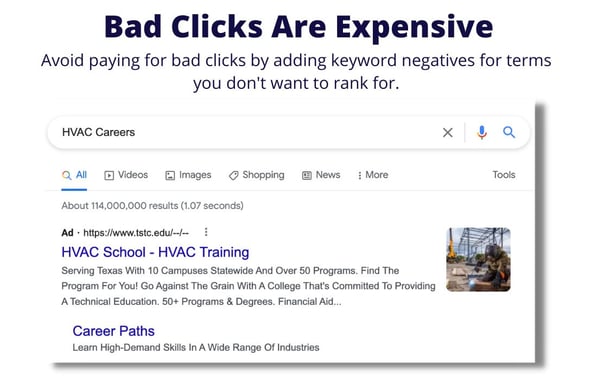 The only problem? There really isn't a great tool out there to help you stop bad clicks before you buy them. Luckily for you, we've spent tens of thousands of dollars on bad 'plumbing' clicks and know exactly which negative keywords you should add to your Google ads campaign!
Improve Your Ads With Reporting and Tracking
Once you get your HVAC PPC ads running, it's important to make sure they are performing well by tracking and reporting on their performance on a regular basis. By doing so, you can identify any issues with your campaigns and make necessary adjustments to hopefully improve results. Additionally, it provides valuable insights into what is working and what isn't, allowing you to continuously optimize your PPC efforts. While it may require some extra effort, tracking and reporting on PPC ad performance is essential for running successful campaigns.
Understanding Conversion Tracking
Google's conversion tracking tool is a powerful way to monitor the success of your search ads. Tracking conversions can help you understand which keywords are driving results so that you can focus your efforts on those keywords as well as improve the keywords that are not performing. You can also see how many people who saw your ad ended up taking the desired action, whether it's clicking through to your website or making a purchase, as well as how your ads are performing across different devices and platforms.
While this information can be very valuable in determining whether your campaign is working and where it might need improvement, we also understand that it can be overwhelming. Google is a wealth of information, after all. That's why we recommend starting small as you get the hang of conversion tracking: focus on conversion rate, cost per conversion, and the overall conversion columns to start.
What is a Quality Score?
Quality score is a metric used by Google to determine the quality of your HVAC PPC ads. This metric is important because it affects your ad rank, which determines where your ad appears on the search engine results page. A high quality score means that your ad is relevant and informative, and users are more likely to click on it. Conversely, a low quality score indicates that your ad is not relevant or informative, and users are less likely to click on it. A great goal to aim for is a quality score of 7 or higher for your ads to avoid losing money on your PPC strategy.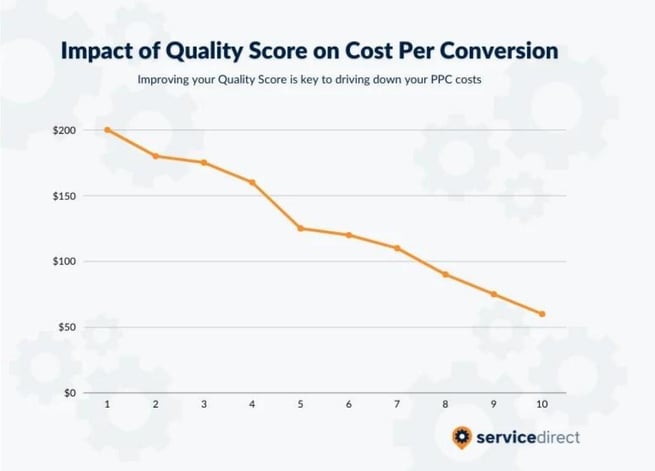 Service Direct results based on PPC campaigns we run for our in-house HVAC traffic
The higher your quality score, the less you pay per conversion because users are more likely to see your ad and convert, which Google takes into account. This important metric can be helpful when adjusting and managing your HVAC PPC ads, but it's also important not to use quality score as a singular metric with regard to your ads. Instead, we recommend using it supplementally alongside conversion tracking to see the highest success.
Pair PPC Ads With a Website Designed to Convert
Your website is the digital face of your HVAC business. It's where potential customers go to learn more about your products and services and decide whether or not they want to do business with you. That's why it's so important to make sure your website is high-quality and designed to convert visitors into leads. Even if you have the best HVAC PPC ad strategy in the world, it won't matter if your website can't close the deal. Make sure your website has a strong call to action, informative content, and a user-friendly design, and you'll be well on your way to generating more leads and growing your business.
Appearance and Performance
When it comes to creating a high-quality website that converts, appearance and performance are both key factors. A well-designed website will make a good first impression on visitors, while a website that loads quickly and is easy to navigate will keep visitors engaged. Keep these elements in mind when auditing your existing website or creating a new one to turn potential customers into leads:
Write engaging and useful content.
When someone lands on your site, you want to have content that answers the question they asked to get to your HVAC company. Don't get too wordy, either. People won't read much past the basics of what you're saying so use this space to write concise content with keywords to boost organic search traffic.
Use CTAs that stand out regularly and often.
Imagine someone is searching for HVAC help in an emergency and they land on your site. They probably aren't going to read your content beyond ensuring that you can help with their issue, so you'll want to make sure your CTAs are easy to see. Your phone number should be clearly displayed to encourage conversion, as well.
Make sure your site is optimized for mobile.
Around 60% of searchers are looking for information via mobile phones. This means that if your website is not designed to work with mobile, you are missing out on over half of the leads you could be getting!
Don't forget about load speed.
Put simply, patience is in short supply these days and if a searcher has to wait for your site to load, they're probably just going to look elsewhere. Fortunately, there are tons of tools available to test and regularly monitor your website's load speed and other valuable metrics.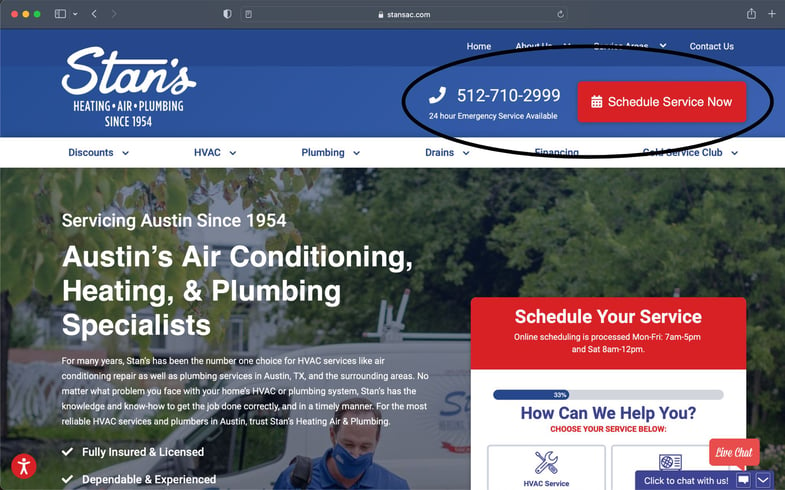 Great example of visible CTA at the top of the page. Source: stansac.com
Encourage Conversion with Site Pages
A strategy to encourage conversion on your HVAC website is to send potential customers to service-specific site pages. By doing this, you can give visitors the information they need to make a decision about your company's HVAC services based on the search they made to arrive at your site. Make sure that these pages are well-designed and relevant to your target audience. But, don't be overwhelmed by feeling like you have to make site pages for every service you offer. Think about what types of jobs you get the highest volume of calls for as well as the jobs that bring you the largest income. That's where you should start with site pages.
Site Page Examples:
Emergency Air Conditioning
Ductwork and Air Duct Cleaning
Furnace Cleaning
Air Conditioning Installs
Smart Thermostat Services
Zoning Services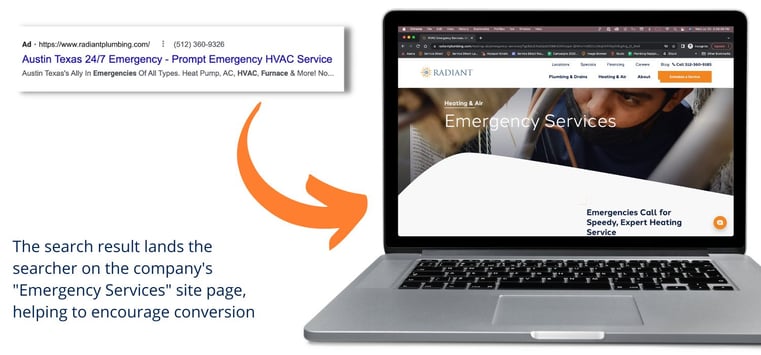 As seen in the example above, it's important to make sure that your PPC ads are aligned with the content on your website. That way, if someone is searching for AC Emergency Repairs, you are sending them to a page focusing on that rather than asking them to root around your site or homepage for their desired information. By taking these steps, you can increase the chances that potential customers will take the next step and contact your business for more information about your services.
Now that we've gone over the basics of how to set up a PPC search ads campaign for your HVAC business, it's time to get started! Remember, these tips are the basics to get you started with HVAC PPC, but if you want to get even more detailed information about how to make your PPC campaigns successful, download our free marketing guide for HVAC businesses today.
Related Content