June 27, 2023 by Molly Weybright
6 Top Angi Competitors
In the ever-evolving world of online marketplaces and lead generation platforms, Angi has become a go-to choice for home service professionals looking to reach new customers. Formerly Angie's List, Angi allows businesses to showcase their work and connect with people looking for the services they offer.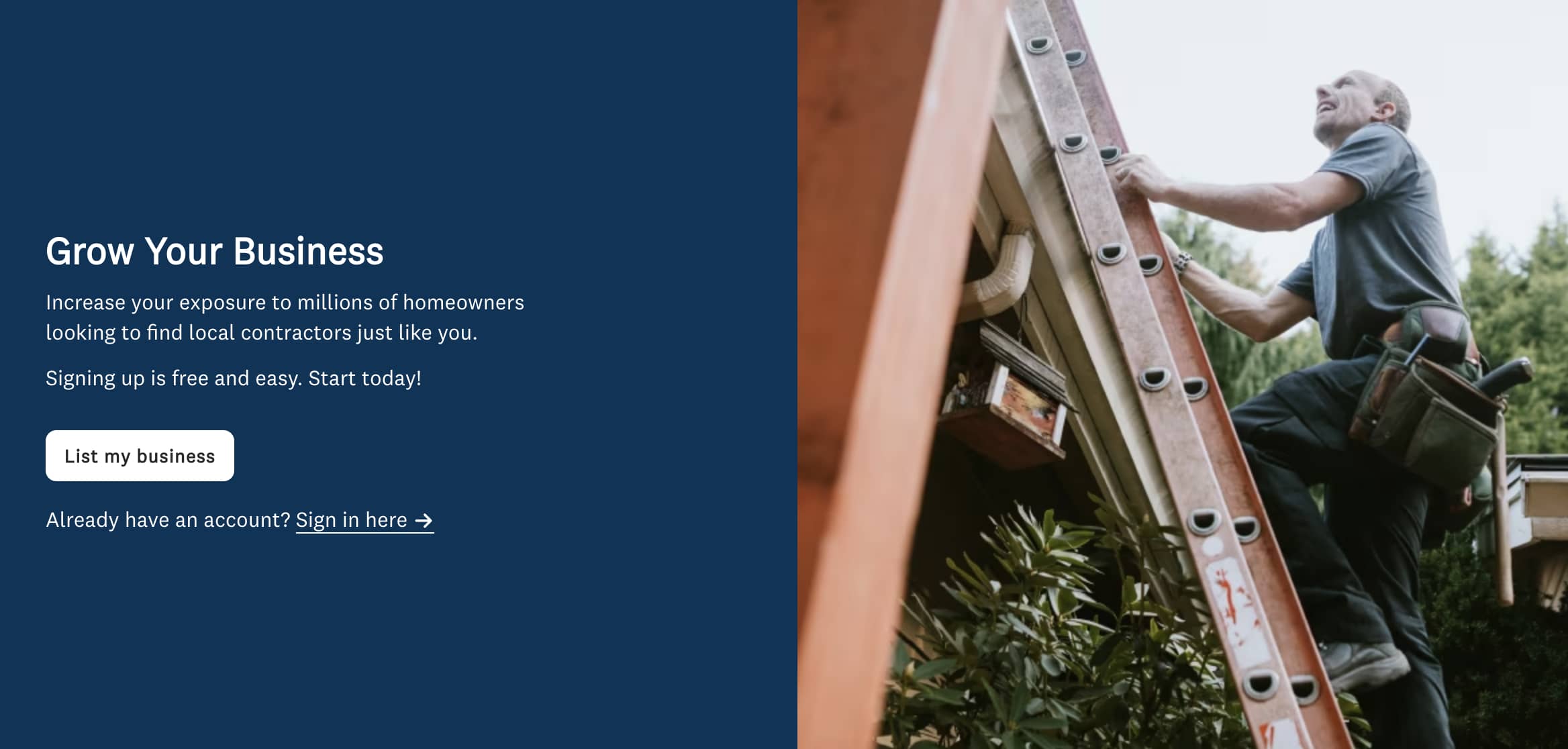 Source: pro.angi.com
However, Angi may not be the right fit for your business, which is why it's essential to explore other options that can provide similar opportunities and benefits.
Between price, additional offerings, lead quality, and more, there are a number of factors to consider when researching lead generation and marketplace companies like Angi.
This blog will introduce you to 6 noteworthy alternatives to Angi, highlighting their key features and variations. Whether you're a contractor, plumber, electrician, or any other home service professional, these alternatives can offer you valuable leads and help grow your business.
Thumbtack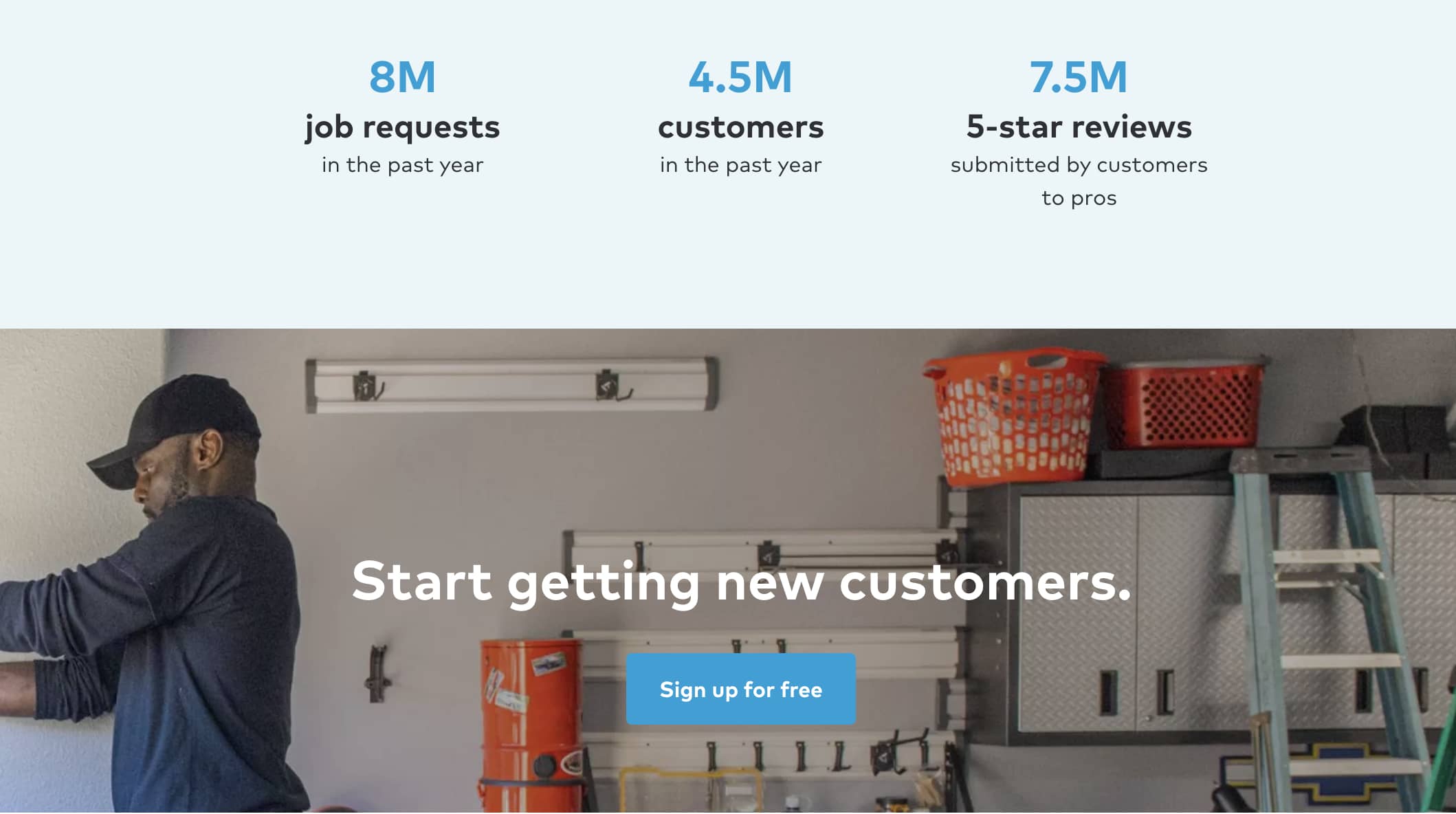 Source: thumbtack.com
Pricing: Thumbtack operates on a pay-per-lead model, where professionals pay for each lead they receive. The cost of the leads can vary depending on factors such as the service category and location.
Similar to Angi, Thumbtack is an online marketplace connecting homeowners with local professionals across various service categories.
The platform facilitates direct communication and secure online payments as well as effective review management and bidding. Thumbtack's mobile app enables professionals to manage their profiles and stay connected on the go.
Thumbtack has gained popularity among home service professionals due to its broad range of service categories, user-friendly interface, emphasis on customer reviews, and lead generation capabilities.
Both Angi and Thumbtack emphasize customer reviews and ratings to establish trust. However, Thumbtack stands out with its user-friendly interface and bid management system, allowing professionals to customize quotes for projects.
Service Direct
Pricing: Service Direct operates on a pay-per-lead basis. Professionals pay a pre-set price for each exclusive, billable lead they receive, and that cost per lead can be adjusted by the professional at any time.
Service Direct and Angi are both online platforms that connect homeowners with a variety of service professionals. However, they differ in their approach to lead generation and the type of leads they provide.
Angi uses a shared leads model, while Service Direct provides exclusive leads to professionals, which means you won't have to compete with other similar businesses for the leads Service Direct provides.
Additionally, at Service Direct, we use a pay-per-lead model, which means you only pay for calls from potential customers actively seeking your services. Angi, on the other hand, has monthly fees for service businesses to advertise on their platform.
Service Direct's exclusive lead model may be appealing to those who value higher conversion rates and less competition, while Angi's broader service categories and comprehensive review system may suit professionals looking for a wider range of projects.
Bloomchase


Source: bloomchase.com/pros
Pricing: Bloomchase charges a monthly fee and has 3 pricing levels. The bronze plan is $19/month, the gold plan is $29/month, and the platinum plan is $39/month.
Bloomchase is an online marketplace that sets itself apart by prioritizing personalization and direct communication between service professionals and homeowners. Bloomchase aims to foster relationships between professionals and homeowners, leading to long-term partnerships and satisfied customers.
One key feature of Bloomchase is its emphasis on personalized quotes and direct communication.
Service professionals can tailor their quotes to match the specific requirements of each project, allowing them to highlight their unique offerings and stand out from the competition. Direct communication also fosters a sense of trust and collaboration, further enhancing the overall experience for both professionals and homeowners.
Overall, Bloomchase's focus on personalization and direct communication sets it apart as a platform that aims to foster meaningful connections between service professionals and homeowners, leading to successful collaborations and satisfied customers.
Porch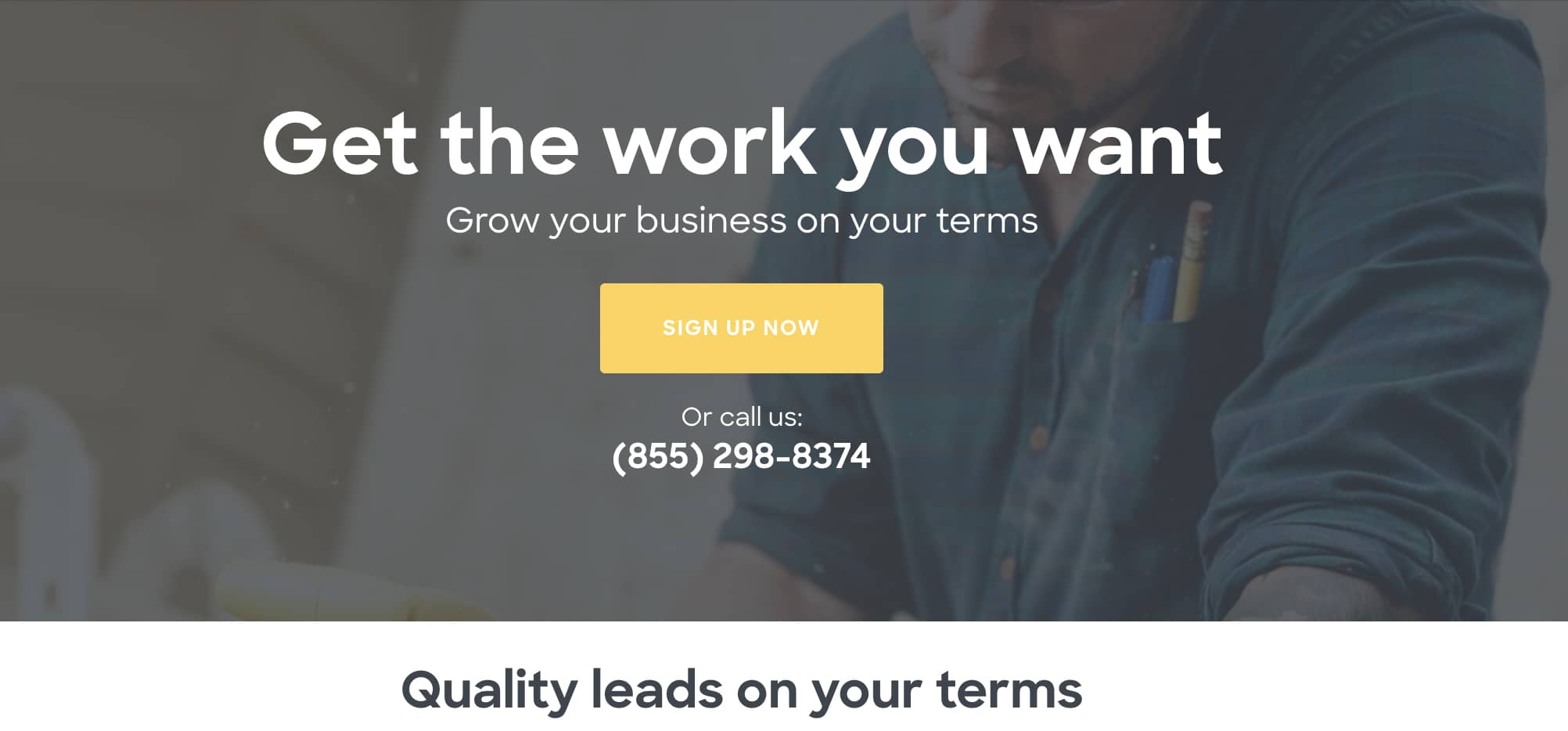 Source: porch.com/pro
Pricing: With Porch, you can buy leads individually, set a monthly budget and receive leads automatically, or combine both options. They also have a "vetted pro" program that provides additional features for $360/year.
Porch is an online platform that connects homeowners with service professionals, making it a notable alternative to Angi. With a wide range of service categories, Porch offers homeowners a 1-stop destination to find qualified professionals for their specific needs.
One standout feature of Porch is its additional tools and services designed to streamline the project management process. Professionals can benefit from project management tools, scheduling features, and even invoicing systems provided by Porch.
Porch also stands out by prioritizing transparency and providing a platform for professionals to showcase their expertise, which helps build trust and credibility in the industry.
Houzz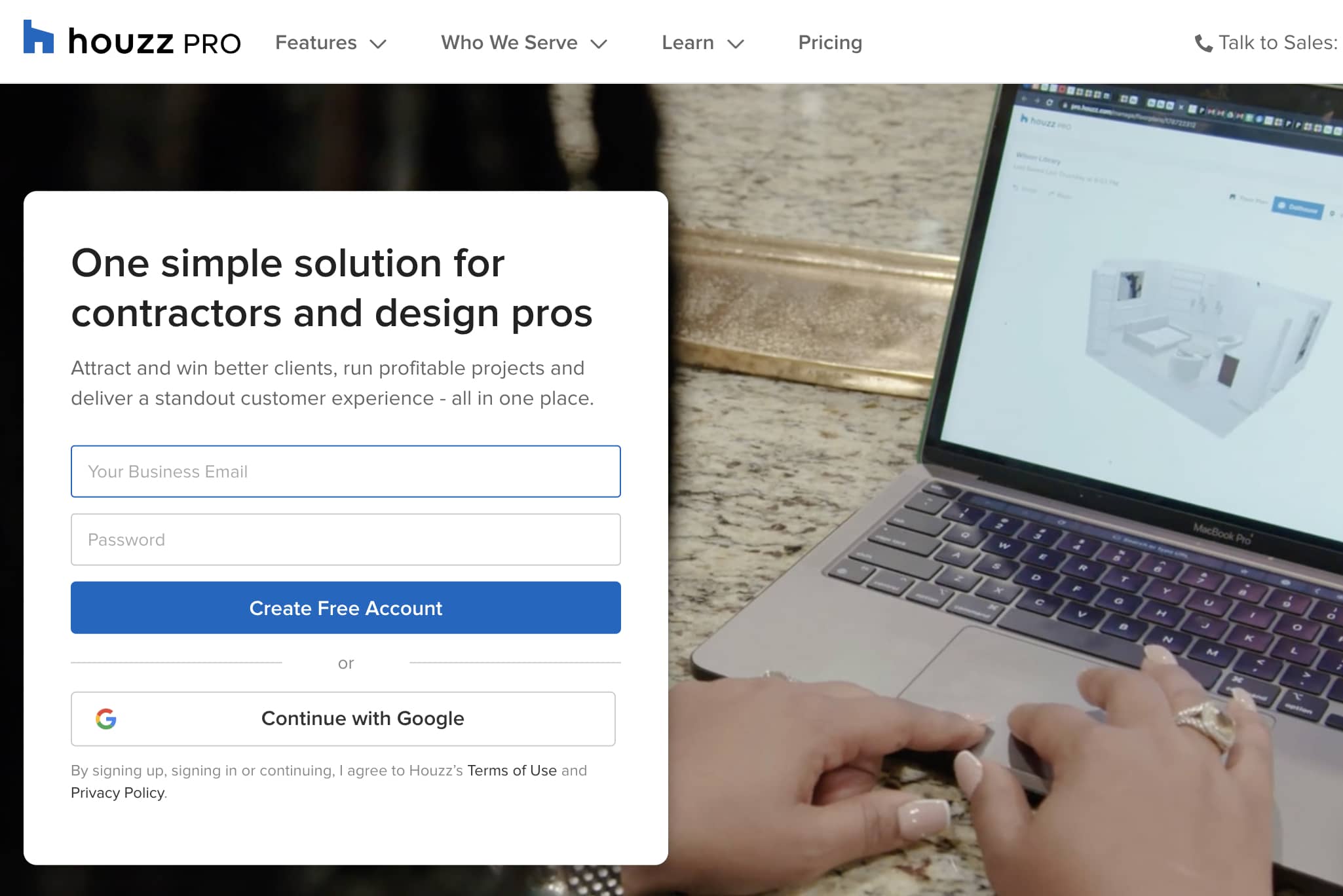 Pricing: Houzz offers 3 pricing plans, which all include a free month to start. They have a "starter" plan at $99/month, an "essential" plan at $139/month, and a "pro" plan at $199/month. They also have an "ultimate" plan for $399/month.
Houzz is another popular online platform that connects homeowners with home service professionals. While primarily known as a platform for home design and remodeling inspiration, Houzz also offers a range of features to connect homeowners with professionals for their home improvement projects.
Houzz provides a comprehensive platform where homeowners can browse through a vast collection of home design ideas, view professional portfolios, and read customer reviews. This allows homeowners to find qualified professionals who specialize in their specific project needs.
One standout feature of Houzz is its visualization tools, including 3D rendering and virtual reality capabilities. These tools enable professionals to showcase their designs and concepts in an immersive and realistic manner.
Additionally, Houzz offers project management features so that professionals can manage leads, create estimates quickly, and provide on-demand access to clients' projects.
Although Houzz is primarily for home improvement projects, it's a great resource for any home service professional that works in a visual industry.
PRO REFERRAL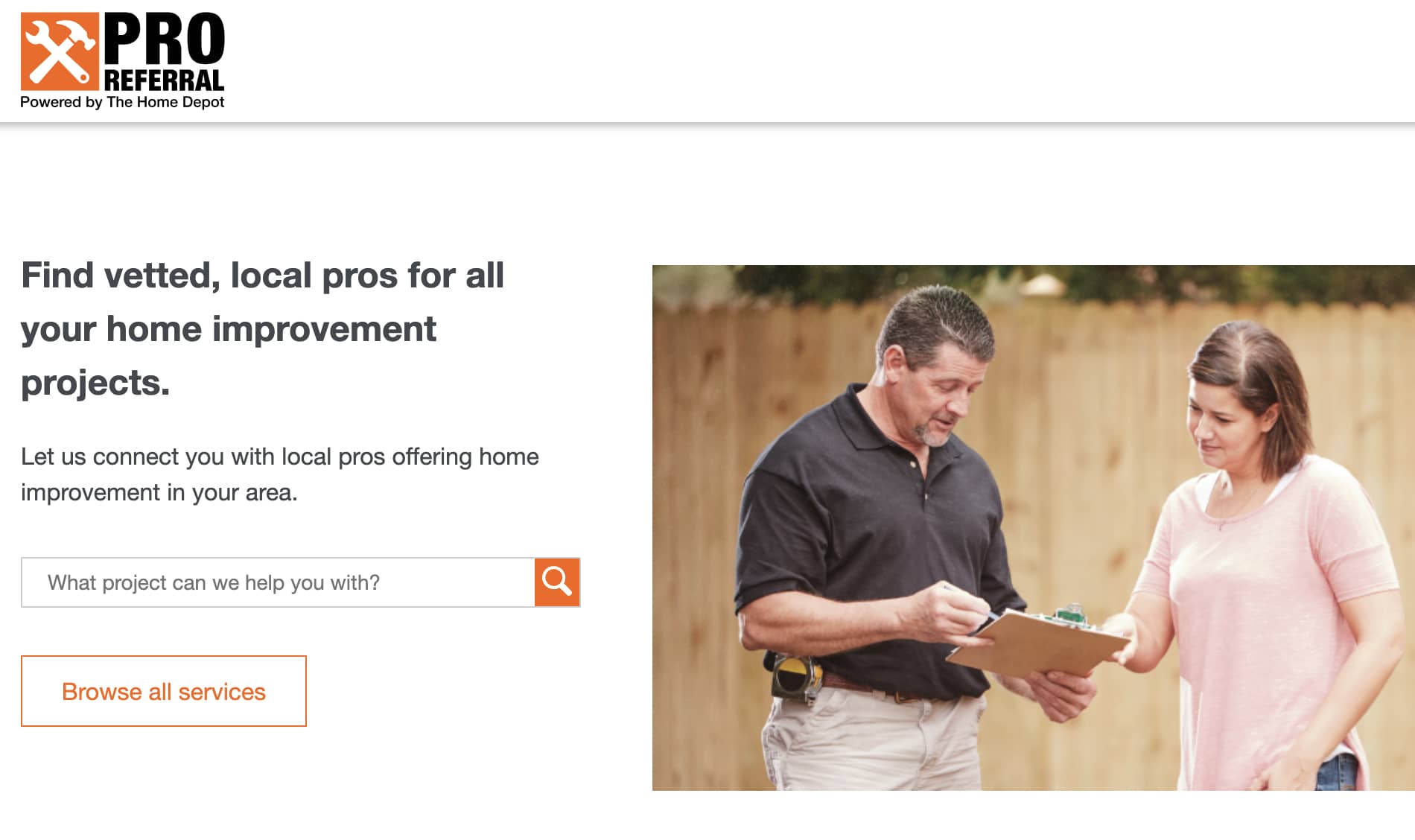 Source: proreferral.homedepot.com
Pricing: Pro Referral is unique in that they don't directly charge you money for the leads they provide. Instead, you get 2 points for every $1 that you spend at Home Depot, which can then be put toward lead purchases. Leads usually cost between 40-80 points.
Pro Referral, powered by Home Depot, is an Angi alternative worth considering for home service professionals. With its affiliation with Home Depot, Pro Referral offers professionals access to a wide pool of potential clients specifically seeking home improvement services.
One key advantage of Pro Referral is the credibility and trust associated with a well-known and established brand in the home service world. Being part of this network can significantly enhance professionals' chances of attracting new clients and establishing a strong reputation within the home improvement industry.
By leveraging Pro Referral's platform, professionals can tap into a targeted audience actively seeking home improvement services. It's important to note that Pro Referral's leads are shared, so you will be competing with other businesses for the same job.
This focused approach can help service providers connect with homeowners who are specifically interested in their expertise, resulting in a higher likelihood of securing projects and building long-term partnerships.
in conclusion
When considering alternatives to Angi for home service professionals, it's essential to explore a range of options to find the platform that best aligns with your business goals and target audience.
Thumbtack, Service Direct, Bloomchase, Porch, HomeAdvisor, Pro Referral, and even Houzz each offer distinct features and approaches to connecting professionals with homeowners. By carefully considering the features, pricing models, and more of each platform, you can make an informed decision on which alternative to Angi best suits your needs.
related content