August 07, 2019 by Rachel Ramsey
How To Get More Plumbing Leads For Your Business
Running a plumbing business can be a messy and perplexing job, not unlike marketing a plumbing business. While you're doing the physical work of keeping your business operations things flowing properly, you should also have marketing strategies in place to keep your plumbing business visible and your technicians busy.
With the right marketing methods in place (and the right people on your team), your plumbing business has the potential to thrive from online lead generation. If you're wondering how to get plumbing leads consistently, consider some of the following techniques.
Optimize your website.
Although a website might seem like it has nearly nothing to do with a plumbing business, and whether a plumber can do a job well or not, it is a critical component of your company. Like it or not, people will judge the professionalism of your company in part by your website.
Your website should be easily navigable, crisp and clean, and clearly (and simply) detail your service offerings and contact information. Your website should also be optimized for both your services and your geography. Using keywords organically and effectively, following SEO best practices, and providing clear messaging can be the difference between ranking above or below your local competitors.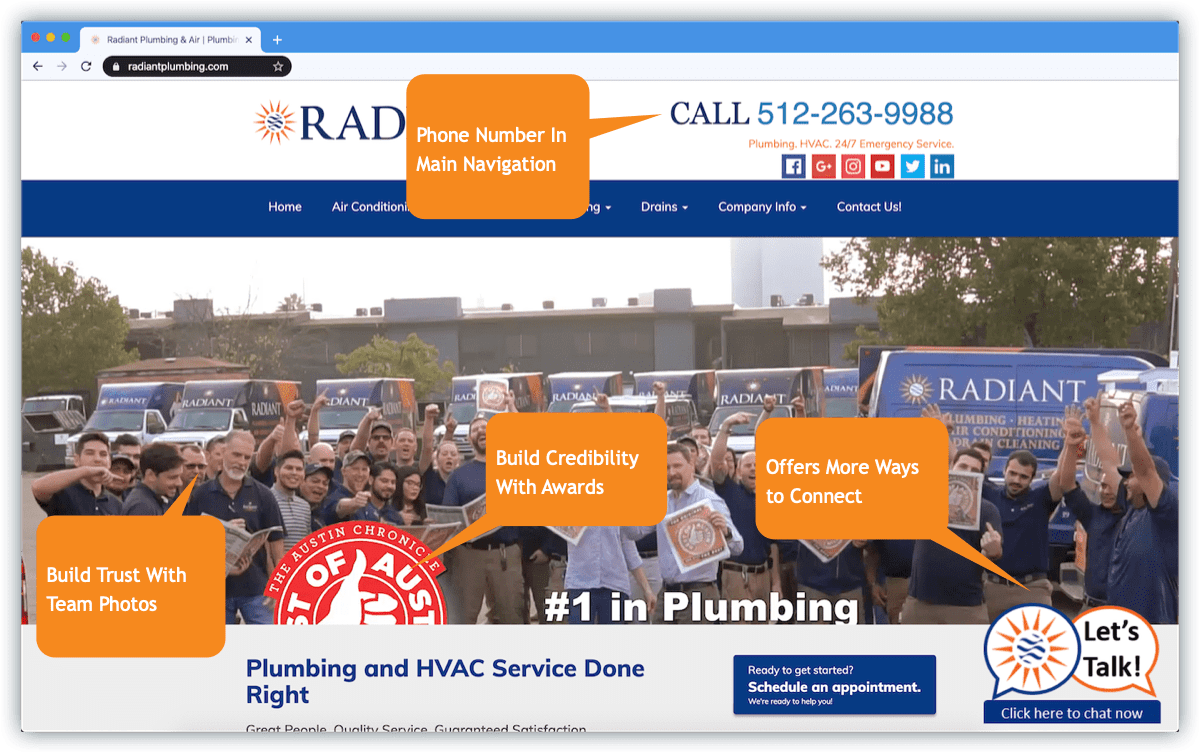 Related: How To Make Your Plumbing Website A Conversion Machine
Take advantage of local search with PPC and Social ads.
People who are in need of a plumber probably aren't going to spend hours poring over Google results before they make a preliminary phone call to a company. This means that your company needs to be immediately visible to anyone searching for specific locational keywords relevant to your business—and it should be stand out and outrank your local competition. The surest way to be seen in this way is to enlist paid search and Google Ads strategies.
While Google Ads are especially important, you should also consider buying ads on Yelp, Facebook, and any other site where you want to have certain visibility. Here are some tips on how to generate plumbing leads with Facebook Ads.
Use social networks smartly.
Having a social presence can create a good deal of leads for any kind of business—including plumbing—when done well. It's important to offer content of value to your followers. It should be informative or entertaining (or both). For instance, an Instagram account devoted to showcasing obscenely bad plumbing problems your company has fixed could garner a decent following, and help drive customers to your company.
Take reviews seriously.
In this extremely connected digital era, potential customers rely on reviews to a startling degree. In fact, your reviews online could truly (and quickly) make or break your business. People often turn to reviews on social networks, whether it be on Facebook or Yelp, to identify prospective home services companies like plumbers when they need them. Having a positive presence on social is a direct reflection of the work you do in person.
That's why it's important to ensure that your happy customers go online to leave a review and that your unhappy customers are made to be happy whenever they can be. Encouraging customers to leave reviews across your networks is a good way to substantiate your business' reputation online and to stand out among competitors. You can incentivize your happy customers to leave positive reviews by offering discounts, loyalty points, or free evaluations.
Don't underestimate the power of a discount.
Sites like Groupon are popular for a reason. If you can offer discounts on widely used sites like this, you'll see a spike in new traffic simply because of the deal. The good news? Happy customers will call upon your business for full price after they become familiarized and trusting of what you do through a discounted offer. And they may just recommend your business to friends and colleagues as well.

Try a lead generation service.
Lead generation services are crucial for businesses that rely on a digital presence for customers. In the world of plumbing, utilizing a lead generation service with expertise in the plumbing and home services market can help your company grow by leaps and bounds. The options for leads and how you'll pay for each one vary between different types of offerings and depend on the service provider you choose. Regardless of what you decide on in the end, having a lead generation service in your corner can ensure a stream of quality leads.
In short, we no can no longer rely on Yellow Pages leads to drive business. Today's most effective marketing and advertising strategies are often complex, formulaic, and multi-channel. While some of these methods can be conducted in-house, there is often a higher return when outsourcing some of the more complex lead generation strategies to experts.
Related Content