March 22, 2021 by Taylor Stafford
How to Generate Plumbing Leads with Facebook Ads
In 2021, it's no surprise how impactful social media platforms can be for business growth—and it's not just from the abundance of silly memes or adorable Corgi videos. Facebook has an impressive 1.13 billion users that are active daily, which means business owners have a wide audience to reach out to through strategically-created Facebook ads. With such high competition, coming out on top and ensuring your audience doesn't just keep on scrolling is difficult, but not impossible. In fact, the average Facebook user clicks on 12 ads per month, so there's plenty of opportunity to reach new clients through Facebook marketing. However, your opportunity to grow your business is only as good as the knowledge and data you have on your audience.
I know what you may be thinking: If a grown man assuring everyone he's "not a cat" during an important Zoom call is all it takes to achieve internet fame then how hard can generating leads be through Facebook ads? Well, accidentally going viral and strategically marketing your business are two very different things, but the fact that they're both so prominent and accessible gives the rest of us hope in achieving something, right? With the correct tools and understanding of effective Facebook ads, you'll be well on your way to catching eyes and generating leads for your awesome business.
What is a Facebook Ad?
Before we get into it, let's define a Facebook ad. According to Facebook, "Facebook ads are paid messages from businesses that are written in their voice and help reach the people who matter most to them. Advertisers create campaigns that have specific goals, which we call advertising objectives and they create ads within those campaigns to help them reach those objectives."
FACEBOOK AD TYPEs
Business owners and marketers tend to combine these two elements of a Facebook Ad into what they call a Facebook Ad Type: the ad objective and the ad format. Facebook ad objectives and Facebook ad formats are two very different but important factors that will determine the success and overall impact of your ads.
Ad Type = Ad Objective + Ad Format
Ad objective = the strategic goals
Ad format = the visual appearance of the ad
When both of these goals are executed properly, they should work in unison with each other. Meaning the visual and creative appearance of your ad directly reflects the strategic goals of your chosen objective. This is one of the most crucial steps of creating a strong Facebook ad.
Facebook Ad Objectives
When setting up your campaign, you'll find three different categories of objectives for Facebook ads. Each category has a number of specific objectives to choose from depending on your business goals.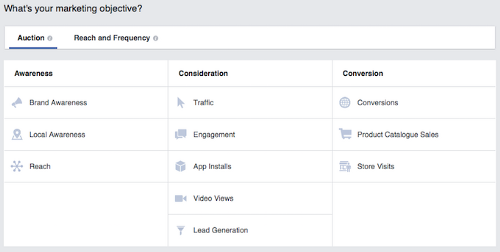 Awareness: This category includes objectives like "brand awareness," and is designed to make your business more visible to your audience. This form of advertising is centered around informing your audience about your product and showcasing what's unique about your business.
Consideration: This category has options that encourage potential clients to take the next step and learn more about your business. If your goal is to increase website traffic, then Consideration would be a great category to browse.
Conversion: Conversion is the most popular objective for Facebook ads since its purpose is to increase sales, sign ups, or any other action that generates leads. There are many options to choose from within this category that align with your goals like Messages or Video Views, which are highly effective in connecting with your audience.
Facebook Ad Formats
The most important thing to consider when choosing your format is if it can effectively display and support your objective. For example, if you run a plumbing business and want to promote multiple newly added services, a carousel ad might be the most effective as it showcases up to 10 different images of your choosing, each with a link that potential customers can click on to learn more.

Videos: The most popular format for a Facebook ad is a landscape video, making up

52%

of videos on Facebook. Videos are highly impactful with their ability to display important information quickly to an audience.
Images: It's best to use

images

in PNG or JPEG format as those are higher quality. Be sure to take colors and text size into consideration when choosing your images.
Carousels: As stated above, carousel ads can show multiple different images and are best when promoting multiple different products that you want your audience to be aware of.
If your primary goal is to generate qualified Leads, we recommend setting your objective as Conversion and using Facebook's dynamic image and video ad format. These two formats have shown very high levels of engagement. Videos are not only the most popular ad format, they also receive 135% more organic traffic than images. Facebook images are responsible for 75% to 90% of an overall ad performance, and are an extremely important part of generating leads.
Even the most effective targeting strategies will fall flat when paired with a poor ad creative or offer. This last step is what your audience sees as they are scrolling through their Facebook feed, and could be what they need to become your new customer! It's important to take design aesthetics into account as well as what creative will be best suited for particular objectives whether you choose videos, single image, or carousel ads to reach your target audience.
Facebook Audience Targeting
Facebook Ad Do's And Don'ts
Do create your ad in

multiple formats

to maximize reach and show off your personality.
Don't use automatic default settings for placement. Always choose placement manually to get the most out of your advertising efforts and ensure you're targeting the right audience.
Do ad

block lists

. This will ensure the safety of your brand by stopping your ads from appearing in places you don't trust.
Don't neglect ad comments. Being responsive to public comments is a great way to engage with your audience, answer questions, and showcase your commitment to customer service.
Do add options for primary text and headlines. It's important to be in control of how your ad text and headlines will display and flow with the rest of your ad in order to be more effective.
Don't forget to proofread. All it takes is one typo to erase the legitimacy of your company to any potential customer. Mistakes happen, but ensuring the final result of your ads are free of typos will show clients you're willing to take the time to communicate effectively the benefits your company has to offer.
CAMPAIGNS FOR GENERATING LEADS
Before you create the perfect campaign to generate leads, it's important to understand your audience to ensure the content you create is compelling to them. The combination of your beautifully designed creative, strong objectives, and audience targeting will result in conversions and, most importantly, generate leads. There's also tons of templates to choose from when choosing your ad formats. But first, make sure you have landing pages that can convert traffic from your ads. When generating leads specifically, it's imperative that your CTA sends potential customers to a reliable page that they can contact you from. Keeping the following tips in mind will get you a few steps closer to success when it comes to creating your Facebook ad campaigns. Most importantly, what are the most compelling things to advertise when trying to generate leads? Here's our list of effective Facebook ad themes that'll get your foot in the door:
Offer A Seasonal or Timely Deal
Everyone loves a good deal whether it's on services they want or services they absolutely need. Seeing a special offer could be the deciding factor on why they choose your company over another one. It's understandably a popular thing to advertise as it appeals to such a wide audience, and you can link them to a form on your website to schedule a consultation.
Highlight A Before/After Photo
When it comes to home renovations, decor, or any sort of transformation service, before and after photos are imperative to establishing trust in your company. Without visuals of the quality services you provide, it's difficult for an audience to know what to expect from you. The more before and after photos you can provide of different projects, the better. Having a variety of projects will reach a wider audience and make it easy for them to see their needs being met by your company.
Showcase A Customer Testimonial
Have you ever crossed out a company from your list simply because they had no reviews—or worse, nothing but bad reviews? If your answer is yes, you're not alone. Consistency with 5 star testimonial ads are important to establish your credibility and show your audience what others are saying about you. You can link them to view more testimonials on your website and increase your traffic as well as conversions!
Highlight Unique Selling Propositions
Service discounts and offers go a long way when it comes to generating leads. The trick is to be consistent with advertising your unique services offers as it could be the sole reason a customer reaches out to you. For example, if someone is in an emergency situation with their plumbing system and it's midnight, they're only searching for 24 hour services near them. If you're not consistent or effective at advertising your services, they could skip past you and find the next 24/7 plumbing company.
Now that we've climbed in and out of the Facebook ad world, you should be ready to start your journey to create more compelling, effective ads that convert and generate leads. Having a nice design is one thing, but molding together all the tactics of strategically chosen objectives, formats, and the target audience is what will ensure your ultimate success on growing your business!