February 11, 2021 by Taylor Stafford
How To Make Your Plumbing Website A Conversion Machine
The impact that online advertising has on consumers is no surprise as people spend an average amount of almost 7 hours a day online across all devices.
One of the best ways to advertise for your company is to create a website. Building a quality website gives your plumbing business an opportunity to be seen by people searching for plumbing services online, and more importantly, a chance to convert and gain more customers. The average conversion rate for a plumbing website is around 10% to 15% which is only a fraction of what can be gained with a top-notch plumbing website. Whether you're running a small or large plumbing business, investing in a quality website is well worth the time and cost when it leads more customers calling your company. With the following tips in mind, your website will not only be seen, but will be transformed into a total conversion machine.
Make Sure Your Website's Technical Foundation Is Solid
Your plumbing website's beautiful design or raving reviews will have no impact if your site isn't loading properly. It's important to ensure your website's quality is consistent across all devices and that all images, videos, call to actions, and content are loading quickly. Keep in mind that conversion rates can increase by up to 74% when load time is reduced from 8 seconds to 2 seconds. When people visit a website, they expect to see the information they need almost instantly before leaving the page or deciding to call. That means your plumber marketing messaging and delivery need to be on point. Anything that keeps them from seeing the information they need sooner needs to be addressed and adjusted to get the most out of your website. Try these tactics out to make sure your website is up to standards:
Check your page

load speed

to ensure your load time is 2 seconds or less
Make sure images are

compressed

and CTAs are working properly
Make sure it's mobile-friendly

for tablets and phones as

88%

of consumers who search on a mobile device end up contacting the business within 24 hours
Have Clear Call To Actions
Call To Actions, otherwise known as CTAs, are what potential clients will click on in order to contact you. If your CTA is not effective at communicating what they should do to get a hold of you, your website is going to have trouble converting. The more specific you are with your CTA, the better. For example, "Call our plumbers now for a free estimate!" or "for immediate emergency plumbing services, call now!" are CTAs that inform and incentivize. These CTAs show the potential client how they can benefit by picking up the phone are always more effective than a vague CTA that does neither. An example of a vague CTA might be, "click for more information!" because it isn't clear on what they need to do and doesn't specify exactly what will happen if they do click somewhere. Keep these tips in mind when writing your CTAs:
Provide a clickable phone number at the top of the page to make it convenient for potential clients to reach you
Use a chat box for them to easily learn more information
Utilize forms for them to quickly fill out and wait for your response
Consider building a personalized CTA

and possibly increase conversion by

42%

Let Your Customers Speak For You
Have you ever left a website simply because it lacked customer reviews? If so, you're not the only one. Displaying positive customer reviews lets potential clients see the authentic experience you provide from a customer's perspective, helping build trust. It's easy to say you're the best plumber in town, but having hundreds of positive reviews that echo that claim is what really proves your commitment and consistency, which is what every client wants. Making it convenient for potential clients to see your 5-star reviews on your website is sure to increase conversion rates. In fact, websites with testimonials found a 45% increase in traffic compared to websites that didn't have any. These are some helpful ways to ensure your clients see your beautiful reviews:
Showcase at least 1 Testimonial on every page
Have a separate testimonials page
Develop

case studies

to prove overall company success

Write Clean and Clear Copy
Clean and clear copy is more than being informative and effectively telling your audience why they should choose you. Since the average amount of time users spend on a website is less than 15 seconds, that's how quickly you must show them exactly what they're looking for before they bounce. It's best not to use jargon or fill a whole page up with text that is not easy to scan out the keywords they're looking for.
Balancing your copy with images that support and complement your content will help. For example, if a user types "pipe repairs near me" and clicks on your site and immediately sees "pipe repair services" with their city in the title, they have already found what they are looking for. Pair that with an image of one of your professional plumbers repairing a pipe, along with a bulleted list of additional services you offer, and a website visitor is likely to find exactly what they need in less than 15 seconds and contact you. Try these strategies out when writing your website:
Use bullet points to make it easier for your audience to quickly find what they need
Keep SEO in mind by using

relevant keywords

to ensure your website shows up in the search results
Use

cake layering

methods for your copy layout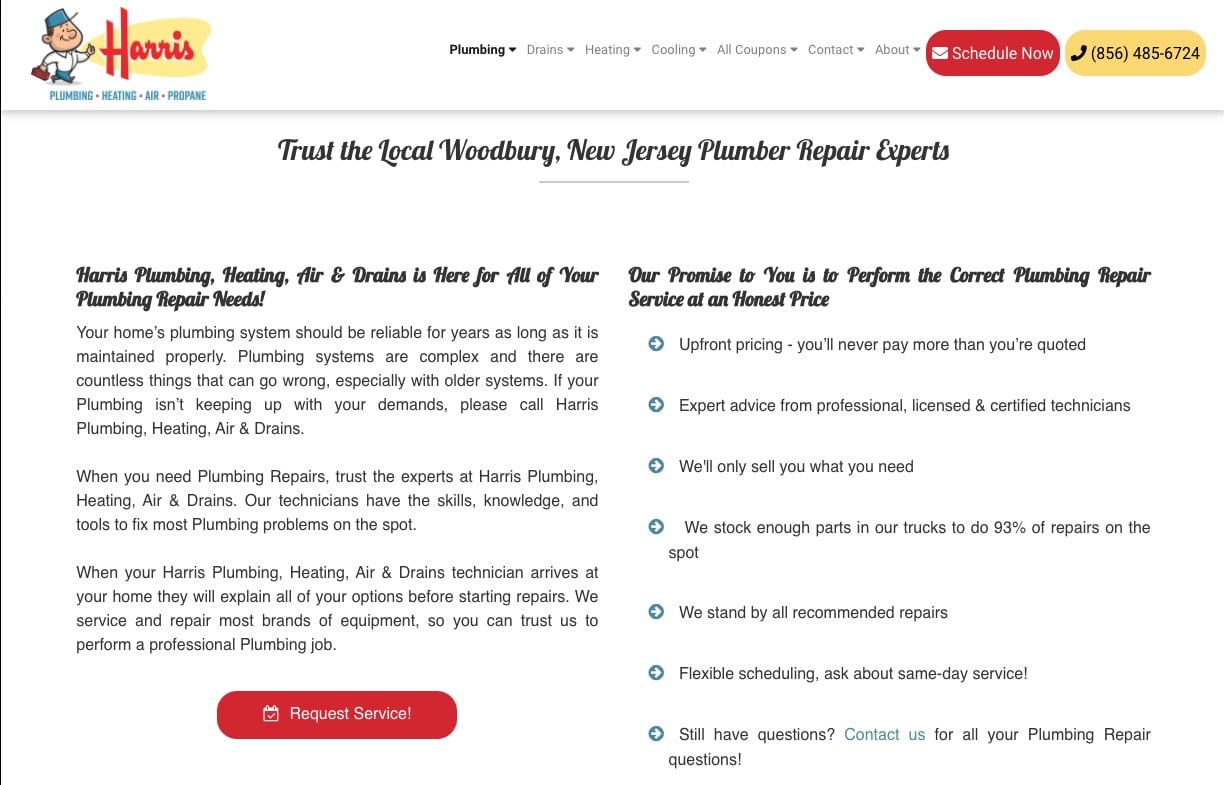 Use Images, Awards, and Affiliations To Build Trust
When people are searching for services that they're prepared to spend a pretty penny on, it's no surprise that they're looking for something authentic, trustworthy, and real. It's no different than people wanting to spend more on a fresh, homemade dinner rather than something out of a cardboard box. By using stock images, you're not giving your viewers a real slice of your company, who they would be potentially working with, or the quality you bring to the table. It's very easy to tell stock photos from real company images, just like how anyone could differentiate between fresh fruit and canned fruit blindfolded—one of them is always better than the other. In fact, using real images instead of stock photos increases the conversion rate by 35%.
Another way to show clients you're established and trustworthy is by showing off your awards and affiliations. When people see other companies that they recognize partnered with a company they're just now learning about, it's comforting and just might be enough for them to pick up the phone. Make sure you keep these tips in mind when you're wanting to increase your conversion rate:
Showcase team photos on the front page rather than stock images
Display before and after projects to show your quality of workmanship
List badges of well-known affiliations and awards you're proud of to build credibility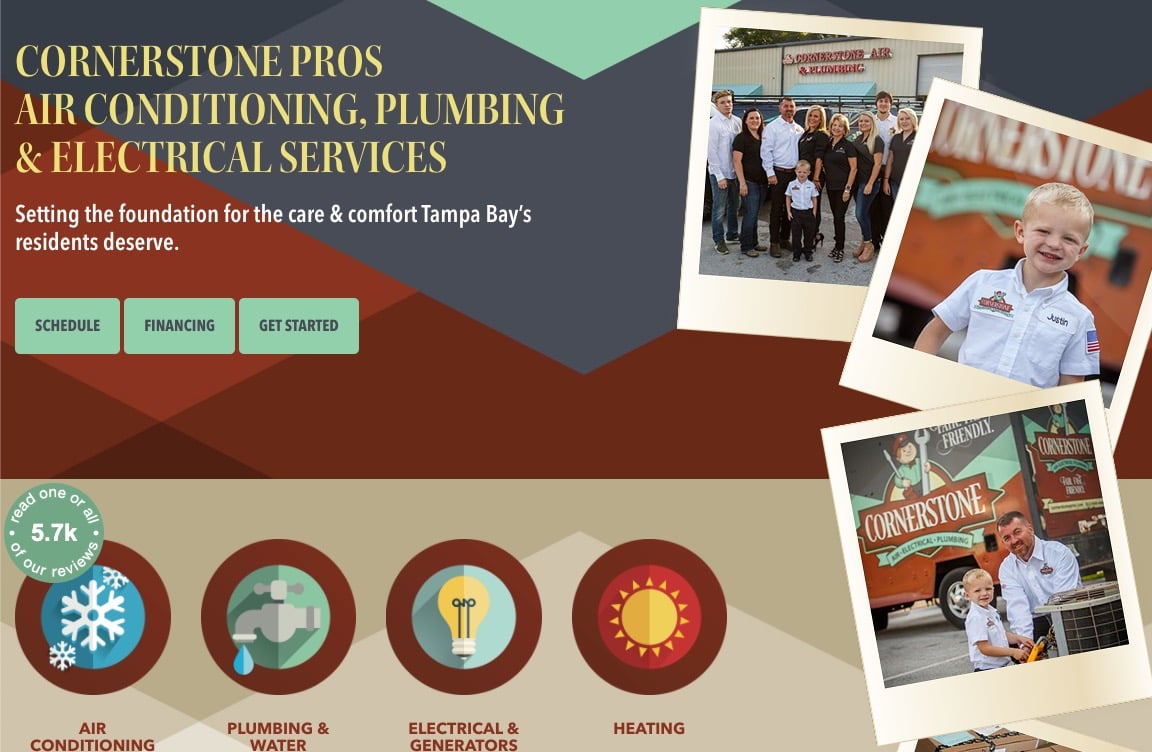 Create An Overview Video
Since 72% of people prefer to learn about a service or product by video rather than long-form content, it's important to include informative and helpful videos on your website whenever possible. Videos are a great way to show your company values, culture, and professional process of what they can expect when using your services. Videos are also a quicker and more convenient way for the client to get the information they need without putting much effort in. If a client has to click on every single drop-down menu on a website to find what they're looking for, chances are, they won't even bother. So it's a good idea to not only have your services stated but have the option for them to just watch a quick video on the front page. Afterall, studies have shown that videos increase traffic by 300% and are a great way to nurture leads. Consider these topics when planning out your videos:
Describe your process step-by-step so potential clients know what to expect from start to finish
Let them know what sets you apart from other plumbing companies by stating your special offers like emergency services, great deals, or free estimates.
Consider having a brief video explaining each service you provide so that when a viewer clicks on "sump pumps," instead of reading several paragraphs, they can watch a 1-minute video giving them all the information they need.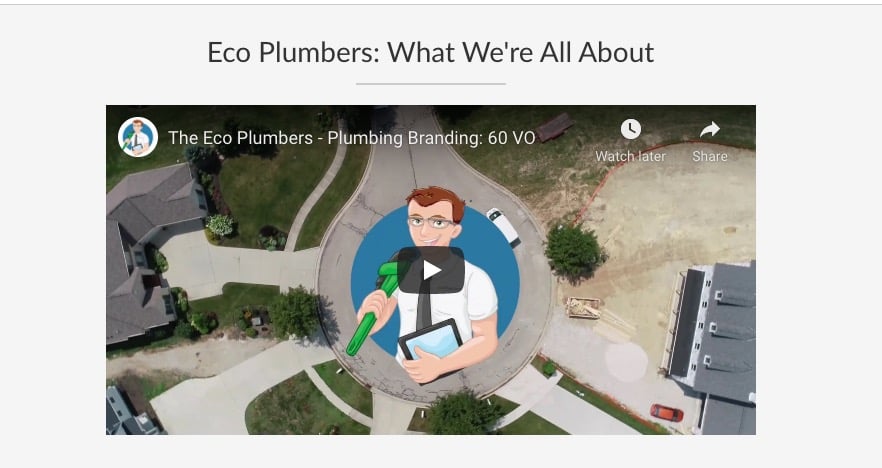 If creating a website didn't seem worth the effort before, we hope we have shown you the positive impact it can have on growing your plumbing business and increasing conversion rates. Though it may seem overwhelming, taking things one step at a time will help make it seem more doable. Plus, there are plenty of tools like Wix or Squarespace to help you build your website and ensure your efforts lead to successful results. Other than checking off the list of website tips above, make sure your website encompasses what sets your plumbing company apart from the others in your area. People are much more likely to remember and gravitate towards a company that is proud of its unique attributes rather than a company that tries to fit in with everyone else. In other words, don't be afraid to be yourself!
Related Content