October 27, 2020 by Taylor Stafford
How to Grow Your HVAC Business During The Seasonal Slowdown
Autumn is upon us, and that doesn't just mean inevitably spending an enormous amount on seasonal decor or pumpkin spice lattes — it also creates the potential for your HVAC business to slow down if you're not prepared. When it's not too hot or too cold, people don't have as much need or motivation to pay for HVAC services. So without superpowers that can control the weather, how can you not only beat the seasonal slow down but gain even more customers? Start by tackling some simple tips on digital marketing, and you'll see a huge benefit and increase in customers even during the off-season.
Social media, for example, is just one online tool used to engage with existing clients and people searching for your HVAC services. It's not just a platform to advertise your promotions, promote your winning testimonials, and post informative HVAC tips to showcase your knowledge. It's also a space where you can consistently answer questions or concerns, respond to public reviews, and post culture videos and company values.
When was the last time you used a brand new service without thorough research? For most people, the answer is probably never. With a whole world of information at our fingertips, online research is even more convenient, simple, and necessary for anyone searching for a company that provides services they need. That's why it's best to make sure you're prepared with an active presence on social media to give potential clients an idea of what you're all about!
First, Build A Website That Converts.
Everyone's got to start somewhere, right? As far as online marketing is concerned, a clean, organized, professional website is a must any time of the year. We all know the consequences of making a bad first impression. Whether it's at a job interview, or a family dinner with the in-laws, bad first impressions can haunt you for years.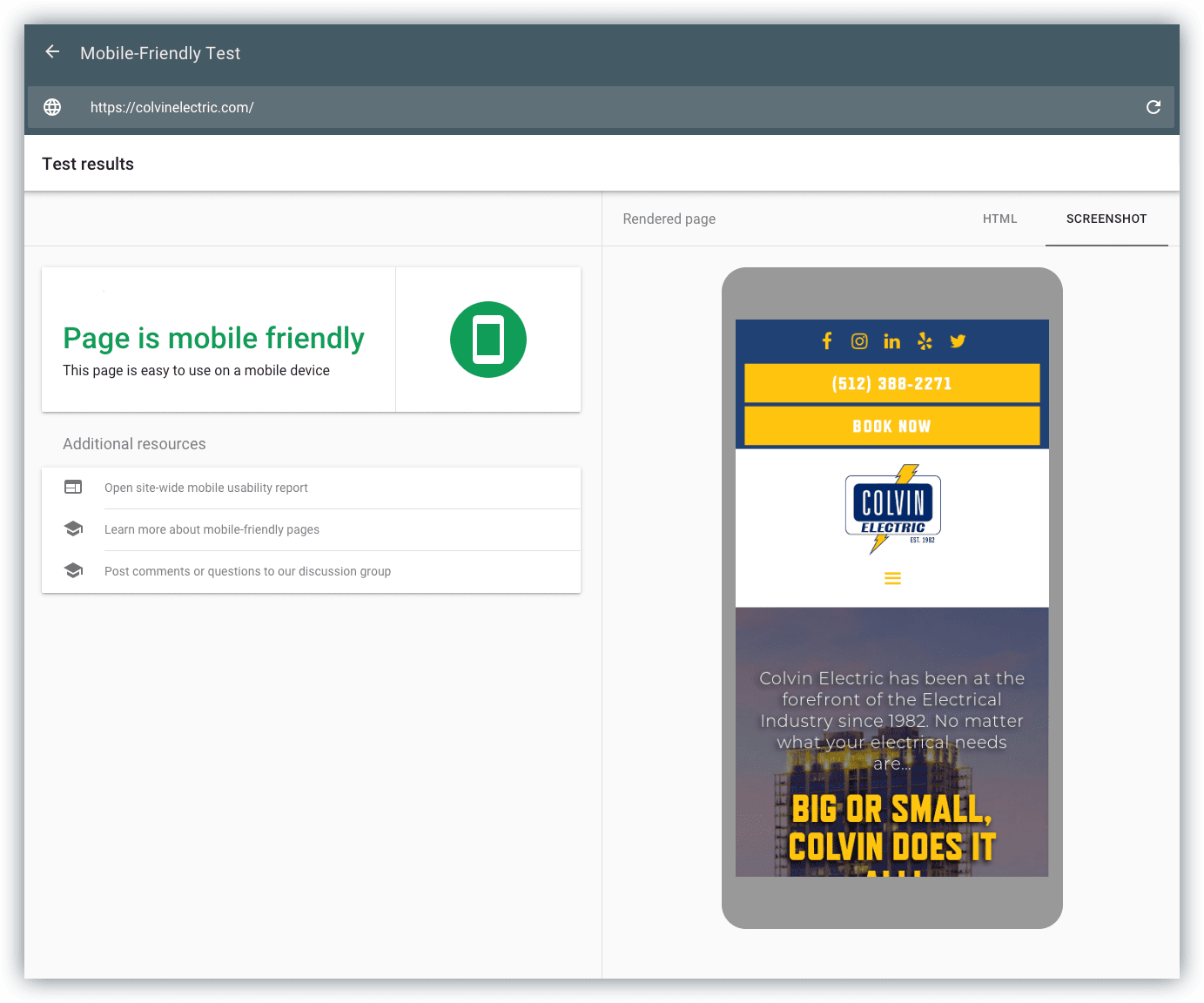 For your HVAC business, a website is just that: the one-stop-shop to view all your services, your company values, your location, phone number, videos, you name it. It's the first thing your potential clients will see, their first impression of your company. The best thing about websites is you can design them exactly how you'd like, track their online conversion progress, and make changes along the way if needed. So here's a couple things to keep in mind when creating your website:
Make sure your phone number appears at the top of the page and is in a contrasting color that's easy to see.
Use commonly searched keywords to increase the chances of your website showing up at the top of search engines like Google and Bing.
Ensure your site is mobile-friendly, as most searches are done from mobile devices.
Compress your images to ensure your site isn't taking too long to load.
Look into easy website creators like Wix to help with inspiration, organization, design, and building a site that's easy to navigate!
A consistent presence on social media paired with a polished website is a winning combo to get your name on the map and dazzle newcomers seeking your services. Once you've got that down, you're ready to rock and roll with growing your HVAC business during the seasonal slow down!
Create a Referral Program
There are many things that can go into creating a referral program. They could be as simple as making sure each technician has informative business cards to hand out on every project or giving out coupons for clients who refer friends to your company. The main point is to reward customers for spreading the word about your premier HVAC company.
Regardless of the specific referral strategy you choose, any effort toward a referral program is much better than nothing at all. Companies with referral programs have a ton of success gaining more clients. In fact, 92% of people are more willing to trust recommendations from family and friends over any marketing efforts. So what are some effective ways to incentivize clients to refer your services to others?

Source: EMC Air Conditioning & Plumbing
First thing's first, ASK
One of the most common reasons companies miss out on a perfect opportunity to potentially gain more clients is simply because they don't ask. Whether you're working with a longtime client or a new one, it will never hurt to ask them to refer you if anyone else needs your HVAC services. Placing the idea in their mind is a good start along with handing them a business card with your contact information on it.
Use a Referral Software
Using a software, like ReferralCandy or ReferralRock, to help automate your referral program efforts can be extremely helpful as far as staying consistent with email campaigns, tracking how many people opened the emails, and figuring out which promotions worked best so you can improve! If there's a specific promotion that happens to attract more attention than any other promotion you have, then you know you're doing something right and can use that as a template for future efforts. Plus, you'll have everything designed, written, and ready to go ahead of time to ensure a consistent look that stays on brand.
Promote and Follow up
Like any new promotion, service, or information you want clients to know, you have to promote it. The more you promote your referral program on your social media channels, website, and blogs, the more people will see them and have a higher incentive to use your services over someone else's. Don't forget to follow up with the client who referred your services; a simple thank you goes a long way and they'll remember your appreciation the next time they refer your company.

Start a Seasonal Promotion
Creative and intriguing promotions are a great way to bring in more customers during the seasonal slowdown. The best thing to promote during this time of year is preventative maintenance services and annual maintenance programs. You could start simple by pairing these services with free quotes, or for annual maintenance programs, you could offer the first month free. Another good tactic is to offer 10-25% off all maintenance services!
But if we're being honest, the only thing people love more than saving money is winning money. If you want to up the ante a bit and get more creative, you could offer $200 dollar gift cards to new sign ups for maintenance services and work on an email campaign to ensure all your clients are aware of your new promotion. You could even put together a quiz like WKYT-TV sponsored by Comfort Heating and Air to promote a chance to win a $500 home services gift card when entering the quiz. This resulted in 1,120 people entering the quiz and 253 of them checked "opt in" for more information.

Run a Holiday Incentive for employees
It's important to make your customers a top priority, as it's no secret that quality customer service goes a long way when trying to run a successful HVAC company. But customers shouldn't be your only focus when wanting to grow your business. It's equally important to put time and effort into making your technicians and employees feel valued and rewarded for all the hard work they do. The happier your technicians are working for your company, the more productive they'll be, not to mention they'll be spreading those positive vibes to happy customers all year round. So what are some fun holiday incentives to show your company some love and motivate hard work?
Throw a holiday party
Company holiday parties can either be wonderfully memorable or a total bore. To make sure you're throwing a party that everyone will remember, make it special by booking a room in a favorite restaurant or bar and offering free drinks for employees. Play fun games like gift exchanges and throw raffles for your employees to win anything from flat screen tvs to airpods. You might even consider creating plaques to reward employees for their hard work and personalizing it to the growth they've made over that year. You'd be surprised how meaningful and motivating publicly recognizing people's dedication and commitment can be. Only good can come of it!
Toss in an extra vacation day
No one is going to shake their heads at receiving extra paid time off. In fact, this could be the most desired incentive yet, as everyone needs a break from the work grind. Because traveling and spending time with family over the holidays can sometimes be more draining and exhausting than restful, that extra day to themselves could make a big difference. So having an extra day off to themselves to relax will surely be appreciated.
Give out gift cards
Who doesn't love gift cards? Free money is good money. You could give out a gift card to the movie theater, gift cards to Target or Amazon, or gift cards to a popular restaurant that you know is well loved by employees. For the ones who can't get enough caffeine and have been shamed for their peppermint lattes, a Starbucks gift card could do as well.
Pay extra for employees working on holidays
There's no harm in adding some extra incentive for technicians to work during the holidays. Offering extra pay is a great way to do it, especially if you're short-staffed. You might even get a few volunteers!
Partner with a Lead Generation Company
Partnering with an HVAC lead generation company is a great way to grow your business, especially during the slower months. Weighing out the different lead generation strategies and options is a must before deciding which company is the best fit for you. For instance, some companies will provide pay per call services with exclusive leads, whereas others may provide pay per click services with shared leads.
Each option comes with advantages and disadvantages, but what they should all have in common is a successful strategy to grow your HVAC business by providing you with a number of potential clients. That way, you can focus on what you do best: running your company and closing deals!
Recipe For Success
Pairing all these tips together will surely help relieve some stress and set you up for success in preparation for the seasonal slowdown. The good news about experiencing slower business is it provides opportunities to get more creative with your marketing strategies and overall company goals, which can lead to improvement and an increase in sales down the road. Afterall, just because it's fall doesn't mean your HVAC business has to fall with it!
So when you're stumped by something that seems out of your control, focus on what is in your control and tailor those strategies to make the best of an unfortunate situation. If you ask us, staying positive and thinking outside the box tops the charts for the best recipe for success not only for businesses, but for any situation!