September 14, 2021 by Taylor Stafford
How We Increased Our Organic Search Traffic by 348% in 12 Months
At Service Direct, we found that identifying our roadblocks and establishing new goals were the first steps to increasing our organic search by 348% in just 12 months. Our decision to invest in organic search has paid off in dividends, and we wanted to give some tips and tricks on what we did to achieve this milestone.

The Benefit of Investing in SEO
When you invest in organic search, you're able to better understand your audiences' intent through keywords, which leads to higher-quality prospects. Plus, organic search is much more cost-effective than paid campaigns, more trustworthy, and more sustainable. It's well worth the time and money if your goal is to increase your ROI. There's so much to gain from investing in organic search when you think of all the content that you're constantly promoting.
Social media, blogs, and brand marketing are all consistent channels that will only increase organic traffic over time through organic search. Organic search will bring quality leads on an ongoing basis as you continue to rank without having to pay for it. You can take up more real estate on a search result page, and if you rank in the top 10 results, you're more likely to get more traffic from that volume. Based on our results alone, we think investing in organic search is a no-brainer!
The Challenge With SEO
For starters, seeing the value of your organic search efforts takes time. It could take several months or longer to see results, but the long-term result will be well worth the wait, so patience is key. Another challenge with organic search compared to PPC campaigns is that there is really no "rule book" on how to rank for specific search terms. There are thousands of ranking factors that Google considers in their ranking algorithm, and they are changing it daily. But, when looking at the main buckets of ranking factors, we can typically group them into these categories.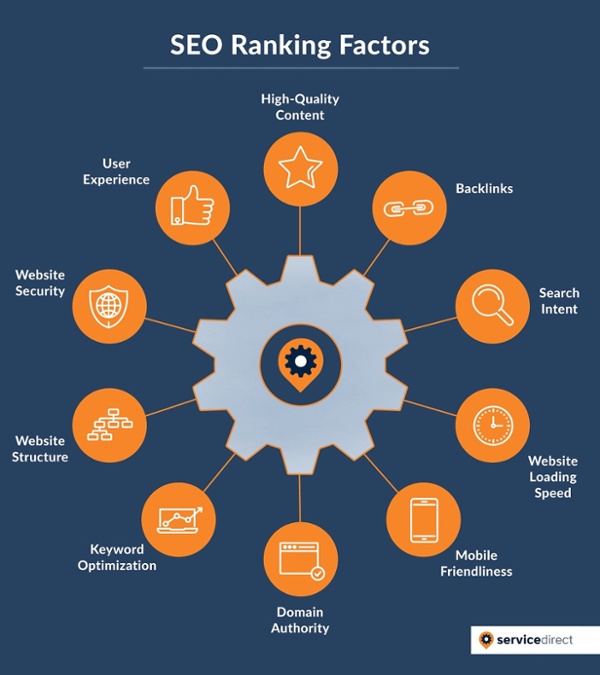 Online advertising is constantly evolving and Google makes frequent updates that you'll need to work with. On top of that, many keywords and search terms you want to rank for are very competitive, so it's a bit of a trial and error process to find high-traffic keywords that don't have quite as much competition. But with consistency and patience, the benefits of your time and effort will come.
Our SEO Strategy
In order to increase our organic traffic, we focused on two main things:
Website Overhaul
Content Marketing
Sprucing up our content and website allowed us to create an easier user experience for our site visitors, drive down costs to acquire new customers, and establish trust by showing thought leadership in our industry. After about 4 months of website redesign and new content development, we reached our goals of creating a more reliable foundation to drive organic traffic and convert site visitors into real customers.
Key Performance Metrics (last 12 months)
Increased organic traffic visitors by 348%
The total number of keywords that we ranked for grew 188%
Organic search represents 71% of new client revenue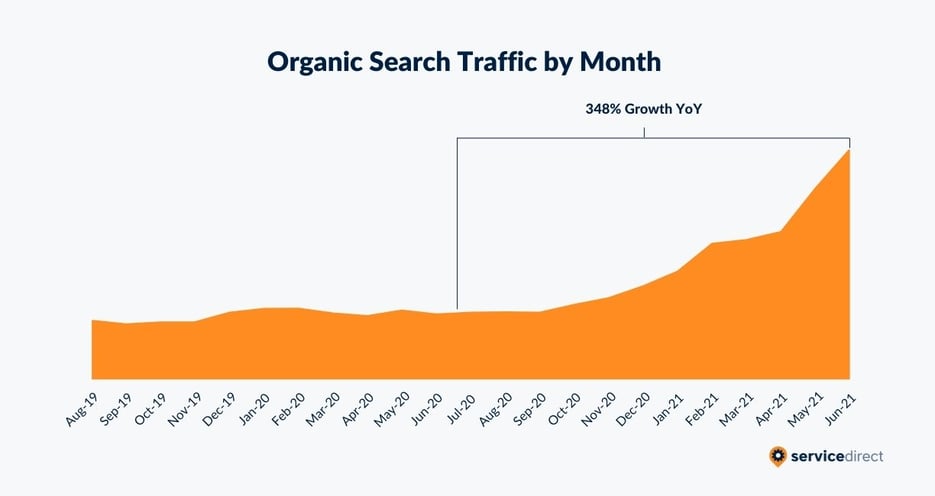 Website Overhaul
We originally built our website in-house, which we soon realized was too inefficient and time-consuming for our developers who were busy with time-sensitive projects. In order to ensure our website was still getting the attention it needed to drive traffic, we made the decision to move to WordPress. This change allowed us to still be in control of everything from content to design without spending as much of our developer's time.
The four things we focused on for our website:
Technical Setup

New Target Keywords

Body Content

Meta Information
WordPress is easier to manage, and adding new pages, images, blogs, and formatting can be done quickly. There's no HTML editing software required and if you want to add features like a Twitter feed or video gallery, you can easily do so with plugins, many of which are free. Once we made the switch, it was obvious that was the best decision for our business goals moving forward. The goal was to have our core site / vertical pages rank at the top of search results for very bottom-of-funnel keywords.
Technical Setup
Site structure and architecture refer to how the pages are organized and linked together to create your website. The way your site is set up and structured is important for many reasons, some key reasons being:
Search engines need structure to be effective and efficient
People navigate differently
People use different devices for reading content
People think about content in different ways
Google passes a value from one page to the next through internal links and based on where the pages are located in the organization (hierarchy) of the website, pages will receive more or less of this value. You could have the most beautifully designed website around with all the bells and whistles, but without a structured website URL and sitemap, there's no way to link your content in a way Google can understand. Your website URL plays an important role in user experience, ranking, and tracking analytics. Since the URL describes the content for both search engines and people, a well-structured URL with necessary keywords improves click-rate, limits bounce-rate, and ultimately helps people find your services. Additionally, a sitemap lists your website's most significant pages making it easy for search engines like Google to find them and send bots to read through them. It also makes it easier for people to find a specific page on your website, which is essential when it comes to increasing traffic and generating leads.
Here are a few fundamental tactics we used when building our website from the ground up.
Moved the website to WordPress. Migrated our website from in-house to WordPress as our CMS. We did this to ensure our website was following or could be easily updated to follow best practices as they change. And, it would allow our marketing and design team to create and publish pages without having to use development resources.
Standardized URL structure. We ensured all landing page URLs followed the same structure and included the primary keyword we were targeting for each page.
301 Redirects. We ensured that all website pages had a permanent 301 redirect.
Added new category pages. We ensured that we created a new landing page for all high-value service categories that we serve.
New Target Keywords
When we began our keyword research, we had to first establish reliable types of clients to focus our organic strategy on. Once we had more solid information on our clients and what they were searching for, we were able to discover what keywords generated the most traffic. By breaking it down into these two factors, not only were we able to recognize the most important content and pages to create for our site, but we were able to recognize which keywords not to include in our organic search strategy.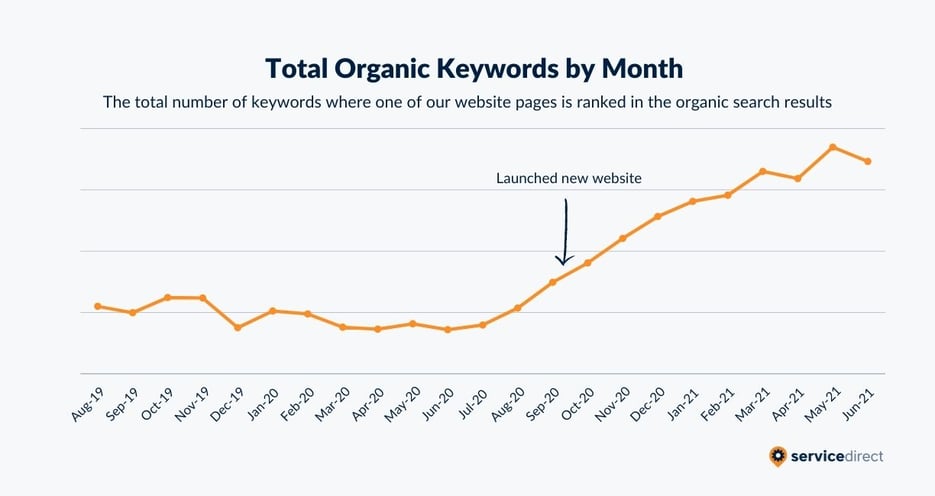 For example, our CGO Matt Buchanan explained that even though the term "insurance leads" receives a significant amount of traffic, but driving insurance leads isn't a focus for us as a business, therefore it doesn't make sense for us to spend time trying to rank for that competitive keyword phrase.
On the other hand, we were able to discover keywords that generated a lot of traffic and worked great for our business like 'plumbing leads', while at the same time did not have a ton of competition to rank. As a result, it made it easier for us to stand out and generate leads. Here is a quick list of what to include in your keyword research.
Gather List of Paid Keywords. We looked at our PPC keyword performance in Google Ads as a starting point for terms that we know drive conversions and revenue.
Gather List of Existing Organic Keywords. We identified all keywords that one of our core site pages was ranking for already.
Combine Paid and Organic Lists. We then combined those two lists and divided them up into small lists by service category (e.g. Plumbing, HVAC, Pest Control, etc…)
Add Related Terms. We took each industry segment's keyword list and used various tools to identify "related terms" for each category such as

Ubersuggest

,

Keyword Planner

, and

SEMRush

.
Analyze SEO Metrics. One we had all terms to analyze, we ran that list through SEMRush to identify and analyze core metrics such as search volume, keyword density, and level of competition. In other words, we ranked each keyword based on our opportunity to rank for that term and the potential value of the traffic it could drive.
Choose VIP Keywords. We then chose 5 "VIP Keywords" to prioritize and focus on for each page. And these keywords are what we evaluated and reported our performance on.
Body Content
When you think about a user searching for something online, there are typically many different variations of search terms they will use that are focused on a keyword. For example, someone might search "plumbing digital marketing" whereas another person might search "lead generation for plumbers." Anticipating these differences in search behavior and accounting for them while writing your content (using a good mix of keyword phrases) should produce positive results.
Not only is the body content of your website important for establishing your business as knowledgeable thought leaders and creating your brand voice, but it's also crucial for backlinking, improving your rankings, and ultimately attracting more users to your page.
Some core tactics we used to optimize our content for each page::
Optimized with keyword phrases. We optimized the content of each landing page to include our primary and secondary keywords, as well as used related keywords in

co-citation

.
Increased word count. We increased our overall word count on each page by 100% from around 750 words to about 1,500 words on-page.
Wrote unique content. We wrote unique content that was very specific to the service category of each page.
Made content conversational. There is a fine line between writing useful content and just keyword-stuffed content. We ensured the readability of the content met our standards and used keywords in authentic ways.
Used headings. Used headings and subheadings to break up blocks of text for more scannability and to clearly organize topics on the page.
Highlighted value offers. We made it more clear to our site visitors how simple it was to sign up, how little risk was involved in order for them to grow their business, and exactly how signing up for our Marketplace could benefit them.
How it works. We demonstrated how our technology and our set of tools were designed to help them grow so there was no confusion on how it all worked.
Testimonials. We included our customers' own experiences in order to establish trust.
Meta Information
Meta information can make a huge positive impact on your SEO results when you follow best practices. Meta information basically includes two components: Title Tags (Page Titles) and Meta Descriptions.
What is a Page Title? A page title tag is an HTML element that specifies the title of a web page. If you don't write page titles, search engines struggle to determine what your web pages are about.
What is a Meta Description? A meta description is an HTML element that describes and summarizes the contents of your page for the benefit of users and search engines. Without writing or setting a specific meta description, Google will populate the meta description with the first text on the page. This text typically is not descriptive or formatted in the best way for searches. While meta descriptions don't directly influence your search engine rankings as much as page titles, they do directly influence your click-through rates and conversions, which can indirectly influence your search engine rankings.
This information is used to describe the content on your page to search engines and act as a first impression to your page. Effective meta information should be concise, clear, and use keywords to help people find you and the services they're searching for online. Your meta information needs to be unique to each website page (no duplicates) and stay within recommended character counts in order to make them as useful as possible to both search engines and people searching online.
We conducted an audit of our current meta information for all website pages. Each website page was targeting a primary and secondary keyword, so we audited and updated all title tags and meta descriptions to ensure they were best optimized for those keywords.
Title Tags / Page Titles
We audited all page titles and identified gaps where there was no page title, duplicates, or an existing page title that needed to be updated.
We updated each page title to include both primary and secondary keywords for that specific landing page.

Example: Pest Control Leads – Pay-Per-Lead Marketing | Service Direct

We ensured each page title was between 50 and 60 characters.
We wrote a unique title tag for every page of our website.
We kept the same title tag structure across all landing pages.
Meta Descriptions
We also audited all meta descriptions and identified gaps where there was no meta description, duplicates, or existing meta descriptions that needed updating.
We updated each meta description to be more conversational but still concise.
We ensured each meta description was between 130 and 290 characters.
We put the most important text at the beginning so that the most pertinent information will always appear in most search engines, mobile devices, and on social media.
Content Marketing
With 72% of marketers stating content marketing increases engagement, it's not something you want to neglect. We found that by writing compelling content around our keywords both on our website and on our blogs, our traffic increased tremendously. We honed in on our website design keyword-driven landing pages, revisited our content marketing strategy, and focused on promoting our articles online in order to see better results.

Blog Strategy
As we looked into different strategies to increase organic traffic, one of our goals for content marketing was to write blog content that could rank for long-tail keywords that were more centered around the middle and top of the funnel to increase awareness. We also moved our blog over to a subdomain and focused on writing content that we could promote to get third-party mentions from other websites. We use Hubspot as our CMS and have adopted their pillar approach to blog content planning while focusing on keywords.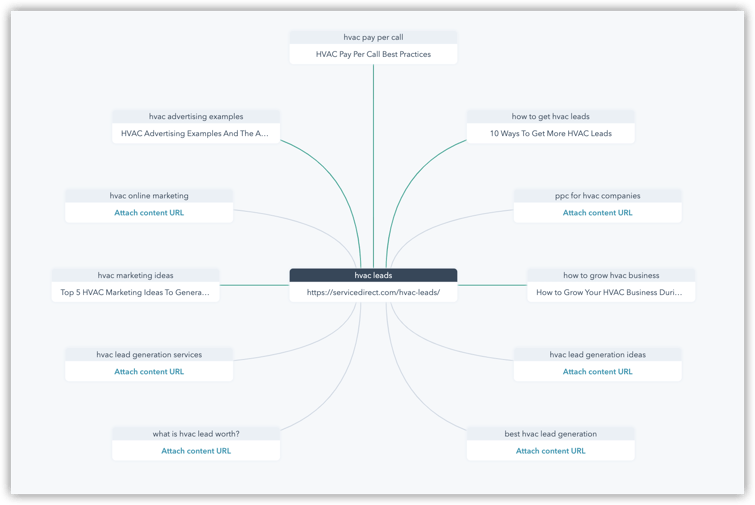 SEO-Focused Blog Articles: These are articles that are written around specific long-tail searches that we wanted to rank for. For example, instead of "plumbing leads" we targeted '"how to get more plumbing customers." By focusing on long-tail searches, it's much easier for us to rank for them due to the low competition. It's also known to result in better conversion rates since people who search long-tail keywords tend to be more specific about what they are looking for. Plus, if you're using Google Ads, they typically cost less to bid on!
Culture Articles: Our culture articles are centered on our company culture and sharing our experience and ideas to benefit other companies who might be interested in strengthening their community. These articles can be anything from our working from home strategies and how to create a virtual book club to how to set up a fun company wellness challenge. Posting culture articles is a great way to have consistent content that is relatable not only to your industry but to any business, therefore reaching a wider audience and having more opportunities for backlinks. Plus, if you're trying to grow your team, job searchers will be able to gather a better idea of your company culture just by reading your blog!
Thought Leadership Articles: Thought leadership articles are a great way for your company to demonstrate its knowledge and expertise to establish credibility and share your insights with an engaged audience. For example, if you're a marketing business, writing an article about SEO strategy based on your experience and explaining how others can follow your tips in order to grow their business would be a great thought leadership piece. As stated above, these pieces are great at building trust and credibility for potential clients and other businesses that may link to your website and drive more traffic to your company.
Content Promotion
Promoting your content is a great way to get it indexed quickly by Google. It helps with rankings by getting mentioned on third-party websites as a resource. If you think of a backlink like a vote, you want to get authentic quality votes from the web, and the best way to do that is to create compelling content that people want to naturally link to and talk about. But quality content isn't seen without consistent promotion. According to a study done in January of 2021, businesses using social media increased traffic by 79% and generated leads by 69%. So promoting on multiple social media channels is not something you want to neglect once your website is ready for its close-up!
Promote across channels
Promoting across channels is crucial to bringing awareness to your business. From an SEO perspective, promoting on social media will get your content indexed quickly because the fastest way for Google to crawl your new content is from social media. This is also the best way to get quick engagement with the article, which is important for rankings, as well as getting solid organic traffic from social channels and relevant communities with hashtagging.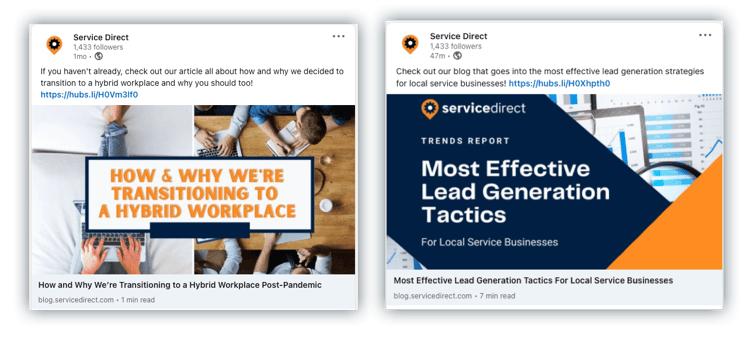 Here are a few tips to keep in mind when promoting on social media:
Proactively

manage

your social media profiles
Use

Facebook tools

to deliver targeted ads
Use

tools

to schedule posts and keep things consistent
Use the

content pillar

approach when posting on social
Post at specific times when people are most active and use hashtags
Promote content to relevant trade publications and blogs
Promoting your content to trade publications and blogs is a natural link building technique that allows you to build credibility in Google's eyes. If you think of a backlink like a vote, then the more votes you have, the more popular and trusted you become. Bottom line, the more content you have on established platforms, the more awareness you'll bring to your business, and the more credibility you'll build for potential new clients.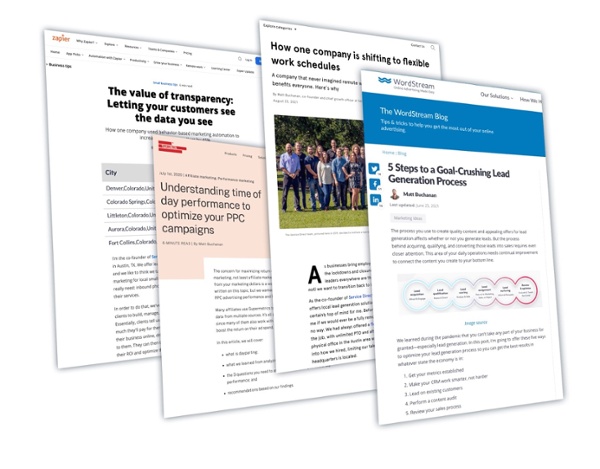 Here are a few tips and tools we used for content promotion:
We used a tool called Buzzstream to keep track of all contacts for promotion and to actually send out our email pitches to media and bloggers.
Leverage Help A Reporter Out (HARO) for journalists that need a resource for their article last minute.
Wrote unique guest posts based on our content topic and contributed to other third-party sites.
Conclusion
When it comes to increasing your organic search, you have to be in it for the long haul. But by applying the right strategies like ranking for quality keywords, sprucing up your website, and promoting your content across blogs and social channels, the payoff will be well worth the wait. As long as you know your audience and what they're searching for, and continue to believe in your company and that what you have to offer is one of a kind, your audience will believe it too. Our biggest piece of advice: don't give up!
Related Content