August 08, 2022 by Service Direct
How Your Small Business Can Win Customers on TikTok
TikTok is a very effective way for small businesses to get new customers. However, many small businesses are yet to set up an account.
Our recent survey with small business owners on their content marketing efforts revealed that while 7% of businesses reported never distributing content on Facebook, 40% have never used TikTok for content marketing.
Comparing this data to our survey that asks consumers how they discover small businesses to patronize, one of the interesting data points that surfaced was the efficacy of TikTok among 18 to 29 years old consumers.
Whereas 37% of respondents had patronized a small business off Facebook ads, 33% of respondents did it because of TikTok ads.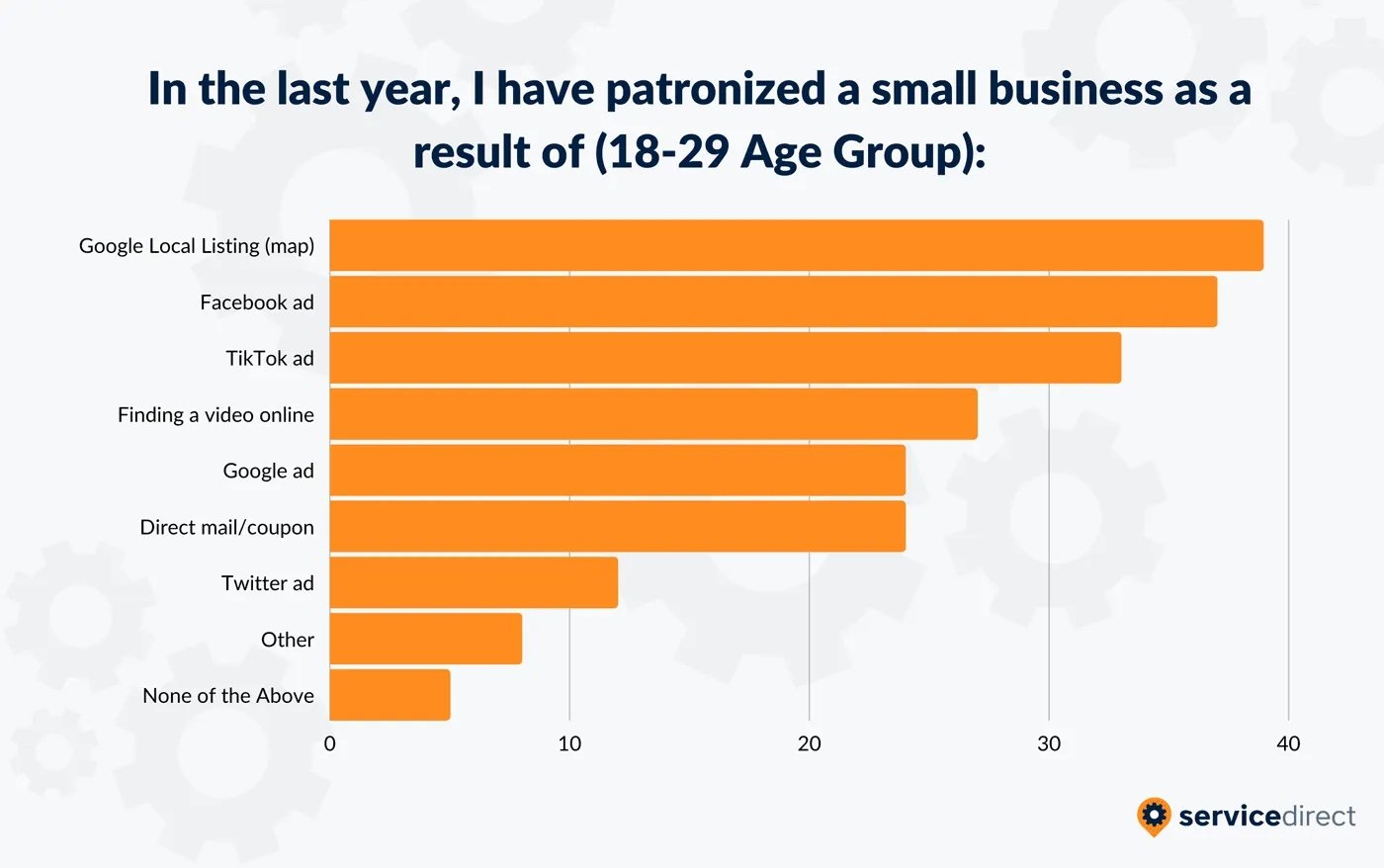 In other words, despite a massive difference in adoption rate by small businesses, TikTok has attracted nearly as many younger consumers as Facebook.
This presents incredible opportunities for small businesses catering to younger people to find new customers and grow.
What is TikTok for small businesses?
With more than 2.6 billion downloads worldwide, TikTok has grown far from the platform where teenagers post dance videos and lip syncs.
While the platform still has a large concentration of younger users, it is fast becoming a short video streaming platform for everyone.
In the United States alone, TikTok accounts for over 138 million active users, with its user distribution across ages being:
10 to 19 years old — 32.5%
20 to 29 years old — 29.5%
30 to 39 years old — 16.4%
40 to 49 years old — 13.9%
Over 50 years old — 7.1%
Moreover, the social media app isn't just for entertainment. TikTok also sees a ton of informative and educational content from users and brands.
These short-form, audio-driven videos are just as effective for sales.
Just do a quick search of the hashtag #TikTokMadeMeBuyIt, and you will find over 16.7 billion views across videos of unboxings, shopping hauls, and product reviews.

Image Source
In fact, according to TikTok for Business statistics, 67% of users said that the app had inspired them to shop even when they weren't originally planning to do so.
So if you are still not using TikTok to acquire new customers, now is the time to get started.
Developing a small business TikTok strategy
Creating content on TikTok is different from any other social media platform. You need to create short, entertaining videos to keep users hooked.
Combining organic and paid TikTok strategies can essentially help meet your business goals.
Create organic content
Thanks to TikTok's algorithm, organic content is still one of the most effective ways to get views and exposure.
The app does not serve content based on user popularity or follower count. Rather it suggests videos based on your preference and video details.
This gives every creator on TikTok a fair opportunity. All creative posts have the potential to reach your target audience and go viral.
Join popular trends
You don't need to spend hours thinking of new, unique video ideas.
TikTok is all about pop culture trends, and using popular sounds and formats can help put you on the user's "For You" page to be discovered.
The trick, however, is to not hop on all types of trends. Wait for the right moment to join the perfect song or challenge relevant to your brand.
Bliss Dough, an edible cookie dough brand sets a great example.
This small business hopped on the "Big and Chunky" trend with a short 7-second video to give customers a sneak peek of their upcoming flavor that gained over 25k views.
Share helpful tips and tricks
Creating educational TikToks is another excellent way to get views and show your expertise. Just look at this TikTok video by Dr. Crack that garnered 3 million likes.
By creating how-to videos and helpful tips, you are essentially giving value to your followers. So pick a pain point your audience might have and show them the step-by-step solution.
Use hashtags to get discovered
Great TikTok content can only go viral when people discover it.
With TikTok, that means including the right hashtags in your post. Hashtags help people learn about the context of your video and reach target audiences that align with your interests.
As a tip, filter content by competitors or interests to find hashtags that align with your small business and create content to help boost your organic reach.
Feature your products
When posting clips to TikTok, create posts featuring your product. 74% of users say that TikTok for small businesses has inspired them to learn more about a product.
Remember, you only have a few seconds to capture attention and drive traffic. To create a video that works, showcase the user's pain point and how your product can solve it.
Show behind the scenes
Another tip is to tell your brand story through behind-the-scenes videos. They can be interviews with team members or clips of your materials and ingredients.
This can help forge meaningful connections with audiences and build their trust in your brand, ultimately converting them into customers.
Use duet and stitches
TikTok has the feature to stitch and duet to other videos, which takes sharing to another level. Businesses can leverage it by adding comments to viral trends that will amplify their views.
Or better yet, the feature can also help engage customers by encouraging them to create and share user-generated content.
An example is Nice Shirt Thanks, an apparel company reacting to customers receiving their custom shirts.
Besides making the audience a part of their brand experience, the business also gets free advertising from their customer's accounts.
To encourage your customers to make their own videos, prompt them with a question or call for honest customer testimonials.
Paid ads
If you have a social media budget to spend, we recommend amplifying your organic content or launching an ad campaign to accelerate your growth.
Because TikTok is still growing, it is a less competitive space for ads than Google or Instagram. It is a tactic small businesses can consider if they have the budget to make their brand stand out even more.
Understanding Tiktok ad types
TikTok ads vary by presentation and engagement. Depending on your goal and budget, there are several different ad types you can work with:
In-feed ads appear like standard videos showing up in a user's "For You" feed when they flip through their feed.
Brand takeovers are expensive but good for brand awareness as it appears when users open the TikTok app.
TopView ads guarantee that your ad is the first in-feed ad by showing on top of any user's "For You" page.
Branded hashtag allows you to create challenges that encourage users to interact with your brand and create user-generated content.
Branded effects create AR overlays incorporating your brand that TikTokers can use in their videos.


Define your target audience
With TikTok Ads manager, you can get specific targeting by filtering through gender, location, age, and language.
It also extends further to devices, interests, and behaviors measured by a user's interaction with a video or creator.
Similar to Facebook and Instagram, it also offers a custom audience and lookalike audience feature to help reach new audiences identical to existing ones.
Set your advertising budget
TikTok Ads Manager offers two budgeting options: daily or lifetime. You can change your budget anytime throughout your campaign, and the system will not spend more than the limit.
Currently, the minimum budget at the campaign level is $50, and the minimum at the ad group level is $20.
As a small business with a limited budget, we recommend running in-feed ads which can be rewarding with the right TikTok video.
Use the split test function to run an A/B test between separate ad groups or campaigns before investing your budget in the best-performing result.
Measure your ad performance
There are three key metrics your business should look at when judging the impact of your TikTok content:
Visibility - TikTok views and website tracking to measure organic conversions
Engagement - Clicks, likes, comments, shares, and subscriber count
Sales - Track past sales compared to sales during and after a TikTok campaign
Tracking all three metrics will give you a better view of your campaign performance and let you know if your content converts successfully.
Maximize your ROI
When maximizing your return on investment, figure out what key metric you want to optimize for.
Depending on what stage your business may be, you may be more interested in building your follower base first before prioritizing lead generation tactics.
No matter what, focus on only one call-to-action for each video.
Small business success stories on TikTok
Peachy BBs Slime
Many small businesses often share their audience behind-the-scene footage, but none is as successful as Peachy BB Slime, with 4.7 million followers.
This is because, apart from sharing her slime-making process, the business owner often has an interesting customer story that engages users to watch it all the way to the end.
This high completion rate helps boost the video on the app and creates a "snowball effect" where the video gets shown to more and more people.
Street Brew Coffee
With over 500k followers, Caitlin Campbell's short coffee videos are relatable and have been a trademark for her small business — Street Brew Coffee.
She creates content about all things caffeinated.
From sharing how to do an iced pour-over to the best budget coffee setup, her videos are simple but offer great value that is appreciated by coffee lovers worldwide.
Do's and Don'ts on TikTok
Do: Follow video best practices
To create good TikTok videos, you need to be familiar with video marketing best practices.
For example, ensure your video evokes an emotion or that the first 5 seconds can grab your audience's attention to avoid losing viewers.
Do: Work with TikTok influencers
Using influencer marketing with TikTok can be particularly effective because it comes across as a recommendation from a friend rather than as an advertisement.
This word-of-mouth strategy can help build trust in the viewer and make them more likely to buy your product. Note that this only works if you find the right influencers for your brand.
Don't: Be too salesy
People use TikTok to watch short, loopable videos with catchy background songs. It is where people come to be entertained and raise their spirits.
So coming across as too salesy on the platform wouldn't sit well with your viewers. Instead, build a more authentic and human brand image to connect with your audience.
Don't: Forget customer engagement
The key to building a brand is to make your customer engagement a success.
This applies even to TikTok. Always listen and engage with your community on the platform. Provide a high-quality experience to create happy customers.
Because happy customers buy more, promote more, and are more loyal if they feel appreciated.
Conclusion
By now, it should be apparent that not having a presence on TikTok can become a missed opportunity for small businesses.
If there is any takeaway, start your business on TikTok today and be authentic to connect and win customers.