February 18, 2022 by Taylor Stafford
Plumber Email Marketing Best Practices To Generate Leads
We're all familiar with those dreaded emails that flood our inbox and inevitably end up in the "unsubscribe list." It's a business owner's worst nightmare to be a nuisance to their customers, but when email marketing is done right, you could be the company that your customers look forward to hearing from. There's no shortage of email marketing statistics that make one thing clear: email is a reliable platform with opportunities not only for generating more leads but for gaining trust and establishing relationships with current clients as well.

With the right email list, content, email frequency, and testing, the payoff can be well worth it. But absent a plan, you could end up doing more harm than good. Don't fret just yet, we've got some great plumber email marketing tips to get you on the right track for plumber email marketing best practices to grow your business!
Determine What Role Email Marketing Will Have in Your Comprehensive Marketing Plan
It's important to first establish your goal for email marketing. Are you trying to nurture and inform current customers to ensure you remain their go-to plumbing company for maintenance and other plumbing projects? Maybe you're just trying to bring in new leads or balance the workflow of your company during the slow season. Whatever your business goal is, it's beneficial to understand the main purpose of email marketing and how it can increase your plumbing leads.
There are 3 Goals of Email Marketing
Once you set your goal and have an email marketing strategy, whether that's having a consistent email newsletter campaign schedule or holiday discount email, it's important to track these data points so that you can determine how well you are doing in getting emails to the right people and getting them to open them and take the action you want.
So let's walk through exactly how you do that…
Increase Delivery Rates by Cleaning Your Email List
The delivery rate is simply the percentage of instances your email was successfully delivered to the intended recipient. For example, if you sent an email to 100 customers and 10 of them bounced back and 5 of them marked your email as spam, your delivery rate would be 85%.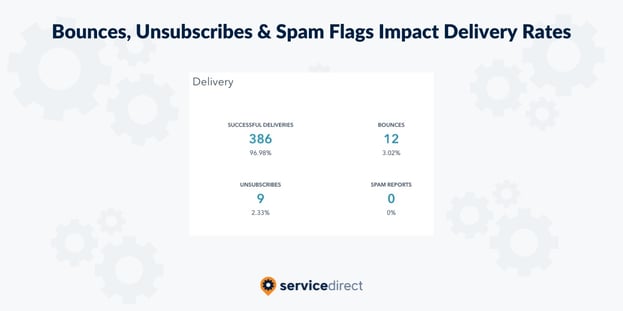 Important Tip: If your delivery rate is low, email providers may flag your account as spam, meaning virtually none of your emails will reach their desired recipients.
Here are our top tips for ensuring you always have a solid list of email recipients:
Once you have your email list set up for success, it's time to think about how you are going to make sure they engage with them instead of just marking them spam and moving on.
Increase Open Rates Through Your Email Settings
Often overlooked by novice email marketers, the settings you apply to your emails can have a huge impact on their success. No matter which email software you use, you'll have the ability to alter those settings. Here are the main things you should focus on:
Increase Open Rates by Improving Subject Lines
Since people receive about 121 business emails daily on average, it's even more crucial to ensure your subject line is compelling enough to click on. Subject lines play a huge part in whether or not an email is actually viewed, and with such high competition, it's not something you want to overlook.

Increase Click Through Rates with Great Email Copy & Formatting
As you can probably guess, data has consistently proven that creating compelling, relevant, and informative content is essential if you want to see success with your email campaigns (and really any marketing for your plumbing company).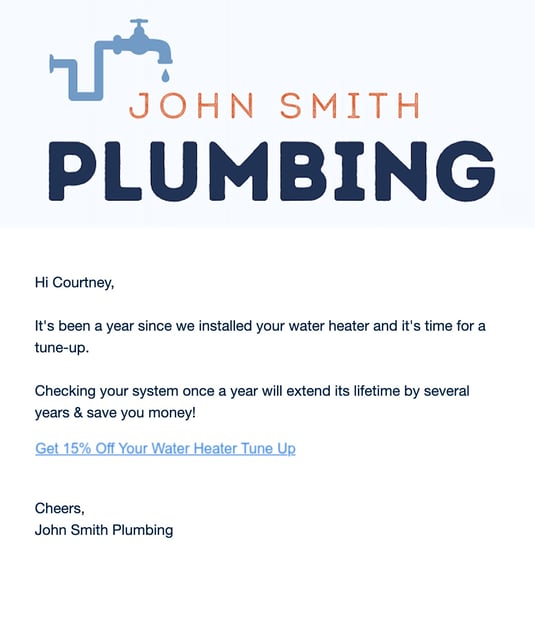 So what makes the above email great? Let's dive into the key ingredients:
What Email Campaigns Should My Plumbing Company Run?
So now that you have the basics down, how can you put those into practice? Don't worry, we've got you covered. We've compiled a list of the most effective email marketing campaigns run by our plumbing customers.
This simple guide will walk you through the exact campaigns you'll want to run, as well as give you real examples of how to format them so that they make it to your recipients, they open them consistently and end up doing more business with you.
Related Content